Almost every modern business relies on software tools to optimize business operations and provide a smooth customer experience.
But while early-stage startups can get by with a piecemeal tech stack, enterprise-level organizations need software tools that can be used by hundreds or thousands of employees across multiple departments.
Enterprise software companies offer software as a service (SaaS) solutions to meet these needs, but it can be hard to figure out which of these robust ecosystems make sense for your company or department.
In this article, we'll spotlight some of the top enterprise software companies that can help your business thrive in 2023 and beyond.
Let's hop in.
What is enterprise software?
In essence, enterprise software is any kind of computer software that's specifically designed for use by large organizations.
The needs of big business tend to differ from those of individual users or smaller companies in several respects. There are two main differences between general software and enterprise software:
Storage and security
Large businesses need to prioritize careful storage of information.
That's partly because they're subject to data privacy regulations, but also because they're at high risk of cybersecurity threats.
Additionally, they may need to access data a long time in the future for, for example, auditing purposes.
Audience
While some software only has to cater for an individual user, businesses need tools that will work with their specific hierarchy across a broad range of departments.
Software for enterprises is a broad field, too.
There are solutions for almost everything you can think of, including internal business functions like automated billing, resource management, and payment processing.
There are also niche solutions which are tailored to the very particular needs of one organization.
Why use enterprise software?
There are a number of benefits to using enterprise software, which tend to be the same whether you're looking at CRMs and Salesforce alternatives, communications solutions, or something else. They include:
1. Reduced costs
First and foremost, it can save you money. Lots of it.
This can come as a surprise to executives who may balk at the cost of the initial investment, but overhauling your systems to implement one unified solution often exposes costly redundancies that can be eliminated.
2. Centralization
All of your files, processes, and services can be controlled from one platform, avoiding silos and improving efficiency.
3. Standardization
When different departments use a diverse selection of different tools, there's often chaos. Get everyone using the same software, and that problem disappears.
4. Time saving
Consolidating your information within one standardized repository saves time, because everyone knows where to look for it.
5. Improved collaboration
Similarly, it's much easier to foster collaboration in an environment where everyone's using the same platform.
6. Safeguarding against human error
Enterprise software solutions tend to have automated elements, meaning there's less risk of problems developing through manual data input mistakes or other slips.
7. Better security
You'll have more control over access permissions across the company, which will tighten up data security all round.
How we've chosen the best enterprise software companies
We understand how important it is for businesses to have integrated, feature-rich tech stacks.
At PandaDoc, we combine years of tech and development experience with a precise and ever-evolving understanding of the needs of enterprises and large companies.
When putting together this article, we worked through several review stages in order to build a complete understanding of the strengths and weaknesses of the major software providers.
Here is a quick rundown of our methodology:
A thorough analysis of the market to account for new enterprise software providers. We were keen to avoid a review that focused exclusively on a handful of well-known names.
Personal testing and analysis of individual platforms and software suites, particularly to the most common enterprise-level pain points and requirements.
Comparative analysis of feature sets, pricing, and support packages.
Overview of existing customer feedback and reviews on sites like G2, Gartner, Capterra, LinkedIn, and TrustPilot.
Consultation and data collection from the PandaDoc user base (where appropriate).
It's not uncommon for enterprise software companies to offer markedly different apps, support packages, and individual features.
What's more, large businesses often opt for solutions that are specifically designed for small and medium organizations.
As such, enterprise customers need to have access to expert information about the suitability of providers.
A small business app would be unsuitable for a large business that requires a feature-rich software suite, and vice versa.
At PandaDoc, we aim to provide this information concisely and understandably.
When we were reviewing different companies we drew particular attention to their intended target market, usability, technical requirements, and core software packages.
Who are the leading enterprise software vendors?
Establishing who the best names are in the enterprise software market isn't as simple as it sounds.
For one thing, many of the largest providers focus on a single specific business need, while others offer a broad sweep of services.
This means you can end up feeling like you're comparing apples and breadsticks when choosing between them.
Of course, some names will stand out because they're so well known. We've included a few of these on our list.
However, as we explained, we wanted to give you a broad rundown that digs a little deeper into the detail than you might have seen before.
1. Salesforce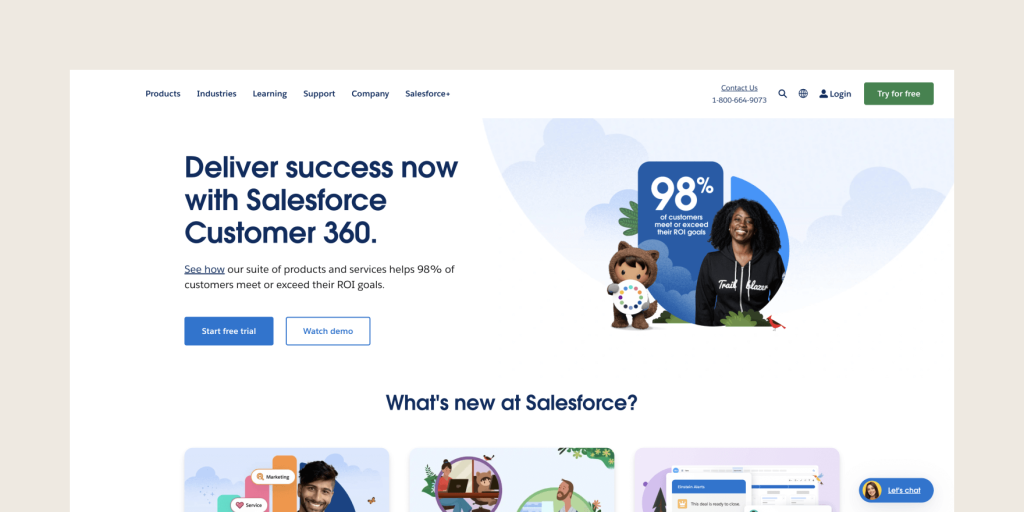 Category: Customer Relationship Management (CRM)
Location: San Francisco, CA
Key benefits:
Offers modules for most business workflows
Modules can be used separately or together
Platform integrates easily with existing tech stack
Scalable software for businesses of all sizes.
Sales Cloud pricing from $25 (Essentials) to $300 (Unlimited) per user, per month, billed annually.
While Salesforce is most widely known for its flagship CRM, the company offers a wide selection of products that can be used to greatly enhance the customer experience.
This suite of CRM-based productivity tools can be used piecemeal, in conjunction with the rest of your tech stack, or as a single ERP system that connects all aspects of your business — from supply chain management to customer service — through a single platform.
This means that each module functions separately and platform adoption can be scaled up or down as you see fit.
That kind of flexibility is powerful for enterprise teams, especially if your company uses proprietary internal software or only one department is interested in switching for your existing software tools.
However you choose to work with the Salesforce platform, all of the tools the company provides also connect via Salesforce CRM, which remains at the core of any product the company sells.
That's a major advantage for your tech stack because Salesforce CRM integrates with most other major software applications on the market, making automation simple!
For example, PandaDoc users can integrate with Salesforce CRM to pull customer and product data directly into their proposal document or stay within Salesforce and generate documents directly from the platform.
2. Atlassian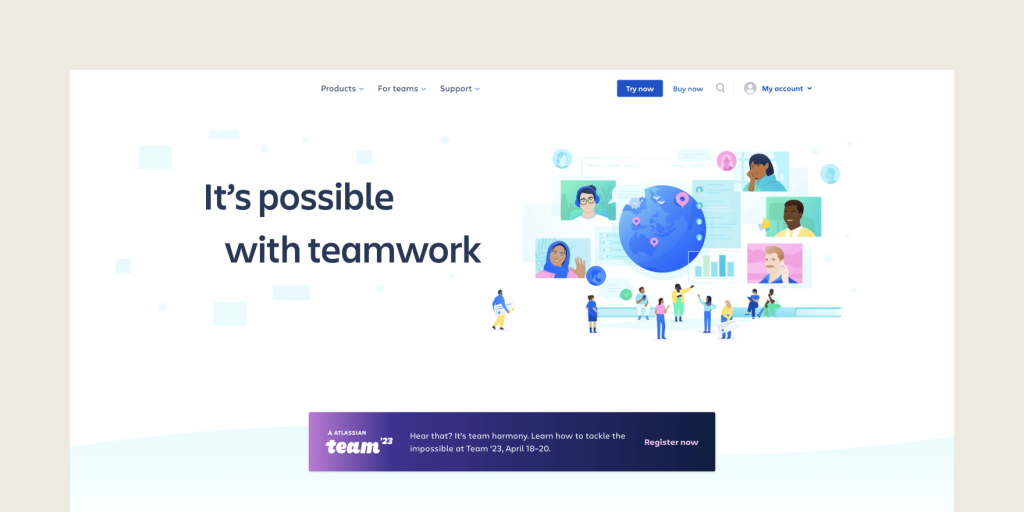 Category: Project Management
Location: Sydney, Australia
Key benefits:
Offers flexible and scalable project management tools
Compatible with Agile frameworks and methodologies
Collaboration and dev tools are easy and intuitive to use
Streamlining business processes happens naturally.
Priced by service or by package. Example for Jira Work Management: Free (for up to 10 users) to standard price of $5 per user, per month (for up to 10,000 users).
Atlassian is a market leader in collaboration tools. The platform is designed to help teams work together and stay on track through every stage of development.
The suite of tools the company provides includes:
Jira, a project-tracking tool
Jira Align, an Agile planning system for enterprises
Confluence, a mobile- and desktop-optimized teamwork tool
Trello, a popular project management app
BitBucket, a code-sharing program
Atlassian also heavily favors the Agile methodology and builds its products with that operational philosophy in mind.
Jira Software practically runs on Agile, and every software associated with it supports Agile frameworks.
It's also important to note that the majority of Atlassian's tools aren't designed as customer-facing elements.
These are strictly back-office toolkits designed to help teams manage workflows and move projects through production pipelines more effectively.
Atlassian's products are also mostly focused on product management and development, meaning that they won't serve as great solutions for storing customer information or parsing and handling raw data (although Confluence can help with this in some capacity).
If you need a suite of tools to help manage your internal workflows — and if you like Agile frameworks — then Atlassian is definitely one company to consider adopting into your daily business operations.
3. PandaDoc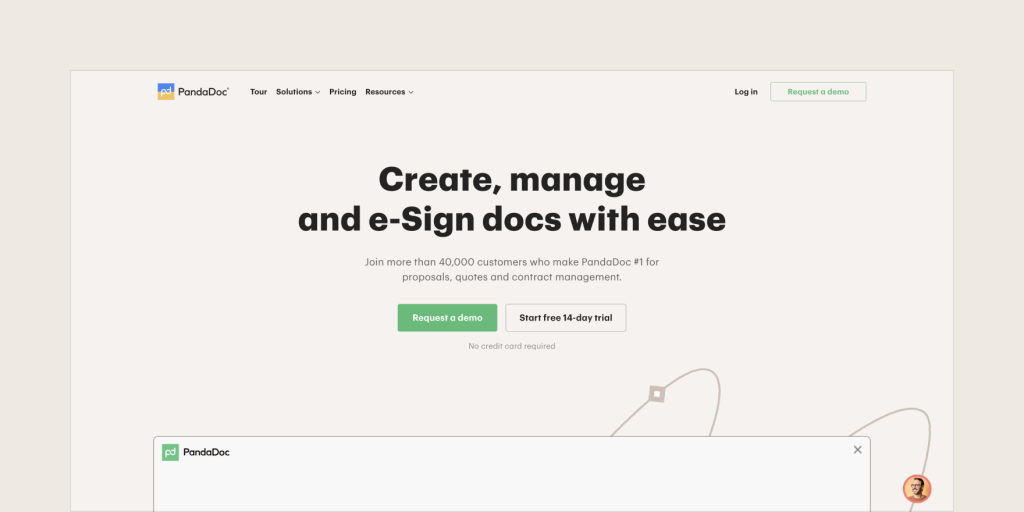 Category: Document Workflow & Automation
Location: San Francisco, CA
Key benefits:
All-in-one document generation improves close rates
Template and content libraries accelerate document send
Approval workflows and processes minimize contracting risk
Industry-agnostic; can be used in all business operations.
A free eSign package, plus tiered pricing from $19 per user, per month (Essentials) to tailored enterprise packages, individually priced.
Most document management solutions only focus on a single aspect of the production process.
Electronic signature tools can help you sign a document, but they won't help you create it.
Word processors and design platforms can help you build great documents, but they won't help you send them or track who interacted with them.
PandaDoc stands apart because it provides a suite of tools that helps enterprise companies create, manage, and automate documents throughout every stage of production and deployment.
This includes tools to assist with full document creation, electronic signature capture, payment capture, and file storage.
And these tools can be used for any type of document, from quotes and sales proposals to invoices, hiring contracts, and more.
This allows PandaDoc document creation tools to span multiple departments and use cases, which is critical for enterprise companies churning out huge amounts of paperwork.
In fact, our software tools are regularly used by human resources, financial services teams, and sales teams to document production.
PandaDoc automation tools can also help your team take steps to drastically increase ROI by boosting worker efficiency and streamlining process workflows.
Our template tools and content library transform content creation from a manual task to a plug-and-play solution that is simple to use and easy for anyone to understand.
By consolidating all elements of the document lifecycle into a single platform and coupling it with a streamlined user experience, PandaDoc helps companies close deals more quickly and manage documents with greater efficiency.
It's one enterprise-level solution that you won't want to miss.
4. Dropbox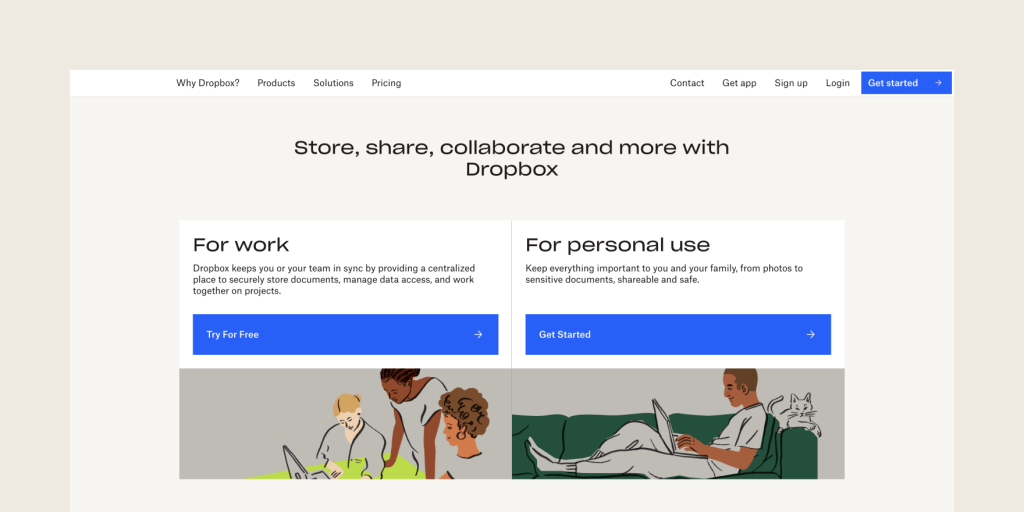 Category: File Hosting
Location: San Francisco, CA
Key benefits:
Fast, simple, digital storage solution
Enterprise-level controls for team and file management
API access and comprehensive integration options.
Tiered pricing from $15 per user, per month (for 3+ users) to tailored enterprise packages, individually priced.
In recent years, the ability to store and access essential files from anywhere has grown in importance and Dropbox is one of the best ways to handle that access in a safe and secure way.
The Dropbox platform is a world-class, cloud-based file hosting service that allows employees to access files whenever and wherever they may need them.
Most importantly, Dropbox works with any type of file, including multimedia, software files, computer backups, documents, data, and anything else that you want to add.
This is different from specialized software tools like PandaDoc, which is designed to manage and store proposals and contracts. That's why we offer a Dropbox integration for fast and easy storage and eSigning!
But Dropbox doesn't stop at file storage. The platform also provides additional features like file recovery and versioning, as well as the ability to remotely clear files from lost or stolen devices.
For enterprise companies, Dropbox also offers a suite of team management and API tools to help organizations integrate more effectively with the platform.
Plus, many companies and tools also integrate with Dropbox, including Adobe, Microsoft, and Oracle.
That, on top of its flexible pricing and scalability, makes it a platform worth considering when you're looking to bring in a new software solution to fit your business needs.
5. Okta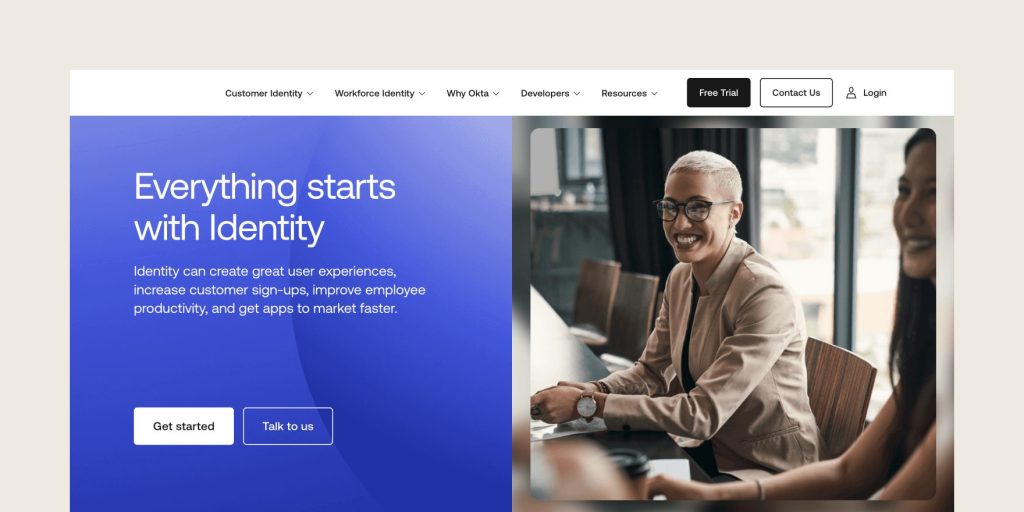 Category: Identity Management
Location: San Francisco, CA
Key benefits:
Comprehensive identity management
Business-wide single sign-on solutions
Better customer data management.
Products individually priced from $2 to $15 per user, per month, with a minimum contract of $1,500 per year.
Any modern company focused on digital transformation relies on good data and solid business intelligence.
Enterprise-level businesses need to manage profiles for hundreds or thousands of individual employees and contractors in order to operate effectively.
That includes handling IT credentials, authenticating users, and creating guided workflows that make sense for the organization.
Plus, for companies that leverage data for lead research and sales acquisition, keeping track of thousands or millions of customer profiles exponentially increases the amount of data that needs to be gathered and maintained!
Software companies like Okta provide a number of services that assist companies with this monumental task while mitigating the security risks associated with data acquisition.
Using Okta, you can keep track of users across multiple platforms and devices, provide single sign-on tools, and enhance your collaboration capabilities with partners outside of your organization.
The company even integrates directly with other software tools (like PandaDoc!) and cloud services to keep your workflows smooth and straightforward.
As remote work grows more and more popular, data management has become increasingly important.
The ability to create a seamless IT infrastructure that works for your employees from anywhere can be critical to creating a collaborative and modernized work environment where teams can continue to thrive.
6. Gong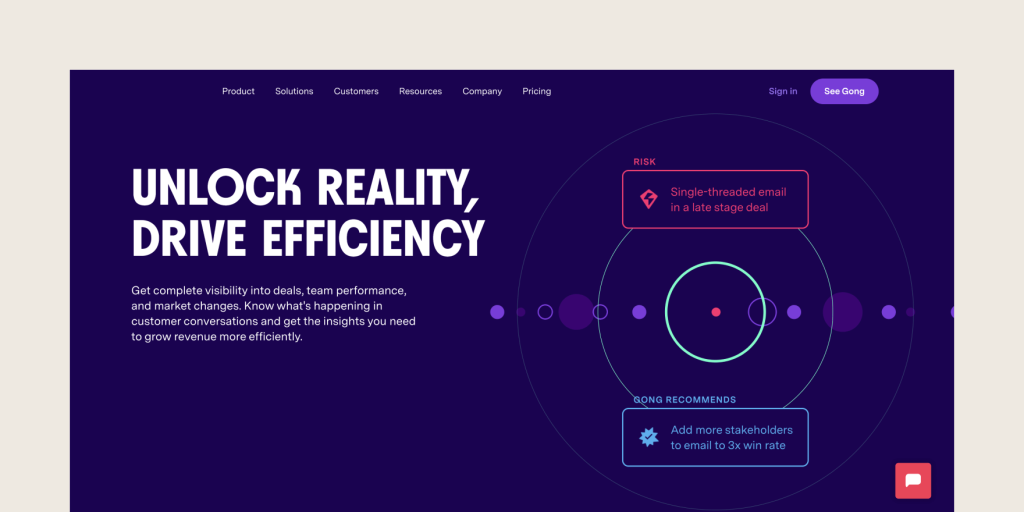 Category: Sales Intelligence
Location: Palo Alto, CA
Key benefits:
Help teams consolidate and analyze sales data
Spot customer patterns and create a searchable database
Find actionable insights for new deals and opportunities.
The website is a little vague on pricing, stating it depends on "depends on a few factors specific to your team", but it does note there is both a platform fee and licenses offered based on the number of users.
With all the different sales tools and platforms on the market today, it's easier than ever for deals and opportunities within your go-to-market strategy to slip completely through the cracks.
This problem is most likely to occur when your sales teams gather a ton of information but lack the tools necessary to piece that intelligence together into recognizable and actionable patterns.
Gong helps you capture, parse, and analyze your customer interactions at scale across your entire organization so that you can see the real-time opportunities that are developing all around you.
For example, imagine that leads are talking more and more about one primary competitor in your market. Without the right tools, it might be impossible to discover that trend because every rep is disconnected from other reps.
Gong uses machine learning and artificial intelligence to combine all of your information into a single, searchable database so that you can spot those trends and take action.
For PandaDoc users, that might mean quickly updating proposal templates and the product catalog to address these market changes.
The level of detail and analysis can help enterprise organizations, evolve product messaging at critical times and help teams stay ahead of the game when talking with customers.
7. Sprout Social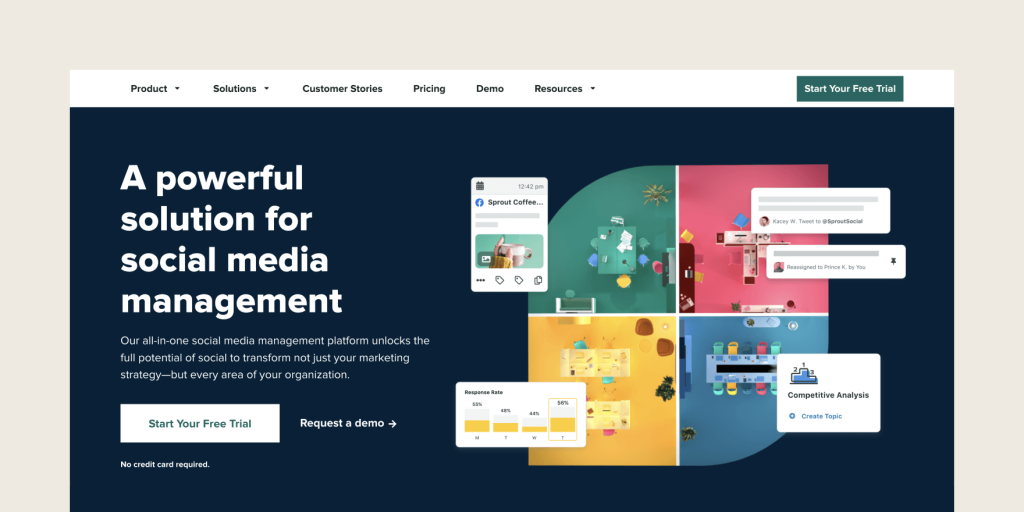 Category: Social Media Management
Location: Chicago, IL
Key benefits:
Streamline social media management
Quickly gather social trends to guide decision-making
Leverage robust approval processes for social teams.
Tiered pricing starting from $249 per month, plus $199 per additional user.
You can get in touch for custom pricing for tailored enterprise solutions.
There are a ton of great social media management platforms out there, but Sprout Social is an all-in-one solution that empowers enterprise-level social media teams to consolidate all metrics into one easy-to-analyze dashboard.
The core of Sprout's business model is to quantify social data so that it's easier to utilize platforms and leverage ROI. This drive is what makes Sprout more than a publishing and scheduling platform.
Teams using Sprout can uncover trends and actionable insights, streamline social engagement through a unified inbox, and use the data gathered on social media to guide strategic decisions made by the company.
This is a sea change from how most companies handle social outreach, where missed notifications, poorly timed posts, or simply a lack of presence can lead to a bad customer experience or a lackluster brand image.
With Sprout, companies have the opportunity to overcome these hurdles and build stronger customer relationships through every stage of the sales process.
Plus, just like PandaDoc, Sprout offers a variety of approval workflows and scheduling tools (plus mobile apps) so that your team can adopt a workflow with the appropriate guardrails to protect your brand image.
8. Talent LMS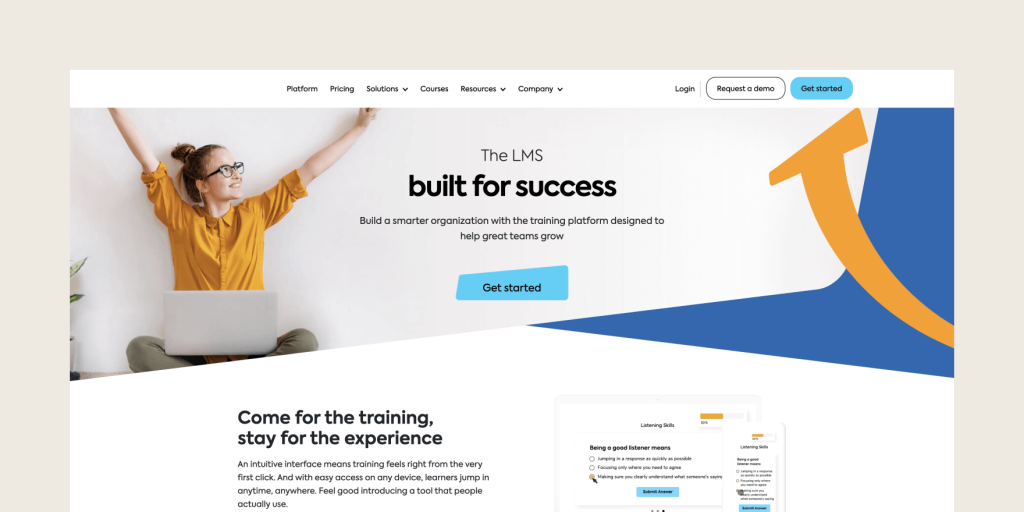 Category: Training & Compliance
Location: San Francisco, CA
Key benefits:
Fast and easy training for employees and customers
Full course library offered alongside content creation tools
Advanced monitoring and reporting capabilities.
Free basic plan, then tiered pricing from $69 per month (starter) to $469 per month (premium), billed yearly.
No matter your industry, training and compliance quickly become a constant challenge once you grow past a certain headcount.
Employees need to be updated on new product launches, trained in best practices, kept in the loop regarding industry changes mandated by regulatory authorities, and much more.
For thriving businesses, continually developing training plans and keeping track of employees as they work through that training can be a job in itself.
In fact, many enterprise-level organizations have program directors for their training programs to develop new courses and take people through the relevant content.
With Talent LMS, your training team will be able to develop courses and upload them to the training database, alongside lists of course candidates so that staying on top of training is fast and easy.
But just having a dedicated team isn't enough.
Even with a dedicated training team, you'll still need the tools to monitor progress and supplement any in-person training you want to provide.
This becomes even more tedious if your team is spread across multiple locations or is working remotely.
Talent LMS is a great tool to help you get over those hurdles.
The platform offers an out-of-the-box setup that's fast and easy so that you can get up and running with training in record time.
Plus, at the enterprise level, you'll find a ton of tools to help you subdivide your organization by location, department, or team so that training can be more targeted to specific employees.
9. Greenhouse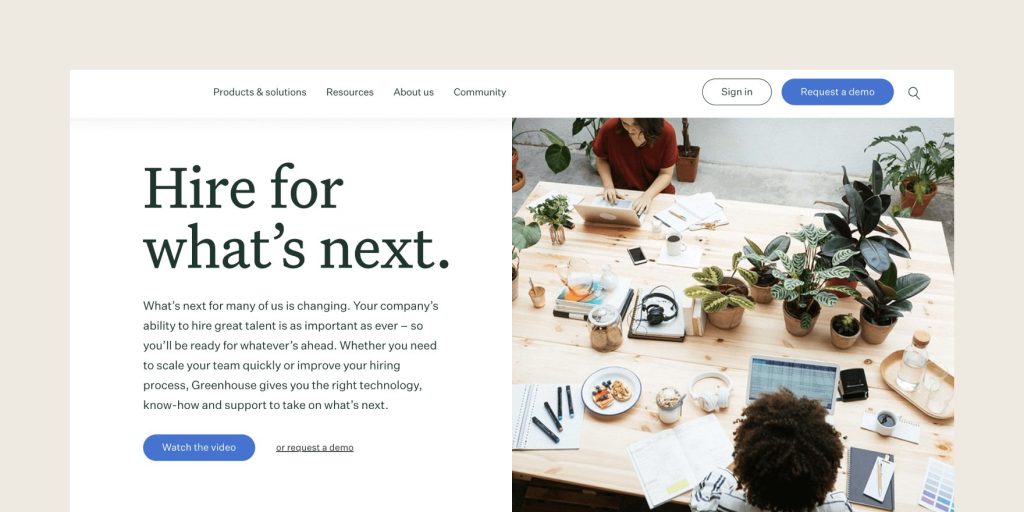 Category: Hiring & Applicant Tracking
Location: New York, NY
Key benefits:
Collaborative interviewing plans and scoring systems
Analytics and reporting tools for hiring and onboarding
Faster onboarding and better structure for new hires.
Pricing is based on individual requirements, but there are three tiers available – Essential, Advanced, and Expert.
It can be tough to execute a hiring strategy well. Mistakes made throughout this process can create long-term detriment for your company.
Poor hiring decisions can lead to under qualified employees and team members who become dissatisfied with their roles.
Plus, when team members involved in the hiring process aren't kept on the same page, it's easy for everything to fly off the rails.
Greenhouse offers an applicant tracking system designed to make new talent acquisitions faster and easier to scale.
Their tools allow you to create a data-driven hiring experience and reduce unconscious bias that might impact decision quality while fostering a collaborative decision-making process.
For companies looking to deliver a unique hiring experience that produces the best candidate for the role, the Greenhouse recruitment process is hard to ignore.
But what happens after you're ready to pull the trigger? Greenhouse has a solution for that, too.
Their end-to-end solution lets you create a consistent framework for your onboarding process that applies to every single new employee, then automate all of the tedious, administrative processes to help move things along.
You can even create resource hubs and provide training materials to bring new hires in the loop even faster.
The company also takes all of the work done through the ATS and delivers metrics and reports that you can use to track hiring workflows and success over time.
You can improve this process by soliciting feedback from candidates as part of the application process, then tweak your workflows to create an even better experience.
10. BirdEye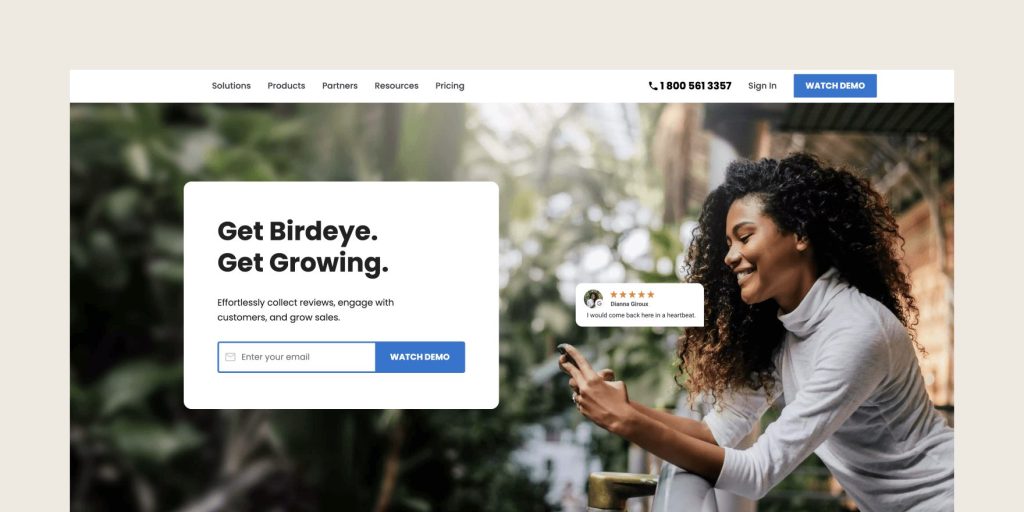 Category: Reputation Management & Customer Feedback
Location: Palo Alto, CA
Key benefits:
Create a feedback loop designed to build online reputation
Consolidate customer omnichannel into a streamlined toolkit
Solicit customer reviews and automates online feedback.
Tiered pricing of $299 per location per month (standard), $399 per location per month (professional), with custom pricing for a premium combination of products.
Managing your online presence can be huge, no matter how big your company might become.
Between dozens of social profiles, directory listings, and the multitude of ways that customers can get in touch, it's more difficult now than ever to stay on top of everything if you're missing the right tools.
And it gets even worse as soon as your business has more than one location.
BirdEye is one tool to consider when it comes to managing your online presence and routing all inbound customer contact to one place.
The software keeps track of all your business information, automatically solicits reviews from customers, and consolidates all inbound customer correspondence to a single platform.
You can even create surveys, video chat with customers, and analyze user activity for insights and performance!
So, why does all of this matter?
The digital transformation and the push to an omnichannel experience have been difficult for every business to manage.
With so many points of contact, even the best companies have been forced to rely on inadequate chatbots and delayed response times on certain engagement platforms while trying to meet customers on their level.
BirdEye makes it easier to manage all of this through a combination of automation and process consolidation.
The monitoring capabilities of the software help you maintain your online reputation and response to customer feedback while the consolidated inbox allows you to work as a team to answer customer questions without worrying about the specifics of the platform where the customer made contact.
Plus, thanks to Zapier, BirdEye can connect to your entire tech stack and customer workflow.
If you're using PandaDoc and BirdEye, you can create customer profiles in BirdEye as soon as documents are sent through the PandaDoc platform.
11. Brandlive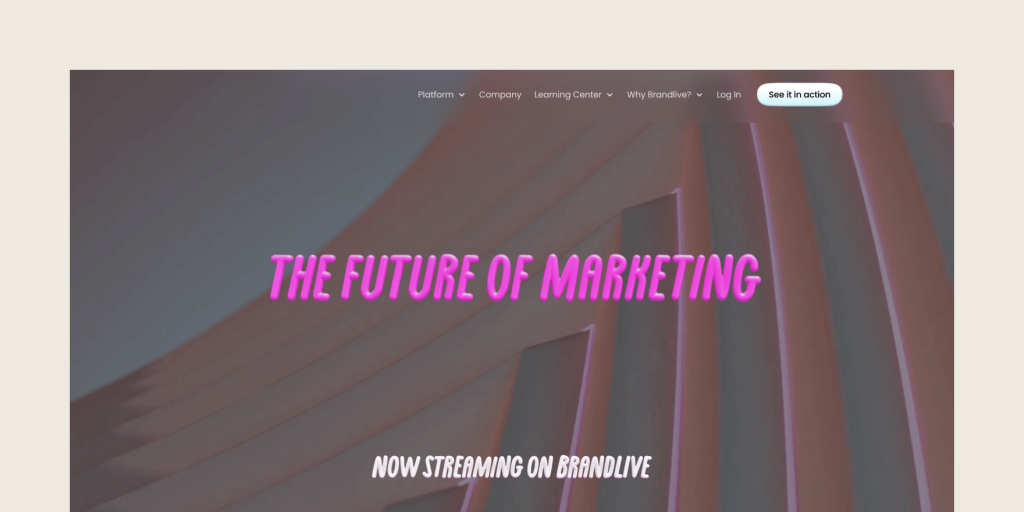 Category: Premium Event Production & Management
Location: Portland, OR
Key benefits:
Create memorable events, broadcasts, and meetings
Admin and moderation tools to keep meetings on track
Deep analytics to track engagement.
Pricing is based on individual requirements, so this is another one you'd have to request a quote from.
Nobody likes boring meetings but, unfortunately, most meetings look the same.
Everyone hops on a video chat, one person talks, and nobody is engaged. It's not a great experience, but it's standard fare for many businesses.
But there are definitely some meetings and events that you'll want people to remember.
So how do you switch it up? Brandlive has the answer.
The company offers a set of broadcast tools designed to give your office meetings a facelift and elevate them from boring video chats to full-blown productions with the branded look and feel that's impossible to get anywhere else.
With Brandlive, you'll have the power to add graphics and animated GIFs to your video backboard, build multi-window displays with multiple presenters, set up and produce shows, manage presenters, and more.
The Brandlive approach to events is already a massive success, too.
The company has built partnerships with enterprise organizations already, including massive companies and major political parties, to help users create imaginative events that resonate.
If you're looking to take your meetings to the next level, Brandlive is a great way to level up your production quality and communicate the value of your brand.
Key features to look for in enterprise software
So, which features do the best enterprise software offerings share? Broadly speaking, there are four that are particularly valuable:
Simplified user experience
One of the most important elements of any kind of enterprise software is ease of use.
There's no point installing a flashy new system if it's too complicated for your employees to operate. If it is, engagement will be poor and you're likely to find your staff are using workarounds.
Your software of choice should be intuitive and simple to work with. The best tech tools empower the user and solve their problems.
For example, a platform that provides proposal software with CRM integration can help your employees create highly professional business proposals in half the time it took before.
Scalability and accessibility
Another key consideration is how scalability and accessibility work hand in hand. Any enterprise software solution should be easy to scale up as your business grows.
There should be no problem adding large numbers of new users on demand or dealing with an increased workload.
At the same time, your growing platform needs to be accessible to all. That means it needs to work across multiple devices, and accommodate remote employees as well as those based in the office.
Plus, you may want to consider platforms with a mobile app depending on the work your employees do (this can be particularly important to businesses with a sales team that frequently travel).
Realtime reporting
One of the biggest advantages of enterprise software platforms is that they usually enable real-time reporting.
You can gain valuable insights as projects are occurring. Which is much better than doing it the traditional way: In fits and starts, or after the job has been completed.
This means that you'll have the opportunity to respond much more quickly to changing conditions.
You'll also be able to identify any issues as soon as they crop up, meaning you can address them before they have a chance to develop into serious problems.
Support
The best enterprise software providers don't treat support as an afterthought, but as key to their value proposition.
After all, implementing a new enterprise software solution across any organization is a major task, and there are bound to be glitches that need to be ironed out here and there.
It's likely that integrating the new platform with your existing systems will throw up some challenges.
Your provider should always be on hand to help you smooth out any issues and modify applications as necessary.
The current enterprise software market
Given the value it provides to organizations large and small, it's no surprise that enterprise software is becoming more popular by the day.
According to a report by KBV Research, the total market for this kind of software is expected to grow to $404 billion by 2028. That represents an impressive average annual growth rate of 11.1%.
One of the factors driving this growth has been the increasing role played by CRM in conjunction with big data analytics.
As the volume of data required to do business efficiently has increased, so has the need for tools to make the most of it.
Organizations of all sizes are also being drawn towards cloud-based software solutions for both financial reasons and to allow for an increase in remote and hybrid workforces.
Overall, perhaps the biggest marker of the current enterprise software market is the sheer diversity of offerings available.
From tiny micro SaaS start-ups specializing in industry-specific platforms to the largest established names servicing eCommerce giants, it's all out there. And it's only going to grow from here.
Standardize business processes with the best enterprise software
Whatever your field of operations, there's an enterprise software solution out there for you.
Standardize everything from quote automation to travel management with one simple platform tailored to your business needs.
With PandaDoc's all-in-one document workflow software, for example, you can create, approve, and design all kinds of proposals, quotes, and contracts.
There's no longer need to worry about how to deal with documentation in multiple formats generated by different departments.
The entire process, from document creation to eSigning, is taken care of without a fuss.
The best enterprise software makes your life easier, and who doesn't want that?
Disclaimer
PandDoc is not a law firm, or a substitute for an attorney or law firm. This page is not intended to and does not provide legal advice. Should you have legal questions on the validity of e-signatures or digital signatures and the enforceability thereof, please consult with an attorney or law firm. Use of PandaDocs services are governed by our Terms of Use and Privacy Policy.
Originally published May 25, 2021, updated March 2, 2023
Frequently asked questions about enterprise software companies
When it comes to enterprise applications, software solutions are often constructed with greater scalability in mind.

While software solutions that cater to small- and medium-sized businesses may be great for entrepreneurs and startups, they may break down under the heavy load that accompanies hundreds or thousands of users interacting with a single software account simultaneously.

Often, as software companies move to break into the enterprise space, their software products and related infrastructure will change. Cloud computing resources may become more abundant, and software development may begin to supplement features with automation tools like machine learning and artificial intelligence to help expedite tedious processes.

Top enterprise software companies already have the infrastructure in place to support tens of thousands of users. When you buy into an established software giant, rather than a Silicon Valley startup, you're also buying into their infrastructure and stability.

Software capacity is the amount of traffic that a given application and environment can handle. Software providers who coordinate with large enterprises need to test software capacity to ensure that their product can handle the amount of work it will need to perform for its customers.

Many companies test enterprise software capacity by using automated test tools to simulate end-users.

However, this can cause problems if the test tools are not set up to properly emulate normal business activities. Practical capacity tests need to include careful documentation to make sure that they actually test the software in the way that it will be used during both standard and heavy load times.

Many top-level software companies offer robust feature sets that can completely change the way your company or department does business.

How an enterprise platform like SAP will handle ERP versus a competitor like Oracle will be completely different, and new system adoption can lead down a very rocky path as your team members adjust to new software and processes.

Most companies rely on a complex tech stack that works to service all portions of their business operations – from telecommunications, to content management, marketing automation to enterprise resource planning. When you're considering a new software adoption, it's worth taking the time to understand how that new platform will impact your existing tech stack and what the true cost of adoption might be.

It's also possible to purchase enterprise platforms that create more problems than they're worth by forcing widespread adoption in order to be effective.

Consider how many people and departments will be using the software, what internal changes you would need to make in order to adopt it, and if that changeover is good for the long-term health of your business operations.