Move over sales and marketing automation; recruitment automation is taking over the business world.
If you want to grow and expand your source and obtain more qualified talent, you might want to start automating your core recruitment functions.
What is recruitment marketing automation?
Simply put, recruitment marketing automation is the process of using tools and technologies to automate repetitive activities that are important in marketing your business's recruitment efforts.
These software help get personalized candidates for relevant job openings and expand human resources (HR) professionals' knowledge base by providing useful information about what job-seekers are looking for.
You have probably heard about marketing automation, and the concept we're talking about here is not too far away from that branch.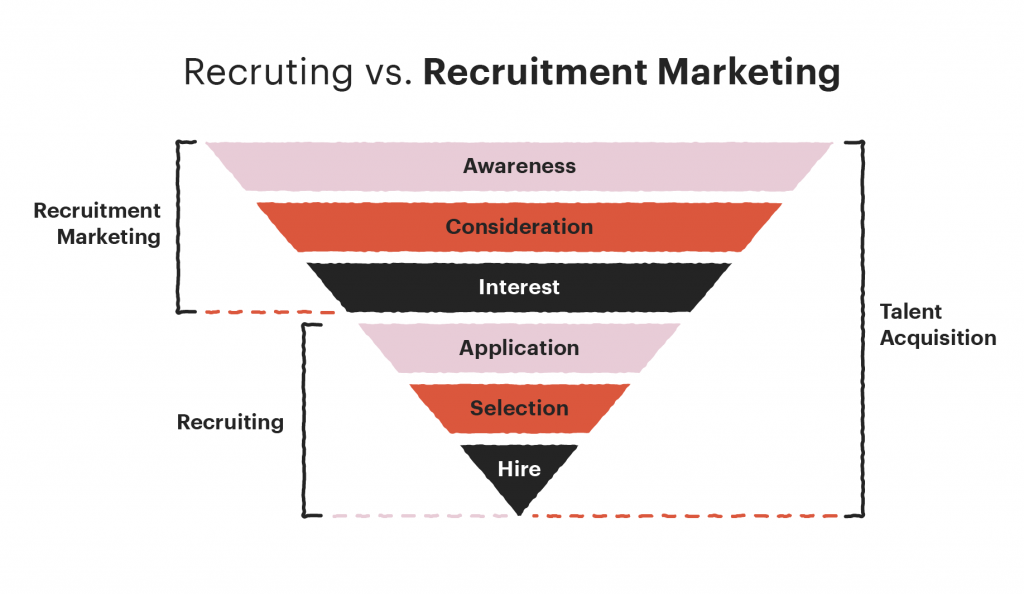 Recruitment marketing automation helps create a more relevant talent pipeline system, increase revenues, and improve your brand management.
Automating your recruiting efforts also ensures that you do not have to rush to fill a job position on an ad hoc basis.
By enabling process automation within your recruitment operations, you assist your HR division in streamlining mundane tasks such as tracking application views and click-through rates, scheduling job postings across different mediums, and budgeting for employee sourcing.
What are the benefits of recruitment automation?
With unemployment rates higher than ever, the number of people looking for jobs is multiplying every second.
In such a situation, HR professionals are more likely to face large amounts of stress when generating leads, keeping track of applications, and getting candidates onboard.
Here's why you should invest in automating your recruitment process for your business.
1. Stronger talent pool
When looking for new talent, it is necessary to evaluate the current hiring process you may have in place.
Candidates are smarter now than ever before. They look at a lot more than just job descriptions and salaries.
Knowing what factors (location, preferred industry, work environment, career growth possibilities) are essential to a candidate and providing those solutions becomes a lot easier with recruitment automation.
But to get suitable candidates, they must first know what you do and where you are. Businesses most often overlook brand awareness under the assumption that "hey've probably heard of us before."
How is an applicant to make their way through your portal if you haven't put enough effort into formulating strong brand awareness?
Recruitment marketing automation software can make this seemingly complex process very seamless. It helps the talent acquisition team navigate through various marketing platforms (Facebook, Twitter, LinkedIn) to make the most of the services provided by these sites (Ads, Job postings).
This is a step towards landing a strong, relevant candidate and willing to look at your employee value proposition (EVP).
2. Consistent messaging for long term relationships
We looked at the significance of creating awareness around your brand for candidates to find and interact with your business.
Recruitment automation streamlines this process by working on continually improving your brand messaging and communication throughout the applicant's journey in the recruitment funnel.
A significant part of recruitment automation is that it can effectively reach many candidates who are not active job seekers during a particular time frame.
This is valuable as it places your message, offerings, learnings, and culture into the minds of these individuals, so when they decide to leave their jobs, guess who they're going to be already thinking of? You.
3. Candidate identification, tracking, and budgeting
About half of the applicants drop off the process without even reaching the interview stage.
Why is that? There are several reasons this happens.
However, the main factors are inaccurate identification of candidates, inefficient tracking of the application stages, and confusion surrounding recruitment budgets.
Recruitment marketing automation is a 3-in-1 problem solver.
It helps you source relevant prospects for open positions and effectively tracks candidates based on improvements made to the existing channels, and ensures that you are cutting down on necessary costs per hire without compromising on quality.
You can only attract good candidates if your process is as good as your employer brand seeks to be.
Improving hiring systems at every stage is imperative to approach your preferred candidates and move towards an HR approach focused on thought leadership.
5 ways to leverage recruitment marketing automation
Automating your recruitment process can save you effort and money.
However, this is only possible when you can align the automation software information with your business's recruitment goals and needs.
Here are the 5 best ways to integrate recruitment marketing automation into your business operations:
1. Bring clarity to the job search process
There is nothing more embarrassing for a business than having ambiguity on what kind of person they are looking to hire for a specific job role.
While making hiring announcements, put as much information as possible into one email or post with the utmost clarity.
Remember that the person on the other side will not be able to effectively get through your application funnel if they don't know what you are looking for in specific terms.
For example, look at the following job description posted on LinkedIn under the position of "Growth Hacker."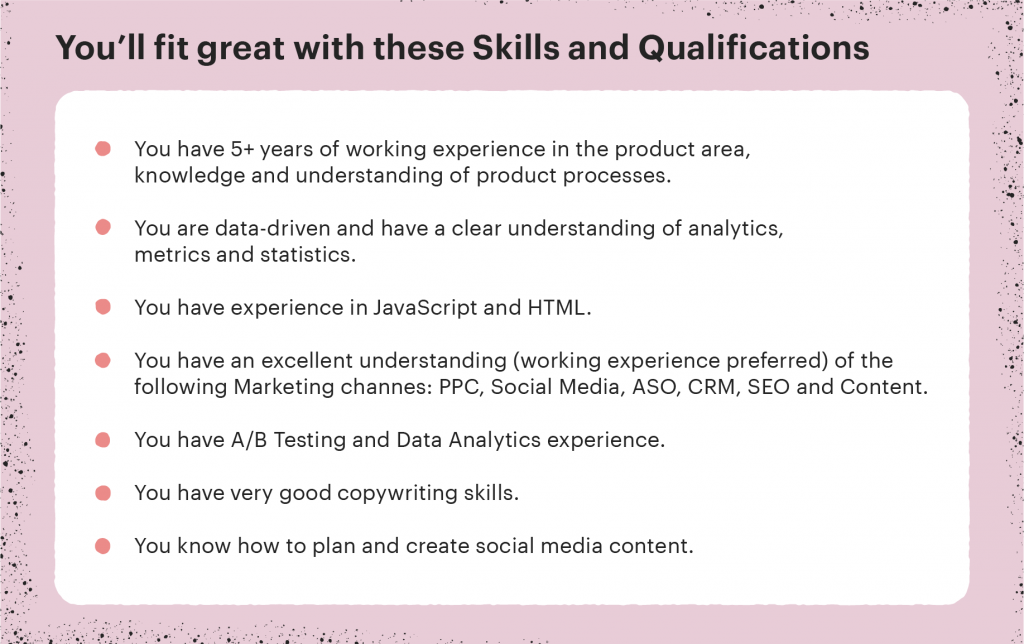 Now take a look at the breakdown of all of these 'skills and qualifications' done by a company called Marketerhire.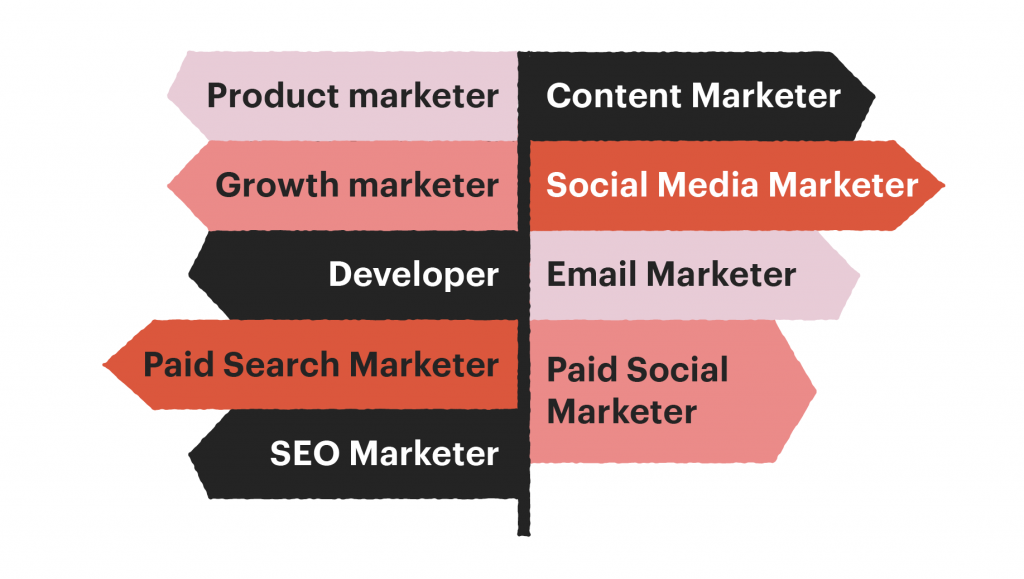 Incredible, isn't it?

On the surface, this seems like a call out for growth hackers. But when you take a deep dive, it's clear that the description actually lists down the skills of 9 different job positions, all-in-one.
Fortunately, recruitment marketing automation can save face on this front. It can collect information about the demographic you are targeting and provide you with solutions to expand your reach effectively.
This process enables you to create and develop employee personas, fictional profiles that can be used as a guide-map to connect with the star candidate.
2. Focus on the candidate experience
Put yourself in a candidate's shoes for a second. What is the one thing that would hook you in instantly? A positive application experience.
This can be achieved by using the right tools to ensure that your candidates feel valued every step of the way.
By employing technologies that can help curate recruitment ads that are easy to understand, accessible, contain sufficient information, and have a clear call to action, you indirectly let applicants know that you care.
Deploy tools such as automated email and interview schedulers from the get-go. Leverage software that can help you screen resumes and conduct profile checks to minimize the waste of resources for concerned parties.
Be careful not to attach links to irrelevant resource and product pages. Potential candidates want to understand who you are much before getting into what you sell.
The way recruitment automation can help you here is by providing useful information about where candidates are in their current employee life cycle (ELC).
If you know whether a candidate has already taken up a new job or isn't looking for one at all, it can save you tons of time and money that you can use to pursue interested individuals actively.
3. Explore multiple channels
Social media recruiting is booming.
According to surveys, 80% of recruiters are able to find passive candidates while 70% of hiring managers were able to use social media to hire talent successfully.
But social media is not just one application, it ensconces a spectrum of different apps within it.
These include video platforms such as Snapchat and YouTube, mediums that revolve around building professional networks such as LinkedIn and Facebook, or more popular, content-driven platforms such as Twitter.
It can be challenging to understand what platforms and channels of communication to use on social media. The best solution to this is to do your research.
Find out where and when your target audience is active. Use the medium that they are familiar with.
If you're looking for a designer, make sure your job posting has a separate column to fill out portfolio links. If you require a developer, get on Stackflow and start a conversation thread.
It is in your best interest not to shy away from exploring different channels that are more likely to get you connected with relevant candidates.
When posting on social media, take note of the specific platform and how users interact with them.
Then, use this information to track engagement scores across several platforms to collate data for comprehensive insights.
This will make it easier for you to navigate how to format and schedule job postings. Put the time and effort into increasing engagement between candidates and your brand.
4. Establish long term relationships
Let's be honest; not every candidate you are interested in will reciprocate in the same way. But that doesn't mean that you cannot build trust and create long-term relationships with them.
With recruitment marketing automation, you can continue to engage with potential candidates and understand any changes in their preferences or job activities.
5. Track progress consistently
Tracking the success of campaigns is one of the most sought-after features of any automation software. Recruitment marketing automation tools can help you track your return on investment and key performance indicators (KPIs) consistently.
Also, you can follow the number of clicks, ad views, applications received, and hires selected to gauge the effectiveness of your recruitment efforts.
Constant progress tracking is also an excellent way to inculcate a system of feedback and reviews that reach senior management for future improvements.
Automation will help you recruit better
Recruitment is a tough game to play. It helps to have all the tools you can get to make this easier for you as an employer and potential employees.
Investing in recruitment marketing automation software might quite possibly be the biggest positive transformation you make in your recruitment process.
You will get to sit back and keep track of all the candidates in your applicant funnel without having to fuss over the technicalities of the tasks that come along with it; and what's more, a much stronger talent base to choose from and enduring relationships to leverage when the time is right.