The sales process has been transforming drastically over the last few years. What used to work perfectly in the past doesn't seem to be working anymore. In fact, only 10% of marketers said that their sales and lead generation efforts are highly effective. Why do you think that is?
Well, many marketing and sales professionals started using similar sales tactics, and as a result, customers started building resistance against these tactics. As a result, the average sale conversion rate has been consistently dropping over the last 5 years.
This is a common theme with most marketing and sales channels. Early adopters to these strategies do exceptionally well, and as a result, thousands of companies start "copying" their methods, which ends saturating that channel and leading to a significant drop in sale conversion.
However, even though the strategies are ever-changing, the goal remains the same: attracting a prospect, converting them into a lead and then eventually closing them and making them a customer.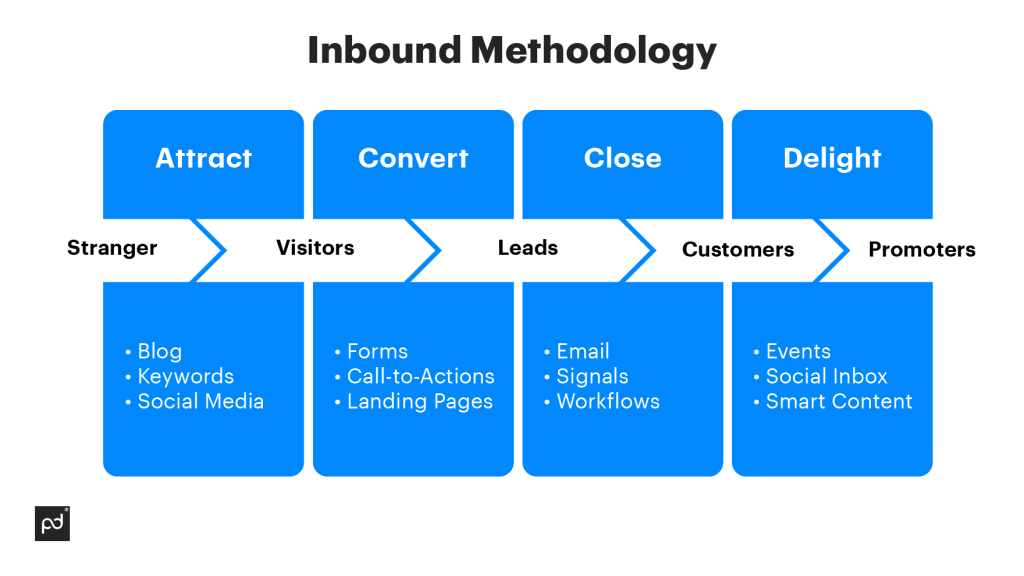 Of course, you'd also want to delight your customer and turn them into promoters of your product or brand, but that's a topic for another day.
So how can you differentiate your sales and lead generation efforts from the thousands of competitors trying to close the same customer? The short answer is visual content.
But first, let's start off by defining what visual content is.
Visual content simply refers to the addition of visuals (for example GIFs, videos, infographics, etc.) along with (or instead of) plain text and blog posts. With the rise of popularity in visual-centric platforms like Pinterest and Instagram, we're witnessing a visual revolution where millions of people are depending on visuals to differentiate their content from the oversupply of content online.
Why is visual content the future?
Some skeptics claim that the rise of popularity in visual content is just a fad or a temporary trend at best. However, various studies in the past 5 years are proving every doubter wrong. But don't take my word for it, here are a few statistics that'll highlight the real value of visual content:

There are hundreds of other studies online by marketers, psychologists and cognitive neuroscientists that prove this point: visual content is the future.
So from that, we can clearly see that not only does visual content attract more eyes to you and your company, but it also skyrockets engagement and conversion. Now, let's look at exactly how you can achieve that.
How to use visual content in your sales process
I mentioned earlier that we'll focus on three main areas of the sales process in this post: attracting a prospect, converting them into a lead and then eventually closing them and making them a customer.
So we'll shed light on exactly how visuals can help you increase conversions in each of these stages:
Using visuals to attract prospects
Using visuals to generate leads
Using visuals to close a sale
1. Using visuals to attract prospects
Ironically, the best way for you to attract prospects is by making it easier for them to find you, instead of you hunting them down. This might seem counterintuitive, but as we mentioned earlier, people are becoming immune to email outreach and cold calling, so you merely need to be available at the right place and in the right time whenever they decide to look for you.
So where do your prospects usually look for answers? Either on social media or search engines.
This year, we've seen the continued importance of visual content emphasized by the changes occurring across almost every social media platform, such as Instagram, Snapchat, Facebook and Twitter.
"80% of marketers use visual assets in their social media marketing. Video (63%), alone, has surpassed blogging (60%) in usage on social media platforms."

According to a 2018 Social Media Marketing Industry Report

That's a remarkable statistic as just a few years ago, blogging was considered the holy grail when it comes to attracting a new audience to your platform. Now marketers are focusing less on developing loyal fans and more on using these platforms to attract new eyes to their business.
A significant 87% of marketers reported that their social media efforts have generated more exposure for their brand and business. Increasing traffic and attracting prospects is quickly becoming the primary reason why companies use social media, not customer loyalty.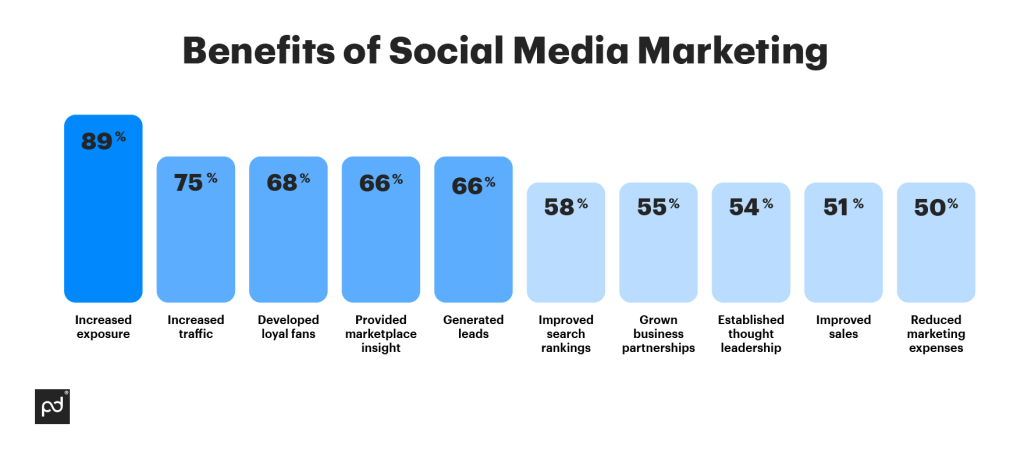 Additionally, you can see here that the two main benefits of social media marketing, according to this report are increased exposure and increased traffic, both of which are the most effective weapons in a marketer's arsenal to attract new prospects to their brand.
Thus, consistently sharing visual content on social media is by far the best way to draw new eyes to your business and be there when they are looking for answers.
Prospects also tend to use search engines when trying to find answers to specific challenges they are facing: challenges that your business could potentially help solve. Improving your blog post's search ranking allows you to be discovered when your audience is looking for solutions to their problems.
SEO is a topic on its own, but we do know that factors like time-on-page, engagement, and backlinks improve your search ranking significantly. Visual content directly influences all 3 elements, which in turn, could help you rank higher and get more prospects to land on your page, and most importantly stay on it.
Visual content, like images, GIFs, charts, and infographics increase engagement by more than 180% as we mentioned earlier. It also increases the desire to read your content by 80%. But what we found most useful is adding visuals (an infographic, report or video) that summarizes your post.
The reason behind that is simple, not only do these visuals help you "educate" your prospects better, but they also allow other blogs and websites to share your visual and/or include it in their future blog posts (as I did with the social media marketing visual) and link to the source.
You might assume that Google is what I was going to cover here. However, we tend to forget that Youtube is continuously transforming the way we discover information online.
YouTube has been the fastest growing search engine over the last 4 years and is currently processing more than 3 billion searches a month! There are no signs of this slowing down anytime soon as video is projected to claim more than 80% of all web traffic by 2019. Yet, many businesses continue to ignore these trends and ignore video content completely in their content marketing strategies.
Whether you're creating videos specifically for your Youtube channel or creating them to summarize a piece of content, video could tremendously increase your chances of attracting more eyes to your business and be available when prospects are looking for answers to their most pressing challenges.
2. Using visuals to generate leads
85% of B2B marketers reported that lead generation is their most important content marketing goal. Yet, many of them continue to ignore visual content when working on a lead generation project. We've already explained above why visual content should be used, so here we'll shed light on how you can generate more leads using visuals.
Every lead generation project needs a "lead magnet." A lead magnet is an incentive that you offer your target audience in exchange for their email and/or other contact information. The type of lead magnet you choose for your project depends mainly on your topic and audience, but here are the content types that produce leads with the highest conversion rates: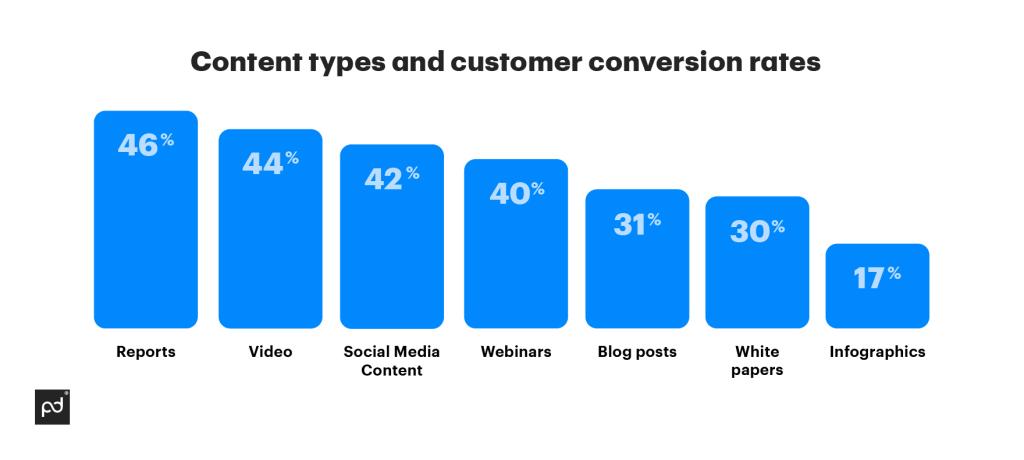 This visual could help explain how visual content is a game-changer when it comes to generating leads online.
Research-driven reports (and eBooks) lead this list as they are a great way to present complex data in an easily digestible form. They are a great way to generate qualified leads online as they offer specific information that caters specifically to your ideal target audience. This piece of content is usually gated by a lead gen form, requiring your reader to leave their contact information to download or access the article.
This type of content is also among the best content types that would help your digital brand establish itself as a "thought-leader" in the industry. This not only would help when trying to generate leads but would also help you gain the trust of your leads, which in turn aids you in your mission to convert them into customers.
We already mentioned why ignoring video content is a bad idea for you and your business. But, videos could contribute to an increase in leads generated in another way.
Adding a video to your landing page can increase your conversion by 80%! As a marketing expert once said: if a picture is worth a thousand words, a video is worth a thousand pictures!
However, one thing no note is that marketers today are actually moving away from landing pages. Many tools online (like Wistia and Venngage) allow you to generate leads directly from your visuals. For example, Wistia offers a service called Turnstile, which enables you to insert a lead capture form directly in your video.
Wistia conducted research by looking at over 15,000 videos using turnstile, and found that lead capturing forms placed in the first 10-20% of the video have the highest conversion rates, ranging roughly from 38 – 43%!
Finally, if you plan on using your blog or social media channels to generate leads, then using icons can be a simple, yet powerful way to increase your lead generation conversion rates! Icons help you draw the eye of your readers and helps guide them along a journey.
Adding icons that either guide your readers or pointing to specific call-to-action buttons is believed to increase conversions by up to 30%! This is a huge increase given the simplicity of adding a few icons throughout your content or on your landing page!
3. Using visuals to close a sale
Generating leads is half the battle. The sad reality is, nothing you've done so far is actually meaningful if you don't successfully execute on the other half: closing the sale!
The second half of the battle is usually referred to as the "lead nurturing" phase. Lead nurturing relates to the process of developing a relationship with your leads until you reach the ultimate goal, which is to turn them into a customer eventually.
In this stage, the primary goals of a marketer or a sales rep are educating your potential users, gaining their trust and showing them how your product could solve their unique problems. However, that doesn't mean sending them a hundred emails until they either buy from you or unsubscribe.
Juggling leads can be a tough task but that's where customer relationship management (CRM) software comes in. There's nothing worse than dropping the ball on where your lead is at in the sales process. CRM tools keep you organized and on task.
Actionable tips to using visual content in every step of the sales process
So how can you use visuals to increase your conversion rates and win more sales? Directly implement everything you learned in the last 2 stages of the sales process in the lead nurturing process.
When reaching out to a lead or sending them an email, they are more likely to read your email if it includes an image and/or a video. Conversion rates for brands using visuals in this stage are seven times higher than those who don't!
Additionally, there was one specific type of content that stood out at this stage: webinars. Webinars continue to be a secret weapon when trying to educate your user and indirectly show them the benefits of the solutions your brand or product is offering. Adding a webinar or two in your lead nurturing emails significantly increases your chances of converting your lead into a customer and winning a sale!
One thing to note is that webinars with a visual presentation do a lot better than ones without, so make sure to include a beautiful presentation design in your webinar.
Finally, before you start using visuals in your email communications, I highly advise that you personalize your conversation as much as possible. Make sure that your content is explicitly targeting the right audience (read more about generational marketing) with the right webinars, videos and/or another type of content.
The right visual content could skyrocket your conversion rates significantly, but, the wrong one could crush your conversion rates and contributes to a ton of lost sales. To summarize, the right content, targeting the right people, with the right visuals will ultimately skyrocket your conversion rates and set you apart from the oversupply of content available online!
Conclusion
Visual content can no longer be ignored in your sales process. Customers have built resistance to the "traditional" methods used by marketers/sales reps and what worked in the past no longer contributes to a positive ROI for businesses and brands. Thus, to truly set yourself apart, you need to learn from the mistakes of others and adapt to emerging trends and technologies!
We are visual animals with a brain designed to process visuals, not text. 93% of all communication is visual, which is precisely why visual content attracts our attention and in turn, affects our attitude and behavior.
Marketers and sales representatives who truly understand this truth could use it as their secret weapon. After all, using visual content in every stage of the sales process continues to be the easiest and most effective way to increase your conversion rates and win more sales!