VoIP (Voice over Internet Protocol) is a good friend of sales agents.
The technology allows you to call prospects and clients using just an Internet connection.
But this is not all. Since VoIP software can be integrated with various tools — Customer Relationship Management (CRM) in particular — sales agents get new ways of reaching KPIs and boosting productivity.
CRM with VoIP integration provides sales agents with several tools and the ability to generate insights that help handle more leads in a pipeline and customize a business workflow.
To achieve these results, you need to understand the value of this integration and its features.
This article has that knowledge, and the answers to any questions you may have!
What you need to know about CRM with VoIP integration
CRM and VoIP integration refers to a connection between two business applications.
While VoIP software is utilized for making calls, CRM is used for storing customer data.
When integrating these two business apps, your sales agents have everything they need to know about your customers while on the phone with them.
If you are about to connect a CRM system with VoIP, ensure they are compatible.
Check if your CRM has integrated VoIP software as a part of its functionality.
For example, HubSpot has VoIP software and the ability to connect to 80+ third-party phone systems.
Finally, find out if your CRM can be integrated with other software tools that speed up sales process.
For example, if you use a contract management software, you can pull customer data into a contract and send it out in minutes instead of hours of manual work.
No matter which option you choose, there is a list of benefits you get when combining efforts of VoIP and CRM:
Access to call recordings within CRM software
Ability to make calls from CRM
Access to caller information on a screen during a phone call
One-click-call feature from a customer's profile in CRM
SMS campaigns within CRM
Call center statistics
Automation functionality (for example, when sending out SMS)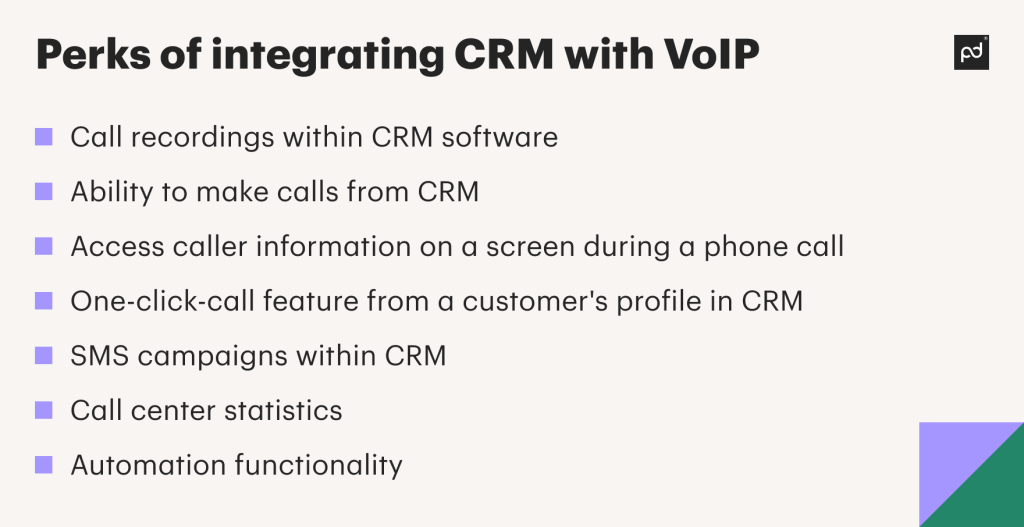 Why it makes sense to integrate your CRM with VoIP
It provides easy access to customer data
When you integrate your CRM with a cloud phone system, you get access to essential customer intel like contact details or behavioral data.
These insights help improve customer service and build stronger connections with your prospects.
Even better, you can update customer data in real-time while being on a call with those prospects.
It speeds up the processing of customer inquiries and minimizes the risk of losing vital information.
Below are examples of information you must (ideally) collect. You can leverage this data on the way of turning your prospects into clients.
Contact details
Name, phone number, and email address are essential when communicating with customers.
Customer feedback
Make sure you document a suggestion or a complaint your prospect has.
It is a valuable source to use as a touchpoint with future customers.
Behavioral data
Any CRM includes tracking customer interaction with your website and other calls to action.
If you know whether your prospect clicked on the button or filled in the form, you can take further steps to improve marketing campaigns.
Demographics
Some CRMs come with the ability to search social media profiles of your prospects.
They extract their job titles, interests, and projects from LinkedIn and Twitter to give you more insights into their needs.
It helps to customize your sales approach when setting up distribution among certain demographic parameters.
It improves productivity of sales agents
Since there is no need to search for customer information manually, VoIP with CRM integration improves the productivity of your sales team.
When a new call comes in, agents have access to data with a customer's name, purchase history, and touchpoints to move the conversation forward.
If an agent wants to make an outbound call, the CRM reveals a recipient's number without additional research from a sales rep.
In CRM, you can create a list of phone numbers useful for sales agents who make hundreds of calls per week.
If a customer doesn't pick up the phone, the VoIP system moves on to the following number in line.
And in the long-term perspective, these tricks allow sales agents to handle more leads in the pipeline and close deals faster.
Connecting your CRM with sales automation software will help you to process leads even faster.
PandaDoc's sales automation software is compatible with many popular CRMs.
You can easily integrate customer data from CRM into sales-related documents like proposals, contracts, quotes, agreements.
Since PandaDoc offers pre-built document templates, you can save time on creating documents and have more chances to turn your lead into a prospect because of a short time delivery of documents.
It improves interaction with a customer
Once you have customer information in front of you, it is your source of making communication more personalized.
Data on previous emails, messages, and notes are your sources for extracting touchpoints and leading calls based on them.
Access to data is beneficial even for agents who have never interacted with a particular prospect before.
A rule you must follow is that your communication should always cover prospect needs. It increases retention rates and the possibility of closing a deal.
It helps to build a strong sales team
Integrating VoIP and CRM allows you to see metrics on each sales agent — the number of calls they've made, both taken (received) and hung up on, the average call time, and wait time, etc.
This data helps to manage and improve the way your team operates.
For example, if a sales agent spends more time with a particular account than average, you can assign another sales agent to process this client.
Or if there is a time of day when prospects seem to hang up on calls most often, free up a few sales agents from this task.
It combines marketing and sales efforts together
Marketing and sales go hand-in-hand when it comes to getting new leads.
With the integration between VoIP and CRM, marketing and sales get insights into how prospects react to marketing campaigns.
For example, if your clients pick up phones at 1 pm three times more often than when you used to call or send messages — it's time to make corrections to your approach.
Information such as the number of website visits and what items have been viewed and opened helps personalize messaging.
It also reduces the time spent on asking questions at the beginning of the call, which allows agents to convert callers into customers faster.
Top 5 integrations between CRM and VoIP
Call recording and auto-log feature
Years pass, but this feature remains at the top of integrations between CRM and VoIP service.
The call recording feature allows you to record conversations within CRM.
You can play back recordings anytime and get the information you discussed with a prospect on a previous call. It is also a way to gather reporting and understand opportunities for improvement.
All recordings are automatically connected to the contact record within CRM. So once you reach out to a customer's profile, you can see their complete interaction experience.
The auto-log feature is responsible for logging all voice calls — inbound and outbound — that you have with prospects.
You can unlock the transcript feature and use conversation intelligence to get analysis faster.
These features are designed to let your sales agents spend more time interacting with customers instead of doing manual work.
Click-to-call feature
Click-to-call feature connects a sales agent with a prospect within one click. It is also known as a click-to-dial and one-click calling feature.
It is possible to leverage this feature in two ways.
First, to make telephone calls within your CRM. With VoIP integrated into your CRM, a phone system calls you and your recipient at the same time. You need to respond to a call when another party is connected.
Another way to use this feature is through a click-to-call button on a website.
A user scrolling down your website page can connect with a sales agent once a button is connected with your telephone number.
The click-to-call feature is a must-have for sales agents looking to speed up calls and avoid human error.
When integrated with CRM, it provides an entire history of your customer, including contact details. It all helps to improve conversion rates and close deals faster.
If your next move is to send a contract to your prospect, use a contract management software to facilitate that process.
You can not only have a contract ready in minutes, but also automate tedious processes like signing or approving contracts.
For example, a signing order feature helps to set up the order of signing and automate the sending out of your contract.
Call analytics
The capabilities inherent with call analytics are another reason why sales agents love the integration between CRM and VoIP.
This integration comes with many tools that measure data related to incoming and outgoing calls, such as call volume, speed of answering, hold time, and other metrics.
You can access call analytics in CRM to review the performance of an individual sales agent or the entire sales team. In that case, you will have a dashboard of activities and metrics generated for the last 24 hours.
Many sales reps leverage call analytics as a part of the voicemail feature.
It helps to analyze received voicemails in terms of volume, the average time of receiving them, and the quality of sales response.
Another way to use call analytics is to measure marketing campaigns' performance levels in the CRM.
With the call analytics feature, you can determine conversion rates, the best time of day to run ads, determine what calls you had from Google Ads, and other data.
Send automated SMS
Integrating the SMS feature into your CRM is another must-have for sales agents.
Statistically, 34% of people open messages within 5 minutes after receiving them, and 89% open them within the first 30 minutes.
This feature allows you to continue your conversation with a prospect you just had on a phone since you can send an SMS automatically.
For example, you can send a link to book a demo while your client is still within the timeframe of thinking about your offer after just speaking with you.
Another situation — if a client does not respond to an outbound call, you can reveal his phone number using CRM and send a message asking, "What's a better time to call you?"
CRM and VoIP integration comes with the following functionality:
Click-to-text button — having the click-to-text icon with every contact you have in CRM is a helpful shortcut to reaching out to your prospects immediately.
SMS automation — a way to send text messages to your prospects whenever there is the right time. For example, as a follow-up action.
Bulk SMS — this feature is a part of SMS marketing when you want to send a massive list of messages like promotional ones to build contacts.
IVR (Interactive voice response)
Remember those times when you called a firm and were routed to the appropriate department?
This is what IVR helps with — it identifies, segments, and routes a person to the right place to avoid a situation where your prospects stay within one general reach-out point, which may be off-putting or even a deal-breaker.
This feature helps to keep customer satisfaction at a high level and get leads faster and within the right channel.
Things you get when integrating IVR with CRM:
Calls are routed to the right department
You can log, record, and see analytics of calls in the CRM
You can see the history of people who called you in the CRM
You can use the click-to-call and auto-dial features to make outbound calls faster
You become aware of such performance indicators as average call time, call volume, first-call resolution, dropped calls, and others.
Boost your sales process with PandaDoc + CRM integration
Integrating CRM with VoIP is a way to speed up and improve the process of handling prospects.
Selecting the right features within integration will help with that.
You can start with the common ones — like call recording — and then switch to more marketing-oriented aspects — like SMS automation.
When choosing integration options, find out if your CRM is compatible with software automation tools.
PandaDoc offers that kind of solutions — contract management software and sales automation software are among them.
Since PandaDoc can be integrated with famous CRMs like HubSpot, Salesforce, or Zoho, you can easily connect these two software tools to boost your sales process.
Get the most out of CRM to see how your productivity changes!
Disclaimer
PandDoc is not a law firm, or a substitute for an attorney or law firm. This page is not intended to and does not provide legal advice. Should you have legal questions on the validity of e-signatures or digital signatures and the enforceability thereof, please consult with an attorney or law firm. Use of PandaDocs services are governed by our Terms of Use and Privacy Policy.
Originally published June 21, 2018, updated April 6, 2023