Are you determined to streamline operations but keep getting stuck dealing with paperwork?
Documentation is supposed to improve business efficiencies by reducing wasted time and the chance of potential errors in the long term. In reality, dealing with it is often tedious and time-consuming.
Well, that's why people came up with methods to automate documentation — and why PandaDoc created document automation software. In this article, you'll see what it's all about and how embracing this solution can save you both time and effort.
What is document automation?
Document automation refers to automating the creation, processing, and overall management of documents through software.
The automation is based on predefined workflows and templates that streamline document creation and management within an organization and beyond.
Automated documentation software
According to WorkMarket's "2020 In(Sight) Report: What AI & Automation Really Mean For Work," 7 out of 10 business leaders believe that they spend from 45 minutes to over three hours of each day on mundane tasks that aren't core to their role.

And this is where the document automation software comes in handy. It reduces time spent on:
Data entry
Accessing and adjusting templates
Proof-reading and handling human error
Sharing documents with collaborators
Signing and storing the signed documents.
Automating minimizes the costs of performing repetitive tasks. Document automation tools can be used for all kinds of digital documents across all industries.
The best apps ensure top-notch privacy and security, as well as allow to collect legally binding eSignatures, making it possible to sign all the documents remotely and without using the postal service.
They streamline all parts of the process and are highly customizable depending on each organization's workflows.
How does automated documentation work?
Let's see how document automation software works and how specific features shorten the document creation process.
1. Document generation and templates
First of all, automation tools usually provide a library of document templates. They often come with document generation features that allow for the creation of new templates and customization of the existing ones.
An easily accessible library of approved company templates makes it simple for employees to create new documents.
For supervisors, this ensures that people are using the most recent templates available, ones that have already been checked for HIPAA, FERPA, or GDPR compliance.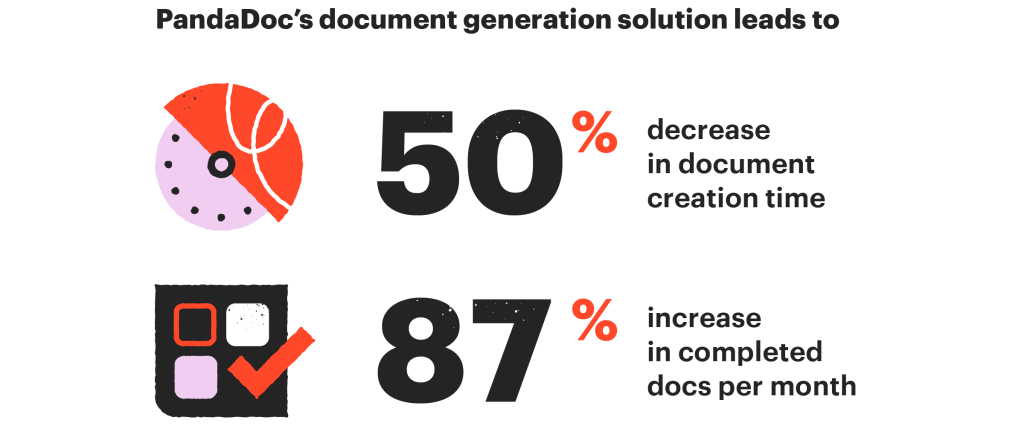 2. Branding and design
The most user-friendly tools enable easy design editing through drag and drop, or through integrations with design tools like Canva.
This minimizes the need to engage designers in document creation — they are usually involved only in creating guidelines and branded elements at the very beginning.
When creating a new document, regular users, such as sales reps, marketers, or HR specialists, would first access the template, and then customize it using drag and drop.
Doing so ensures that all organizational documents are in line with the brand style guide and the process is as simple as it can get.
3. Automated workflows
Another time-consuming aspect of managing documentation handled by document automation is getting and giving approvals.
Best automation software includes all necessary approvals in a workflow that automatically pings an approver when their action is required, passing the document to the right person afterward.
4. Integrations with other tools
These days, workflows are not only about people. According to the "2019 Annual SaaS Trends Report" by Blissfully, an average employee used at least 8 apps, and a company, depending on its size, used between dozens to over 200 tools.
Document automation solutions provide numerous integrations with other tools to ensure effective data processing.
The integrations vary from simple connectors with communication services such as Slack, MS Teams, or Zoom, to complex and powerful solutions connecting with CRMs or payment systems.
Some examples of what can be automated through such integrations include:
Auto-filling of sales documents
Sending documents for eSignature within a CRM
Automatically updating opportunity statuses in a CRM based on a document workflow
Including a PayPal payment request in a proposal
Streamlining the creation and design of documents
5. eSignatures
Documents require signatures. And collecting signatures is a pain in the neck, said anyone who had to get anything signed ever.
Today, documents can be signed remotely using eSignatures, and to make things even better, they can be added as a step in the document workflow.
6. Collaboration
Getting approvals and signatures indicates the end of document processing. Before that, we usually go through a collaborative creation process or negotiations with multiple parties — a supervisor, another team within our organization, an external lawyer assigned by the investors, or a client.
We might need to figure out numerous comments from a long email thread, get the file prepared or accepted by a designer, switch to another template, and include feedback received during a call or a meeting — the list is often extensive.
Document automation software streamlines the whole process by enabling comments, approval workflows, and version tracking.
It basically takes all the above interactions and fits them into a transparent process based on organized communication.
For security, users are usually assigned different permission levels based on their roles. Admins can check how each user interacted with any document and set up notifications about different user actions.
How do you automate a Word document or a PDF?
You can automate the creation, sharing, and signing of any document you regularly use. In terms of document creation, most systems provide their own text editors.
That said, many enable integrations with widely-used tools such as MS Word, Google Docs, or Dropbox, making it fairly simple to automate a Word document or a PDF.
How do you automate documentation step by step?
Before you begin automating your documentation, you need to analyze and define your needs.
Once that occurs, you'll be able to choose the tool that will best suit your needs and help you not only save time but also transform the way your organization operates in the long term.
An abridged version of the recommended process is as follows:
1. Prepare:
Include eSignature in your templates.
2. Automate:
Create automated workflows based on your current processes.
Integrate with your other tools (such as a CRM or invoicing software).
3. Test
Run the automation in a test environment.
4. Review
Fix mistakes and adjust the tools.
5. Launch
Train the team.
Launch the automated process.
6. Evaluate
Continually adjust and improve your automation.
Final thoughts
As you can see, an automated documentation system can come with multiple time-saving features that streamline different steps of document processing.
Once we incorporate them all in an automated workflow and connect them to other apps, it becomes an incredibly powerful business tool.
If you feel like your organization has not yet unlocked the full potential of document automation, check out the stories of companies who use PandaDoc to achieve their business KPIs, and get inspired!