If you've ever needed to fill out a form or questionnaire by hand, you know how tedious it can be.
Form builder apps help businesses skip past pen and paper and create beautiful forms that can be used on website landing pages, during registration processes, and more.
Let's take a look at some of the best form builder apps on the market for 2021.
How we found and selected the best form apps
There are a ton of great form-building tools on the market today.
In order to accurately select and assess all the form options on the market, we analyzed reviews, feedback, and criticism from over 32 different websites and weighted what we saw based on website views and perceived authority.
To determine authority, our data sources were grouped into five cohorts based on monthly visitors (which we took from Semrush):
>1.000.000 visitors;
500.000 – 1.000.000 visitors;
250.000 – 500.000 visitors;
50.000 – 250.000 visitors;
<50.000 visitors
The websites with the highest visitor traffic and greatest domain authority were given more weight in our calculations and analysis while lower-traffic web and less authoritative websites were scored lower.
However, in-depth reviews and feedback were given considerable analysis and weighed carefully as part of our calculation.
Lastly, PandaDoc recently launched PandaDoc Forms, a competitive form builder that is a perfect fit for users looking for all-in-one form creation.
Our team conducted extensive market research in order to build our own product!
We closely reviewed a variety of websites, including several not listed in our final selection, in order to determine the best form-builder solutions according to what features were offered, and which software tools were the closest fit to what we believe shoppers are looking for.
Lastly, we also checked with our team and customers to better understand how businesses actually use sales tools, what features they were looking for, and which collaborative tools had been most beneficial to them.
01. PandaDoc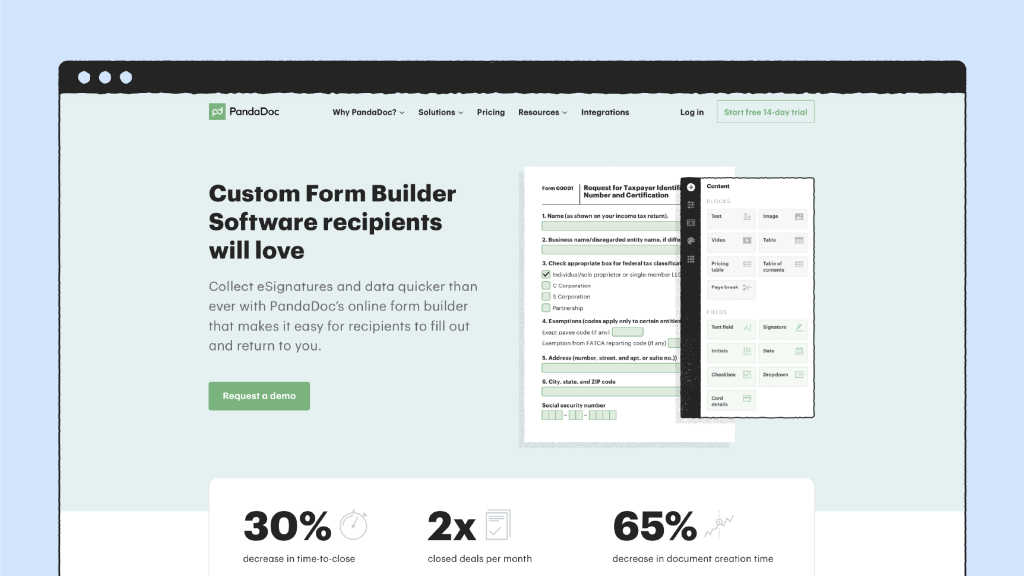 Pricing: Free trials; included in plans starting at $65/month
We might be a little biased, but we feel that the PandaDoc form builder software is one of the best form tools on the market due to its simplicity and ease of use.
PandaDoc users can create forms using the same document editor that allows them to build quotes, proposals, and contracts.
Forms can be created as standalone documents and used for a variety of purposes, including sign-up and registration, invoicing and payment, surveys and feedback, and much more.
Our tools allow you to capture signatures, collect payments, and embed forms seamlessly into your website or online workflows, so your team can use the same tool for end-to-end document creation.
Best of all, our forms are included with the same great features and functionality you already get from your PandaDoc plan at no additional charge.
Key features
250 docs per account are provided with all Business and Enterprise plans at no extra cost. Additional forms are $2 per completed document. Form design is always free.
No coding experience required, so anyone can use it.
Easily capture credit card payments through existing integrations like PayPal and Stripe.
Respondents can create legally binding e-signatures by filling out and singing forms using our secure platform.
Pros
Unlike the other platforms on our list, PandaDoc Forms are included with the other great document-building tools that are part of your PandaDoc plan.
This allows you to quickly and easily build a new type of document to further streamline your data collection and automation processes. You can also create a signing order for your forms and create editable templates for fast and accurate deployment.
In our view, this makes PandaDoc the best software for creating fillable forms because you always have other tools at your disposal if you need something more robust.
Cons
As a new product in this space, PandaDoc lacks some of the advanced features that some of our competitors offer.
While this will change in the near future, advanced form creation with conditional logic and advanced form fields isn't currently available.
02. Formstack Forms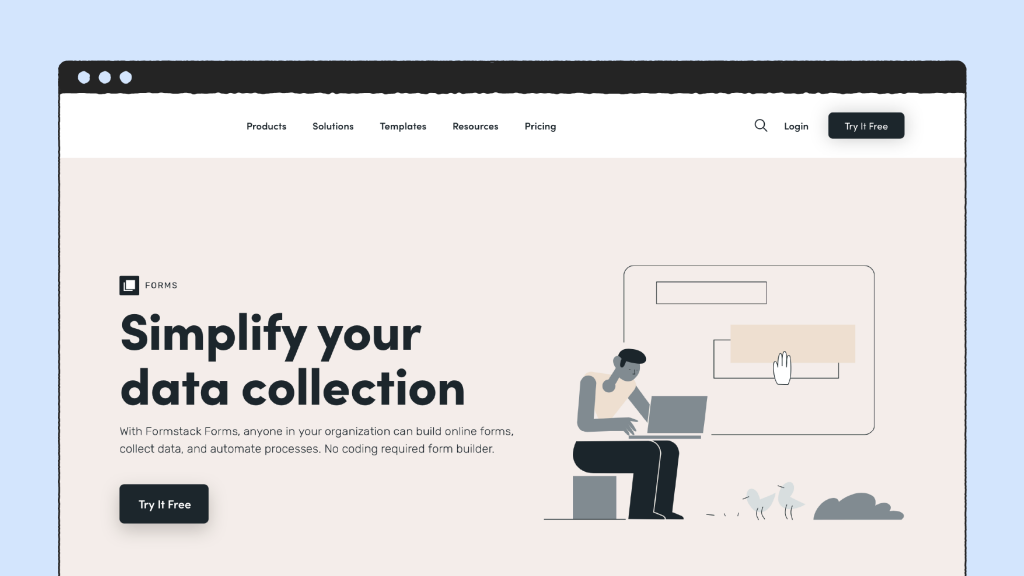 Pricing: Free trial; plans start at $59/month.
Part of the Formstack platform, Formstack Forms features a variety of form field types packed into an easy-to-use drag and drop editor. Every form is designed to be mobile-friendly and can be suited to a unique task, from data collection to customer surveys and feedback.
Formstack Forms also focuses on helping users automate processes. You can link the form to backend processes through integrations and plugins so that your system automatically creates associated records from your form submissions.
Key features
Drag-and-drop tools for easy form creation.
Automation can help to save time and resolve information duplication tasks across multiple software tools.
Part of a family of products (sold separately) for document creation and e-signing.
Pros
There is a lot to love about Formstack Forms. The system is flexible and easy to use.
This tool comes with a huge number of integrations (including Google, Mailchimp, Stripe, and more), along with API access and custom branding options for every plan.
Plus, because Formstack Forms is connected to the rest of the Formstack product line, it's easy to tie in document creation and electronic signatures for maximum flexibility with your forms.
Cons
The downside with Formstack comes from its limitations. Depending on your plan, you may be limited in the number of forms and submissions that you can create.
For example, on the entry-level plan, you can create a maximum of 20 forms and capture up to 1,000 submissions for each form.
While these limits ease with more expensive plans, they may still be a major drawback if you're trying to scale your data capture through online forms.
The other major downside is that Formstack Forms isn't a complete solution.
Document generation and e-signing are both sold as part of the Formstack platform, but they are not included as part of the standard Forms subscription. You'll either have to purchase those plans separately or join the Formstack Platform ($360+/month). You may check the Formstack alternatives here.
03. Jotform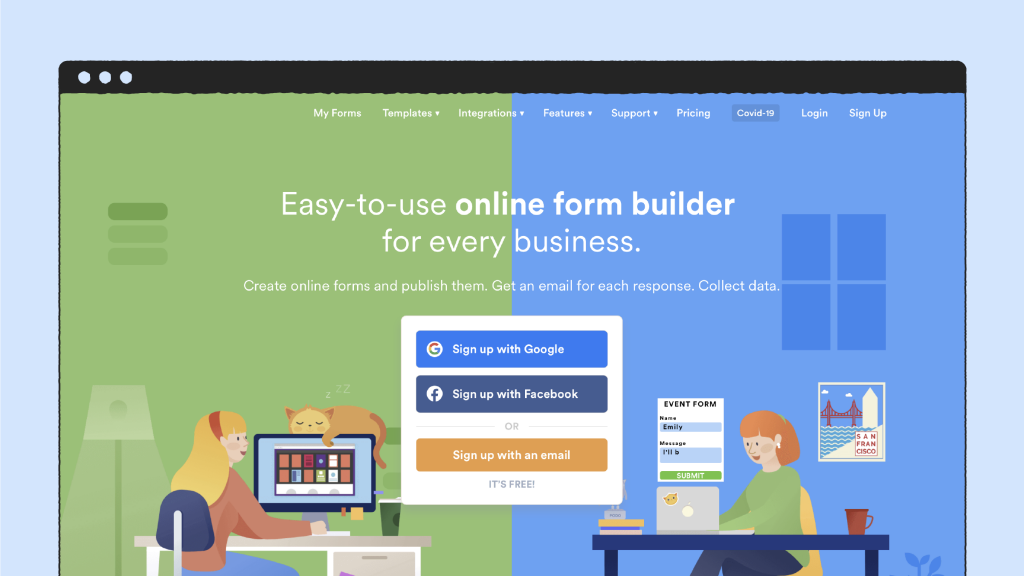 Pricing: Free option; plans start at $29/month.
Trusted by over nine million users, Jotform is a go-to form creator for thousands of businesses. With flexible customization options and affordable pricing options, Jotform can help you create online submission forms and embed them to your website or mobile platform with ease.
This form builder also offers a wide range of discounts for students and nonprofit organizations, which makes this tool even more attractive for users in those fields.
Key features
Robust library of form templates, including card form templates, table form templates, and more help to make form creation easy.
Report builder makes it easy to visualize, represent, and present key data points.
Online payment capture is fast, easy, and effective.
Pros
Jotform has an easy-to-follow form creation process that can help you digitize your data collection.
It's also one of the best free form builders out there, which makes it ideal for small businesses who may need something like a contact form for their website but don't want to pay a hefty monthly fee.
Cons
The drawbacks with Jotform come from some of its unique limitations.
Jotform is the only software that places a view limit on your forms. While this gets removed in higher-tier plans, it's an unexpected restriction that may change how you embed or display your form.
This software tool also doesn't integrate with key CRM tools like Salesforce or Microsoft Teams and restricts the number of users to a single person unless you're on the Enterprise plan.
04. Cognito Forms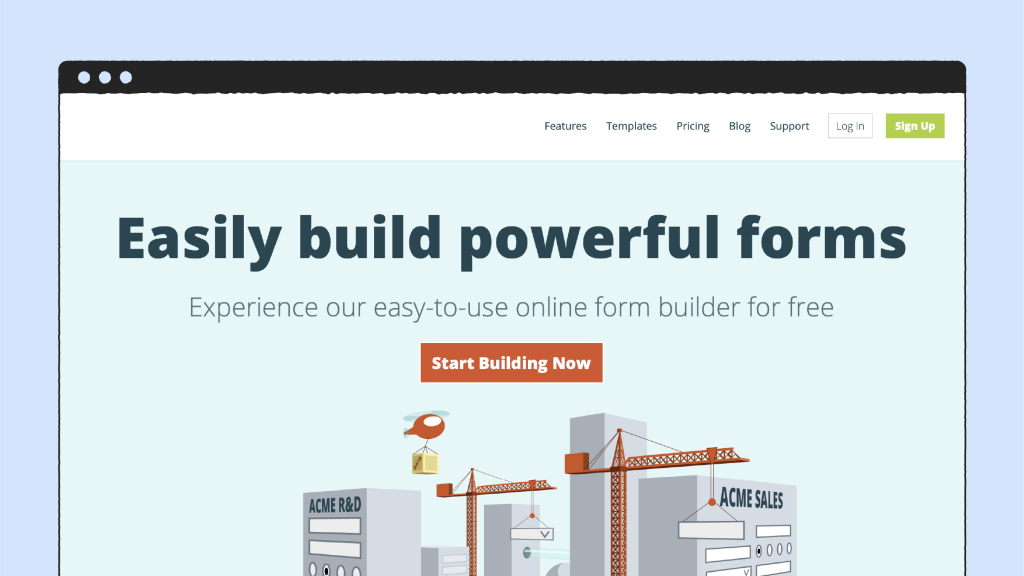 Pricing: Free plan; plans start at $15/month.
With Cognito Forms, you'll be able to build powerful forms for any end-to-end process. Whether you need to build registration forms or online order forms, Cognito Forms excels at helping you build and share data capture solutions that work.
This platform comes with a ton of analytics and tracking tools, as well as the ability to create populated dropdowns, perform calculations, and more.
Key features
Unique form fields like calculations and populated dropdown menus can give respondents better answer choices.
Users can update entries after they've been submitted rather than filling out a new form again.
Analytics and tracking tools make this platform a viable option for marketers and sales strategists who want to track campaign performance.
Pros
Of all the forms we looked at, Cognito Forms is probably the most technically capable.
While most forms on our list have basic things like conditional logic in order to make forms smarter and customize respondent choices, Cognito Forms takes this to the next level with calculations, drop-down menus, and other interesting form fields.
Cons
If you're looking for native integrations and plugins, this platform has a serious downside.
Cognito Forms relies exclusively on Zapier connections for external integrations, which means that you're relying on a third party to connect your information to other tools in your pipeline.
The company also places some heavy roadblocks on submission storage and on the number of form entries you can capture on a monthly basis, especially on lower-end plans.
Take a closer look at these limits before purchasing to make sure they suit your needs.
05. Wufoo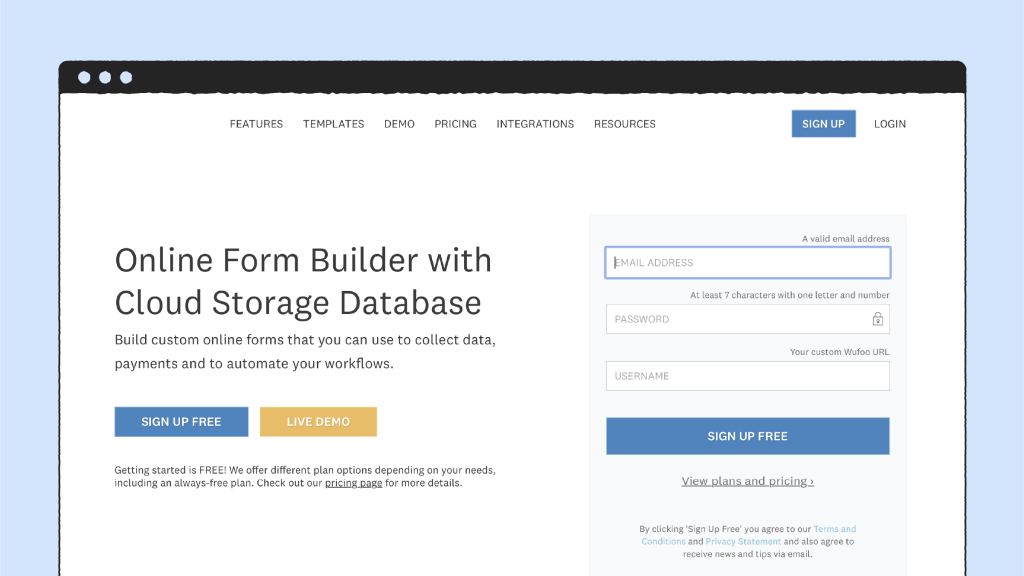 Pricing: Free plan; paid plans starting at $15/month.
Wufoo is SurveyMonkey's form builder and data capture tool. As with most other forms on our list, you'll be able to create basic surveys using radio buttons and text fields, but nothing as robust as what SurveyMonkey would offer.
As a form builder, Wufoo, compared to some of its alternatives, is focused on creating a no-code, drag-and-drop form builder that is easy to use and fitted to a unique theme.
Paid plans have access to custom branding, integrations, and message customization, and the theming options make it one of the best ways to create forms that look great when embedded into your website or mobile application.
Key features
Templates and customization options make it easy to get up and running in record time with any form.
Data export means that you can work in tools like Excel or Google Sheets to make sense of your data.
File uploads are fast and easy for respondents who need to send additional information along with their form.
Pros
Wufoo is great when it comes to creating online forms for business use. It's simple and easy to use, and provides flexible theming options.
This tool also integrates natively with Salesforce and Stripe, so you can create CRM records, capture payment, and more without a hassle.
Cons
Outside of some core plugins, Wufoo's integration features are spotty. You can use Zapier to connect to a wide variety of apps, but the connections are third-party.
Wufoo also doesn't offer any form of HIPAA-compliant data capture. Most of the other form builders offer a level of encryption and data security, but Wufoo doesn't even bother. Instead, you'd need to use SurveyMonkey for that.
06. 123 Form Builder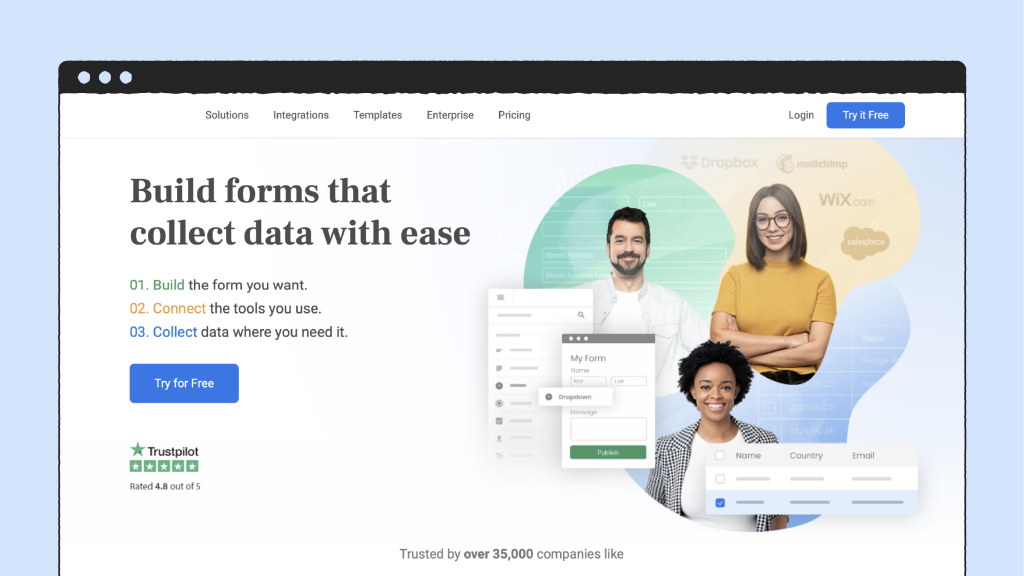 Pricing: Free plan; paid plans starting at $25/month.
One of our favorite features about 123 Form Builder is its simplicity. This might be a downside, depending on your needs, but it's very straightforward.
With 123 Form Builder, every plan comes with unlimited form submissions, 10 GB of space for uploads, and access to all integrations. This is a vastly different take from other tools on the list, which may try to restrict you with form views or submission limits.
Key features
Unlimited submissions allow any number of respondents to reply to your forms without penalty or restriction.
10GB of submission storage is a flat-rate offer across the platform. This is great for smaller organizations, but may not be enough for enterprise entities.
Free plan has a ton of options and is a great fit for a smaller organization with limited form requirements.
Pros
With 123 Form Builder, you'll have access to a wide array of features, from payment gateways and form calculations to discount and coupon codes.
You can also randomize choices, add countdown timers, and more when creating your forms and/or surveys. All of these options give users greater control when it comes to building the perfect form.
Cons
In addition to the flat rate storage being a downside for larger businesses, many of 123 Form Builder's features are locked behind higher-tier plans.
HIPAA compliance, advanced encryption, and Salesforce integrations require higher-tier plans and the overall availability of integration options is lacking when compared to competitors.
07. Google Forms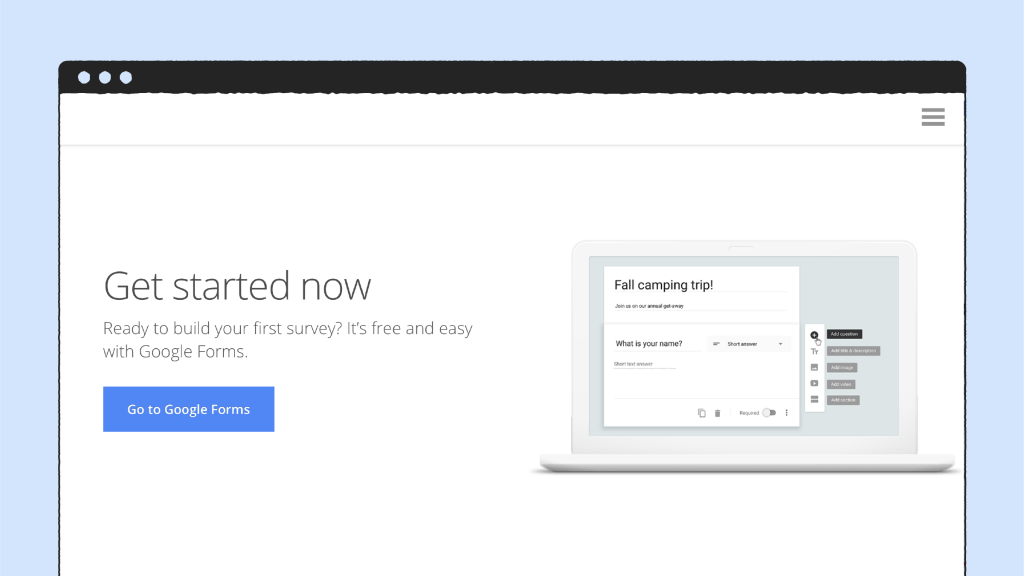 Pricing: Free for personal use; included in all business plans.
With Google Forms, you can create free online surveys and forms that embed easily into everything from WordPress websites to mobile apps.
Google provides a huge number of tools to make data collection simple and easy, which makes it one of the best free online forms for data collection. All you need is a Google account to get started.
Key features
Google's form maker allows you to create powerful web forms at no charge, which is perfect for personal and small business use.
Google Forms integrate with Google Sheets, Docs, and other Google-based productivity tools, so capturing and storing data is seamless.
The form creation process is simple and intuitive. If you've ever created anything using Google tools, you'll pick it up in seconds.
Pros
The biggest advantage to using Google Forms is that you're using Google for data collection. The tools are simple and intuitive, and they integrate well with other Google products.
If you're using the Google productivity suite for your business, it may make more sense to use tools that are already included in your plan than to purchase an entirely new tool from a different vendor.
Cons
Google Forms does a great job at collecting information, but it can be limited. Google won't collect payments and doesn't provide many options for custom branding or labeling.
Some features offered by other companies on our list, like electronic signature capture or native integrations, aren't available with Google Forms. You may be able to connect to these features with Zapier.
08. FormAssembly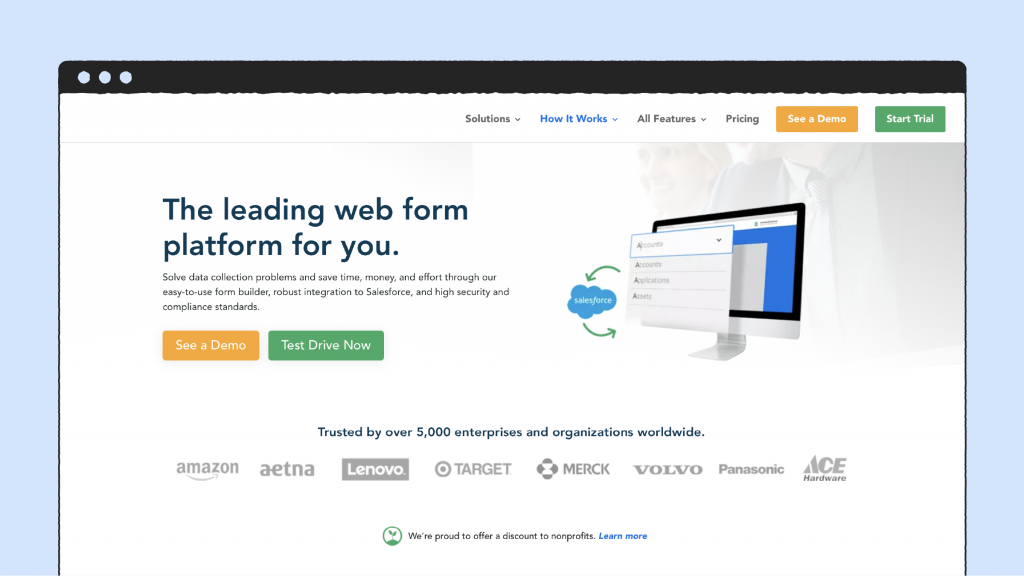 Pricing: Free trial available; plans start at $99/month.
Of all the form-building tools on our list, FormAssembly is the most clearly geared toward enterprise-level clients.
This platform offers unlimited form creation, submission, and storage options, as well as payment capture and encryption options. At higher levels, you can also get the tools you need for HIPAA compliance, multi-user authentication, and more.
The downside? FormAssembly is one of the most expensive options on the list, and the features are geared toward multi-user corporations rather than small- to medium-sized businesses.
Key features
Great fit for enterprise-level companies since most of the features are targeted toward larger businesses.
Unlimited forms, submissions, and storage mean you never have to worry about overages.
Built-in mobile apps for easy data collection on iOS and Android. Can't be used to create or edit forms, but can display mobile forms in online and offline mode.
Pros
FormAssembly excels at the enterprise level. The basic plans will give you everything you need to collect data from customers. Forms are easy to build and integrate readily with Salesforce, Stripe, Google Analytics, and other software tools.
Ultimately, this platform connects with cloud services so that your forms become the entry point for data collection that spans across your entire organization.
At higher tiers, FormAssembly includes cloud services to help you keep your data secure, backed up, and organized. If you need an online form builder with a database backup, FormAssembly is a good fit.
Cons
In addition to the hefty price tag, FormAssembly has chosen very specific integration options for its users.
This platform doesn't integrate with Microsoft Teams, HubSpot, or other popular CRMs. It's mostly Salesforce, Single Sign-On (SSO), Google, and a few others. If you're not using these tools, the FormAssembly workflow may not work for you.
09. Zoho Forms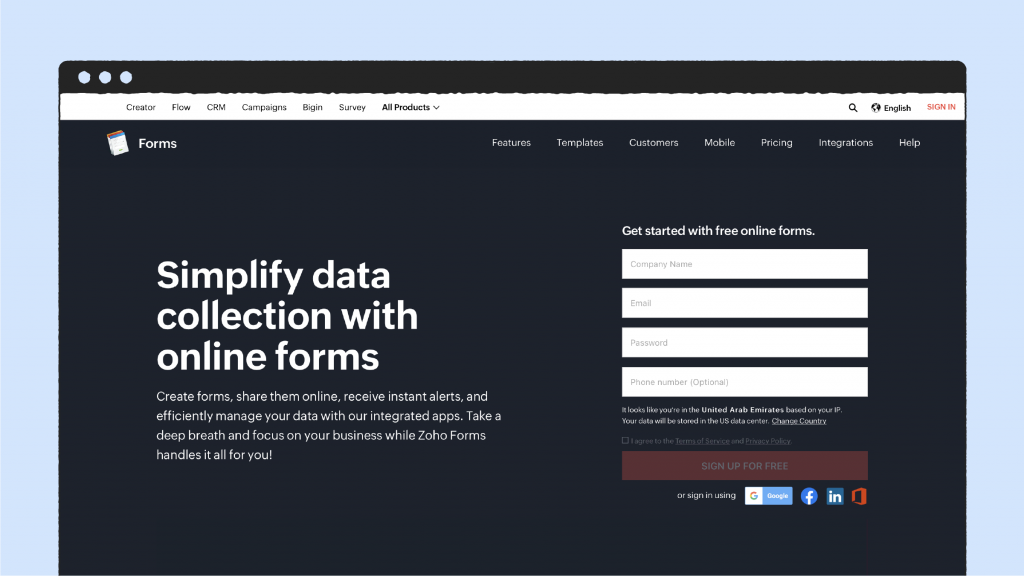 Pricing: Free plan available; plans start at $8/month.
Part of the Zoho family of apps, Zoho Forms allows you to build forms quickly and embed them into your website using HTML/CSS.
This tool comes equipped with over 40 different field forms, including dropdowns, checkboxes, and payment windows. You can split forms across multiple pages, use skip logic to skip unnecessary questions, and more.
While many of these features are available in other apps, Zoho Forms is the best way to create forms while on a budget (if you don't like Google Forms, which is free).
Key features
One of the most cost-effective plans on the list.
Huge variety of form fields, automation tools, and features so that you can create forms that suit your needs.
Save and resume feature means that respondents can leave and come back if they get sidetracked.
Pros
Zoho Forms is extremely flexible, offering great mobile app functionality, and integrates with key productivity software tools.
In addition to integrating natively with other Zoho apps, you can also connect to Salesforce, G Suite, or use Zapier to connect with thousands of other applications.
Cons
On the whole, Zoho builds great products — but you won't have to look very far to find horror stories about their customer service.
If you're looking for top-tier product support when something goes wrong, Zoho may not be able to deliver in a timely or effective manner.
How do I create my own form?
PandaDoc Forms are accessed by enabling the Form add-on from the PandaDoc store, which is accessible from inside your PandaDoc account.
After this is enabled, you'll notice a new Forms item on your PandaDoc sidebar.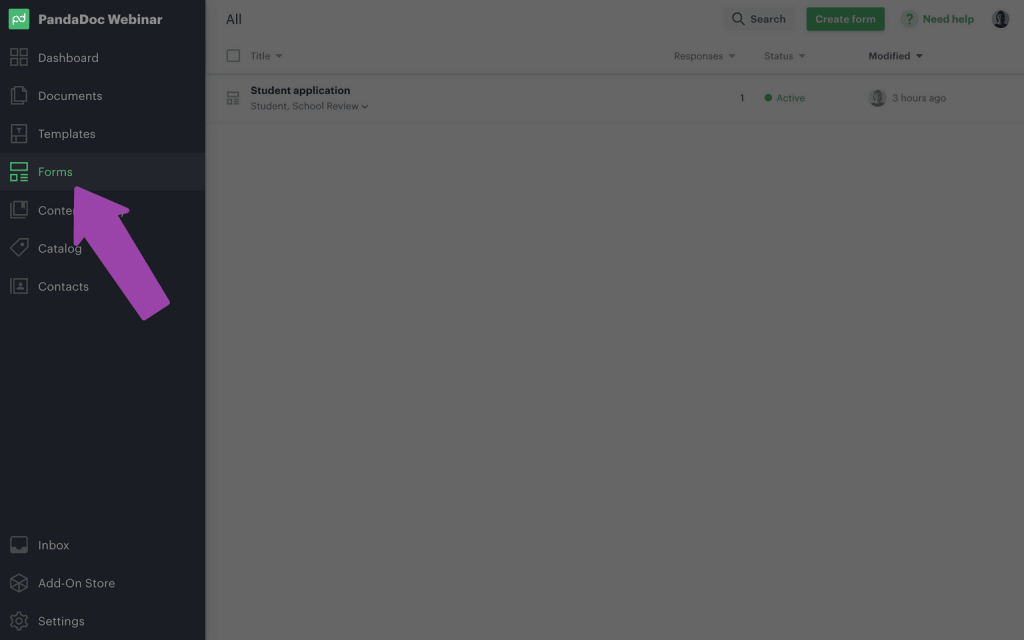 From here, you can create a form using the PandaDoc document editor by dragging and dropping appropriate form fields into your document.
You can also designate a signing order for your forms to automate the signing process. In this scenario, the primary recipient will fill out the form first.
Upon completion, the secondary recipient will receive the form and fill it out for themselves.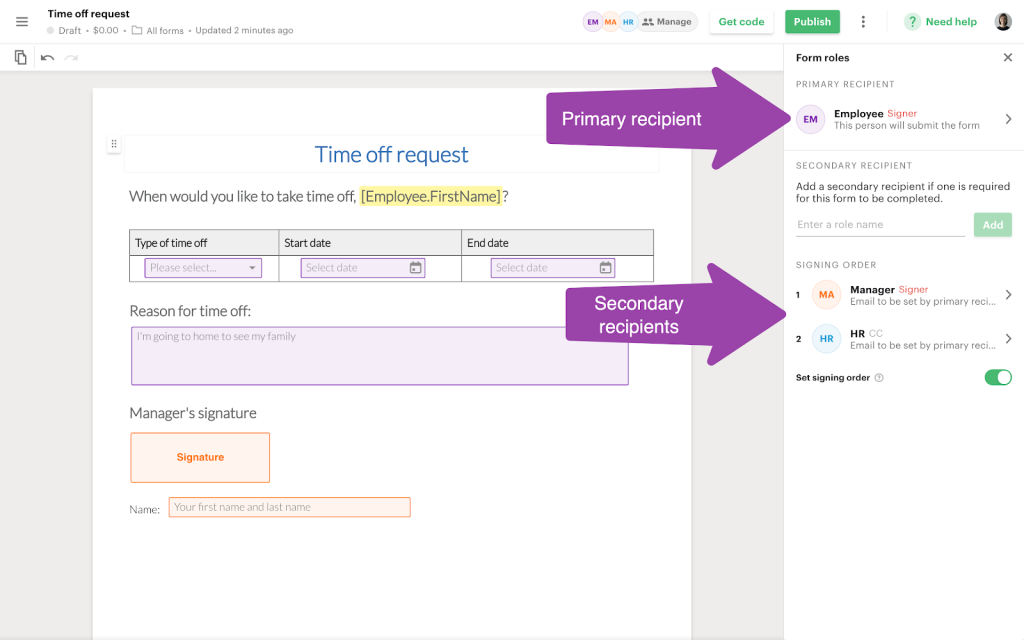 This send and sign process is entirely automated. You won't have to do anything until all parties have signed and completed the form.
It's that easy!
Build the document of your dreams with PandaDoc
Forms are great for capturing information in a fast and efficient way. Many of the form builder apps on our list can help you do that.
But, sometimes, a different document is necessary to get the job done. Our forms builder is the best software to create forms, and we've got you covered if you need any other kind of document.
Check out everything that PandaDoc can offer by signing up for a free 14-day trial or schedule a demo with our team to see how PandaDoc can change the way your company does business.
Frequently asked questions
Most form builders offer some kind of payment capture as part of their form builder, but the "best" solution will vary based on what payment capture service you're most comfortable with.

Many form builders process transactions exclusively through Stripe, but some other options are available. For example, PandaDoc offers processing via Stripe, PayPal, Authorize.Net, and others.

The other option to consider is whether you need payments as part of a paid or free forms plan. If you're looking for a free solution that offers payment capture, Cognito Forms and Jotform both offer payment gateways as part of their free plan.

The best information to request is the essential information that you need in order to move users farther into your sales/service pipeline.

By requesting information with that critical function in mind, you can keep your forms short, sweet, and to the point.  Users can become wary if you ask for a ton of unnecessary information, leading to form abandonment and diminishing interest in your product or service.

That's why so many forms — especially forms at the top of the marketing or sales funnel — only ask for very basic contact information.

By using essential information as your guiding star, you can keep your forms brief while gaining the opportunity to gather additional information later, if required.

Great tools can help your forms look good, but you may not need a ton of fancy form fields to make your form shine.

Short and simple forms that don't overburden the user by requesting too much information are always preferred. How you choose to ask for information is another consideration.

Advanced forms will give you display options that go beyond basic text fields.  This might include radio buttons, dropdown menus, conditional logic, and more.

All of these tools are designed to help you gather information in a fast and efficient manner while minimizing the amount of screen space required to collect your required information.

The features that you need will vary depending on what kind of form you want to create.

When creating a simple contact form, a very basic form with alphanumeric fields will probably get the job done.  On the other hand, more complex forms may require conditional logic, radio buttons, menu selections, and more.

If you're shopping for a form builder because you have a form in mind that you'd like to create, take a few minutes to sketch a rough draft of the form on a piece of paper or inside a word processing document.  Get a feel for the information you need, and keep your overall objective in mind.

Once you know what you need to build, check out PandaDoc and a few of the other form builders on our list for a good fit.

Many of the free form builders on the market today, like Google Forms or JotForm, are great for lead generation.

These top-of-funnel forms don't generally require extensive information or advanced features like e-signing or payment capture.

Most lead-generation forms only need a few fields for users to enter their name and contact information, and most basic form tools will excel here.

Forms are great for capturing information in a fast and efficient way. Many of the form builder apps on our list can help you do exactly that.

But, sometimes, a different document is necessary to get the job done. Our forms builder is the best software to create forms, and we've got you covered if you need any other kind of document.

Check out everything that PandaDoc can offer by signing up for a free 14-day trial or schedule a demo with our team to see how PandaDoc can change the way your company does business.
Disclaimer
Parties other than PandaDoc may provide products, services, recommendations, or views on PandaDoc's site ("Third Party Materials"). PandaDoc is not responsible for examining or evaluating such Third Party Materials, and does not provide any warranties relating to the Third Party Materials. Links to such Third Party Materials are for your convenience and does not constitute an endorsement of such Third Party Materials.