Need an alternative to Wufoo?
Switch from Wufoo to PandaDoc to enjoy incredible document generation and form-building tools. Go beyond simple Wufoo forms and create business documents with ease using the PandaDoc drag-and-drop editor.
| | Wufoo | PandaDoc |
| --- | --- | --- |
| Form creation | | |
| Online form builder with database | | |
| Embeddable forms | | |
| Branding options | | |
| Payment gateways (Stripe, PayPal and more) | | |
| Encryption | | |
| Integrations (Zapier, Salesforce, etc.) | | |
| Drag-and-drop form builder | | |
| Analytics and tracking | | |
| File uploads | | |
| Mobile app | | |
| Template gallery | | |
| API access | | |
| 24/7 customer support | | |
| Electronic signatures | | |
| HIPAA compliance | | |
| Content library | | |
| Approval workflows | | |
| Custom document variables | | |
Your brand, your way
Sales pros know that branding matters when sending documents and forms. While you can upload a custom logo with Wufoo, only PandaDoc gives you full branding and control over the user experience. Upload a logo, and create custom messaging for your email invites and confirmation pages so that your data collection process feels personal and unique.
Secure documents and data
Wufoo only offers field encryption for up to five (5) single lines of text. If you're trying to maintain security and confidentiality, that might not be enough. With PandaDoc, every form submission is encrypted because our entire data process is secure by default. No matter what customization you bring you your online form, you'll always have encrypted functionality every time you build a document.
Build flexible surveys and questionnaires
Need a contact form for your website? Want to build a quick customer feedback survey to improve your internal process? As online form services, both Wufoo and PandaDoc can help you succeed. Use basic fields to ask questions, get answers, and quickly gather the data you need.
Support when you need it
Wufoo customer service handles requests via email between Monday and Friday, with priority given to users on more expensive plans. But why wait? With PandaDoc, you'll have access to 24/7 customer support directly from your PandaDoc dashboard. Our support team will help you answer questions, provide tutorials and support resources, and more to help you get back on track in record time.
Go beyond basic forms with PandaDoc
Create the perfect follow-up document
From sales proposals to final contracts, PandaDoc has you covered. If your customer completes a Wufoo survey or submits information through a contact form, what happens next? If you're using Typeform, Formstack Forms, or any other Wufoo alternative, you'll need to move to a different software tool to send additional information.  With PandaDoc, you can create a perfect, personalized follow-up using the same drag and drop editor that you used to build your form.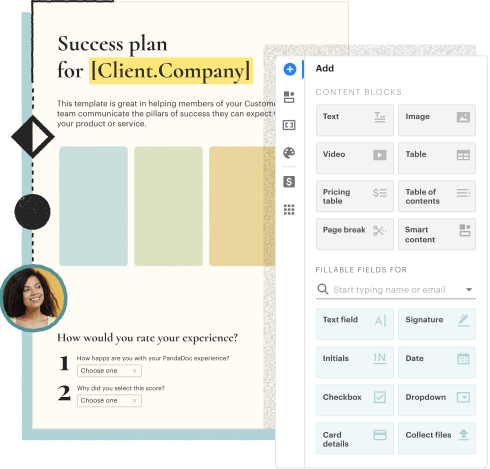 Onboard electronic signatures
When you need an e-signature to complete your document, PandaDoc helps you get everything signed, sealed, and delivered all in one place without a hassle. With Wufoo, you could pay for an additional service like DocuSign or GetAccept to acquire this capability, but you'll need to pay for two separate services and integrate them.  With PandaDoc, legally binding electronic signatures are built into the platform.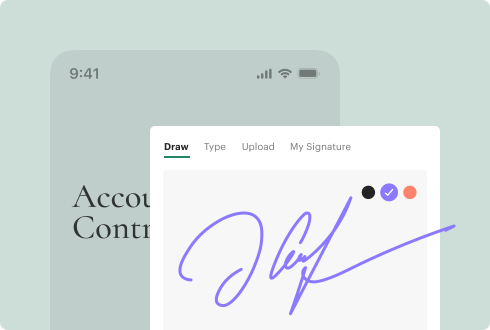 Integrate anywhere
While PandaDoc can eliminate multiple pieces of software from your tech stack, tools work better when they are connected.  PandaDoc offers a host of native integrations, from Dropbox and Google Drive to Salesforce, HubSpot, and more. PandaDoc users can also take advantage of several payment integrations to handle credit card and ACH payment methods. Like Wufoo, we also offer thousands of connections through Zapier, so that you can connect to everything from WordPress to Mailchimp with ease.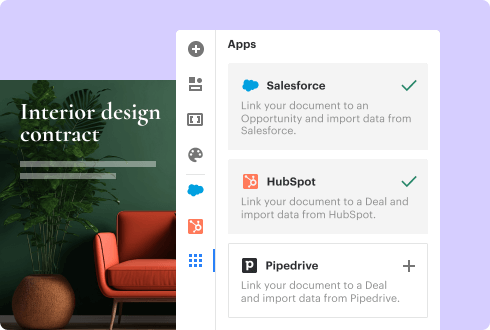 Save content for later
Creating incredible content requires creativity and constant iteration. PandaDoc helps you improve by allowing you to save and reuse content snippets from your content library. Did you have an incredible survey question that worked well on social media websites like LinkedIn? Save it for later and reuse it the next time you build a new form. PandaDoc helps you to optimize your online forms database during data collection and form creation.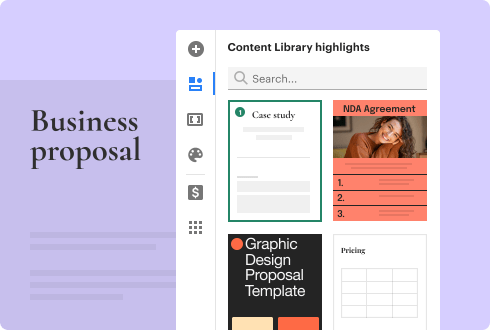 Automate your workflow
PandaDoc comes equipped with a selection of automation tools to help you build forms and other sales documents on the fly. Create reusable templates from existing documents using custom variables and snippets from your content library. Use CRM tools to automatically pull data into document fields based on existing deals and customer profiles. Whether you're a non-profit working with minimal resources or a large company trying to save time, PandaDoc has a solution to fit your needs.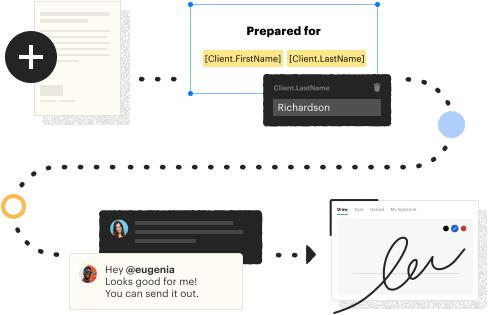 Streamlined approval process
When you're sending out new forms and proposals, having managerial checkpoints in place can prevent everything from grammatical errors to confusing questions and contractual mistakes. With PandaDoc, setting up an automated approval workflow is as easy as designating approvers and sending the document for a final review.  While small, this step can help to eliminate unforeseen problems before they happen.
Find the perfect PandaDoc solution for your business