You don't need us to tell you how important data collection is for your business. One bad advertising decision and your entire marketing roadmap will be thrown out of whack. Having the right data collection tool for online surveys, questionnaires, and interviews is the single-most-important decision you'll ever make for your enterprise.
When choosing Typeform alternative, there are several things you need to think about. It needs to be easy-to-use, highly-customizable, and more importantly, should give you more bang for your buck. You'll also want to pick survey software that supports a wide range of integrations for CRM, payment processing, and any other ERP your organization relies on for its day-to-day operations.
How we rated these apps
Form builder apps are a dime a dozen. Not to mention the fact that they all appear to offer the same set of features. From customizable templates and powerful drag and drop editors to several different question types and a variety of integrations. You name it, they've got it.
Most of them even allow users to export their data in .csv and save them in spreadsheets. While that's great and all, the real question becomes, which of them is right for your company? Does it even matter?
Not to bury the lead, but – yes, it does matter. More than you think. A form builder needs to do more than just data collection. That's what makes it stand out as a great app. Here's a list of the criteria we used to rate these apps.
The little things: A good form builder should be easy to use. How easy? The UI/UX needs to be simple and intuitive enough for anyone with no coding experience whatsoever, to be able to design beautiful and functional forms.
Data export: If you consider yourself a bit of an Excel nerd (a guru of sorts, if you will) then you might want to get your data out of the app and into a spreadsheet. You don't want to have to go digging through dozens of menus just to locate this functionality. A great app allows users to export their data at the touch of a button. If you can process the data within the app itself, even better.
Collaborative functionality: Sending a document back and forth through email and having to manually track any changes made to a document, gives a lot of people immense anxiety. If you're one of them, there's a better way to do it. We like apps that do more than what they were created for. They need to bring more to the table beyond their basic functionality. Does it support workflow automation? Can you specify the signing order if you need certain forms approved? What about payment collection gateways? These were some of the important features we looked for when rating these apps.
Customization: Creating beautiful forms is one thing. Being able to customize them to match your brand is an entirely different ballgame. Not many apps offer this seemingly basic capability. We like the ones that do.
Pricing: Cost was the final thing we looked at. The price of the plans needs to make sense for the value they offer to the end-user. Bonus points to the apps that offer a free tier to give users a chance to get a feel for the product before going all in.
1. SurveySparrow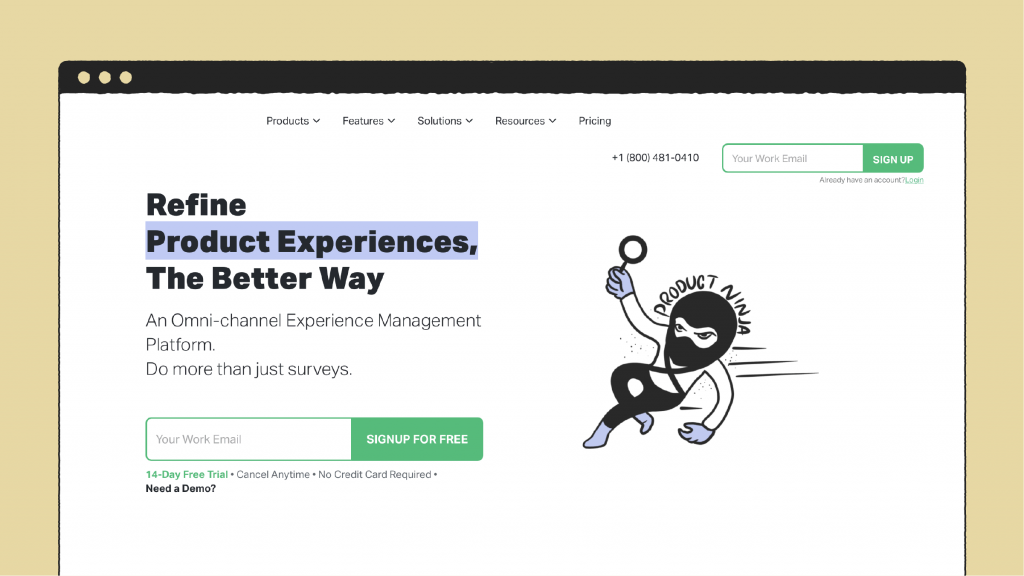 SurveySparrow is by far one of the most versatile and dynamic SaaS survey tools on the market right now. It integrates powerful online and offline data collection tools that can be distributed over different channels including mobile apps, social media, and email.
Its most outstanding feature is no doubt its audience management capability. Not only does it allow you to craft and send out highly-targeted surveys, but also creates custom lists from imported contacts based on individual user profiles.
SurveySparrow makes form building a breeze thanks to its easy-to-use, intuitive, online form builder. It allows users to pick and choose from a wide range of assorted question types including opinion scales, rank order, matrix, drag and drop, and lots more. It comes with built-in CSS customization for users to style their surveys to match their brand.
Users can instantly create and send surveys by choosing from any of the thoroughly-researched, professionally-curated survey questions in the templates library. Some of the most popular ones for large and small businesses include product market research, employee satisfaction, and customer satisfaction surveys.
SurveySparrow's webhooks can communicate with third-party apps through widgets to transfer survey data to them.
Its API seamlessly connects with your business applications to automate workflows and enhance your enterprise environment. It integrates with WordPress, Zapier, Slack, MailChimp, Stripe, and several other popular apps.
Insights
The software captures answers from your respondents in real-time and displays the results on your dashboard.
It shows you trends and patterns in your data to better understand your audience, and can even sort the responses based on a specific period, the user-details, completion rate, questions, answers provided, and lots more.
Form types: Registration forms, web forms, embedded forms, NPS surveys, etc.
Pricing: It costs between $19 and $49 per month for individuals on the Basic and Premium bundles respectively, although there's a Free Plan available. Businesses can get on a paid plan that costs $149 to $449 per month.
Pros: It is user-friendly; highly-customizable; supports conversational forms; has a mobile-first interface that's known to increase response rates.
Cons: Exported reports don't display custom text answers; template library could do with more use-cases; bulk action is limited.
2. PandaDoc Forms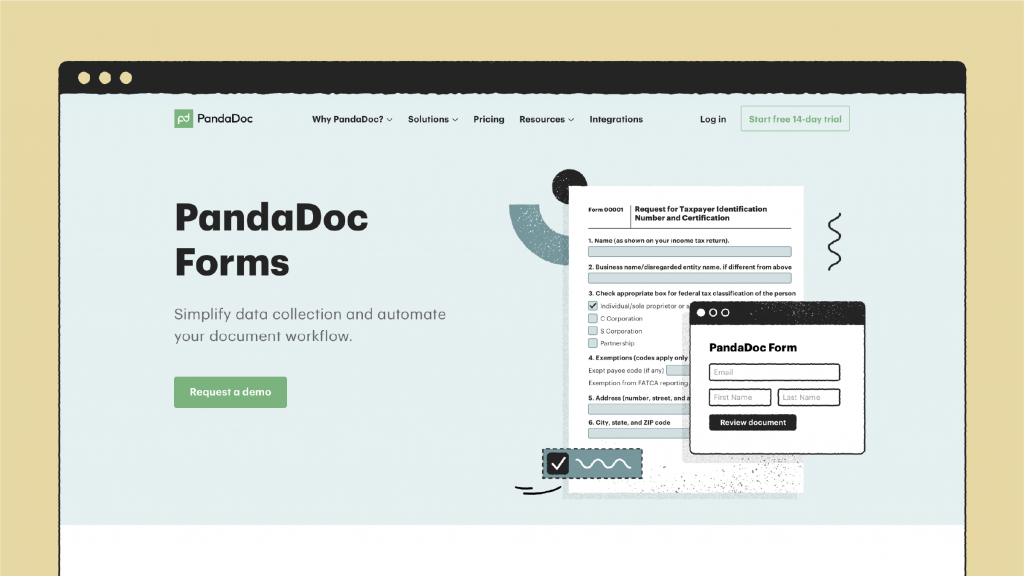 PandaDoc Forms is best known for its diverse range of contract, proposal, and document automation solutions. The company has gone a step further to introduce its version of automated data collection tools, which are quickly disrupting the survey space as we know it.
The two most outstanding features that set it apart from existing apps on the market right now are:
Its signing-order specification capability, which draws from its advanced approval workflow solution, designed to streamline business processes; and
The fact that users can make quick edits to published forms at the touch of a button without having to remove the entire code snippet from their website in the process.
Moreover, unlike most of the other survey systems you might have come across, including the ones we've reviewed here, PandaDoc doesn't just collect data.
It captures non-anonymous, and even sensitive, details from your respondents, like their email addresses – for instance. You know how invaluable that kind of information would be to your enterprise.
PandaDoc Form Builder allows users to easily craft and share dynamic forms using a direct link or by embedding them in the organization's website. It grants you access to thousands of templates in the content library that you can edit and customize to your liking. Plus, it infuses lots of handy features to allow users to collect payments and even specify the signing order thanks to its advanced workflow management system.
PandaDoc is designed to integrate with dozens of third-party ERPs and applications through Zapier. It even supports the collection of payments through gateways like Stripe, PayPal, QuickBooks, etc.
Insights
The software comes with powerful analytics tools to analyze and share captured data, as well as review detailed reports on respondents' behavior and other business-critical document analytics.
Form types: Embedded forms, web forms, sales contact forms, registration forms, feedback forms, etc.
Pricing: PandaDoc Forms is available on the provider's Business and Enterprise Plans. Prices start from $49 per month for each user, limited to 250 forms per account. Once you've exhausted these, additional forms can be purchased at $2 each.
Pros: Doesn't require coding experience; supports payments collection; editable templates available in the rich content library; allows users to edit published forms; collects signatures.
Cons: Does not support native integrations.
3. Google Forms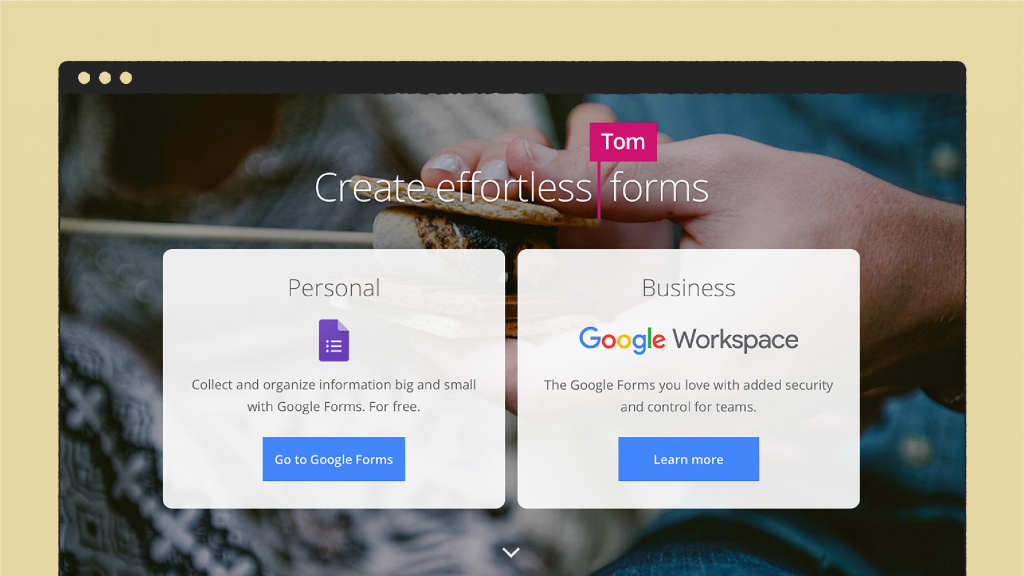 Google Forms is part of Google's suite of online tools along with Sheets, Docs, and Slides. It offers one of the simplest ways to gather data and save it directly to a spreadsheet. If you're on the hunt for free Typeform alternatives, this is your best bet.
The Forms editor is pretty powerful, easy-to-use, and easy-to-navigate. It comes with several question types, field types, and an intuitive sidebar you can use to incorporate media into your forms.
While the Google Forms content library certainly has numerous form templates to choose from, users don't have much control over their design.
The layout is generally the same for all of them, but you can change the header and background color/image. You may not be able to customize it for your brand though.
Zapier powers all Google Forms integrations, allowing users to connect their forms to hundreds of apps like Salesforce, Trello, MailChimp, and many more. The downside is you have to connect your forms to a Google Sheets spreadsheet to activate this functionality.
Insights
The software provides real-time response information from data collected in Forms and compiles it for viewing in charts or spreadsheets. It also has a notification feature you can turn on to get an alert every time a response is submitted.
Form types: Quiz forms, contact forms, registration forms, etc.
Pricing: Google Forms is by far the best Typeform open-source software alternative given that it is 100% free to use.
Pros: Simple and intuitive; it is free; comes with excellent analytics tools.
Cons: Not optimized for mobile; does not support the capture of rich metadata like eSignatures.
4. CognitoForms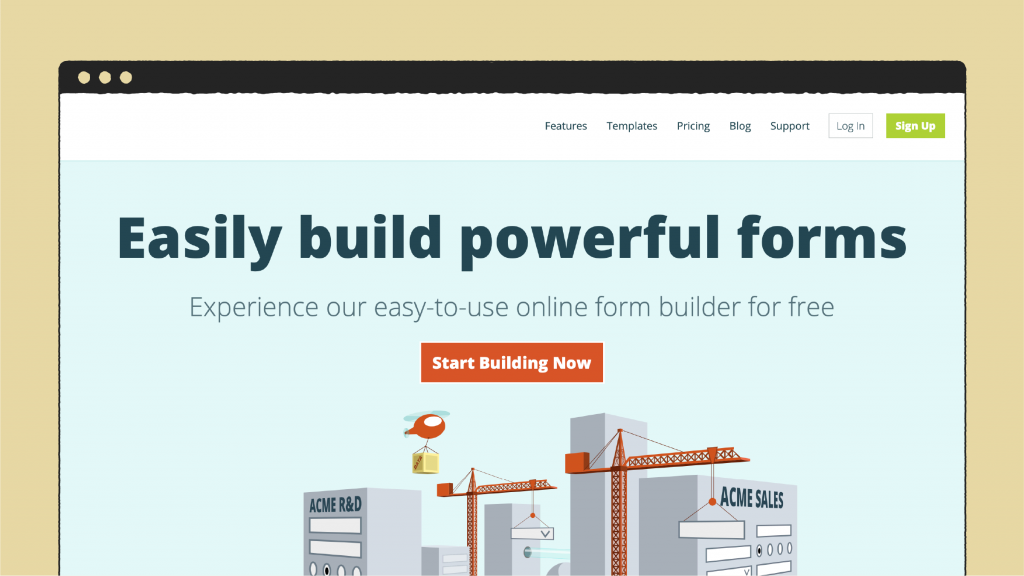 CognitoForms is yet another powerful online form builder that's similar to Typeform, only better.
It comes with built-in tools that are capable of performing complex computations that involve comparing dates, total costs, and lots more. It even supports conditional logic to give you more control over what fields respondents see as they fill out forms.
The editor is highly intuitive. It is simple enough to use for someone with no background in forms creation, yet comes with advanced features for the experienced user who would want to build complex, customized, forms.
Users can not only create an unlimited number of forms (even on the free plan), it lets you choose from the hundreds of templates in its document library. They are all optimized for mobile and can be customized to match your branding.
It supports features like webhooks, calculations, and CSS, making it developer-friendly. It also offers dynamic payment integration via Stripe, PayPal, and Square.
Other third-party integrations are available through Zapier, JSON webhooks, and Microsoft Power Automate.
Insights
It connects to Google Analytics through a plugin to optimize multi-page forms, gain audience insights, and enhance the performance of PPC campaigns.
Form types: Signup forms, sales contact forms, customer feedback forms, order and payments forms, etc.
Pricing: The Pro, Team, and Enterprise plans cost $15, $35, and $99 per month respectively. There's a free plan tier available for individuals.
Pros: Powerful integration capabilities; merges with customized PDF and/or Word documents; users can edit their responses even after submission.
Cons: Email notifications can get a little repetitive.
5. SurveyMonkey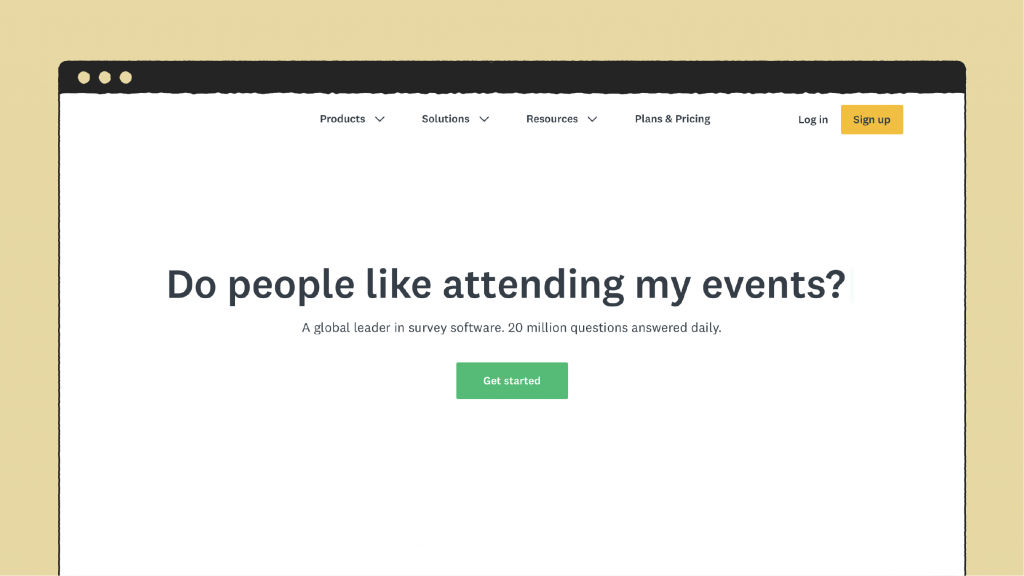 SurveyMonkey is arguably one of the most recognized brands in the data capture realm.
The platform is surprisingly easy to use with handy features businesses can use to measure growth, drive innovation, and interpret the feedback they get from their forms.
Typeform surveys don't have anywhere near the same number of form builder tools that SurveyMonkey has.
Not only does it allow users to create masterfully-crafted forms from scratch, but the software also has a built-in genius AI to do all the heavy lifting for you.
The application offers a wide variety of customizable survey templates with a list of questions you can use depending on the research area you want to focus on.
The software comes with powerful integration tools to connect it to the apps you use on a day-to-day basis. Applications like Salesforce, Slack, Marketo, and MailChimp, for instance, add context and sentiment to the data you collect.
Insights
SurveyMonkey's advanced analytics tools not only give you real-time results of your survey, but they also offer actionable insights into how customers feel about your products and services.
That way, you can closely monitor market trends to stay ahead of the competition.
Form types: Employee and customer satisfaction surveys, marketing surveys, website visitor feedback forms, etc.
Pricing: It costs $34, $25, and $75 per month for the Individual Advantage, Team Advantage, and Team Premier plans. The company does not offer any free plans.
Pros: It comes with several different form builder tools; integrates with several ERPs and third-party apps; provides real-time insights for data-driven decision-making; keyword-search feature makes it easy to sift through responses.
Cons: No free plan available; does not support workflow automation the way apps such as Formstack and PandaDoc do.
6. 123 Form Builder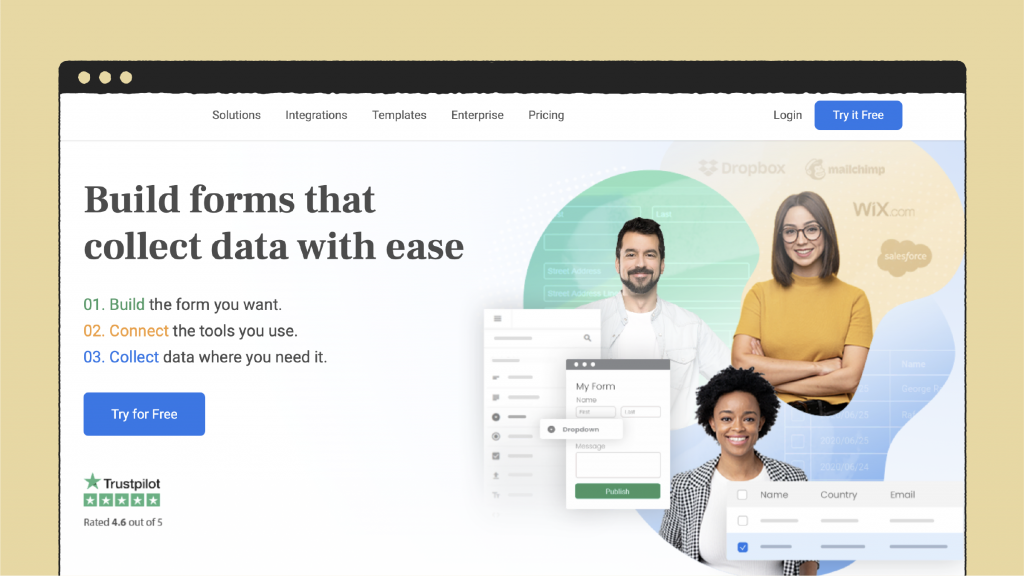 The key selling points of 123 Form Builder have to be the intuitive interface that makes it easy to build a survey from scratch; its ability to link with popular third-party applications; how easy it is to embed; and the fact that users can easily add logic jumps based on submissions.
It allows individuals to use the tool to build forms even without any coding experience. This is achieved using the handy drag and drop feature that works to add fields to a form and customize the design to match the brand.
The document library contains 100+ customizable templates that you can style using CSS. You can also apply conditional logic and branching based on the responses you get for certain questions.
Additionally, you can translate these templates into multiple languages for your non-English speaking audience. The software seamlessly integrates with dozens of apps to take your data where you need it to go.
That way, you don't have to download an infinite number of CSVs, or manually input data into CRMs like Zoho, CMS like WordPress, file management systems like Dropbox, or email marketing apps like MailChimp.
Insights
Unfortunately, 123 Form Builder does not come with any built-in analytics tools. Nonetheless, users have the option to integrate a Google Analytics plugin to be able to track all form activity in real-time.
Form types: Application forms, agreement forms, contact forms, customer service forms, evaluation forms, feedback forms, etc.
Pricing: The Individual, Team, and Enterprise plans cost $19.99, $49.99, and $199.99 per month respectively. There's also a Free Plan tier available, although this is limited to a maximum of three forms.
Pros: All submissions are encrypted; it comes with built-in translation tools; users can embed it into landing pages or any other part of their website; integrates with several third-party apps; highly-customizable.
Cons: Does not come with built-in analytics tools; limited payment gateway options available.
7. Paperform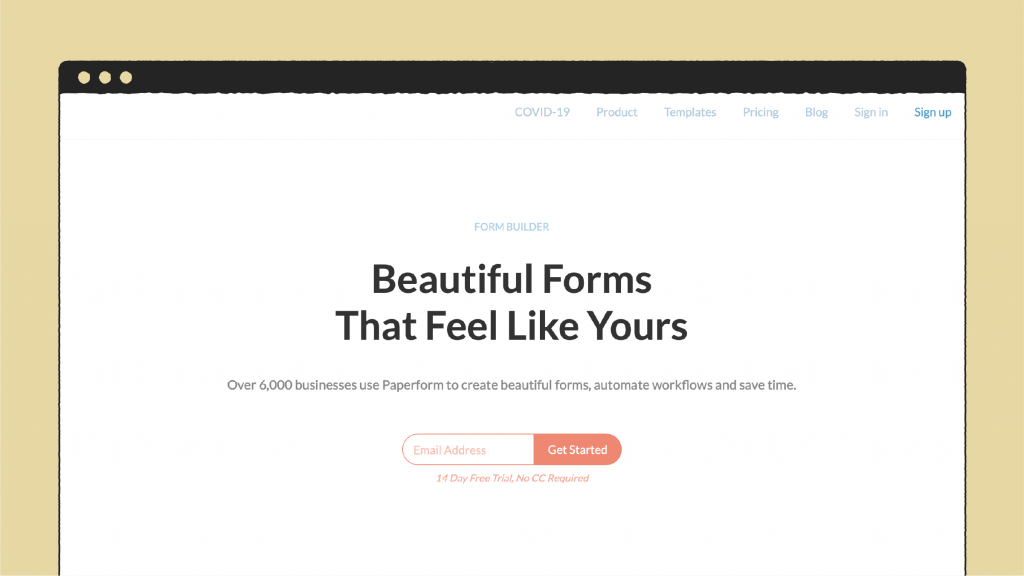 As far as Typeform vs Jotform and Paperform are concerned, both happen to be excellent choices for conducting online surveys.
If you had to pick one, Paperform does bring more to the table compared to Jotform. Its most outstanding feature has to be its ability to incorporate styled text, videos, and pictures, anywhere on the form.
In addition to the form editor's ability to integrate rich media, the builder also allows you to define your customized conditional logic to control the pages, sections of content, and questions your respondents see when they access the survey.
Paperforms grants its users access to a rich template library with more than 300 options to choose from. They are highly-customizable and editable to suit the survey you want to conduct.
The data collection tool comes with lots of native integrations, which allow users to connect to apps like Google Sheets, MailChimp, ActiveCampaign, Dropbox, Zendesk, and lots more. It also lets you connect to several other third-party apps through Zapier and Integromat.
Insights
Paperform has a powerful analytics tool you can use to understand and draw meaningful insights into your customers, based on their form responses. You'll be able to view details like the total number of form submissions, views, the completion rate, and lots more.
Form types: Purchase order form, product order form, interview evaluation form, competitor research survey form, sales inquiry form, etc.
Pricing: The Essentials, Pro, and Agency plan costs $12.50, $32.50, and $82.50 per month respectively. Paperform does not offer any free tier.
Pros: Users can add rich media to forms; it comes with native integrations to connect to popular apps; powerful advanced analytics tools; highly-customizable.
Cons: No free tier option available unlike other online survey tools like Wufoo; a limited number of users supported on lower-tier plans.
Go beyond with PandaDoc Forms
The top 7 Typeform alternatives hot on the market right now. Keep in mind that each of the solutions we've detailed here has its strengths and weaknesses – like all things in life. You just need to figure out what a worthy tradeoff looks like for you and your business, and what works best to meet your organizational objectives.
Although, PandaDoc may be relatively new, but it certainly deserves a spot in the best Typeform alternatives.
Check out what we can offer by signing up for a free 14-day trial or schedule a demo to see how PandaDoc can change the way your company does business.