We get it.
It's time to find a new tool, but you don't have the hours (or days) to figure out what might work best.
So we're here to help. We did a deep dive into Typeform, SurveyMonkey, and our solution, PandaDoc Forms, to help you uncover the best SaaS form builder for your needs.
What to look for in a survey solution
The best survey solutions go beyond data collection alone to make things easier across your organization. They should save you lots of time, reduce the risk of human error, and streamline your processes (like collecting in-form payments).
These digital forms should also:
Integrate with key programs
Allow you to customize and use templates without code
Collect eSignatures
Offer deep analytics and insights
And while desktop features tend to be the richest of all, it doesn't hurt to have a companion app for Android and iOS, like all 3 of these software options do.
Whether you'll create digital docs or figure out your NPS, make these your non-negotiables:
Easy onboarding
Ample access to customer support
User-friendly UX
01. Typeform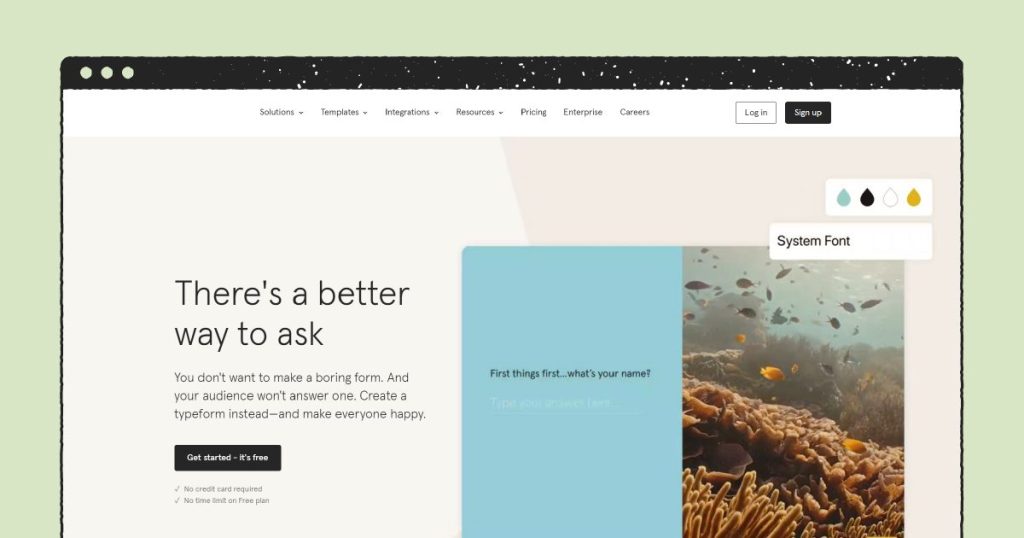 G2: 4.5/5 stars (454 reviews)
SoftwareWorld: 96/100
SoftwareWorld says Typeform's ease of use and beautiful designs lead to "higher completion rates (and higher quality data)".
Typeform's "methodology [engaging user interaction] appears to work well, getting on average four times the completion rate over what the industry considers standard."

TechRadar
Typeform is both survey software and a research tool. Their products include online forms, quizzes, polls and tests, but surveys are their major focus.
They make it easy to collect and share information in dynamic forms designed to flow based on your needs, using conditional logic. For example, if someone says "yes" to a particular question, you can send them through a different flow, to branch off into different questions than those who responded "no".
They might be known best for the ability to customize online surveys and forms with pop-up content, photos, videos, and custom visuals. No code necessary.
Their forms are designed to ask one question at a time to encourage respondents to answer every question.
They serve companies of all sizes, but they seem to cater to small businesses with their focus on creative customization.
Ease of use
Typeform highlights:
Respondents can upload files directly to their forms
Custom, automated follow-up messages
Integrates with dozens of tools, including Slack, Mailchimp, Klaviyo, Excel Online, and HubSpot
Priority support and live chat for Business plan users
Typeform is great for small businesses because they make it easy for anyone to create online forms, particularly surveys.
The forms are easy to fill out too, and they promote a conversational style, presenting users with one question at a time.
This kind of flow makes their surveys seem more approachable while encouraging users to respond throughout the entire "conversation".
Templates
Typeform templates come in lots of formats, but you can also create custom forms. There are forms for applications, orders, evaluations, feedback, donations, healthcare, and more.
And you can embed the finished results into your website, share a link, send online forms by email, or share them on social media.
Their question types include short text, long text, multiple-choice, statements, opinion scales, picture choice, and more.
See Typeform survey examples here.
Analytics
Typeform isn't the most in-depth survey tool when it comes to data and analytics. And you can only dive deeper if you integrate a tool like Intersect to analyze responses or Enhencer to find any predictive stories hidden within your data.
Their analytics offer a bird's eye view:
Total views
Number of people who started the survey
Number of responses
Total completion rate
Average time used to complete your survey
Drop-off questions
You can also generate reports for specific questions, and use Google Tag Manager or Facebook Pixel ID for additional analytics, retargeting and conversion tracking.
Pricing
Free Version
Basic: $348/yr or $29/mth
Plus: $600/yr or $59/mth
Business: $996/year or $99/month
Typeform generously allows users to trial their paid features from their free plan by adding paid features of interest.
These forms are only for trials, so they cannot be shared. After sampling features with a free account, the Business plan is the way to go. It includes unlimited typeforms and questions and up to 5,000 responses per month.
You can personalize your user flows, filter questions that are irrelevant to specific users, integrate your CRM to filter, and qualify your contacts and integrate marketing automation and analytics apps.
02. SurveyMonkey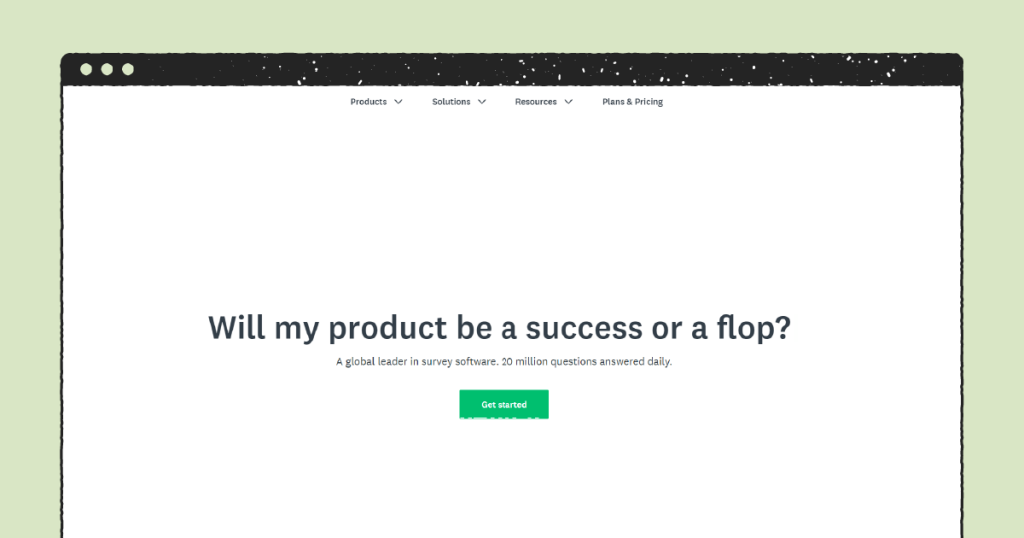 G2: 4.4/5 stars (17,305 reviews)
"…reviewers preferred the ease of administration and doing business with SurveyMonkey overall."
SoftwareWorld: 98/100
SurveyMonkey is "among the best survey software that indulges in delighting customers and increasing loyalty through feedback".
SurveyMonkey "allows those without any coding skills to create complex question sets and then process the responses easily and efficiently".

TechRadar
SurveyMonkey is a survey software and market research company. They dub themselves as "the world's most popular free online survey tool", which gives plenty of insight into their offerings and positioning.
And while they serve companies of all sizes, they seem to cater to medium-to-large businesses.
They have two main areas of focus:
Market research
Customer experience (CX) i.e. using surveys to collect customer feedback
They recently acquired Wufoo (now called Wufoo by SurveyMonkey).
Both platforms are separate, and they direct potential customers to use Wufoo instead if they need file uploads, data storage, data organization, and in-form payment processing.
Ease of use
SurveyMonkey highlights:
Easy to build surveys, from pre-made formats or from scratch
Integrates with hundreds of apps, including Zoom, Eloqua, Google Forms, Google Sheets and Microsoft Teams
24/7 email support for Team Advantage subscribers (Team Premier and Enterprise users get phone support too)
Dedicated customer success manager (Enterprise customers only)
SurveyMonkey offers user-friendly tools with plug-and-play functionality – making it easy to collaborate for small and large businesses alike.
Templates
SurveyMonkey offers templates for surveys, questionnaires, and evaluations. Enterprise clients are able to customize and brand them.
Their forms can be shared by email, embedding them into your website, or sending a URL or QR code. You can also add a survey to your app or use their bot to host it in Facebook Messenger.
Their question types include multiple-choice, rating scale, demographic, dropdown, click map, file uploads, and more.
See SurveyMonkey survey, questionnaire and evaluation examples here.
Analytics
If you're considering SurveyMonkey vs. Typeform, you should know SurveyMonkey offers richer analytics.
Summaries for analyzing results
Respondent filters for responses, time, property (such as a specific name), etc.
Ability to combine multiple filters
Crosstab reports for comparing the relationships between different questions and answers (if any)
Sentiment analysis (Were survey responses positive, negative, or neutral?)
Benchmarks for comparing responses on a global scale (example use case: customer feedback surveys)
SurveyMonkey also offers a customizable dashboard, tables and charts.
But to get the most out of your data, it would be best to integrate with an analytics and reporting tool.
On the topic of integrations, it should be noted that SurveyMonkey has over 100 integrations, but only Enterprise customers can integrate with Salesforce, Eloqua, Marketo, and Tableau.
Pricing
SurveyMonkey offers 3 business plans, billed exclusively on an annual basis. SurveyMonkey does not offer a free trial.
Team Advantage: $25 per user/month
Team Premier: $75 per user/month
Enterprise: custom pricing, based on needs
Team Advantage offers some essentials like:
Advanced analytics
Payments
Free integrations with top collaboration apps
10,000 responses per year
Team Premier offers everything Advantage does and more, including:
15,000 responses per year
More tools for testing, data and analytics
The ability to create surveys that are multilingual or white label
Survey completion redirection (e.g. sending respondents to a landing page)
Phone support
API access to build your own apps
The privilege of removing the SurveyMonkey footer (a must)
Finally, Team Enterprise steps things up with:
Plan flexibility
Customization and branding
More robust encryption and security
Integrations with Salesforce, Marketo, Eloqua, and Tableau
Dedicated customer success manager
Team management privileges (including SSO, onboarding automation, and user activity tracking)
03. PandaDoc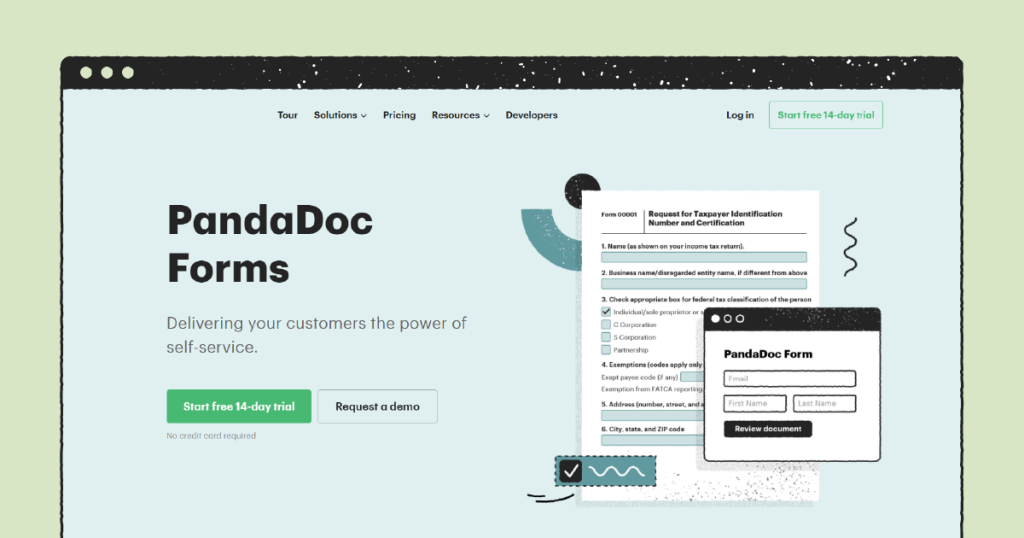 PandaDoc Forms is our new online form builder for collecting and analyzing in-depth, non-anonymous data.
Instead of focusing on how many people fill out a survey or form, we focus on collecting qualitative data from identifiable sources (including sensitive information).
That's why Forms is only available for Business and Enterprise subscribers.
We pay special attention to:
Meeting security and compliance standards
Integrating with trusted payment gateways
Automating workflows (including eSignatures, of course!)
Ease of use
PandaDoc highlights:
Automated workflows and messages
Bulk-send capability, even for unknown recipients
Integrates with dozens of tools, including Salesforce, Pipedrive, Zoom, Mailchimp, and Slack
24/7 email and chat support
PandaDoc makes it easy to work smarter and faster while also making it easier for the people who sign your forms; onboarding is seamless too with a variety of options from a self-paced startup to custom multi-team support. Forms feature easy drag-and-drop content blocks, and they can be customized without code.
Templates
At PandaDoc, we offer over 100 customizable templates for opt-in email lists, medical consent forms, evaluations, expense reports, tax registration, petitions, and more.
You can customize them or create your own, and even edit forms after publishing. Question types and field options include text responses, multiple-choice, masked information, file uploads, and more.
And you can share them by sending direct links or embedding surveys and forms into your site (simply copy and paste the code into your website's HTML).
Check out PandaDoc form examples here.
Analytics
PandaDoc offers even richer information:
Who responded to a form
Number of times a document was opened
Number of responses
Number of unique form views, forwards, and downloads
Time spent on forms
Devices and browsers used
Ability to collect qualitative, non-anonymous and even sensitive data (our security protocols meet the strict compliance standards for HIPAA, GDPR, FERPA, and SOC 2 Type II)
We also offer seamless integrations with 2-way sync for dozens of platforms and you can generate reports to get data-driven insights in real-time to shape your time-sensitive follow-up strategies.
All 3 platforms allow you to collect medical information if you're HIPAA-authorized and fill out a Business Associate Agreement (BAA).
This service is available for Typeform Business users, SurveyMonkey Enterprise users, and both Business and Enterprise PandaDoc users.
Pricing
There are three paid PandaDoc plans: Essentials, Business, and Enterprise. Business and Enterprise users can take advantage of forms as an add-on.
New subscribers can give us a go with a free 14-day trial.
Business: $49 per user/mth (billed on an annual basis), or $59 per user/mth
Enterprise: custom pricing, based on needs
The Business plan offers:
Templates and a rich editor with drag and drop
Approval workflows
Custom branding
Content library (hello, faster forms)
Bulk send (even to unknown recipients)
Document analytics
Integrations with CRM tools and Zapier (for handy automations like webhooks)
24/7 email and chat support
While Enterprise goes further with:
User management and SSO
User performance and reports
Unlimited team workspaces (for easier collaboration)
Salesforce integration
API access
The strongest contender: PandaDoc
While SurveyMonkey and Typeform excel in the realm of surveys in many ways, so does PandaDoc Forms – and it's an in-depth data collection and lead generation tool too.
It empowers users with rich analytics and insights into responses and respondents.
It meets trusted security and compliance standards to process sensitive information.
PandaDoc Forms offers advanced eSigning features.
Customizing and branding is open to both Business plan and Enterprise users.
And of these 3 platforms, it's the only one that gives you the option to use custom CSS.
The best solution should be easy, seamless, and convenient – while giving you access to key data that can be used in other strategies.
Think beyond surface-level perceptions of surveys and forms to envision how digital documents can truly transform your business.
See for yourself – start your free 14-day trial today. No credit card needed.