When choosing a data collection tool designed for the field workforce or remote customers, it's important to consider mobile responsiveness.
According to Statista, mobile devices accounted for nearly 60% of global web traffic in 2022.
And in the years to follow, that number is only going to continue growing.
Modern forms need to adapt to any device and operating system without forcing users to pinch and zoom.
This is an area where a platform like HelloWorks excels, but HelloWorks isn't a great solution for everyone.
In this article, we've put together a list of the top HelloWorks alternatives to harvest inbound leads in the most effective way possible.
Let's jump right in!
How we found and selected our top HelloWorks alternatives
With so many great form-building tools on the market today, finding the best alternatives to a software tool like HelloWorks wasn't easy.
In order to accurately select and assess all the form options on the market, we analyzed reviews, feedback, and criticism from over 32 different websites and weighted what we saw based on website views and perceived authority.
To determine authority, our data sources were grouped into five cohorts based on monthly visitors (which we took from Semrush):
>1.000.000 visitors;
500.000 – 1.000.000 visitors;
250.000 – 500.000 visitors;
50.000 – 250.000 visitors;
<50.000 visitors
The websites with the highest visitor traffic and greatest domain authority were given more weight in our calculations and analysis while lower-traffic and less authoritative websites were scored lower.
However, in-depth reviews and feedback were given considerable analysis and weighed carefully as part of our calculation.
Part of our analysis coincided with launch of PandaDoc Forms, a competitive form builder that is a perfect fit for users looking for all-in-one form creation.
Our team conducted extensive market research in order to build our own product!
On top of all that, we closely reviewed a variety of companies and products (including several not listed in our final selection) to determine which form-builder solutions were the closest fit to what we believe shoppers are looking for.
Lastly, we also checked with our team and customers to better understand how businesses actually use mobile data capture tools, what features they were looking for, and which collaborative tools had been most beneficial to them.
1. ProntoForms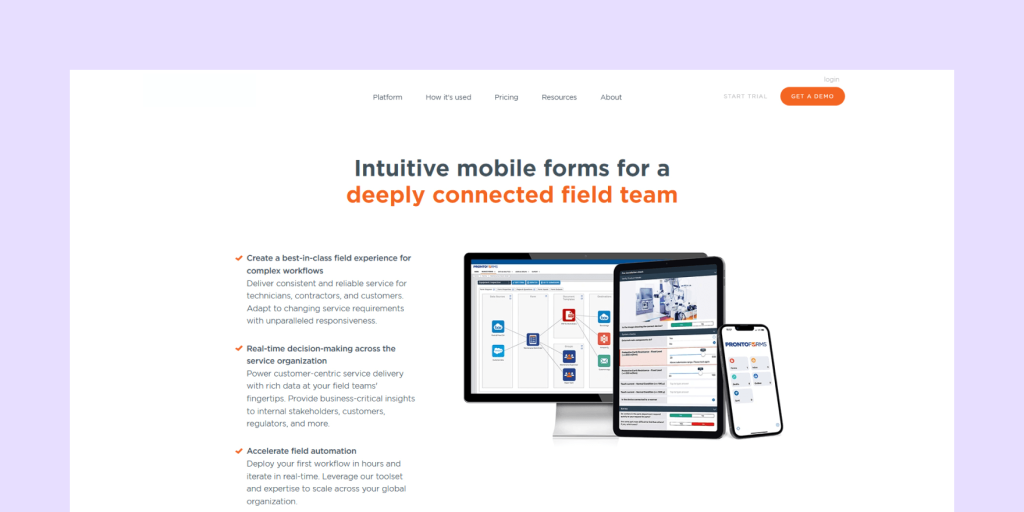 Top on our list is ProntoForms.
The app offers one of the most versatile and customizable tools for mobile data collection, making it easy for users in the field to collect data and feed it to CRM and ERP systems in real-time.
ProntoForms styles itself as a "low-code solution" that empowers businesses of all sizes to create forms and analyze data using intuitive drag-and-drop tools quickly.
The software is equipped with a battery of features, like conditional formatting, repeatable form sections, and digital signatures, while also housing powerful in-app analytics to help you gain insights from your data.
Because ProntoForms is aimed specifically at mobile form creation, you'll never have to worry about compatibility issues with iPhone or Android platforms.
This emphasis makes ProntoForms a powerful solution for teams in the field who may need to capture data at speed and in a variety of formats.
You can also integrate advanced controls such as drop-down menus, color-coded button groups, and GPS stamps at the touch of a button.
These advanced features, along with the ability to integrate forms with virtually any business or cloud application, give ProntoForms a level of versatility that users don't often see in similar applications.
All that said, ProntoForms does come with a few downsides. The app lacks some versatility when it comes to native features and integrations.
The app does offer API access, ensuring that custom code solutions are possible, but many of these features are closed to entry-level users.
Insights
The app offers flexible form workflows that allow you to assign new tasks to your team and hand off ongoing work for better management of complex jobs requiring multiple skill sets.
You can even track the progress of a particular task and send immediate notifications to report or escalate issues.
Pricing: The Essentials and Advanced plans are available for $15 and $45 per user/month. The Enterprise plan hosts unlimited users, and pricing is customized based on use case.
Pros: Users like how easy the platform is to use and the overall responsiveness of the support team.
They also enjoy the powerful workflow automation feature, which makes field and in-office collaboration a breeze. The pricing plans are ideal for a startup or small business.
Cons: Many users report experiencing technical issues when using ProntoForms in the field, resulting in data loss. The app sometimes freezes when a call comes in or fails to send data if the installed software isn't up to date.
While the platform can integrate with other services, it lacks the ability to process transactions through a payment gateway, so technicians may need to rely on additional services to handle any financial transactions in the field.
2. Forms on Fire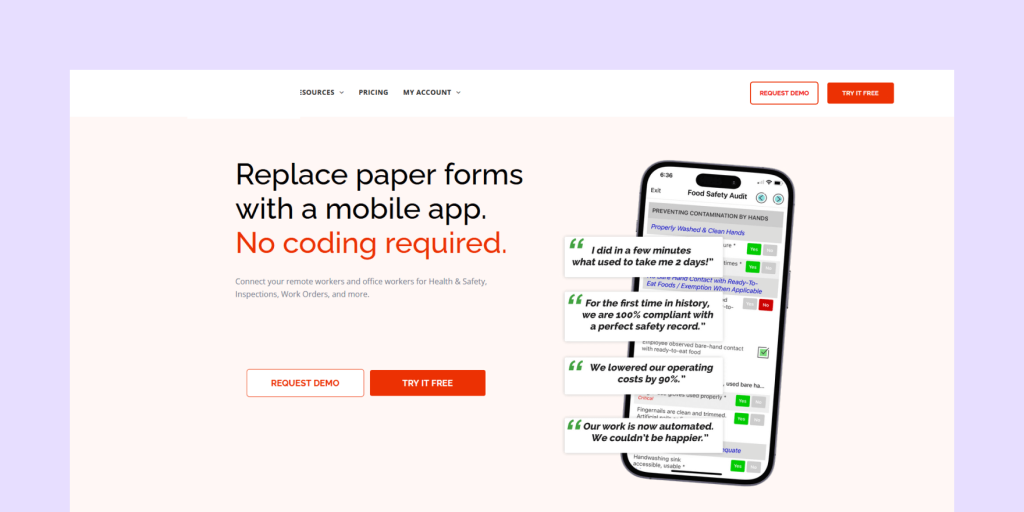 Forms on Fire takes a slightly different approach from conventional form builders.
Aside from the usual drag-and-drop form designer that is common in most data collection apps, Forms on Fire also allows users to leverage the power of Microsoft Word, Excel and Adobe to craft fully customizable designs that match their brand.
However, regardless of which tools you use to build your forms, you'll never have to write a single line of code.
The in-app editor and form designer allows you to build data capture solutions that make sense for your company and employees.
But you don't have to start from a blank slate. Forms on Fire is equipped with hundreds of out-of-the-box templates users can customize to suit the needs of their organization.
If designing a form from scratch doesn't sound like your cup of tea, simply pick from any of the pre-existing samples, edit to taste, and instantly deploy your customizable form in the field.
Forms on Fire also offers tremendous flexibility when integrating with your tech stack.
The platform offers API access and connections through Zapier so that you can easily send form information to 2,000+ applications.
Unfortunately, that flexibility also takes a hit where distribution is concerned.
Forms on Fire forms can't be exported outside of the software application, so if you need to place your forms on a website or connect them to a third-party solution, you may find your deployment options limited.
Insights
Forms on Fire allows users to assign tasks and workflow forms to other users in the organization through rules-driven or pre-designed processes.
Whether you're looking for office-to-mobile and mobile-to-office dispatch or prefer a more structured approach to workflows, this app is designed for team collaboration.
Pricing: Standard and Premium plans cost $20 and $28 per month. Forms on Fire also offers an Enterprise plan at a negotiated price.
Pros: Users enjoy the ease of use that comes with using Forms on Fire, and feedback surrounding the support team is generally positive. The company offers affordable price points and a wide array of features at each tier.
Cons: The initial setup can be a little overwhelming, especially for individuals who have limited experience with form builders and digital data capture solutions.
However, despite the steep learning curve, users agree that implementation is a smooth experience after onboarding is complete.
3. PandaDoc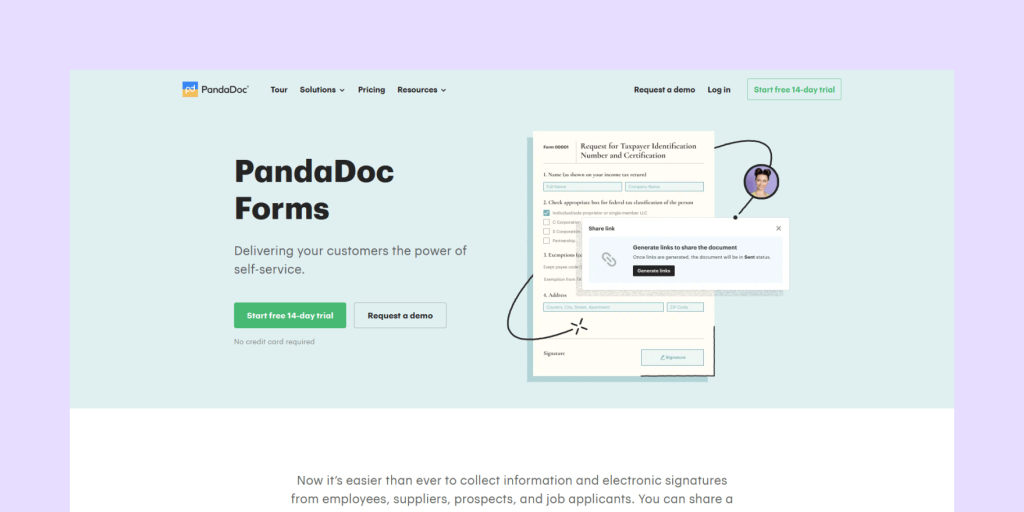 PandaDoc Forms is an excellent option for users looking to consolidate document creation into a single platform.
The PandaDoc form builder is designed as an extension of the already-popular PandaDoc document editor, which is regularly used to create contracts, sales proposals, and other business documents.
By combining these features into a single-platform solution, PandaDoc offers a unique all-in-one answer for end-to-end document creation.
For the 40,000+ businesses on the platform, this results in faster sales cycles and higher close rates.
The PandaDoc document editor offers a variety of text blocks to allow for quick and easy online document creation.
Meanwhile, the sharing tools built into the platform make it easy to get your documents and forms in front of the people who need to see and sign them.
As an added bonus, you don't have to start from scratch each time you need to build a new form or document.
PandaDoc offers 750+ templates you can use straight out of the box.
A major advantage that competitors like Docusign do not offer.
You can customize them to fit your brand and your data-capture needs.
The app even allows you to create customized templates, helping you eliminate repetitive tasks and reduce human error so that you can focus on other operational tasks.
Going further, PandaDoc offers a variety of features and integrations for forms processing, including payment gateways through Stripe, PayPal, and Square, and legally binding electronic signature capture.
Also, the average PandaDoc user creates and sends a document in less than 4 minutes.
Companies that use PandaDoc have seen a 20% increase in closing rates.
Moreover, PandaDoc is the perfect solution if you need to sign your forms.
Indeed, PandaDoc allows you to electronically sign all your forms or other documents in a legal binding way.
Healthcare businesses can also use PandaDoc in total security as the application is HIPAA compliant.
Insights
The app simplifies data collection through its powerful and dynamic workflow.
Field and in-office teams can collaborate to capture data, digitally sign documents, and collect private or even sensitive information from customers and stakeholders.
Users can also designate a signing order, collect payments, and consolidate data into exportable formats all in one go.
To help you stay in the loop, PandaDoc Forms provides real-time email notifications, so that you know exactly who viewed and completed your forms.
The bulk-send feature lets you share out forms with an unlimited number of users and keep track of every last one of them.
This functionality is available on all PandaDoc plans, which is a definite plus.
Pricing: Unlimited form creation is available on Business and Enterprise plans, and each account is credited with 250 free form submissions.
Prices start at $49 per user per month. After you reach the 250 account limit, additional form submissions will cost $2/form.
Pros: Our users love the intuitive drag-and-drop form builder.
It requires no experience and is designed to streamline every aspect of the workflow, from document creation, e-signature capture, signing order specification, and payment collection.
Cons: Forms aren't available on the lower-tier plans.
4. Fulcrum App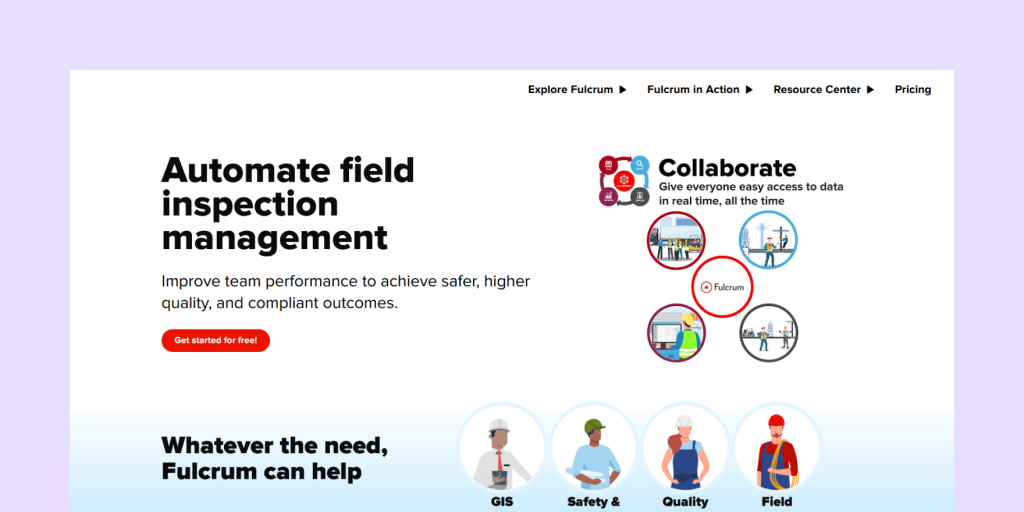 Fulcrum App is another top HelloWorks alternative to consider.
This no-code platform provides a variety of tools to streamline mobile data capture, provide in-depth data-driven insights, and automate end-to-end data collection processes.
With Fulcrum, you won't just design forms.
You'll design apps, but you'll do it using drag-and-drop tools that remove the need for complex coding.
As a result, the app you create can leverage the hardware and software already inside an Android or iOS device to collect data in the field.
If simple forms just aren't getting the job done, Fulcrum may be the solution to push your team over the finish line.
The app can collect photos, and location-based data, operate using GPS and real-time monitoring, and so much more.
And Fulcrum's unique solution makes it a key player in the market that is unlike any other tool on our list.
While it may take a bit longer to set up, the ability to create unique tools for your organization with minimal coding experience can be a lifesaver for smaller brands.
With Fulcrum, you can start from scratch or use any of the existing templates in the app gallery, which offers dozens of pre-built templates that can be customized to meet your data collection needs.
Each template can be modified using the intuitive App Designer, a drag-and-drop tool you can use to move objects into and out of the layout area.
Some of the pre-existing templates you'll find include a Building Inspection Checklist, Equipment Inventory Form, Incident Report Form, Property Inspection App, and much more.
Fulcrum App utilizes Zapier to allow the data collection app to communicate seamlessly with 100 third-party apps.
It lets you capture and export data into other formats, set up a notification infrastructure via email, and even populate document templates based on status changes recorded by the app while in the field.
If your workforce needs to collect signatures remotely, Fulcrum App has built-in signature fields that capture electronic signatures.
It also comes with a customizable "Agreement Text" that lets users add a disclaimer or any other piece of text you would want the signatory to be aware of when signing off on the form.
Insights
Fulcrum App supports workflow automation to streamline apps at every stage of engagement.
It sends alerts to team members every time the form is modified, allowing everyone to stay in the know and review data as needed.
Pricing: The Essentials and Professional plans cost $15 and $33 per user/month, respectively. The Enterprise tier pricing is available upon request.
Pros: The app offers a clean and crisp UI/UX that makes it easy to use. Its report export function is also a nice touch.
Cons: Unfortunately, the platform lacks some advanced features like sliders, matrix tables, and heat maps. Users also report that they cannot edit or adjust the field data form.
5. FormAssembly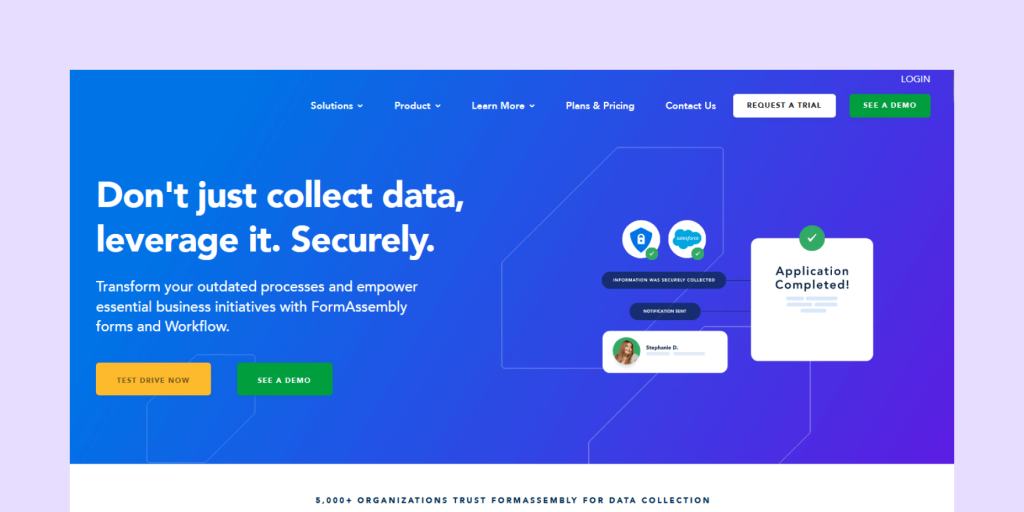 FormAssembly is a highly versatile, mobile-responsive data collection tool geared primarily toward enterprise-level customers.
Armed with loads of built-in functionality, smart features designed to automate data capture and streamline workflows, the platform leverages Salesforce for data management.
Depending on your in-house workflow, the reliance on the Salesforce platform may make FormAssembly a go-to choice or a complete no-go in terms of utilization.
However, if your team is already integrated with Salesforce, the native integration will allow users to create and prefill forms, import and export data, and even post to Salesforce Chatter.
FormAssembly comes with a dynamic drag-and-drop form builder similar to many of the other tools on our list so that users can easily add and reposition form fields.
The forms are fully customizable with CSS to match your branding needs.
If creating a form from scratch sounds like too much of a hassle, FormAssembly has a rich template library you can use.
You can use them as they are, or customize them further if you want to incorporate your brand elements.
FormAssembly supports dozens of integrations allowing you to connect to the apps you already use in your day-to-day operations.
Some of the popular integrations that come with the software include Salesforce, Stripe, Google, and Chargenet.
It's worth noting that premium Salesforce integrations, such as the ability to integrate with the Salesforce Marketing Cloud may only be available on higher-tier plans.
Users on the app's Premier and Enterprise plans can also enable e-signature collection on their forms.
This allows you to authenticate responses and create legally enforceable documentation all in one place.
Insights
FormAssembly's workflow tools help users determine the ideal form signing order and even transfer data between forms.
Teams can also define the processing options available to each user, including previews, connectors, email notifications, and more.
This means that a respondent's information will still get submitted even if they fail to complete the entire workflow.
Pricing: FormAssembly offers five plans: Premier, Essential, Team, Enterprise, and Government. While there is no standard price for each package, the plans start as low as $224 per month.
Pros: In the right conditions, FormAssembly is a document powerhouse. Users who have already adopted Salesforce love the native Salesforce integration and the versatility of this enterprise-level tool.
Cons: Some users report experiencing glitches when trying to sync the app with their email clients. Smaller companies may also find the price too high, especially considering that Salesforce adoption is also required to make the most from the FormAssembly platform.
6. Wufoo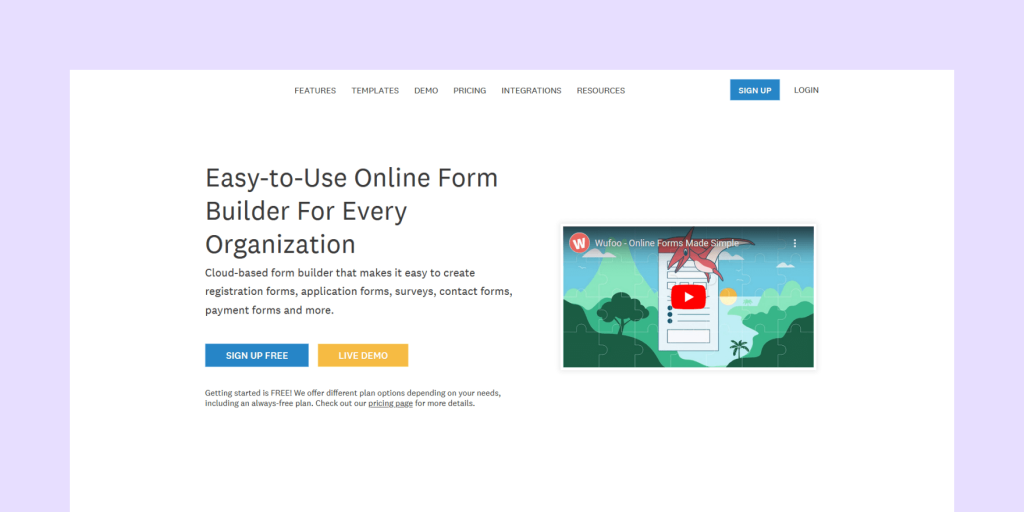 Wufoo lets you create dynamic mobile forms that can be filled out by your recipients on any device.
The platform also helps users keep track of all entries and check results in real-time.
While the platform has a slew of alternatives, Wufoo offers a variety of features that are impossible to ignore.
The free plan, while limited, is a great option for freelancers and small businesses who only need basic forms.
The robust template library is also a great starting point when it comes to creating incredible forms.
Of course, the offer only builds from there. At the bottom pricing tier, the basic form features expand dramatically.
You can receive 1,000 form entries from a single form, submit up to 10,000 API calls, set a custom logo, and much more.
At higher tiers, everything continues to scale.
The app comes with integrations to allow users to sync it with the tools they already use.
Some of the 2,000+ integrations that work with Wufoo include Salesforce, Dropbox, MailChimp, Google Sheets, Stripe, PayPal, and more.
However, the vast majority of these integrations are available through Zapier, so you'll need to have a Zapier account if you really want to leverage Wufoo into your tech stack.
The other thing to consider with Wufoo is that the platform is distinct and different from SurveyMonkey, the massively popular survey platform.
Momentive owns both Wufoo and SurveyMonkey, and, to minimize potential conflicts, there are some features that SurveyMonkey offers that may never be available on Wufoo.
As a hard and fast rule, Wufoo is great for simple to moderately complex forms, while SurveyMonkey is ideal for massive surveys, feedback forms, and marketing initiatives where you might need to get your form in front of a larger audience.
Insights
All told, Wufoo is a powerfully diverse platform that can be used to automate workflow and transfer data to CRMs, ERPs, marketing automation systems, and more.
The platform also supports branching and logic, allowing you to personalize the form-filling experience for your respondents.
Pricing: The Starter, Professional, Advanced, and Ultimate plans cost $14, $29, $74, and $183 per user/month, respectively. A free tier is also available.
Pros: The form-builder is simple and functional. Users can easily embed it in emails or websites without having to code. The multitude of available integrations for third-party app connections is a welcome bonus.
Cons: Users report that they find the search feature a little cumbersome to use, particularly when trying to find forms created by multiple users.
Cloud storage is a little slow, and uploading data can take a while to complete.
Wufoo also isn't HIPAA compliant, so you'll never be able to capture sensitive or protected information using this tool.
7. 123 Form Builder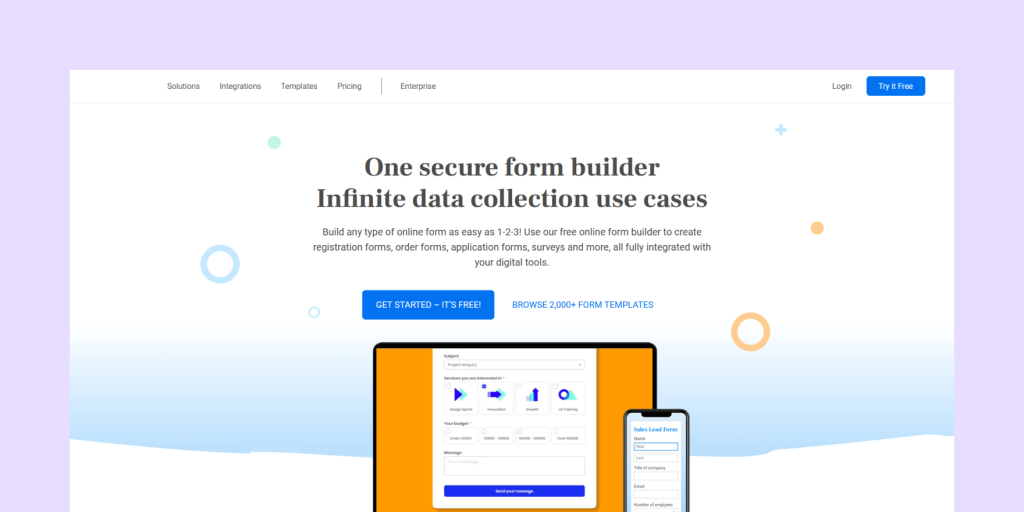 123 Form Builder is also a great alternative to HelloWorks by offering an intuitive and easy-to-use interface.
You can create your forms, configure their settings, and customize the layout without any coding skills, thanks to the drag-and-drop feature.
In addition, to avoid having to create a form template from scratch, the tool offers pre-made templates with over 2,000 templates that you can use to start the process of creating your form.
123 Form Builder's library offers different types of forms, such as application forms, event registration forms, and customer registration forms.
Moreover, you will be able to automate your workflows by integrating 123 Form Builder with tools such as Salesforce, Zapier, Mailchimp, Hubspot, Zoho, Wix, WordPress, and Paypal and access them simply via single sign-on.
If you need to manage sensitive data, 123 Form Builder is HIPAA and GDPR-compliant and protects you from spam attacks with advanced encryption, anti-spam protection, 256-bit SSL connection.
For better results in the design of your forms, you can use conditional logic.
In other words, this feature allows you to display and hide fields of the form according to the previous answers so that the right questions are asked to the right person.
This will make your forms shorter, which will increase the completion rate.
Insights:
123 Form Builder offers other useful features such as email automation and e-sign so users can sign their digital documents in a completely legal way with an electronic signature.
Last but not least, the data you collect through your forms is available in a central dashboard, from which you can create your charts and visuals directly on the platform or export them to your CRM.
Pricing: 123 Form Builder offers three paid plans. An Individual plan at $19.99 per month, a Team plan at $49.99 per month, and an Enterprise plan at $199.99 per month. There is also a free plan available.
Pros: The tool is very easy to learn and provides a simple user interface with an analytical dashboard to get an overview of the performance of your forms. Many pre-designed forms are available, and you can even import your own CSS.
Cons: 123 Form Builder does not have storage in the free plan, which can limit the creation of your forms, and some features, such as automation, are difficult to configure. Although it is possible to integrate payment gateways, the options are limited.
8. Formstack Forms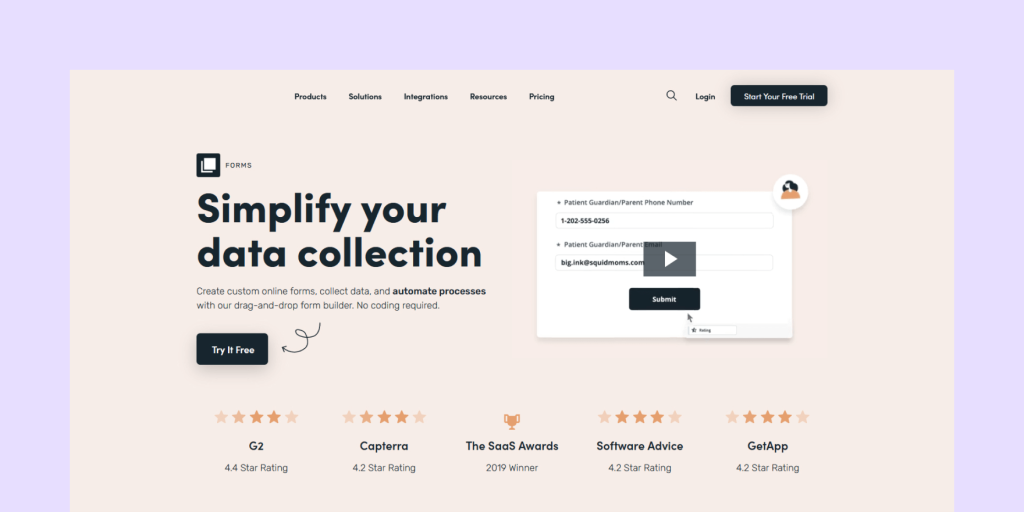 Formstack Forms is also a great choice for businesses that want to quickly create professional, branded, mobile-friendly online forms and start collecting payments, feedback, and event registrations.
With its intuitive drag-and-drop form creation and workflow tool, businesses can collect important information, automate processes and generate documents such as business proposals, contracts, applications, and registration forms.
The software is HIPAA compliant and also offers 100+ predefined templates. In addition, companies can easily integrate Formstack with applications such as Salesforce, MailChimp, and PayPal.
The forms are also secured by reCAPTCHA.
The advantage of this feature is that reCAPTCHA is invisible. Therefore, it provides a better form-filling experience for users.
In addition, with Formstack Sign, businesses will be able to collect legally binding electronic signatures via computers, tablets, smartphones, and even SMS.
Insights:
Formstack seamlessly integrates with Salesforce CRM.
With dynamically pre-populated forms, automated document generation, and streamlined digital signature collection, you can easily eliminate data silos, save time, and enhance the customer experience.
Pricing: There are four paid offers to use Formstack. The Starter plan is $50 per month, the Teams plan is $83 per month, and the Pro plan is $208 per month. The last plan, Enterprise, is negotiated directly with Formstack. Finally, while there is no long-term free plan, companies have a 14-day free trial available.
Pros: Formstack has spam protection with reCAPTCHA and offers smart lists to manage forms. Overall, the interface is one of the easiest to use for form creation. In addition, companies have the ability to create custom form URLs with subdomains.
Cons: Formstack lacks a pre-built template compared to its competitors and offers only 1 GB of space in its free offer (you will then have to go to the paid version after). Also, Formstack remains one of the most expensive online form builders on the market, with a paid plan starting at $50 per month.
9. Zoho Forms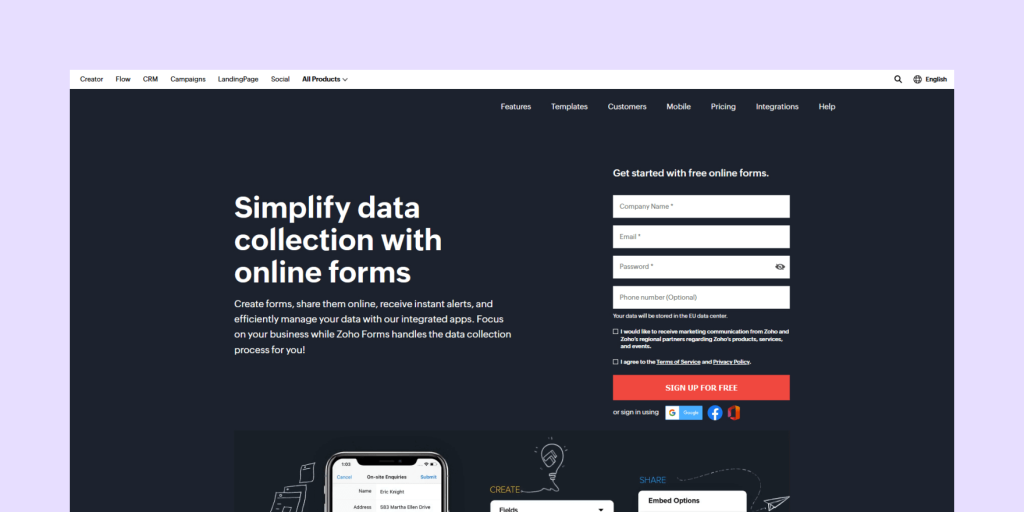 For companies familiar with the Zoho environment, you can use Zoho Forms to create your online forms and simplify data collection.
Zoho Forms has a library of over 40 pre-built templates that you can easily integrate with your website and facilitate your email marketing campaigns.
The creation of forms is done by drag and drop, which is responsive on all mobile devices. Zoho Forms also offers native mobile applications for iOS and Android devices.
Businesses can easily assign tasks, approve workflows and develop simple mobile forms.
In addition, you can easily integrate Zoho Forms with third-party applications and CRM software such as Zoho's Campaigns, Sheet and Creator, Google Apps, Google Spreadsheet, and WordPress.
Insights:
In general, Zoho Forms is ideal for staying productive thanks to its functionality.
In addition to drag-and-drop, you can define the scope of your forms and efficiently assign your teams.
The analytics tools, like UTM tracking, will allow you to track inputs, understand your conversion rate and develop mobile-friendly form campaigns.
Pricing: Zoho Forms includes four paying offers. A Basic plan at $10 per month, a Standard plan at $25, a Professional plan at $50 per month, and a Premium plan at $90 per month.
Pros: Zoho Forms is very easy to use and integrates perfectly with the Zoho environment, and teams can share forms via email. Also, you don't need a proper website to integrate your forms.
Cons: Some very useful advanced features like conditional approval are not available. Also, the approver must create a Zoho account to validate the forms instead of a direct approval from a link in Gmail.
10. Jotform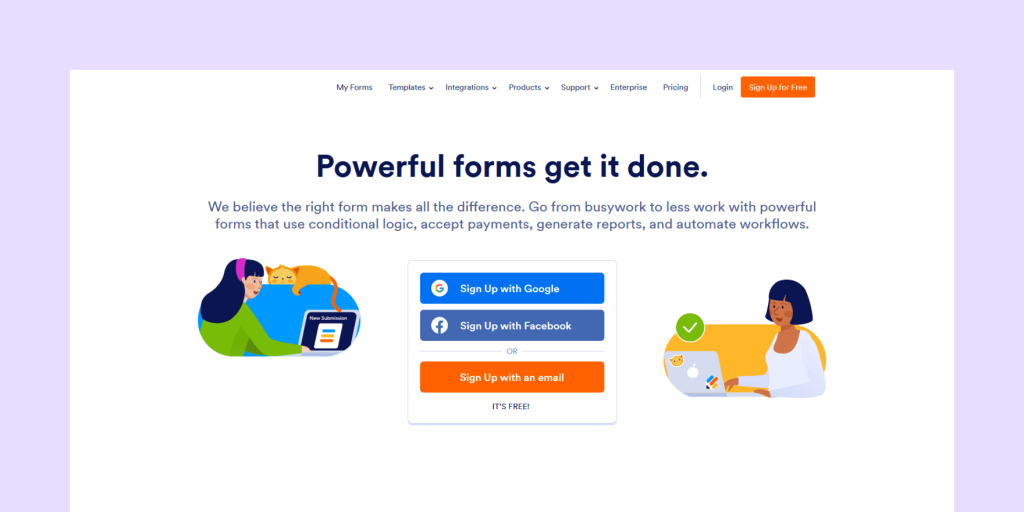 Jotform is also an option to consider for form creation. Indeed, the tool is very versatile and allows you to create the form with the look you need.
Moreover, Jotform allows collecting legally binding signatures (e-signature) and digital payments as a form of subscription fees or donations.
One of the great things about online form builders like this is that they allow you to create HIPAA-compliant forms without any technical skills.
In addition, it offers good features for managing your projects, with the ability to schedule appointments and synchronize them to your calendar.
Your teams will be able to share the forms by email without the need for a Jotform account. Also, the tool is easily integrated with your company's ERP.
You can integrate with popular CRM applications such as PayPal, Square, Google Calendar, Google Sheets, and Airtable, as well as Dropbox, Mailchimp, Zoho, and Salesforce.
Insights:
Form creation is quick and easy with drag and drop (no coding), with over 5000 pre-built and customizable form templates.
This includes templates such as registration forms, application forms, order forms, contact forms, signup forms, offline surveys, etc.
Pricing: Jotform offers a free plan as well as 4 paid offers for businesses. A Bronze plan at $24 per month, Silver at $29 per month, and Gold at $79 per month.
Pros: Jotform has a lot of widgets and integrations to do almost everything. In addition, Jotform's customer service is there to help you if you encounter any difficulties.
Cons: Link generation options are only available for the paid versions. Also, some features like link generation are not transferable to the tables.
Go beyond HelloWorks alternatives with PandaDoc
While difficult to master, lead generation is the single most important skill set for any company.
Your ability to target the right customer, learn about their needs and preferences, and tailor your products to meet their expectations all play a role in creating a great lead.
However, to get a prospect to convert, you also need to meet them where they are.
If your prospects visit your website using their phones or tablets or need to review essential documentation while on the go, clunky and unoptimized web forms just won't get the job done.
Every app on our list has the ability to help your business succeed by optimizing lead-capture opportunities and streamlining mobile document workflows.
Many even offer free plans or free trials to help you get started.
If you're looking for a platform that goes beyond simple form creation, PandaDoc is a great starting point.
Sign up for a free 14-day trial and see how to take your document creation strategy to the next level!
Disclaimer
PandDoc is not a law firm, or a substitute for an attorney or law firm. This page is not intended to and does not provide legal advice. Should you have legal questions on the validity of e-signatures or digital signatures and the enforceability thereof, please consult with an attorney or law firm. Use of PandaDocs services are governed by our Terms of Use and Privacy Policy.
Originally published March 30, 2021, updated April 10, 2023