In the last few years, Dropbox made some acquisitions that garnered the attention of its audience and investors alike.
While HelloSign is one of the most talked-about acquisitions, Dropbox also acquired FormSwift in 2022 for the hefty amount of $95 million.
As per its press release, there are a lot of improvements the company plans to make to the product. With that in mind, let's evaluate the solution as it stands today.
In this spring 2023, review, we're uncovering the current capabilities of FormSwift based on factors such as features, customer ratings, ease of use, customer support, product pricing, pros, cons, and more.
Let's dive in, shall we?
Review summary
While the solution shines due to its excellent customer support and easy usability, it lacks in other areas, such as features and competitive pricing.
However, with Dropbox's acquisition and plans for improvement, there might be a better future ahead.
Our rating
Overall: 3.8/5
Pricing: 3/5
Ease of Use: 4/5
Features: 3.5/5
Customer Support: 5/5
Value For Money: 3.5/5
| Pros | Cons |
| --- | --- |
| The company has exceptional customer support (and they don't use a bot to answer their emails or calls). | Many customers felt betrayed by initiating a subscription, as it often advertises as being free but necessary (yet certain features, such as PDF to Word conversion, document sharing, adding signatures, saving data in their database, and downloading or printing documents, all require you to pay). |
| The template library is extensive (FormSwift probably has one of the largest legal content libraries out there). | The website is a little clunky, and users are not easily directed to where they need to go (i.e., links to certain pages like pricing are missing). |
| The money-back-guarantee is definitely a win. | The solution is on the pricier end when compared to its competitors for the same features. |
Review methodology
To come up with an accurate analysis of the product, we searched the internet up and down to analyze customer opinions, sentiments, and ratings.
Overall, we visited social media platforms like Reddit, Twitter, and LinkedIn, and scoured all the pages of high-authority review sites like G2, Trustpilot, TrustRadius, and more.
After that, we explored editorial reviews done by independent sites, such as Finances Online, Fundera, Crozdesk, and more.
Additionally, ratings from FormSwift's Chrome extension and data from sites like Crunchbase were also analyzed.
Last but not least, we visited the company's website and social pages, contacted the customer support team, and personally tried our hand at using the product to understand its functionality.
General overview of FormSwift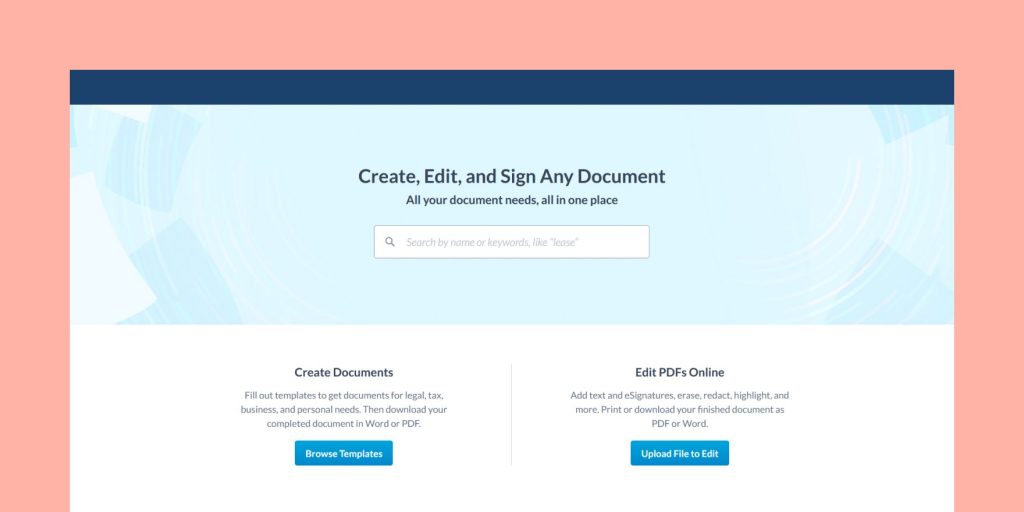 Developed by David Becker and Sathvik Tantry, FormSwift is a cloud-based company that helps you create, edit, and sign PDF documents.
Since the company positions itself as a resource for sorting out legal documents, businesses operating in the legal, real-estate, or accounting sector (or those that deal with a ton of legal documents daily) might particularly benefit from it.
However, FormSwift's use cases are not only limited to legal documents and forms. PDF (or Word) documents of all types can be uploaded to the solution.
Since its inception, FormSwift has been featured in publications like Inc.500, Forbes, TechCrunch, Yahoo, Tom's Guide, and others.
Product pricing
Presently, three different payment options are available on FormSwift's website (finding them may be a little difficult since the website's home page doesn't showcase a link to the pricing page, but you can learn all about their pricing options here).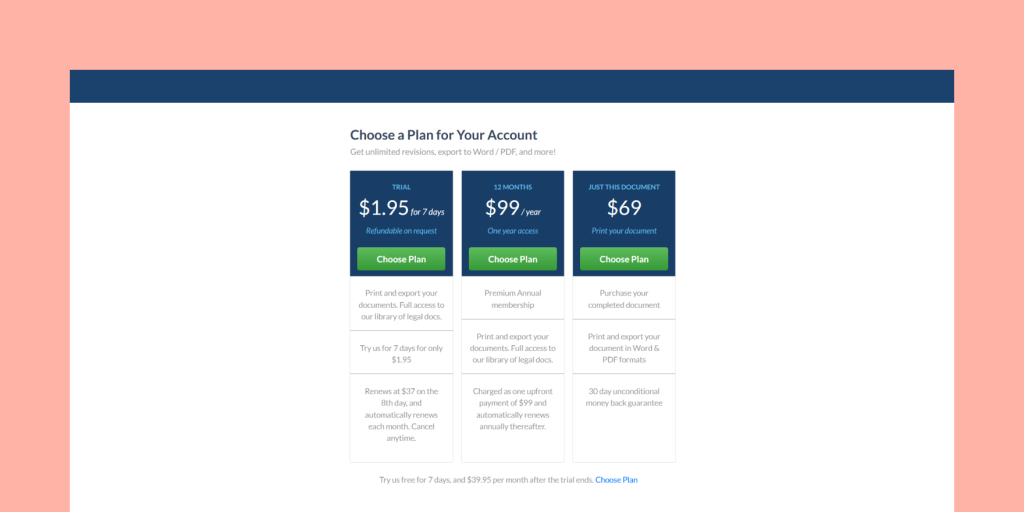 The three pricing tiers are:
Trial: $1.95 for 7 days (an automatic monthly charge of $37 is applied from the 8th day). If you purchase this plan, you get to access FormSwift's template library, and can easily print and export documents.
12 Months: $99 (users can access all of FormSwift's tools and features with this plan).
Just This Document: $69 (you can purchase this plan if you wish to print and export or download an individual completed document).
Key features
1. Extensive template library
The solution has a plethora of templates and forms, neatly categorized into fields like:
Personal
Small Business
Real Estate
Tax
Legal
Family
For the most part, all these templates are free to use and edit, and their editor is highly interactive as well!
2. Create, edit, and sign documents
With FormSwift, you can upload or create your own PDF or Word documents.
If there's an instance where the rules and laws differ based on where you live or the kind of business you do, FormSwift ensures that the document being created is adaptable to those requirements.
For example, if you go to create a business plan on FormSwift, you can select the kind of business you have and the state where you intend to operate, and then add the necessary details like expenses, assets, and recurring costs.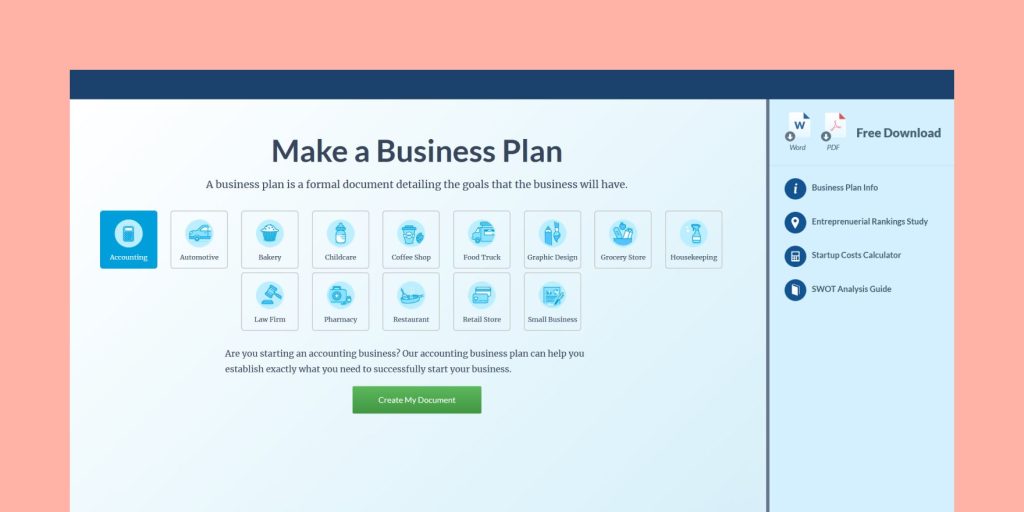 The solution also provides all the need-to-know about the document type.
In this case, for business plans, it walks you through what each field in the plan stands for, who needs it, which are the best states to have a business in, etc.
Any document uploaded on FormSwift can further be edited with their intuitive editor (once you sign in, the solution will walk you through all the editing options).
You can sign documents too, but you'll need to purchase the premium version of FormSwift for that.
3. Money-back guarantee
If you're unhappy with the product, the company allows you to file a claim to get your money back for up to 30 days. Even the trial period is included in this money-back guarantee.
However, after the 30-day limit passes, you may not be able to get that refund.
4. FormSwift editor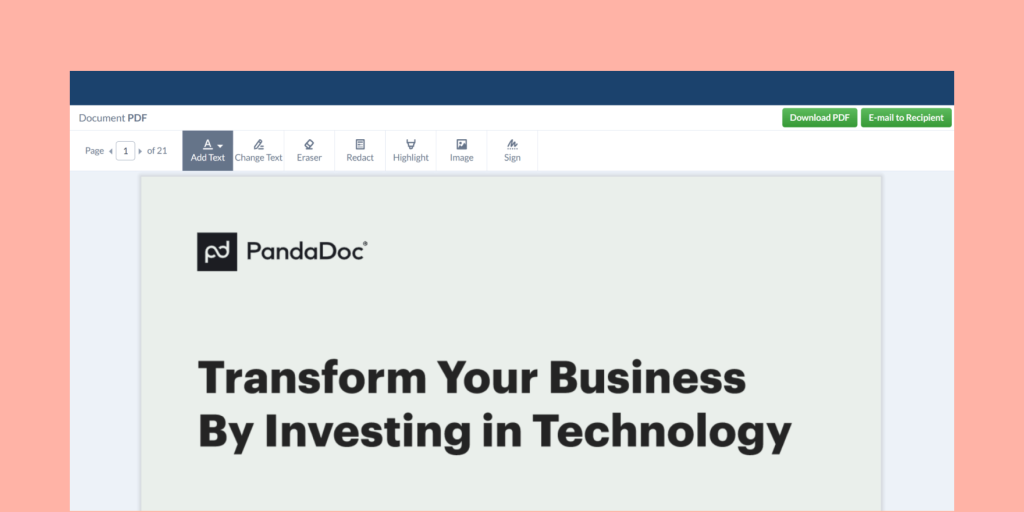 Once you sign in and are on the FormSwift editor, you can edit or sign PDF documents or rearrange pages. And after you have edited your document, you can also access other features, such as:
Fillable fields.
Document Library (with a search feature).
Actions such as duplicating documents, adding recipients, and sharing document links.
You can also view the document status, view responses, and rename your files.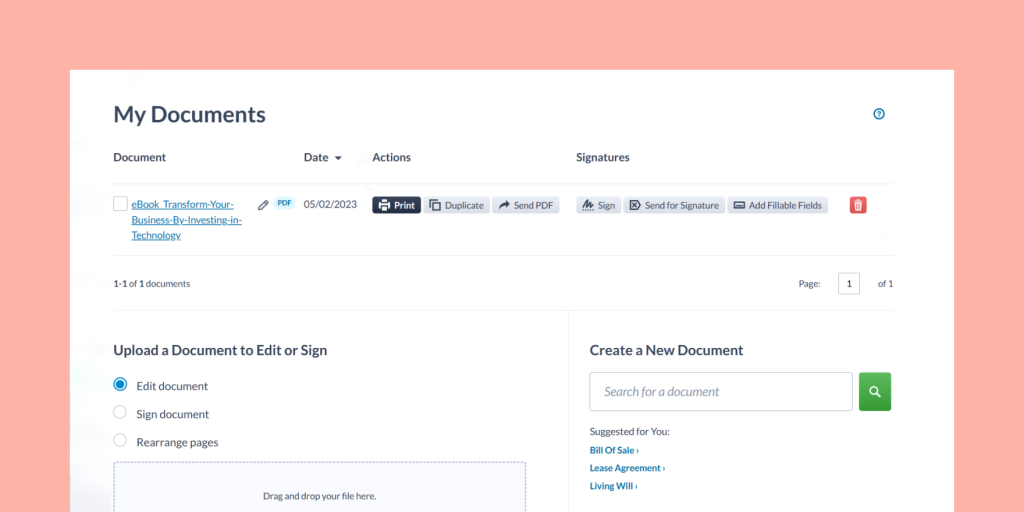 Support and ease of use
It's easy to get in touch with customer support either through calls or email.
Our experience with customer support at FormSwift has been nothing but incredible.
They were quick to respond to our query (they replied within a few hours), kept their emails to the point, and tried to resolve our query.
As far as usability is concerned, we thought the platform was pretty easy to navigate — it walked users through the necessary places, loaded soon, and provided an immersive experience.
The editor itself could do with a few improvements (especially once we compared it to the competition), but aside from that, the solution is a 10/10.
How does PandaDoc compare?
While there's no doubt FormSwift is incredible at what it does, and could be a real asset to Dropbox in the next few years, it still doesn't compare to larger solutions like PandaDoc.
To begin with, PandaDoc is extremely transparent about its pricing (we have a free e-sign account with which you can add unlimited signatures on unlimited documents, and our paid plans begin at $19/user/month).
Overall, our pricing is much cheaper when compared to FormSwift, but aside from the features provided, we also have additional capabilities like:
Creating, editing, and signing not just forms but also proposals, contracts, and quotes.
Tracking documents and getting analytics on how your recipients interacted with them.
Automating business and approval workflows.
Free PDF editors and email trackers.
And lots more!
In conclusion
If you're operating a business, chances are you need more than just a PDF editing and signing tool. And you ideally don't want to purchase a thousand different tools for a thousand different needs.
So, instead of buying numerous software for various needs, why not buy just one that fulfills all your requirements?
That's where PandaDoc comes in. Our solution is geared for multiple use cases and can be adaptable for any team, regardless of size or department type.
To know more about what we can do for you, get in touch with a PandaDoc expert today!
Frequently asked questions
Certain features of FormSwift are free to use, but other features like document conversion, downloading PDFs, and data storage require you to pay a subscription fee.

To cancel your membership, go to Account Settings > Subscription Settings > select Cancel Plan.

According to its privacy policy, FormSwift says it takes measures to keep up with user privacy,  and it does not sell your information to anyone. Aside from that, no promises regarding security were made.
Disclaimer
PandDoc is not a law firm, or a substitute for an attorney or law firm. This page is not intended to and does not provide legal advice. Should you have legal questions on the validity of e-signatures or digital signatures and the enforceability thereof, please consult with an attorney or law firm. Use of PandaDocs services are governed by our Terms of Use and Privacy Policy.