Marketing is a discipline that operates with a lot of special documents.
At first glance, all these marketing deliverables seem pretty straightforward for those who are familiar enough with the current state of the business they operate within.
Moreover, marketing docs are usually highly flexible and can be modified to suit your needs.
With that being said, it's also quite easy to get into a mess with them:
Business owners are often insufficiently aware of marketing theory. This results in possible confusion among the different types of marketing docs.
The same suboptimal level of marketing education often leads to teams ignoring some or even all the existing artifacts, running their marketing activities haphazardly.
So, let's start today's journey with a conceptual definition of marketing documents and then review all the main types of marketing docs in detail.
You'll be able to use this article as a helpful and easy-to-understand guide.
Here we go!
What are marketing documents?
Marketing documents simply means all the documents a business has to market its products or services to potential customers.
Sometimes people use the term marketing materials as a synonym for marketing documents.
In fact, marketing materials is a wider concept, including not only documents but all the other things aimed at marketing your product or service.
It can be, for example, any samples, lead magnets, gifts, etc.
19 types of marketing documents reviewed
1. Marketing brief
Most marketers start their association with a new project by offering a client a brief to fill out.
This marketing document is a set of specific questions designed to help the marketing team sink into the topic.
Typically, the brief contains the following blocks with appropriate questions:
Client background;
Project objectives;
Target audience;
Key competitors;
Core messages, their tone, calls-to-action;
Channels of distribution;
Budget;
Revenue goals;
Timelines.
Honestly, the brief usually just acts as an opener for a following meeting session.
The answers clients give on their own are often incomplete, even hectic.
That's why the brief is more a subject for discussion than the desired outcome.
To see a professional example of what you might present to clients at this initial stage, you can get and customize this free marketing brief template by PandaDoc.
2. Market research
Market research refers to the process of gathering, analyzing, and interpreting data and information about a specific market, its customers, competitors, and the overall industry landscape.
This research is crucial for making informed decisions and crafting effective marketing strategies.
A typical market research doc includes these important parts:
Research objectives informing us about what the purpose is of the given research;
SWOT analysis — an analysis of the "as is" business situation related to its strengths (S), weaknesses (W), opportunities (O), and threats (T);
Market analysis representing businesses occupying a certain niche, with their market shares, as well as sizes of total available market (TAM), serviceable available market (SAM), and serviceable obtainable market (SOM);
Competitors and their important features;
Market segments (geographic, demographic, psychographic, and behavioral, if we speak about B2C);
Actual and predictable future market trends;
Customer pains and desires;
Potential pricing;
Key findings;
Recommendations based on the research.
You can find a template used for market research here, as well as a competitor analysis template here, both prepared and offered for free by PandaDoc.
3. Marketing proposal
The marketing proposal is a crucial document that outlines the agreement between a marketer and their client.
It defines the scope of marketing activities, value proposition, terms, budget, and objectives that both parties aim to achieve.
A digital marketer, for example, might issue a proposal offering to promote a client's new product via Google Ads for six months and achieve specific quantitative goals by the end of the term.
Marketing proposals should be used anytime both parties need to agree on a new scope of work — for example, a new advertising campaign, content production, or competitor research.
You can use this concise, universal, and customizable free marketing proposal template created by PandaDoc.
The software suite also offers a free e-signature feature for documents created within PandaDoc.
However, it is important to remember to choose the template and then customize it very carefully.
4. Marketing agreement
Agreements usually emerge from proposals through negotiations since both parties sign them, eager to move forward with collaboration.
So, a marketing agreement is just a marketing proposal signed by the parties involved.
It is crucial to note that sealing the agreement does not mean the working relationship ends once the objectives are achieved.
The agreement should include provisions for possible cooperation continuing beyond the initial timeframe and desired outcome.
Here is an example of what a comprehensive, ready-to-use marketing agreement template looks like.
5. Marketing requirements document
Clear and well-defined requirements are essential for any project activity, marketing included.
The marketing requirements document must cover all the aspects of data that can influence the implementation of planned marketing activities.
Below are the essential parts of any marketing requirements document:
Definition of the target market and the background factors behind entering the market in order to have a better contextual understanding of the road ahead.
Buyer and user personas for a detailed and clear understanding of both customers and their needs.
Revenue potential to measure and estimate how much to expect in return from entering a new market or niche.
Problems you're planning to solve. These problems are tied to the business goals which can always be presented in the form of catching opportunities or solving issues.
It's also crucial to add a definition of the approach to solving these problems in order to achieve your marketing goals.
Current lifecycle stage of a product or business defining the set of required marketing activities. These can be quite different for new versus existing products or services.
Any other relevant detail that can be valuable when it comes to requirements should also be included.
Creating a comprehensive requirements document can be a complex process, but an inspirational example can provide a starting point.
This free business requirements document template provided by PandaDoc can be customized according to your unique business needs.
It's also highly important to document business requirements properly to ensure the success of marketing activities.
For more information, check out our blog post "How to document business requirements with less effort."
6. Marketing strategy
No matter how complex and labor-intensive your future set of marketing activities will be, it must be described in detail step-by-step in a document labeled "Marketing Strategy."
This strategy, in conjunction with other documents, must cover:
The goals you'll strive to achieve with your activities;
The in-between milestones for better progress tracking;
All the stakeholders — developers and other engineering staff involved, managers and supervisors, sponsors, external contractors, end users, suppliers, etc.
Here is PandaDoc's free marketing strategy template. In the form of a presentation, the template is professionally arranged and completely universal.
It is also worth mentioning that strategy is often a part of the marketing agreement.
7. Marketing plan (strategic blueprint)
A marketing plan can be pretty close to the marketing strategy but focused more on a process and its steps rather than on goals and results.
You could say that the marketing plan is a blueprint of the marketing strategy.
This free marketing plan template will help you better understand the difference between the strategy and the plan.
8. Marketing campaign
A marketing campaign document is a comprehensive outline of the objectives, strategies, tactics, and metrics of any marketing campaign you have to run.
The document typically includes the target audience, key messages, channels to be used, budget, timeline, and expected outcomes.
It may also include creative elements such as ad copy, graphics, and videos.
The marketing campaign document helps to align all the persons involved, track progress, measure success, and identify areas for improvement.
Another important purpose of the document is to make marketing campaigns easily repeatable for those people who weren't involved in their creation.
You can use this free template for a marketing campaign presentation.
9. Content schedule
The content schedule is also referred to as the content plan.
This document may cover different parameters of the content pieces that are set to be created further:
Types of required content (i.e. blog post, social media post, case study, press release, podcast, comment, etc.);
Names of content pieces (and their outlines — often but not always);
People responsible;
Deadlines;
Current statuses;
Platforms for publishing;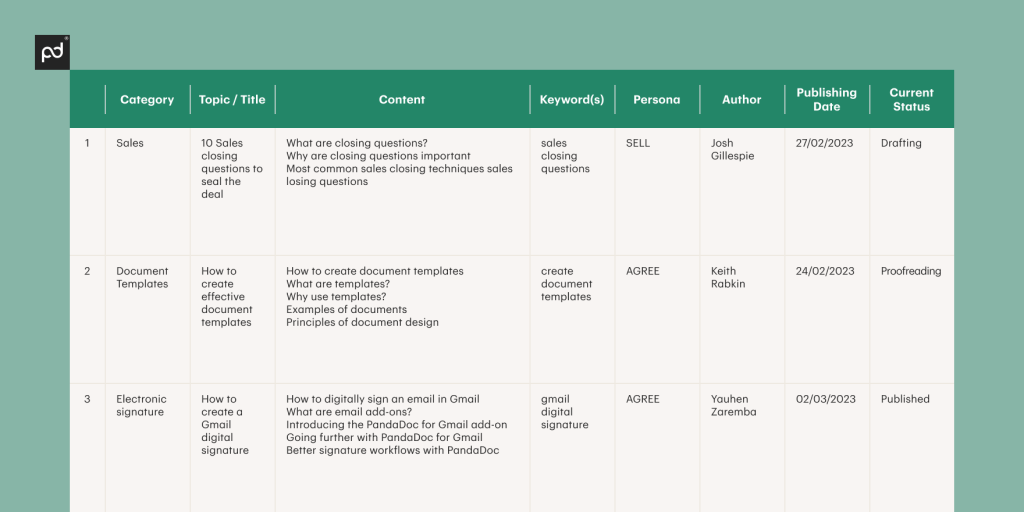 Although the structure of a content schedule can be varied, it's quite easy to create one right from scratch using any spreadsheet software.
You can find an example of a typical content schedule in the picture below.
10. Social media conversation calendar
Social media marketing is a crucial part of marketing activities.
And a social media calendar is a core marketing document covering this kind of activity.
The social media conversation calendar is somewhat close to the content schedule, though the calendar answers a much wider set of questions like the required tone of voice, sources of data you should use for posting, how many times each content piece can be used within the social media posts, etc.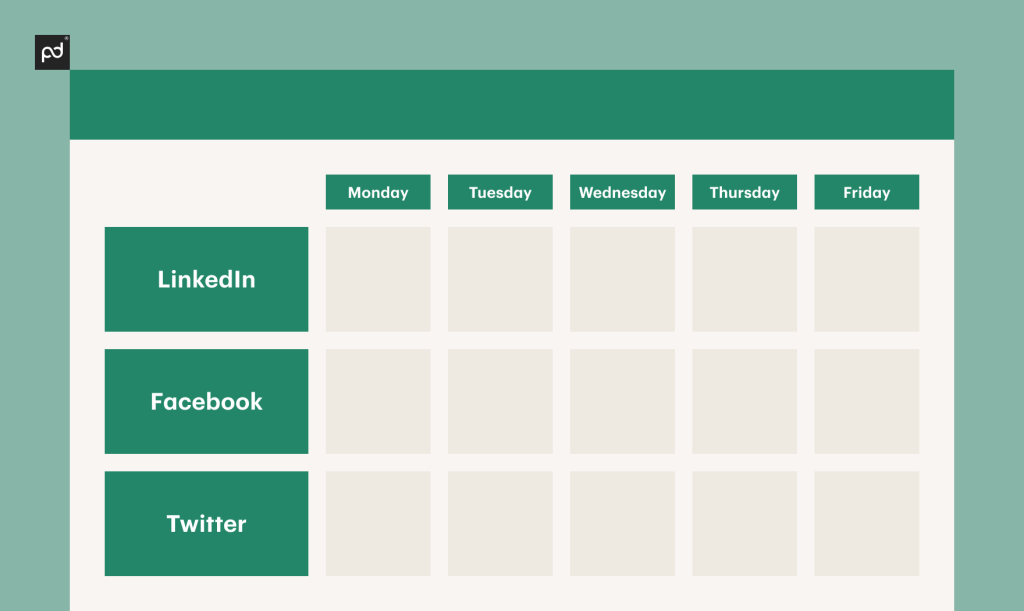 11. Marketing process description
It is important to document every well-executed and refined business process for further usage, and this applies to marketing procedures as well.
A marketing process description details the steps involved, including what is needed for success in current marketing activities.
For instance, it could be a guide for creating article outlines or a competitor research guide.
When documenting a marketing process, it is essential to optimize the process as much as possible to prevent existing flaws from creeping into the description.
Using this free process documentation template, you can quickly and easily document all your existing marketing processes — boom, done.
12. Marketing policy
A marketing policy is a crucial document that sets guidelines for all the marketing plans and strategies within a brand.
While it is not very common for small businesses, it is essential for enterprises that employ an omnichannel approach and use various contractors.
The marketing policy helps align contractors on channels, tools, tone of voice, marketing messages, pricing, and other aspects of marketing activities.
For instance, Google's Android application design is highly regulated by Material Design guidelines.
This is an example of a policy that defines the visual design trends applications must adhere to.
A marketing policy is a similar concept, outlining how a product or service should be marketed and how it should not be marketed, providing clear guidelines for marketing strategies.
Creating a marketing policy ensures consistency in marketing activities, enhances brand recognition, improves customer trust, and helps avoid potential legal and ethical issues.
You can use this free social media policy template as an example for creating your own.
13. Marketing presentation and pitch deck
Marketing presentation is a popular type of marketing document that deserves its own mention. People often use the words presentation and pitch deck as if they were synonymous.
In fact, a pitch deck is indeed a presentation but aimed at awakening interest in your product or service during the first meeting.
Marketing presentations, on the other hand, are usually more specific and aimed at a special person or company.
Marketing presentations and pitch decks typically include information about the company, product or service, unique sales proposition, roadmap, competitors, plans, traction, and more.
That said, there is no singular way to construct them, as each situation is unique. It is important to carefully consider your target audience, goals, and the necessary information to present.
A good rule of thumb is to provide sufficient detail to cover the essential information. This free template of a marketing pitch deck will help you form your own glossy-looking presentation.
14. Marketing playbook
This document is quite complex due to it being a single guideline for all the persons related to marketing a certain product or service.
The marketing playbook is created by CMO, marketing director, or any other marketing manager with high enough proficiency.
The playbook defines the channels, tools, approaches, and most importantly, the key messages that your marketing efforts should convey.
The playbook ensures consistency in your marketing messages and campaigns, enables the use of the most efficient techniques and approaches, and saves time by avoiding ineffective methods.
It is worth noting that sales and marketing must be fully aligned to be efficient, so the marketing playbook also impacts sales.
15. Vision statement
The next few documents are fairly short yet quite important.
These are straightforward, textual entries expressing special aspects of your product, service, or business.
The vision statement is based on long-term business goals. It describes the company's aspirations for the future and the impact it intends to make in the world.
The vision statement provides a roadmap for the company's growth and development, guiding decision-making and strategic planning.
A good vision statement is ambitious, inspiring, and aligned with the company's core values.
An example here is the vision statement used by Tesla: "To create the most compelling car company of the 21st century by driving the world's transition to electric vehicles."
16. Mission statement
This doc can be easily confused with the vision statement, so it's worth paying enough attention here to clearly distinguish between the two.
The mission statement is a concise and compelling expression of what, exactly, defines the fundamental purpose of a business.
It shows what the company currently does and why it exists.
The mission statement is intended to be a guiding principle for the company's daily operations and strategic decision-making.
Another purpose of the mission statement is to inspire employees and customers, providing them with a clear understanding of the company's core values.
Using Tesla as an example again, their mission statement is this: "To accelerate the advent of sustainable transport by bringing compelling mass-market electric cars to market as soon as possible."
17. Company purpose statement
The company purpose statement document is often overlooked by marketing teams.
This is an incorrect approach, because the purpose statement is about how the product or service will benefit its customers.
The purpose statement captures the underlying meaning and motivation behind the existence of the business.
A good rule of thumb is to create your purpose statement at the very start of the business and then maintain it.
One last time: the purpose statement of Tesla is the following: "Building a world powered by solar energy, running on batteries and transported by electric vehicles."
18. Marketing objectives statement
This statement describes desired outcomes your brand wants to achieve via marketing activities.
These outcomes must be clearly defined, measurable, and feasible, of course.
An example of such a statement: "To double the revenue generated by customers visiting via the website within the next 12 months."
19. Company values
A list of rules, principles, and practices adopted by the company is called a company values statement.
There are a variety of options for value types that could be included, whether concrete or abstract.
For example, sitting at the top of PandaDoc's stated company values is that you, as a customer, will learn a lot.
You can find a more detailed explanation of the company's values in PandaDoc's culture code document.
Fulfill your marketing documents' needs with PandaDoc
On one hand, the world of marketing documents is complicated and confusing for those who aren't familiar with them.
On the other hand, almost all of them have a highly flexible structure and applicability based upon a marketer's discretion.
Both these aspects can lead to ignorance of important deliverables and glossing over necessary processes as non-obligatory ones.
Taking into account the significant levels of competition in the majority of businesses today, your marketing must work like a dream to remain competitive.
That's why a clear understanding of different types of marketing documents, coupled with a strong intention to make everything right and complete, is key to the success of modern marketing departments.
Use this article as a short guide that helps you gain a better understanding about all these document types.
And remember, we're always here to assist — with a bunch of free business document templates and advanced document management features, PandaDoc comes to the rescue.
Disclaimer
PandDoc is not a law firm, or a substitute for an attorney or law firm. This page is not intended to and does not provide legal advice. Should you have legal questions on the validity of e-signatures or digital signatures and the enforceability thereof, please consult with an attorney or law firm. Use of PandaDocs services are governed by our Terms of Use and Privacy Policy.
Originally published March 24, 2014, updated May 5, 2023