Almost all of our business has moved online, but we're still working with "folders", "files", and "documents", as if they were paper.
Without a dedicated storage and management solution (DMS), your business document storage can get unwieldy.
A simple email involves five minutes of searching for the right file, and your version control system is naming files "_FINAL" or "_FINAL_FINAL". All this means you risk losing important information in the archive.
A dedicated data room (or "VDR room") can make all of this so much easier.
Let's go over what DMS does for businesses, and how you can get the most out of your own.
Benefits of effective document storage for your company
Many office workers feel like they spend more time searching for documents and files than responding to messages from colleagues and clients.
You don't have to be one of them.
With an effective document management system, you, your company, and every company you work with can enjoy the benefits: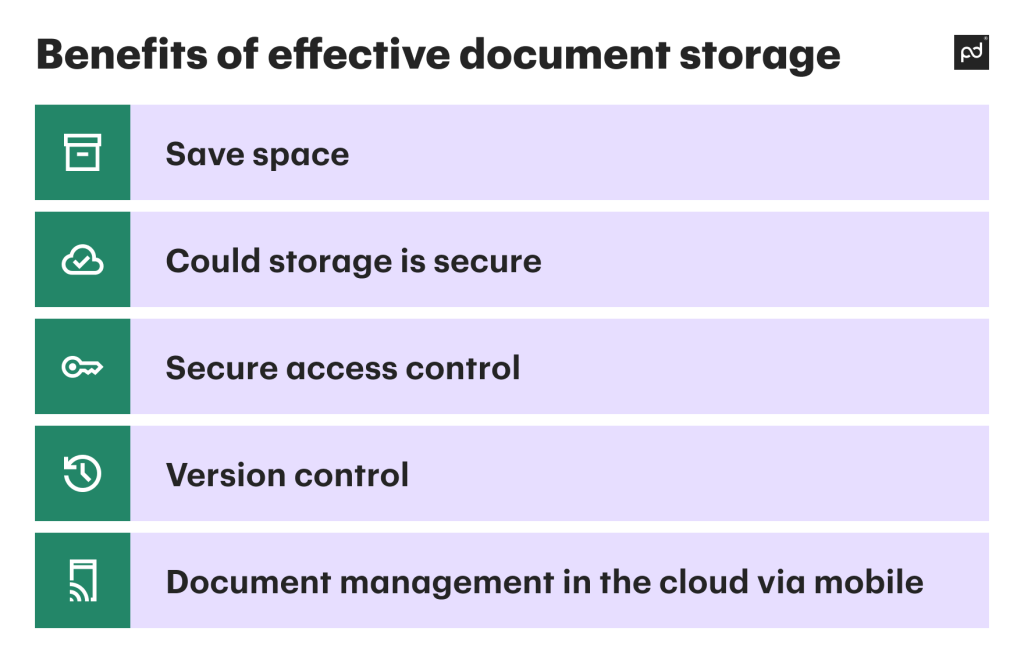 Save space
The most obvious benefit of digital business document storage is saving space.
Without physical cabinets full of folders, companies can free up office space or downsize in a remote/hybrid world. No more need to find extra space for storage boxes.
Maybe you've already ditched the file storage companies and gone paperless, but you're running everything on your own on-site intranet.
A dedicated DMS for storage of files in the cloud can help you get rid of a server room that eats up floor space and your IT specialists' valuable time.
Cloud storage is secure
Document storage in the cloud also provides more security than physical or on-site storage, even if you use secure document storage boxes.
Cloud providers can afford to invest in industry-leading on-site and digital security. Data will be stored on several redundant servers in different locations.
If there's a failure in one server you can still access your documents at any time, from anywhere in the world.
Secure access control
Digital document storage gives you several ways to make your documents more secure:
User permissions
A data room allows you to set granular user permissions for each employee.
This ensures that sensitive information is only accessible to those who need it.
Secure access
Authentication methods like passwords, biometrics, or two-factor authentication ensure that only authorized employees can access your documents.
Audit trails
These log every interaction every user has with your document, even opening it, which creates a record you can refer back to later.
In the worst-case scenario, the audit trail will show you successful and unsuccessful access attempts in the event of a security breach.
Version control
In software development, any change could introduce bugs that might not be discovered for weeks or months.
This is why developers use "version control" systems like Git. They keep an accessible record of all the previous versions, and show who introduced which changes.
This is a valuable feature for digital documents, too.
With several people making changes to a document like a contract, it's important that precise terms be preserved for later even if they're not in the current version of the document.
If someone makes changes that shouldn't be there, it's easy to "rewind" back to the correct version.
Document management systems like PandaDoc include a "Version History" feature that lets the team make changes to the document with confidence, knowing nothing important will be lost.
Document management in the cloud via mobile
A dedicated DMS makes documents accessible from any device.
This is a bonus for colleagues on the move, for example business development managers, who can quickly check up on something before a visit to a customer.
For your customers and partners in other businesses, mobile documents can be a game-changer.
If you find yourself chasing customers to sign documents so your work can progress, a DMS can speed things up by making signing available on whichever device they're on at any given moment.
Digital document storage vs. standard storage facilities
While digital document storage has many benefits, there are some advantages to traditional storage methods if best practices are followed.
Physical
To keep documents safe in a physical document storage facility, it's essential to follow certain best practices:
Documents should be stored in a dedicated room with only a handful of staff holding the keys.
To keep all these papers safe, they need to be placed in a room below 75 degrees Fahrenheit and with humidity between 30-50%.
Documents should be kept out of direct sunlight, which can damage the ink on paper and cause fading after just a few months.
And for all the techniques employed in digital document storage, physical methods have some advantages:
Physical documents can't be stolen without someone physically breaking into the premises. As you can imagine, this is much riskier than a hacker clicking a URL they're not supposed to know.
It's much harder to "edit" a physical document and get away with it, so you can trust that paper documents are authentic.
If you and a client physically sign a document, you know that your client was the person who actually signed it. This is important in situations where contractual disputes could escalate into legal proceedings.
Digital
Digital storage can make your documents faster to sign, cheaper to store, and easier to find later. But that's only true if you have the right tools and systems in place.
Legacy software, aging hardware, and outdated processes can cause just as many headaches as paper methods.
Digital documents are useless if a client has to print them out to sign them.
The cost and space reduction in storage is minimal if you need a dedicated server room in the office to run your intranet.
Without a good process for tagging and organizing files, staff can spend just as much time searching through digital folders as they would if they were physical.
A good DMS makes all of this automatic. Sending a document is as easy as sending a link or an email and offsite cloud storage ensures your work is always available when you need it.
Search functionality and integration with other tools means your documents are always where you'd expect them to be.
Which is better?
In some sectors — like the public sector, real estate, some legal services — physical document storage might be mandatory for good reason.
There are time-tested processes in place and documents can be trusted to be authentic.
But, for companies who need effortless collaboration, digital document management systems are usually the clear winner over physical storage.
You and your clients can send and sign routine documents in seconds.
And in more complex workflows, you have ease of access and version control that makes life easier for everyone involved.
The 5 best business document storage solutions
Every document sharing platform serves different needs.
Let's talk about five of the most popular document solutions today, and see what they offer for their users:
1. PandaDoc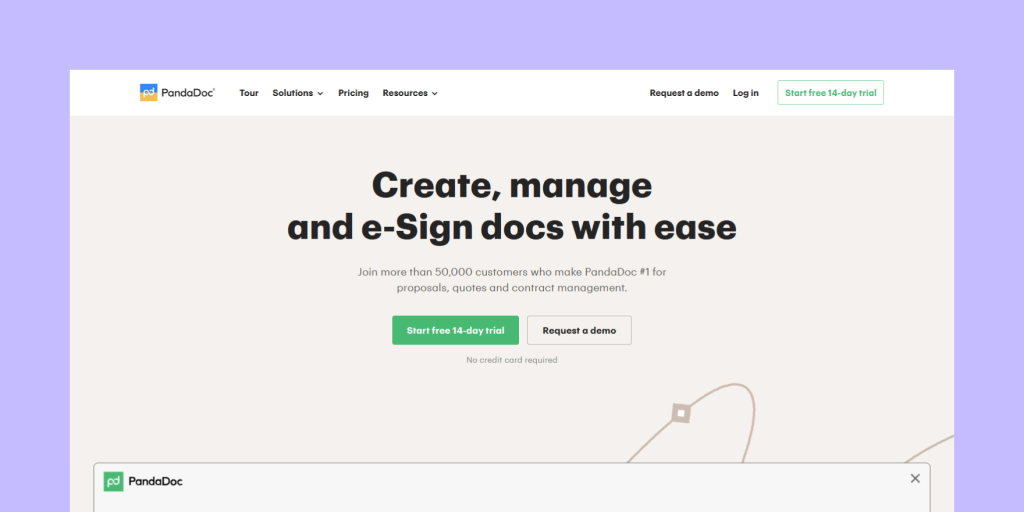 PandaDoc is an all-in-one solution for automating your entire document workflow.
The secure PandaDoc VDR is built to handle your most sensitive documents.
PandaDoc offers more granular access controls than any other solution listed here.
Multi-factor authentication keeps your documents safe from hackers.
And detailed audit trails show you every single thing that happens to your documents, from viewings to unauthorized access attempts.
And with user-friendly collaboration tools, storing your documents in PandaDoc makes life easier for all the customers and external collaborators you work with.
Powerful integrations with the likes of Slack, Google Workspace, Microsoft Dynamics, and Salesforce make everything you do with your documents faster and more effective, while keeping them secure.
2. Google Drive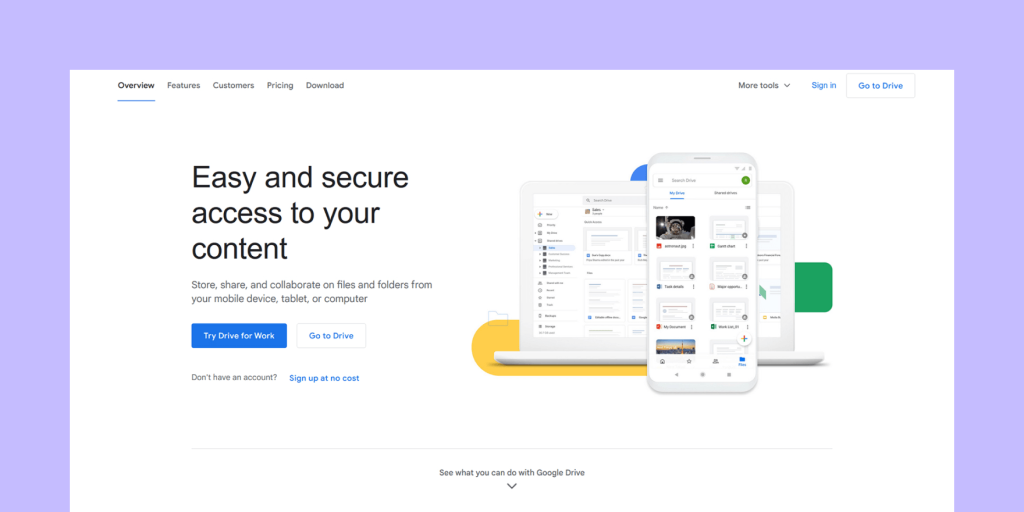 If your company or external collaborators are using the Google Workspace suite, Google Drive may be a natural fit for your document storage needs.
As a member of the Google Workspace family it's seamlessly integrated with apps like Gmail, GCal, and Google Docs.
Whenever you send a large file over Gmail, it's hosted on Google Drive for easy access.
And with the Google suite's real-time collaboration tools, storing documents on Google Drive makes working together on documents easy.
Just remember that without advanced security features, your Google Drive documents are only as safe as the weakest Gmail password amongst your collaborators.
3. Microsoft OneDrive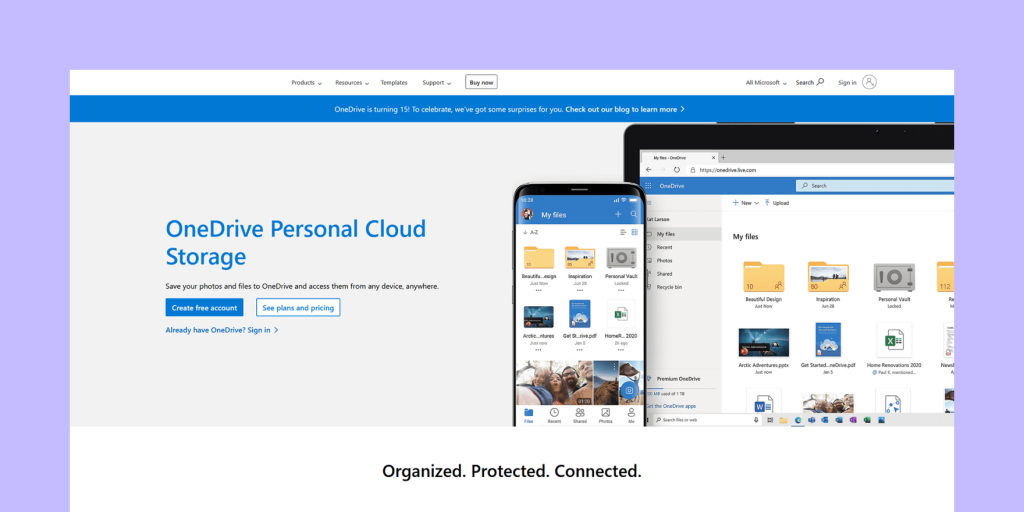 If a company isn't running on Google Workspace, it's probably running on Microsoft Office.
This makes Microsoft OneDrive an easy choice for some business document storage needs.
OneDrive works seamlessly with apps like Microsoft Word, Excel, PowerPoint, and Teams.
And in dedicated document workflows, OneDrive works with Microsoft Dynamics and SharePoint.
Files sync according to changes across all your devices, and you can loop any email account into your document with an "@" mention.
4. Dropbox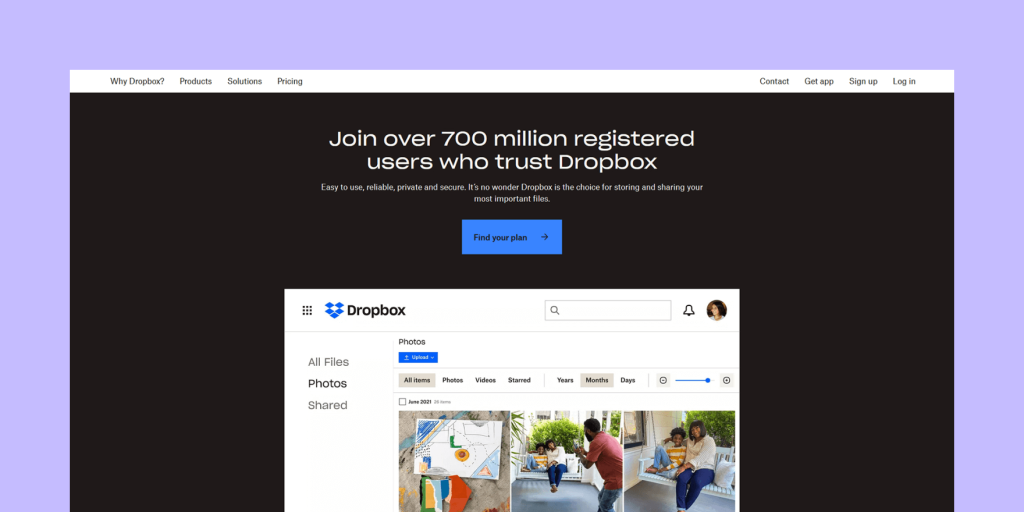 Dropbox is one of the most popular dedicated storage solutions for business documents.
It's a standalone application not built into a suite like Google Drive or OneDrive, so it has thrived on the strength of its document storage service alone.
Dropbox is popular with marketing teams and creatives who have to collaborate closely on files, and for good reason. It's a polished, user-friendly solution with a good free tier.
But it lacks the granular access controls, multi-factor authentication, and audit trails that businesses need to keep their most sensitive documents safe.
5. Adobe Document Cloud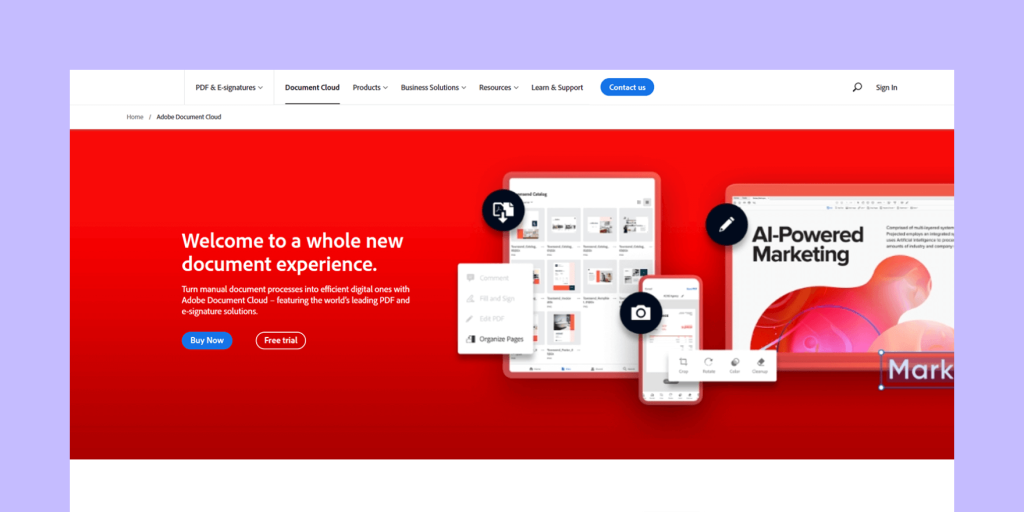 Adobe Document Cloud gives businesses a way to store and access PDF files remotely.
Solutions like Adobe Sign, Adobe Scan, and Adobe Acrobat Reader are built-in.
This is a good solution if you're already used to working with Adobe's software.
Document Cloud also offers integrations with Google Drive and Microsoft 365, bridging the gap between Adobe's family of tools and the software you use every day.
Document storage methods for your business
Finding the right document management software is only half the battle.
Once you've found a system that suits your requirements, you need to establish clear methods and processes for how you're going to use it.
Clarify roles and positions in the DMS
All employees should have clear roles in the DMS. Who can read documents? Who can edit them?
A physical storage room for documents would have a lock with only a handful of staff holding the keys. Similarly, a data room should define who is and isn't allowed to view certain documents.
Without it, you're leaving sensitive information open to any hacker who compromises an account in the company's network.
Digitizing documents
Your DMS will be useless without documents in it. If you're moving from a physical storage system, you'll want to start by digitizing your existing archive.
With tools like optical character recognition, scanned papers will have many of the same advantages as digital-first documents.
Classify and categorize documents
Digital storage makes it easy to classify thousands of documents without time-consuming manual work. Much of this can be automated.
Documents can be tagged or sorted into folders by the product codes in their titles or appearing in the body of the text.
And with a simple search, employees can search through the whole archive for the right document without having to figure out the right section in a physical archive.
With tagging and other kinds of metadata, you can accurately store documents in several "places" at once.
Implementing a "clean desktop" policy
Traditionally, a "clean desk" policy insists that staff can't have documents of any kind lying around on their desk.
This limits the potential for information being revealed to employees who shouldn't see it, or outside staff like the building managers and cleaners.
A data room does a lot to protect your documents, but it can't do anything to protect documents that are stored outside of the system.
A "clean desktop" policy mandates that employees can't leave documents lying around on insecure devices. That might mean:
Documents never leave the DMS where they're created, accessed, signed, and stored
Employees are forbidden from sending documents over unencrypted email
Employees have to clear work-related documents from their devices as soon as they're finished using them.
The risk profile for document theft will vary from business to business.
Whatever you do, set up clear policies so that your documents are as safe outside of your data room as they are inside.
Access your stored documents anytime, anywhere
Digital business document storage you can rely on is vital for today's world, especially in a remote environment.
The best document management software goes even further.
Businesses get multi-document transactions running on autopilot, and customers enjoy a signing experience as convenient as any web app.
PandaDoc gives you a convenient, secure location to create, collaborate, and negotiate with everyone else who has to use your documents.
And with powerful integrations with the tools you already use, you're able to automate your sales cycle from end to end.
Disclaimer
PandDoc is not a law firm, or a substitute for an attorney or law firm. This page is not intended to and does not provide legal advice. Should you have legal questions on the validity of e-signatures or digital signatures and the enforceability thereof, please consult with an attorney or law firm. Use of PandaDocs services are governed by our Terms of Use and Privacy Policy.