Long gone are the days when document sharing meant mailing a hard copy of a file across the country, or waiting for an age to upload a digital file as an email attachment.
Nowadays, a document sharing platform can be used to not only quickly share important files through the internet, but also collaborate on them, eSign them, and even have them notarized.
We're going to take a look at some of the far-reaching benefits of file sharing platforms, and then consider the top contenders in the bracket, helping you to make an informed choice, should you want to invest.
The importance of online document sharing
It's not an exaggeration that online document sharing software has revolutionized the way that files and assets are distributed throughout an organization.
There are a multitude of benefits of online document sharing, of which the following are just a few examples:
1. Quick, convenient, and green
Faster and more environmentally-friendly than using hard copies, and without the file size limitations of using email attachments, online document sharing has made it quick and easy to share important files with everybody who needs to see them.
2. Easily accessible
Documents that are shared online can be accessed by any authorized party, anywhere they have an internet connection.
This makes it incredibly easy to share access to important files with any parties who require it, including employees working remotely, or leads and prospective customers based anywhere in the world.
3. Productivity boosting
Productivity is boosted due to the ease with which employees can access vital documents.
Workflows are streamlined, as there's no need to engage in endless email threads just to share a series of documents.
With online document sharing, everything is ready and waiting in the cloud for those who need it.
4. Better collaboration
Collaboration also becomes easier. Documents can be edited in the cloud, with changes viewable in real-time.
Clients can provide feedback on a document, and revisions can be approved or rejected instantly.
A full version history is also viewable, meaning that it's easy to look back at previous versions of a document, and see who made changes to it, and when.
5. Broader functionality
Many document sharing platforms will also incorporate features such as eSignature software functionality, allowing you to complete even more tasks in one application, further streamlining your document workflows.
6. Greater access control and security
Having control over permissions not only allows you to easily share files, but it also helps to keep your sensitive documents secure.
Granular access controls ensure that files are only accessed by those who are authorized to see them, meaning that confidential documents remain confidential.
7. Digital and physical space-saving
Online document sharing reduces the space required for hard copies of documents.
Not only that, but it also reduces the number of servers required to store documents locally, and minimizes the amount of space they'll take up in your offices.
It's also infinitely more scalable to store documents in the cloud than on physical servers.
How we sourced our data
Comparing software and services can be a tricky business.
User reviews can give a more honest overview than a vendor's website, but they can also be subject to personal bias and unique customer experiences.
For this reason, we've taken the time to analyze a high number of reviews of all the products listed in this rundown.
It's our hope that, by doing this, we've built an accurate picture of the services on offer, and that any pros and cons mentioned are common to many users.
We've made sure that we've only used trusted, high-quality sources of information, including:
Top 10 file sharing platforms
We've gathered together information on 10 of the best file sharing services to give you a good idea of what each one has to offer:
1. PandaDoc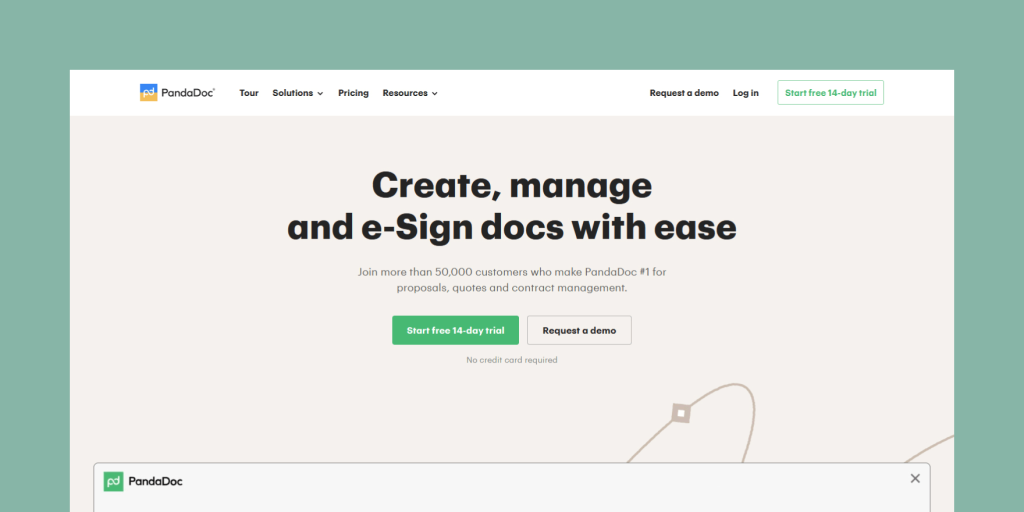 Pricing: Four plans are available; Free eSign, Essentials for $19/user/month, and Business for $49/user/month. Enterprise plans are also available with custom pricing.
Suitable for: There's a plan to suit every type of customer, from individuals, to small and medium businesses, right up to large enterprises.
Key features
Digital data rooms
PandaDoc's VDR allows you to create digital sales rooms, giving you a place to share documents, collaborate with multiple parties, and sign contracts.
Process security and document traceability give you total peace of mind.
You can guide clients through your promotional materials, collect data from them, and share a whole range of content from spreadsheets to videos.
What's more, you can set up and manage visibility permissions for every document shared, so you can control exactly who sees what.
Flexible and scalable
New startups to global enterprises can make use of virtual data rooms thanks to cloud-based technology that's affordable and easy-to-use.
Integrations
Out of the box integrations with a whole host of popular CRM platforms let you easily import information to avoid manual data entry errors.
More than VDR
PandaDoc gives you the power to create, share, and eSign a range of documents, from proposals and contracts, to quotes and invoices.
You can streamline all your document workflows, while maintaining compliance and control.
Reviews
PandaDoc holds a rating of 8.8/10 on TrustRadius, and is hailed as "easy to learn, easy to use", and "huge for small businesses" over on G2.
PandaDoc provides a platform that benefits all your document workflows, pulling together a range of document management features.
Not only can you share files online, but you can create them, transfer them, track them, and eSign them, all in one place.
Quotes, proposals, contracts, invoices, and more can all be easily generated within PandaDoc, with a wide range of templates available that can be easily customized to suit your needs.
A drag and drop document builder allows you to quickly and easily drop in every feature you may need.
Documents can then be shared in minutes, with real-time access to approvals, comments, and version tracking.
This allows you to collaboratively build documents that are to the satisfaction of every party.
Native CRM integrations help you to streamline document workflows, ensuring that you get every detail right.
The ability to add legally binding eSignatures helps you to remain compliant, and pre-approved templates and content blocks help you to avoid costly legal mistakes.
PandaDoc is incredibly simple to use for people of all technical backgrounds, but if you do get stuck, 24/7 live chat support is available to help you out.
2. Google Drive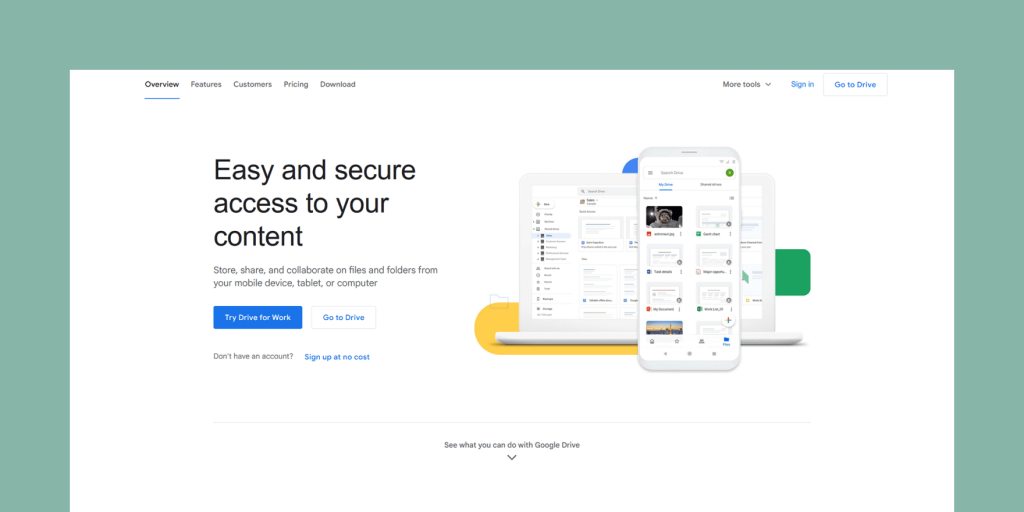 Pricing: 15GB storage available for free, rising to up to $299.99/month for 30TB. Google Drive for teams is available at a cost of $10/user/month.
Suitable for: SMBs to enterprise businesses
Key features
Google ecosystem
Google Drive integrates seamlessly with the Google worksuite, including Docs and Sheets.
So if you're already using Google's document management software in your business, Google Drive is a logical choice to complement them.
Works on a range of devices
Google Drive has apps available for plenty of devices, including iOS, Android, Mac, and PC.
These apps all have simple, user-friendly design, giving you the power to share documents, files, audio, video, and more with ease.
Lack of features compared to competitors
It's worth noting that, while Google Drive pleases most users with its features, it does lack the ability to manage workflows or capture electronic signatures in the way others in this list can, such as PandaDoc.
Reviews
Google Drive comes highly recommended, with a current score of 8.8/10 on TrustRadius, and a host of "Best Of 2022" awards under its belt.
However, some reviews have made note of the lack of file organization as a downside.
Google Drive is a well-known cloud storage solution, adopted by a wide range of users.
The ability to store a multitude of different file types, coupled with integration into the larger Google ecosystem, has seen Google Drive used by individuals, SMBs, and enterprises alike.
The available data loss prevention features give users peace of mind when it comes to the safety of their files, and teams can use dedicated shared drives to provide easy and secure access to selected files.
Google AI is used to great effect in Google Drive, identifying important files, and recognizing relevant file elements, content, and collaborators to speed up the process of searching for files.
(With the comparative lack of file organization in Google Drive, this is a much-needed feature).
3. Box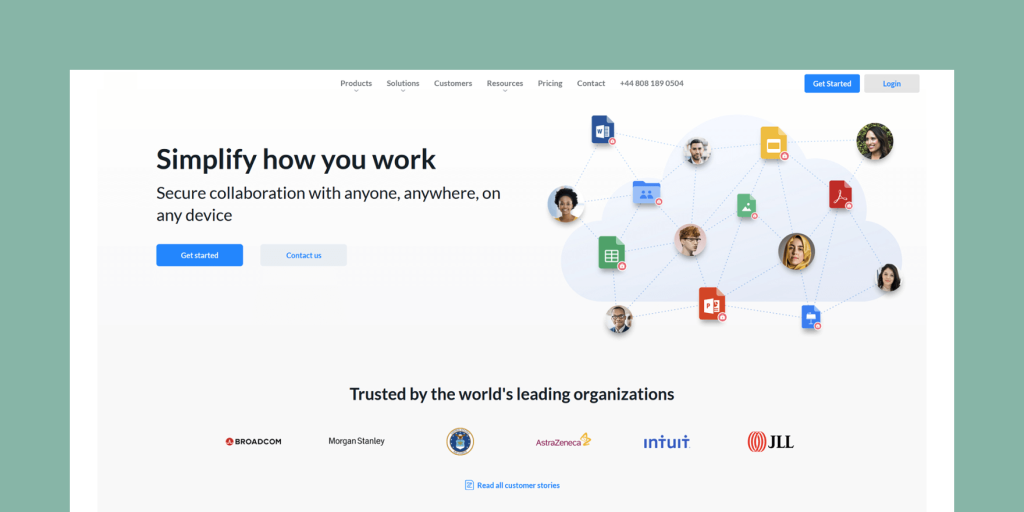 Pricing: Four plans are available, Business ($15/user/month), Business Plus ($25/user/month), Enterprise ($35/user/month), and Enterprise Plus (custom pricing).
Suitable for: Typically, larger businesses and enterprises.
Key features
Integrations
Seamless integrations with over 1,500 apps facilitate sharing and collaboration on a whole range of documents and files.
Slack, Google Workspace, and Microsoft 365 are supported, among many others, alongside an open platform and APIs.
Collaboration
Teams are given the power to access, organize, and manage their content from wherever they are.
A user-friendly experience is provided on mobile, web, or desktop, to allow anybody to collaborate.
Limited offline capabilities
Some users have made note of the limited offline functionality of Box, meaning if you lose your internet connection for some reason, you may be left high and dry without access to your files.
Reviews: Box's current TrustRadius score is 8.4/10.
Box is a file sharing platform that aims to offer "secure collaboration with anyone, anywhere, on any device".
It's largely marketed towards businesses and enterprises, and counts some big names among its users, including AstraZeneca, Oxfam, and Morgan Stanley.
Enterprise-grade security helps to secure sensitive content and protect IP.
Granular permissions can be set to ensure that access to documents and files is restricted only to the intended partners, and there's even the ability to watermark confidential documents.
While Box provides a whole host of features that are well-suited to larger businesses, smaller startups and sole traders may find themselves paying for features that they're unlikely to use.
4. Dropbox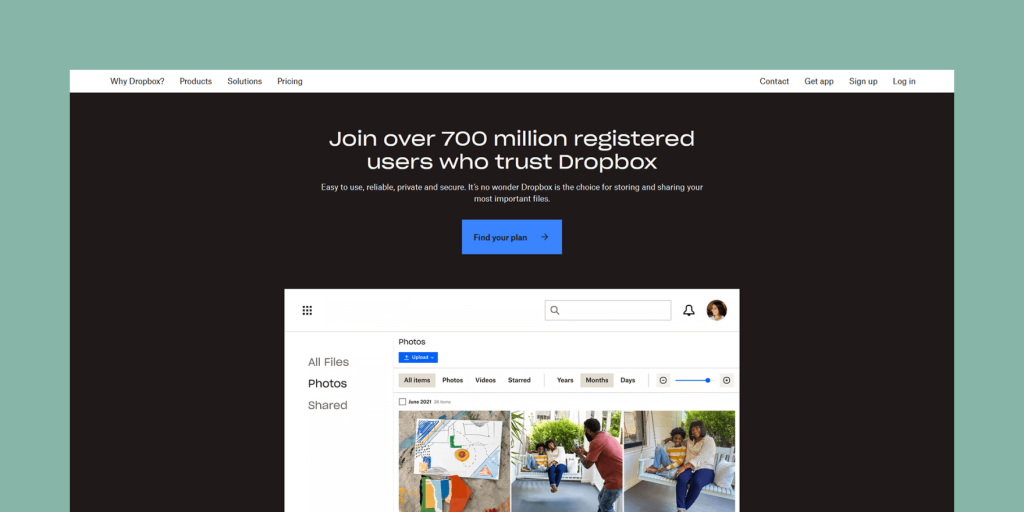 Pricing: Work plans include professional for $16.60/month, Standard for $12.50/user/month, and Advanced for $20/user/month.
Suitable for: Typically, consumers and SMBs.
Key features
Send and sign
Dropbox gives you more than just an online document sharing platform, as it also gives you the power to transfer large files to other recipients, and add legally binding eSignatures to any document.
Lower storage capacities
Some users have noted that Dropbox's free storage capacity is somewhat lower than that of its competitors, and the cost for additional storage can be comparatively steep.
Reviews
Dropbox currently holds a score of 8.0/10 on TrustRadius.
Dropbox markets itself as being "easy to use, reliable, private, and secure".
Initially adopted mainly by individuals for personal use, it's seen the addition of features over the years that have made it a viable option for SMBs and enterprises when it comes to file sharing and collaboration.
In fact, Dropbox proudly advertises the fact that 56% of Fortune 500 companies have a Dropbox team plan, and over 600,000 teams globally use it to share work and grow their business.
The addition of collaboration features has helped cultivate this position in the market, such as the addition of a Spaces interface which gives teams a platform on which to collaborate.
Dropbox also gives you the ability to create Microsoft Office documents, or Google Sheets, Docs, and Slides, from within the application.
5. Apple iCloud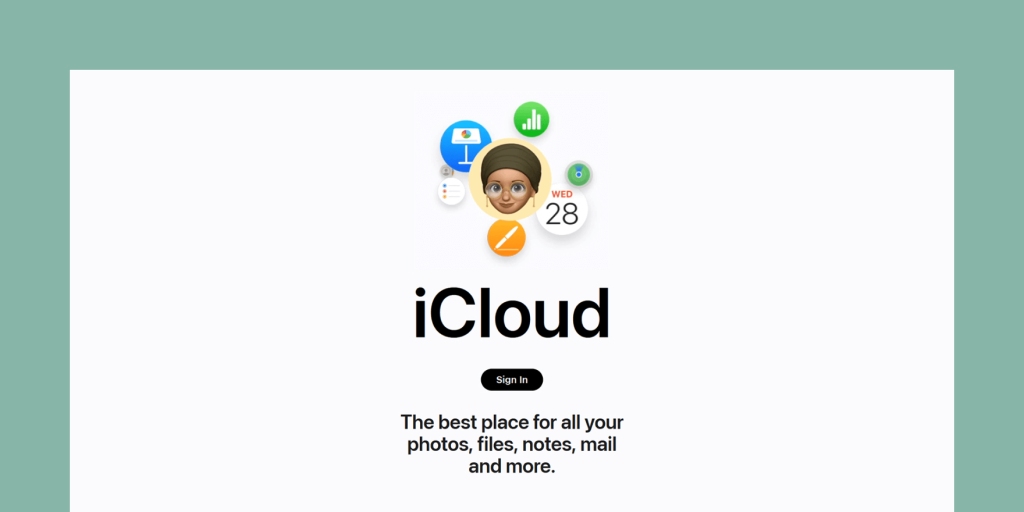 Pricing: iCloud pricing is based on storage capacity, with up to 5GB for free, up to 50GB for $0.99/month, 200GB for $2.99/month, and 1TB for £9.9/month.
Suitable for: Consumers.
Key features
Built-in file sharing
iCloud is built-in to Apple devices, making it easy to automatically sync photos, music, notes, and documents to the cloud as a backup.
Essential documents can be easily synchronized across all your devices.
Not for businesses
iCloud is chiefly an online storage platform aimed at consumers.
It has limited integrations and collaborative features, meaning that it falls short compared to some of the other platforms in our list when it comes to business use.
Reviews
iCould currently scores 8.4/10 on TrustRadius.
Apple iCloud is an intuitively designed and well-integrated file-sharing solution, as long as you're running Apple devices.
While access to iCloud can be gained on rival devices through a variety of apps, it's clearly been designed with Apple users in mind, (the iCloud app for Windows is rated three out of five in the Microsoft Store at the time of writing).
That being said, if you're a small business running an iPhone, iPad, and Mac, iCloud may still be a good file-sharing solution.
Notable benefits include the ability to store and share a range of file types, including messages, which makes backing up business communications a breeze if you're working from your personal phone.
However, if you're an SMB or an enterprise looking for a file-sharing solution that boosts collaboration among all your employees and clients, you may find more bang for your buck elsewhere.
6. Microsoft OneDrive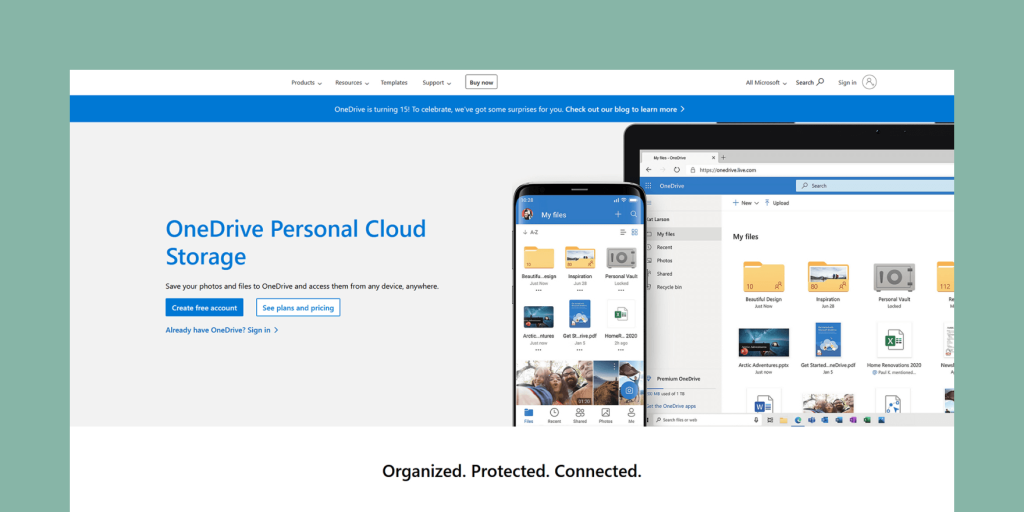 Pricing: 1TB of online storage is available for $5/user/month, while unlimited storage costs $10/user/month.
Suitable for: Consumers and SMBs.
Key features
Good integration with Office
Unsurprisingly, OneDrive features great integration with Microsoft 365, making it easy to share and collaborate with documents and files created in the Microsoft Office suite.
Security measures
Enterprise-grade security measures protect files, and a Personal Vault is available which can protect sensitive files with two-factor verification.
Hit-and-miss synchronization
Some users have complained of speed issues when synchronizing files, while others have noted that better native support on Android and iOS would be a welcome addition.
Reviews
OneDrive is scored 8.2/10 on TrustRadius.
Microsoft's digital asset management solution has undergone a few rebrands throughout its history, previously being known as Windows Live Folders and Windows Live SkyDrive.
Since 2014, it's been known as OneDrive and has found a loyal audience.
It provides teams with a secure, cloud-based hub where files can be stored, synced, and shared.
Collaboration is facilitated through integrations with Office 365 and Microsoft's mobile apps.
This allows for teams to collaborate in real-time on Office documents.
Security features are numerous and robust, offering peace of mind over the security and confidentiality of documents and files.
Files are even scanned for known malware upon being downloaded.
7. ShareFile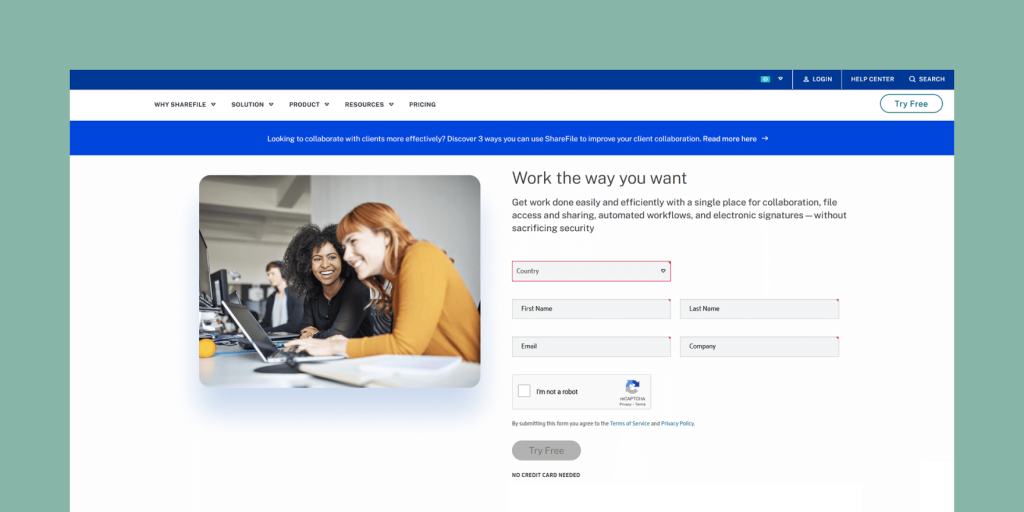 Pricing: Three tiers of plan are available; Standard ($50/month), Advanced ($80/month), and Premium ($122/month).
Suitable for: SMBs and enterprises.
Key features
Wealth of features
ShareFile has a lot of tools to offer, including file sharing, workflow management, integrations with Outlook and Gmail, and eSignatures.
Pay more for collaboration
Some of the key features you'd get from the best document-sharing platforms are locked to the higher tier plans.
So, if you want access to advanced document collaboration tools, like the ones accessible with PandaDoc, you'll be paying at least $80/month, while eSignature functionality is exclusive to the $122/month plan.
Reviews
TrustRadius has ShareFile scored at 7.8/10 at the time of writing.
ShareFile was developed as a file-sharing platform specifically for use by web design businesses, giving them a place to exchange files with their clients.
Since its acquisition by Citrix in 2011, ShareFile has expanded its user base to businesses of all scales from a range of industries.
Files can be sent, shared, approved, and eSigned quickly.
Feedback can be shared on documents in real-time, from a variety of devices, speeding up collaboration.
Approval can be requested from clients from within the application, streamlining workflows, and allowing work to progress unimpeded by excessive emails or phone calls.
ShareFile also offers robust security features, including customizable permission settings, and enterprise-grade encryption.
Although the features provided are plentiful, be prepared to pay for them. Many features are locked to higher-tier plans, meaning ShareFile may not be ideal for smaller businesses with tighter budgets.
8. MediaFire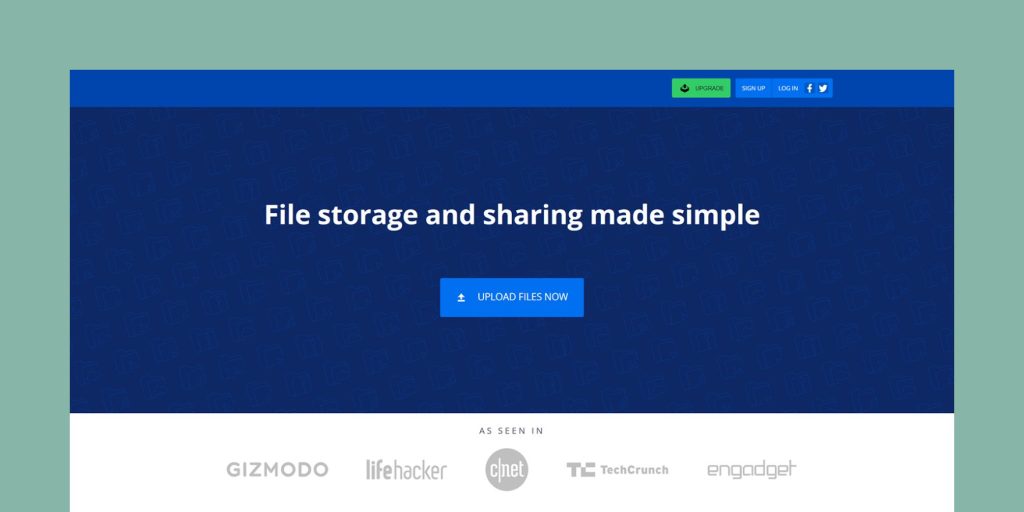 Pricing: A free account offers 10GB, while the Pro plan gives 1 user 1TB of storage for $3.75/month, and the Business plan provides 100 users 100TB of storage for $40/month.
Suitable for: Consumers, SMBs.
Key features
Virus scanning
MediaFire automatically scans files for virus upon upload, which is somewhat rare amongst file-syncing services.
Competitively priced
The ad-supported free version of MediaFire offers a robust 10GB of storage, and pricing is competitive for the larger paid storage options.
Limited security
Specific security details are scarce on MediaFire's website, and user reviews make note of the fact that there's "room for improvement regarding data security".
Reviews
MediaFire currently holds a score of 7.7/10 on TrustRadius, which is the lowest score of those we investigated.
MediaFire allows you to store, access, share, and collaborate on a variety of files. Workflows can be streamlined regardless of whether you're working with docs, audio, photos, or video.
A competitive 10GB of data can be stored for free, with files up to 4GB in size able to be stored, which makes it possible to work on a variety of multimedia projects using MediaFire.
A browser-based interface is used on Windows PC and Mac, while apps are available for iOS and Android. It's even possible to generate one-time download links that can be shared on social media sites.
9. Tresorit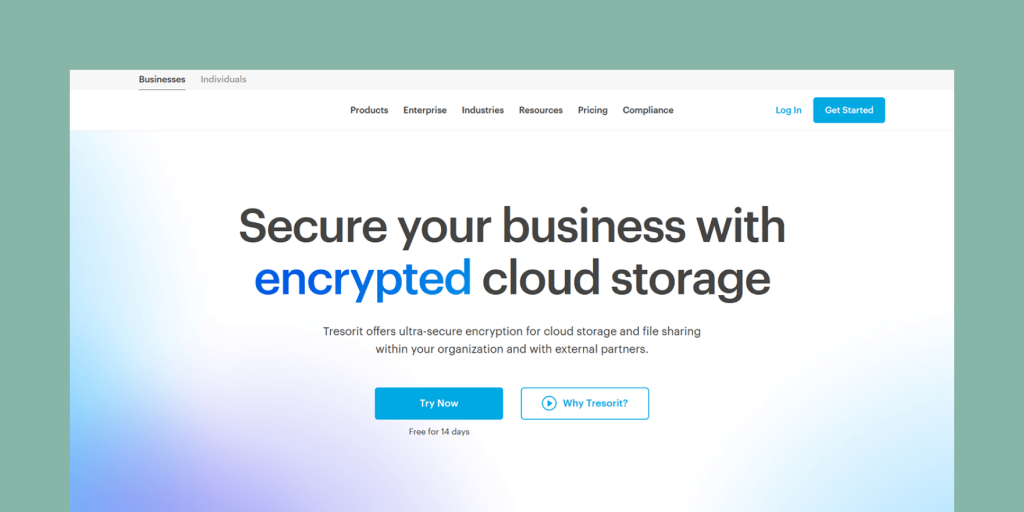 Pricing: The Business Standard plan is $14.50/user/month for 1TB per user, while Business Plus costs $19.17/user/month for 2TB per user. Enterprise plans are available with custom pricing.
Suitable for: Individuals, SMBs, enterprises.
Key features
Top-notch security
Tresorit puts a great focus on file security, and is compliant with a range of privacy and security regulations, including HIPAA, GDPR, FINRA, and CCPA.
Lacking in organization
Users have reported finding it difficult to reorganize files using Tresorit, with a lack of options for tagging files and customizing settings.
Reviews
Tresorit is scored 8.3/10 at the time of writing on TrustRadius.
Tresorit is a content collaboration platform built with security in mind.
End-to-end, zero knowledge encrypted cloud storage safeguards sensitive data and confidential documents from prying eyes.
What makes Tresorit really stand out from its competitors is that, unlike most public cloud vendors, it has no access to files shared by its users, which helps to assure maximum confidentiality.
In fact, Tresorit is so confident in its security features, they famously held a hacking contest in 2013, promising $50,000 to anyone who could hack into their servers.
Their confidence was obviously well placed, as nobody succeeded.
Powerful control options make it easy to manage and oversee individual users and their data.
Data residency options are also available upon request, giving businesses around the world the opportunity to choose where their data is stored, and thus which data protection regulations they have to contend with.
10. FileCloud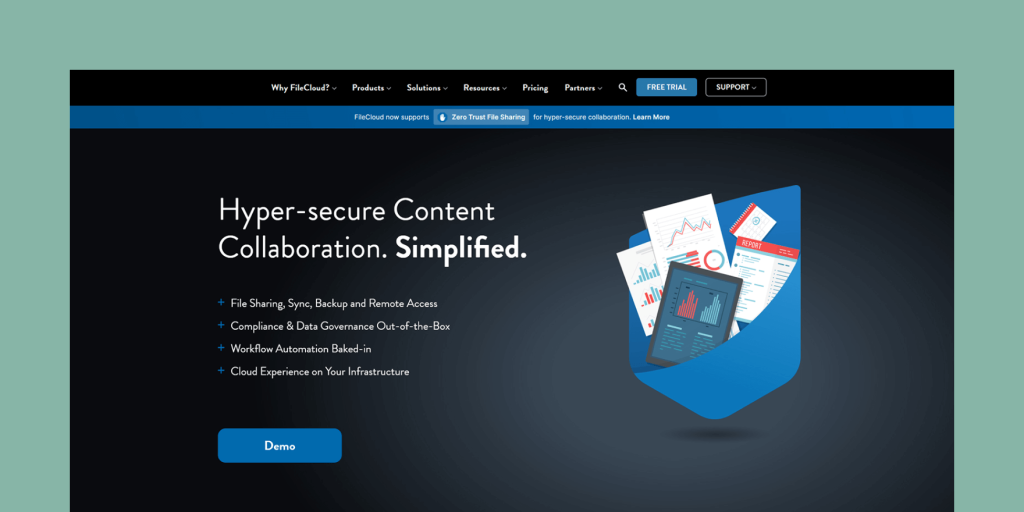 Pricing: An Essentials plan is available for $12.50/user/month, while an Advanced plan costs $18.75/user/month.
Suitable for: SMBs, enterprises.
Key features
Abundant features
FileCloud offers plenty of features to users, facilitating file sharing, remote access, collaboration, workflow automation, and data compliance.
More complicated interface
Some users report that the user interface could be confusing for less tech-savvy users, with some settings and documentation hidden away in menus.
Reviews
At the time of writing, FileCloud scores 8.8/10 on TrustRadius.
FileCloud is a content collaboration and file-sharing platform that can be adapted to the way you do business.
The flexible infrastructure can support an on-premises, hybrid, or cloud service.
Your business' file repository can be used to sync, store, collaborate on, and securely share files.
Even large files can be easily shared externally with clients and vendors.
FileCloud has workflow automation baked-in, meaning that you can streamline your workflows regardless of what documents you're working with or how you choose to do business.
With FileCloud, a large emphasis is placed on data leak protection, governance, and compliance, with tools available out-the-box to assist you in these areas.
For this reason in particular, if you're dealing with a lot of sensitive data, FileCloud is a solution worth investigating.
Better collaboration with easy file sharing
Sharing your files online helps you to send them quickly to where they need to go, and keeps them safe, secure, and backed-up. Perhaps most usefully, though, it also makes collaboration so much easier.
The ability to share, edit, and give feedback on files and documents streamlines document workflows, increasing productivity, and saving your teams an awful lot of time.
Hopefully, our rundown of the top document-sharing platforms out there will help you to make an informed decision about which one is right for your business.
Look for the features that will serve you best, and make sure you're getting the most bang for your buck!
If you've honed in on PandaDoc as a front-runner, (as we suspect you might), why not give it a try and see firsthand how much simpler sharing documents can be?
A free 14-day trial is available when you're ready.
Disclaimer
PandDoc is not a law firm, or a substitute for an attorney or law firm. This page is not intended to and does not provide legal advice. Should you have legal questions on the validity of e-signatures or digital signatures and the enforceability thereof, please consult with an attorney or law firm. Use of PandaDocs services are governed by our Terms of Use and Privacy Policy.