Capturing a valid signature is integral to your business, but with the world transitioning to a primarily online presence, eSignature software is as popular as ever.
Without an efficient eSign solution, you won't just annoy your customers. You could actually throw your business into a lot of hot water.
Before reaching the boiling point, consider adopting one of the eSignature tools on this list. Both OneSpan and DocuSign are great, low-risk ways to send a couple of documents per month from the comfort of your desk.
But in the battle between two digital signature providers, who wears the crown?
Let's find out!
Review integrity is important at PandaDoc
OneSpan and DocuSign aren't the only contenders in the boxing ring.
There are hundreds of eSignature tools to choose from.
HelloSign, AdobeSign, and heck, our own solution PandaDoc, are all vying for your attention. No one has the time or energy to look through every solution available, and we understand that.
Still, you need to find the right option as soon as possible, or you'll settle for less. Once you decide your new solution isn't right for you, you'll have to start the research stage all over again. That's a waste of your and your client's time.
At PandaDoc, we take care of the research process for you. We'll ensure that you have all the information you need before you make a choice.
The stakes are high here, but if you're well-informed, you have the greatest chance of finding the best solution for your needs.
How we found our data
When we conduct comparison reviews, we follow 4 steps:
Platform Analysis and personal testing.
Feature, prices, and support packages analysis and comparison.
A rundown and summary of customer reviews.
Ongoing updates to our comparison articles, even after posting.
Of the 30 websites we used in our research, most of them were SaaS tool websites, user-review websites, and software review websites. All review/research sites were grouped into the following five cohorts, with the numbers representing monthly viewers:
>1.000,000 visitors;
500,000 – 1,000,000 visitors;
250,000 – 500,000 visitors;
50,000 – 250,000 visitors;
<50,000 visitors
Our research's top two cohorts held more weight, whereas the last two cohorts were used only if their information corresponded with high-priority sites.
We tried to avoid websites that took sponsorships from OneSpan Sign or DocuSign when possible.
We made sure to include high-quality sources, like:
We also included DocuSign's and OneSpan's official sites in our research, but only to check hard data, like free trials, pricing, and features.
To keep our research as objective as possible, we kept any information that held a bias away from this article.
Product overview
01. OneSpan Sign (formerly eSignLive)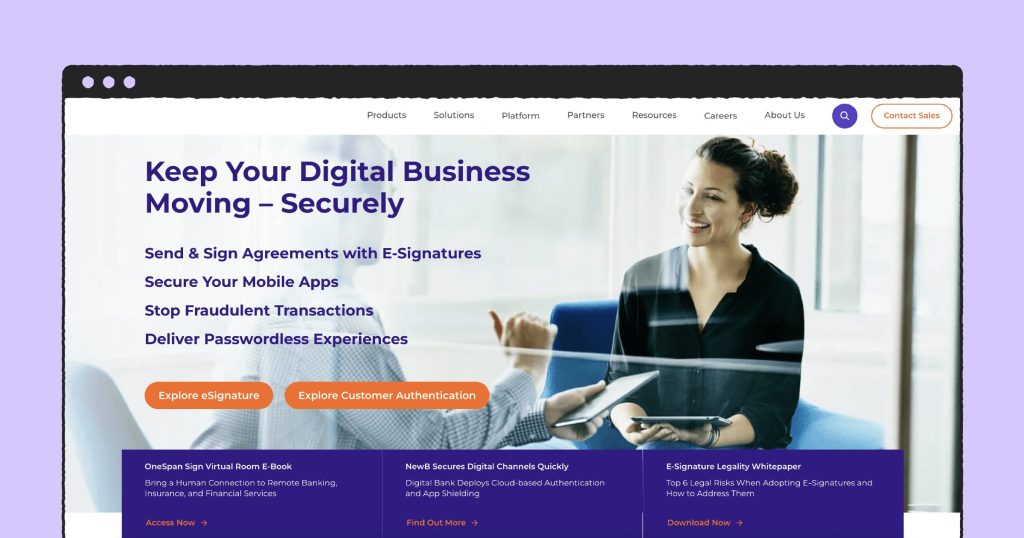 Cost: OneSpan Sign has three price tiers: Free, Professional, and Enterprise. OneSpan Sign has no monthly payment plan, and you can only access its free trial by speaking to a customer service representative.
Professional Plan: $240 per user/year (the equivalent of $20 a month)
Enterprise Plan: Call for pricing.
G2 rating: 4.7/5
Functionality: 4.4/5
Ease of use: 4.6/5
Free Trial: Yes. 30 days.
Platform availability: Windows, Mac, Linux, Android, iPad, iPhone.
Support options: Phone, 24/7 (live rep), email/help desk, FAQs/forum, 24/7 (live rep), chat, knowledge base, training.
OneSpan Sign is responsible for processing and sending e-signed documents by some of the most security-conscious, trusted brands in the world. As a leader in the analyst firm market, OneSpan Sign can help businesses, large or small, handle their workflow.
By itself, OneSpan Sign has a lot of impressive features. Its optimized signing experience, including remote, in-person, and mobile signing, helps businesses sign from anywhere.
What's more, OneSpan Sign has white-labeling, which is a rare sight.
Most OneSpan Sign alternatives won't include this critical customization feature, which allows you to remove the software's brand logo from your emails and web pages.
The "Sign" part of OneSpan Sign is only one part of the OneSpan Suite.
You can integrate authentication, fraud analysis, mobile app security, and a Cloud authentication tool for an all-in-one solution. OneSpan also integrates with third-party apps, like SalesForce.
02. DocuSign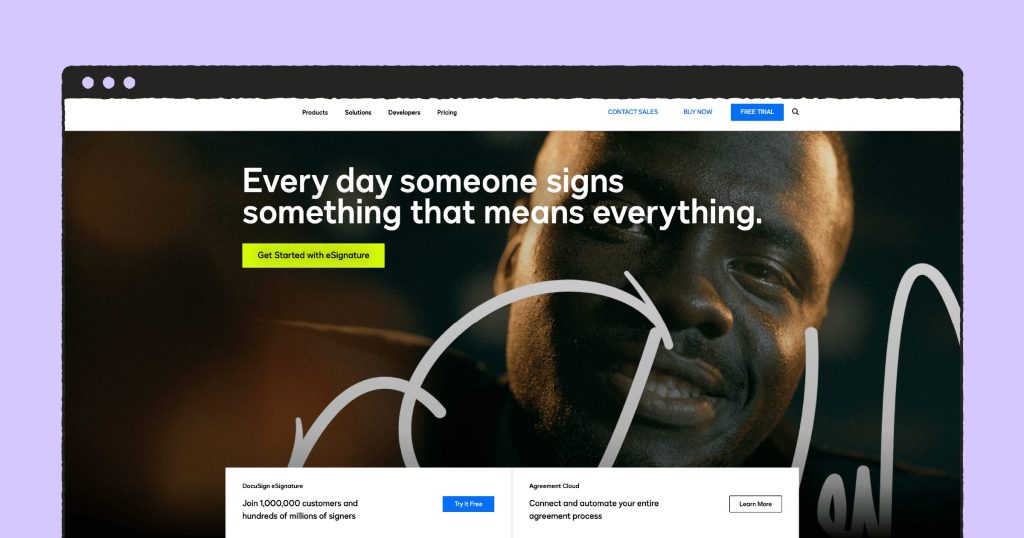 Cost: DocuSign has five plan tiers: Free, Personal, Standard, Business, and Advance:
Personal Plan: $15 per/mo or $10/mo for a year
Standard Plan: $45 per user/mo or $25/mo for a year
Business Pro: $65 per user/mo or $40/mo for a year
Advance Solution: Call for information.
G2 rating: 4.5/5
Ease of use: 4.5/5
Functionality: 4.3/5
Free trial: Yes. 30 days.
Platform availability: Windows, Mac, Android, iPad, iPhone.
Support options: Knowledge base, 24/7 (live rep), email/help desk, FAQs/forum, 24/7 (live rep), chat, training.
DocuSign is one of the most popular document management systems on the planet. Not only can it help you sign, and send all of your digital documents, but it can also manage your workflow in 14 languages (44 languages, if you count recipients).
It's difficult for most DocuSign alternatives to compete with this softwares' features. eSignature API, payment collection, team reports, and SMS authentication are all included and perfected in this tool. Their customization and branding features are also pretty flexible.
DocuSign allows you to complete agreements quickly and accurately with an easy-to-use interface. Plus, DocuSign makes it easy for you to switch over from another tool.
Wanna talk about integrations? Because DocuSign has plenty. You'll be able to connect to over 350+ platforms, including Zapier, which gives you another 2000+.
DocuSign eSignature has fans in 180 countries, and it isn't hard to see why.
How OneSpan Sign and DocuSign compare
| Features | OneSpan | DocuSign |
| --- | --- | --- |
| Document signing | 1000 (Professional) | 5 per month (Personal) 100 per year (Standard and business) |
| Sign-in process | ✓ (Enterprise for SSO) | ✓ |
| Mobile signatures | ✓ | ✓ |
| Reminders and notifications | ✓ | ✓ |
| Signature workflow | ✓ | ✓ |
| Signature document creation | ✓ | X (Templates only) |
| Reporting | ✓ | ✓ |
| Bulk digital signatures | ✓ | Business |
| Regulatory compliance | ✓ | ✓ |
| Signature audit and history | ✓ | ✓ |
| Enterprise scalability | Enterprise | Advanced |
| Custom branding | ✓ | Standard |
| Template library | ✓ | Personal |
| Access management | ✓ | ✓ |
| Internationalization | ✓ | ✓ |
| API integration | Enterprise | Advanced |
At first glance, OneSpan Sign looks like it has DocuSign beat. At its lowest-paid plan, OneSpan Sign has a higher document usage limit at half the price, but document limit isn't the end all be all with eSignature software (but it's still very important!).
An eSignature tool could offer every feature under the sun, but the software solution won't win any popularity contests if they aren't up to snuff.
With that said, we'll be looking at the quality of each feature, not the quantity, to decide the winner.
Document preparation
Upload documents to sign with OneSpan and DocuSign.
Both solutions walk you through a four-step eSign process.
OneSpan and DocuSign have similar customization features.
OneSpan's interface includes an account summary, transaction history (OneSpan calls documents "transactions"), and a HUD with "Transactions," "Templates," and "Reports."
To start a new transaction, click the big blue "New Transaction" button.
With DocuSign, you can simply drag and drop your document into the software.
DocuSign has a more simplistic interface than OneSpan, making it difficult for users to understand how to create their own templates.
After logging in, DocuSign will prompt you to upload a document; nowhere does it say you can create a template. But, you can!
To create a template with OneSpan Sign and DocuSign, you need to upload a document first, even if you want to start with a blank interface.
Once you enter the recipients (signers) and template details, you'll be placed in each software's document creator.
If you want to build a document from scratch, keep in mind that you must upload a blank page. Both software solutions won't provide you with a blank canvas.
From here, you can use drag and drop fields, like signature initials, checkboxes, text boxes, and more.
OneSpan Sign's Enterprise Plan enables third-party data fields, but besides that inclusion, OneSpan Sign and DocuSign give you access to the same fields.
Both solutions have a four-step process of uploading the document, assigning signers, reviewing/creating a template, and hitting send.
OneSpan Sign and DocuSign default to email, but you can copy a link if you switch on that option in settings (or if you upgrade to the Business Plan with DocuSign).
DocuSign and OneSpan Sign have nearly identical creation features.
Winner: OneSpan Sign
DocuSign and OneSpan Sign are nearly identical in this area. Both solutions have a uniform workflow, four-step process, and customization features.
Without splitting hairs, OneSpan Sign is our choice because of how it initiates the template creation feature. DocuSign really hides the fact that you can add custom fields to templates, and there doesn't seem to be a reason for that.
OneSpan tells you point-blank that you can make, store, and reuse your templates in the software itself, which is a win for user experience.
Setup, price, and integration
Both tools have a free trial, but OneSpan Sign gives you the most features in this tier.
OneSpan Sign has a more complicated setup process.
DocuSign integrates with over 350+, but OneSpan Sign only integrates with 12.
Setting up with OneSpan Sign is more complicated than it needs to be. Although OneSpan has a 30-day free trial, they don't advertise it. You need to speak to their customer service staff directly to start using the software or click "Get a Demo" for more information.
After breaching that barrier, OneSpan Sign and DocuSign have an almost one-to-one setup and sign-in process. Simply enter your personal information, username and password, to create an account. Once you log in, it will take around 10 minutes to get familiar with each platform.
DocuSign's free 30-day trial includes 3 signature requests and offers about half of what the first paid tier, Personal, offers.
On the other hand, OneSpan Sign's free trial lets you have full reign of the software. Seriously, nothing is locked away. Not only that but you're allowed to send as many eSignature requests as you want. That's pretty generous!
In their paid tiers, DocuSign and OneSpan Sign includes many of the same features, including a mobile app, a reporting feature, and user authentication.
However, OneSpan Sign only keeps five features (REST API, advanced workflow, third-party data fields, SSO, and OneSpan tool access) behind its Enterprise Plan. Everything else is available on its Professional Plan.
DocuSign has a monthly payment option, whereas OneSpan Sign can only be purchased yearly. In its lowest-paid tiers, DocuSign only offers 5 envelopes (documents) every month, while OneSpan Sign provides you with 1000 transactions.
Without a doubt, DocuSign excels with its integrations. With Zapier, DocuSign totals 2350+ integrations, but OneSpan Sign only has 12, one of which is their own software.
Winner: OneSpan Sign
A major strike against OneSpan Sign is its yearly payment option, as some startups or solo-prenuers won't be able to offer it.
But, even an upfront $240 price tag and a complicated free trial sign-up can't slow this eSign tool down.
While it's true that DocuSign has 350+ integrations (or 2350+, if you count Zapier), OneSpan Sign has more features in their free tier and paid tiers for a lower cost.
You just can't beat OneSpan Sign's 1000 yearly document signing limit.
Branding and white labeling
At its Standard tier, DocuSign comes with some advanced branding features.
OneSpan Sign recently included some sophisticated branding integrations.
Only OneSpan Sign has white labeling.
In DocuSign's interface, you can customize your colors, fonts, banners, and buttons in your documents and emails.
However, DocuSign's more advanced branding capabilities are hidden behind its Advanced Solutions Plan. Still, what's offered in the Standard tier is decent.
DocuSign doesn't have the white label feature, which removes its logo from the e-signing process. While this may not be a problem for some, it could be a make-it-or-break-it feature for others.
If your branding clashes with DocuSign's colors (although it's unlikely since they're black and white), you may not want to send more than you need to.
OneSpan Sign allows you to completely white-label the signature process and put your brand smack dab in the middle of emails and web pages. You can add your logo and customize the email content and sender domain to reflect your brand completely.
You'll have control over the look and feel of your web applications by changing and customizing the colors and text strings throughout the signing experience.
With white-labeling, OneSpan Sign's branding features go farther. Plus, white labeling protects your customers and brands from sophisticated phishing scammers.
Since name brands are recognizable to customers, they're more likely to open their emails, especially if the email reader also happens to be signed up with the eSignature provider.
OneSpan's white-labeling feature ensures these types of attacks don't happen.
Winner: OneSpan Sign
I hate to say it, but there's no contest here. OneSpan Sign has similar branding options as DocuSign at a lower price point and has white labeling throughout the eSigning process.
You can also white-label your PandaDoc delivery emails directly from its platform.
Support options
Unless you pay extra, DocuSign won't have a lot of support options.
Free trial or not, OneSpan Sign has a helpful customer service staff.
DocuSign sometimes suffers from long queues and customer wait times.
OneSpan Sign and DocuSign have a lot of the same support options: Email/help desk queue, 24/7 support, knowledge base, and live chat. DocuSign doesn't have phone support…
…unless you purchase from its support plans! The Plus Support Plan adds technical support, phone support, and a target initial response time of fewer than 8 hours.
If you want even faster support, you can purchase DocuSigns Enterprise Plan. With this, you'll benefit from a less than 2 hour (or 30 minutes for emergencies) response time.
The Plus Support Plan adds an extra base cost to your eSignature software. DocuSign's Standard Support Plan option (included with DocuSign subscriptions) states that it has an initial response time in under 24 hours, but based on reviews, users often wait much longer.
OneSpan Sign provides phone, email, and live chat support on all of its plans. You can check out their FAQ/forums and training section at any time.
From our experience, OneSpan Sign's customer service staff is incredibly helpful. We've seen several user reviews that say the customer support team stayed on the phone with them for hours to help them with a problem.
Winner: OneSpan Sign
OneSpan Sign doesn't lock its support features behind paywalls or a specific tier. OneSpan Sign's staff often responds right away and stays on the phone with you until they're positive they've fixed the problem.
Our recommendations
OneSpan Sign
It's no secret that several DocuSign alternatives have a difficult time competing with the eSignature juggernaut, but OneSign definitely has a place for medium-sized businesses.
With 1000 document signs per year and a responsive customer service team, you can get a lot out of OneSpan Sign if you're okay with paying the yearly upfront cost.
DocuSign
Growing businesses or medium-enterprise organizations will likely prefer DocuSign, especially for its high amount of integrations.
With payment collection and SMS authentication, you can manage and sign documents with ease. Their customization and branding features are also pretty flexible.
Or, you could try PandaDoc!
Do you know what's better than 100? 1000? 1 million?
How about infinity (and beyond)!
With PandaDoc's free electronic signature software, you receive unlimited legally binding eSignatures from now until the end of time.
Not only that, you'll get other top features like a mobile app, activity tracking, notifications, and an integrated payment gateway.
Plus, you'll recieve a document solution with your eSignature product.
If that sounds good, why not give us a try?
After all, why capture signatures at cost when you can do it for free? Take a tour of our product. We're sure you'll like what you see!