Nothing can replace your email inbox.
Despite the wide variety of productivity tools that are available today, from instant messaging apps to CRM software, everyone still returns to their email inbox.
What's more, many valuable documents pass through your inbox every single day, which is why Google has connected Gmail with Google Workspace, Google Chrome, and Google Drive.
But no process is perfect.
If you need to send or sign documents, capturing and creating a digital signature in Gmail can be tedious.
So, we're going to take a closer look at how electronic signatures and Gmail can work better together.
How to digitally sign an email in Gmail
By itself, neither Gmail nor any of the other tools in Google Workspace (Google Docs, Sheets, Slides, etc.) can capture authentic electronic signatures.
If you receive a PDF that you need to sign, you'll need to download the attachment, upload it to an eSignature platform like PandaDoc, add a secure digital signature, and then send it back to the intended recipient.
It's a complicated and time-consuming process, especially if you're a Gmail user who likes to be as productive as possible.
Having to constantly switch between tools in this way can hinder your productivity since you'll be spending a lot of time manually preparing and downloading documents outside of your email client.
Without additional tools, this process is a necessary evil.
Secure digital signatures are different from email signatures that appear at the bottom of a new message, and an image insert of a signature isn't a replacement for a true electronic signature.
However, there is a solution—email add-ons.
What are email add-ons?
If you've never used an add-on before, it's likely that you're still familiar with the concept from using other software solutions.
Simply put, email add-ons are integration tools for email. Just as you can connect different online tools, you can also connect those tools to your email.
Google Marketplace has numerous integrations that you can use in your Gmail account.
If you're already using the service, you can link your productivity tools for greater inbox efficiency.
Integrations cover almost every service you could ever imagine.
There are tools available that can assist with a wide variety of things, ranging from mail merge and document uploads to contact information exporting and, of course, creating a Gmail digital signature.
Introducing the PandaDoc for Gmail add-on
If you're searching for the best way to sign and send secure electronic documents using Gmail, we offer an add-on that helps users streamline this process.
Our Gmail app is designed to take the hassle out of the sign- and- send process that business professionals have to deal with on a daily basis.
Whether you need to add a signature to a document or make changes to a contract before sending it to signers, PandaDoc can help you.
Here's a step-by-step guide about how the signing process with the PandaDoc for Gmail add-on works:
Step 1: Sign up for a PandaDoc account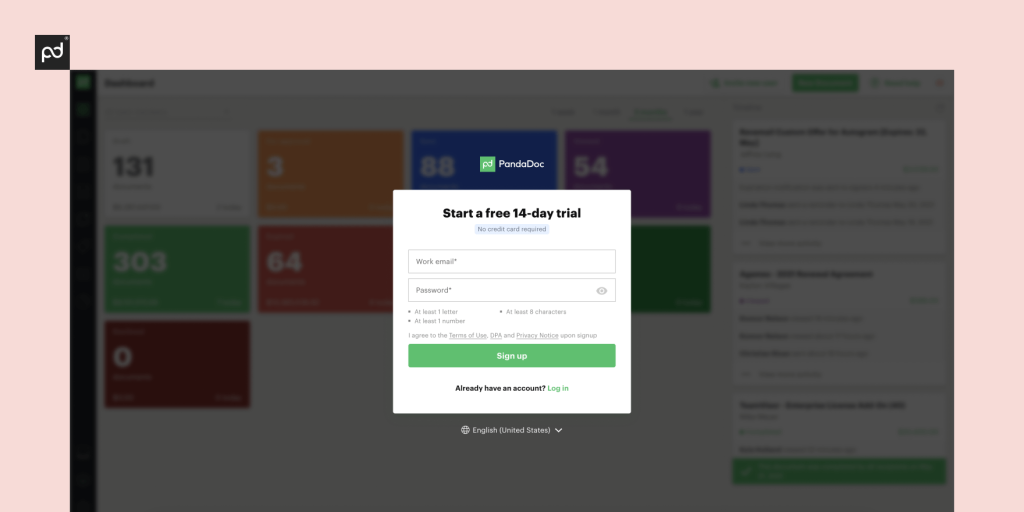 In order to accelerate your signing process and take full advantage of our signing integration, you'll need to sign up for a free PandaDoc account.
As far as pricing is concerned, both the account signup and the Gmail app are always free, meaning that you'll be able to use all of the basic tools in the PandaDoc toolkit at no charge at all.
Step 2: Install and connect PandaDoc for Gmail
From within Gmail, you can get additional add-ons by clicking the plus (+) icon on the right sidebar. From there, use the search bar to find the PandaDoc app.
If you're already signed into your Gmail account, you can also use this link to locate the app within Google Marketplace and install it directly from there.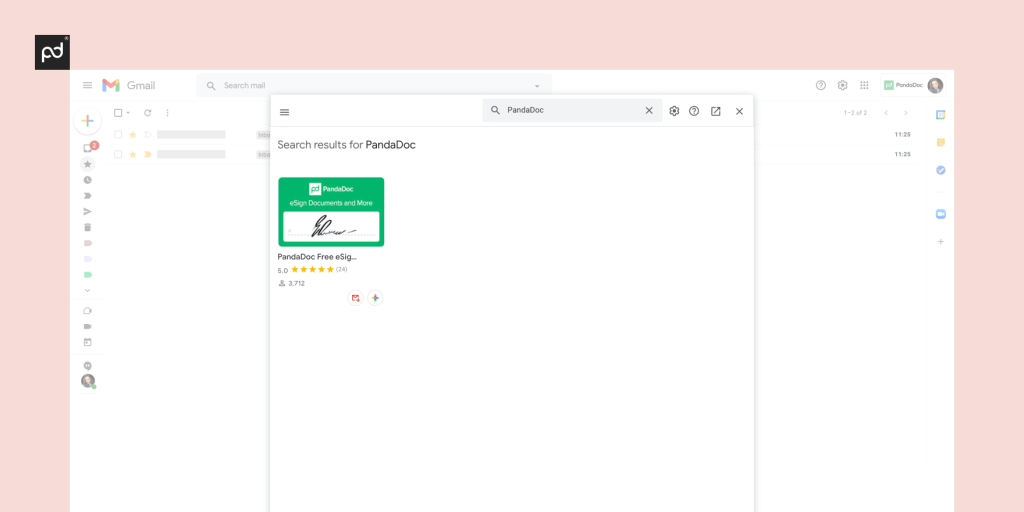 Once you've installed the add-on, you'll need to connect it to your PandaDoc account. You can do this by selecting the app from the right sidebar in Gmail.
Follow the walkthrough to authorize access and authenticate your account. Once you've completed this process, you'll be able to use PandaDoc any time you open Gmail in your browser.
Step 3: Select an email with an attachment
To sign an attachment, select any email from your inbox that has a .PDF attachment.
When you do this, a drop-down menu will appear in the right sidebar.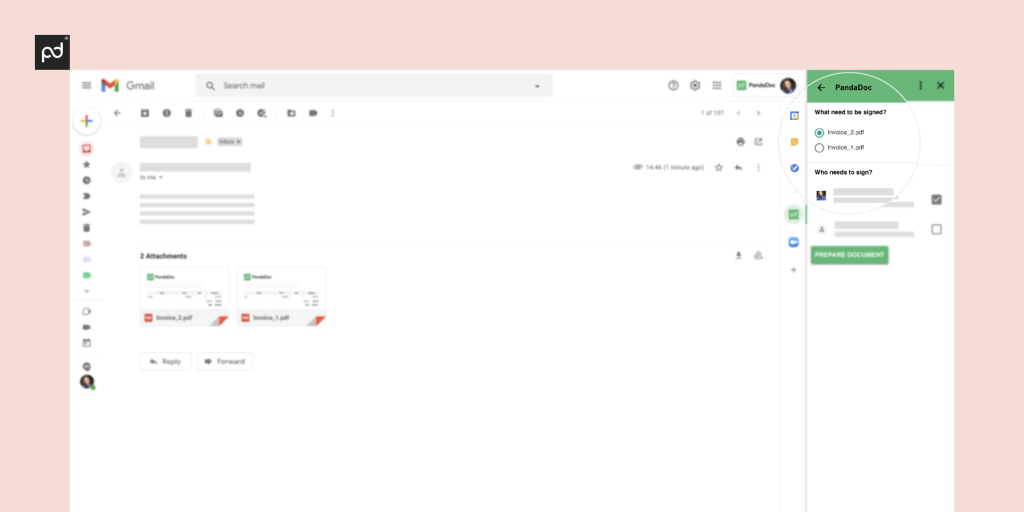 From here, you'll be able to select which documents you need to sign and export them directly to PandaDoc where you can get the documents ready to be signed.
Step 4: Prepare your document inside PandaDoc
Once you've imported your document to PandaDoc, preparing it for signature is easy.
Using the content blocks in the right sidebar, drag and drop a signature field onto the document.
This field can be placed anywhere, but, usually, it's located at the bottom of the final page of the document.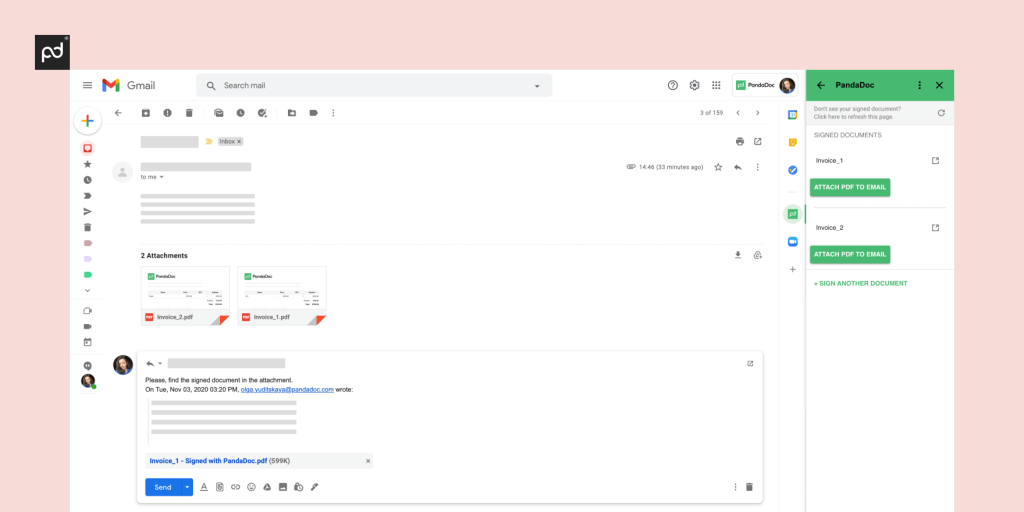 When you click on the signature field, the signature editor will open.
From there, you'll be able to add a new signature by typing your name or signing with a mouse or stylus. Select your desired signature and style from the box.
Once you've done that, click "Finish Document" at the top right of the screen and sign to complete the document.
Note: This button only appears if you're the only signer on the document.
If other signers are present, you'll need to send them a link to the document before you can retrieve the completed document in Gmail.
After doing this, you can close the document and return to Gmail.
Step 5: Sending your signed documents
Select the vertical ellipses within the PandaDoc add-on, and then click "Refresh."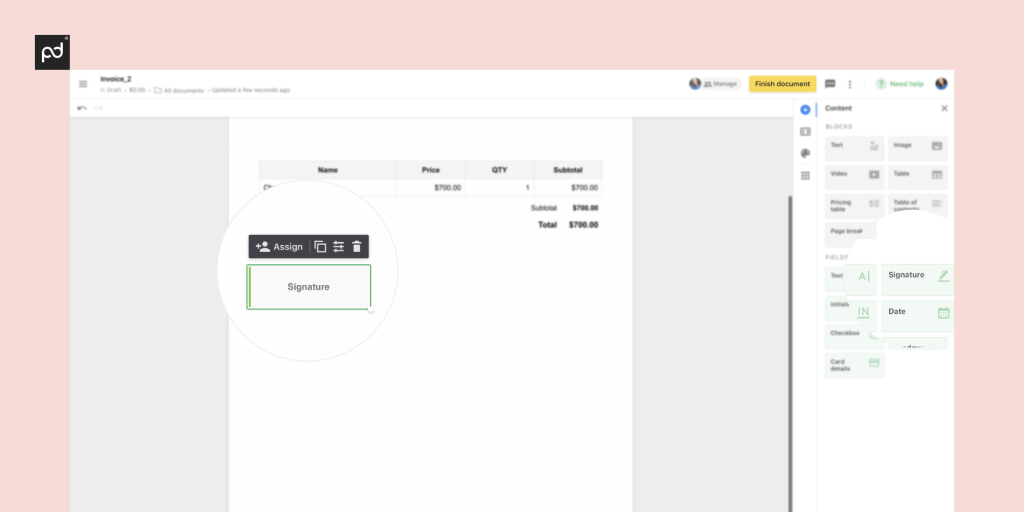 Then, the add-on will update. Select Attach .PDF to email to add your newly signed document to your reply.
From there, you just need to type out a brief reply and send your signed document to the intended recipient.
Going further with PandaDoc for Gmail
Our Gmail app comes with a wide variety of features that enable you to handle more complex tasks, as well.
Using the add-on, you can prepare documents for multiple signers, send signature requests to multiple recipients via email, or move the entire signature process to PandaDoc.
Take a look at our support documentation for additional details.
Better signature workflows with PandaDoc
PandaDoc can be accessed through a web browser on a Mac or PC.
If you require a mobile signature, you can also access PandaDoc through our mobile apps on Android and iOS.
Add PandaDoc to your Gmail workflow and take your e-signatures to the next level directly from your inbox.
Frequently asked questions about Gmail and digital signatures
Yes, it is legal to sign documents electronically. Digital signatures create an enforceable contract and are widely accepted on a global scale. In fact, because digital signatures are more secure than wet signatures, they're at less risk of fraud or forgeries.

PandaDoc eSignature technology is legally-binding, safe, and UETA and ESIGN compliant. Plus, with every document, you get a certificate authenticating each signature for complete confidence.

As mentioned, online signatures are more safe and secure than their traditional counterparts.

To forge a digital signature, such as a digital signature for Gmail, a fraudster would need access to both your computer and any necessary passwords.

Because electronic signatures have several built-in layers of authentication and security, complete audit trails, and proof of transactions, the process of digitizing signatures is safer than using wet signatures.

Absolutely.

With PandaDoc, the free eSign plan allows you to upload and send as many documents for eSignature as you like. All you need to do is add an eSignature block to your documents to send them off for digital signatures.

Monitor the status of your documents at any time to check for open, read, and sign notifications—there's an app for that, too.

Your signature doesn't have to be your full name. The most important thing is that your signature is consistent, as it's a way of saying that you agree with the terms of the document.

Legally, proving a signature is yours comes down to the amount of evidence available to adequately link it to you; the person providing authorization.

Yes, you can type your digital signature in the signature section under certain circumstances, and using a typed signature as a mobile-friendly email signature is acceptable and legal.

To ensure typed signatures in your business are legally-binding, all parties involved must agree that they accept to use a typed signature in contracts.

Also, you'll need to link the signatures to signed documents and record email trails of signed contracts.
Disclaimer
Parties other than PandaDoc may provide products, services, recommendations, or views on PandaDoc's site ("Third Party Materials"). PandaDoc is not responsible for examining or evaluating such Third Party Materials, and does not provide any warranties relating to the Third Party Materials. Links to such Third Party Materials are for your convenience and does not constitute an endorsement of such Third Party Materials.
Originally published November 3, 20201 updated March 2, 2023