With more than 16 years in the industry, a plethora of customers (including bigwigs like Netflix!), and thousands of followers, Formstack is no underdog in the productivity space.
But then again, there are many other solutions that have achieved "non-underdog" status as well.
Which brings us to the question — is Formstack the right solution for you, or should you be looking at one of its competitors?
The answer lies in this article.
Here, we're reviewing Formstack based on its features, pros, cons, customer support, ratings, ease of use, and other factors.
Review summary
There are a few things Formstack is known for — ease of usability, customer support, and plenty of integrations.
However, one place it falls short is its pricing. Because it's so steeply priced, it may not be an ideal solution for small businesses.
Our rating
Overall: 4/5
Features: 4/5
Pricing: 3/5
Customer support: 4.5/5
Ease of use: 4.5/5
Value for money: 4/5
| Pros | Cons |
| --- | --- |
| Extremely easy to use despite being feature-rich. | When you look at competitors, Formstack falls on the pricier end. |
| The support staff is knowledgeable, easy-going, and quick to respond. | The support team cannot be reached by phone. |
| It provides access to a plethora of integrations. | Despite being expensive, there are limits on the number of forms or documents that can be created (e.g., only 20 forms with the Starter plan and 25 forms with the Platform plan; a limit of 150 deliverables with the Document Starter plan and 250 deliverables with the Platform plan). |
| It has multiple capabilities (for document management, e-signatures, and form building) that help in managing workflows. | The form editor has a bit of a learning curve. |
Review methodology
To gather data on Formstack, we scoured the internet to search for customer sentiments and their likes and dislikes about the product.
And to come up with accurate results, we analyzed more than 30 websites, including:
Formstack's own website and social pages
Online profiles of Formstack on platforms like Crunchbase and ZoomInfo
Multiple peer-to-peer review sites
Competitor websites that reviewed Formstack
Independent review sites that publish their own assessment
Social media platforms (like Twitter and Reddit)
Online podcast platforms like Mixergy
The legitimacy of each review was dependent upon the domain authority and author credentials. We also considered factors like the intent of the review and the accuracy of the report before using any data.
General overview of Formstack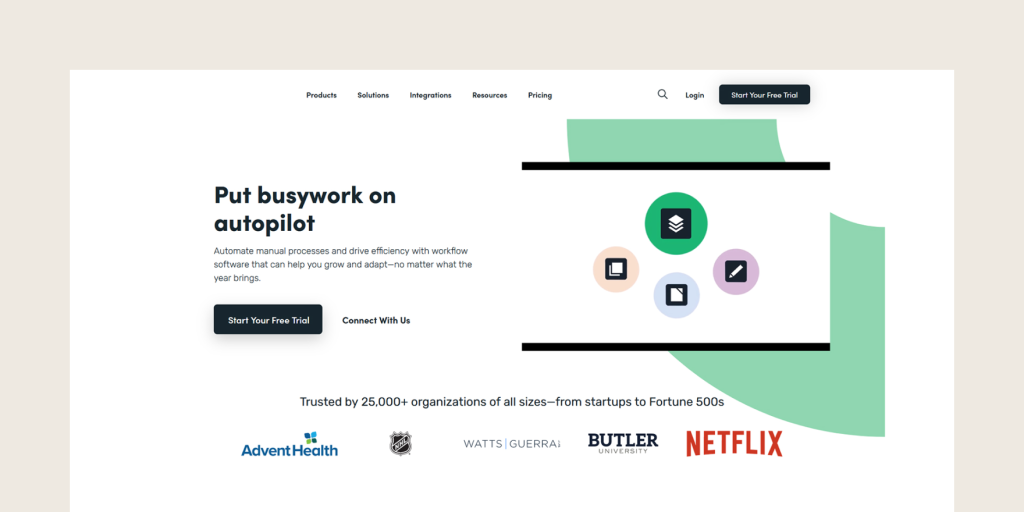 Founded in 2006 by Ade Olonoh, Formstack is a brand trusted by the likes of Netflix, Twitter, Butler University, and the NHL.
The company was initially developed under the name "Formspring," but changed its name to "Formstack" somewhere along the line.
When it reached the mass market, Formstack was highlighted for its form-building capabilities. However, over the years, it's added other offerings, such as Documents and Sign, too.
The former (Documents) helps you automate document generation, whereas the latter (Sign) helps you capture signatures.
Product pricing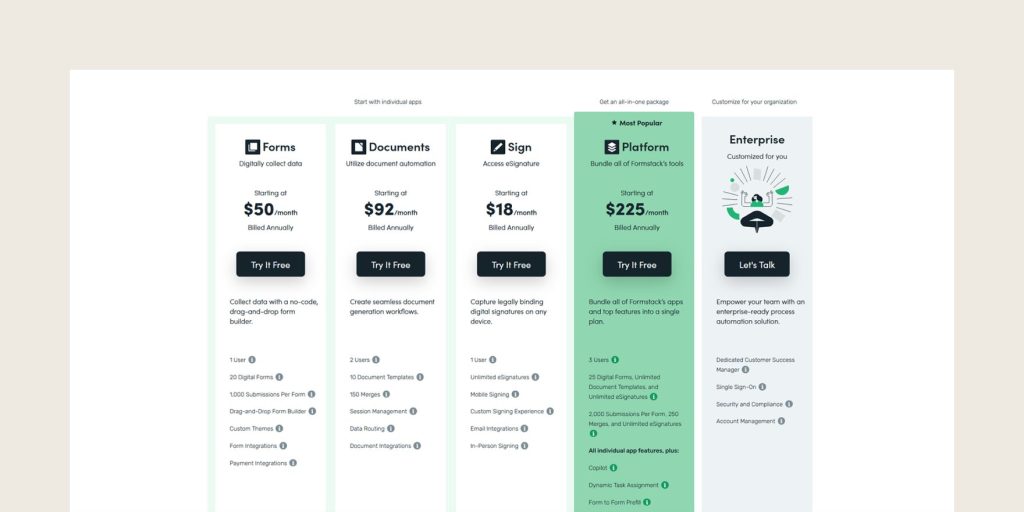 Formstack's pricing is divided based on its product offering. At the present moment, the company offers five different products, and each has different subscription options.
Forms: Starter (priced $50/month), Platform Teams (priced $225/month), and Enterprise (requires a custom quote).
Documents: Starter (priced $92/month), Platform Teams (priced $225/month), and Enterprise (requires a custom quote).
Sign: Starter (priced $18/month), Pro (priced $29/month), and Enterprise (requires a custom quote).
Platform (which is a bundle of Forms, Sign, and Documents): Starter (priced $113/month), Teams (priced $225/month), and Enterprise (requires a custom quote).
Forms for Salesforce: Starter (priced $225/month), Pro (priced $585/month), Native Cloud Pro (requires a custom quote).
Key features
1. Multiple integrations
To make your workflows as seamless as possible and to encourage automation, Formstack provides a variety of integrations that you can choose from.
These integrations can be further categorized depending on the product you purchase or the category.
For example, when you select "Accounting," integration partners such as FreeAgent, Freshbooks, QuickBooks, Xero, etc., show up.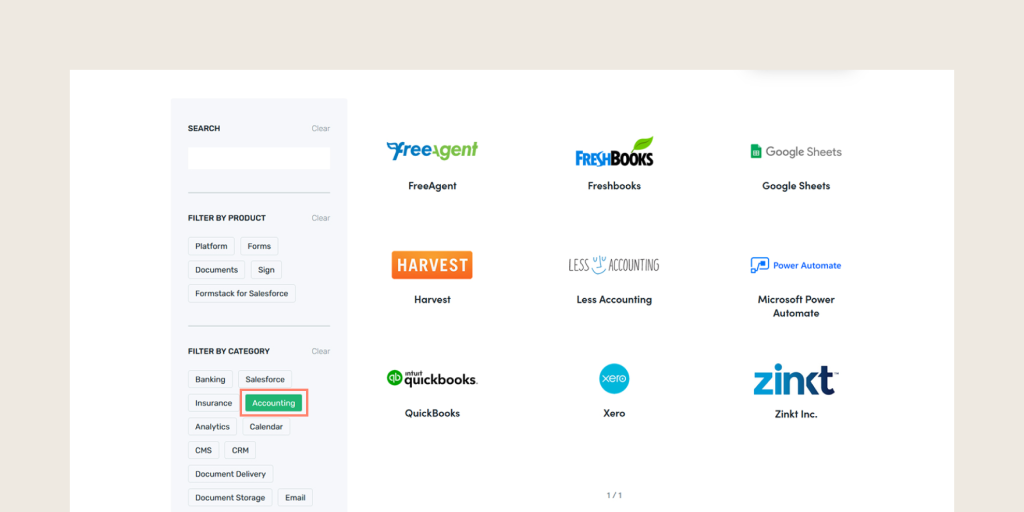 2. Forms for gathering information
The "Forms" product of Formstack (it's in the name!) provides an extensive list of features and capabilities, such as:
A no-code drag-and-drop editor
Being able to collect payment
Getting access to more than 150 integrations
A library of form templates
Being able to add custom branding
Pre-fill forms by using SSO (single sign-on) tools
Managing fields and approvals
Protecting forms through data encryption
3. Documents for data management
With the "Documents" product, you can easily access a variety of templates based on your use case. You can also use integrations to customize your documents, manage data, or export information to other documents.
Their "Session Management" feature under this product allows you to input data from multiple sources into one document.
Since the solution uses SSO, you know your information is protected. If you're in the healthcare space, you can also make your documents HIPAA compliant (however, this feature is only available with the Enterprise plan).
4. Finalize deals with Sign
Compared to other products, Formstack's "Sign" product is affordably priced, has a decent list of features, and is even more secure.
For example, while other solutions only offer data encryption and SSO features, the "Sign" product also offers audit trails, automatic backups, data retention settings, and the ability to choose custom data centers to ensure the highest level of security.
Additionally, while some products put limits on usage, Sign allows unlimited e-signatures, documents, and templates.
You can also use any file type and device to e-sign documents, and it even allows you to reuse forms, add company branding, and integrate with your email solutions.
5. Formstack for Salesforce
Formstack for Salesforce is a product that the company offers to help automate processes.
To ensure everything is smooth-flowing, the product has room for the following capabilities:
Compliance with HIPAA, GDPR, PCI, FEDRAMP, and SOC standards.
Being able to publish forms in the Salesforce Experience Cloud forum.
Capturing e-signatures and accessing audit trails on Salesforce.
Allowing users to pre-fill live data and search records.
Managing end-to-end encrypted forms.
Support and ease of use
Formstack's customer support team can be reached either through email or by submitting a support request.
For the most part, the reviews about its customer support representatives have been glowing —- with most customers saying they were quick to respond.
However, there have been some instances where the customer support team didn't get the most positive customer reviews, but those instances were limited.
As far as ease of use is concerned, most users agreed that the platform was indeed very intuitive and easy to use, despite being feature-rich, and they particularly liked features such as conditional logic, customizable templates, and its drag-and-drop editor.
How does PandaDoc compare?
PandaDoc has similar capabilities as Formstack, but is priced more affordably.
When you compare PandaDoc with Formstack Platform, the latter only has form and document generation, management, and e-singing capabilities.
And the cheapest plan it has is priced at $113/month.
By comparison, PandaDoc has all the same capabilities and then some (incl. contract management, sales invoicing, sales enablement, intelligent CPQ, Salesforce automation, CRM, PDF editors, and email trackers), and our starting plan begins at $19/month.
If you're wondering how PandaDoc ranks against Formstack, here's a quick side-by-side summary of both solutions:
| Platform | PandaDoc | Formstack |
| --- | --- | --- |
| Customer service | Customer support agents are available 24/7, 365 days a year, and are known for being prompt in their responses. | Customer support agents are available between Monday-Friday (but are very helpful!). |
| Form limit | Except for the free plan, all subscription plans allow users to create unlimited documents. | There are limits on the digital forms and documents that can be created and stored. |
| Pricing | PandaDoc's cheapest pricing plan is free, and the most expensive one is priced at $49/month. | The cheapest plan is priced at $18/month, and the costliest plan is priced at $225/month. |
| Use case | PandaDoc has multiple use cases (incl. document workflow management, form creation, e-signing, invoicing, document tracking, etc.). | Formstack has three use cases (Forms, Documents, and eSigns). It also has a bundle package which is a mix of all three solutions. |
| Ratings | PandaDoc has better ratings in comparison (4.7/5 on G2 and 8.8/10 on TrustRadius) | It good reviews on major peer-to-peer review sites (4.4/5 on G2 and 8.3/10 on TrustRadius) |
Wrapping up
Formstack is a great solution — that's a statement we don't deny.
However, we'd like to append that statement with the fact that, depending on user needs and preferences, there may be better solutions available on the market.
And it just so happens that PandaDoc is one of them (especially when you regard the user reviews, use cases, and pricing).
If you're wondering whether PandaDoc can fit the bill for all your document creation and e-signing needs — look no further than the next sentence!
To get answers to any and all questions you may have, we'd suggest you arrange a free call with our pros to see what PandaDoc can do for you.
It will only take 30 minutes out of your time, but these 30 minutes may very well help you save thousands of dollars down the line.
Frequently asked questions
Formstack mainly supports Word and PDF documents.

Yes, Formstack can be integrated with Salesforce. In fact, it has a specific product called "Formstack for Salesforce."

Formstack is mainly used for gathering data, automating processes, creating digital workflows, and improving overall productivity.
Disclaimer
PandDoc is not a law firm, or a substitute for an attorney or law firm. This page is not intended to and does not provide legal advice. Should you have legal questions on the validity of e-signatures or digital signatures and the enforceability thereof, please consult with an attorney or law firm. Use of PandaDocs services are governed by our Terms of Use and Privacy Policy.