When you consider giants like Typeform, Jotform, PandaDoc Forms, Formstack, etc., Wufoo is not a name that everyone knows.
But that's about to change today.
In this article, we're talking about the force that is Wufoo.
To present a complete overview about this product, we're covering the need-to-know details like its features, pricing, pros, cons, customer support, ease of use, and other such elements.
Let's get started, shall we?
Review summary
Wufoo's key selling point is its ease of use.
On the flip side, its outdated UI/UX and templates may be product aspects it desperately needs to improve.
Our rating
Overall: 4.3/5
Pricing: 4.5/5
Features: 4/5
Customer support: 3.5/5
Ease of use: 5/5
Value for money: 4.5/5
| Pros | Cons |
| --- | --- |
| Extremely intuitive and easy to use. | The customer support team can only be reached within a specific time period (6am – 5pm PST), and only through email or by submitting a ticket. |
| The product provides an excellent library of integrations. | Their UI/UX looks a little outdated and could use some improvement. |
| It allows you to customize your forms and add company branding (however, people wished for more options for customization). | You can't add e-signatures (an important component when you're signing forms) directly from the product — you'll need to integrate it with a partner. |
Review methodology
Here are the places we scoured to find accurate data for this piece:
The company website and its subsequent social pages.
Online profiles on platforms like Crunchbase.
Peer-to-peer review sites like TrustRadius, Trustpilot, G2, etc.
Social media platforms to get customer opinions.
Community resources available online (such as FAQs, videos, etc.)
Articles and videos created by Wufoo competitors.
Unbiased editorial review from publications like ITQlick.
General overview of Wufoo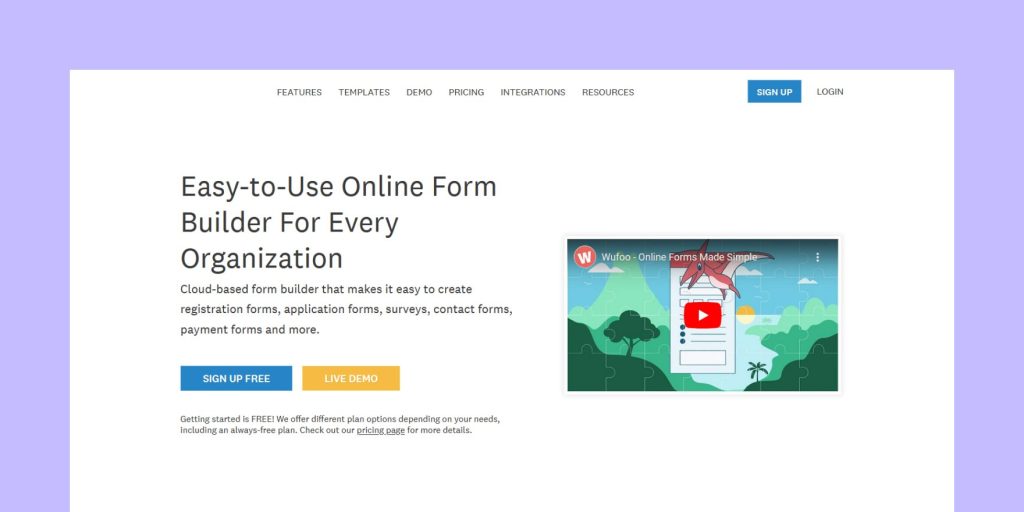 In 2006, Chris Campbell, Kevin Hale, and Ryan Campbell founded a company called Infinity Box Inc.
Their initial product was a "reversible form" that was mainly designed to help content managers — according to an old interview Mixergy had with Kevin Hale.
When they went to pitch this idea to Paul Graham, he suggested they consider developing a form builder.
Six months after that, Wufoo was created — it was one of the first no-code solutions that could gather data and help automate processes.
Here's a little synopsis to show the incredible history Wufoo has had:
The solution is one of the first form-building software in the industry (being founded in 2006).
It was one of the first to automate processes that took days for professionals to complete.
Bigwigs like Paul Graham and Paul Buchheit were two of the earliest investors in the company.
Wufoo was acquired by SurveyMonkey (now known as Momentive) for $35 million in 2011, only five years after its inception. After adjusting for inflation, the sale amount comes up to $46 million+.
Product pricing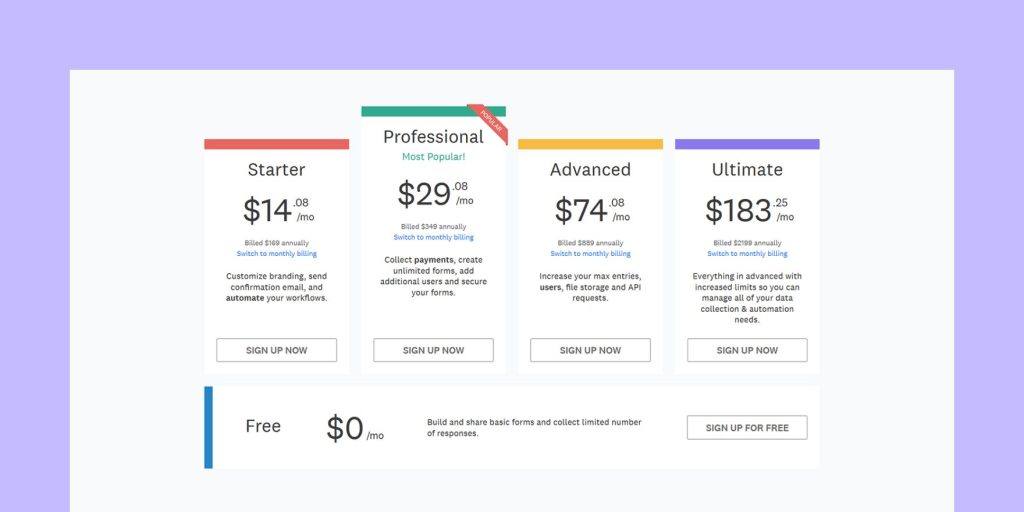 Presently, five membership options are available:
Free: $0/month
Starter: $14.08/month
Professional: $29.08/month
Advanced: $74.08/month
Ultimate: $183.25/month
The Professional, Advanced, and Ultimate plans allow you to create unlimited forms and reports.
Whereas the Free and Starter plans place a limit on 5 and 10 forms, respectively.
Both these plans have other similarities too, such as being able to access the customer service agents by email, supporting only 1 user, and allowing unlimited reports to be created.
Customers who purchased the Advanced and Ultimate plans can access the same feature set —- the only difference between the two is the limit on entries, API requests, users, and file storage.
The former allows 25,000 entries, 5 users, 50,000 API requests, and 10 GB file storage, whereas the latter allows 200,000 entries, 10 users, 100,000 API requests, and 20 GB file storage.
Key features
1. Perfect for collection of payments and data
While most solutions only allow you to collect data, Wufoo, on the other hand, allows you to collect payments too.
If you use forms to take orders, you can set up payment gateways to get the order confirmed.
Presently, you can integrate the solution with payment providers like Stripe, Square, Authorize.net, Chargify, and others to get timely payments.
The company keeps you updated about payments through emails and SMS (you also get notifications when someone submits your form).
Additionally, all payment-enabled forms have 256-bit SSL encryption.
The solution also provides file storage to save your data if you opt for one of the paid plans. And you can create reports to make sense of the data, or export all your data to Excel sheets.
2. Easy-to-use form builder
Wufoo has one award-winning feature that allows the company to separate itself from its competitors, and that is its form builder.
And the reason why we're such big fans of this form-builder is because it's extremely easy to utilize, can be used to create customized forms, allows you to drag and drop forms, and has defining aspects such as:
Payment integrations
Branching and logic
Ability to add texts, bullets, sections, page breaks
Field settings (which lets you set CSS layout keywords, field type and size, permissions, user instructions, etc.)
Form settings (which lets you set form alignment, language, confirmation text, tracking parameters, form activity, etc.)
Moreover, if users don't wish to create these forms themselves, they can start with one of the 400+ ready-made templates offered.
3. Automated workflows
As far as integrations are concerned, Wufoo is one the biggest winners out there, considering it has more than 2300 integration partners.
You can connect Wufoo with any solution from your existing tech stack (such as Zapier), or with any marketing automation or customer relationship management (CRM) solutions to create efficient processes.
Its library of integrations is neatly categorized into different use cases, such as IT Operations, Human Resources, Communication, Commerce, and more.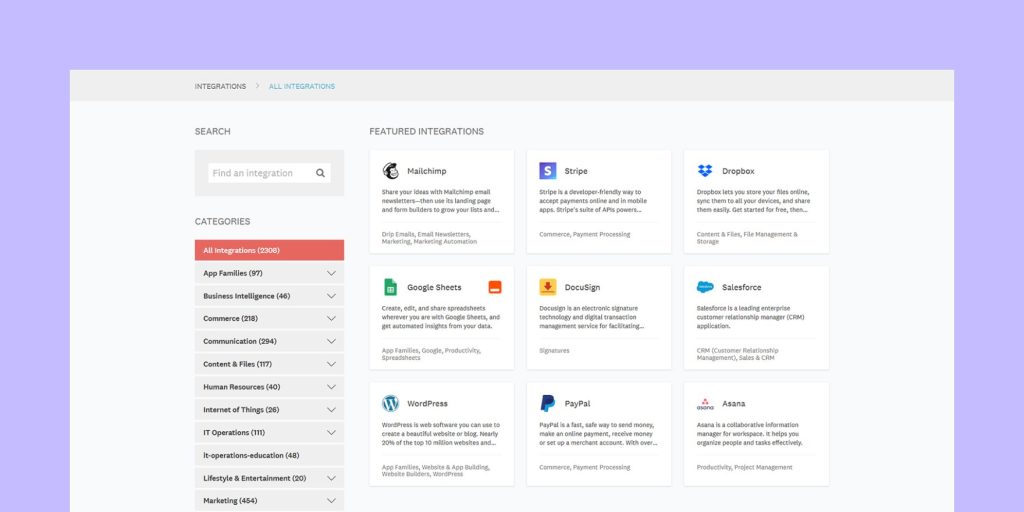 4. Highly secure
The product's security measures are in accordance with industry standards. At the present moment, Wufoo provides the following security options:
256-bit SSL encryption of all forms and data.
Smart CAPTCHA to avoid scammers.
Data security in a SOC 2 Type 2 facility.
Features like password protection and field encryption.
5. Easy customization
In the form-building space, customization is the need of the hour.
And to address customer demands, Wufoo allows users to customize confirmation pages, logos (you can add your company's logo in a Wufoo form), reports, themes, responses, closed messages, and field validation.
You can also use one of the 400+ form templates available by Wufoo and customize the fields according to your needs.
Support and ease of use
To solve any questions you may have, you can either refer to Wufoo's help center or contact their customer support team between Monday-Friday by submitting a ticket or sending them an email.
People who have opted for the Advanced or the Ultimate plan will receive prioritized responses.
Assessments about the support team have unfortunately been contradictory.
In some instances, people have praised them widely. Unfortunately, in other instances, people have gone to call their support team "a joke."
For example, both these reviewers are verified and validated. Both work in the nonprofit sector, have a small business, and have used Wufoo for years.
Both reviews are from the same platform (G2). However, the reviewers had completely opposite experiences with customer support.
On the bright side, though, Wufoo has constantly received praise for its ease of use.
Perhaps the only improvement it could work on is updating its UI/UX (user interface/user experience).
How does PandaDoc compare?
PandaDoc fills all the roles that Wufoo doesn't.
Here's what we mean by this:
Our solution is HIPAA compliant.
We have a native e-signature solution.
We allow you to create approval workflows.
PandaDoc's content library is more extensive than what Wufoo offers.
Our customer support team can be contacted 24/7.
Get a better look at how PandaDoc compares to Wufoo.
Strengths and weakness of Wufoo
There are a few things that Wufoo does and it does those extremely well.
For example, there are perhaps only a few competitors in the space who could give it a run for its money for ease of use.
However, there are some other aspects Wufoo can work on, such as:
It's UI/UX
Customer support
Template designs
E-signature capabilities
Compliance with certifications like HIPAA
That's where PandaDoc comes in.
Not only do we have all the features that Wufoo does, but we also have those that it doesn't.
To learn more about what PandaDoc could do for you, arrange a free call with our representatives!
Frequently asked questions
No, Wufoo does not have an app, but it can be used on mobile devices without an app.

There have been no major complaints against Wufoo (aside from those mentioned on peer-to-peer sites). Such complaints are normal for all software brands.

Yes, Wufoo has more than 2300 integrations for multiple use cases.
Disclaimer
PandDoc is not a law firm, or a substitute for an attorney or law firm. This page is not intended to and does not provide legal advice. Should you have legal questions on the validity of e-signatures or digital signatures and the enforceability thereof, please consult with an attorney or law firm. Use of PandaDocs services are governed by our Terms of Use and Privacy Policy.