There are a few things that every business person loves to see in software:
Free or freemium plans
Excellent list of features
Ease of use
Cognito Forms is one of the rarities out there that fulfills all three conditions.
It's a free solution that's easy to use and has an excellent list of features.
But is it possible that, by not shelling out money now, you're going to cost yourself later?
After all, should you really proceed if you don't know the security features, pros, cons, or ratings this product has?
We get your concern, and this is why we've created this review for you.
Here, we're taking an in-depth look at Cognito Forms to check its features, pricing, pros, cons, user reviews, ease of use, customer support, and other such factors.
On that note, let's get on with it.
Review summary
Cognito Forms has an excellent feature list and a solid customer support team.
However, there can be a little learning curve when getting accustomed to it.
Our rating
Overall: 4.2/5
Features: 4/5
Pricing: 4.5/5
Customer support: 5/5
Ease of use: 3.5/5
Value for money: 4/5
| Pros | Cons |
| --- | --- |
| Customer support is extremely helpful. | It now takes a long time to set up workflows. |
| The solution can be customized for various needs. | There is no search feature, which makes it difficult to find specific information. |
| Cognito Forms is compliant with major security standards. | Some users noted that other solutions on the market had prettier aesthetics. |
| The conditional logic feature is a hit amongst customers. | There can be a little learning curve to get accustomed to the solution. |
Review methodology
We analyzed more than 25 sites, including peer-to-peer review platforms, social media channels, online forums, Crunchbase profiles, editorial publications, etc., to present an accurate review of the product.
The sites reviewed had high domain authority, had been featured on reputable websites and blogs, and the reviews we looked at were primarily from verified users so as to not count for any fraudulent reviews.
General overview of Cognito Forms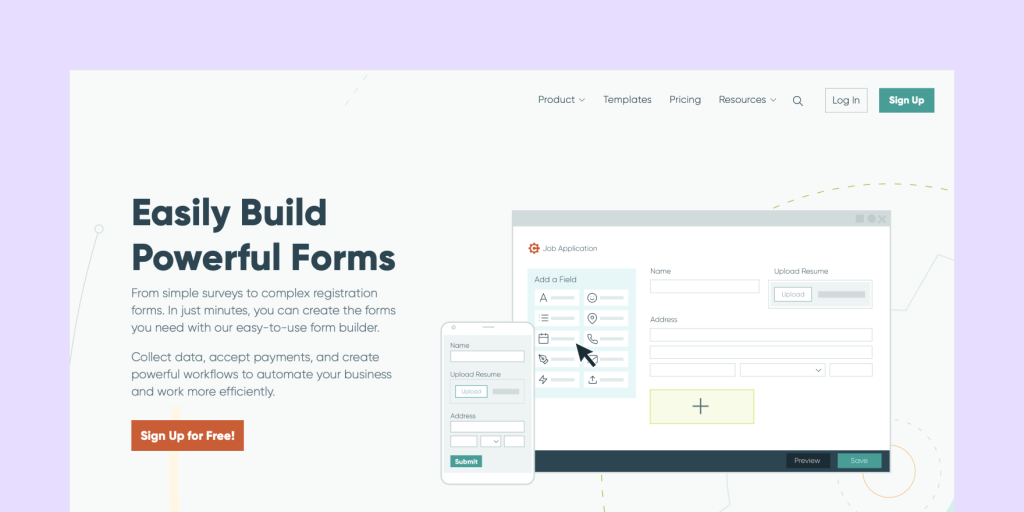 Developed in late 2013 by Jamie Thomas, Cognito Forms, also known as Cognito, is a form-building platform.
With this solution, users can gather data, collect payments, and automate processes.
However, unlike many of its competitors, Cognito Forms is not a no-code platform. Rather, it's a low-co de platform.
While Cognito's software can be used by all, it specifically boasts about catering to industries like information technology, human resources, healthcare, religious organizations, education, and government.
Product pricing
While there is a free option you can use (it works best only for individual users), there are also paid plans for customers who want to access more features.
The paid plans are as follows:
Pro: $15/month (2 users, 2000 entries/month, and 1 GB of storage)
Team: $35/month (5 users, 10,000 entries/month, and 2 GB of storage)
Enterprise: $99/month (20 users, unlimited entries, and 100 GB of storage)
If you wish to add additional users, you need to pay an extra $5/user/month.
Key features
1. Compliant with industry standards
One of the biggest features of Cognito Forms is that despite being free to use, it still adheres to industry standards as far as compliance and security are concerned.
That's to say, you can get audit logs and authenticate forms through passwords with both Individual and Pro plans.
With the Team plan, you can do all of that and encrypt data.
The Enterprise plan also allows you to all the previous features mentioned, and even provides two-factor authentication, HIPAA compliance, and individual access to folders.
It's also possible to share role-based workflow links with your colleagues.
2. Collect data and payments
If you wish to collect and manage data and payments through Cognito, it's entirely possible to do so.
You can collect payments through Stripe, Square, PayPal, or credit cards, and you can gather data, such as rating scales, tables, electronic signatures, files, and more.
Data management features, such as bulk download, data import and export, and data filtering, are available in the paid plans.
3. Automate workflows
With Cognito, automating workflows is a breeze.
This is because you can set conditional logic and limits for quantities so that there's no back and forth with customers.
You can also send custom "thank you" emails (or any other emails for that matter — with or without attachments) and let your forms do calculations for you so that there's no need for regular human intervention.
4. Templates
Cognito also has a bunch of ready-made templates that you can put to use.
For easy discovery, you can filter out these templates by type, industry, and feature.
For example, should you search for tax prep forms, you can easily access documents like tax client intake form, rental property tax organizer, vehicle expense form, etc.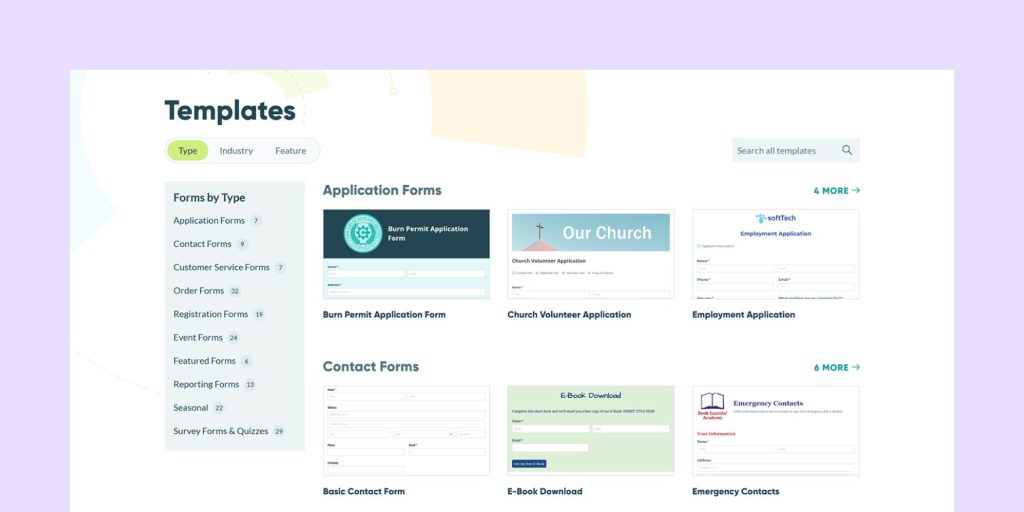 You can then add in company branding and edit out any content you want from these documents.
And while you can also create forms from scratch with Cognito Forms, there's no information available online on whether you can save them as templates or not.
That being said, you can definitely share them (aka share custom forms) as templates.
5. Integrate with your tech stack
If you've bought the paid plans, you can integrate your forms with:
Google Analytics to gather insights and improve your campaigns.
Zapier to automate business workflows (you can also access 400+ integrations through Zapier).
Microsoft Power Automate to migrate data and create triggers.
JSON Webhooks to send data to other solutions.
Integromat (now Make) to create workflows without the need for coding.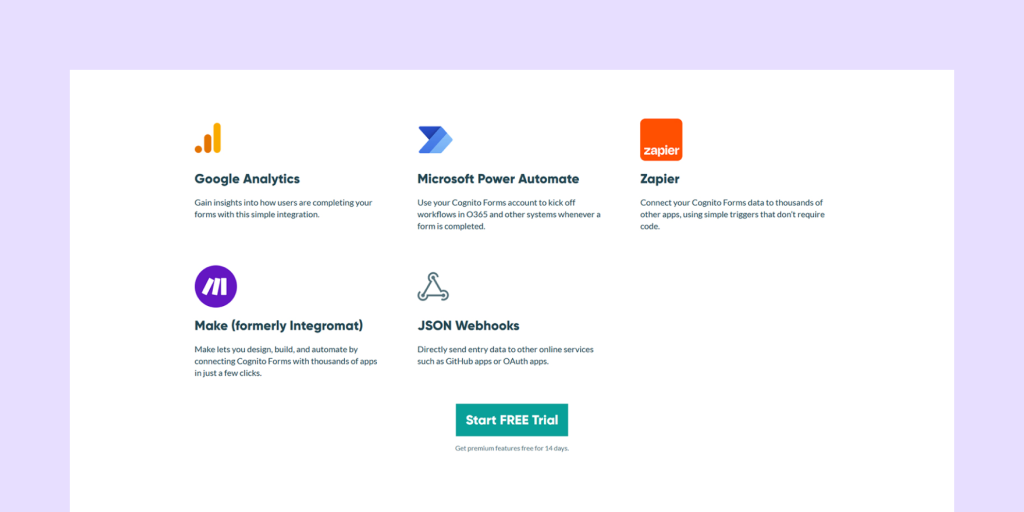 Support and ease of use
You can contact the support team by submitting a ticket. Unfortunately, no further support options, such as email or phone, are available.
However, even with the limited options, most customers said that customer support is efficient, helpful, and extremely knowledgeable.
As far as ease of use is concerned, there are two things that come into consideration:
Because it's a low-code platform, there's a slight learning curve.
Many reviewers said that the solution is very easy to use. However, it's difficult to set up (which was not a hurdle they faced before).
How does PandaDoc compare?
While Cognito Forms' use case is limited to forms, PandaDoc has other capabilities, and can help you improve your processes overall.
For example, if you need a solution for invoicing, document conversion, sending contracts, tracking e-signatures, collecting payments, generating documents, automating workflows, tracking emails, etc. — all of this can be done via the PandaDoc platform.
The best part? We're priced similarly to Cognito Forms. Like them, we also have a free plan, and our paid plans begin at $19/user/month (only $4 more than Cognito).
Additionally, Cognito is a low-code solution, whereas we are a no-code solution —- that's a big difference right there.
PandaDoc or Cognito Forms?
Cognito was once an all-around solution.
However, after its recent update that caused difficulties in creating workflows, there's no saying what the future holds.
If it reverts to its initial capabilities, then that's a solution you should definitely consider for creating forms.
But, if you wish to manage all your workflows and documents (and not just forms) from one solution, then PandaDoc may be the platform you need.
To learn more about what PandaDoc can do for you, arrange a free demo.
Frequently asked questions
Yes, Cognito has a free plan. However, its feature set may be limited. In that case, you can purchase paid plans.

Yes, it's possible to embed Cognito forms on your WordPress site. You can
Disclaimer
PandDoc is not a law firm, or a substitute for an attorney or law firm. This page is not intended to and does not provide legal advice. Should you have legal questions on the validity of e-signatures or digital signatures and the enforceability thereof, please consult with an attorney or law firm. Use of PandaDocs services are governed by our Terms of Use and Privacy Policy.