Trusted by brands like Autodesk, Tata Steel, SGS, and Bonusly, PandaDoc is a company that had humble beginnings but is now valued at more than one billion dollars (making it one of the largest SaaS companies in the world).
Obviously, a valuation this high brings curiosity about the company and its subsequent offerings.
So, in this article, we're reviewing all of PandaDoc's products based on usability, pros, cons, pricing, support, and other factors.
Let's dive right in!
Review summary
PandaDoc shines bright due to its ease of use, excellent feature set, affordable price points and expert-grade security and compliance protocols.
While the 24/7/365 email and chat support is impressive, some users in the past have expressed a desire to have phone support available as well — which we now offer with PandaDoc premium support, an option available as an add-on for any Essentials, Business or Enterprise plans.
Our ratings
Overall: 4.6/5
Features: 4.5/5
Pricing: 4/5
Customer support: 5/5
Ease of use: 5/5
Value for money: 4.5/5
| Pros | Cons |
| --- | --- |
| 1. The customer support team has received glowing reviews. | 1. Phone support is now available, though only as an addition to paid plans. |
| 2. PandaDoc really is a one-stop destination for all your document workflow and automation needs. | 2. The free plan doesn't allow access to features like document analytics, custom branding, bulk send, and integrations. With that being said, paid plans start at only $19/month. |
| 3. Small businesses and startups loved the ease of use and functionality of the product. | 3. While low when compared to competitor pricing, additional fees apply on all plans if you wish to integrate the solution with Salesforce or create custom workflows through API. |
Review methodology
To provide accurate results about the product, our research consisted of:
Trying out the PandaDoc solution to see what it has to offer.
Analyzing customer reviews on trusted peer-to-peer review sites.
Searching for company profiles on ZoomInfo and Crunchbase.
Reading competitor reviews.
Checking out independent reviews.
Studying press releases and mentions in the news.
We analyzed all the data we received while keeping factors like the domain authority of the site, the intention of the review, choice of words used, etc., in mind.
Overview of PandaDoc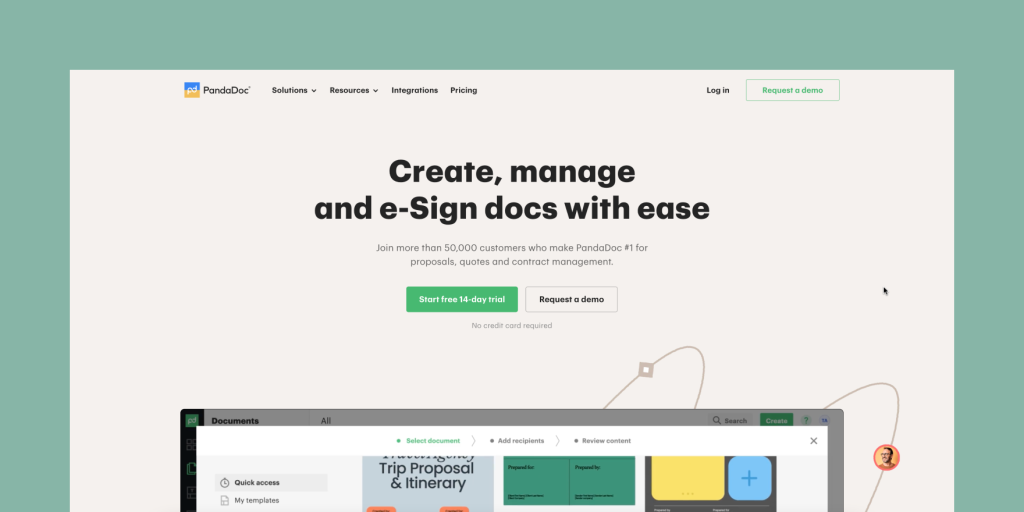 While PandaDoc was founded in 2014 in the heart of Silicon Valley, the seeds of the product had already been placed in 2004, when Mikita Mikado and Sergey Barysiuk (the co-founders of the company) became friends.
Together, the pair had already developed two separate solutions: Coding Staff and Quote Roller.
Fast forward sometime later, they merged the best aspects of their acquired product and technical knowledge to create an entirely new SaaS company, now known the world over as PandaDoc.
Since its inception, PandaDoc has grown its product offering, presence, features, team, and authority.
At the present moment, we help customers all around the globe with their all-in-one document automation solution.
However, document automation is not our only specialty — PandaDoc also caters to multiple use-cases, including e-signatures, forms, contracts, proposals, quotes, payment, notary, and more.
And to ensure everything is smooth sailing, we provide users with tools like email trackers, CRMs, virtual data rooms, task automation, contract management system, and PDF editing toolkits.
Product pricing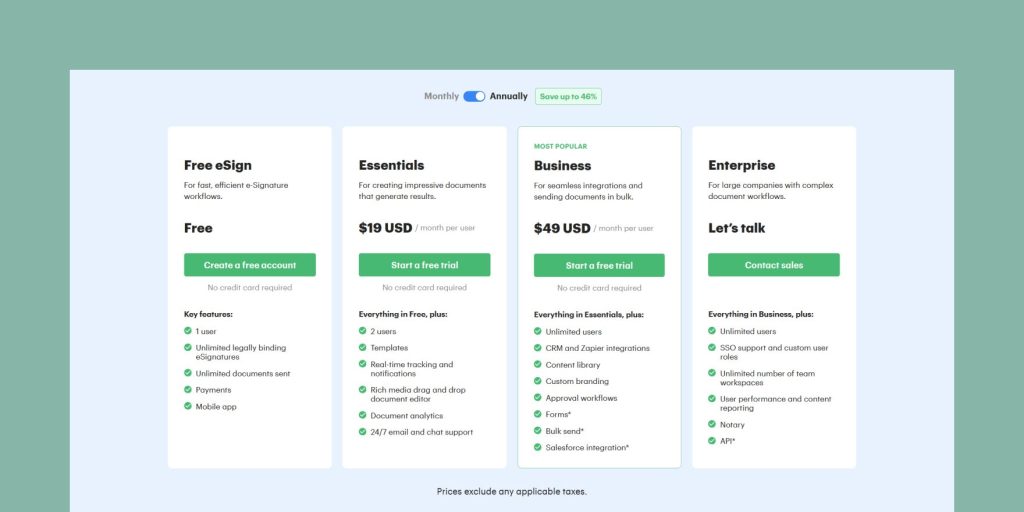 Four different subscription options are available on the website:
Free Esign. This is available for free, obviously! It has features like e-signing capabilities, payment integration, and mobile app access. You can e-sign and send unlimited documents!
Essentials. This is priced at $19/user/month — its features include unlimited documents and e-signatures, document editor, analytics, 24/7 support, and template library.
Business. This is priced at $49/month/user — this comes with custom branding, multiple integrations, and all the features of the Essentials plan. This is by far our most popular tier.
Enterprise. The Enterprise plan is attached to a custom quote based on your unique requirements. Aside from everything available in the Business plan, it also has additional features like team workspaces, custom user roles, API, user performance reporting, and more.
Please note that you can save up to 34% with the annual plan.
Key features
1. Document management
With PandaDoc, you can manage a plethora of documents, such as contracts, quotes, proposals, and forms.
We also have an extensive template library that consists of more than 750 document types — these documents can then be filtered based on their use case, and can also be edited depending on your requirements.
And if you wish to create your own documents and templates, that can be done, too, thanks to Pandadoc's smart editor.
Moreover, once these documents are created, you can share them with your team for review and ship them to your clients to e-sign — you can even set up reminders and notifications to tell you how and when your clients interacted with the document.
Side note: Not only can you create your own documents and templates with PandaDoc, but you can make custom content libraries as well.
That's to say, specific blocks or columns you often use can be saved straight to your content library — then simply recreate the layout in all your documents by clicking on the content library option.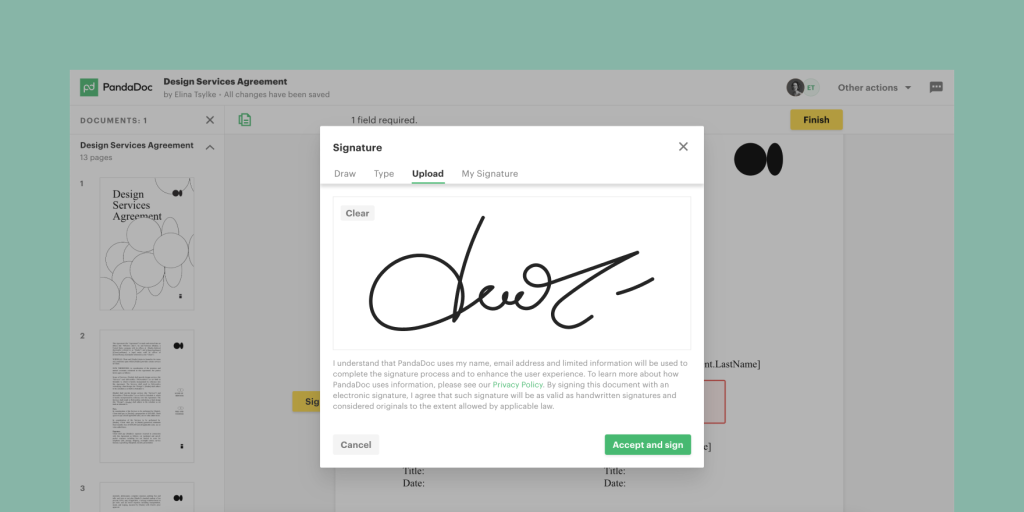 2. E-signature capabilities
E-signatures are truly one of PandaDoc's shining gems, and we say this because it's a feature-rich function — right from allowing you to set up reminders, to getting signatures on time, to being able to securely e-sign documents from anywhere and on any device.
You can also customize your signatures based on fonts, colors, and typography.
There's also no restriction on the document type (i.e., you can upload PDF, Word, Excel, and other file types for easy e-signing).
All plans (regardless of them being paid or free) allow you to e-sign and send unlimited documents.
Side note: All signatures created on PandaDoc are legally binding, as the software adheres to both the ESIGN Act and UETA.
3. Highly secure
PandaDoc puts user security at the forefront. To ensure that we're on par with industry standards in security, we provide:
Compliance with SOC 2 Type 2 requirements
256-bit SSL data encryption
Storage in SOC, PCI DSS, and FISMA data centers
Compliance with GDPR and HIPAA requirements
Audit trails of documents
Restrictions on content editing (you can set this up manually depending upon your requirements)
Role-based permissions
Single sign-on support
Compliance with the US ESIGN Act and the Uniform Electronic Transaction Act (UETA)
24/7 support of the customer service team
4. Suitable for various teams and use cases
Many of PandaDoc's competitors gear their product toward one or two use cases, or create solutions that can only help out one type of department (e.g., GetAccept is a sales-focused solution, and Formswift only has form-building capabilities).
At PandaDoc, we strive to make our product the one-stop shop for multi-departmental needs.
That's to say, whether you belong to the sales, marketing, HR, IT, or legal department, or need the product for signing, building forms, generating documents, automating workflows, getting analytics, or any other such use cases — we can help you out.
5. Perfect for collaboration
PandaDoc is one of the best solutions to collaborate with both inside and outside stakeholders because you can:
Assign role-based permission
Customize your documents with company branding
Add as many team members as you want (if you have the Enterprise or Business plan)
Create and send forms and documents in bulk
Create content libraries and templates to use the same documents that are most needed (alternatively, you can refer to their template library too)
Upload or create unlimited documents and signatures
Integrate with existing systems from your tech stack (such as Zapier, Salesforce, HubSpot, etc.)
Get audit trails that tell you about the progression of your documents
Access analytics on how prospects interacted with your documents
Automate processes by adding payment gateways that accept bank transfers, credit cards, and money through payment platforms
6. Smart analytics and notifications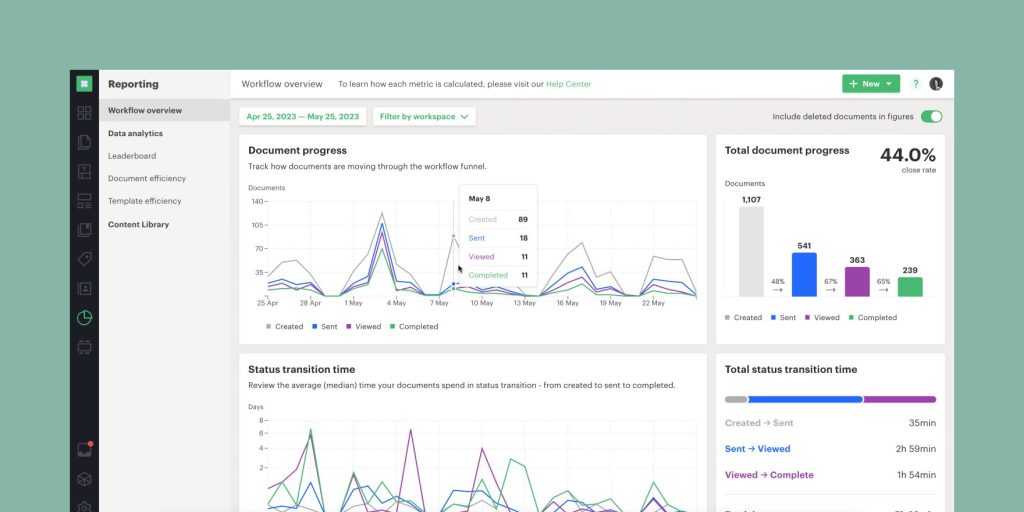 One of PandaDoc's features that makes us stand apart from the competition is smart analytics and notifications.
With this functionality, you can understand how recipients interact with your documents, where they pause, what pages they visit, if they download it, how long they read the piece, etc.
Additionally, you can also get notifications once your prospects sign a document, if a new person opens or reads it, or if the status of your documents changes.
Support and ease of use
At the present moment, you can get in touch with PandaDoc customer care executives either by email or chat. This support is available 24/7, 365 days a year (366 if you count leap years!).
We're also glad to inform you that ratings about our customer care team have been impressive (touch wood!) — and these reviews are pretty recent too.
If there was one thing our customers found lacking regarding support options, it was that we didn't have an option for phone support before. Now we do! PandaDoc premium support is available for all Essentials, Business and Enterprise customers as a paid add-on, offering real conversations with support techs and much more.
As far as ease of use is concerned, users on Trustpilot, G2, and GetApp said that our solution was quick and easy to use, with an intuitive user interface (UI).
A particular user on G2 pointed out that they worked with clients of various age groups (some of them being more technology savvy than others), and the product was still easy to use for almost everyone.
How do we stand apart from competitors?
PandaDoc's feature list (combined with our pricing) is what makes us, in our humble opinion, stand apart from the competition.
For example, the personal plan of DocuSign only allows 5 document limits per month. Whereas PandaDoc's personal plan (also known as the Essentials plan) allows unlimited documents and signatures.
Similarly, another competitor, Jotform, only has form-building capabilities, whereas PandaDoc can generate documents of multiple types, and can be used for a variety of use cases. Jotform's cheapest-priced plan also begins at $34/month; as noted above, PandaDoc's pricing begins at $19/month.
DocHub, another competitor, has received poor ratings amongst reviewers on Trustpilot (1.8/5). On the same platform, we have a rating of 4.3/5.
What we're saying is that our solution gives you the most bang for the buck, because PandaDoc:
Has excellent user reviews on various platforms
Can be used for various needs
Is suitable for different department types
Doesn't keep limits on documents and signatures generation
Comprises of an extensive feature list
Next steps
If this review has you convinced or, at the very least, curious about PandaDoc's capabilities, it may be time to shift to PandaDoc.
Before purchasing a subscription, we recommend you try out PandaDoc's 14-day free trial to see first-hand everything available to you on the platform, and decide which subscription plan works best for you.
And if you'd like to learn more about the product, click here to request a demo.
Frequently asked questions
While both products are excellent, PandaDoc ultimately seems to have a better feature list. To learn more about how these two solutions compare, click here to get a side-by-side comparison.

Yes, PandaDoc has a free e-Sign plan. Learn all about the features you can get with the free plan here.

Yes, PandaDoc is extremely safe to use as it adheres to all industry standards and certifications. Here is a list of all the security measures we adhere to.
Disclaimer
PandDoc is not a law firm, or a substitute for an attorney or law firm. This page is not intended to and does not provide legal advice. Should you have legal questions on the validity of e-signatures or digital signatures and the enforceability thereof, please consult with an attorney or law firm. Use of PandaDocs services are governed by our Terms of Use and Privacy Policy.