What is the first thing you think of when you want to accelerate getting key contracts and deals for your business signed?
A fast and reliable way to negotiate, execute and manage them. This is where eSignature software comes into play, a secure and efficient way to finalize that sale or deal without the wait.
Electronic signature software is here to stay, according to Prescient and Strategic Intelligence.
In a recent study, they have predicted the eSignature market may hit $12,721.5 million by 2030. As with most effective software solutions, there are a lot of options available.
In this piece, we will compare two of them, AssureSign and DocuSign.
We'll cover all the main features and prices to help you choose the one that suits your business needs.
What is AssureSign?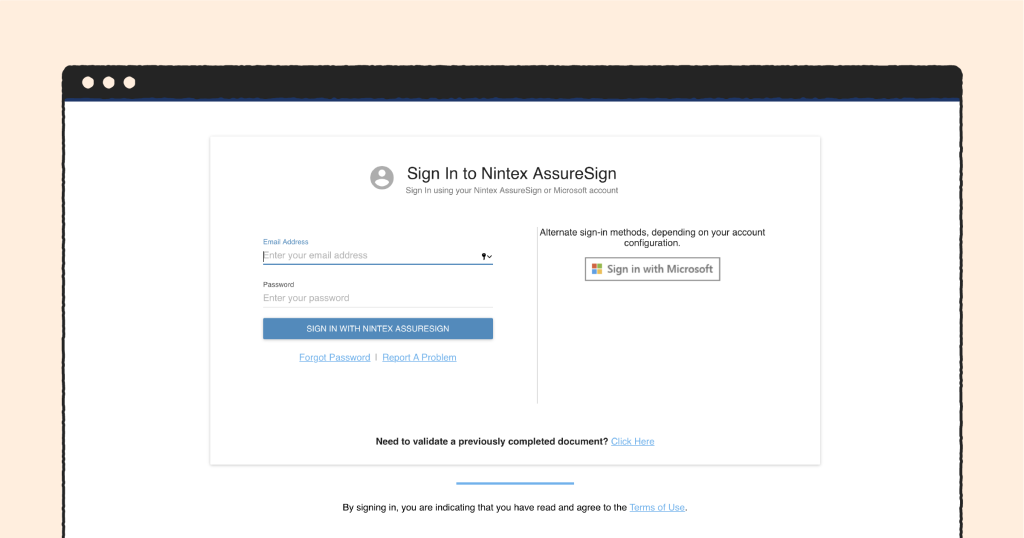 Developed in 2006, AssureSign is a product of Third Party Verification, Inc.
In 2001, it was purchased by Nintex and renamed Nintex AssureSign. The purchase came with a benefit allowing AssureSign to easily link with the Workflow Cloud network of Nintex.
AssureSign is an e-signature software that helps small and large businesses automate the electronic signature process and simultaneously accelerate the process of document submission.
In addition, this software ensures quick access to its features so that anyone can use it regardless of location.
One of the best qualities of AssureSign is that it can either be used as a SaaS application or installed directly onto your computer.
It also makes it easy to sign your documents and provides bulk signing to reduce the burden on human resources in your company and speed up transactions.
This innovative electronic signature solution has many unique and in-demand features.
For instance, it features account statistics, customer-branded emails, custom logo branding, handwritten signature default, and document signing notifications, to name a few.
Further, AssureSign has out-of-the-box connectors to Microsoft Dynamics and Salesforce to help you integrate an eSign to any order form, contract, or invoice.
Additionally, it allows users to send, track and manage their business paperwork without leaving or sacrificing their customer relationship management (CRM) system.
AssureSign provides customizable experiences to all its customers and allows you to configure every esigning process with your company branding and customer experiences.
What is DocuSign?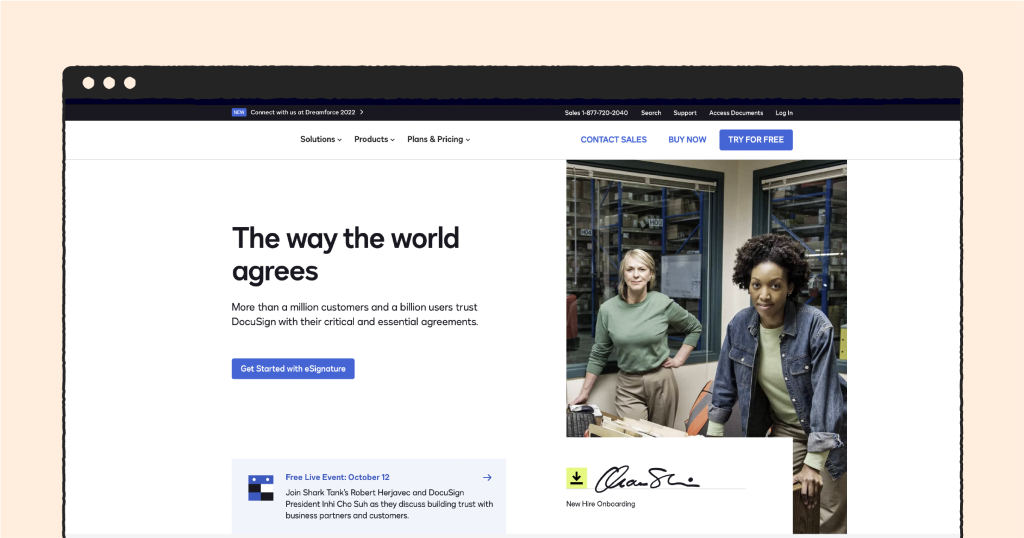 On the other hand, we have DocuSign. DocuSign was founded in 2003 to facilitate businesses to manage their electronic documents.
In 2018, it went public and has since served millions of customers and is accessible in almost 188 countries worldwide.
Considered the number one eSignature and document cloud software, DocuSign is a trusted solution that helps accelerate the process of effectively managing critical and essential agreements.
This solution offers its support to big and small enterprises and, at the same time, also offers many free features to individuals.
What's more, DocuSign makes signing and sending papers fast and reliable. It also includes a robust reporting feature, contract lifecycle management, clickwrap agreements, guided forms, and more.
One of DocuSign's biggest innovations is the Agreement Cloud, providing everything a client needs to automate and connect their entire agreement process.
The Agreement Cloud comes with 400+ pre-built integrations and has an award-winning API for even more customization.
Last, one of the best qualities of DocuSign is that it offers a free trial for all its customers.
So you can try the services of this solution for 30 days without paying any fee and then analyze whether it is for you or not.
AssureSign or DocuSign: What's the difference?
AssureSign and DocuSign are designed to help businesses oversee their document management processes and obtain digital signatures.
However, there are some differences you should take into account before deciding on one or the other.
For example, they are supported by different platforms and focus on various industries and audiences.
Whereas AssureSign's top industries are insurance and IT companies, DocuSign focuses more heavily on real estate, banking, and human resources and even offers specific solutions for each.
Also, most people like DocuSign for its 400+ integrations, knowing that whatever software systems they use, it will just work.
AssureSign, however, is appreciated more for its ability to capture electronic signatures on a cell phone.
Below we have highlighted some common factors and features that might help you differentiate one solution from the other.
Electronic signature comparison
The main function of AssureSign and DocuSign is to provide their customers with quick and reliable electronic signature software.
However, there are some differences in how they approach it.
AssureSign ensures that you can sign from anywhere, regardless of your location. What's more, compared to other sites or tools, electronically signing a document using AssureSign is simple.
It only takes a few steps to get your document signed and the app walks you through each of them to ensure you follow the process precisely and sign a document regardless of your location.
On the other hand, DocuSign allows you and your employees to sign and send documents from anywhere on any date while using the platform's responsive mobile and web apps. Plus, this tool offers free signing every time.
Whenever a company receives a document, they find tabs and simple instructions to go through the entire esigning process conveniently.
Then, once done with every step, the recipients simply have to click Finish to save the electronically signed document.
Bottom line
Compared to AssureSign, the method of esigning is far easier with DocuSign.
Moreover, it is quick and starts with just opening an email link, although some customers have complained that the link expires too fast.
Approval and creation of documents comparison
AssureSign ensures streamlining the entire document-focused process with a powerful and flexible system.
Using this tool, you can create and approve all the paperwork needed to obtain an eSignature. You can design an envelope of documents by using a simple drag-and-drop feature.
AssureSign allows you to create documents with advanced templates using the "Classic Interface" option.
Also, it helps trigger the workflow process so that no business process experiences a hurdle.
The tool ensures that each document gets a secure eSignature so internal and external stakeholders can feel confident in whatever agreement or document they sign.
Similarly, DocuSign helps you set up a document authorization process before you get anything signed by featuring Approve and Decline buttons.
The Approve button moves the document forward, ensuring its authenticity to receive a signature, and the Decline option allows you to void a document.
The software also excels in document creation, making it widely acceptable and compatible. In addition, it ensures a smooth signing workflow and complete control over the signing process.
Also, if you want to audit your account and its business statistics, DocuSign provides a robust reporting feature.
Bottom line
Both tools offer excellent services and features to streamline the process of document approval and creation.
This step is essential to ensure that only the authentic paperwork receives an e-sign.
Management of contracts comparison
Contract management is a challenge for businesses of all sizes, which is crucial for smooth operations.
It includes tracking progress and setting reminders for agreements and documents to be signed or received on time.
AssureSign offers a customized contract experience to any company. It allows you to send reminders and track a contract's progress from any mobile device.
Additionally, the tool features DocumentTRAK® and DocumentNOW® APIs so that you can integrate AssureSign with your existing system and processes.
The software allows you to use its "Classic Templates" option and start creating a new template from scratch. You can also use this feature to modify and import any existing templates.
DocuSign allows you to customize agreements, automate contract creation, and share a contract with teams for collaboration.
Further, DocuSign has a range of templates to choose from, and you can auto-populate new documents from reliable and well-known systems such as Salesforce.
Additionally, you can use the tool to bring everyone to one page, so the agreement gets approved and signed faster.
To ensure that the contracts move smoothly without blockers or bottlenecks, DocuSign enables a simple drag-and-drop feature to design the entire contract process smoothly.
Further, it has rich APIs and pre-built connectors to help your team continue using the systems they already have and create customized data experiences.
Bottom line
Both tools make it convenient to manage a contract so that your company can move forward to complete the deal.
Mobile apps comparison
While you can sign a document on your cell phone, AssureSign doesn't have a mobile app for vendors or other customers.
Instead, it is a web-based tool that your company can access through your iPad or computer. It works for both Mac and Windows devices.
This is a slight downside of using AssureSign. In addition, a lack of a mobile app means that accessing this platform through your Android phone or iPhone device might be a hassle.
DocuSign has an award-winning app that helps you work smarter, so you can sign any contract or agreement on the go.
From professionals to individuals, the app empowers everyone to get instant visibility on their documents and perform tasks such as payment collection and preparation of crucial paperwork.
If you are a developer, you can integrate this app into your client's business, so your customers can set up the delivery and confirm employment forms within a few minutes.
This free mobile app is cost-effective and valuable for all users worldwide.
Bottom line
For businesses requiring an app to manage esigning their documents, DocuSign is a better option than AssureSign, unless you are okay with accessing the document on the web.
AssureSign vs DocuSign: Pricing
AssureSign's pricing is flexible and easy to comprehend.
It starts from $1400 per month, and the software is available for unlimited users at once. Further, the tool offers aggressive discounts as the number of users rises.
Unfortunately, the pricing varies on the quote placed, so you will have to consult with a salesperson to capture the best rates.
Alternatively, DocuSign's pricing is competitive as well. It provides several packages and plans to meet the needs of both small and big businesses.
For instance, there are four signature plans: personal, standard, business pro, and enhanced plans.
The costs of the first three plans are $10, $25, and $40, respectively, while for the enhanced plans, you will have to contact a representative to set the rate.
You can also opt for the real estate pricing plans if you are a realtor or a large real estate company. Each program has different features, so you can choose the one that meets your budgeted pricing and needs.
For example, the real estate starter plan is worth $10, followed by DocuSign for realtors for $20, and the real estate plan for $25.
One of the best qualities of DocuSign is that it offers a free trial for all its customers. Therefore, you can try the services of this solution for 30 days without paying any fee and then analyze whether it is for you or not.
Regarding comparing the prices of both these platforms, DocuSign is much more affordable than AssureSign. Also, it offers more pricing plans with fixed costs, making it easy to access which program works well.
AssureSign vs Docusign: Security
When it comes to providing security features to keep your information safe, both AssureSign and DocuSign excel.
AssureSign has received many security certifications, complies with all regulatory laws, and adheres to legal standards, offering safe services for its users.
When using AssureSign on your desktop, you can manage the security settings according to your needs and create alerts and notifications.
Further, you and your employees can also ensure that your current system stays unharmed regardless of new integrations.
Similarly, the security standards at DocuSign are also tight. The platform has strong cybersecurity and intelligence capabilities and complies with the ESIGN Act and eIDAS Regulation.
It also offers tamper-proof technology, digitally sealing documents with Public Key Infrastructure (PKI) technology that acts as a virtual tamper seal to prove a signature's validity.
DocuSign also maintains a great system to curb threats of cyber-attacks. The tool's team is responsible for responding and taking action on all emails indicating spam and threats to the security of the software.
AssureSign vs DocuSign: Customer support
Both AssureSign and DocuSign offer excellent customer support.
For instance, AssureSign provides support through phone, email, and tickets.
You can also join AssureSign's knowledge base to receive all the updates, solutions, or services this tool provides.
An online user guide is available to assist you through all the features with step-by-step guidelines.
Similarly, DocuSign's customer support is available through email, phone, training, and tickets. You can either choose to be a part of a learning plan or get yourself enrolled in a custom plan.
The live support by the team is also helpful.
The DocuSign support section also has a list of common queries answered by experts that you can go through to resolve some standard issues everyone faces.
In addition, DocuSign has a community you can directly join to get in touch with peers and experts.
AssureSign vs DocuSign: User reviews
Since AssureSign and DocuSign cater to varying customers and industries, both have received excellent reviews from their customers.
According to reviews, AssureSign is an easy way to capture a signature through a phone. Also, this software is super easy to use, without the need for any training or guidance.
However, a few customers have revealed that the pricing aspect is an issue and that this software should have been free, considering the number of documents a business has to sign every month.
Below we have shared some customer reviews on the Capterra website.
DocuSign is a tool designed to simplify businesses' eSignature journey. According to customers and vendors, they appreciate the features that this tool has to offer for contract management and document approvals.
Below we have shared some customer reviews of this software's capabilities on the Gartner website.
Both AssureSign and DocuSign are well-received by customers, so the decision as to which one to pick will come down to the features your business needs.
Final thoughts
AssureSign and DocuSign are competitive tools built to streamline workflow and document management while also making it convenient for you and your human resources to benefit from eSignature technology.
However, since both software caters to different industries and has varying cost plans, it is hard to declare a winner between them.
Alternatively, you can also opt for PandaDoc's digital software solution. The legally binding and secure eSignatures create privacy while maintaining high-security standards.
Further, you receive notifications at every step of the process and will immediately be able to tell what your agreement status is.
If you want to experience the benefits of PandaDoc and improve productivity at work, start with a free trial for 14 days today.
Disclaimer
Parties other than PandaDoc may provide products, services, recommendations, or views on PandaDoc's site ("Third Party Materials"). PandaDoc is not responsible for examining or evaluating such Third Party Materials, and does not provide any warranties relating to the Third Party Materials. Links to such Third Party Materials are for your convenience and does not constitute an endorsement of such Third Party Materials.