How to sign an electronic form with an electronic signature
‌PandaDoc streamlines the process of signing electronic forms in realtime. Whether you've received an electronic form to e-sign or you need someone to sign documents, PandaDoc makes it easy to create or insert your digital signature.
PandaDoc's e-signature digital software allows users to sign with an Android and iOS software-compatible touchscreen by using PandaDoc's app or by simply clicking an email from a desktop or laptop. Signers will feel safe knowing PandaDoc's built-in eSignature technology is legally binding and ESIGN and UETA compliant.
What is an electronic form?
Electronic forms are documents that can be signed anywhere from a desktop computer or a mobile device, as long as the user has an internet connection. Electronic forms provide flexibility for both businesses and users to improve workflows.
Modern software options like Adobe Acrobat and Microsoft Word provide onboard signing solutions that can be used for uploading and signing different pdf document forms.
PandaDoc is an all-in-one solution that allows you to create our own electronic forms to collect information and electronic signatures and provides easy-to-use features for sharing either via direct link or embedding it on your website. Other companies offer features for creating forms and e-signatures such as PandaDoc, Hellosign, and Docusign.
How to electronically sign an online form
Long gone are the days of paper forms and handwritten signatures.
Most electronic forms make signing documents easier by allowing four different ways to sign documents:
Typing your signature.
Uploading an image of your signature.
Drawing your signature with your finger, trackpad, or stylus using your iPad or iPhone touchscreen.
Drawing your signature with your cursor.‌
The most common ways to electronically sign an online form are with Adobe Reader or Microsoft Word, since they are on most users' computers. Both software allow you to sign forms in the above-mentioned ways.
How to sign an electronic form with Adobe Reader
Once you receive a notification with a link to sign the form or a notification that a form has been shared with you (if you use Acrobat DC or the Acrobat DC desktop application), then you are ready to sign.
Make sure to complete any edits before you sign: once the form is signed it is certified by Adobe Sign.
To sign, you can either:
Sign with Acrobat/Reader desktop application
Sign using the email link
Steps to Fill & Sign
Open the PDF document or form.
Click the "Sign" icon in the toolbar.
Choose Fill & Sign from the right plane.
Click Fill & Sign. Forms fields will be detected automatically.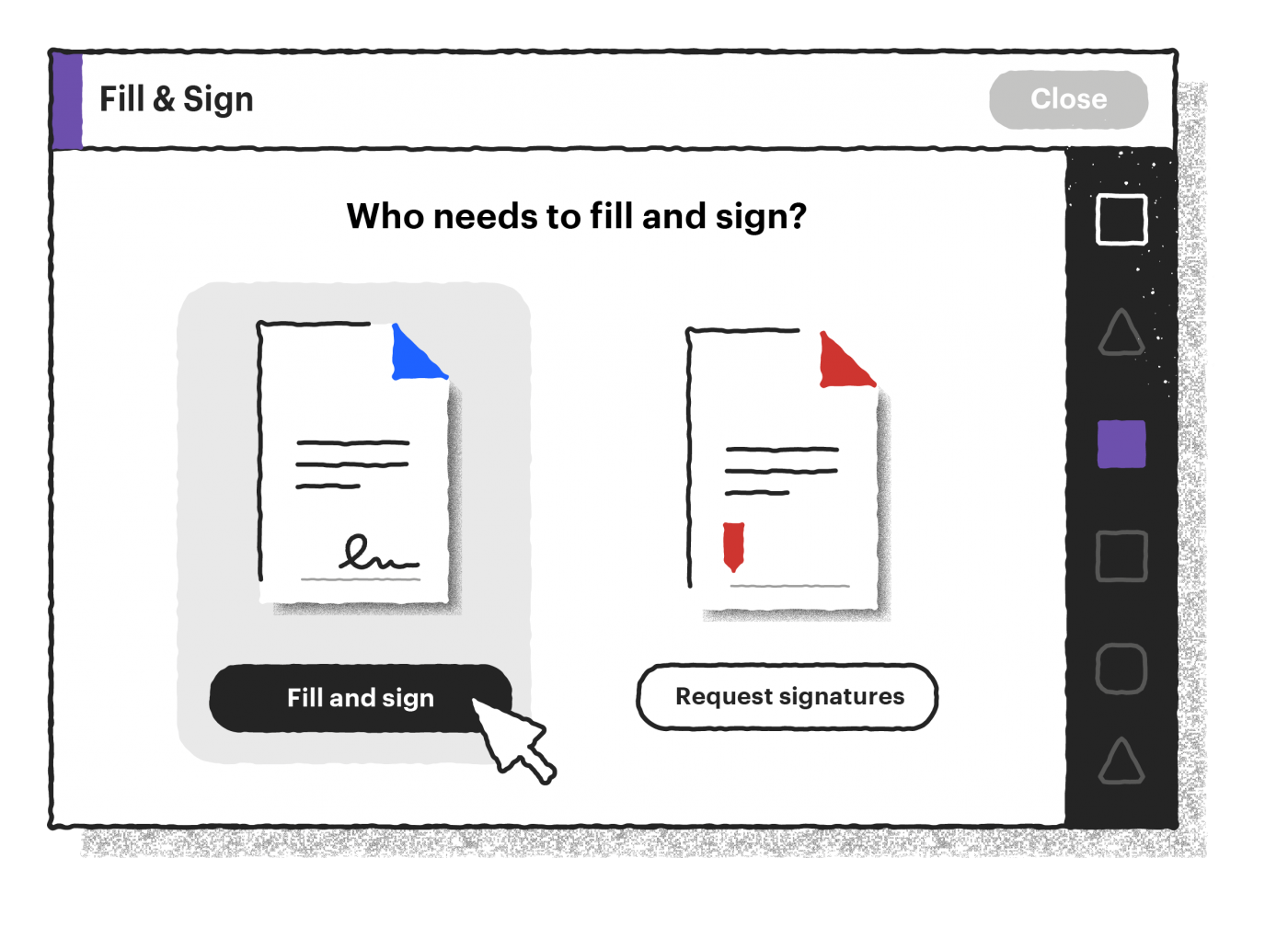 Hover your mouse over a form field and click anywhere in the blue box.
Click the "Sign" icon in the toolbar and choose "Add Signature" or "Add Initials" from the drop-down. If you already have a signature it will appear. If you are signing for the first time, you can either type, draw, upload an image, and save your signature for future use.
Click "Apply." Click the place in the PDF where you want to place the signature. Move the signature or initials by clicking the field to highlight it and using the arrow keys. Resize or delete the field with the options in the toolbar.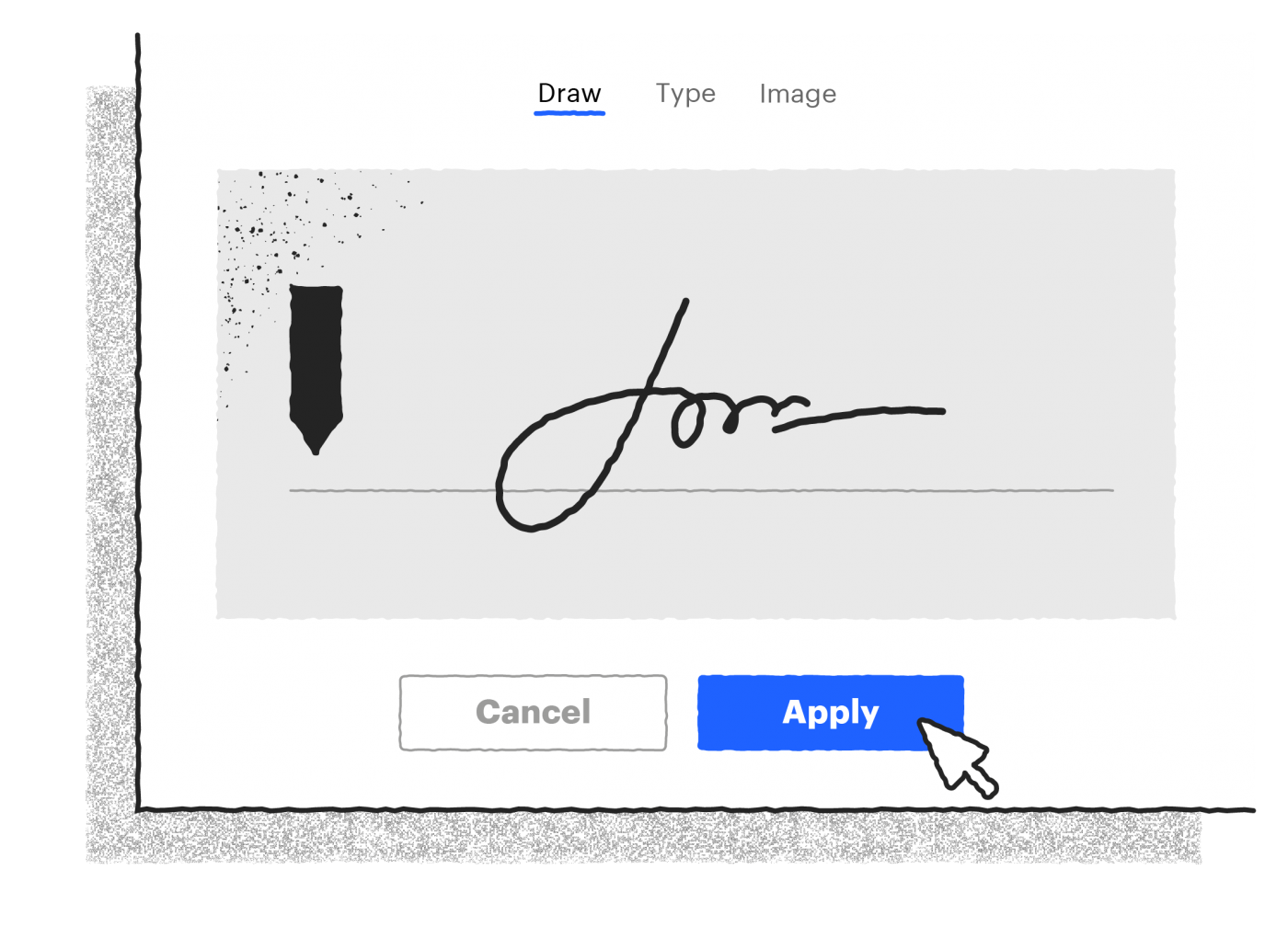 To finish, click "Click to Sign."
Once signing is complete, you, along with the owner of the form, will receive the signed PDF by email.
How to sign an electronic form with Microsoft Word
Microsoft Office allows you to create a digital signature, or digital ID, compatible with Word, Excel, and PowerPoint.
When you receive a request to sign an electronic form, a signature line and notification that your signature is requested will appear. You will then be able to type a signature, select a picture of an inked signature, or write a signature using the inking feature of a touch-screen PC.
To begin, open your file in Word, Excel, or PowerPoint.
Right-click the signature line.
From the menu, select "Sign."
Click "Select Image" to add a printed version of your signature. Click the "Select Signature Image" dialog box, find the location of your signature image file, select the file you want, and click "Select."
To add a handwritten signature, for Tablet PC Users only, sign your name in the box next to the X using the inking feature.
To finish, click "Sign." Once completed, the Signatures button will appear at the bottom of the document.
Signed documents will have the Signatures button at the bottom of the document and signature information will appear in the Info section after you click the File tab.
To assure authenticity, integrity, and origin of a document, the user can add invisible digital signatures to word documents, Excel workbooks, and PowerPoint presentations.
Add a digital signature in Word
Click the "File" tab.
Click "Info."
Click "Protect Document."
Click "Add a Digital Signature."
Read the Word, Excel, or PowerPoint message, and click "Ok."
In the "Sign" dialog box, in the "Purpose for signing this document" box, type the purpose.
Click "Sign."
Once a file is digitally signed, the "Signatures" button appears, and the file becomes read-only to prevent modifications.
How to sign an electronic form properly with PandaDoc
PandaDoc is a multi-faceted company that provides businesses with over 100 fully customizable form templates to create complete, legally binding agreements and contracts, along with formatting elements to add electronic signature form fields.
Electronic forms allow businesses to excel in client communication with real-time email notifications for completed forms and automated confirmation messages upon successful submission.
All of PandaDoc's forms make e-signing easy with features that allow you to insert signature lines in your template whether the form is for one user or multiple users.
Whether you need to create an appointment request, a volunteer application, a loan pre-application form, or legally binding documents like a business registration form, a Telehealth consent form, or a psychology consent form, PandaDoc has the right form template for you.
PandaDoc's steps to sign
If someone has sent you a form to sign with PandaDoc, you will get an email with a link to sign the form.
Signers can sign a form either using the PandaDoc mobile app or on a desktop or laptop.
PandaDoc's eSignature software technology verifies each of their form's legitimacy by sending an electronic certificate, compliant with the e-sign act, with every signed and completed document.
Sign into your email account where you received the form link.
Click on the link.
On the mobile app, you can sign immediately on your touchscreen device, like the iPhone or iPad, with your finger or stylus, or upload your signature.
On a desktop or laptop, you can open the link in your browser and sign with a trackpad, stylus, or upload an image of your signature.
Once completed, click "Finalize."
Download a PDF version upon completion.
All CC'd recipients will automatically receive a signed copy of the form.
Sign Electronic Forms with PandaDoc
PandaDoc's user-friendly software not only helps businesses from start to finish by creating a seamless process to create forms and send them to their users, but also provides signers with safe, reliable, and easy-to-use e-signature software that is legally enforceable, unlike many of its competitors.
To learn more about PandaDoc, sign up for a free trial.