Managing relationships with your customers is a crucial part of being able to make sales.
This is especially true in the age of digital marketing, where each interaction needs to be perfectly optimized, just as it was when customers were greeted by a friendly smile in their local shop.
It's no surprise, therefore, that CRM software, which takes care of customer relationships, is proving more and more popular.
However, a CRM cannot work its magic on its own.
Using CRM software with marketing automation technology will streamline your entire marketing, sales, and lead qualification process.
Read on to find out why they're a match made in heaven and how you can use them together to increase your sales.
Key takeaways:
Using CRM on its own will improve customer knowledge, while marketing automation will boost efficiency.
However, they should be used in tandem to produce better-personalized marketing campaigns and enhance your organization's collaboration.
Without integrating CRM and marketing automation, you're missing out on many of the benefits of automation.
Marketing automation software can be easily integrated with popular CRM tools such as HubSpot or Salesforce.
Understanding CRM and marketing automation: How do they work?
Before we start to look at why CRM and marketing automation work better together, we should get to grips with what they do individually.
What is a CRM?
Think about all the interactions that customers have with a company.
From the first time they see a piece of marketing to their discussions with customer support after purchase, there's a wide range of touchpoints in a buyer's journey.
Staying on top of all of that isn't easy. That's where CRM comes in.
A CRM is software that takes responsibility for storing information about your customers, including purchase history, email interactions, and notes on customer service conversations.
This allows your salespeople to know who they're talking to when a customer gets in touch.
It also means that anyone across your organization can access information about customers from anywhere in the world.
You'll also be able to use this information to optimize every interaction that you have with a customer, meaning that building a winning sales culture has never been easier.
What is marketing automation?
If a CRM is all about making it easier to know your customers, marketing automation makes it easier for you to do something with that knowledge.
Marketing automation is any system that enables you to automatically send out marketing materials and advertising campaigns.
It streamlines marketing processes such as lead generation while also boosting the success rate of your marketing efforts.
Using marketing automation software will mean that you spend less time on some of the most boring, time-consuming, or simple marketing tasks, as the software will automatically do these for you.
CRM vs. marketing automation: Which is better?
CRM is a sales tool that primarily focuses on managing existing customer relationships.
It is designed to help businesses track and manage interactions with customers and potential leads throughout their lifecycle.
Marketing Automation is used to generate and nurture leads, send automated email campaigns, track website visitor behavior, and score leads based on their engagement with marketing materials.
With a range of benefits, many businesses are starting to use either CRM or marketing automation.
Although – as we'll see – processes can be enhanced by using CRM and marketing automation together.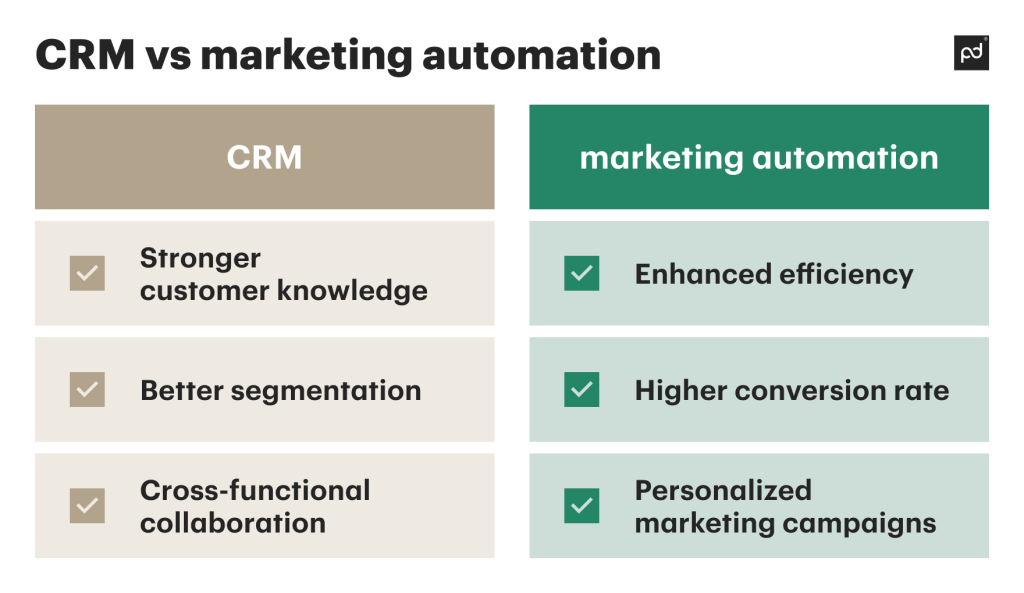 The benefits of a CRM
1. Stronger customer knowledge
Remembering the birthdays of loved ones can be difficult enough, never mind the birthdays of potentially thousands of customers.
Using a CRM will give you access to this sort of detailed personal information, on top of information like their contact details, social media accounts, and their job titles.
You'll also be able to see every activity that a customer has undertaken in relation to your organization, such as a list of their purchases and email conversations.
With all of this knowledge at your fingertips, you'll be able to treat each contact as a special individual.
2. Better segmentation
This sort of customer knowledge is also useful in the aggregate.
Being able to access detailed customer data will allow you to improve your audience segmentation, creating accurate and concentrated lists of your typical customers that will inform how your organization evolves in the future.
3. Cross-functional collaboration
CRMs aren't just for your sales team.
As they're usually based in the cloud, anyone in your organization can easily access information about your customers.
This means that they can be used for a range of different functions, such as tech support, and to improve collaboration in your company.
The benefits of marketing automation
1. Enhanced efficiency
There's no doubt that the main benefit of marketing automation is its increased efficiency.
You won't have to manually set up marketing materials for an email drip campaign, for instance, while you can also automatically schedule social media posts.
This means that you can spend your time designing better and more creative campaigns while you'll be able to publish those campaigns easily and speedily.
2. Higher conversion rate
Marketing automation software will often track your leads and monitor which marketing materials lead to conversions.
It will also automatically retarget those users who didn't make a purchase, which will boost your conversion rate.
3. Personalized marketing campaigns
Making your customers feel special is a great way to encourage sales.
Marketing automation software can be used to send out advertising materials to customers based on their characteristics or even send them a special birthday deal.
However, to make really personalized campaigns, your marketing automation software will need access to detailed customer records.
That's where your CRM can come in…
Why CRM and marketing automation are better together
Did you notice anything about the individual strengths of CRM and marketing automation platforms? None of them is incompatible with any of the others.
That's why it's pointless trying to figure out whether CRM or marketing automation is best. Instead, they're better together.
As we've seen, CRM and marketing automation are two separate systems with different uses and benefits.
However, using them in tandem can streamline your whole sales strategy, which will both make your life easier and improve the effectiveness of your customer relations and marketing efforts.
This is because the strengths of CRM and marketing automation go hand in hand.
CRM will give you a clear image of who your customers are, while marketing automation will use this information to tailor marketing materials.
Here are some of the main benefits of using CRM and marketing automation together:
Better lead production…
With your CRM collecting a huge amount of customer data, you'll be able to see who to target as new leads.
This can be complemented with marketing analytics that are provided by marketing automation platforms.
With all of this information together, you'll be able to invest in finding new leads that you can be confident in.
… and stronger lead management
Once these leads are found, however, you have to effectively manage them in order to generate sales.
CRM will make sure that each touchpoint is monitored – however, if you want to take advantage of this information, you'll have to use marketing tools.
This means that you can use marketing automation software to automatically send out individual marketing messages when a customer reaches a certain touchpoint.
By using these tools together, your lead management will be intelligent and data-driven.
Streamlined personalization
Similarly, using CRM and marketing automation together will enable personalization from the very first interaction that a customer has with your company.
You can link up the personal details stored on your CRM with your marketing automation software to produce automated personalized campaigns.
Without using a CRM, personalized campaigns can be little more than surface-level personalization.
Rather than just being one of many marketing trends, using a CRM with marketing automation will make your customers' experiences truly unique.
Complete cross-departmental alignment
Everyone knows that an organization's success depends on everyone pulling in the same direction.
However, this sort of collaborative culture can be difficult when each department has its own software that is isolated and siloed off from other departments' platforms.
CRM with marketing automation allows your marketing, sales, and customer service teams to work with the same datasets while also allowing them to work on the same platform.
This will boost your company's teamwork, encourage creativity, and streamline cross-departmental collaboration.
Examples of CRM and marketing automation platforms
It's clear that if you want to make the most of your CRM and marketing automation, you should use them together. But how can you actually achieve this?
Here are some examples of CRM platforms and marketing automation platforms, with explainers of how they're integrated:
HubSpot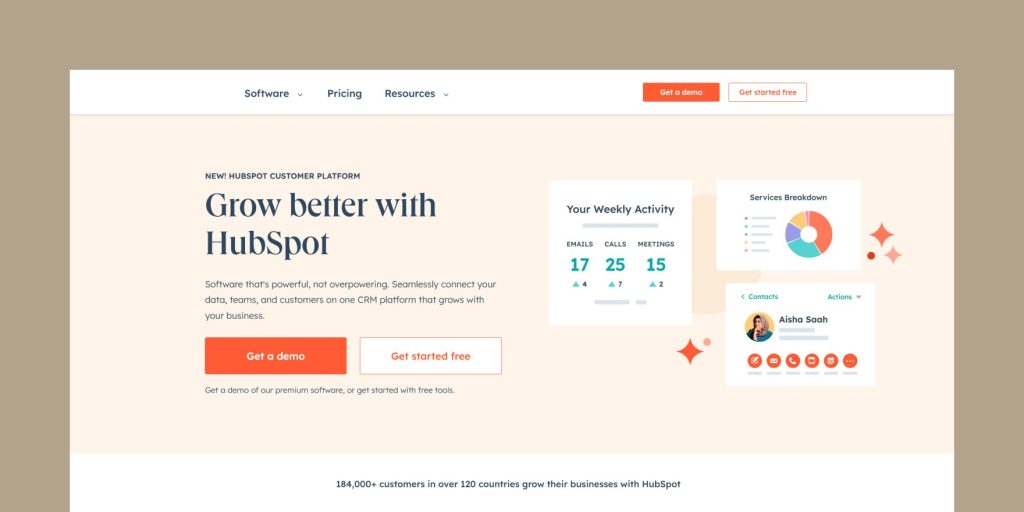 HubSpot is primarily a CRM provider – however, it does offer some marketing automation functions.
It's widely used by many companies for its CRM properties, including storing and tracking customer details.
If you're looking to use it with marketing automation, you can use some of its inbuilt automated marketing features.
However, there's only limited scope for customizing these features for the specific needs of your organization.
Salesforce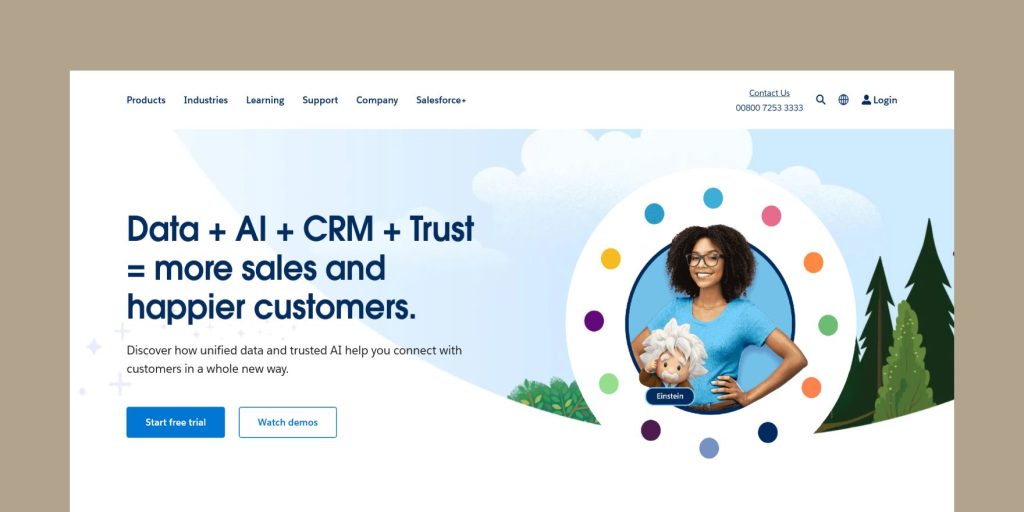 Salesforce is another popular CRM platform. This has some inbuilt marketing automation elements, such as marketing analytics and automated email messaging.
However, this can be expensive, while its marketing automation isn't as sophisticated as dedicated marketing automation platforms.
Zendesk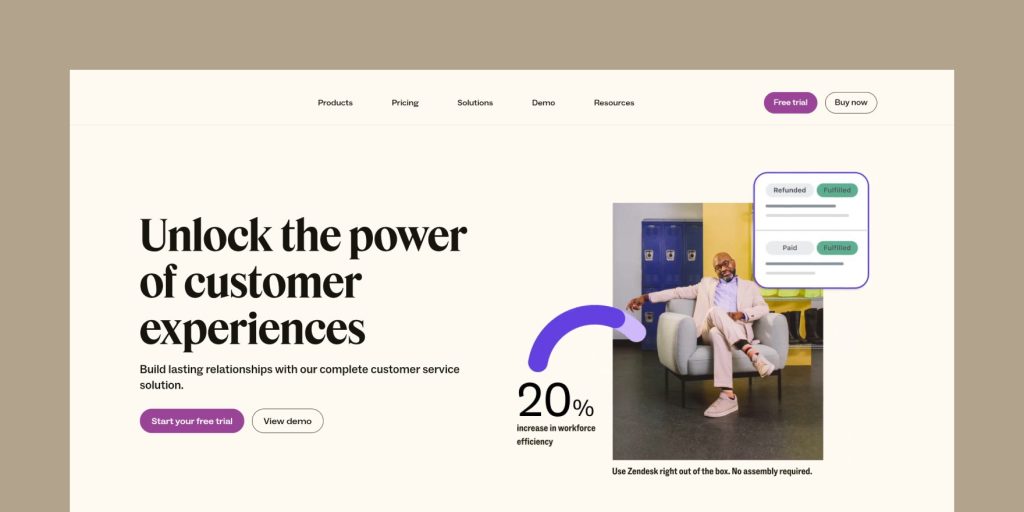 Another example of a CRM provider is Zendesk. It's mainly used to store customer data, although there are additional automated marketing features – it can be used to set up social media and email marketing, for instance.
Moosend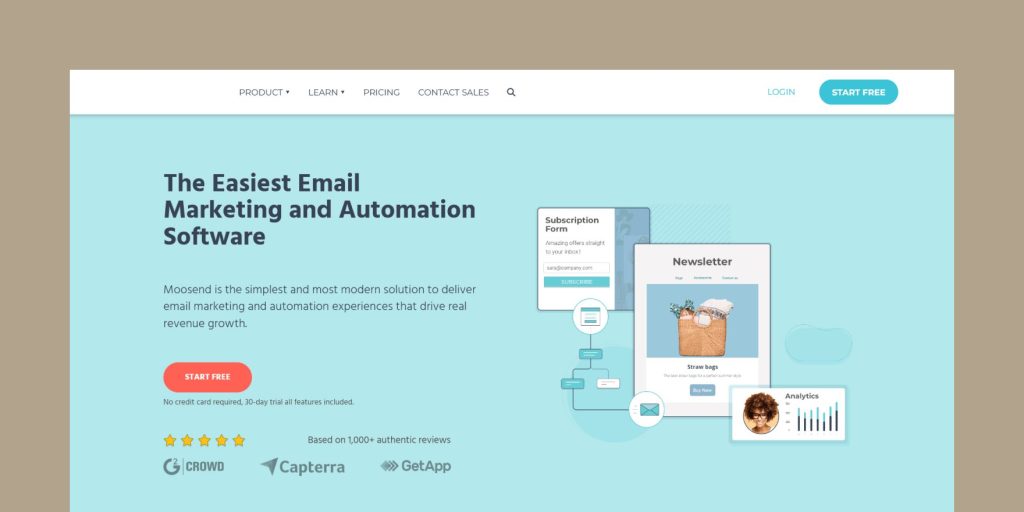 While HubSpot, Salesforce, and Zendesk are focused on providing CRM software, Moosend is largely a marketing automation platform.
As well as these marketing features, it does include a CRM integration function.
This means it can be used as both a CRM and marketing automation platform, although its pricing plans can be costly.
The best way to combine CRM and marketing automation
Many of the examples that we highlighted include some level of inbuilt CRM and marketing automation integration.
However, these integrated CRM and marketing automation platforms struggle to offer the same level of sophistication as using two separate pieces of software.
But how can you maintain the benefits offered by dedicated and separate CRM platforms and marketing automation providers while also combining the two to streamline your whole customer management and marketing strategy?
Fortunately, some of the best examples of marketing automation have been built to be easily integrated with your existing CRM platform.
Let's say that you use HubSpot for your CRM functions.
When you've integrated this with your marketing automation platform, the data that is stored there can be used to automatically populate your marketing materials.
Imagine that you're designing a document that you send out to clients to show off some new products.
Not only will your marketing automation software make designing this document easier than ever, but the products that are stored on HubSpot will automatically appear as you're making the document.
Let's take the PandaDoc/Hubspot integration, for example.
You can save time and streamline the entire document generation process by using templates and PandaDoc's content library.
You can then merge vital data directly into those documents while the content of standard and custom HubSpot fields are added automatically.
Alternatively, your customer sales team might need to send a contract to a customer.
Rather than having to manually trawl through customer data logs, integrating your CRM into your marketing automation tool will mean that the individual customer data that you need will be easily accessible from within the marketing automation platform.
Such a wide range of marketing automation functions are rarely available if you just use the automated marketing features that are included with CRM platforms.
Therefore, the best way to combine CRM and marketing automation is through the integration of separate platforms.
It's a great way to reap the benefits of using CRM and marketing automation together – and it can be used for most CRM platforms, including HubSpot, Zendesk, and Salesforce.
Use a CRM and marketing automation integration to win customers for your business
Whether you want to boost your lead generation, encourage collaboration within your organization, or design stronger personalized marketing campaigns, there's no doubt that integrating your CRM and marketing automation is the way forward.
Simply relying on the marketing automation features that are included in many CRM platforms, however, can restrict your efforts and creativity.
So which automated marketing providers should you use to make the most out of your CRM?
We recommend PandaDoc's marketing automation software.
As well as including all the features that you'd expect of an automated document workflow solution – such as streamlined production of marketing materials and other important documents – it's designed to be used with external CRM platforms.
This means that you can easily integrate your Salesforce, HubSpot, or other CRM platforms with your marketing automation tools.
CRM and marketing automation is a match made in heaven – use PandaDoc to help you achieve this integration today!
Disclaimer
PandDoc is not a law firm, or a substitute for an attorney or law firm. This page is not intended to and does not provide legal advice. Should you have legal questions on the validity of e-signatures or digital signatures and the enforceability thereof, please consult with an attorney or law firm. Use of PandaDocs services are governed by our Terms of Use and Privacy Policy.