In case you are struggling to keep track of all your customer interactions and data, a customer relationship management (CRM) solution might be just what you need.
In this article, you will learn about the different types of CRM systems, their benefits, and five tips to use your CRM effectively and improve your customer experience.
Key takeaways:
Optimal use of a CRM requires regular training and follow-up with your sales teams.
Prevent security breaches by clearly defining user permissions.
Ensure error-free reports by double-checking that your input data is accurate and up-to-date.
Choose a CRM that easily integrates with your favorite tech stack.
What is a CRM system?
First of all, customer relationship management software is a tool used by most companies to manage their sales pipelines, client interactions, customer journeys, and more.
In simple terms, this kind of system receives, stores and analyzes all the data of your customers and potential customers, all in one place.
As CRM applications get more and more advanced, customer data is not only used by the sales team but by all departments of the company, such as marketing, service, commerce, and IT.
5 ways to use your CRM software effectively
Here are five distinct ways that you can maximize the efficiency of your CRM.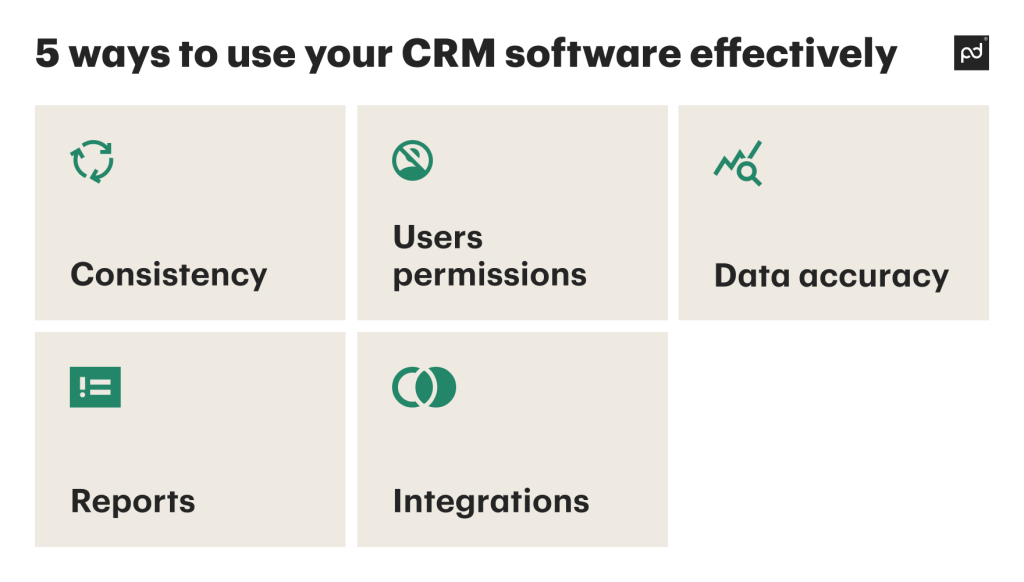 1. Consistency
No matter how good your CRM is, if you don't use it consistently (involving all your teams and providing the right data regularly), then your company's CRM implementation is likely to remain subpar.
This is, in fact, one of the major problems of CRM projects.
Some studies show that 30-60% of CRM projects fail due to poor user adoption from sales teams.
To solve this issue, you need to involve your teams in the project; for example, by setting up training with long-term follow-up.
Not all CRMs have the same learning curve, and some require more time to learn.
HubSpot, for example, provides many tutorials available online and has excellent customer service to help users.
2. Users permissions
As part of your business, you must maintain the integrity and confidentiality of customer data and prevent data breaches.
Your customer's safety and your reputation are at stake.
To best mitigate against any security issues, assign proper user permissions and ensure your employees access only relevant customer data and do so without compromising sensitive information.
HubSpot CRM makes it easy for you to manage permissions simply and efficiently.
Administrators can customize access for each user with an easy-to-use dashboard.
PandaDoc also gives advanced user permission options to manage your legal documents and business proposals and integrates perfectly with HubSpot's CRM system.
3. Data accuracy
Using your CRM most effectively requires making sure that the data that you input is both clean and accurate.
Salesforce reported that 91% of all data that goes into any CRM is incomplete, and 70% of that data goes bad within 12 months.
Your best option is to find a CRM that comes along with a data enrichment plan, meaning that it can take existing data and actually make sure that it's both current and accurate.
For example, Matching and Duplication rules in Salesforce allow you to establish criteria for identifying potential duplicates between records and manage them directly from the source.
With these features, you can ensure that your data is accurate and consistent, reducing the risk of errors and improving overall information quality.
4. Reports
To improve the use of your CRM, the fourth tip on our list is to streamline the creation of reports.
These days, companies have access to more and more data that is updated in real-time (cash flow, pipeline, customer retention, churn rate, etc.), which can complicate the creation of reports.
As a result, the challenge is extracting the most useful metrics in a sea of data.
HubSpot CRM is a relevant choice in this situation, thanks to its custom report generator.
The software allows you to display data from marketing and sales activities in addition to objects.
5. Integrations
The fifth tip for maximizing your CRM's effectiveness is to ensure that all of your third-party apps and CRM work harmoniously.
The average salesperson likely has several (or a couple dozen) browser tabs open.
If you are using Pandadoc for your business documents, you should know that the platform is perfectly compatible with CRM software such as Salesforce, Monday.com, or HubSpot.
So your sales representatives will be able to manage the creation of sales documents (quotes, contracts, business proposals, etc.) while using the main functions of the CRM.
Enhance your CRM with PandaDoc integration
Now, let's quickly recap. With the right CRM, you can optimize workflows across your entire organization, from sales to marketing to customer service.
If you're looking for a CRM that's easy to use, offers quality reports, and is compatible with your favorite tech stack, HubSpot is one of the best solutions for you.
To make your sales cycle even more efficient, use PandaDoc options alongside HubSpot to seamlessly collaborate and manage all your sales documents directly from your CRM.
Contact our sales rep to start your PandaDoc demo today!
Disclaimer
PandDoc is not a law firm, or a substitute for an attorney or law firm. This page is not intended to and does not provide legal advice. Should you have legal questions on the validity of e-signatures or digital signatures and the enforceability thereof, please consult with an attorney or law firm. Use of PandaDocs services are governed by our Terms of Use and Privacy Policy.