In the digital world of the internet and social media, virtual relationships can be maintained indefinitely.
The old and reliable communication channel of email marketing has been reborn.
Modern-day tools have leveled up what email drip campaigns can do for you.
What is a drip campaign?
A drip campaign is a structured or sequenced campaign of automated emails.
The flow of the campaign is based on triggers and autoresponders.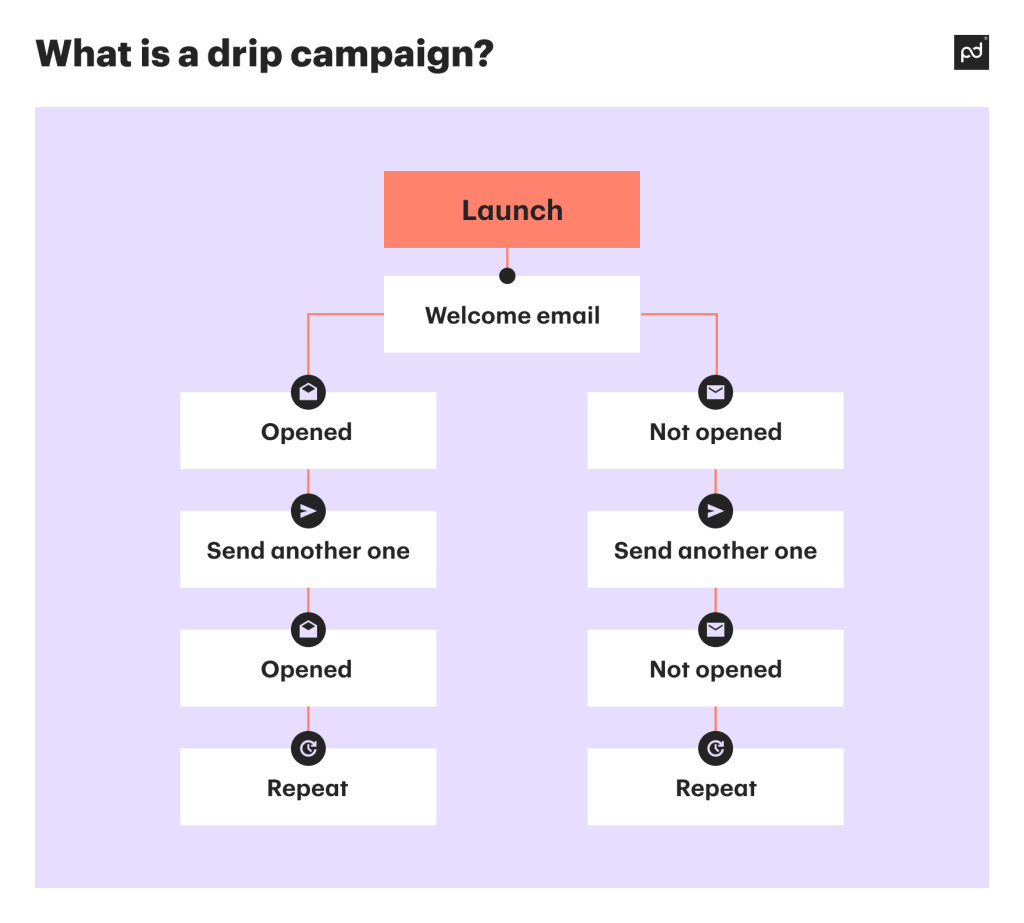 The email sequence proceeds at a relatively slow pace.
Once the drip campaign emails have been initiated, they'll automatically move from one event to the next according to a set schedule.
With drip email campaigns, the series of emails—and their content—is written ahead of time.
If a customer takes a specific action or if there's a lack thereof, the first email in the campaign will be sent as an auto-response.
Regardless of the customer action taken, the next email will follow at a set time and so forth until the drip campaign is complete (or the customer takes the solicited action and converts).
Why use drip campaigns?
Drip marketing campaigns combine newer technology and customer data with a well-trusted marketing channel.
This means you can level up your email marketing and reap many benefits for your business:
Engage customers
Drip campaigns are sent to customers based on demographic data and/or user behavior, which can make email personalization easier.
By sending relevant content to your customers and leads, you can expect better open rates and increased email marketing growth.
According to a case study, autoresponder cycle emails result in open rates of 52.4-90.1% for the first five emails.
This is lofty in comparison to the average open rate for marketing emails across all industries of just over 25%.
In other words, you'll be getting improved engagement with your target audience when using email marketing automation.
More engagement means more conversions and higher ROI for your marketing efforts.
Nurture leads
Drip campaigns offer an unobtrusive way to implement lead nurturing tactics.
When someone signs up for a webinar or downloads a white paper, they're already demonstrating a level of interest in your products.
Drip emails allow you to maintain contact with leads and nudge them further down the funnel.
For example, a first nurturing email might be a welcome or onboarding message.
The second might be free content relating to the first converting action.
After that, the next email in a nurturing campaign could be product FAQs.
The fourth email… Well, you get the point.
Depending on the aim of your campaign, you'll have ample opportunity to make a call-to-action (CTA) and qualify leads.
Brand imprint
While email drip campaigns give your customers relevant information and offers, they also help build a foundation.
Each interaction and touchpoint helps improve the brand recall of your target audience.
This means that you're helping customers keep your brand in mind.
So, if customers aren't ready to make a purchase right now, they'll still think of your brand when the time comes.
And when done effectively, they'll think of your brand with many positive associations.
Connect with disengaged customers
Drip campaigns aren't just beneficial for honing in on customers who take action.
They can also help bridge the gap with customers who don't take action.
These are your users or customers who gradually disengage from your brand and products.
Rather than give up and cut your losses, drip emails help you tactfully re-engage customers.
Emails are personal but non-invasive.
Many customers may just need a gentle reminder about your brand and why they chose it in the first place.
Others may be re-engaged with promotions or discounts.
A drip campaign helps you bring customers back into the fold with a streamlined process and strategy.
Implement with ease and efficiency
Automating sales processes and marketing strategies like drip campaigns is relatively easy.
"Why is this?" you ask. Well, today, you have access to email marketing and automation software that makes the process a breeze.
Drip campaign tools let you create emails and sequence flows in minutes.
Once set up, emails can be personalized with demographic and user data. You simply decide what data or behavior triggers a drip campaign and then set and forget.
This means you get nearly endless returns for an upfront investment of time and money.
Of course, email drip campaigns will need to be adjusted for accuracy to stay up to date.
Otherwise, you can relax and let automation handle the legwork.
Create more content opportunities
Email drip campaigns provide more content opportunities for your business.
Sure, you engage customers through one primary communication channel.
But from within that channel, you can drive customers to other content channels.
For instance, post-purchase emails can be a great way to direct users to relevant blog articles, FAQs, how-tos, or other website content.
You can also use them to promote webinars or other materials that explain and market your product.
By providing a wider range of content, you'll give your customers access to content through their preferred channels.
How many emails should be in a drip campaign?
Alright, so you're ready to implement drip marketing for your business.
Now, you want us to give you the inside information on just how many emails you need to create for success.
If you send too few emails, you'll miss out on opportunities, while too many emails might push customers away for good.
Drip campaigns must always be tailored to the nature of your business and your target audiences.
Simply put, there isn't a magic number of emails that produces the best results.
It will depend on the content of the emails and your overall marketing strategy.
With that being said, a general rule of thumb is that a drip campaign should be between four and ten emails.
For B2B customers, you'll usually aim toward the low end. With B2C marketing, you're more likely to run with a higher email count.
These can be spread over several days or a few weeks.
As with many things, you'll need to adjust this for performance over time.
A simple way to progress toward optimization is by using A/B testing for the number of emails in a campaign.
What is the cadence of an email drip campaign?
They don't call it a "drip" for nothing.
The cadence of a drip campaign reflects the fact you're playing the long game.
Every drop that falls into the cup helps it become that much fuller. This can be done in days, weeks, or even months.
Like the number of emails, the cadence of a drip campaign must be fit for purpose.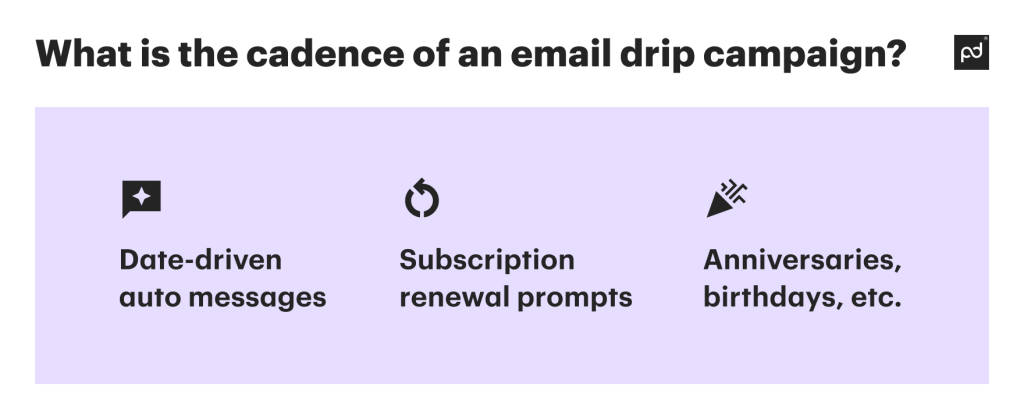 Things like your business, the customer, the sales cycle, and other details must be considered.
The first email should be sent immediately after it's triggered.
These initial drip emails will be something like a confirmation email after a purchase or a welcome email for creating an account.
What happens next will depend on the details and data held within your business. Typically, you'll wait a few days before sending the next email.
It depends a lot on what your business specializes in. If you're an eCommerce fashion retailer, you'll likely finish a campaign over several days or a week.
Whereas, if you're offering an enterprise solution, you may want to spread out fewer emails over weeks as this gives decision-makers ample time for due diligence.
Date-driven automated messages
An effective way to drive the cadence of your drip campaign is with date-driven automated messages.
First, you'll need to connect your email marketing tools to the CRM of your choice. This will ensure all necessary customer data is readily available.
Next, use email automation software to drive the pace of each email based on specific dates. In this way, drip campaigns are triggered and paced automatically.
For example, users who haven't purchased in 90 days can be started on a promotional drip campaign. The offers can escalate based on historical data to re-engage and increase revenue.
Subscription renewal prompts
For subscription renewal emails, you'll want to start the campaign weeks or months in advance of a subscription expiration date. First, send an email letting the recipients know what's happening.
If the user takes no action, each successive email should become more frequent.
Even if the customer doesn't renew, you can now begin an unsubscribed drip campaign. Don't think of them as lost customer but merely one that has shifted segments!
If your business operates with automatic renewals, you'll want to take a different approach. The frequency and cadence of the campaign should be lower.
Make sure the customer is aware of the renewal and use the opportunity to promote any upselling or cross-selling of your services.
Once the renewal is complete, you can send a confirmation email and begin a recent-purchase drip campaign.
Anniversaries, birthdays, and others
Birthdays and special occasions offer another opportunity for your business to implement email drip campaigns.
While these campaigns aren't based on user behavior, they can work just as effectively as other campaign triggers.
Typically, on special occasions, you'll send one to three emails before the event and one or two as a follow-up.
Offers, discounts, and free gifts work well when paired with these types of drip campaigns.
What are some drip campaign examples?
What does a drip campaign include?
Well, with the amount of user data being generated and collected every day, the possibilities of drip campaigns are endless.
However, there's no need to get too creative and think outside the box.
There are several drip campaign examples that can improve email outreach for your business: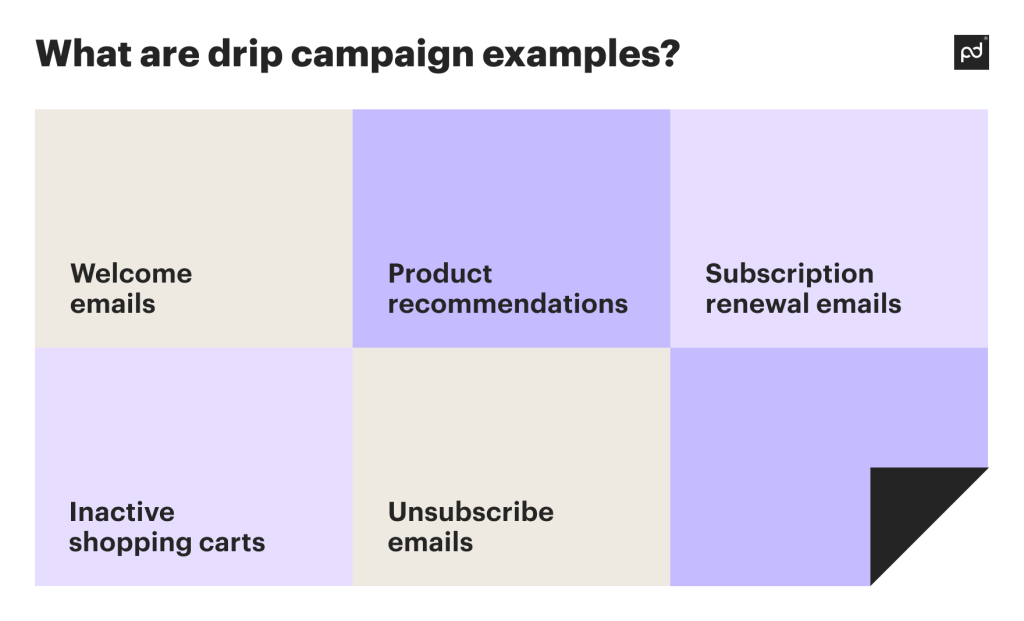 Welcome emails
In marketing, first impressions make a world of difference.
Welcome emails provide the gentlest of nudges to new customers and subscribers.
A welcome drip campaign allows you to start engaging prospects and gaining user data.
This type of campaign should be started immediately after a user signs up for a newsletter, creates an account, or takes any similar action on your website.
Onboarding emails allow you to better inform potential customers, as well as entice them with coupon offers.
Welcome emails should be sent out every two or three days. These campaigns shouldn't involve a large number of emails, so don't push the total over four. You don't want to wear out your welcome with a new or prospective customer.
Product recommendations
Anytime you load up your favorite streaming platform or hop onto a behemoth like Amazon, you'll see a range of recommendations.
If the big guns are using this tactic, it means you should too.
Product recommendations are a type of email that creates upselling and cross-selling opportunities for your business.
These drip campaigns can be triggered when a customer either buys a product or adds it to their wishlist.
Product recommendation emails work best by suggesting new products related to a recently viewed or purchased product.
For example, if a customer bought a guitar, you could start a drip campaign for guitar maintenance products like fretboard polish, guitar strings, or an extended warranty.
You could also send emails marketing products that similar customers also purchased.
Subscription renewal emails
If you offer a service, it's pertinent to nudge your customers toward renewing their subscriptions.
It's much more cost-effective to keep existing customers than to acquire new subscribers.
With a subscription renewal campaign, you'll automate the process of engaging customers and restarting the customer journey.
Drip emails should trigger at a set time before an account expires. From there, you can start simply and work toward more prominent CTAs as the expiration deadline approaches.
For example, the first email could be a how-to for renewing a subscription. The second email could let readers know what they'll lose if they don't renew.
The third email may be a one-time discount to "renew now." After the renewal has taken place, a fourth email could ask them to turn on automatic renewals with a single click.
Inactive shopping carts
No matter your industry, all in eCommerce suffer from abandoned shopping carts.
Whether a product or service, many customers add items with the intent to make a purchase, but then something interrupts them.
Unfortunately, many of these customers never return to complete the transaction.
The reasons for an abandoned shopping cart are vast but include the following:
Shipping costs are too high
Slow loading of the shopping cart
Shipping times are too slow
Hidden or additional fees
Not enough payment methods
Day-to-day tasks interrupted the process
The customer meant to return but forgot.
Some of these obstacles are easier to overcome than others.
The main point is that abandoned cart emails can be triggered as soon as a customer abandons their shopping cart.
Then, over several days, gentle reminders can be sent to entice customers to return to their orders and hit that "pay now" button.
You can even send a survey or questionnaire that lets you understand why the cart was abandoned and respond in kind.
If shipping costs are too high, offer a promo code for free shipping.
Unsubscribe emails
You might be using the best sales pipeline software, but that doesn't mean you can ignore your best assets–your existing customers!
When a customer clicks that "unsubscribe" button, it doesn't have to be the death of their relationship with your business.
Instead, take the opportunity to attempt to ameliorate the process.
Once a customer cancels their subscription, a "we're sorry to see you go" email should be automatically sent.
Keep it clear and concise. This first email is to keep your brand at top of mind.
Slowly, a sequence of emails can be sent that attempt to bring the customer back into subscription status.
Consider saving promotions or incentives as a last resort. First, offer useful content or tips and hacks for using the service as well as attempt to gain user feedback.
Always remember, if they hit that "unsubscribe" button from the drip email, you'll need to cease contacting them.
How to create an email drip campaign
Email drip campaigns may seem a bit complicated, but this couldn't be further from the truth.
They're straightforward to set up and implement.
Learning how to write a drip email campaign can be as simple as following six easy steps: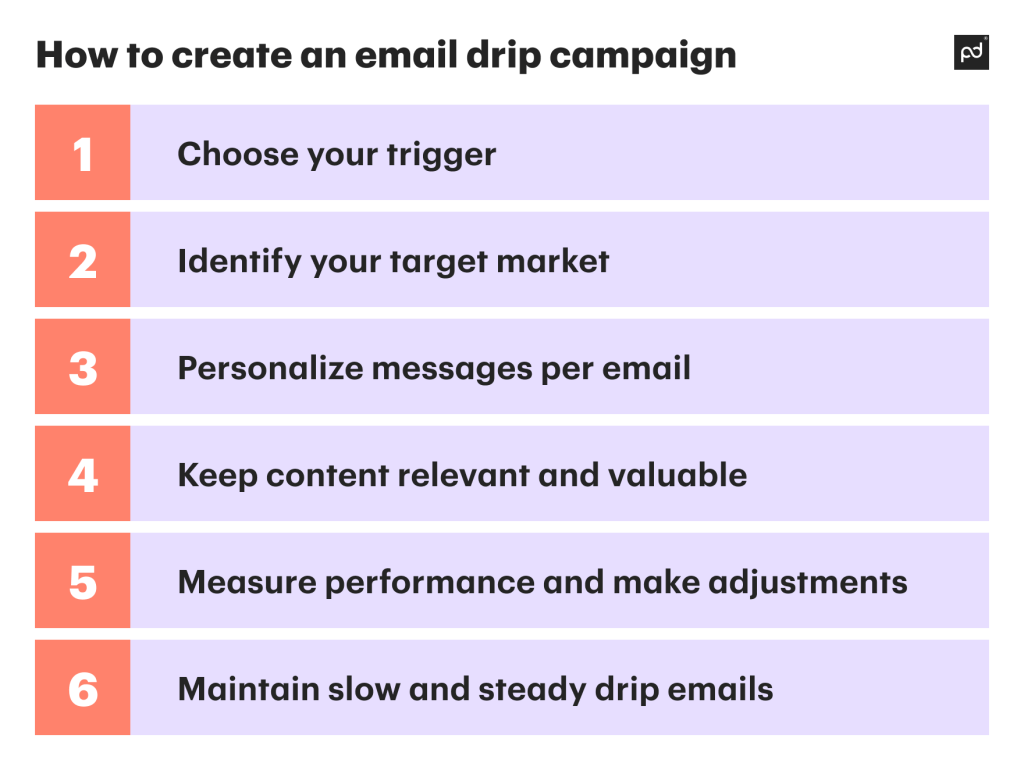 1. Choose your trigger
Before setting up a drip campaign, you need to choose your trigger.
These user actions, or lack thereof, will trigger your campaign to initiate.
Triggers could also be demographic information like a user's birthday or new account creation/subscriptions.
An example would be cart abandonment.
Once a customer's shopping cart becomes inactive, you can have email automation software send the first in a series of cart abandonment emails.
Another example would be when a customer takes action on a landing page on your website.
This could be to sign up for a free download or to subscribe to a newsletter.
2. Identify your target market
Choosing your trigger goes hand in hand with identifying your target customers.
In fact, choosing a trigger may ultimately segment your email lists for you. This helps you personalize your drip campaigns for niche customers and increase campaign engagement.
In this way, your customers will be segmented based on actions taken or demographic categories.
Examples of actions taken include:
Newsletter subscription
Free product or app download
Webinar subscription
The user opens and clicks through promotional emails.
Examples of demographic categories include:
How often users visit your website
User birthday, anniversary, or other special occasions
Service renewal date
Length of customer relationship
How much they spend monthly, quarterly, or annually.
3. Personalize messages per email
Each drip campaign you create will have the bulk of its content pre-arranged.
Additionally, the email schedule will already be set in place, and emails will be sent automatically.
However, that doesn't mean you can't include a human touch in a machine-driven process.
Use email marketing software that lets you build drip email templates. In this way, messages can be personalized with demographic and user behavior data.
Names, birthdays, and product recommendations are all easy ways to tailor content for customers.
Additionally, timely triggers can up the human touch. For example, you could send an email like "Congrats on your purchase of product X.
Here are some tips and hacks customers like you have found useful."
4. Keep content relevant and valuable
Remember, drip campaigns err on the side of caution with engagement. In other words, most of the time, you're only giving the gentlest of nudges to the customer.
Rather than coming across as sales-driven and pushy, make sure you always offer relevant and valuable email content.
This includes sending follow-up emails with links to useful blog posts, video tutorials, FAQs, and other informative and engaging content.
Your drip campaign should be built on selling the benefits of your products and services while also giving free and useful content to the customer.
Content is king, and due diligence is required.
So it might be a good idea to read more about how to write winning sales emails to help you get the most out of your email marketing.
5. Measure performance and make adjustments
Every email marketing campaign needs measurable metrics.
Otherwise, you'll have no way to judge its performance and/or improve the campaign.
Simple but powerful KPIs can be tracked with email automation solutions.
KPIs you should monitor include the following:
Email open rates: This is the first barrier to conversion. If your drip emails aren't being opened, it's back to the drawing board with subject lines or content.
Click-through rates: How far along do customers make it through the content? Do they take action to completion?
Conversion rate: How many customers respond positively to CTAs in your drip campaign?
Unsubscribe over time: How many are vacating your drip campaigns and/or your service?
Time-to-customer conversion: At what point, on average, do most customers convert during the campaign?
6. Maintain slow and steady drip emails
Use your email campaign automation tools to maintain the cadence and quantity of your drip emails.
Email workflow automation not only makes your life easier, but it also helps maintain consistency across the board.
Once you've created one drip campaign, you can move on to building the next one.
Soon, you'll be armed with a fleet of drip campaigns with plenty of triggers in place to automatically start each one.
In this way, the majority of your customers will be constantly fed a steady diet of drip emails due to user actions or demographic data.
This means you keep a constant channel of communication that continually nudges the customer down the sales funnel.
You can get started with your drip campaign today by checking out our free sales email templates that generate leads.
Create endless ripples with email drip campaigns
Every email you send is like a drop of rain landing on a lake. Each time an endless number of ripples are created.
Over time, these ripples are additive and can crest into waves that carry customers to the next step of the buying process.
Email drip campaigns help keep your brand in mind and keep customers continually engaged.
When they're ready to make a purchase, your drip campaigns will be there to ensure a smooth and rapid process.
Disclaimer
PandDoc is not a law firm, or a substitute for an attorney or law firm. This page is not intended to and does not provide legal advice. Should you have legal questions on the validity of e-signatures or digital signatures and the enforceability thereof, please consult with an attorney or law firm. Use of PandaDocs services are governed by our Terms of Use and Privacy Policy.