Document control is the practice of creating and enforcing document management standards as a form of quality control.
The term refers to how relevant procedures, software, and specific professions all interact regarding your company's documentation.
In a broader sense, it references how the hierarchy overseeing your document control process is structured, how seamless and transparent it is to navigate the documentation trail, and the level of accountability applied to each stakeholder or user in the document journey, from origination to archiving.
In other words, this:
When it comes to overseeing your business documentation, it's cool to be a control freak.
This is your livelihood, after all, and you don't want it to start (ahem) spiraling out of control. But you can't — and shouldn't — micromanage everything, so what to do?
Enter the beauty that is automation software.
Automating task management assists document control by applying standardized practices in the formation, modification, disbursement, and signing of documents within an organization.
It covers both internal and external records, and reduces human error.
Think of document control as a mixture of the following:
Best practices uniquely germane to your industry (for example, CFRs set forth by the FDA regarding the document control process for medical devices are extremely specific).
Standardized retention and archiving principles adopted by quality management systems (like the criteria highlighted in ISO 9001 certification), which helps companies further demonstrate the high quality of their products and services.
Document management software that just flat-out optimizes getting the job done right the first time. (Hello! PandaDoc is right here, ready to help streamline your operation through customized workflows.)
And with that in mind, let's get further acquainted with document control.
We'll show you how leveling up your automation game frees up countless hours while safely ensuring the right docs get in front of the right eyeballs, and exactly when they are supposed to.
Here we go!
1. Please control yourself
Ok, we mean the lifecycle of data and documentation at your company, nothing else (no need to call HR).
Kidding aside, why should you put so much emphasis on document control? Why invest the up-front time to ensure that the procedures around document creation, distribution, versioning, review and archiving are intelligently set in place?
The question really is: Why wouldn't you do that?
The dividends to be paid out, especially now, with the advent of dedicated software to assist with automation, are considerable over time — it's the countless hours you're getting back, added into the plus column of your life, while simultaneously seeing to it that quality assurance remains tip-top.
Document control is one of the primary ingredients of any organization's operations, a key component of a document management system (DMS).
Properly implemented document control procedures not only ensure the stable quality of all legal paperwork, but also provide firm footing to boost operational efficiency.
Direct benefits of implementing document control include:
Improved data security
Efficient data backup and data recovery procedures
Reduced storage space and associated costs
Improved time management across the ecosystem that is documentation creation, negotiation, distribution, and signing
Enhanced collaboration between team members and external providers
And, as we mentioned at the outset, intelligent document control is synonymous with automated workflows; likewise, smart automation only strengthens a competent DMS.
Put another way:
Proactive document control is way better than reactive damage control.
Something to keep in mind as we continue. So let's continue!
2. Crowd control (let's talk procedures)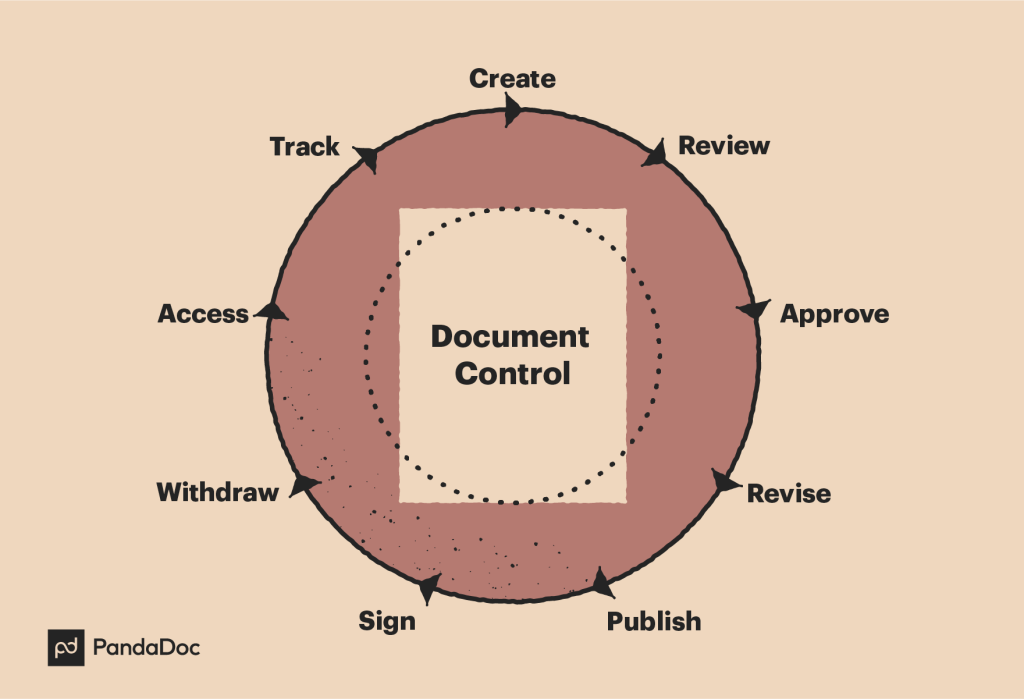 Procedures establish workflows. It's really as simple as that.
Our mission at PandaDoc is to streamline and automate those document control workflows in a way that sees efficiencies skyrocket while squashing hours lost to human-operated redundancy.
These procedures detail how documents are:
Created
Reviewed
Approved
Revised
Published
Signed
Withdrawn
Accessed
Tracked
Organizations automate them by implementing document control systems.
Document control system
A document control system is a mix of processes, workflows, and software used to oversee documents and document management within an organization.
Document control is an important aspect of document management, and sometimes those terms are used interchangeably.
Document control software
The term document control software usually refers to electronic document management systems (either EDMS or DMS), or some of their functionalities, such as permission management, digital storage, version history, etc.
The document control software employs technology to streamline a document control system of an organization.
To better understand what this software is, let's take a look at what it does.
Document control software features
Alongside the bounty that is automated workflows, dedicated document control software propels the following into business reality:
Secure document sharing allows easy collaboration within an organization and beyond, while protecting sensitive data from unauthorized access.
Document tracking provides information about who opened the document and when, and which actions they performed. The tool should also keep a complete version history of each file so you can find and retrieve a particular version from any point in the lifecycle of the document.
Document storage ensures that all your documents, templates, and drafts are easily accessible, safe, and in one place.
Assigning permissions for different user types to avoid unauthorized access.
Approval workflow that automates the approval process and streamlines collaboration between employees.
Automated notifications that inform relevant staff about certain events, such as a new comment from a client, a signed document, or when a person didn't fill out a form within an expected time frame.
Smart document generation with customized templates, design features, auto-fill based on the client data from your CRM, etc.
eSignatures that enable signing legally binding documents online.
Integrations with other software systems you use in your business; for example, a CRM, a design or project management tool.
So far, we've covered definitions, procedures and the feature benefits of an intelligent approach to document control.
It's now time to shift toward application, and elevate this overview from conceptual to pragmatic.
3. You're so controlling! (And it's a good thing)
Now that we're all warmed up on the fundamentals of document management systems, let's jump into a practical, step-by-step guide on how your organization can properly implement document control procedures.
Assign ownership
Ownership sits at the masthead of document trust and responsibility. Perhaps you're running a law firm or work in the pharma industry.
Maybe you're a fintech startup reimagining global payments, or write software for clients in shipping and logistics.
Or maybe you're the insurance broker for an amusement park — the genre doesn't matter, because one thing every business has in common is that there will be unique demands around document creation, document review and distribution, secure document storage, and everything else in between.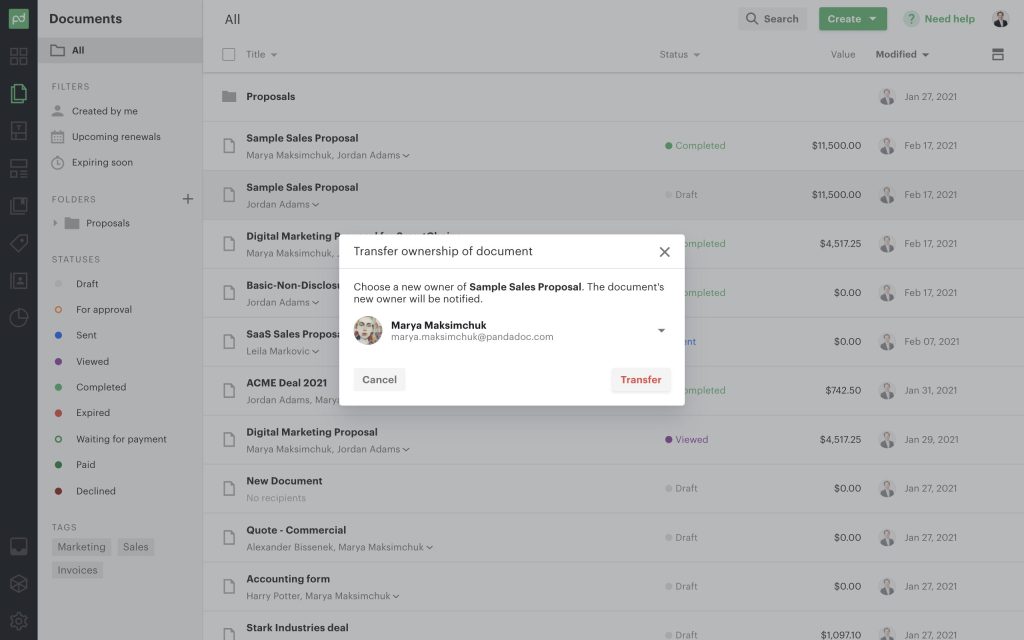 Defining who is accountable for what, and at which stage, along the documentation journey is essential — it creates a transparent funnel of accountability, and that's a must for a business to truly flourish.
Depending on the workload, owners or PMs can opt between hiring a dedicated document control specialist, outsourcing the servicing required or assigning that task in-house to a specified team.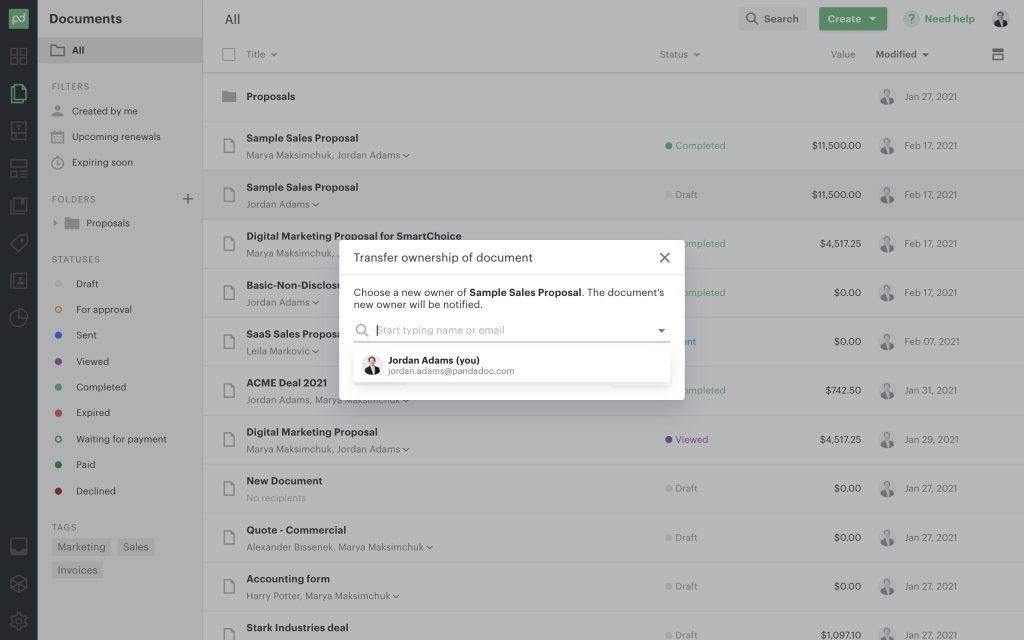 Whichever method is chosen, designate one owner (or team) who will be held accountable for document control. Any subsequent stakeholders will then be the responsibility of that owner.
Understand document workflows
The next step is to create a map of current document workflows, marking the control points on the plan.
This sounds basic — because, conceptually, it is — yet it may also be easier to understand than to consistently keep in effective motion day in and day out.
For example, we can picture the water in reservoirs held by municipalities, and the steps it goes through to get to our faucets.
Or how getting from A to B in our car requires a street, maybe a freeway, perhaps a gas station, dealing with traffic congestion, etc., before arriving at our destination.
Does it always go flawlessly? Nope! Can we apply common sense and some smart tech to better understand water usage or traffic patterns? Yes, we can!
The same applies to organizing workflows around the types of documents in a document control framework: Are they sensitive documents?
Are they obsolete documents? Are they internal, eyes-only, or are they client-facing external documents? Or a combo of some of the above?
In every respect, better organization is key, and that begins with understanding what needs to be done with which company docs, where along the chain this occurs, and when.
Establish SOPs
They say the devil lies in the details, and if your document control process is sloppy or simply unstructured/sub-optimal, it may feel like Satan himself is setting your business a flame, one poorly-filed spreadsheet at a time.
Which is to say it's best to make sure all standard operating procedures are crystal clear and rock solid.
The previous step has potentially revealed inconsistencies in your current procedures.
Make a copy of the file you created, your new map listed above, and adjust it with suggested improvements, as well as new workflows and control points you want to incorporate into your SOPs.
In the end, you should have a draft of a document control system that you will then implement during the next stages of the process.
Define user types and assign permissions
App permissions are not necessarily the same as the organizational structure in your company.
Make sure you group your employees or teams into user types in a way that provides everyone with all the data and permissions they need to perform their duties effectively. And only that.
Also, keep it simple! This is, after all, a way to harness the capabilities of automation: expedited workflows, going paperless, and deploying transparency throughout the document lifecycle.
A key objective here is better collaboration across the enterprise — an entirely reasonable, totally attainable goal.
Implement document control software
At this point, you have a clear understanding of your requirements, and are ready to choose the best off-the-shelf tool or DMS partner for your use case.
At PandaDoc, this is also where stewardship comes in, if needed. We'll walk you through the integrations possible, based upon the unique needs of your business, and guide you on how to best optimize the document control process.
No matter which tool you decide upon or what you choose as the best solution, it's time to turn your diagrams and the materials you prepared previously into automated workflows — upload or create templates, assign users, and so forth.
Don't stop now, you got this!
Train the teams, launch, review, and adjust
The last step before the official launch is to ensure all team members have access to the new tools, understand new methodology, and so forth.
Bottom line, the team(s) need to be comfortable implementing any new tech and/or procedural changes to document control.
It's best to block out some time in your calendar or make sure support agents are available to help people in the first weeks during roll out, if necessary.
Inform employees and relevant external providers about the launch in advance. Ideally, provide them with easy-to-follow instructions with relatable common use cases.
The assigned owner remains accountable for the document control procedures and software after the launch. The processes, templates, permissions — everything in the system — must be kept up to date and regularly assessed.
Ok, let's wrap this up. Time for final thoughts!
4. Cruise control (an effective DMS is your strategic co-pilot)
Document control is at the core of quality management and compliance. Having the right procedures in place ensures that data and documents remain safe, trustworthy, legally binding and updated on schedule.
But managing complex documentation — the procedures and permissions, the archiving and audit trails, the templates for and routing of myriad types of documents — can all be a productivity killer.
Add to that the potential consequences of noncompliance with legal statutes or CFRs if your docs aren't in order and you have a bubbling data cauldron of slings and arrows that, frankly, you just don't have time for.
This is when a reliable, secure and organized document management system comes to the rescue, by way of a trusted partner providing a customized DMS tailored to your business needs.
Working together, you'll solidify that all-important foundation for optimizing company operations: ensuring that documents are exactly where they're supposed to be, when they're supposed to be there.
Sign up for a 14-day free trial and check out how PandaDoc can improve your document control process!