It's a universal fact that businesses only function if they're being paid for their goods and/or services. Invoices facilitate making those payments occur.
However, creating invoices can be quite the task — be it the multitude of alignment changes you have to make for every field to look symmetrical and professional, or the fact that adding in taxes can be quite taxing. Simply put, invoices are not the favorite part of any business.
Still, they must be generated. And that is why invoicing software has proven to be one of the most useful innovations of the 21st century.
You can quickly itemize charges and get a comprehensive invoice with the click of a button.
But with all the options out there, how do you know which invoicing software is best suited to your business needs?
Fear not! We've rounded up a list of the best invoicing software available and compared all their aspects, including price, features, user reviews, etc., so that you can make an informed decision.
What is an invoice?
Sure, we all know what an invoice looks like, but do we really know what an invoice consists of?
Here are the basics:
The very word itself (every invoice needs to have an indicator that it is an invoice — and there's no better way to do that than to write the very word itself).
Seller details (you need to address the invoice to someone; so, seller details, including their contact information will be mentioned in your invoice).
Total amount due (this section includes pricing, purchase type, discounts applied, taxes levied, etc, etc.)
Payment method (this one is not an absolute necessity but many contractors put payment methods on their invoices, sometimes including bank details).
What are the best options for invoicing software?
Since this is a subjective question, the answer is bound to be subjective too, but we'll do our best to compare all elements of the top invoicing software choices so that you can select one based on your business needs.
Let's get to it!
01. FreshBooks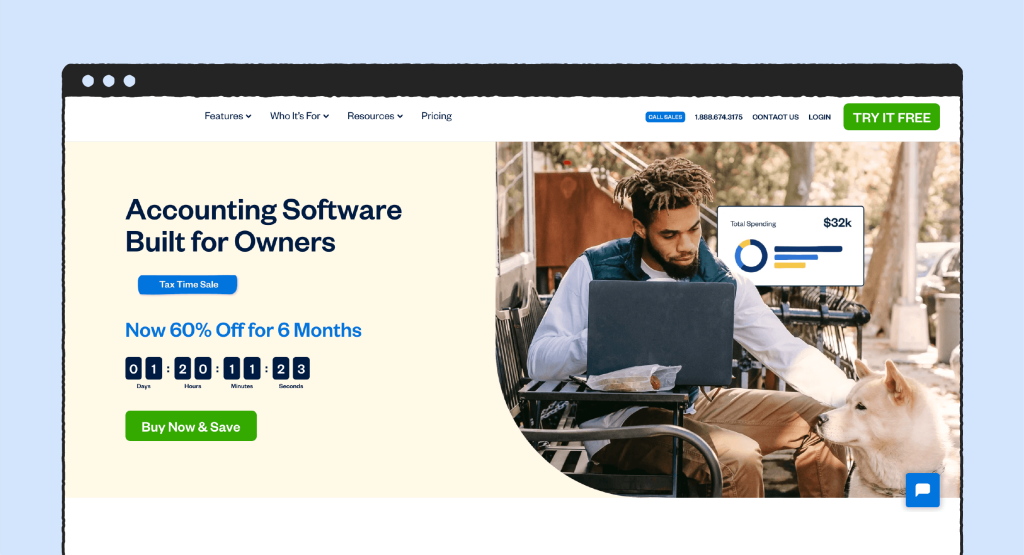 Freshbook has many accounting features that allow you to automate repetitive tasks and save time in managing your invoices.
Key features
Advanced functions for invoices
The accounting software offers a library of customizable invoice templates as well as automatic sending and payment reminder functions.
You can even add late payment fees to encourage your customers to pay quickly. Also, your customers can pay you directly by credit card.
Expense management
The software allows you to organize and store your receipts easily and provides a complete summary of your expenses, ensuring that you stay within your budget.
In addition, the invoicing tool has a tax-compliant category and multi-currency functions that allow you to have a total overview of your expenses.
Time tracking capabilities
Thanks to the different functionalities, you can easily invoice the hours of follow-up.
The time tracking feature also allows you to record the time of your teams which you can add to your client's invoices.
Access on all devices
Finally, you can easily manage and view all your invoices on your desktop or on mobile devices such as Android or iPhone.
Pros: Everything is automated with Freshbooks — and that may be an understatement because you can track payments, send customized reminders, access multiple files, chat with team members, and do lots more.
Cons: Since the product was created with the aim of serving SMBs, it does not suit the functions of a large enterprise.
Pricing: At the present moment, Freshbooks is available at an offer of 60% off for 6 months — so the pricing falls between $6.8 – $22/month. You can also access a free 30 day trial.
Customer reviews: The company has received a rating of 8.1/10 from TrustRadius.
Created specifically for small and medium enterprises, Freshbooks is an accounting and invoicing software that does a lot more than just invoicing.
It also explores other tasks, such as expense tracking, time tracking, management reporting, double-entry accounting, etc.
The main aim of Freshbooks is to streamline your business, and it does so by providing useful in-app features that come with an impressive amount of integrations.
Presently, the company has a presence in over 160 countries and more than 30 million people have used the software.
According to the company's claims, a business can save 192 hours a year by using their product.
Does PandaDoc have this feature?
If you want to have more flexibility and choice for money transfers, you should know that Freshbook has three payment gateways (FreshBooks Payments, Stripe, and PayPal), while PandaDoc has 5 (Stripe, PayPal, Authorize, Square, and Quickbooks).
Moreover, it is possible to integrate PandaDoc software into FreshBooks to benefit from advanced document management functions.
02. PandaDoc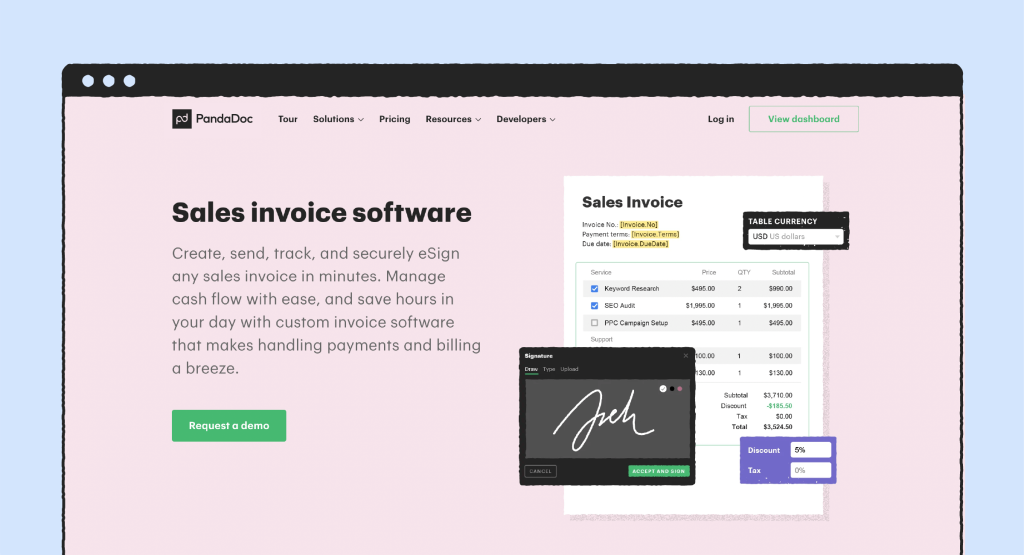 PandaDoc provides detailed insights and a bird's eye-view on invoice metrics, including details like what might be creating payment delays, time spent viewing the invoice, when your client views the invoice, etc.
Key features
Create your invoices easily
Whether you have a large or small team, the invoicing tool allows you to create customizable sales invoices (including GIFs, videos, interactive pricing tables, etc.).
Plus, you can see when your sales invoice has been opened or read.
Payment channel management
Within a single document, PandaDoc offers a variety of adaptable payment options, including ACH payments, credit/debit cards, and PayPal.
Additionally, the billing software is compatible with major payment processors like Quickbooks, Authorize.com, Stripe, PayPal, and Square.
Integration feature
Save time on your invoices by integrating PandaDoc with your enterprise CRM such as Salesforce or Zoho.
The invoicing software also features a library of invoice templates and recurring payment management.
Sign your documents
The electronic signature guarantees the authenticity of the document and protects you from fraud attempts.
Pros: Since PandaDoc is more than just an invoicing software, its key feature is that you can attain many functions and capabilities other than just invoicing (e-signatures, contract management, cloud-based backups, etc., are just some of the added benefits).
Cons: PandaDoc was not specifically created only for invoices, so "cons" in quotes here — it was created for a vast amount of functions, invoices being one of them.
Pricing: There is an option that allows you to use PandaDoc for free. However, pro versions like Essentials and Business plans are available at $19/month and $49/month, respectively. An Enterprise version is available, too — simply request for pricing.
Customer reviews: PandaDoc has a rating of 4.9/5 from Finances Online, along with a user satisfaction score of 95%.
We're not ones to praise ourselves, but when it comes to our invoicing software, we deserve all praise.
PandaDoc's cloud-based solution allows you to securely automate payments quickly while keeping an eye on your accounting and benefiting from multiple integrations with payment platforms.
With ready-made templates and drag-and-drop functionality, you can fully customize your invoices.
In addition, the user-friendly tables give you an overview of all your financial transactions (payment deadlines, recurring payments, payroll, etc.).
Our main objective is to allow convenience and create easy accessibility, meaning that we go the extra mile to make our software easy to use, secure, and seamless.
03. Zoho Books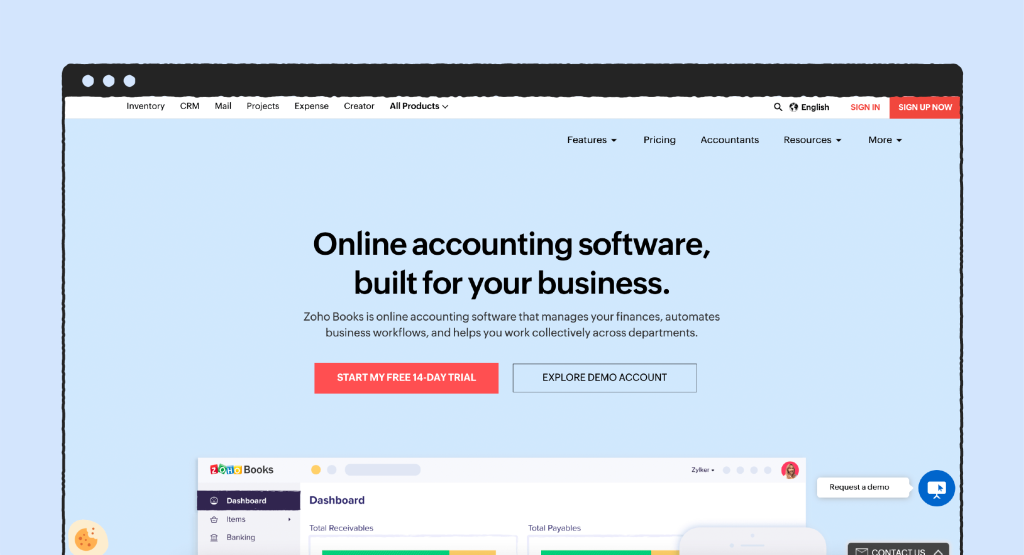 Everything is available at a glance — including how much time and money you've spent/sent, and your business information (products/services sold, customers, etc).
Key features
Send professional invoices
Zoho Books' features include customizable invoice creation, multi-currency pricing, automatic reminders to your customers and multiple payment methods (cash, check, online).
Accounting Customer Portal
This feature allows you to manage your customer billing.
You can share recent transactions and speed up the quote approval process so your customers can make bulk payments.
Project management
You can also track the time spent on each of your projects and indicate the corresponding billing (per hour, per day, paid plan, etc.).
Accounts vendor management
This option allows your suppliers to manage their own transactions.
Your suppliers can see the status of invoice payments, view statements, leave comments on your documents and get a consolidated view of all transactions.
Pros: Making invoices on Zoho is extremely easy — from payment options, to verifying transactions, to handling returns, to automated processes — everything is right there on the dashboard.
Cons: Its mobile application is not as easy to use, nor does it have all the features and integrations as the website.
Pricing: You can use Zoho for free if your team is small. However, there are several other pricing options starting from $10/month and ending at $200/month.
Customer reviews: TrustRadius rates Zoho Books at 8.1/10, keeping all factors in mind.
In its own words, "Zoho Books makes invoicing and managing receivables effortless." The company was launched in 2005 as an office suite and has recently expanded into Zoho Sites, Zoho CRM, and Zoho Workplaces.
The best part of Zoho is that it can function in many countries, and because of the way that it's developed, it allows for easy currency conversion.
Similar to other software on the list, its expertise is to serve small and medium enterprises.
You can create invoices and set them to auto-repeat, integrate multiple payment options (cash, credit card, check, web), and can automate follow-ups.
Does PandaDoc have this feature?
The free version of Zoho is limited in features, and it will be necessary to go the paid route to have access to options such as multi-currency or payment portals (limited to three in the free version. In addition, PandaDoc offers more possibilities in terms of invoice templates and creation.
If you are familiar with the Zoho environment, you should know that PandaDoc integrates perfectly with the software.
04. QuickBooks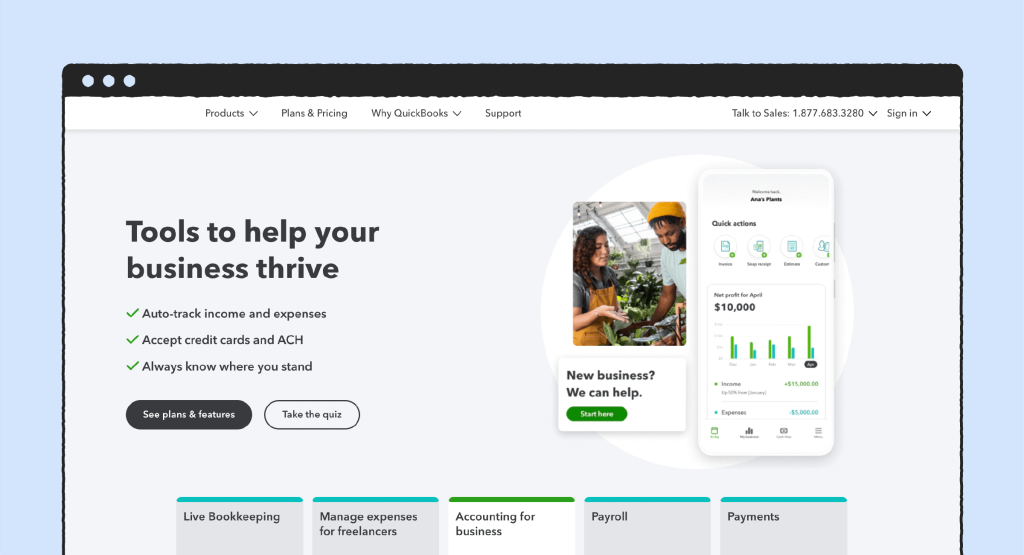 QuickBooks offers different accounting and billing options that are useful for small business owners. Here are the main features of the invoicing software.
Key features
Smart tax management
This accounting tool helps you track and report value-added tax (VAT) and goods and services tax (GST). You can also insert your own tax rates.
Custom invoices
You can customize your invoices by adding automatic invoice reminders, setting up recurring billing for repeat customers, and adding taxes, discounts, and shipping costs.
Follow your invoices on your bank
Connect your bank to QuickBooks Online to automatically track and manage bank transactions, securely import income and expense data and receive reports on your bank and credit card transactions.
Pros: The best part about QuickBooks is that it allows you to deal with multiple invoices and accounts all at the same time (in batches), which is a feat that not all invoicing software achieves.
Cons: Since it's been around for several years, QuickBooks has worked on many of its major flaws. That being said, customer service is usually a worrying problem for the company.
Pricing: QuickBooks humbly starts off at a price of $8.50/month (for all the basic features), but it also has options between that and the price point of $18/month (for all the advanced features).
Customer reviews: Based on Kylie McQuarrie's review on Business.org, QuickBooks has been rated at 3.9/5.
Marketed by Intuit, the QuickBooks software is most commonly referred to as "QuickBooks-Intuit" and it stands out as a veteran in the world of invoicing software.
As of today, the app has over 650 integrations and more than 4.5 million users globally.
With QuickBooks, you can track expenses, organize receipts, accept payments, send estimates, oversee cash flow, check tax payments, pay bills, track time and inventory, manage contracts, and check profitability.
If you think that's comprehensive, there's much more to add.
Here are some of the other features QuickBooks has: business insights, analytical interpretation, data backup, automated workflows, customized access, and tons of other features.
Does PandaDoc have this feature?
The customization features on Quickbooks are limited.
However, you can integrate PandaDoc into QuickBooks, which will allow you to create invoices more easily with drag and drop.
PandaDoc also allows you to sign all your important documents electronically.
05. Wave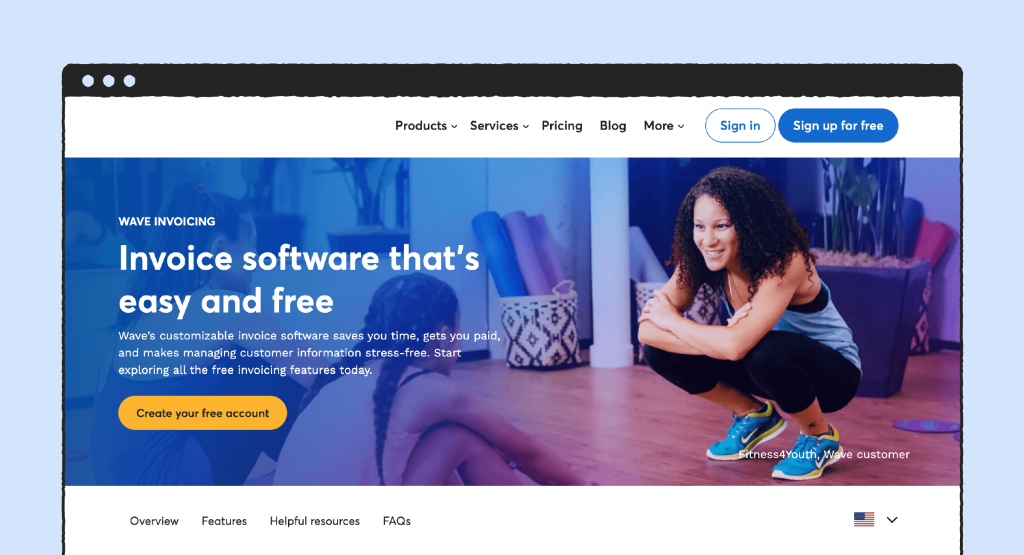 This invoicing app offers many free options such as invoice creation and personalization, notification sending, and accounting management.
Key features
Small business banking
Wave Money is a mobile app-based banking account for small business owners that comes with both a Visa business debit card and a virtual card.
You can separate business and personal transactions and deposit checks, and track income.
Online payment capabilities
The application accepts many online payment methods (Visa, Mastercard, American Express, Apple Pay) and is fully secure (Wave is a PCI-DSS Level 1 Service Provider).
Pay your employees
the software also allows you to save time on paying your employees by integrating all taxes automatically (whether they are active employees or freelancers).
Pros: Wave has all the credibility and features of a paid invoicing software — be it creating invoices, automated payments, recurring bills, accessing information, tracking payment, accepting payment through multiple options, and lots more.
Cons: Here's a hidden cost that the software has: if you accept electronic payments, you've agreed to pay an extra charge.
Pricing: Wave is entirely free to anyone who wants to use the software. The software offers a Payroll feature that costs $40/month. In addition, Wave offers consulting services from $149/month to $379/month.
Customer reviews: Erica Sappala from Merchants Maverick gives Wave a rating of 4/5.
Launched in 2009, Wave has created "waves" in the e-invoicing industry.
For a brief period of time, it also delved into credit card processing, receipt scanning, payrolls, and lending — a few of these features which have now been discontinued by the app.
This app is best for small businesses and self-employed folks who are looking to track monthly invoices without spending any money (yes, it's entirely free and it doesn't even have a freemium option attached to it).
The software is well-equipped, and customizable, and makes invoicing work stress-free.
Does PandaDoc have this feature?
The software is free and very easy to use, with a user-friendly interface.
However, customer support remains limited, as well as payroll management and document customization, which is not the case with PandaDoc.
06. Xero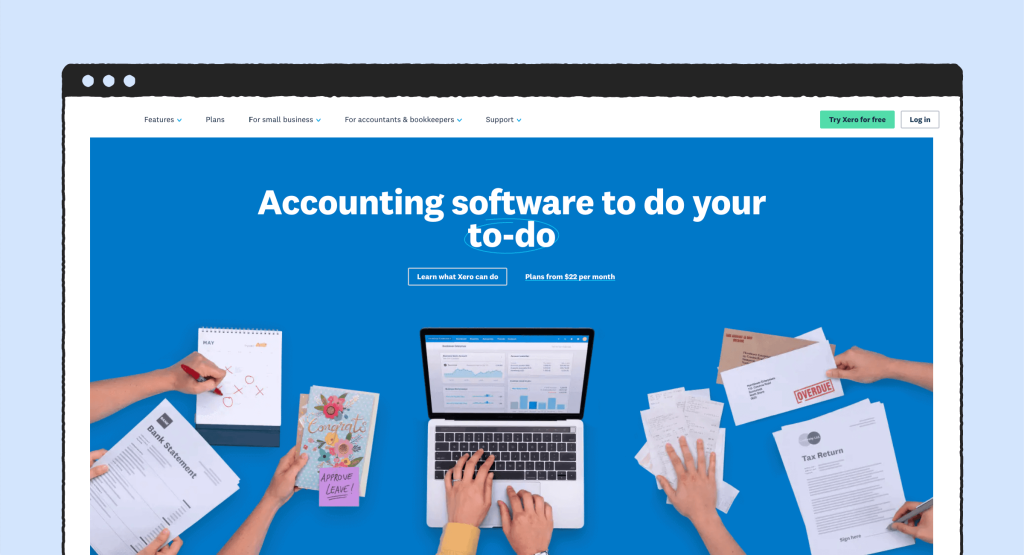 You can work on multiple client accounts and give approvals with the click of a button.
Alongside this, the product also has two-factor authentication and an easy-to-use dashboard.
Key features
Pay bills and claim expenses
This online billing software allows you to control all your expenses and pay all your employees on time.
Contact management
Xero allows you to communicate easily with your contacts, update contact info, and send you notifications every time you pay an invoice.
Manage your online payments
You can accept online credit card payments and direct debits. You can also connect to apps like Stripe or GoCardless.
Automatic tax calculation
The application lets you easily file your online business activity statement (BAS) and calculate goods and services taxes (GST).
You will know in real time how much you have to pay to the tax authorities — and how much they owe you.
Pros: The software provides a lot of accessibility. So, whether you want to pay now or pay later, if you want to keep draft invoices (or not), or if you want to compare finances, or embed options in invoices — everything can be done with a click of a button.
Cons: Same as Wave, digital payments require an extra fee — however, you'll have to buy a subscription here. Another complaint customers have about the app is that it has limited payment options.
Pricing: The Starter plan is quoted at $29/month, the Standard plan for $59/month, and the Premium plan for $76/month.
However, other add-ons (claim expenses, track projects, analytics) cost extra and can be purchased for $5/month, $10/month, and $10/month, respectively.
Customer reviews: Based on 4965 user reviews, Trust Pilots rates Xero 4.2/5.
With a user base of more than 3 million people, Xero is one of the most popular invoicing software choices used in the small business community.
Launched in 2006, the product functions just as well as any other option on the list (mainly because it has all the same features, including bank reconciliations, monthly pay runs, capturing data, inventory tracking, reporting, etc.).
The software is presently available in over 180 countries in the world, and it explores more tools than just invoicing — Xero HQ, Xero Cashbook, Xero Ledger, Xero Practise Manager, Xero Workplaces, are all popular tools amongst its user base.
And this has no relevance to what the app does, but it's worth a mention: the website is designed wonderfully — it loads fast and it has one of the best UI/UX interfaces ever seen.
Does PandaDoc have this feature?
There are also some disadvantages to using Xero, as the software is sometimes slow when working with large amounts of data.
In addition, the analytical functions and the management of claims expenses require additional fees, unlike PandaDoc, which does not.
07. Sage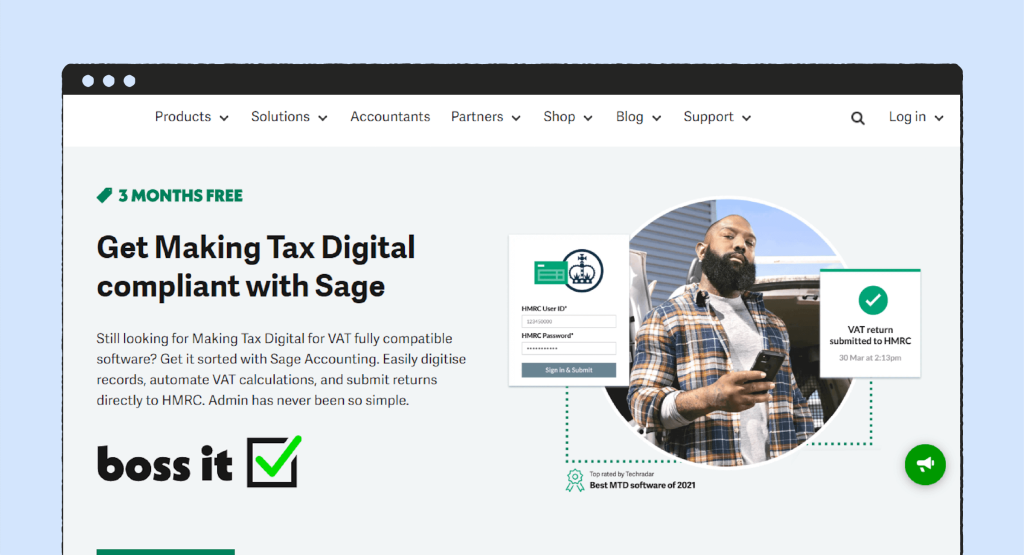 Perhaps the best part of Sage is that it allows you to track your cash flow in real-time.
Alongside this, you can also easily access, edit, create, and send invoices at the click of a button.
Key features
Smart billing software
Sage Accounting is an easy-to-use tool that allows you to track, create and send customized invoices with confidence.
The invoicing app has you covered when it comes to working with international clients, sending recurring invoices, and tracking payments.
Application Integration
The application accepts card payments directly from invoices with Stripe and integrates with Google Drive to get automatic copies of your invoices and quotes online.
Mobile application
Essential information about your company's finances, unpaid invoices, or business contacts are available from your mobile device (Android or iPhone).
Options for Payroll and Accounting
As mentioned above, you can set up recurring invoices, automate the payroll process, and obtain additional data from bank feeds.
Moreover, you can pay your employees and view the accounting transactions.
Pros: Sage is especially famous amongst its users for its Office 365 integration. It also provides secure access, an option to choose from multiple hosts of currencies (and their values), and the ability to do income tracking.
Cons: Some users point out that getting accustomed to Sage's invoicing software takes a little learning (mostly because of the number of options it provides). A few key features also cost extra.
Pricing: Sage is available at $14.2/month for its Start plan, $30.77/month for its Standard plan and $39/month for its Plus plan. Each plan has a free 3 month offer.
Customer reviews: Sage 50 has a score of 7.8/10 from TrustPilot.
Although relatively new to the e-invoicing industry, Sage has all the product features and gushing customer reviews to make it a worthwhile competitor to any other product on the list.
The software leverages the power of Microsoft tech and is also known as "Sage 50" in many parts of the world.
The company has a user base of more than 2 million companies worldwide, with brands like Radisson, AVIS, University of Maryland, Meals on Wheels, Pukka Pad, Food Corps, Children's Hunger Fund, being some of their loyal users.
The software is best for small and medium enterprises, and in that subset, it has specially carved a niche for itself in the real estate and construction industry.
Does PandaDoc have this feature?
Although Sage offers many useful features, the software lacks support documents and customer service. It can quickly be a handicap and delay your accounting teams' implementation of the software.
With PandaDoc, you benefit from customer service that is always available to help you with any problem.
08. Simplybill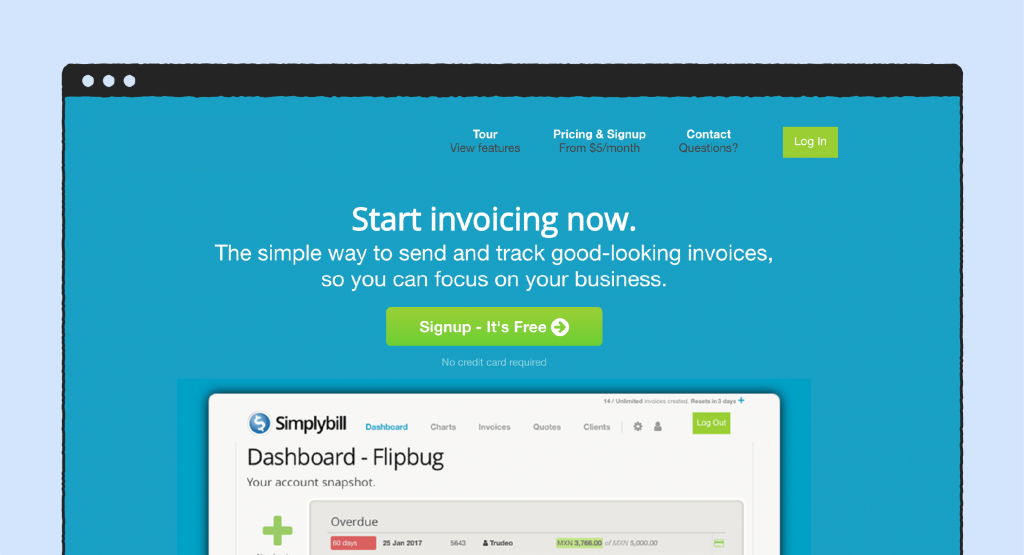 The way that it's developed becomes a key feature of Simplybill — that is to say that being cloud-based is perhaps Simplybill's biggest selling point, as all data and its backups are securely available on the cloud.
Key features
Invoicing
You can quickly compare this year to the previous year, track payments and sales tax on their invoices, see monthly totals for the previous year, and keep track of when invoices are due.
Backup your data
You will never lose your data because the app has a robust backup plan.
Additionally, if you accidentally delete an invoice, you can easily retrieve it.
Security options
The Simplybill pages are padlocked with a reputable security certificate, and the billing app uses the same level of security as online banks.
Pros: Its level of security is the same as online banks. The brand takes collective measures to assure the user that they're safe and secure with their initiative of having a certificate on each page of the software.
Cons: Simplybill's mobile app is less than impressive, and it doesn't have all the functions or features as the desktop version.
Pricing: Their Basic package starts at $5/month, whereas the Enhanced and Premium options are placed at $15/month and $25/month, respectively.
Customer reviews: Simplybill received a rating of 7.6/10 from the editor of Predictive Analytics Today.
Simplybill may look like basic software at first glance but it can pack quite a punch with the features and integrations that it offers.
The software doesn't overly complicate things with a multitude of clicks and buttons; it just provides all that you would need for business invoicing in a systematic manner.
Here's what users have to say about the product: 99% of them would recommend Simplybill to others and 100% of them rate Simplybill as tip-top when it comes to reliability.
Since the entire software is cloud-based it doesn't require you to download or function from anywhere — giving you more accessibility to do remote work (which is a huge need in today's world).
Does PandaDoc have this feature?
Even though the starting price is relatively low, Simplybill is limited in its options compared to PandaDoc — in particular, the software is not available on mobile devices.
Also, the features for creating and customizing invoices with Simplybill are more restricted by comparison.
09. Invoicera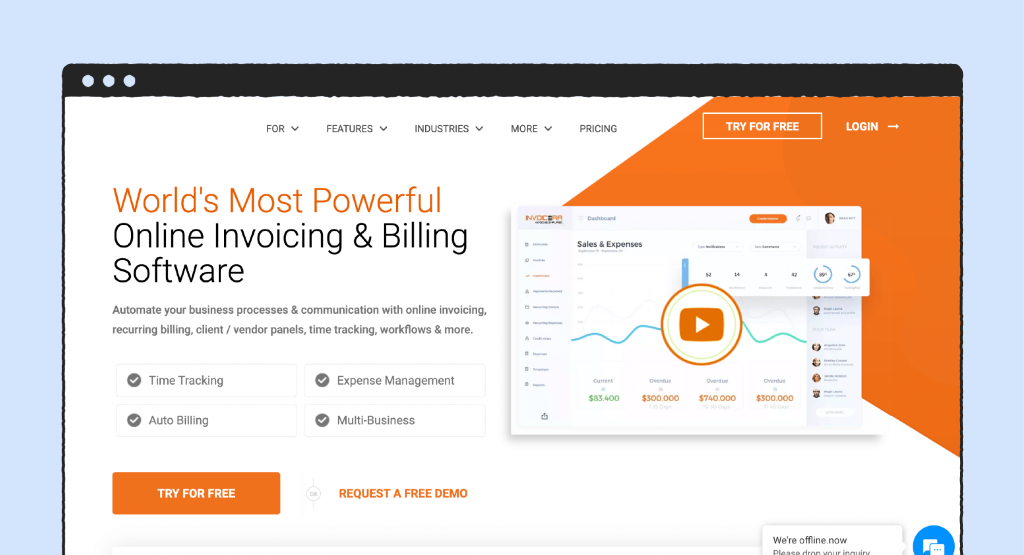 Invoicera's multitude of features allow for business management, rather than just invoice management. Its project management feature is, by far, its greatest selling point.
Key features
Accounts receivable and payable management
A single dashboard lets you monitor all customers' and suppliers' budgets.
Plus, Invoicera's integration with more than 30 international payment gateways (Authorize.Net, Stripe, PayPal, etc.) makes setting up automatic billing profiles and streamlining the payment procedure easier.
Financial Forecasting
With Invoicera-created detailed reports, you can accurately forecast finances.
All reports, including expense, staff productivity, project, and estimates, are generated from the same dashboard.
Automatic Invoicing
Automatic Invoicing software allows you to customize your workflow and provides an automated invoicing process and customized invoice templates.
Time tracking
With accurate time tracking, you can analyze the productivity of your teams on each project and accurately measure the cost of your services to your customers
Pros: Invoicera has many more features and integrations than other options on this list. The rich feature profile makes it a better option for larger enterprises, whereas the rest of the products are more suited to smaller enterprises.
Cons: The mobile app needs some fine-tuning — mainly due to the number of bugs it has (this is by far Invoicera's biggest con). Alongside this, the customer service is also lackluster.
Pricing: Payment starts at $15/month and can be up based on the number of users and clients you add to the software. There is also a free version with limited options.
Customer reviews: Invoicera received a score of 7.7/10 from the editors of Finances Online.
With over three million subscribers, a presence in 40+ countries, and over 14+ years of industry experience, Invoicera stands to be one of the best software choices within this niche.
The product has a host of features and functions, including subscription billing, staff management, option to choose from multiple currencies and multiple languages, project management, financial forecasting, business management, and more.
The product uses legacy systems to operate on and it is created in such a way that you can easily customize it based on your business needs.
Hosting the product in your own environment is an option too.
All of this allows for easy invoicing, automation every step of the way, and cloud-based access to use the product whenever you want.
Does PandaDoc have this feature?
In addition to the many features similar to PandaDoc, such as invoice customization, recurring payments, and tax calculation, the software is compatible with 30 payment portals.
However, even if Invoicera can be integrated with the CRM and ERP of the companies, this is done via API, which can take more time.
PandaDoc, on the other hand, can be easily integrated with CRMs such as Salesforce or HubSpot.
10. Sunrise App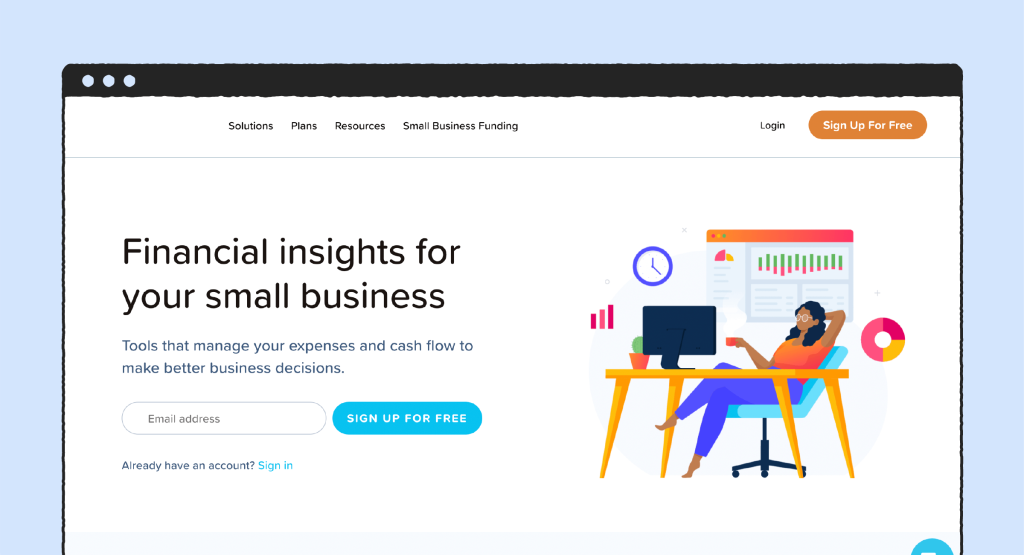 Although Sunrise is available for free to any user, it still has a lot of promising features and functions.
Some of them are expense tracking, tax assistance, transaction recording, reports, and contact management. However, these features are just the tip of the iceberg.
Key features
Invoice templates
This app for invoicing offers professional invoice templates for free.
In addition, access to a suite of small business tools is available, including invoices that are completely customizable.
Data-driven insights for your company
You can manage everything from invoicing and payments to projecting trends in your cash flow using your everyday business transactions with the financial forecast platform.
Maintain consistency with your books
To simplify monthly accounting, paid invoices are instantly connected with the app bookkeeping.
You can also specify a due date and receive notifications from your client.
Pros: The biggest pro of Sunrise App and the most common reason why people employ its services is because you can access bookkeeping services for only $149/month.
Cons: Many of the add-ons and key features cost extra. For example, payrolls and SunrisePay (which is a payment portal) are available at an extra cost. The mobile app also needs some work.
Pricing: Sunrise App is available for free to anyone who wants to use the software.
Customer reviews: Erica Seppala from Merchants Maverick (mentioned again on this list) gave Sunrise App a rating of 4/5.
Sunrise App has its eyes set on the "American dream." The brand currently functions under Lendio studio, an online service that helps small businesses finance their dreams with the help of 75+ lenders.
Sunrise app was created with the aim to serve such businesses by tracking their business expenses, cash flow, capital, and more.
The app (and Lendio, by extension) donate some percentage of their income to low-income entrepreneurs.
Sunrise was previously known as "Billy" before it was acquired by Lendio.
Aside from the basic functions of an invoicing software, you can also access bookkeeping services at a minimal fee.
Does PandaDoc have this feature?
Sunrise Invoicing software supports much less integration than PandaDoc, which may limit your ability to manage your invoices.
Plus, the application is not really optimized for mobile use, unlike PandaDoc.
11. Scoro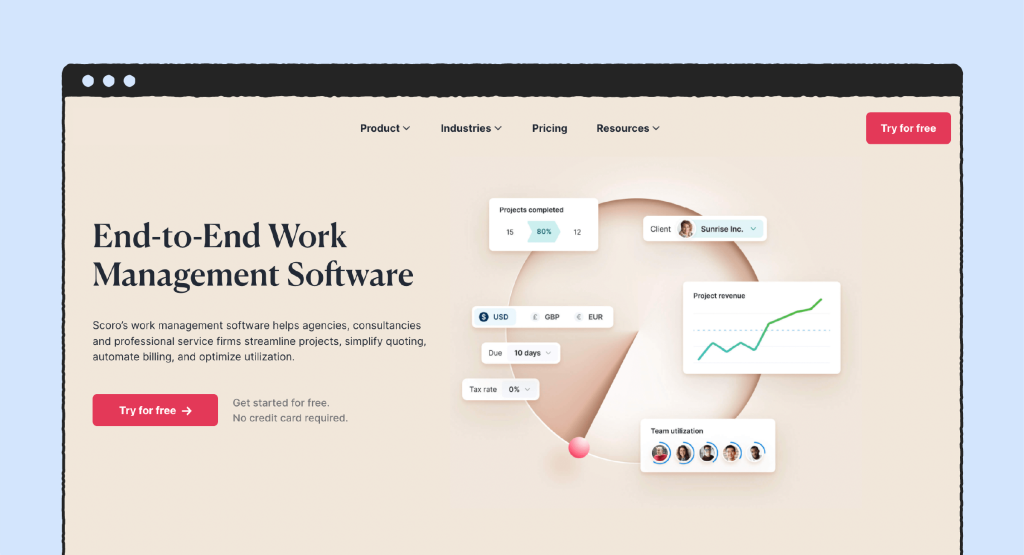 You can get access to real-time reports when it comes to invoices, revenue estimates, and more.
Key features
Integrate Scoro with your tools
You can synchronize the software with your current calendar application.
Also, by linking your file storage to Scoro, you can access your files wherever you need them. The software also integrates with Xero and QuickBooks Online.
Cover any possible billing scenario
Compare budget projections for your entire company, division, or office using actual data and scheduled invoices.
You can easily bill your customers in the best way for you by using partial billing and prepayment options.
Keep tabs on sales performance and goals
With programmable dashboards, keep track of sales budgets as well as individual and group sales goals.
To determine if you are on track to meet your goals, use probabilities, weighted values, and estimated closing dates to forecast future sales.
Pros: The best part about Scoro is that you can get an overview of a client's (or a project's) profitability.
Cons: Since it is not an invoicing software company, its main capabilities do not lie in making invoices the best part of your business — they're simply one part of your business.
Pricing: The software has four paid options per user. An Essential plan at $26/month, a Standard plan at $37/month, a Pro plan at $63/month and an Ultimate plan with custom pricing.
Customer reviews: Users on TrustRadius gave Scoro a rating of 9/10.
Founded in 2013 in Estonia, the company is now headquartered in London and has been listed as one of the fastest growing companies in America.
Scoro, as a whole, is an enterprise management software and it provides a host of business features, invoicing being one of them.
In the company's own words, "While being easy to use, Scoro is not a simplistic tool – it helps you manage not just invoices but your entire company in one place.
Moreover, Scoro's reporting capabilities are incomparable to any other invoicing solution on the market."
With Scoro, you get a complete overview of expenses, reports, client profitability, and more — which are functions that many other options on this list do, too, though not as extensively.
Does PandaDoc have this feature?
Scoro shares many options in common with PandaDoc, although its price is higher.
Also, the integration of Scoro with CRM or ERP software is sometimes complicated, which slows down the implementation of accounting functions.
12. Intacct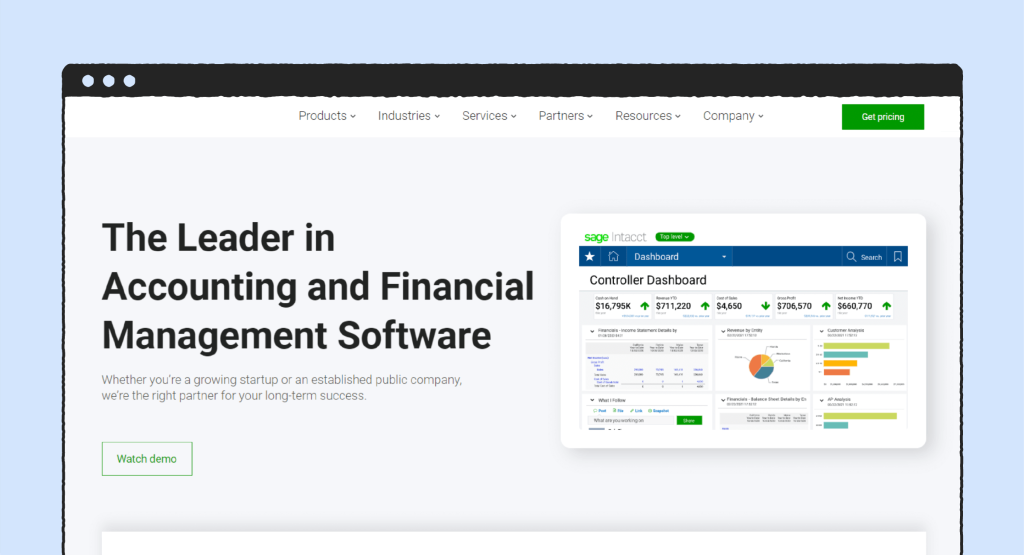 Intacct can be extremely easy to use and, more importantly, has a fast order processing option (which, in our opinion, is its key feature) that allows you to streamline processes while working with clients.
Key features
Cloud financials that set new standards
Sage Intacct coordinates with existing instruments and mechanizes drawn-out cycles to free up your group.
Receivables and accounts payable
You can automate complex revenue collection and billing processes while managing your cash flow.
Also, you can combine multiple entities, currencies, and regions in minutes.
Reports and dashboards
The software allows you to perform predictive and dimensional analysis.
You can quickly create new dashboards by connecting your business data to the billing software.
Pros: There isn't just one that we could focus on, so here are a few: interactive CRM that gives you a broad overview of all activities, customizable user accessibility, and, at the same time getting real-time data on your business' hustle and bustle.
Cons: You cannot access Intacct through a mobile-only version (there is no app). Seeing as how mobile apps can create many bugs and errors, this may be both a pro and a con for them.
Pricing: Intacct works on a quote-based fee. You'll need to get in touch with the company directly to know about the pricing.
Customer reviews: Based on 1611 user views on TrustPilot, the software got a rating of 8.8/10.
Sage Intacct, also known as Intacct, is software that often gets confused with Sage 50 — option 7 on this list.
Although created for the same reasons and by the same brand, both of them are different in functionality.
The main difference between these options is the capabilities. Sage 50 serves smaller enterprises, whereas Sage Intacct is a preferred tool amongst larger enterprises.
Sage Intacct has robust functionality, is completely cloud-based, and has a range of features, including (but not limited to) comprehensive reporting (which can be customized), multi-currency consolidation, automated processes, bank feeds, and more.
If your business has always been on Sage and you're looking to advance, then Sage Intacct may just be the ideal upgrade.
Does PandaDoc have this feature?
Like PandaDoc, the application is cloud-based and allows you to send payment reminders, create invoices and calculate taxes.
A difference with PandaDoc is that the application is not available on mobile devices.
13. Brightpearl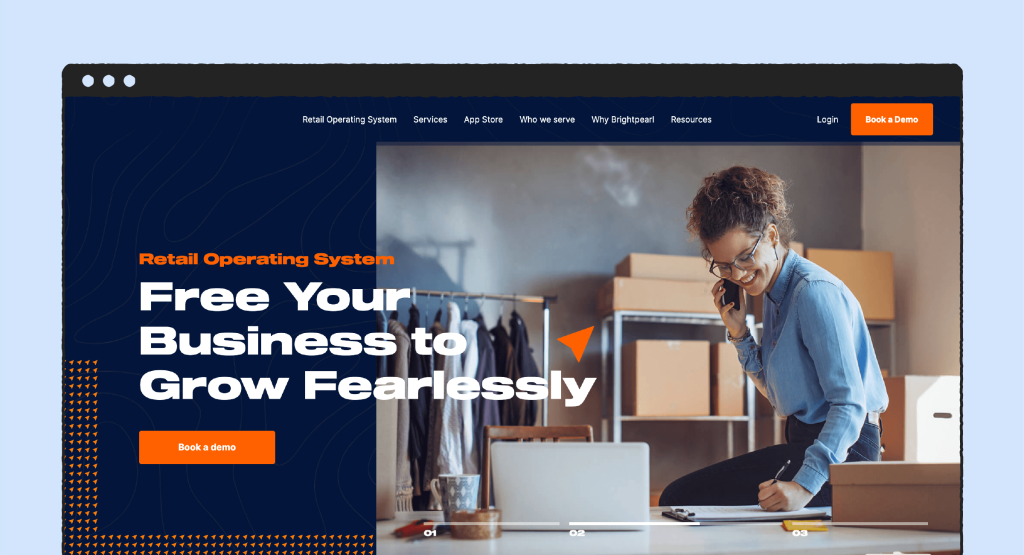 Brightpearl functions quite differently than any other software on this list.
With this software, you get a bird's eye view of all your business dealings and transactions.
Aside from that, you also get to manage marketplaces and inventory with the help of real-time updates.
Key features
Automating can save you time
Automate invoicing and other manual data entry tasks to save time on accounting.
Simplify accounting by automatically synchronizing data between your back office and accounting systems.
Integrations that plug and play
You can use Brightpearl's Plug & Play integrations to connect to major accounting systems like Sage Intacct, Xero, QuickBooks, and Bill.com.
Financial information in real-time
With Brightpearl's integrated accounting, all of your sales and inventory data will immediately feed into your accounting, giving you a real-time overview of your company's performance.
Pros: You get to create invoices for e-commerce platforms in real-time, while also getting payment reminders, and automated reports to check your finances.
Cons: The software is only relevant to those who work in retail or with a lot of inventory. The mobile application also has some bugs and load time issues.
Pricing: The software is for businesses trading above a million dollars and it works on quote-based pricing.
Customer reviews: Unfortunately, Brightpearl received a rating of 3.8/10 from TrustPilot.
Brightpearl is a ROS (retail operating system) that is built for the purposes of hyper-scalability.
It works best for businesses that are in the retail segment and need help with inventory management.
Since Brightpearl was created specifically for keeping that niche in mind, their software works best for anyone with an inventory (or anyone in the retail business).
Customized templates are available on Brightpearl and you can automate your entire process with them.
Here are some of the benefits that Brightpearl aligns with by having a systemic invoicing process: you get access to real-time income statements, you can streamline processes, you get paid faster and deliver a better customer experience, and you can also expand into wholesale without added admin costs.
Does PandaDoc have this feature?
Brightpearl lacks customer service and support during the implementation of the software in the company, in contrast to PandaDoc, which has 24-hour customer service.
Also, the billing software has difficulty integrating with companies' CRM.
14. Square Invoices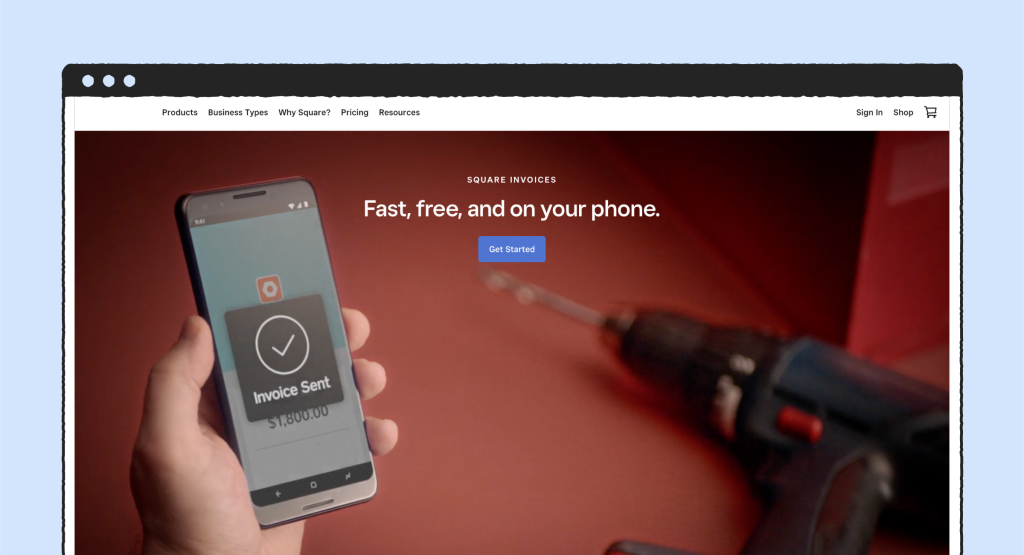 Square Invoices offers beneficial invoicing software for industries such as food and beverage, retail, beauty, services, and large companies.
Key features
Accept immediate payments
You can manually share a link or send digital invoices via email, SMS, or both.
Credit cards, Apple Pay, ACH bank transfers, and other online payment options are available to your clients.
Tracking in real-time
In a single location, keep track of whether an online invoice has been paid, unpaid, or past due.
You can also use your phone, tablet, or laptop to keep track from anywhere.
Custom receipt fields
To provide additional details to your customers, such as your terms of service, cancellation policy, return policy, or any other personalized message, create and select the placement of custom invoice fields.
Batch billing
You can email the same invoice to multiple customers at once rather than creating individual invoices each time.
Pros: Sending electronic invoices to customers, who can then pay by credit card, is one of the highlights. The platform also allows for product listing and tracking of inventory levels.
Cons: The software does not allow for multiple versions of invoices to be produced and retained. Therefore, the user must continually switch from one tab to another to update the invoices.
Pricing:The software has a free plan with no monthly fee and a paid plan at $20/month.
Customer reviews: Square Invoices billing software has a rating of 4.7/5 on g2.com.
One of the advantages of the software is that it can enter all the customer data for future orders.
This makes it easier to manage and organize all the invoices in one place.
So, no more need to use spreadsheets in Excel.
The software is very simple and convenient, with a user-friendly interface that allows you to always have essential accounting information.
Does PandaDoc have this feature?
Although the free version of Square Invoices has many interesting features, it is not possible to customize your invoices, while with PandaDoc you can.
15. Invoice2go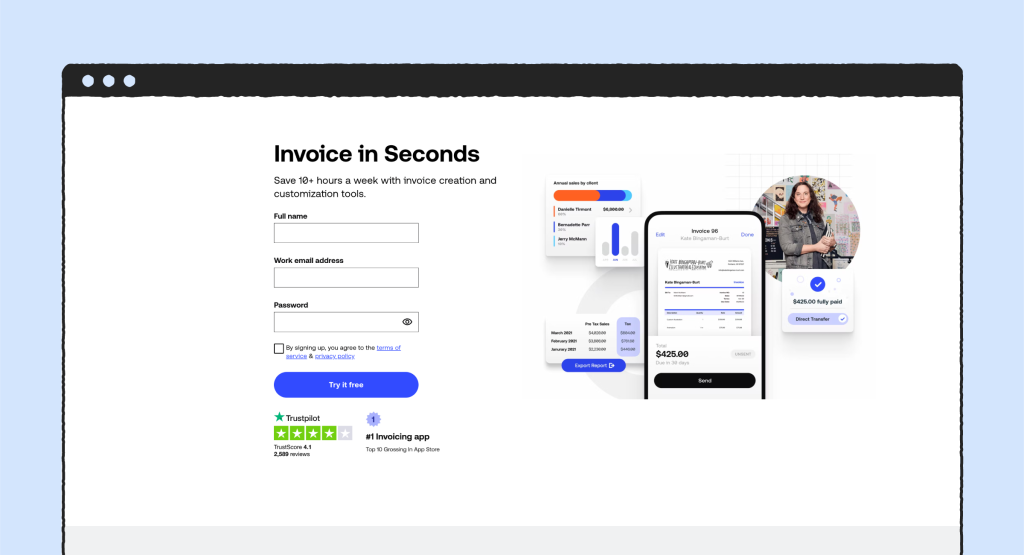 Invoice2go is the ideal tool for sending invoices and getting paid quickly.
With simple invoicing, a variety of payment options, expense management, and much more, you can improve your cash flow.
Key features
Create and customize invoices
With the invoicing software from Invoice2go, you can use a standard template or customize it with your logo, colors, and brand.
Security and convenience
The app accepts Visa, Mastercard, and American Express payments.
Plus, the software systems constantly scan for suspicious activity.
Send your invoice quickly
With just a few clicks, you can send a professional estimate or invoice anytime, set up automatic reminders for invoices that are past due, and do status tracking for invoices.
Synchronize with apps
You can synchronize over 3,000 applications and create a fast workflow with Shopify, Google Sheets, and Hubspot by connecting Zapier to Invoice2go.
Pros: The app allows you to easily create estimates and invoices and be able to track them over time. Also, Invoice2go offers options with a monthly fee that include a free trial.
Cons: There are only two monthly invoices included in the Starter plans. Plus, the Starter plan has a 3.5% payment fee.
Pricing: Invoice2go offers three paid plans: a Premium plan at $479.99/year, a Professional plan at $119.99/year, and a Starter plan at $71.99/year.
Customer reviews: Invoice2go is well-rated and has a score of 4.1/5 on Trustpilot based on 2540 reviews.
With Invoice2go, business owners can create, send and organize invoices from their smartphones thanks to the various functions available on the application.
The tool is ideal for small businesses, freelancers, and entrepreneurs who are looking for an easy way to create, send and organize invoices.
Does PandaDoc have this feature?
Even though Invoice2go wants to focus on small businesses and freelancers with its offer among the most affordable on the market, the Starter plan nonetheless lacks essential integration, unlike PandaDoc.
16. Invoice Ninja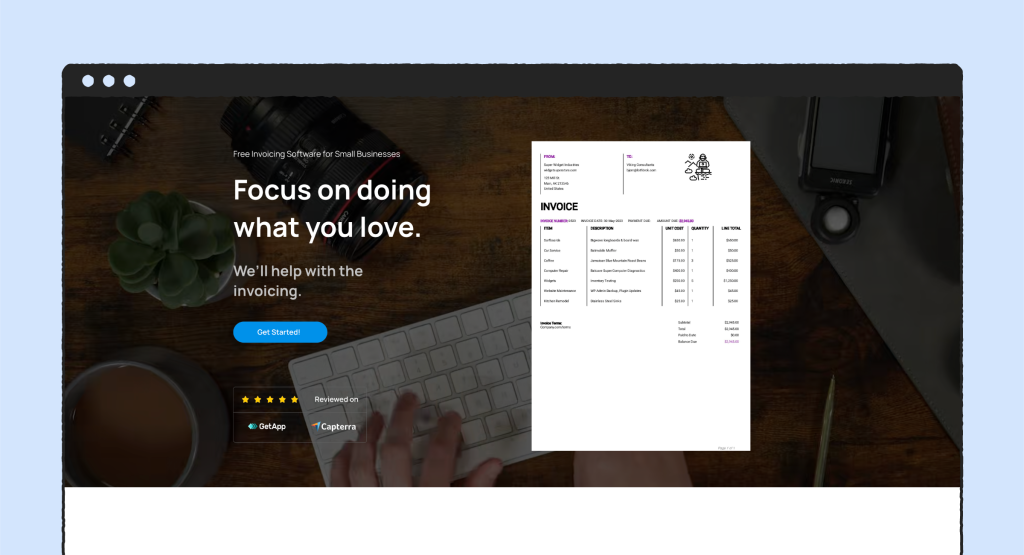 This invoicing software is made for freelancers and small to medium-sized businesses to make financial management easier and to let business owners focus on their other important tasks.
Key features
Integration of a payment gateway
Payments are accepted through Stripe, WePay, PayPal, and Checkout.com.
Auto-Converting Approved Quotes into Payable Invoices
Clients can "Click to Approve" quotations sent to them via email, which turns the quotation into a payable invoice.
Accept partial and full payment deposits
The due dates for partial payments and deposits are distinct in the app.
After the client pays the halfway installment, the receipt will consequently refresh itself with the funds to be paid and set the new last receipt due date.
Personalized Payment Instructions
You can create custom instructions for your customers if you do not want to integrate existing payment gateways for online payments.
Pros: The software offers a plan available for free. Also, the quotes and invoices are unlimited and customizable with the company logo. You can also manage your inventory from Invoice Ninja.
Cons: However, the free plan does not include payment reminders and only allows 20 clients.
Pricing: The software offers three plans: a Free plan, a Ninja Pro plan at $100/year, and an Enterprise plan at $140/year.
Customer reviews: Invoice Ninja software is rated 4.8 out of 5 on the rating site getapp.com.
The free invoicing software Invoice Ninja has many features that make it easy to manage billing for multiple clients and even multiple businesses.
The free plan only allows you to work with 20 clients, but you can create as many quotes and invoices as you want.
If you want your invoices to look more professional, you can add a logo, but you have to use the Invoice Ninja branding.
Does PandaDoc have this feature?
Even though the application has a free plan, it is necessary to quickly switch to the paid version of Invoice Ninja in order to access integration features that are not always optimized — unlike PandaDoc.
Conclusion
This wraps up our list of the best invoicing software choices on the market. The list is comprehensive, and each of these software options has its own share of benefits.
That said, at the end of the day, you've got to choose software that suits the needs of your business.
Our opinion: we suggest going forward with software that has high ratings when compared to other users.
At the same time, consider looking at software that can manage many other business documents, aside from strictly invoicing.
PandaDoc can be that software for you. Our all-in-one solutions help you keep track of all aspects of your business at the same time.
You can join 40,000+ customers by allowing us to become a trusted partner to you and your team. If you want to take us for a spin, simply click here and access your free trial!
Disclaimer
PandDoc is not a law firm, or a substitute for an attorney or law firm. This page is not intended to and does not provide legal advice. Should you have legal questions on the validity of e-signatures or digital signatures and the enforceability thereof, please consult with an attorney or law firm. Use of PandaDocs services are governed by our Terms of Use and Privacy Policy.
Originally published April 4, 2022, updated March 31, 2023