If you speak of form creation, Jotform is probably one of the first names that would pop up in everyone's mind.
And for a good reason, too — the company has had a presence for the last 17+ years, helped more than 15 million users, and partnered with clients like Adobe, Redfin, RedBull, Compass, etc.
However, just like other leaders in the market, Jotform is jockeying for lead position with its various service offerings.
So, let's see how the solution stands up against its top competitors based on features, price, customer support, user reviews, and more.
Let's dive right in!
Review summary
As it stands today, Jotform covers many of the basics — it's easy to use, has plenty of features, and is decently priced.
However, there are certain places it falls short (such as customer support and product glitches).
And that leads to other alternatives likely being a better solution than Jotform for some.
Our rating
Overall: 4.1/5
Pricing: 5/5
Ease of use: 4.5/5
Features: 4/5
Customer support: 3/5
Value for money: 4/5
| Pros | Cons |
| --- | --- |
| Organized platform that's extremely easy to use | Customer support doesn't have the best reviews |
| The template library is extensive! | Many users complained that the features between the subscription options have a substantial jump |
| A plethora of integration options | Some of the features/buttons of Jotform can glitch occasionally |
| Easy to store, analyze, and share data with Jotform | Not necessarily a downside, but many users wished the platform had additional features |
Review methodology
To find out all the need-to-know about Jotform, we spent hours researching the platform, uncovering its strengths and faults alike.
PandaDoc writers also examined multiple review pages, dug into SME (subject matter expert) input, investigated facts and figures, and analyzed pages upon pages of data to give you an accurate representation of what Jotform could do for you.
General verview of Jotform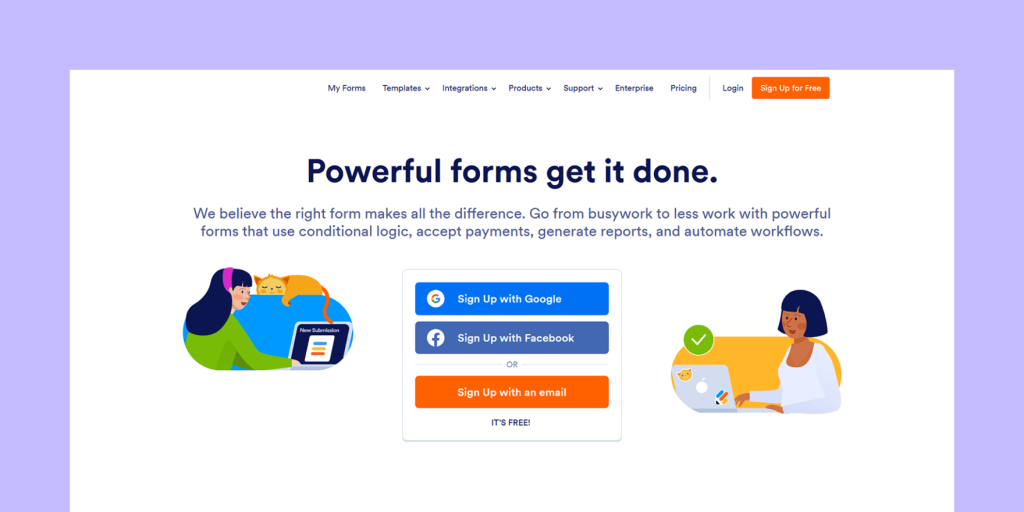 For those who are not yet accustomed to the solution, here's a short overview of what Jotform is and what it does.
The solution was developed in 2006 by Aytekin Tank, who was tired of coding forms to gather information.
Over the years, the company expanded its offering from forms to tables, reports, signatures, PDF editors, and more.
Presently, the company has an established user base in over 192 countries and works with some of the most well-known companies in the world (as mentioned above).
Companies that specifically operate in the education, government, healthcare, nonprofit, and field service management sectors may benefit from making Jotform a part of their tech stack.
Product pricing
The solution has five different pricing options — Starter (available for free), Bronze (priced at $34/month), Silver (priced at $39/month), Gold (priced at $99/month), and Enterprise (pricing worked out with Jotform's sales team).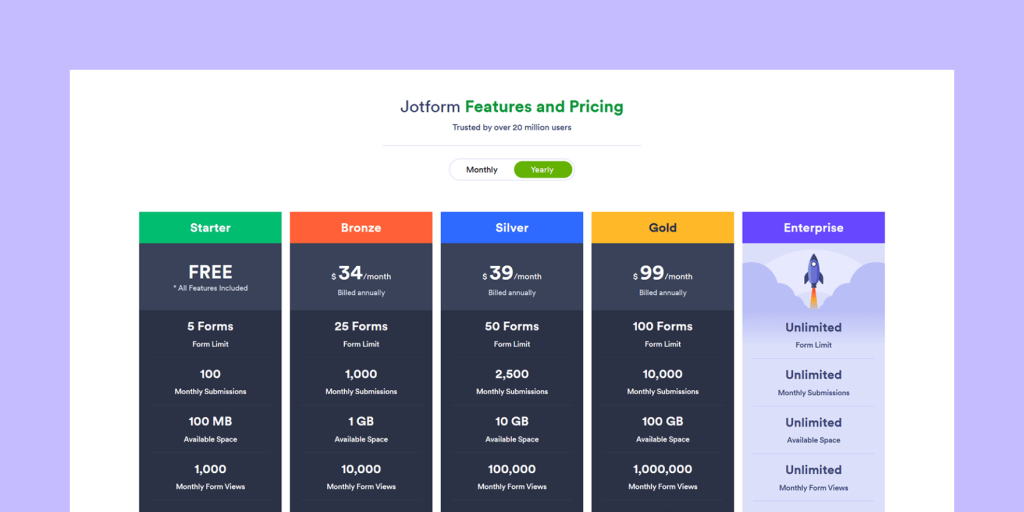 The only thing that changes between each subscription option is the quantity you receive — the number of form limits, monthly submissions, form views, fields, submission storage, and signed documents allowed.
Please note that, aside from the Enterprise plan (which allows unlimited teams and users), all other plans can only be accessed by one user from a team.
The Enterprise and the Gold plan are also HIPAA compliant.
If you operate in the nonprofit or education sector, you also get a 50% discount.
Key features
1. 150+ integrations
One of the best parts of using Jotform is that the solution can be integrated with multiple solutions from your tech stack.
These integrations make up various categories (e.g., CMS, storage, payment, etc.), are e-sign compatible, can be used by people from multiple industries, and on various platforms (e.g., web, mobile, and desktop).
Some of the aforementioned integration partners include HubSpot, Asana, Slack, Stripe, ActiveCampaign, OneDrive, Salesforce, etc.
Companies that opt for the Enterprise plan can access more than 400 integrations.
2. Templates
When using Jotform, users can also refer to more than 10k form templates, as well as templates for apps, PDFs, tables, store builders, cards, approvals, and signatures.
These templates can be further categorized based on layout, type, industry, and profession.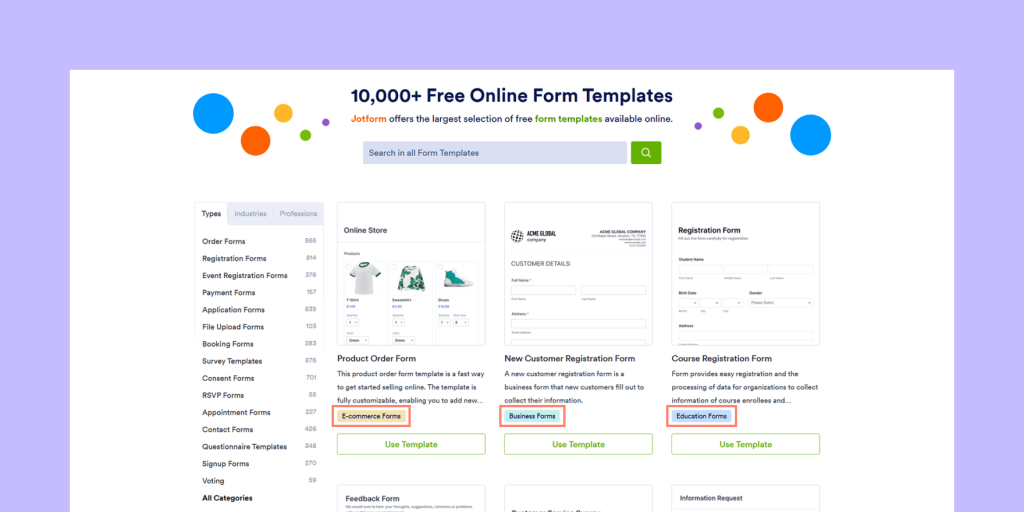 PandaDoc has the same feature where users can refer to hundreds of templates for various use cases (e.g., forms, proposals, receipts, contracts, etc.).
3. Advanced capabilities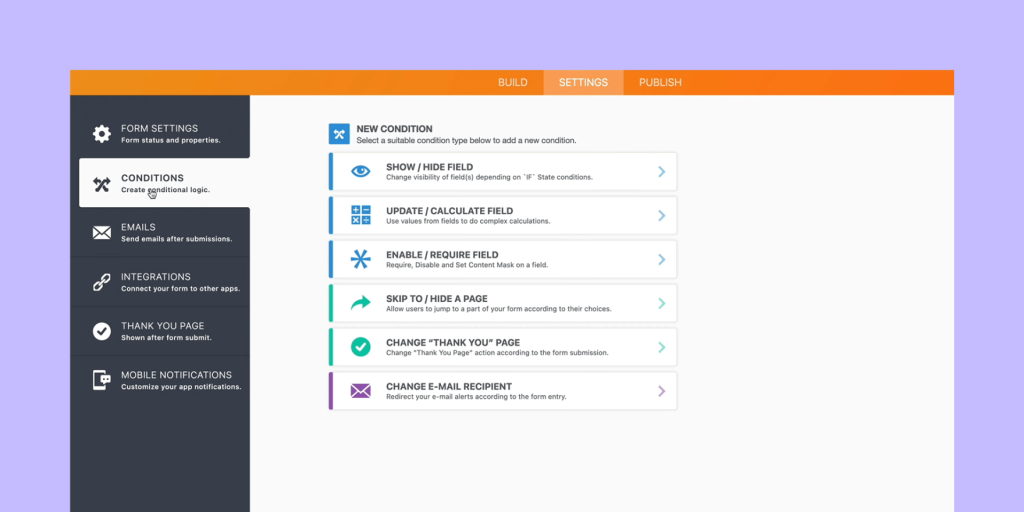 Another advantage of Jotform is its advanced capabilities.
When using the platform, you can use features such as conditional logic, form transition, drag-and-drop editor, offline availability, embeds, custom CSS, email validation, data export, and more.
These features will help you reach broader audiences, customize pages, create smarter forms, reduce time spent with document creation, collect data anytime, seamlessly integrate forms into your website, and export data.
4. Analytical abilities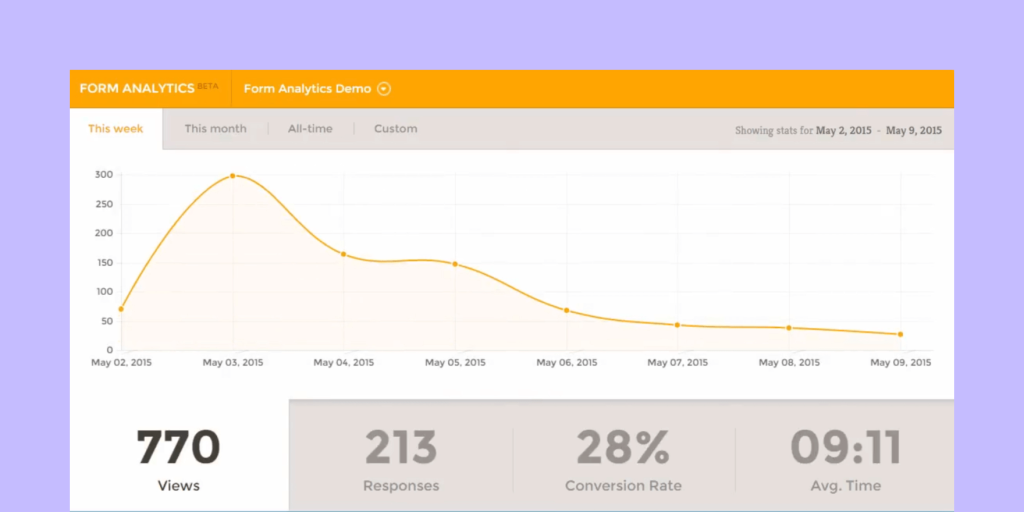 One important feature nearly all users look for with a form creation platform is analytics.
So, if you're on that same page, you'll be happy to know Jotform has the following analytical capabilities:
Tracking of UTM parameters (hide form fields and filter the data you receive to see activity levels).
Google Analytics widget (track submissions through Tag Manager).
Jotform report builder (by using the report builder, you can create automated visual reports).
Form analytics (analyze traffic, response rate, and form-filling time, and find out the browser, device, and location type).
Facebook pixels (connect your forms with Facebook pixels to track activity, and retarget your audience).
Submission management (view, share, download, and track submissions).
Note: You can also assign approval statuses for submissions.
5. Highly secure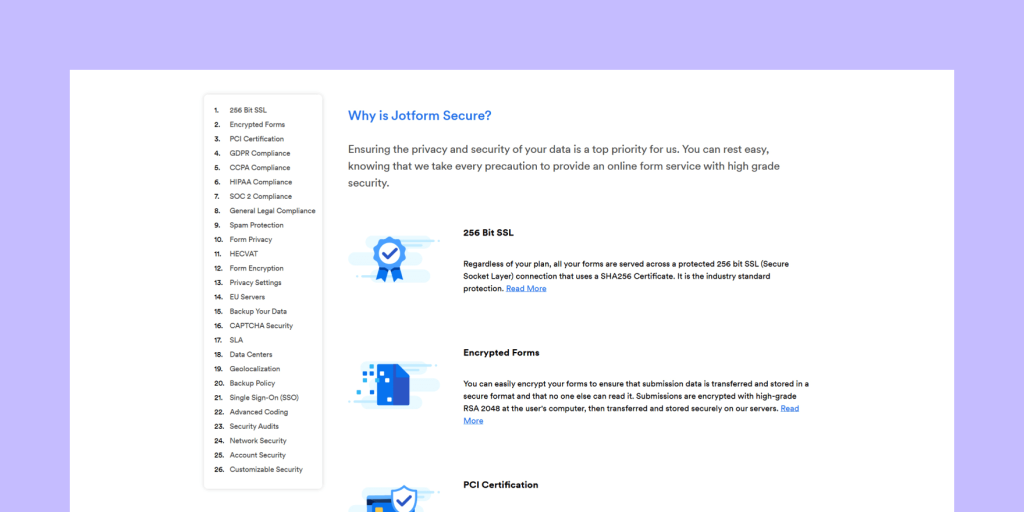 Presently, Jotform offers 26 security features. The solution is compliant with GDPR, HIPAA, SOC 2, General Legal, and CCPA.
It also offers security through encryption, CAPTCHA, form privacy, single sign-on, and 256-bit SSL.
Best of all yet, Jotform ensures that the company goes through regular security audits — these audits are conducted internally and externally every quarter.
They also have a Big Bounty program where they pay outside parties to report their vulnerabilities.
6. Complementary products
Aside from just having form-related capabilities, Jotform also has a host of complementary products that are available for free, such as:
Form Builder
Jotform Sign
PDF Forms
Jotform Approvals
Report Builder
PDF Editor
Jotform Tables
Jotform Apps
Store Builder
These products help Jotform users create a seamless workflow.
For example, with Report Builder, you can make reports of the data you receive from forms, and with the PDF Editor, you can edit these reports.
7. Multi-language
Since Jotform has a presence in over 192 countries, it also ensures that its product can be customized to be presented in local languages. Presently, the solution can be adaptable in around 18 languages.
Support and ease of use
To ensure that its customers receive the best care, Jotform offers 24/7 customer support through emails, and also offers other support features, such as user guides, FAQs, and a help center.
However, even with these options, the experiences of users with customer service has been contradictory, to say the least.
For example, some users only have the most negative words to say about customer support.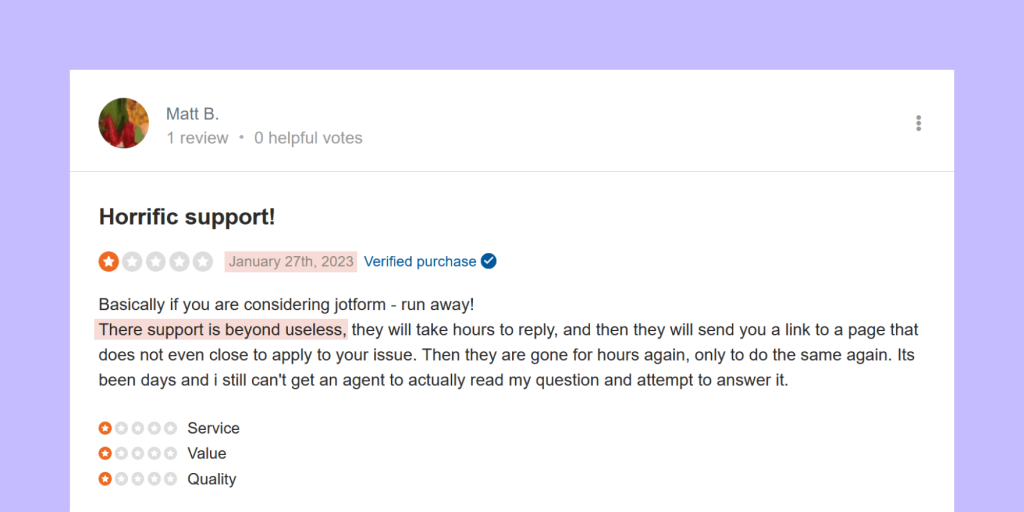 Whereas others have received only positive experiences from it.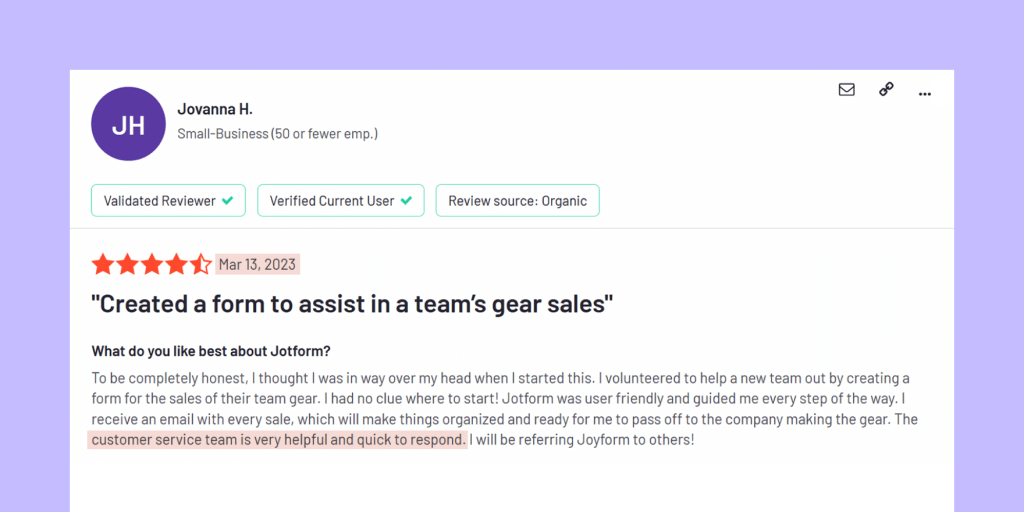 However, the reason for this contradiction may be attributed to the recent changes in customer support.
Many users, such as this one, have pointed out that the customer service they have received from Jotform has improved.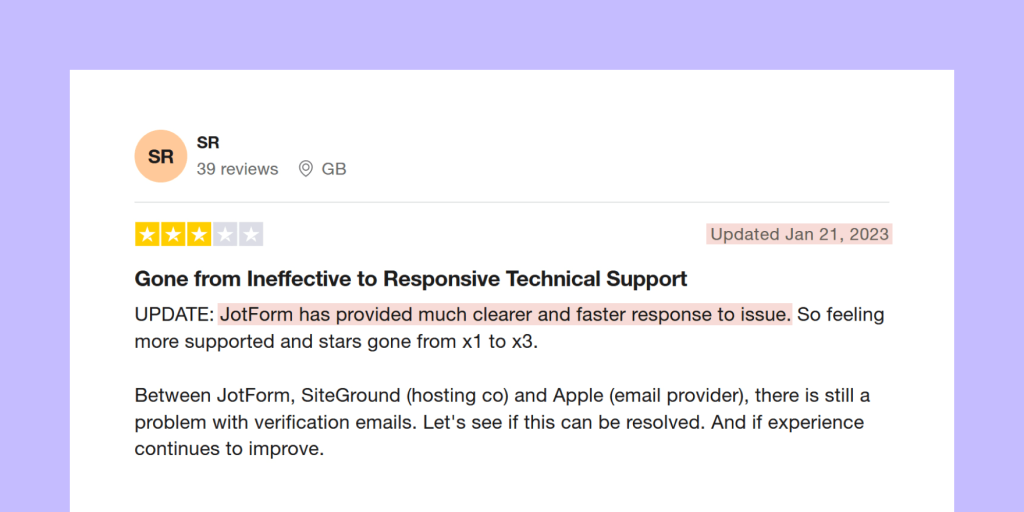 And here's the final verdict about ease of use:
The company's UX is lacking (i.e., the website looks outdated and the mobile app cuts off information).
However, the solution still is extremely easy to use.
The editor, especially, is extremely intuitive and you can find all the options and features you need easily.
Jotform is also easy to navigate, and beginners and experts alike can use it without any hiccups.
How does PandaDoc compare?
While Jotform and PandaDoc have similar capabilities and at-par user reviews on most platforms, one place where PandaDoc stands out from Jotform is its pricing (PandaDoc pricing begins at $19, whereas Jotform's pricing starts at $34).
PandaDoc also has:
More features than Jotform (for proposals, contracts, quotes, automation, etc.).
More training options than Jotform (e.g. Jotform only has user guides, blogs, videos and FAQs, whereas PandaDoc has blogs, videos, help center, learning academy, live training, product updates, guides, webinars, and more).
The support of reviewers. For reference, here's a side-by-side review on both solutions on G2.
Wrapping up
And that, folks, puts an end to our review.
We hope you found it helpful, and if you're still looking to learn more about Jotform and how it compares against PandaDoc, here's a quick guide you can refer to: Jotform alternatives for form generation.
Alternatively, if you'd like to skip the whole ordeal and instead start working with PandaDoc directly, you can initiate our free 14-day trial.
We don't require your credit card information to sign up and our pricing begins at only $19/month.
Alternatively, if you'd like a quick demo as opposed to a hands-on approach, then you're in luck, as we offer free demos too.
Click here to schedule a demo and better understand what PandaDoc can do for your business.
Frequently asked questions
Jotform has 256-bit SSL encryption, PCI certification, and is compliant with industry standards, such as HIPAA, CCPA, GDPR, SOC 2, and HECVAT.

The most common complaints Jotform receives are about customer support and the occasional glitches its users face.

Jotform has five pricing options. The first one is a starter plan and is free, and the last one is an enterprise plan and requires a custom quote. The remaining plans range between $34/month and $99/month.
Disclaimer
PandDoc is not a law firm, or a substitute for an attorney or law firm. This page is not intended to and does not provide legal advice. Should you have legal questions on the validity of e-signatures or digital signatures and the enforceability thereof, please consult with an attorney or law firm. Use of PandaDocs services are governed by our Terms of Use and Privacy Policy.