Many businesses build sales and marketing reports for clients on a monthly basis. However, your teams may need some pointers on how to write a useful monthly sales report for their own benefit.
After you've brushed up on monthly sales report criteria, you can take your reporting software a step further. Sales performance data from any time period can be an extremely powerful reporting tool.
We will dive into how sales managers can leverage performance reports that help them analyze and improve their sales team's performance.
One of the easiest ways to get started with a monthly report is to set up a template. A sales report template streamlines building sales reports and keeps them standardized for easy reference later.
Irrespective of the reporting time period templates speed up the process by requiring that you complete specific sections. In addition, report templates make report content more readable and consistent month to month.
Your template should consist of the following sections to create your desired sales report format.
Here are a few recommendations:
1. Write a cover/intro letter
This section remains static from month to month. The cover/intro letter emphasizes the importance of the report for both the client your business. In addition, it should invite the reader to contact you if they encounter anything inside the report that they don't understand or would like more information on.
2. Add monthly highlights
This section should be considered the most important part of your report. Grab your client's attention by putting your best foot forward right off the bat. Make sure the section features new and interesting news since last month.
Report examples include:
KPIs (in easy-to-understand terms);
Top conversion rates for the month;
A notable influx in the number of deals;
Success with a newly-tested strategy;
New game-changing breakthroughs.
Keep this content positive. Do not make excuses. Use factual information but keep it short and sweet.
3. Share results
This is typically the longest section of the monthly report. The goal is to share results that inform clients of what you've been working on. To make the report easy to read, divide this content into individual sections.
Content examples include:
Content creation;
Email marketing;
Influencer outreach;
Potential customers;
Social media;
Success stories.
Since this is a very content-heavy section, you can keep clients engaged by providing visualizations in your report.
Some suggestions include:
Graphs;
Logos;
Photographic images;
Screenshots from analytics software;
Tables.
Spend limited time interpreting results, because this section is more about reporting results. Specifically, use either the Monthly Highlights or Next Steps section for interpreting results.
4. Elaborate on the future
Use this section to brainstorm future ideas based on what you found in the given month. Sharing ways to improve or pivot your current business strategy makes for a great conversation starter. You can also make new recommendations for what the client can consider adding or striving for.
Some examples for this section include:
A/B testing landing pages or Facebook ads;
Adding social media networks;
Influencer outreach content strategies;
Introducing a new monthly feature on the blog;
Starting a new social media campaign.
Genuinely try to think outside the box, and do not let the client's budget stop you from sharing ideas. Think freely about what your business could do with an endless budget. This transparent, open approach lets your client know that you are thinking critically about the future of their company.
Keep in mind that your effectiveness in this section can set the stage for you to upsell. You can gain more revenue if you present an idea that the client finds truly valuable.
You should conclude your recommendations with an invitation to follow up with you for further discussion.
5. Identify next steps
Use this section to summarize your report findings and share your plan for the upcoming month (based on the previous month). You want to proactively address several questions that the client will expect you to answer.
Some of these questions might be:
What are you going to focus on next month?
What didn't work before?
What is working surprisingly well?
What will you change?
When answering these questions, be as specific, open, and honest as possible. This approach helps you retain clients by keeping them informed about what you accomplish for them from month to month. It also serves as an incentive to continue doing business with you. The content in this section can keep clients excited about using your products and services.
6. Add testimonials
Testimonials remind clients of your credibility and reinforce the validity of your report content. They also help build client loyalty by giving them confidence in the results yielded by your products and services. We recommend including the company logo and a headshot of the person featured in the customer testimonial.
7. Add a closing note
When closing your monthly report, it is important to reiterate how much you are open to constructive feedback. Remind your clients that you expect and value their feedback and questions in regard to the sales report.
This report template offers extremely valuable information for both you and your client: Your client benefits from beautiful, readable, and engaging monthly reports, and you can easily examine the performance of individual sales reps.
Once you know how to write monthly reports that wow your customers, you're ready to raise the stakes. Are you a business or sales leader who needs to keep a watchful eye on sales performance? If so, you can analyze and improve your sales performance with PandaDoc Activity Reporting.
Improve sales performance with PandaDoc activity reporting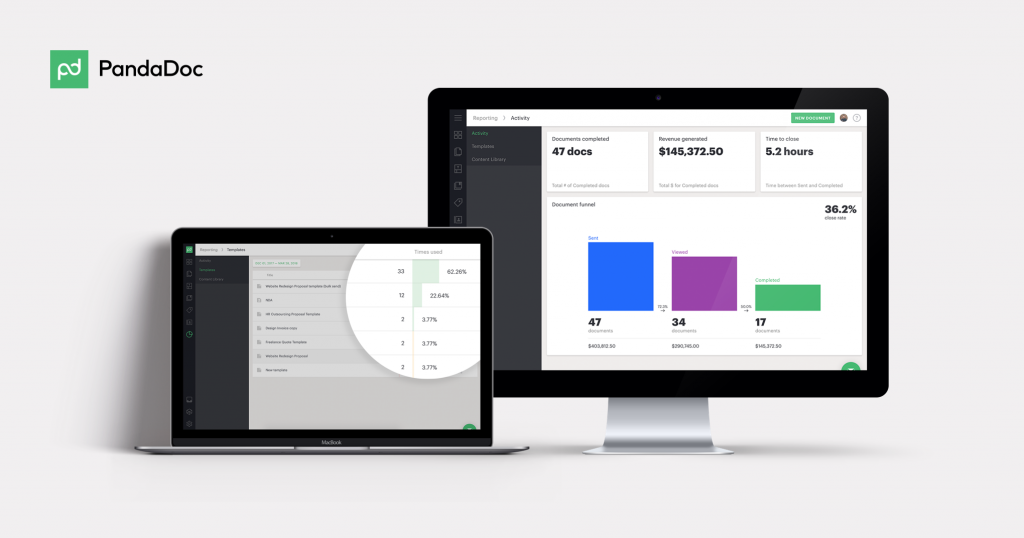 The PandaDoc Activity Reporting functionality details the performance of your sales team. It provides robust reporting and analytics capabilities that help you measure sales performance over any time period so you can improve it. By accessing the reporting console, you can review comprehensive performance metrics.
Provided metrics
PandaDoc Activity Reporting provides a number of useful metrics that are similar to those traditionally found in your CRM. If you do not use a CRM, Activity Reporting can be used as a sales performance dashboard.
Sales managers can leverage PandaDoc Activity Reporting metrics to identify sales performance gaps. In addition, it will help you isolate areas where you can improve your document workflow.
Provided metrics include:
The number of completed documents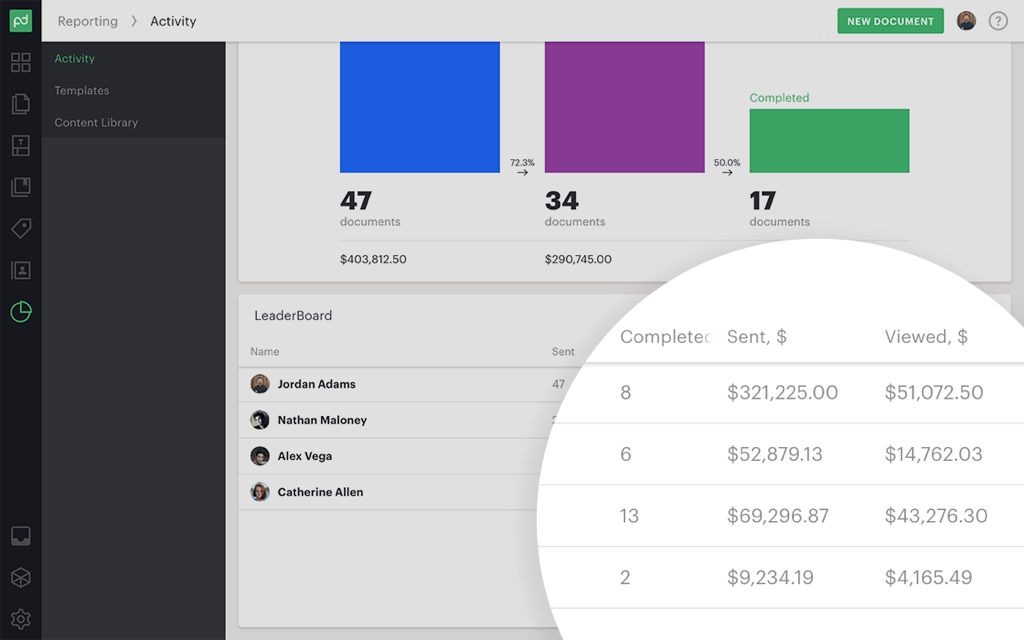 The revenue of the documents in your default currency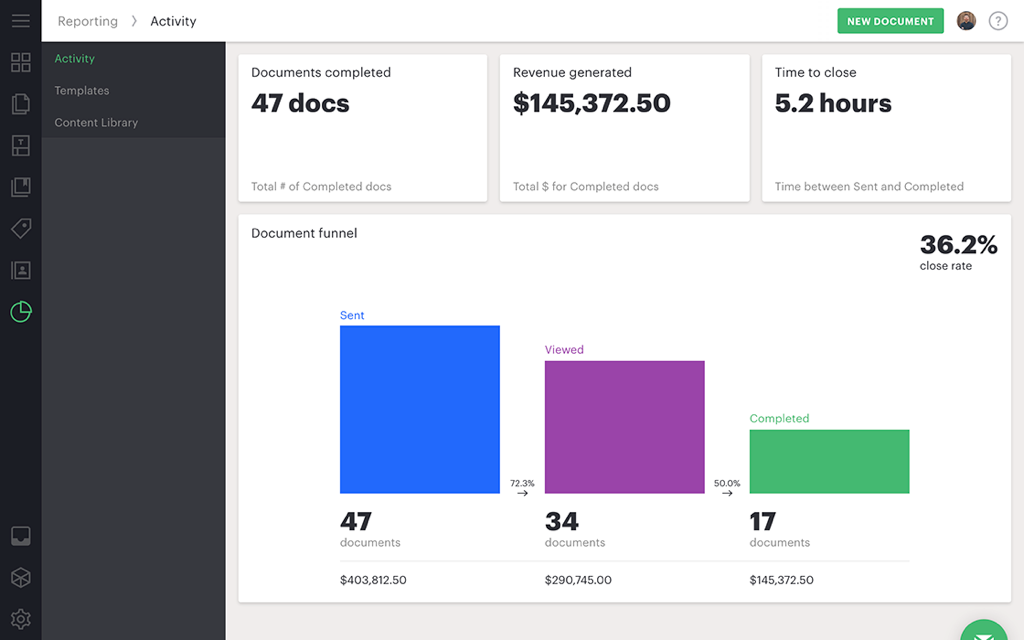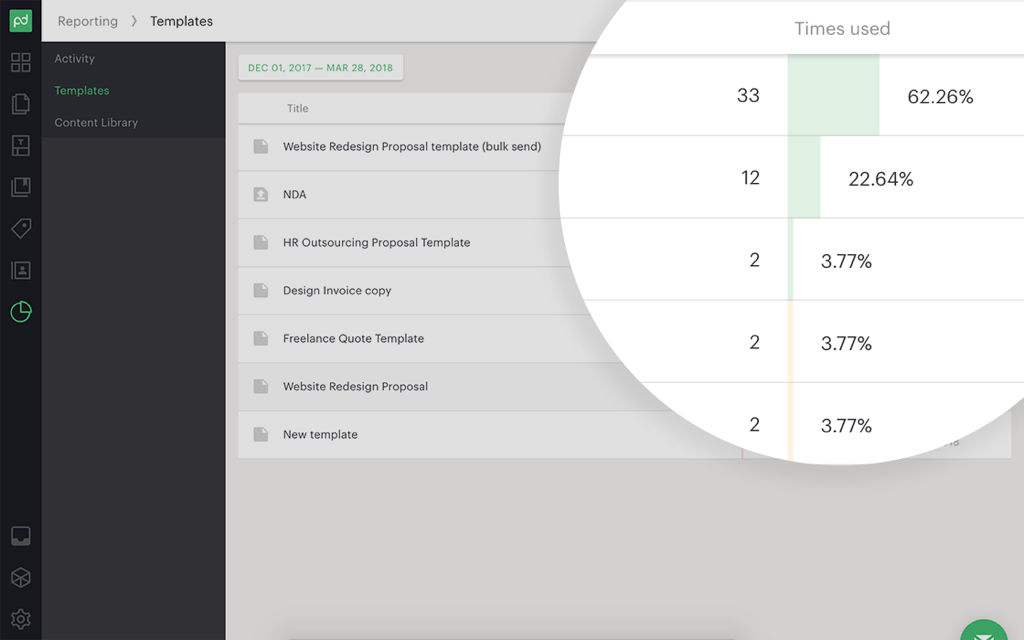 By comparing PandaDoc Activity Reporting metrics alongside your CRM numbers, you will gain unique insights into your sales process. For example, the 'document close rate' and 'time to close' are unique KPIs that are not available on another platform. You can also evaluate some sales benchmarks before you define your target value for close rate and time to close. In addition, you can use the custom date range selector to analyze historical data and monitor your performance incrementally.
Benefits of activity reporting
Proactively identify process pain points
The document funnel board creates visualizations for both the main steps of your documents and conversion rates between different time periods. It displays diagrams that help to identify where documents are stalled. This allows sales teams to make the necessary adjustments to push the sales process forward.
Team member performance reports
Are you interested in viewing individual and or group performance reports?
The Leaderboard view shows all of the team members in your workspace and their document stats. Sales leaders can quickly identify who needs support to meet their sales quotas or other KPIs.
Knowing how to write monthly reports is critical to sharing important information that resonates with clients. You can take sales operations to the next level by using PandaDoc Activity Reporting to help you identify ways to improve sales performance.
Did this guide help you with writing monthly reports for your clients? What information do you think will have the biggest impact on your monthly reports? Share your thoughts in the comments below.
Originally published April 1, 2015, updated August 22, 2019