If you've ever had to send or deal with contract documents, then you know exactly how difficult these docs can be to manage.
Who doesn't dread the creation of a long-term contract? Organizing everything can be cumbersome, and even feel impossible if you don't have all the right tools.
Luckily, there are many contract management platforms out there that can help you out, including Juro.
Juro's cloud-based platform aims to make contract automation more manageable — but does it cater to all of your business needs? And are there any alternatives?
In this article, we explore Juro's offerings and list the best Juro alternatives you should try.
Let's get started!
What is Juro?
Juro is a contract management software that helps legal professionals manage the entire life cycle of their agreements.
It automates many manual, time-consuming tasks and provides a central place for teams to work together and share information about their contracts.
With Juro, you can:
Gather contract data and draft documents using standardized clauses.
Identify and track key contract performance metrics.
Share documents with clients, partners, vendors and other stakeholders inside or outside your organization.
Manage all stages of the contract lifecycle — from proposal to renewal — and create custom workflow paths based on your unique workflow needs.
Juro features
Here's a quick list of some key features in Juro:
Document library: An essential component of every contract management solution, Juro's document library is where all of your contracts live. It allows you to easily find and open any contract you need.
Version control: Rather, versioning as well as version control. With this feature, you can easily track changes made to contracts throughout different versions. This helps you make sure you never lose track of contracts or accidentally save over the wrong version — because let's face it: no one likes when that happens!
Natural language Q&A: The Juro app uses natural language processing to populate fields with data when users are creating the contract, so there's no need for them to enter the information manually.
Analytics: Juro also gives you access to deep analytics reporting on your contract performance — something that's essential if you're looking to cut down on time spent managing contracts and streamline your sales process.
So, what's the catch?
While Juro is a very robust solution, these features are tailored more toward medium-to-large sized businesses and law firms. If you've only got a small team or are running solo, then Juro may not be the best fit for you.
Even if your operation isn't that small, you still may find yourself missing some of the additional bells and whistles that larger companies need (like bulk send or real-time collaboration).
And without these kinds of features, it's hard to justify Juro's pricing plans — they're not cheap, especially if you're on a budget.
That's why we decided to explore some other contract automation software that might be worth checking out if you're looking for something that's easy to use but still has a lot of features.
How we sourced our top Juro alternatives
To find out which companies are the most popular alternatives to Juro, we examined 20 different websites, including industry-recognized news and user review sites (such as G2, Capterra, Trustpilot, and Gartner), as well as those of the software manufacturers themselves.
We didn't consider what any company had to say about their own products when compiling our research.
Instead, we only used facts about each platform and the information gathered from the sites mentioned above to determine what each product offered, how easy it was to use, how much it cost, etc.
Next, we ranked each of the top software products using a 100-point scale.
Each product was given a cumulative score out of 100 total points possible, which reflected its performance using the following criteria:
Usability: (25 points) We evaluated how easy it is to get started with the software and how intuitive it is to use. We also reviewed its UI for usability, as well as the documentation required for getting started.
Features: (30) We assessed the features of each product by looking at how much functionality the software offers. This included looking at what reporting capabilities are available, as well as the range of functionality that can be integrated with their API.
Integrations: (15) We reviewed how easy it is to integrate a product with a third-party tool. We took into account how many integrations are available and reviewed their quality and diversity.
Customer support: (15) We looked at both the availability and quality of support options on offer.
Pricing: (15) We assessed how affordable each product was for small, medium and enterprise-grade organizations.
Here are the results, plus a quick rundown of each product's highlights and our overall impressions.
01. PandaDoc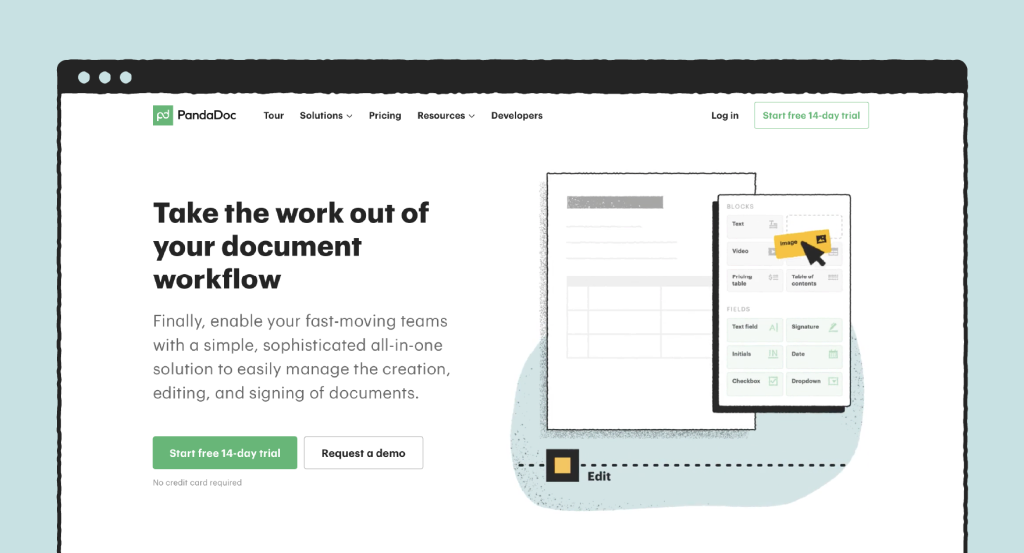 Total Score: 90/100
Free trial: Yes.
Support options: Live 24/7 chat and contact form.
Integrations: Numerous applications, such as Salesforce, QuickBooks Online, Dropbox, Google Sheets, Box, Slack, Zendesk, and SugarCRM.
Summary
PandaDoc is an all-in-one platform designed to help you manage your contracts digitally. The software comes with a wide range of problem-solving tools for your legal needs.
It allows you to draft and customize contracts based on user roles and company requirements, as well as track contract changes, collaborate with team members, and automate your documents workflows.
It basically takes legal agreements out of the paper age and makes them accessible to everyone with an internet connection.
Let's take a closer look at some of the features that make PandaDoc stand out from the competition:
PandaDoc main features
Pricing
PandaDoc offers a free 14-day trial. You can also use the free plan for one user, or upgrade to the Enterprise plan (up to $199/month) to accommodate 25 users.
Verdict
PandaDoc's platform is one of the most comprehensive, streamlined, and well-designed document automation tools on the market.
We know, we know. We might be a little biased here, but we'll give you the facts:
PandaDoc is all about making the contract management process simple. This is why we've designed our contract builder with a clear, intuitive interface, to make it easy for anyone to create and sign contracts.
Even if you're still using a paper notebook or file cabinet to manage your agreements, PandaDoc's initial setup is quick and easy.
It's also supported natively on iOS and Android, and unlike Juro, it doesn't have to be used for just legal departments, mid-size businesses, or law firms.
That means that if you run an online shop or a crowdfunding campaign, you can also use it to keep your customers on the same page.
When every party involved knows what they're agreeing to, there's less room for confusion down the road… which means fewer headaches for you!
Now, being totally honest, it's hard to find anything bad to say about PandaDoc — at least from our point of view. But if we had to pick one downside, it would be that while PandaDoc has some fun features that might outweigh the pricing for some, it's a bit pricier than Juro.
It also has limited integrations unless you upgrade to a paid plan.
If you need something cheaper, you'll still find a way around it… but at least this way, your contract processes remain streamlined.
02. LinkSquares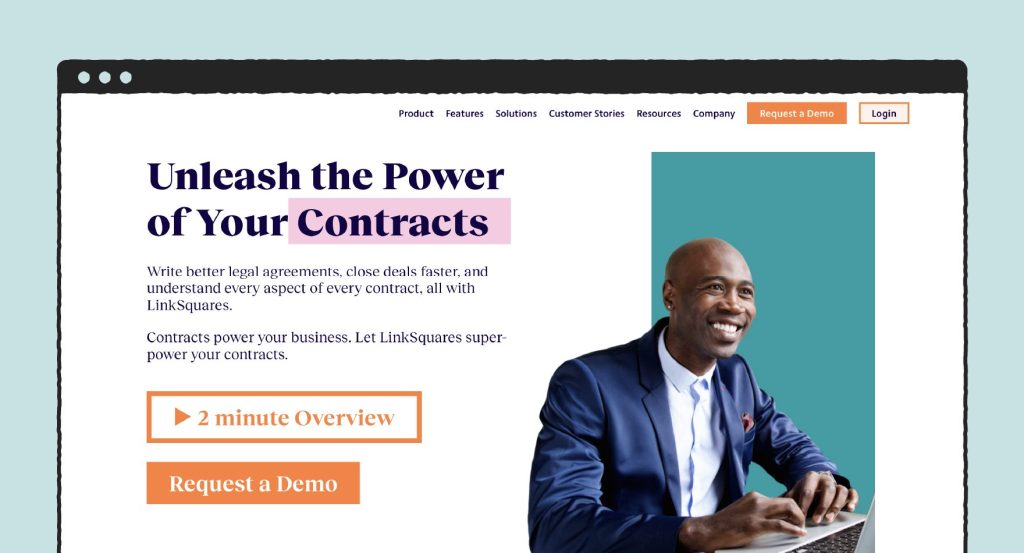 Total Score: 85/100
Free trial: No.
Support options: Only email support.
Integrations: The platform integrates with Google Drive, Salesforce, AdobeSign and Microsoft — and more.
Summary
LinkSquares is an AI-powered contract management platform that helps in-house teams manage their day-to-day operations and provides an automated, integrated workflow to make every part of your contract lifecycle easier.
LinkSquare main features
LinkSquares has the following main features:
AI-Powered Contract Review: Their AI-powered engine automatically reviews each contract's obligations and risk scores against thousands of industry benchmarks and your own internal policies to identify issues before they happen.
LinkSquares Analyze: This feature makes it easy for legal teams to locate contracts and get custom reports with full-text search and term search to quickly view and analyze data for any contract.
Clause Library: Their Clause Library provides you with a searchable database of legal clauses, making them easy to locate and use in drafting new contracts.
Pricing
LinkSquares has not yet made pricing information available.
Verdict
When it comes to in-house contract management, LinkSquares has most of the tools that you'll need to keep your legal team happy.
From contract creation to final approval, their AI helps you get contextual insights into what's missing and what needs further review, and you'll even be notified if there are any potentially contentious issues or risks associated with signing the contract so you can take steps to mitigate those risks early on.
So, without a doubt, LinkSquares is a huge time-saver and a great alternative to Juro software. But it doesn't offer everything that a perfect contract management system should have.
Although their AI technology is great at suggesting changes, it isn't perfect and sometimes it gets confused by certain clauses or phrases. You'll still need to carefully check over these contracts yourself for mistakes or inaccuracies.
It also lacks advanced features like the ability to merge duplicates or delete expired contracts, and their UI could use some fine-tuning.
03. Conga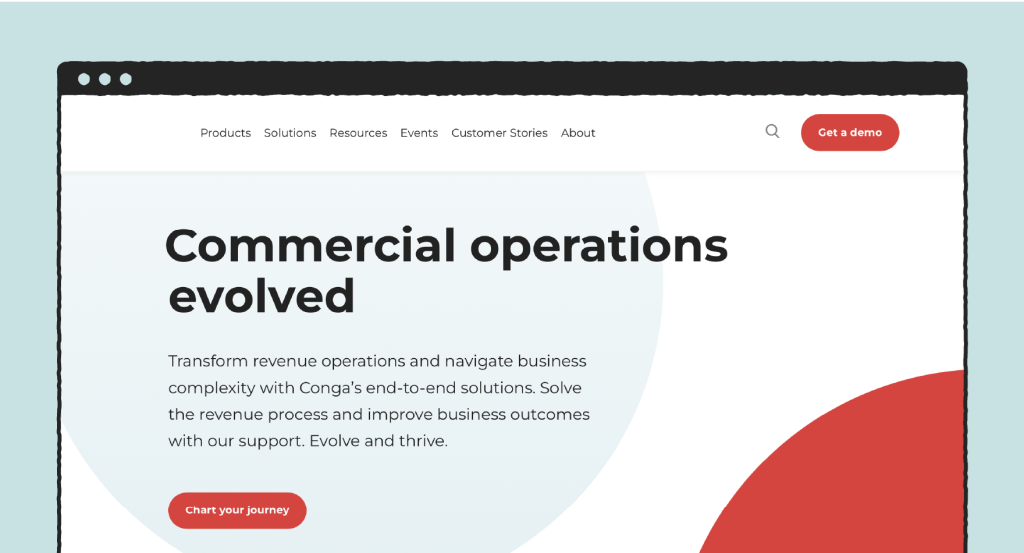 Total Score: 80/100
Free trial: No.
Support options: Telephone and product documentation
Integrations: Conga doesn't provide a full list of supported integrations.
Conga Contracts is a contract management solution that allows you to create strong, legally binding contracts quickly. It offers various tools, including Conga Collaborate, Conga Sign, Conga SPQ and Conga Composer.
Conga main features
Their contract management software includes:
Contract intelligence: Conga uses artificial intelligence to organize your contracts into structured data in real-time. This means you can populate your existing legal knowledge base with reliable information every time you create or edit a contract using their software.
Conga intelligent discovery: With this tool you can automatically import contracts from any source, regardless of the format.
Conga approvals: This feature lets you set up approvals on contract terms, agreement clauses, and more. They also offer automated contract workflows and approval capabilities so whoever is involved in the contract knows what they're responsible for at every stage of the process.
Conga max: This is probably the most innovative feature the company has on offer, even though you might not need it. This "Max" feature lets you manage multiple users through a conversational interface — simply ask it to create a new contract or send an existing one and it will do so, all without ever having to log into a portal or leave your desk.
Pricing
The Conga Contracts website doesn't provide pricing information for its contract management software.
Verdict
As its core, Conga Contracts is a great alternative to Juro, but might be overkill for people who don't have complicated processes to manage.
Its drag-and-drop interface allows you to build contract workflows that involve multiple reviewers with multiple steps per reviewer and multiple versions of each document.
This feature helps keep your team organized and removes any chance that a small mistake will snowball into something much worse.
The reporting features in Conga Contracts are limited, though; while it offers some useful reports out of the box, they aren't nearly as detailed as some of their competitors.
Additionally, Conga doesn't offer any tools for real-time collaboration or contract negotiation, which might be deal-breakers for you.
Juro might be a better option if that's what you need, but Conga Contracts is still a great solution for managing contracts for large-size businesses.
04. Docusign CLM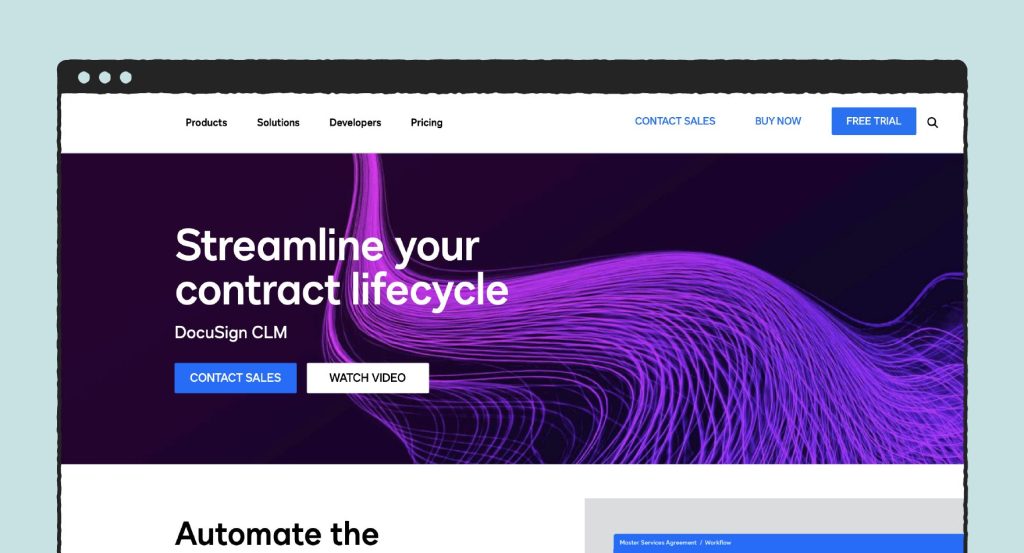 Total Score: 75/100
Free trial: Yes, 30 days.
Support options: Email, telephone, and live chat.
Integrations: 350+ cloud-based integrations.
Docusign is one of the leading providers of eSignature services, but in the last couple years, they've also become a go-to solution for small businesses looking to manage and distribute their contracts.
This software has the typical core features, such as contract templates, collaboration, and document automation, but it also includes other features.
Docusign CLM main features
Docusign CLM 360: With this, their software lets you use metadata to create customized workflows and then analyze the results. For example, it can help you track renewal dates, assign tasks based on the contract status, manage documents associated with each contract (including external documents), and more.
Docusign CLM+: You can use this feature to run Docusign CLM's pre-trained AI models to extract data on key contract clauses, like regulatory, taxes, confidentiality and more.
Pricing
After their 30-day trial version, Docusign pricing varies depending on the number of users you want to include in the contract and if you pay on a monthly or annual basis.
Verdict
Docusign CLM is a relatively new addition to the field of contract lifecycle management platforms, but it offers a powerful solution.
Their contract editor is designed to support fast-paced collaborative work where people need immediate real-time access to the latest versions of a document, and it offers flexible templates and pre-made agreements to make it easy for your clients to sign with just one click.
Docusign CLM is also easy to use, and their customizable contract workflows are probably one of their biggest selling points.
So, what's the downside?
Well, it's not as solid as Juro. There's a steep learning curve if you want to be really effective with the product. And there aren't many training materials available on their site.
At PandaDoc, for instance, we have the PandaDoc Library, PandaDoc's Learn site, and our Help Center in case you are feeling lost.
05. Contractbook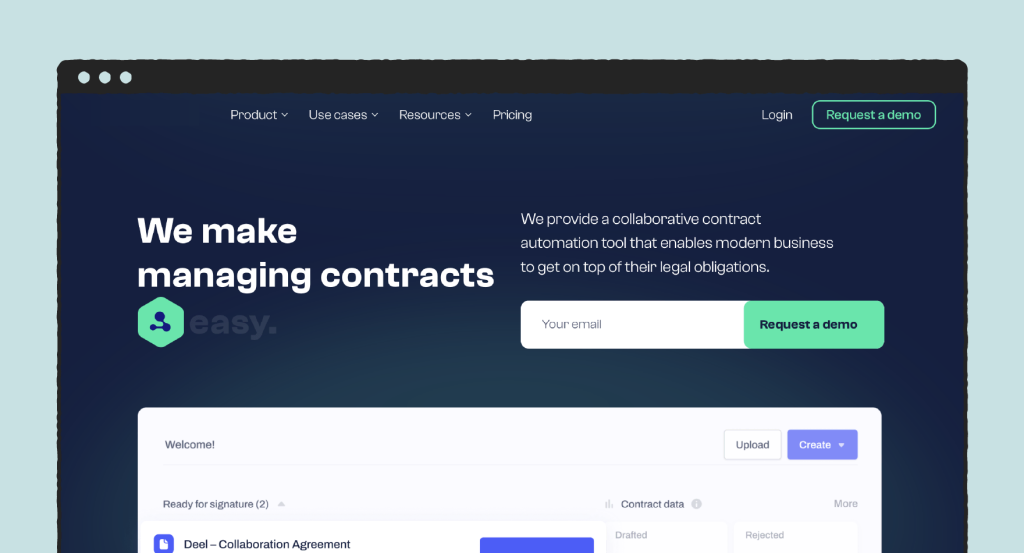 Total Score: 70/100
Free trial: Yes, 7 days.
Support options: Email and telephone
Integrations: +2000 apps – Salesforce, Zapier, Slack, Trello, Typeform, Pipedrive, and more.
Contractbook is a simple tool for freelancers, agencies and companies to organize their contracts.
In a nutshell, it helps you manage your contracts, add team members and clients to projects, track milestones, make comments, and stay organized.
Here's a quick overview of its key features.
Contractbook main features
Approval workflows: This is a must-have feature in any solid contract automation solution. With it, you can create custom rules for each contract and task. You can also define who has the authority to make changes and approvals on behalf of other parties involved in the contract.
Milestone and tracking: You can use Contractbook's milestone feature to track completion dates for each step of the process. By setting up due dates, you'll be notified when it's time to take action.
Full-text search: If you have a lot of contracts in your account, finding the one you want by scrolling through them all can be time-consuming. That's when this full-text search functionality comes in handy — entering just a portion of a contract's title or description, Contractbook lets you see all results associated with it instantly.
Version history: Every document in Contractbook has an audit trail that lets you view all of the changes made to your contract throughout the life of it.
Pricing
Contracbook has a base price tag of $400/month, and that includes 10 users and access to their contract lifecycle management set of features.
You'll need to pay an extra $400 a month if you need to integrate with other platforms, though.
Verdict
Contractbook is easy to use and it has a robust set of features. It's less feature-rich than Juro, but that makes it all the more intuitive.
The process of creating a contract is quite fast and easy as well: You just need to decide which template you want to use, add the client details and your own information and that's it!
You can also add reminders so you don't forget any details or deadlines.
Now, in terms of customization, Contractbook definitely has the upper hand here compared to Juro — you can choose whether you want to include a logo or watermark on your agreement (the latter can come in handy if you're using it as a template).
The downside?
It's not as user-friendly when it comes to sharing documents with non-Contractbook users.
Many companies still require a physical signature; in this case, Contractbook is missing out on a chance to eliminate the printing-and-scanning process.
06. Evisort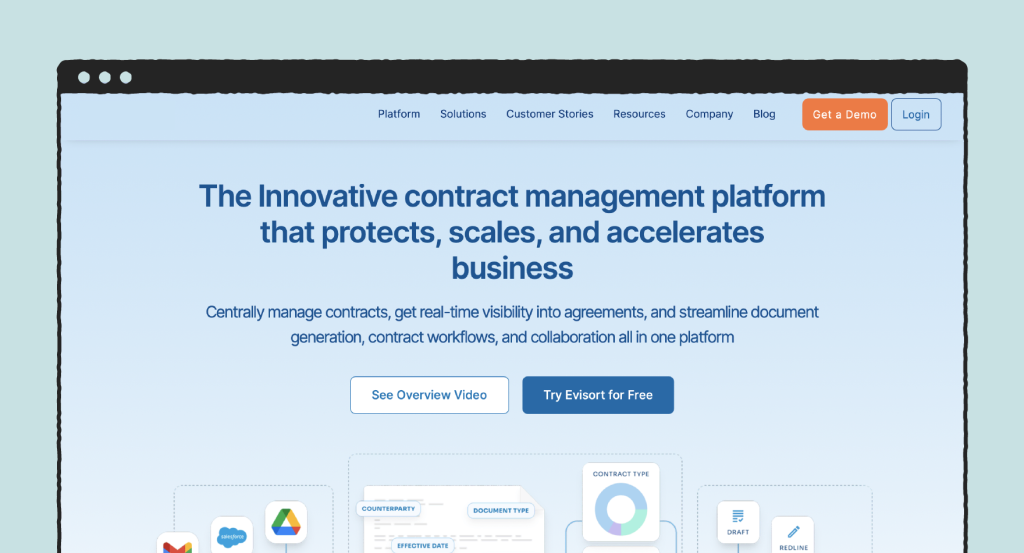 Total Score: 65/100
Free trial: Yes.
Support options: Email support and FAQ.
Integrations: While it doesn't have a large number of integrations, you'll still be able to use it with your key apps, such as Drive or Salesforce.
Evisort is another end-to-end contract management software solution that provides automated contract drafting, contract lifecycle workflows, intelligent redlining and a robust reporting system.
Here's what they offer.
Evisort main features
Self-service contract creation: This feature lets you create contracts using pre-approved legal templates from their library.
Contract reporting: While this one may not be anything revolutionary, it's still a solid feature that lets you track your contracts status changes and get comprehensive reports and analytics.
AI-powered data extraction: Using this tool, you can identify over 230 contract types and more than 50 key clauses, dates, and metadata from any contract.
Real-time notifications and alerts: Like most contract automation systems, Evisort lets you create custom alerts with different triggers and recipients based on different parameters, such as contract type, customer, geography, or other characteristics. You can also set up an alert to let you know when a contract is nearing its renewal date.
Pricing
Their pricing plans begin at $59 per month per user and include a variety of upgrades and add-ons.
Verdict
Evisort is a great alternative for managing contracts. There are some key features missing, but overall it works well and holds your contracts in one place.
Like Juro, Evisort allows you to easily send contracts for signatures, collaborate with your team, search for prior versions of a document, and even share different versions with your clients.
They have solid customer support, which is definitely a plus if you run into any issues, and their platform is also really intuitive and easy to use.
However, it takes a long time to get everything set up initially, and the workflow logic isn't as deep as we've seen with other contract management softwares.
That means that you can do pretty much anything you need with your contracts, but it's not as automated as other platforms.
07. Agiloft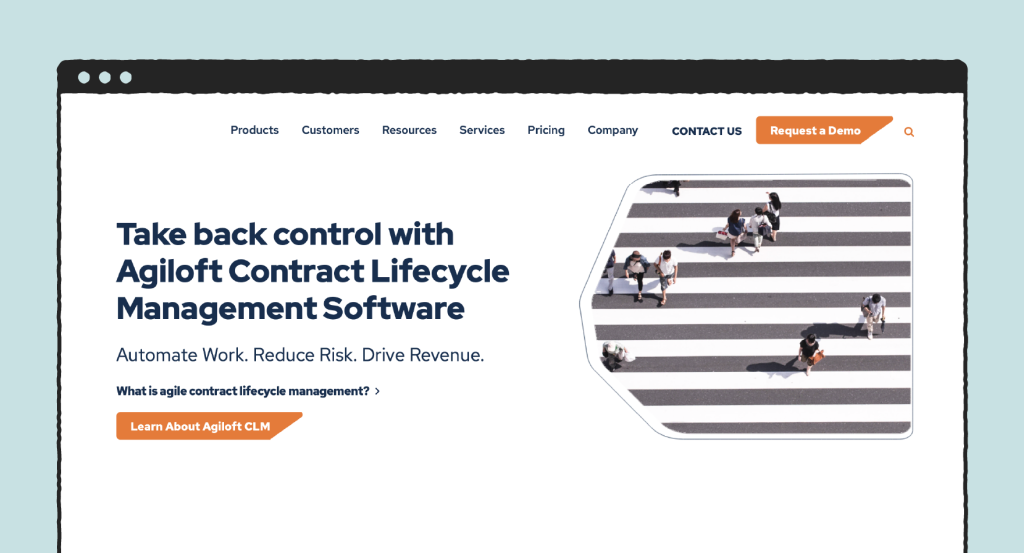 Total Score: 60/100
Free trial: Yes.
Support options: Email, telephone, online ticketing and product materials.
Integrations: Their range of integrations is kind of limited, but you still get to connect your most used apps — Salesforce, Google Docs, Microsoft Word, Adobe Sign, etc.
Agiloft is a comprehensive contract management suite that's meant to help you gain control over contracts, whether they're sales deals, vendor agreements or anything else.
It's one of the most mature platforms on the market, and a great way to track contracts from negotiation through execution and completion.
Agiloft main features
Contract repository: This is a repository where you can store contracts, as well as all of your supporting documents (e.g., invoices, billing statements, etc.).You can use Agiloft's dashboard to track contract performance and activity, or create saved views of specific contract information for your team to access.
Contract customization wizard: This feature lets you create contracts with a few clicks using standardized approved language with contract templates or dynamically customize each clause in any agreement. You can also quickly add clauses to an agreement from the Clause Library.
Compliance analytics: You'll get robust compliance analytics out-of-the-box or you can easily build reports to capture custom metrics.
Pricing
Agiloft has four quote-based pricing plans, starting at $65/month per user.
Verdict
Agiloft is a great alternative to Juro if you're looking for a highly configurable solution.
It's very close to Juro in terms of the features and pricing, but it offers more customization options, which can be great if you're trying to adapt to your company's specific processes and policies.
If there's something that you need to change but can't figure out how to do it using the dashboard designer, you'll find an option for that in the settings menu.
Now, one of their strongest points is the contract reporting feature. You can choose from 10 different chart types, add date and record filters, choose the formatting and customize everything.
The end result will likely present as less appealing when compared to Juro's reports, but Agiloft's are way more advanced.
The drag and drop interface is a little outdated and it might take some time to get used to the complexity of the platform if your organization wants to handle some of the maintenance and design.
However, if you're looking for a highly-configurable solution that will suit your organization's needs precisely, Agiloft is definitely worth checking out.
08. ContrackWorks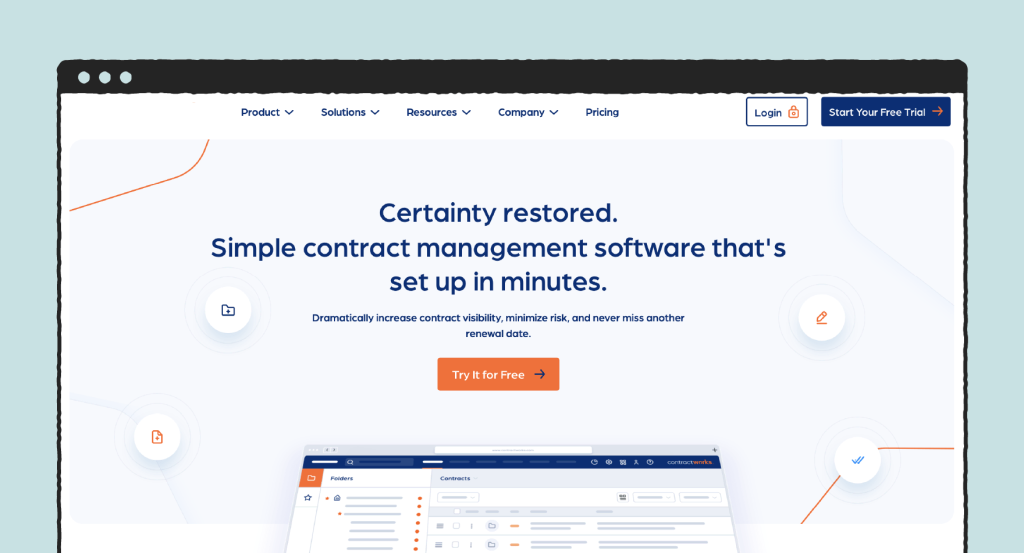 Total Score: 55/100
Free trial: Yes.
Support options: Telephone and email.
Integrations: Only with Salesforce.
ContractWorks is an easy-to-use contract management solution designed to help you streamline the signing and tracking of contracts, while also providing a platform for managing your contract data.
These are its key features:
ContractWorks main features
Personalized reporting: With their software, you can set up reports based on your selected data points, like type of contract or value. For example, you can create a report that shows all contracts due to renew in the next quarter, or show all contract modifications created in the last month for a specific customer or employee.
Smart document tagging: This feature automatically adds key tags like effective date, renewal date or termination date based on your scanned contract's data.
Smart contract outline: Their OCR functionality automatically creates a linear outline based on your contract's section headers, which is a great way of navigating key sections quickly.
ContractWorks also offers granular permissions and roles, an intuitive notifications calendar with at-a-glance status, customizable workflow management, and more.
Pricing
Their price tag starts at $600/month and goes up to $1,000. Their three pricing plans include unlimited users, a dedicated account manager and training.
Verdict
ContractWorks is a solid alternative to Juro. Both are easy to use and don't require much time to learn. They have built-in templates and OCR that makes importing documents into the system a breeze.
The user interface of ContractWorks is simple, clear, and intuitive enough that most users won't need any training at all.
It's also ideal for small businesses or teams looking for a simple way to manage contracts and NDAs because it only has the basic features you need to track contracts and agreements.
However, if you're a large enterprise and are looking for specific features like redlining, intelligent custom fields, integrations, and contract templates, you'd be better off with a more robust solution like PandaDoc or LinkSquares.
09. Concord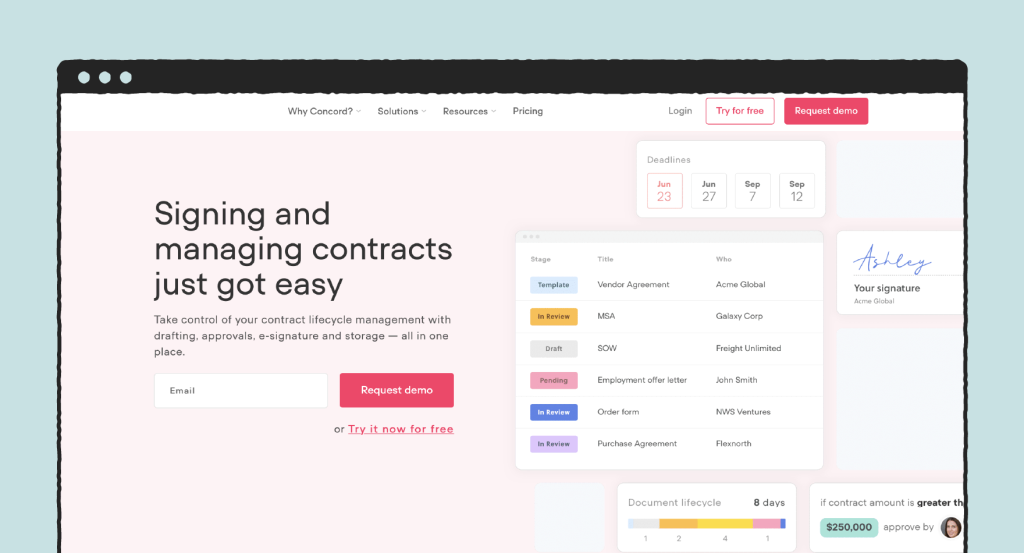 Total Score: 50/100
Free trial: Yes, 14 days.
Support options: Email and product materials.
Integrations: It allows integrations with Salesforce, Docusign, Dropbox, Box and Google Drive among others.
Concord is a workflow automation and contract management software. It allows you to write contracts, send them for approval, track changes, and ultimately sign them electronically.
It also offers document storage, support for scanning contracts, and OCR technology.
To sum up, Concord helps you with:
Concord main features
Real-time contract editing: With Concord, you can draft and negotiate contracts in the moment. This feature allows you to have real-time discussions about the content of your contract with other users by suggesting edits, attaching files, adding comments, etc.
Custom roles: The app makes it simple to keep track of who needs what documents by assigning different roles to different people within your company. You get ultimate control over who has access to each document and can even set alerts so that you receive an email when someone needs a certain document.
Bulk send: You can send multiple contracts to multiple people at the same time using this bulk send feature. You simply import a list of signers/team members and each one receives a unique copy of the contract.
Pricing
Concord's pricing plans start at $17/month per user, paid annually, or $23/month per user if you go for the monthly payment option.
Verdict
Concord probably isn't the best option if you're a large team operating over a dozen entities — unlike Juro, its suite of tools is more focused towards small businesses and agencies.
Still, it's definitely a great alternative.
It saves everyone's time by providing summaries of important data points in your contract, as well as a space for any relevant commentary — all parties can see the context around the document in one place.
This makes it super easy for everyone to quickly read through the contract, comment on specifics, and move on to do their job without worrying about missing something important.
It also has a lot of built-in templates that make it easy to get started with the basic clauses you need when creating your contracts.
However, if you need something more customized or specific than what's available in Concord, you will likely have to stay with Juro or check some of the software at the top of this list!
Bottom line
At the end of the day, you really can't go wrong with any of these Juro alternatives.
However, while each of them has unique features to offer and a slightly different approach, we feel like PandaDoc remains on top.
PandaDoc offers all of the core features that small businesses search for in an automated contract lifecycle management solution.
In other words, it features an intuitive drag-and-drop interface, boosts quick decision-making, and eliminates the heavy lifting of paperwork.
It offers a lot in the free version, and PandaDoc's paid plans are reasonably priced compared to the rest of the alternatives to Juro's software.
So, if you're looking for a simple and affordable way to create, send, and track your documents online, PandaDoc will serve you well — it's just up to you to make it part of your workflow!