Need an alternative to Agiloft?
Users switching from Agiloft to PandaDoc will enjoy unparalleled document creation, automation, and customization tools for proposals, contracts, and more.
| | Agiloft | PandaDoc |
| --- | --- | --- |
| Contract lifecycle management | | |
| Scalable deployment tools | | |
| Contract renewals and notification | | |
| Fast contract generation (Templates) | | |
| Approval workflows | | |
| Reports and forecasts | | |
| Searchable contracts and database | | |
| Email-based customer notifications | | |
| Custom branding solutions | | |
| Renewal notifications | | |
| Secure contracts | | |
| Integration tools | | |
| Payment gateways | | |
| GDPR and HIPAA compliant | | |
| SOC2 type 2 certified | | |
| Document analytics | | |
| Template library | | |
| Document editor | | |
| From scratch contract creation | | |
| Content library tools | | |
| Pricing tables | | |
| Form creation tools | | |
| Mobile app | | |
| 24/7/365 chat support | | |
Contract management software made easy
Both PandaDoc and Agiloft review very well when it comes to contract management. From Salesforce integrations to customer workflow and contract approvals, both platforms make it easy to handle every aspect of contract lifecycle management. PandaDoc goes above and beyond by adding unique document analytics, as well as the ability to draft contracts from scratch using onboard tools. With our platform, you can consolidate your contracting workflow into a single workspace.
No-code CLM solutions
While PandaDoc and Agiloft both offer no-code solutions to CLM, the approach is very different. With Agiloft, everything is designed around attachments and clicking. You'll submit contracts and all relevant information via forms, almost like filling out a CRM entry for each contract. With PandaDoc, everything related to the contract is built into the contract itself, including comments and assigned fields. Both platforms try to have all relevant information built into a single file, but the end result is a little different.
Built for a great user experience
While Agiloft has a process to help manage contracts, the user interface can feel outdated and unintuitive. By contrast, the PandaDoc UI is built for easy navigation, searchability, and customization. Almost everything you need to do with contracts will take place inside the PandaDoc Editor, so you'll be able to assign responsibilities and built workflows without the need to switch screens or jump through multiple windows.
Powerful encryption and security
Just like Agiloft's platform security, PandaDoc operates with powerful security and encryption to keep your documents safe. Our platform is SOC2 Type 2 certified, HIPAA and GDPR compliant, and routes information through secure facilities on the Amazon AWS platform. With PandaDoc, you'll never have to worry about staying in compliance and keeping your documents safe.
More than service desk support
Agiloft offers a standard support package where you can contact their help desk during business hours. But when you need help, you need help! That's why PandaDoc offers 24/7/365 service and support through our chat platform. When something goes wrong, send us a message and our support team will help you get back on track. This is a service we offer at no additional cost to every user.
Go beyond contract management systems with PandaDoc
Document creation software for your business needs
One of the core product innovations that PandaDoc provides to users is a way to build, edit, and manage your documents on a single platform. While you can upload existing contracts to the PandaDoc interface, you can create flexible contract documents that can be edited and changed on the fly, which drastically improves close times. Just like with Agiloft, you can also create surveys, questionnaires, forms, and more.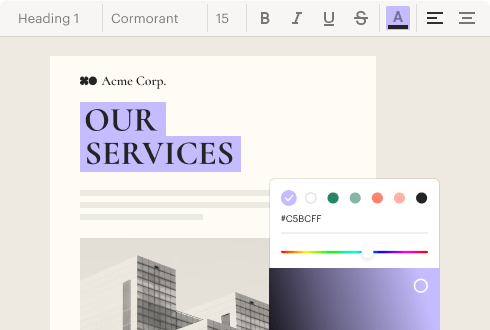 Save time with templates and content blocks
Want to expedite contract creation time? With PandaDoc, there are two ways to do it: templates and content blocks. With templates, you can create a master copy of your document, then generate a new copy and make changes before sending it out to signers. Think of your content library as templates at a smaller scale. Using your content library, you can create blocks of prewritten and predesigned content that can easily be added to any document. Want to go even faster? Don't forget about the 450+ free templates in our template library. Use any of these editable templates to get started.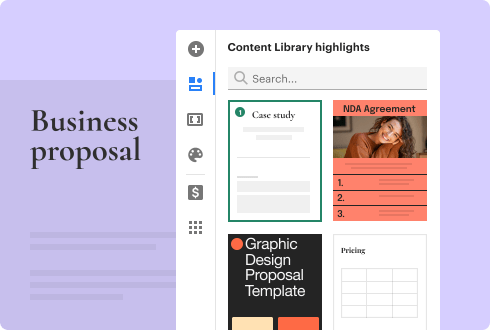 Optimize and automate your business processes
Whether you're a SaaS startup or a procurement team at a large organization, the functionality to streamline your business operations shouldn't be out of reach. PandaDoc offers workflow tools to help you get documents out the door even faster. Keep your document flexible, respond to comments quickly, and move your document through the signing process with approval workflows, a customized signing order, and more.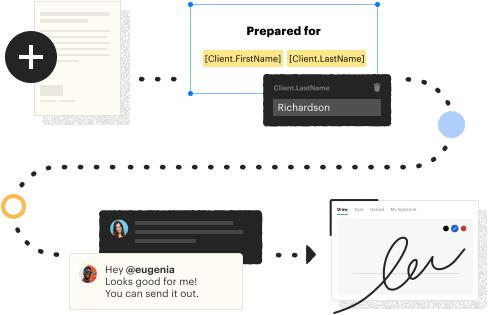 Incredible small business tools
One of the downsides to a big software like Agiloft is that it may simply be more than you need if you're trying to run a smaller business. Agiloft assumes that you'll have preexisting contracts and that you have a strong handle on the type of content that you want to use for contracts — and it mostly ends there. PandaDoc provides you with the ability to consolidate your sales and marketing documentation into a single platform, so it's much easier to handle. Compared with Agiloft pricing, PandaDoc is also more affordable, with our business plan coming in at a lower cost than the Agiloft Professional license.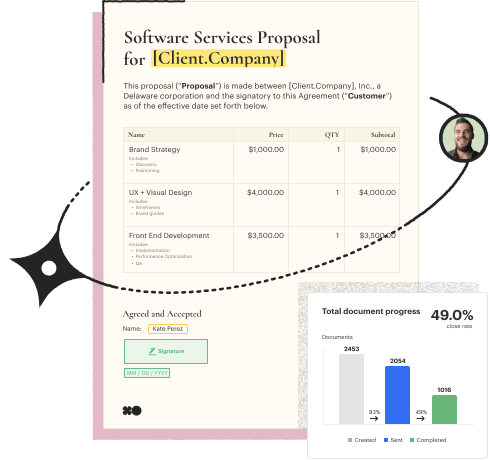 Integrations galore
While Agiloft comes with some prebuilt integrations, including integrations to signing platforms like Adobe Sign and DocuSign, the platform can't compare to the custom workflows that you can build using PandaDoc integration tools. From payments to CRM integrations, our platform connects to thousands of apps so that it integrates seamlessly with your entire tech stack.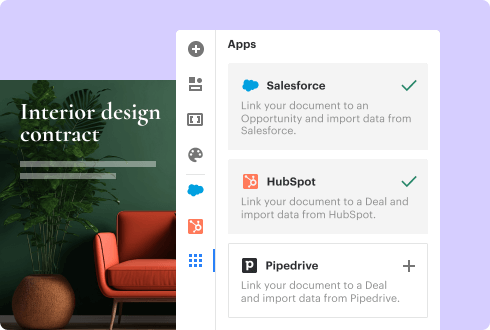 Perfect for any industry
Whether you're a Fortune 100 healthcare company or a small legal tech team needing to send contracts on behalf of your clients, PandaDoc can fit comfortably into any workflow. Use our design tools and custom variables to create a flexible document that fits the needs of your business and your brand — all in one place.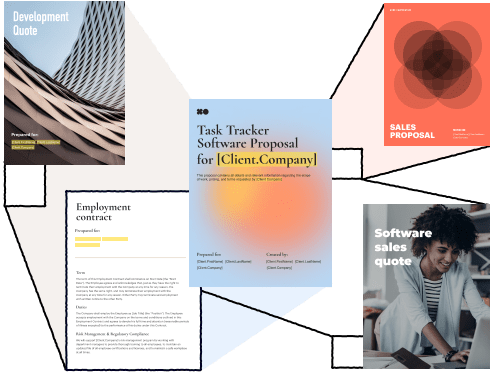 Find the perfect PandaDoc solution for your business