Much like PandaDoc, GetAccept is a solution that helps sales teams engage, enchant, onboard, and sign leads.
In short, they're an A-to-Z solution that essentially acts like a right-hand man for the sales team (which is evident by the excellent ratings they've received on almost every peer-to-peer review platform).
However, there are still not many editorial reviews about the product, which is unfortunate considering the number of capabilities it has.
So, we thought we'd break the cycle, and review GetAccept based on its features, pros, cons, pricing, customer support, ease of use, ratings, and other factors.
Let's dive right in!
Review summary
Overall, GetAccept has all the capabilities a sales team needs.
However, it's still not up to the mark in certain areas (integrations, 24/7 customer support, yearly reports, etc.).
But, because the GetAccept team is known for looking forward to feedback and improvement, we don't doubt that these issues will be resolved soon.
Our ratings
Overall: 4.5/5
Features: 4.5/5
Pricing: 4.5/5
Customer support: 5/5
Ease of use: 4/5
Value for money: 4.5/5
| Pros | Cons |
| --- | --- |
| Extremely intuitive and easy-to-use solution. | The customer support team isn't available 24/7/365. |
| The customer support team has only received positive feedback. | The solution only provides an overview of monthly sales, and doesn't allow you to generate yearly reports. |
| It's a one-stop shop for your sales needs. | Sometimes a few integrations don't function well enough. |
| The team is always eager for feedback and looks toward improving its processes. | |
Review methodology
We wanted to provide accurate and truthful information about GetAccept, so we searched multiple social channels, websites, editorial publications, online profiles, forums, etc., to gather data for research.
To ensure the data was authentic, we relied on the domain rating of the sites, and compared them against author credibility, dialogue usage, and personal judgment.
Overview of GetAccept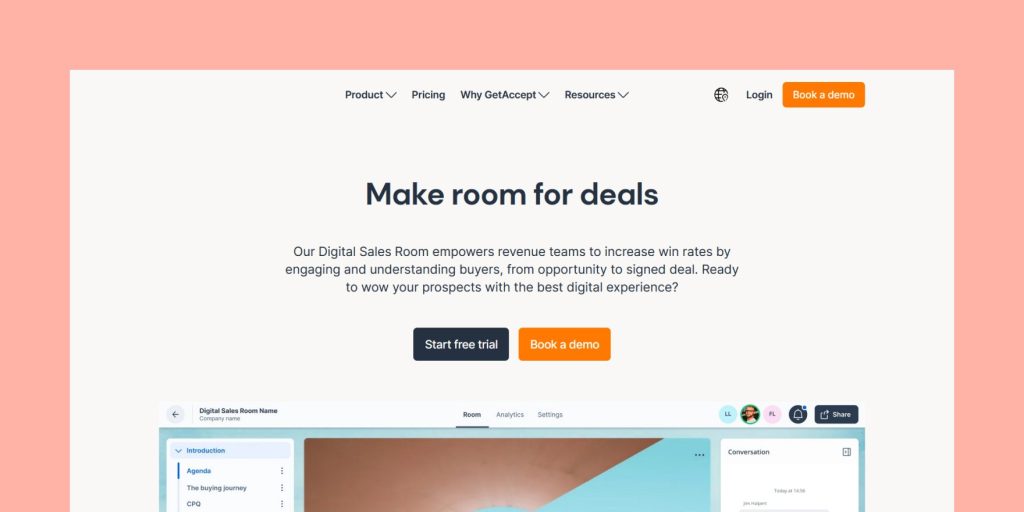 Founded by Mathias Thulin, Carl Carell, Samir Smajic, and Jonas Black, GetAccept is a solution that was developed in 2015 with the aim of becoming the go-to solution where all B2B sales happen.
The company strongly believes in putting people (and hence relationships) at the forefront, and advocates for engaging and interacting with prospects in a natural way.
Due to the nature of its being, the platform aimed at salesfolks and customer success professionals —particularly those who operate in the B2B markets, as they can benefit from features like contract and proposal management, e-signatures, sales engagement, automation, tracking, analytics, etc.
Presently, GetAccept has a presence in 50+ countries, more than 100 employees, and a vision to keep moving forward.
Product pricing
Three pricing plans are available:
Essentials (priced at $15/user/month)
Professional — this has three sub-plans, namely Deal Room (priced at $39/month), Contract Room (priced at $49/month), and Full-Bundle Suite (priced at $79/month)
Enterprise — this also has three sub-plans (i.e., Deal Room, Contract Room, and Full Bundle Suite); all plans require you to get a custom quote.
The Deal Room is aimed at users who only want to use GetAccept to manage interactions that happen before you sign the document — aka, meeting with prospects, accessing resources, agreeing on specifics, etc.
Both the Enterprise and the Professional plans allow one to add unlimited users and unlimited rooms.
Those who have these plans can also access additional resources like smart archiving, video recording, custom branding, security, document analytics, automated reminders, and more.
The Contract Room is aimed at users who want to use GetAccept for contract management.
It has features like unlimited e-signatures, custom branding, security verification, integrations, and attachments.
Truth be told, the Contract Room and Deal Room plans have a lot of similar features (both plans allow you to add unlimited users and rooms, access integrations, get automated reminders, and so forth.).
The only difference (from what we could find) is that the Contract Room allows you to add unlimited e-signatures.
The Essentials Plan has either limited features (e.g., you cannot create rooms) or limits on certain features (e.g., you can only send 10 signature requests) by comparison.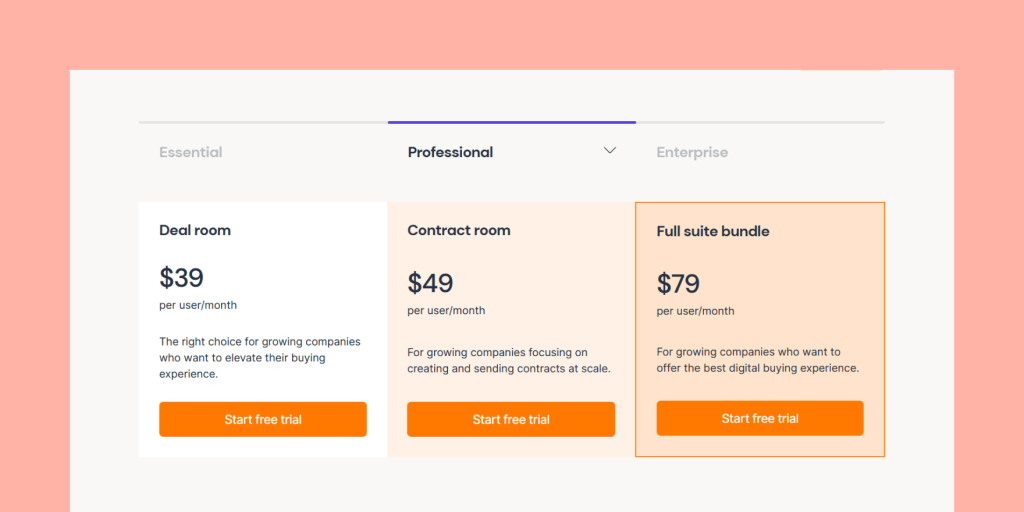 Key features
1. Engage your prospects
With this solution, you can engage and interact with your prospects by sending them automated reminders, sharing personalized videos, messaging them through SMS, forwarding them live links, and chatting with them.
Except for the SMS delivery option, all these features are enabled regardless of whichever subscription plan you choose. Only the Professional and Enterprise versions have the option to send SMS.
2. Customize your documents
GetAccept allows users to custom-brand their documents with the color schemes and backgrounds of their liking.
To ensure that your documents are as engaging as possible, the solution also:
Offers a library of templates that you can refer to.
Provides an in-app editor that lets you get creative.
Allows you to add attachments and pricing tables.
If you really like a document, you can create templates out of it.
And once you send these to your prospects, you can get analytics on how they performed and how your prospects interacted with them.
GetAccept also has a handy feature called "Deal Score," which lets you measure the probability of the deal getting signed.
3. Adherence to security measures
To ensure that all parties are protected at all times, the solution offers security measures such as:
Two-factor authentication
Compliance with GDPR and SOC2 requirements
eID verification for Nordic customers
SMS verification
Single sign-on
Adobe Trusted Certificate to seal documents
4. Plenty of integrations
No solution can be called seamless if they don't allow multiple integrations that make automation a breeze.
And GetAccept is definitely a seamless solution because it allows integrations with partners like HubSpot, Pipedrive, Zapier, Salesforce, Stripe, Authorize.net, and others.
Additionally, you can even build custom integrations because GetAccept gives you API read and write access.
Support and ease of use
GetAccept's customer service has received plenty of praise on multiple platforms (such as G2, Gartner, and TrustRadius).
According to some users, the company stands out from its competition due to its terrific customer service.
However, customer support is only available between Monday-Friday through chat support (there's also a help center available if need be).
And as per most users, the solution is extremely easy to use for both the sender and the receiver, and has a nice and simple user interface (UI).
However, some users said that it could look a little cluttered (especially on the mobile app). So, 8/10 points there.
How does PandaDoc compare?
While GetAccept is only geared toward salespeople, PandaDoc has features in place that can be used by all types of teams (e.g., sales, HR, marketing, legal, finance, etc.).
For example, if you're a part of the sales team, PandaDoc will allow you to create engaging proposals, get real-time insights on your deals, send custom quotes, and integrate with tools from your tech stack.
Similarly, marketing teams can use the platform to customize brand documents, engage with leads, create eye-grabbing collateral, access analytics, and automate their processes by integrating PandaDoc with other solutions.
And legal teams can capture signatures, stay compliant with laws and certification requirements, create workflows, get automatic reminders, and organize data with folders.
Also, we have 24/7/365 customer support.
In conclusion
If you're a company that's entirely sales-focused, then GetAccept can help you with your operations.
However, if you need a solution that can handle all parts of your business (which would quite likely be the case if you're a small business with plans to scale), you may not fully benefit from GetAccept's capabilities.
Instead, we recommend you go with a solution that would be a perfect fit for all departments and team members.
And may we introduce PandaDoc here? As we mentioned above, we're excellent at assisting all department types and teams.
To learn more about what the solution can offer you, start your 14-day free trial (no credit card requirement, and no requirement to stay on if you don't like our product!).
Frequently asked questions
Yes, you can get GetAccept through a Chrome extension. However, you'll need to integrate it with your HubSpot CRM.

Yes, it's possible to integrate GetAccept with Salesforce.

Some of the best GetAccept competitors are PandaDoc, Dropbox Sign, Docsend, Qwilr, and DocuSign.
Disclaimer
Parties other than PandaDoc may provide products, services, recommendations, or views on PandaDoc's site ("Third Party Materials"). PandaDoc is not responsible for examining or evaluating such Third Party Materials, and does not provide any warranties relating to the Third Party Materials. Links to such Third Party Materials are for your convenience and does not constitute an endorsement of such Third Party Materials.