Need an alternative to YouSign?
YouSign helps you stay on top of electronic signatures, but PandaDoc does all that and more. Switching to PandaDoc for your eSignature solution allows you to effectively create, sign, and manage your documents from one place. Go beyond digital signatures with PandaDoc.


Legally-binding electronic signatures
No matter which documents you send, both YouSign and PandaDoc excel as an electronic signature solution. Digital signatures gathered through both platforms are legally-binding and can be used to ensure that your contracts, invoices, and proposals carry the appropriate legal weight.
A Europe-friendly alternative
YouSign is quick to point out that it's designed as a European-based alternative to companies like DocuSign, HelloSign, or Adobe Sign, all of which are based in the United States. While PandaDoc does maintain offices in the US, we also keep offices in Belarus. Our electronic signature solution is also legally compliant with both eIDAS and GDPR, as well as US-based regulations like the ESIGN Act and the UETA.
Notifications, tracking, and reminders
With YouSign, your team can set up reminders to ensure that no document falls through the cracks. PandaDoc takes this a step further by offering document reminders, tracking, and notifications. You'll receive a notification as soon as a signer looks at your document, when the document is signed, and when action is required on your part to move a contract forward.
Better approval workflows
Both YouSign and PandaDoc offer an approval workflow to help you stay on top of your digital signing process. With PandaDoc, it's easy to set up an automated approval workflow to guide users through the approval process. Approvers can even be notified via email when documents need to be approved so that they can focus on other tasks until they are needed.
Easier integrations
With YouSign, you'll need some development savvy in order to integrate with your favourite software and apps. While YouSign does offer a REST API, you'll still need someone on your team who can connect that to the tools you use on a daily basis. With PandaDoc, much of that functionality is already built into the platform. We offer native integrations to popular CRMs and various accounting and administrative tools, and our API is available too if you need a customized solution.
Do even more with your documents
A robust editor for document creation
As with many e-signature solutions, YouSign allows you to upload documents, attach signature fields, and send those documents for digital signatures. But, in order to do this, you'll need to design your documents elsewhere. This means that if there are any changes to your document, you'll need to make those changes offline, re-upload, and repeat the process. With PandaDoc, you can build documents within our flexible document editor and send those out for electronic signature. If signers need to make changes, it's easier than ever to update your document.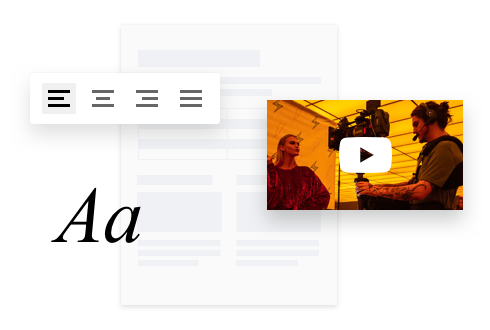 Contract management made easy
While YouSign can help you get your document signed, you'll need to store it somewhere else. Many smaller businesses end up storing contracts in Google Drive, Dropbox, or even their Gmail inbox! PandaDoc can help you manage your contracts and documents throughout their entire lifecycle. Whether you create your documents from scratch using the PandaDoc editor or upload a document created in Microsoft Word or Google Docs, that document can stay within the PandaDoc platform once it arrives. From there, you can use our onboard CRM to keep your documents organized and up to date.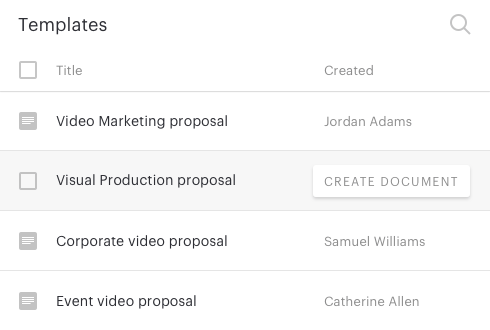 Better templates and workflow automation
Using YouSign, you can create templates to expedite your workflow. PandaDoc uses a similar process but offers more robust options. While you can upload a document and attach signature fields — similar to what you might do in YouSign — the PandaDoc document editor allows you to create documents entirely from scratch. Whether you choose to build something from a blank page or load one of the 450+ editable templates from our template library, you can use PandaDoc to build the perfect document for your company and create a template so that it's ready when you need it.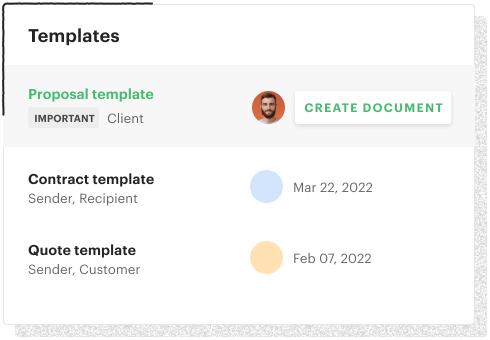 A creative sandbox for your entire team
If you're looking granular control over document creation, the PandaDoc content library can help. Since all PandaDoc documents are built via content blocks, it's easy to save a specific block to your library. When you need that block again, access it from the content menu and load it into your new documents. It's a quick and easy way to custom-fit your content — perfect for small business owners who are looking to gain a competitive advantage when reaching out to customers.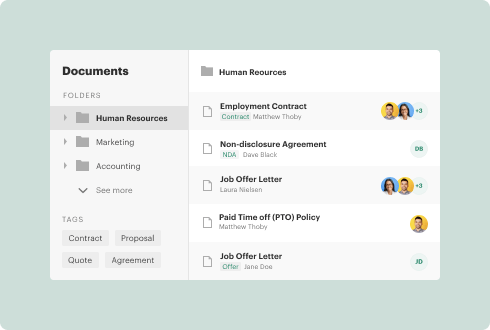 Branded documents done right
Whether you're building an FAQ, a sales proposal, or a real estate sell sheet, branding is critical. With PandaDoc, you can upload your branded images and logos to your content library for easy access. This is especially useful for sales and marketing teams who need an easy way to access approved content for their documentation.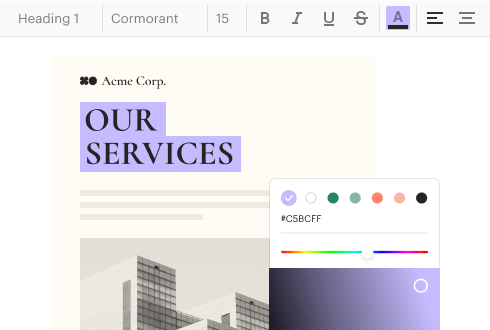 Stay on track with document analytics
Have you ever wanted to know what happened to your document after you sent it? With YouSign, you'll only know whether your document was signed or rejected. PandaDoc can help you gain greater insights with every document that you send thanks to content analytics. Learn how long someone looked at your document, how many times they accessed it, and how long they took on each page. Take those insights back to your team and use them to make your documents even better.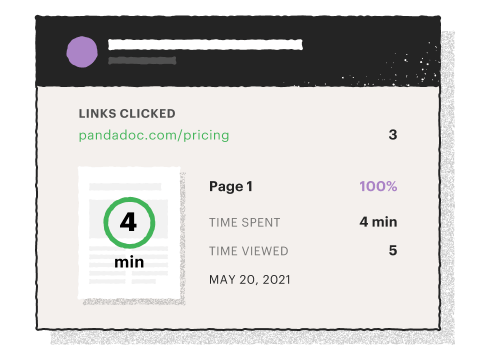 A powerful mobile experience
More and more, work is being done on the go. With YouSign, you can sign in to your client dashboard and work from your smartphone or tablet, but menu navigation can be difficult. That's why PandaDoc offers a free mobile app to help you manage your documents on the go. Customers can use the app to sign your sent documents, and your team can use it to manage your customers and contracts.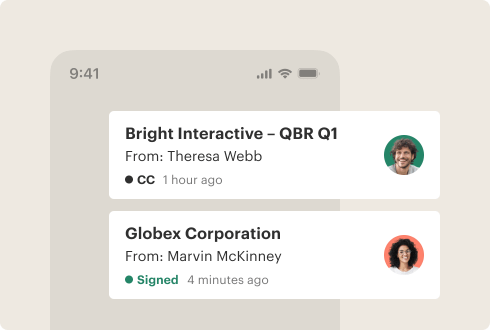 Support when you need it
If you've got a question and some time to spare, YouSign can help. They offer a detailed helpdesk to help you troubleshoot issues. You can also send them a quick email. But if you need help outside of business hours or you're in a hurry, you might have trouble resolving issues. With PandaDoc, you'll have access to 24/7 live chat support so that you can get the resources you need and get back to work.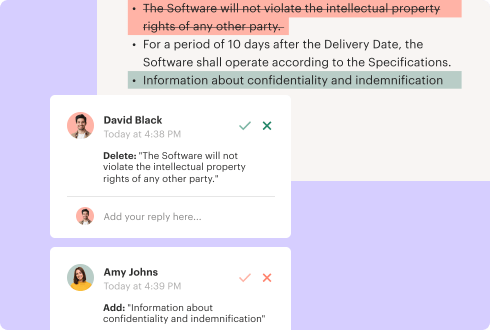 Find the perfect PandaDoc solution for your business