There are a ton of great options out there if you're looking for a digital e-signing process.
In fact, there are so many to pick from that it can be hard to decide which one is the right fit for your organization.
Right now, DocuSign is the market leader in the electronic signature space.
Whether you love it or hate it, its market position makes it a great yardstick by which to measure product offerings from other brands.
In this article, we'll take a look at RightSignature by Citrix and see how it compares to DocuSign.
Let's dive in.
Key takeaways
RightSignature offers multi-seat pricing that will be too high for organizations that only need a single seat. However, if you can use every seat, this solution is very affordable.
DocuSign offers greater customization via a wider selection of plans. It's easier to tailor this solution for your own specific needs.
With DocuSign, you're limited to 100 transactions per year per seat while RightSignature offers unrestricted sending.
RightSignature by Citrix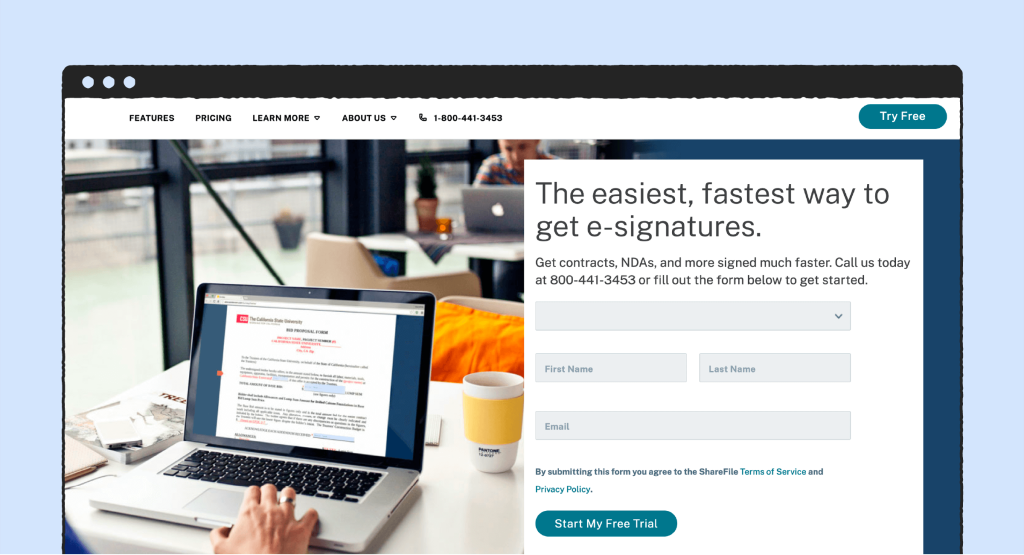 Pricing: RightSignature Advanced ($60); Sharefile Premium ($122). All pricing per plan/month. Pricing based on annual commitment.
Ease of use: 8.7/10
Free trial: Yes; 14 days.
Support options: Email, knowledgebase, phone support.
RightSignature positions itself as an enterprise-level e-signing platform geared toward multi-user teams with high-volume signing needs.
That makes sense, if you consider that Rightsignature is owned by Citrix Systems, the massive cloud computing platform, which is heavily geared to serve the same selection of users.
It's important to note that, despite being a Citrix subsidiary, the e-signing platform is a standalone product.
You won't need to install or run any Citrix product in order to use it. Like most other e-signing software, the platform is cloud-based.
Names and affiliations aside, Citrix offers a signing solution that is notable for where it positions itself in the market.
The platform is packed with signing features, including drag-and-drop fields, payment collection options, and CRM integrations.
However, the minimum seat requirements and comparatively high pricing is a clear indication that the organization is targeting higher-end clientele and that other options might be a better fit for smaller companies.
DocuSign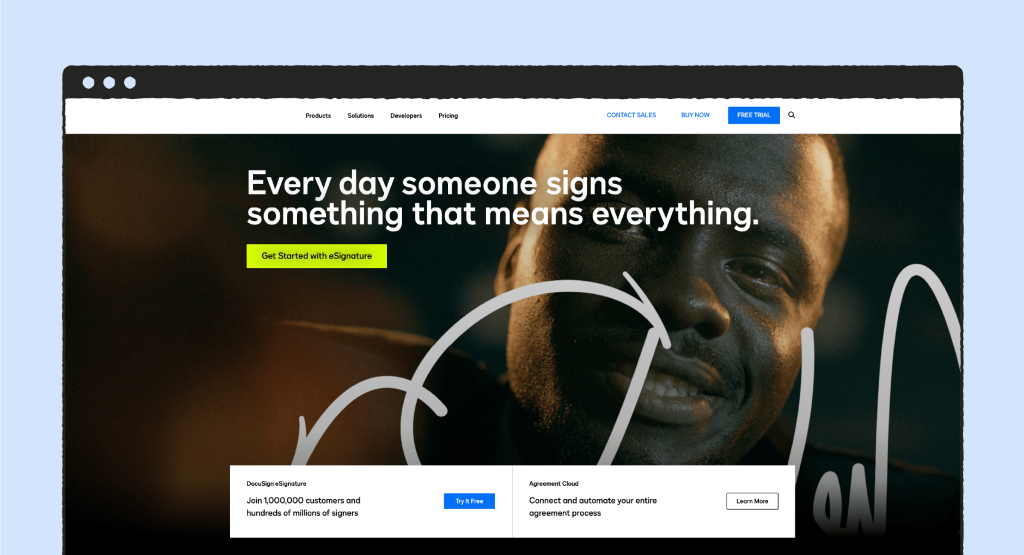 Pricing: Personal ($10); Standard ($25); Business Pro ($40). All plans per user/month. Pricing based on annual commitment. Enterprise pricing available.
Ease of use: 9.0/10
Free trial: Yes; 30 days.
Support: Knowledge base, support tickets; additional support plans sold as separate packages.
DocuSign continues to be a market leader in the e-signature category — even as its numerous competitors continue to capture larger shares of the market.
The platform is still the most popular e-signing software out there today and is used by businesses of all sizes to capture legally binding signatures quickly.
But just because DocuSign is the industry standard doesn't mean that it can't innovate.
The platform offers a huge selection of document-related services that go beyond the scope of e-signing.
If you're operating at the enterprise level, some of these solutions may be a perfect fit if you choose to work with the company for e-signature capture.
RightSignature vs DocuSign at a glance
With the basic introductions out of the way, here's a closer look at how DocuSign and RightSignature compare with one another.
| Plan Details | DocuSign | RightSignature |
| --- | --- | --- |
| Plan Name | Business Pro | Sharefile Premium |
| Monthly Pricing | $65 / user | $122 / month |
| Annual Pricing | $40 / user | $135 / month |
| Maximum Number of Users | 50 | N/A |
| Minimum Number of Users | 1 | 3 |
| Number of Documents Sent | 100 docs/year | Unlimited |
| Basic Drag and Drop Fields | ✓ | ✓ |
| Mobile App | ✓ | X |
| Reusable Templates | ✓ | ✓ |
| Signing Order | ✓ | ✓ |
| Multiple Recipients | ✓ | ✓ |
| Bulk Send | ✓ | ✓ |
| Real-Time Audit Trail | ✓ | ✓ |
| Integrations: Import & Storage | ✓ | ✓ |
| Integrations: CRM | X | Limited |
| Integrations: Productivity & Other | ✓ | ✓ |
| Language Support | ✓ | ✓ |
| Document Editor | X | X |
| Pre-built Template Library | X | X |
| Notifications | ✓ | ✓ |
| Payment Gateway | ✓ | ✓ |
| Custom Branding Options | ✓ | ✓ |
| In-person Signatures | ✓ | ✓ |
| Commenting & Collaborative Fields | ✓ | ✓ |
| Signer Attachments | ✓ | ✓ |
| | | |
| Support Options (At level) | | |
| Email / ticketing support | ✓ | ✓ |
| Chat support | X | X |
| Knowledgebase | ✓ | ✓ |
| Phone | X | ✓ |
| | | |
Keep in mind that our chart is comparing the Business Pro plan from DocuSign, which is one of several pricing options that the company offers.
The Enterprise plan, which is the highest-tier plan, allows for custom-built solutions from their support team.
Considering the cost difference between DocuSign and RightSignature, it's likely that a custom-built solution is a reasonable option if you want to fill in the feature gaps listed here.
Plans and basic features
If you're using the chart above as a way to gauge the scope of plans, there are a few things to consider.
First: DocuSign. The platform is often considered to be the gold standard for e-signing — and with good reason.
The interface is simple to use, and it offers most of the features that users expect from a signing platform at a reasonable price.
At the Business Pro tier, you won't have access to the DocuSign integration library.
However, switching up to the Enterprise plan will provide full access to integrations that far exceed anything RightSignature can offer.
Aside from that, DocuSign offers practically everything else that you'll see in RightSignature.
By comparison, RightSignature clearly has an eye focused on scalability at the enterprise level. And costs aren't the only indicator of this position.
The interface is packed with features designed to consolidate workflows and make it easier for teams to collaborate.
RightSignature doesn't stop with signatures sent for e-signing.
You can send document packages, use bulk send options, collect document feedback and more all from a single platform.
While RightSignature isn't necessarily trying to take over your entire document creation process, the platform is clearly focused on assisting with the distribution of documents when you've reached that stage of your workflow.
Our suggestion
Many users will disqualify RightSignature based entirely on price, and we feel that's probably by design.
The cost of the RightSignature platform makes it largely untenable to single users and smaller organizations who want to centralize their e-signing process around a single user.
It's an interesting choice, because RightSignature doesn't offer any kind of large differentiator in its product offering that you can't get elsewhere.
The platform isn't trying to handle end-to-end content production like PandaDoc does, and DocuSign offers a similar feature set at an (initially) lower cost.
In our view, that transforms RightSignature from a universally friendly signing platform to a very niche solution targeting a very specific set of users.
Given the price and the scope of their offering, users will probably know at first glance whether the product is a right fit.
For everyone else, other e-signing solutions like DocuSign and PandaDoc might be a better option.
Final verdict:
DocuSign offers a wide selection of plans and features for all users, from personal signers to enterprise-level companies.
RightSignature offers a narrow plan selection that seems to target enterprise-teams focused on scalability.
The e-signing process
Despite the differences in price and user focus, the actual e-signing processes for DocuSign and RightSignature are fairly similar.
DocuSign is more straightforward. From the dashboard, you can drag a file into the onscreen upload window to get started.
The workflow will help you designate signers and set a signing order before you move to the document preparation screen.
During document preparation, you'll use drag-and-drop tools to format your document for signers. You might also include checkboxes, radio selection buttons, and payment capture requirements on your document.
Once you're finished, you can send the document via DocuSign's distribution system.
The platform will email users and invite them to review and sign your documents.
Overall, this is a streamlined and highly standardized process that nearly everyone in the industry follows.
That's largely true for RightSignature, as well — with a few caveats.
While RightSignature uses the same steps and arrives at the same endpoint, getting started is less intuitive.
The problem is that, when you sign up for RightSignature, you actually create a Sharefile account.
Sharefile is a document management platform that was acquired by Citrix in 2011.
Because of how Citrix has structured its acquisitions, Sharefile is the parent product of RightSignature.
When you sign up for RightSignature, you'll gain access to Sharefile and be able to use it to manage all your files.
So, why are we talking about Sharefile rather than RightSignature?
Because when you log into your RightSignature account, you'll land at your Sharefile dashboard.
From there, you'll need to select Signatures from the sidebar, which opens an entirely new window to begin the signing process.
Once you get started, the signing workflow is fairly straightforward. You'll prepare documents using drag-and-drop tools and send them for signature.
Our suggestion
DocuSign offers a relatively simple and straightforward workflow. It's simple to engage with and easy to use.
Drag-and-drop tools are the industry standard for document preparation, and every e-signature platform uses them for this purpose.
It's the same at PandaDoc, although we've expanded their use with our in-house document editor, which allows you to build documents completely from scratch using drag-and-drop tools.
RightSignature isn't so different — once you finally get to the right area.
This navigation issue is noteworthy because it speaks volumes about how Citrix is built.
The company is host to a number of subsidiaries that were built independently from one another and later acquired by Citrix.
While the software giant has built them into a cohesive workflow, intersections, where these tools bump into one another, can make for a rocky customer experience.
Unfortunately, the Sharefile/RightSignature intersection is one such inflection point.
Final verdict:
DocuSign offers a seamless workflow for signature preparation and uses drag-and-drop tools.
RightSignature is part of the Sharefile interface, so additional navigation is required to access the tool and start the signing process.
Extra signature features
While both apps include robust security and compliance features, one key difference between RightSignature and DocuSign comes from the initial selection process that takes place when you first start the signing workflow.
In RightSignature, after you start a new process, you'll be greeted by a screen with the following document options:
Send for signature.
Get approval.
Collect feedback.
Sign a document yourself.
Send document package.
Bulk send for signature.
Create a reusable template.
Sign in person.
Each of these options will send users down a different document workflow.
For example, Send for signature will ask for document signer and move onto document preparation while Collect feedback requires users to set expiry dates and select feedbackers to review the document.
With so many options to choose from, it feels like RightSignature is offering a selection of choices that you don't see in DocuSign.
Unfortunately, that's largely not the case.
While RightSignature does offer a few unique workflows like Get approval and Collect feedback, virtually all of these processes are built into the DocuSign software.
While you won't see a designated workflow to create templates or send document packages, DocuSign has all of those things built into its standard user interface.
Our suggestion
Though it's nice to see the workflows so clearly displayed, many of the extra features that make RightSignature feel more robust and comprehensive are aspects of e-signing that are fully covered on the DocuSign platform.
Some of the more unique features, like collecting feedback and approvals can be beneficial in the right circumstances. However, if you're looking for features like that, we'd suggest taking a closer look at PandaDoc.
Our document editor offers robust feedback and approval tools that are ill-suited to platforms like RightSignature and DocuSign, which are more narrowly focused on e-signature acquisition.
PandaDoc handles end-to-end document creation (including e-signature acquisition!), and our in-house editing and document management tools are better suited to collaboration with all manner of document stakeholders.
Final verdict:
RightSignature offers a variety of workflows and a unique approach to document feedback, approval, and collaboration.
DocuSign offers many of the same features, but they're built into the standard workflow and may not be as visible to users at first glance.
PandaDoc offers superior feedback and collaboration tools for users who see the value in those aspects of document management and development.
Seat allocation, usage limits, and support
Some of the greatest differences between DocuSign and RightSignature come down to platform seating, limitation, and support options.
This collection of issues will have a major impact on whether each product is a good fit.
With DocuSign, you'll pay a monthly fee for each seat on your account.
Each user needs a seat, and each seat increases the price of the plan, and the number of seats you have increases the transaction limit assigned to your plan (more on that later).
The type of plan that you choose also determines what support options you have unless you supplement your support access with an add-on package.
RightSignature takes an entirely different approach.
With the Citrix platform, your plan will come with multiple seats to start.
The Sharefile Premium plan seats five users automatically, and additional users can be added for around $25/month.
The number of users has no bearing on transaction limits (which are largely undefined), and support options are the same across all plans.
The multi-seat inclusion makes the cost of the RightSignature plan easier to stomach if you have the users to fill those seats.
However, even the entry-level plan comes with a three-seat minimum.
If you don't have the users to fill the seats, DocuSign becomes a better value based on cost and functionality.
Our suggestion
Throughout this article, we've mentioned how it feels like RightSignature is targeting enterprise-level businesses with its plans and functionality.
This is a great example of where that intent shines through.
Assuming that organizations have the users to fill the seats, RightSignature shifts from a product with a non-viable price point to a cost-effective solution that is well-suited to the right organization.
While it's true that RightSignature will never have the comprehensive integration libraries that you see in platforms like DocuSign or PandaDoc (although it does have Salesforce!), it's hard to argue with platform costs.
Currently, RightSignature's Sharefile Premium offers five seats at $122/year — roughly $24.40 a seat. To get five seats with DocuSign's Business Pro, you're looking at $200/year, or $40/seat.
That's noteworthy for businesses who want to operate at scale while staying mindful of budgets.
Final verdict:
DocuSign doesn't have any seat requirements or minimums, but transaction limits (see next section) are tied to the number of seats in an account.
RightSignature offers multiple seats as a default part of its higher-than-average monthly subscription fee. However, if companies have the users to fill those seats, the per-seat rate is better than DocuSign by a notable margin.
Transaction limits
One of the final factors worth discussion in the RightSignature vs DocuSign debate is transaction or usage limits.
DocuSign limits the number of envelopes you can send to 100/year per user.
Envelopes can hold multiple documents and can be sent to multiple signers, but each time you press the "Send" button, you spend part of your allocation.
For example, pretend that you needed to send a contract to twenty individuals for review and e-signing.
In DocuSign, you'd add the email of every individual who needs to see the contract, prepare the document for signature, and send it. That send would cost one envelope.
Next, assume that you need to send a proposal to a prospective customer for review and feedback.
You only need to send the contract to a single individual, so you follow the standard document preparation process and send it. That send will also cost one envelope.
With DocuSign, whether you send documents as a bundle to multiple individuals or one document to a single user, each item counts against your annual allocation.
While you can exceed these send limits, doing so will incur an extra plan cost or require a custom plan designed by one of DocuSign's sales engineers.
From what we've been able to find, RightSignature doesn't have any transaction limits on their software.
The terms of service provided by Cloud Software Group (owner of Citrix and RightSignature) doesn't even mention it.
Our suggestion
Usage limits can be a major obstacle for organizations that need to send a healthy number of documents (sales reps, HR teams, legal departments, etc.).
It's one reason that many DocuSign competitors — including RightSignature and PandaDoc — don't use them.
If you're worried about transaction limits or don't want to deal with DocuSign's envelope system, RightSignature is worth a look.
Final verdict:
DocuSign limits transactions to 100 envelopes per user/year. Heavy users can incur additional costs via overages and usage caps.
RightSignature doesn't have send limits, making the platform a better fit for power users with heavy sending requirements.
Other RightSignature and DocuSign alternatives
Without a doubt, RightSignature is the perfect solution for a certain segment of businesses.
Unfortunately, it won't be the right fit for many small- to medium-sized organizations that don't have the users or the contract load to justify the cost.
And, especially if you need integrations beyond Salesforce (Word, Gmail, Google Docs, etc.), RightSignature may lack the ability to integrate with your tech stack.
In those situations, other solutions might be a better fit.
Here's a quick list:
Many of these tools bring something unique to the table.
SignRequest is, to date, one of the most affordable and comprehensive e-signing solutions we've ever seen.
If you need to edit PDFs, Acrobat Sign offers unique functionality in that realm.
Meanwhile, PandaDoc offers end-to-end document creation and management through the built-in editor.
If you want to centralize document production using state-of-the-art tools and workflows, it's the best platform on the market for that kind of work.
Final word
In many ways, there isn't a right answer when it comes to e-signing solutions.
Most platforms have a fair amount of overlap and offer roughly the same result.
However, RightSignature is one of the options that seems designed to fit a very specific customer niche.
For the organizations where it fits, it's one of the most affordable and comprehensive options out there.
However, if it doesn't fit, it leaves a lot to be desired.
That's especially true if you need functionality that RightSignature doesn't offer, like the ability to create content from scratch or integrate with CRMs other than Salesforce.
Fortunately, PandaDoc does all that and more.
But don't take our word for it.
Sign up for a free demo or test drive our Business plan with a 14-day free trial. We know you'll love what you find.
Disclaimer
Parties other than PandaDoc may provide products, services, recommendations, or views on PandaDoc's site ("Third Party Materials"). PandaDoc is not responsible for examining or evaluating such Third Party Materials, and does not provide any warranties relating to the Third Party Materials. Links to such Third Party Materials are for your convenience and does not constitute an endorsement of such Third Party Materials.
Originally published April 13, 2020, updated February 21, 2022