Finding the right electronic signature solution for your brand can be challenging. With so many brands to choose from and so many similar product offerings, it can be difficult to determine what solution makes sense for your team.
That's why we're taking a closer look at how most of today's common e-signature solutions compare to DocuSign — one of the biggest names in today's digital signature market.
Let's see how RightSignature by Citrix brings to the table. It's DocuSign vs RightSignature from PandaDoc!
01. Product overview
| | DocuSign | RightSignature |
| --- | --- | --- |
| Legally-binding eSignatures with audit trail | 100/year | 100/month |
| Templates | ✓ | $ |
| Activities notifications | ✓ | ✓ |
| Payments collection | ✓ | ✓ |
| Automated workflows | $ | Limited |
| Custom branding for documents, templates, and emails | $ | $ |
| CRM integrations | $ | Limited |
| eSignature API (including Sandbox API) | ✓ | ✓ |
| Document generation and editing | X | X |
| Document analytics and insights | X | X |
| Free trial | ✓ | ✓ |
| 24/7 customer service | $ | X |
RightSignature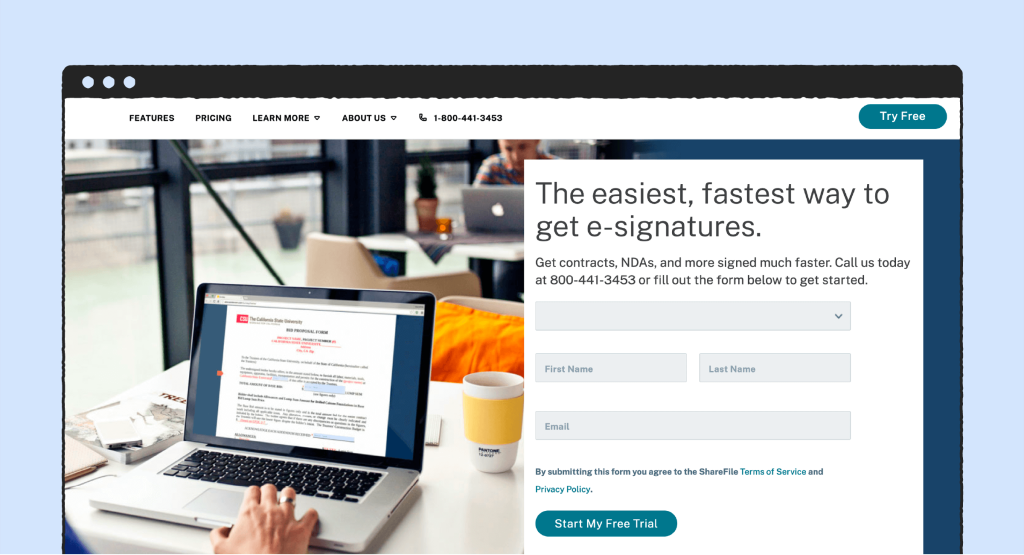 Cost: $12 per month for Standard (1 user limit) or $60 per month for Advanced (3 user limit).
Ease of use: 4.4/5
Functionality: 4.5/5
Support options: 24/7 Phone support, ticketing, knowledgebase
Platform availability: Online, iOS, Android
Free trial: Yes. 14 days or five executed documents.
At its core, RightSignature is a very straightforward product designed to help businesses sign documents in a fast and easy way. You won't find a huge variety of subscription plans or a ton of add-on packages here as you might with DocuSign and other e-signature solutions.
If that sounds like it might be limiting, don't worry. RightSignature has everything that most users will ever need, including some low-priced features that cost an arm and a leg when using other services.
These features include integrations and add-ons, as well as the ability to collect payments, as well as a free mobile app for iPad and other mobile devices.
DocuSign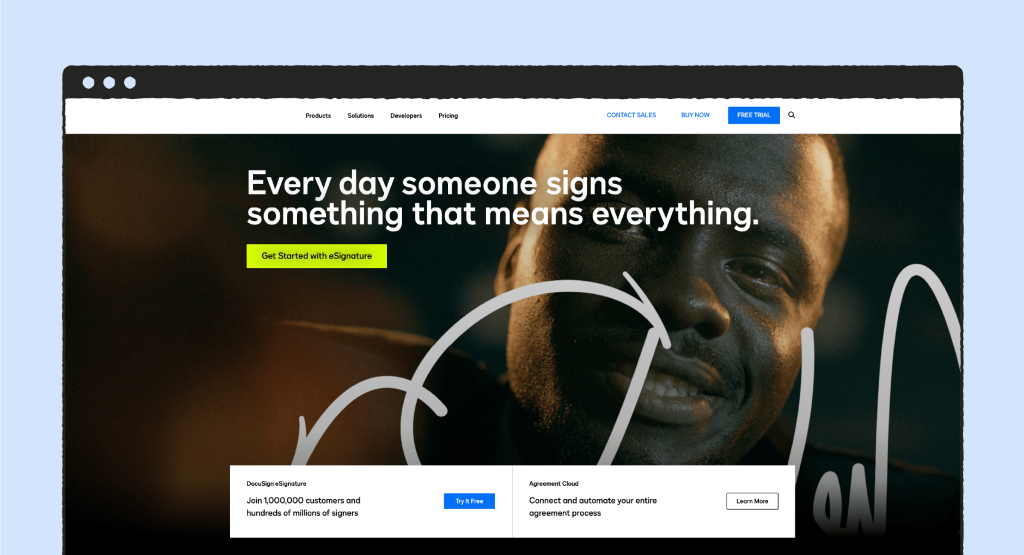 Cost: $10 for individual users; $25 per month for Standard; $40 per month for Business Pro; Specialized real estate plans also available.
Ease of use: 4.7/5
Functionality: 4.4/5
Support options: Phone, ticket, chat
Platform availability: Online, all devices.
Free Trial: Yes. 30 days.
Backed up by thousands of five-star user reviews, DocuSign is held as the industry standard in digital signatures.
This e-signature software has everything you could want, including a robust integration library, multi-tiered support options, a drag-and-drop editor, and more.
You can find many of the features that DocuSign offers in its competitors, but DocuSign tends to gather all those innovations in one place, and that includes everything from outdated processes like faxing documents for e-signature all the way to encrypted signing workflows and ironclad audit trails.
All of these features and functions come at a cost, but the company offers business plans that even small businesses will find affordable for the value.
02. Comparison
Both RightSignature and DocuSign are focused on attaching digital signatures to electronic documents.
While the end result is the same, each company has its own process to make it across the finish line. Most importantly, some features are priced at lower tiers for one company than they are for another.
Let's compare what each service has on offer.
1. Document preparation
While DocuSign offers a variety of effective document management and templating tools, they aren't immediately visible when users log in for the first time.
Upon signing in at docusign.com, DocuSign prompts users to upload a document and begin the signature process. DocuSign converts this document to a PDF and allows users to lay signature fields on top of it.
DocuSign uses a step-by-step workflow to guide users through every step of the digital signing process.
You'll add signers to the document, place signature and text fields on the document, and type a quick email message before sending the document off to the signer's inbox.
RightSignature follows a similar process but does so with a fewer number of screens and more immediate navigation options.
From the main screen, you can start a document upload. When you initiate this process, RightSignature will ask whether you want to send a document for a signature, create a template, or create a document for in-person signatures.
Depending on the option you choose, RightSignature will initiate a workflow that guides you through the appropriate process. This will include uploading a document (or using a document template), adding signers, and using a drag-and-drop editor similar to what DocuSign offers in order to place signature and text fields.
However, the DocuSign editor is much easier to handle. The controls don't feel as clunky, the buttons and handles are bigger and easier to control, and the editor is set up in a more logical way.
For example, when placing and selecting a text field in DocuSign a sidebar appears with all options you might need to customize that field. In RightSignature, you'd need to click on the field after placing it, select a submenu, and then make changes.
Overall, the document preparation process is similar between each service, but RightSignature provides more clarity and customization options as users move through the process without overcomplicating it.
Both options offer the same features, including the ability to import signature contacts and set a signing order.
Winner: Evenly matched
RightSignature gains an edge for keeping things simple and easy to follow, but what DocuSign lacks in clarity during the setup process is balanced by the quality of the drag-and-drop editor.
In the long run, the RightSignature process will probably amount to more time saved, but the DocuSign editor is more enjoyable to use.
At the same time, it's important to note that both companies limited their offering at some level to e-signing and preparation.
It would be possible to save more time using a tool that can help you cover a broader spectrum of document preparation and file management.
2. Setup and integration
Setups and integrations are key when it comes to getting up and running quickly. Both RightSignature and DocuSign make this easy by walking users through the setup process and by supporting a wide variety of integration options.
DocuSign will give users a small checklist to help them complete their initial setup. This includes to-dos like setting an electronic signature or uploading a document for the first time.
RightSignature is more precise. The first time you log in to the service, RightSignature grays out the window and reveals each button on the screen to you in a step-by-step tutorial. The process takes about a minute, but you can hit the ground running as soon as it completes.
When setting up your own profile, both companies make it easy to create your own digital signature and attach it to documents.
If you have a signature you want to upload, it's easy to do so. You can also sign with a mouse or trackpad or simply use the "type to sign" functionality to create a stylized signature.
The biggest touchpoint here is integrations. Both RightSignature and DocuSign can integrate with other software tools that you use, including CRMs like Salesforce, as well as document creation and storage software like Google Drive, Sharefile, and Dropbox.
But DocuSign goes farther than that by offering specialized integrations with niche software solutions like Clio for legal work or Slack for team communications.
Simply put: DocuSign has far more integration options than RightSignature, but many key integrations are locked behind the customized pricing that comes with the "Advanced Solutions" business plan. This includes Salesforce and other CRMs.
This is a common practice in the electronic signature market, and it's one that RightSignature completely ignores. Users on the Standard plan ($12/month) have access to all of RightSignature's integration tools.
This includes Salesforce, Sharefile, Freshbooks, Microsoft OneDrive, Dropbox, Stripe, and more.
Winner: RightSignature
The fact that RightSignature doesn't withhold critical integration tools behind hefty monthly fees may not matter for larger enterprises with dozens or hundreds of users.
For small business users who need to keep costs down, that flexibility is essential.
If you're a larger enterprise looking for maximum connectivity, DocuSign is probably a better fit due to its flexibility. Otherwise, having access to high-level integrations for such a low cost is a huge advantage for many businesses.
It's something we haven't seen anywhere else.
Outside of the unique selection of integrations that DocuSign offers, you might need access to an API or webhooks to build the customer solution that you'd like.
Both signing companies offer this, as do other competitive solutions.
3. Custom branding and templates
Both DocuSign and RightSignature handle branding in different ways — and at different price points.
With DocuSign, you'll have the ability to add a custom logo and change colors on select parts of the documents. Any document you send will always contain black text on a white background, but the decorative ribbon at the top of the document can be manipulated.
Using in-built tools, you can change the color of the ribbon, as well as that of the text, button, and button text appearing there.
While it might not sound like much, this extra touch can help you keep the look and feel that your e-signature software provides.
With RightSignature, you'll have similar options. You can change the background color of the document, as well as the footer ribbon (similar to the DocuSign decorative ribbon). You're also able to choose what information is shown in the footer. RightSignature provides additional flexibility in how emails are sent.
You can choose the name displayed in the header and subject line and add both a custom greeting and a custom signature to your emails.
Both companies also allow you to create document templates. The process is the same as the document preparation process, and it's possible to use previously sent documents as templates with just a few clicks.
The biggest difference in these features comes down to pricing.
You can create templates at any pricing tier from either company, but you'll have to move beyond the basics to use the custom branding solutions that both companies offer.
For DocuSign, you'll only need to move up to the Standard Plan ($25 per user/month), but RightSignature has no middle tier, so you'd need to sign up with the Advanced Plan for $60 per month for 3 users.
If you have three users, it's cheaper to go with RightSignature. If you're part of a smaller team that only has one or two users who need to send documents, DocuSign is a winner here.
Winner: Evenly matched
DocuSign and RightSignature both offer robust branding solutions that will make sense for most companies.
There is one final piece to mention here: DocuSign users on the Advanced Solutions plan have advanced branding" features that include redirecting customers to a web page after they sign, customizing email text and colors, and representing multiple brands at once.
If you're an enterprise organization looking to do more with branding, DocuSign is the only real solution on offer. However, it's worth noting making these changes within DocuSign requires experience with XML and HTML.
With signing tools like PandaDoc, custom brand settings are fast, simple, and easy to implement.
4. Support and ease of use
While both companies offer a product that is both comprehensive and easy to use, their basic support options vary wildly.
With RightSignature, users can always call a toll-free number or submit a question by opening a support ticket. Citrix has also made sure that RightSignature is equipped with robust support documentation to help users find answers to their own questions.
At the basic level, DocuSign offers the ability to submit a ticket and supplies a knowledge base that users can browse. This can be frustrating for users who want to talk to a customer support representative in order to resolve their issues.
However, DocuSign doesn't stop at the basic level. For an extra charge, users can buy support packages that give access to advanced customer support options.
This includes live reps, emergency triage, faster turnaround times, and even dedicated account managers. Most of this won't matter for smaller businesses, but enterprise users may find it useful to pay more for immediate support when important deals are on the line.
Winner: RightSignature
Even with the advanced support options, we're giving RightSignature credit here because of the access to live and immediate support for all users.
We feel strongly about the user experience, which is why PandaDoc also offers 24/7 chat access to a customer support representative.
Beyond that, while DocuSign's support plans can be extensive, they also incur an additional charge and changes the competitiveness between the brands.
At the enterprise stage, RightSignature doesn't have the same level of infrastructure and responsiveness that DocuSign has built into its product.
But at the basic level, RightSignature is the clear winner for providing immediate support.
03. Our recommendations
RightSignature for SMBs
If you're looking for a personal plan or something for a small business team, RightSignature has everything that you'll need and more.
This is especially true if you have at least three team members who need to sign and send electronic documents.
Realistically, though, you might also want to consider PandaDoc for this plan. Rather than paying $60 a month for basic signing features, the PandaDoc Free eSign Plan can help you get all documents signed at no charge.
You can even set up a payment gateway to collect payments for free.
DocuSign for enterprise
On a larger scale, RightSignature just doesn't have the robust infrastructure that a major player like DocuSign brings to the table.
Even backed by Citrix, the support options and scaling just isn't there for the type of signature solution that a large-scale enterprise operation might need.
We would love to see RightSignature add more features and support specifically targeted at this level of business, but DocuSign is currently the best fit we've seen for enterprise-level electronic signature capture.
Here, PandaDoc might also be a good option if you're looking to do more than just add signing fields to your documents.
With PandaDoc, the document editor allows you to create and customize documents completely from scratch, so you can go from a blank page to a full contract all in one place.
Take your e-signatures to the next level with PandaDoc
DocuSign and RightSignature aren't the only electronic signature solutions out there. We've also looked closely at HelloSign, Adobe Sign, and SignNow.
But don't forget about PandaDoc!
We offer a Free eSign Plan that you can use to sign all your electronic documents and collect payments for free. Get the details here!
Originally published April 13, 2020, updated February 21, 2022