The holidays may already feel like a distant memory, but who still doesn't like to receive a belated gift or two? And we've got quite a few of them here for you from PandaDoc: a great set of new features for you to make 2016 even more productive!
Payments, new integrations, smarter pricing, new blocks and fields, document forwarding and more! What else do you need?! Well, we are still open to listening to late New Year's resolution wishes. 🙂
PandaDoc payments
Get paid immediately now once your document is signed! With our new payment block it's easy to accept payments on the documents you send out with PandaDoc.
Following a single charge made from your sent document, you are also able to create additional charges for the same client or better yet, set up a subscription payment.
Currently, the only provider we support is Stripe. If you are using a different payment provider please let us know in the comments below so we can add it to our development pipeline.
Available for Business & Enterprise plans
New CRM integrations

Did some of you wish for more integrations during the holidays? Well, you must have been good the past year because you got it!
Check out our new integrations with Nimble, Copper (formerly ProsperWorks), and Nutshell that many of you wanted so badly. Most importantly, it only takes a minute to set it up and then you're ready to create, send, track and eSign documents right within your CRM.
Available for All plans
Document attachments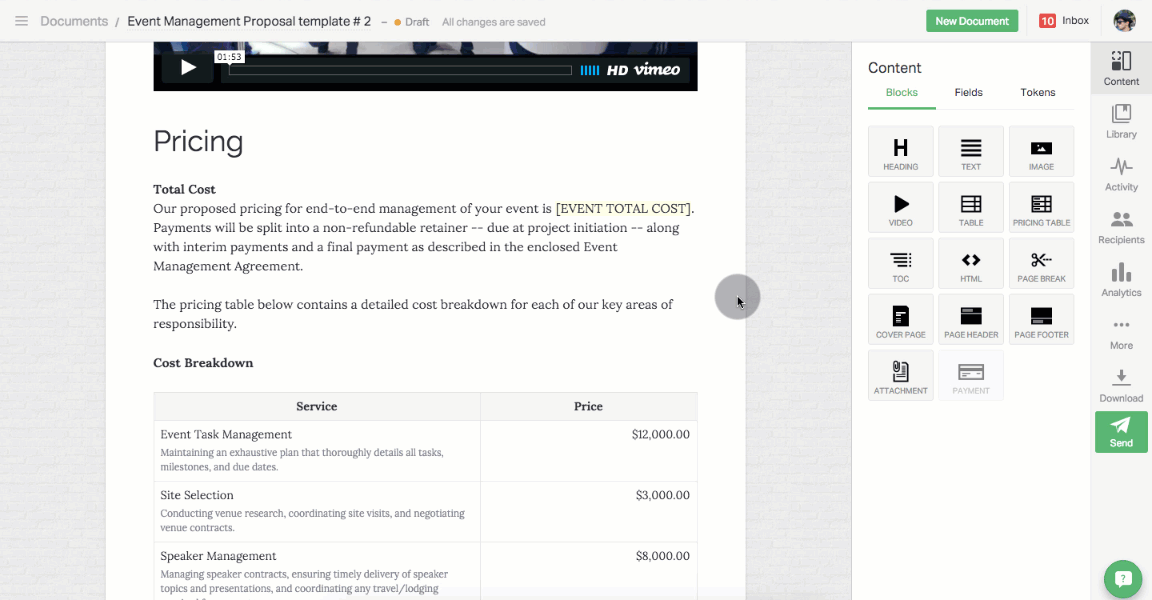 We've implemented the ability to add PDF, doc(x), or image attachments to documents or templates.
Say you're working on a proposal for your company in PandaDoc and want to include the company's terms and conditions, which you have in PDF format on your computer. Simply upload it via the Attachment block and you're good to go!
Available for Professional, Business & Enterprise plans
Document forwarding

Document forwarding provides you the option to let your recipients forward a document that you originally sent to another person for reviewing and/or signing.
Available for Business & Enterprise plans
Document access code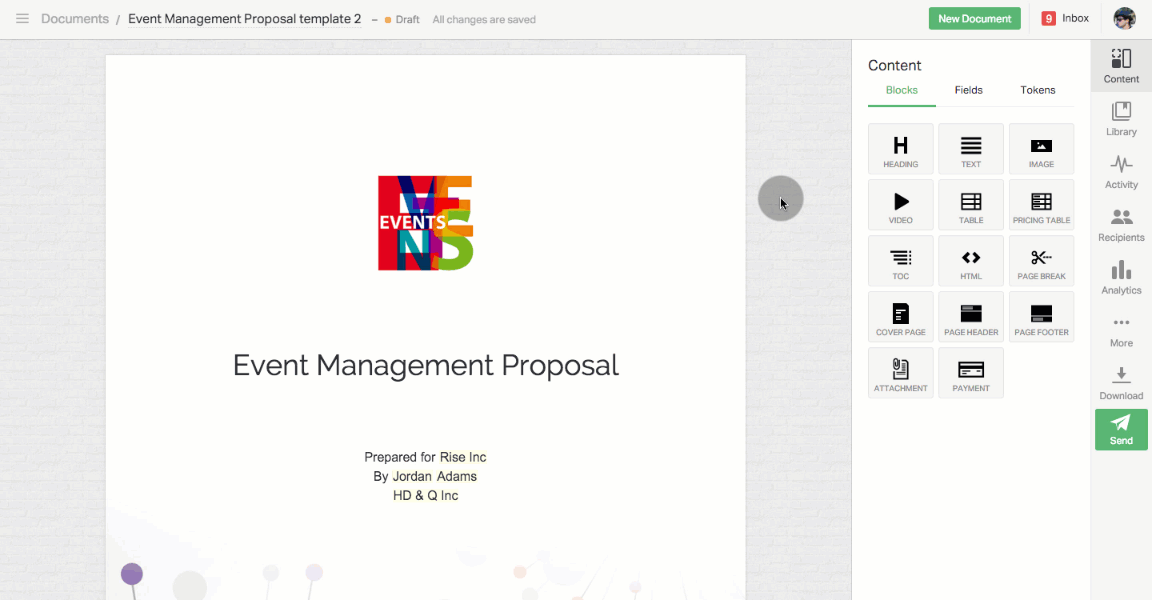 Sometimes your documents need an extra layer of security. This is where document access codes come into play allowing your clients to view the document you sent only after entering a security code which you've created and set on a per recipient and per document basis.
Available for Enterprise plan
Document sender selection

Need to send a document on behalf of your manager or a team member? Now you can! From the "Send document" message window simply select a person within your account.
Available for Business & Enterprise plans
Masked field

With the "Masked field" you can block a recipient's information from being displayed to other recipients.
For instance, let's say you are sending a document to two or more recipients. One of the recipients has confidential information (such as credit card information) to be filled in and you don't want to (and you obviously shouldn't) allow this information to be shown to the rest of your recipients.
Available for Professional, Business & Enterprise plans
Cost field and margin calculation

Do you want to calculate profit margins to see instantly how much money you're making on a deal? If you've filled out the 'Cost' field for items in your catalog, just select "Show Profit and Margin" in the pricing table settings.
And don't worry, it's for internal use only; your recipient's won't see this!
Available for Enterprise plan
Roles pre-assignment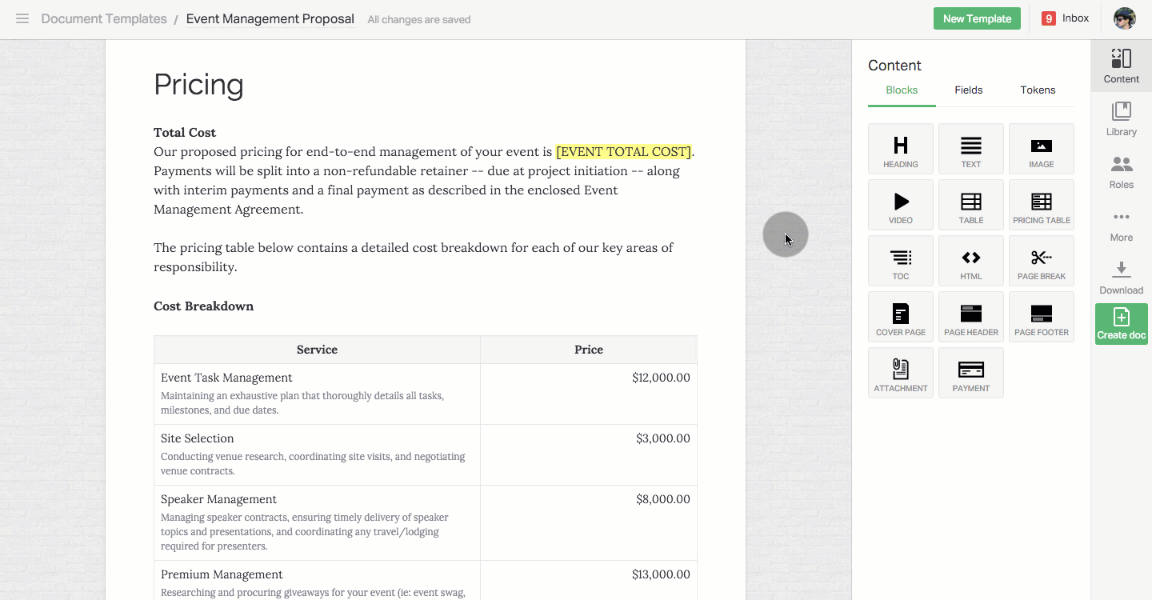 PandaDoc now offers a new feature that allows you to pre-assign a person to a 'Role' within a template so that every new document created from this particular template will have the role pre-assigned to that person.
For example, you have a Proposal Template with 2 roles: 'Company rep' and 'Client'. You can pre-assign the 'Company rep' role to the 'Document sender' or to any specific person within your team or yourself so you won't need to assign this role manually each time you create a document from the template. Smart, huh?
Available for all plans
Signature settings

In some cases — because of your local laws or your internal processes — you may need to disable the "Upload / Type" signature options for your end recipients, requiring them to draw one.
If this is something you need to enable it's just 2 clicks away in your workspace settings.
Available for Professional, Business & Enterprise plans
Updated iPad app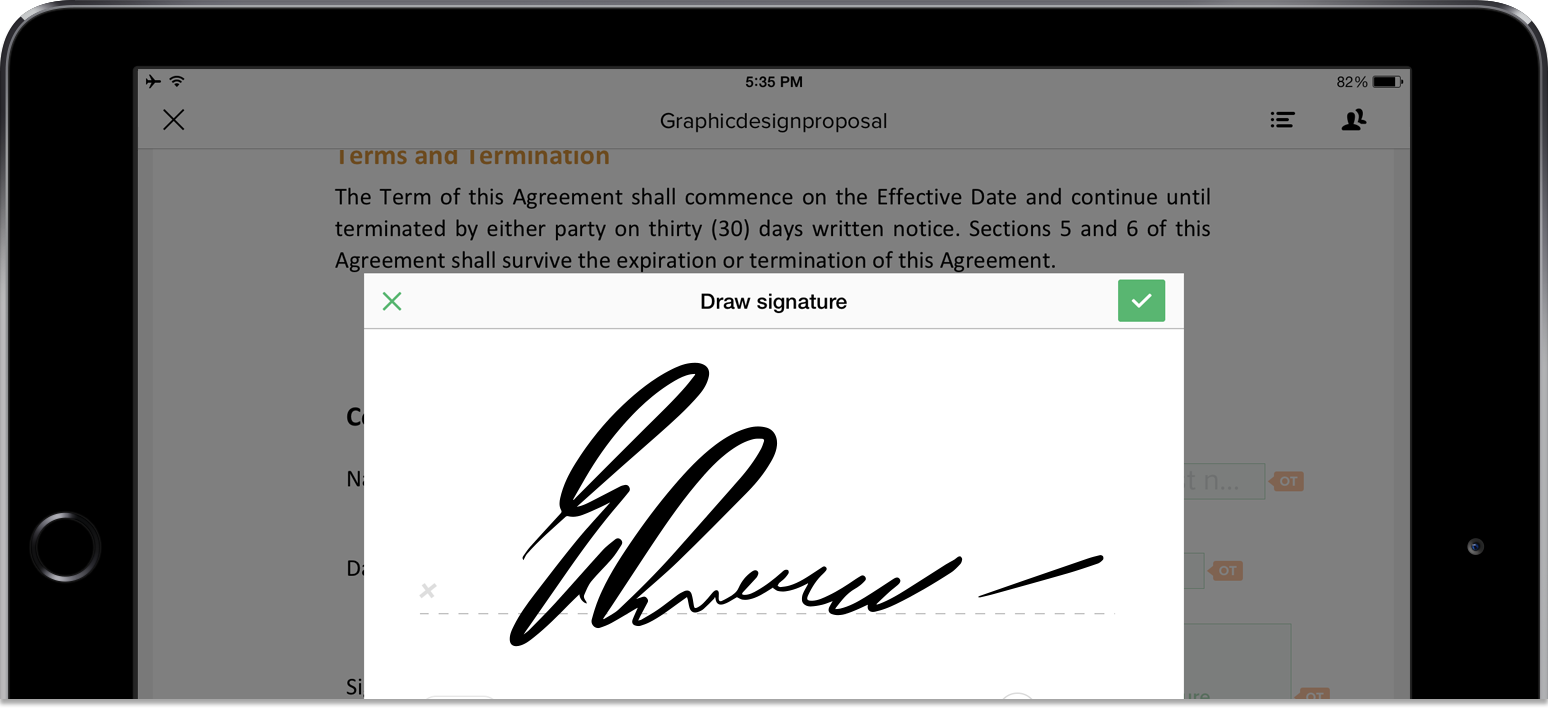 For those of you who are always on the go, we've added a few nice new helpful features to our iPad app:
Self-complete of fields and docs. Now you can tap and sign/fill-in any field and complete an uploaded doc. Yep, it's just as easy as in the web app!
Workspaces support. Have multiple workspaces? Simply switch back and forth between them in the top left corner.
Search bar for documents and templates.
New fields: masked and upload.
PIN Code & Touch ID for better security of your documents. Set it up in the settings menu to prevent unauthorized access into the application.
Want to try?
That was quite a bit, huh? But we're not stopping here! Is PandaDoc still missing something important for you in order to do business more productively? Just let us know in comments!