We must have kept our Development Team well fed and happy because they delivered again! This time they:
Redesigned PandaDoc's integrations page
Released new versions of the Salesforce and Pipedrive integrations
Developed a brand new Webhooks integration
Added new features to the pricing table
Redesign of PandaDoc's integration page
With the redesign of the in-app integrations page, you can now more easily connect to your CRM. Whenever you select the CRM, a sidebar appears on the right with a brief description and a link to our FAQ with instructions.
Salesforce version 1.26
Are you using Salesforce to manage your leads? Awesome! You can streamline your sales process even more with PandaDoc's improved Salesforce integration.
The new Salesforce integration includes:
An improved PandaDoc plugin
Available to Group edition in addition to Professional, Enterprise, Unlimited and Developer editions
Ability to add the PandaDoc's plugin to Leads and Accounts
Improved PandaDoc plugin and with access to list of availabile tokens
If you already had Salesforce integrated with PandaDoc and want to use the newest version, no need uninstall.
Pipedrive version 1.04
Using Pipedrive instead? Get the PandaDoc Pipedrive Chrome Extension to increase your efficiency sending out proposals and contracts.
The newest version of our Pipedrive integration can now:
Pass data from custom fields to tokens
Deals with multiple organizations can now be used
Custom product fields and discounts can be included in PandaDoc's pricing table
Already had the Pipedrive Chrome Extension? You may need to reinstall the extension. Simply open Chrome > Settings > Extensions or enter 'chrome://extensions/' in the URL. Check to see if PandaDoc's Pipedrive Chrome Extensions is listed as 1.0.4. If it is not, you can easily remove and reinstall the extension.
Webhooks
"What the heck is a webhook?," was my first thought when I first heard this term a couple months ago. I thought they were bringing large spiders into the office and I was worried. (I'm not a fan of spiders.) After reassurances from the Development Team, I felt a lot better.
They explained to me that the new webhooks integration is used to help our more technically savvy users write their own integrations for PandaDoc. It would help users interested in using PandaDoc API to share data from PandaDoc to another platform. Webhooks are only available upon request. But it's really easy to ask.
Just click on the 'Help' button inside PandaDoc or email us at support@pandadoc.com.

New features for pricing table
Hot off the press is PandaDoc's improved pricing table. So hot, that it's still steaming! With the new pricing table you are able to:
Hide the subtotal and total of the pricing table
Easily rename the quantity, taxes, and discounts
Change/remove numbers after the decimal point
Add an auto-fill token for total quantity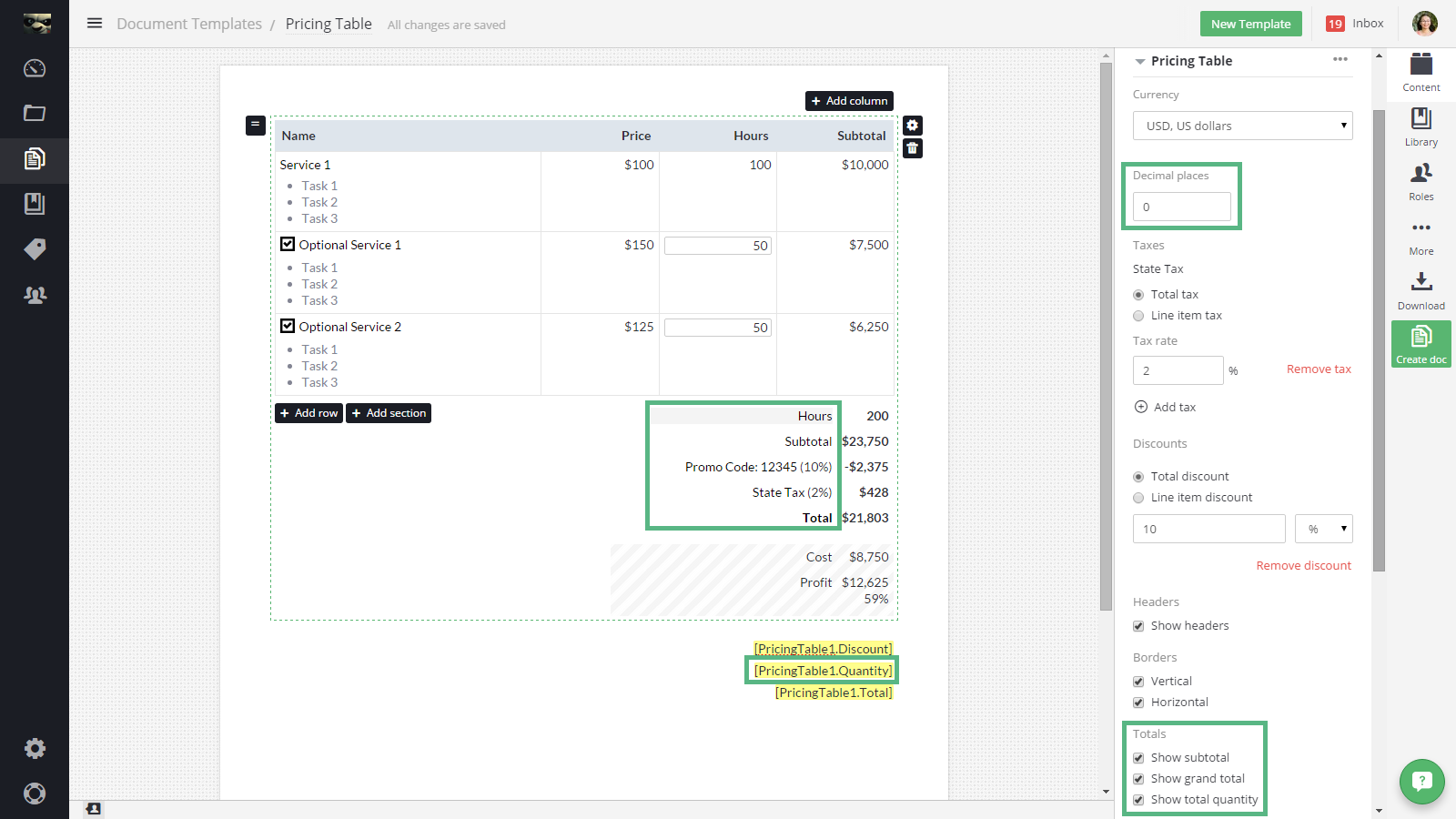 Have other features that you're interested to see in PandaDoc or just a question? Please let us know inside our app, email us at support@pandadoc.com or put a comment below!