Ever wish you could communicate with clients as they review and sign documents?
You know, to ask follow-up questions in real-time to better tailor an experience to that individual. Keep reading because this latest update in PandaDoc does just that.
Introducing conditional fields for recipients
Our all-new conditional fields allow you to create documents that automatically adjust to your customer's individual needs.
If a specific radio button, checkbox, or dropdown menu item is selected, you can enable the signer to provide more details by showing more fields (or follow-up questions).
On the other hand, you can use those same responses to hide options that don't pertain to the signer.
For example, if you're a medical professional, you can ask patients if they have any food allergies, if so, ask what allergies they have.
If the patient doesn't have any food allergies, there's no reason they should be required to answer more questions about allergies.
How do conditional fields work?
When you place a conditional field into a PandaDoc document, you can set up conditional rules to determine when you would like the respondent to elaborate on their selections.
In our food allergy example above, we've set up an IF/THEN statement that would check to see which value was selected from the dropdown menu.
Your conditional rule would state: if the patient selects yes, then show checkboxes of common allergies. If the patient selects no, no other action will occur because the conditions are not met.
Conditional fields in action
You can save hours of administrative work and allow your signer to navigate through documents easily and see only what applies to them with conditional fields — creating a more intuitive, positive user experience for your customers while simultaneously improving the quality of data collection for your team. Trust us, your sales, operations, and finance teams will thank you for it.
Conditional fields are a powerful tool your team can apply in many ways. Let's take a look at a few more examples of how to use conditional fields in your document processes.
Human resources
If you're a hiring manager, you can use conditional fields to take one extra task off your plate when handling employment applications and new hire paperwork.
The most popular instance is within the Preparer and/or Translator Certification section of the 1-9 Form.
Using predefined rules, you can ask if the new hire had assistance completing Section 1 of the 1-9 Form; if so, you can proceed to collect the contact information of the preparer or translator.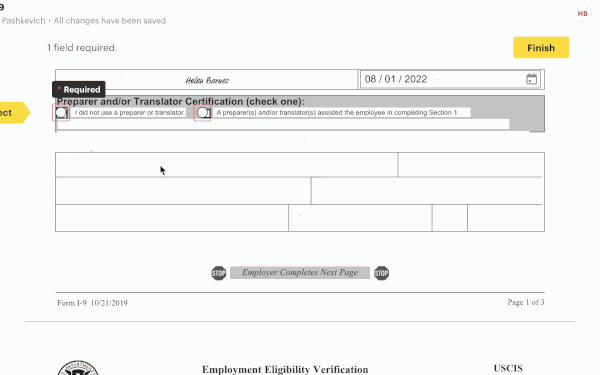 In this illustration, your conditional rule would state: if a signer selects the yes radio button, then show preparer contact information fields.
This allows you to collect all the pertinent details you need without setting aside time to follow up later.
Real estate
There's no one-size-fits-all for rental agreements. The information you collect from one tenant to the next will vary based on several conditions, but that doesn't mean you need to design a new document for every scenario.
Instead, you can build an interactive document that transforms as your client works their way through the document.
Let's say a future tenant is completing a rental agreement for a two-bedroom apartment. When asked how many people plan to reside in the apartment, the applicant selects two from a dropdown list.
As a result, additional fields populate in the agreement for you to collect other details you may need to streamline the agreement approval process.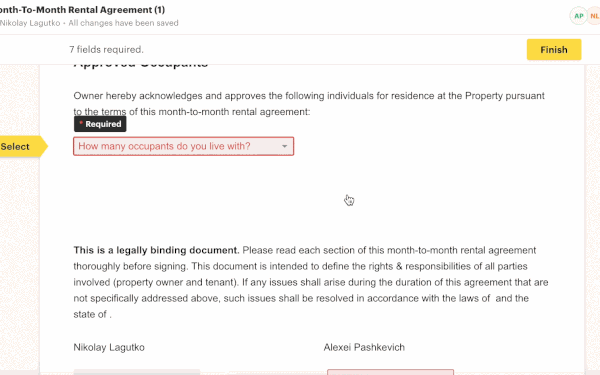 The conditional rule here would state: if the applicant selects two from the dropdown menu, then show additional occupant fields (x2).
Start collecting better data today
With conditional fields, you can quickly generate error-free documents and make the document workflow more intuitive with fields that appear automatically and only when necessary as the signer reviews the document.
To learn how to get started with conditional fields, check out this help center article.