We need contracts to document critical aspects of business, e.g., to record what's expected of suppliers and our responsibilities to them.
But it can nonetheless be difficult and time-consuming to create a contract; what's more, mistakes can be costly.
This is where contact generation comes in handy.
In this article, we're going to explain what contract generation is, how the process works, the benefits, and best practices.
We'll also reveal how PandaDoc can help you.
Key takeaways:
Modern software can ease the headache of contract preparation through automation.
Save time, cut costs and close deals more quickly through the intelligent use of automate contract generation.
Remember that i's still your job to make sure the content is accurate.
Ensure you set up the right governance and be sure to evaluate.
What is contract generation?
Contract generation refers to the process of creating legally binding agreements or contracts between parties.
It involves the preparation and generation of contract documents that outline the rights, obligations, and terms agreed upon by the involved parties.
Let's stop for a minute and think about all the different elements that go into writing a contract. You need to:
Send a contract request. Generally, this happens before any real dialogue has taken place. At this stage, you're deciding what the contents of the contract might be.
Research. This involves finding all the necessary information that needs to go into your contract. You might have to review relevant legislation to ensure your document is compliant.
Writing. You'll compile your contract based on the information gathered during the previous two steps. You'll also need to add any necessary clauses to ensure your document is legally binding.
Final stages. With the document written, you must ensure it's correctly formatted. The contract will need to be sent for approval too. This process continues until the document is ready for signing.
The process above is an example of manual contract generation, but the short bullets we've used to summarize it don't really exemplify just how long this can take.
Luckily, there's an alternative.
Automated contract generation handles the legwork for you, with specialist software giving you an easy-to-use template to fill in.
This massively reduces the amount of time spent on creating contracts.
How does the contract generation process work?
Automated contract generation removes the headache of preparation in numerous ways.
A modern software solution like PandaDoc, for instance, provides the ability to create reusable templates.
These are highly configurable, meaning you can create a contract that suits your unique needs.
Since you're not forced to start from scratch, the process of creating and sending documents becomes much easier.
Users also have the option of choosing from a library of prebuilt templates.
PandaDoc's template library contains more than 750 professional templates to choose from.
So whatever kind of contract or agreement you need a template for, PandaDoc helps to dramatically reduce the time and effort needed to produce it.
With a template set up and ready, you can make any amendments you feel are necessary.
You can repeat this process ad infinitum until you have a contract that meets your needs.
Best practices for effective contract generation
Whether you're using automated software or writing your contract manually, there are certain key factors to consider.
Automated software will do much of the hard work for you — but it's still your job to make sure the content of the contract is accurate.
Remember, even simple mistakes can have costly consequences. For example, say you deal with data belonging to customers who reside in the EU.
You'll need a data processing agreement to keep you compliant with the General Data Protection Regulation (GDPR).
With this in mind, let's look at some best practices for contract generation.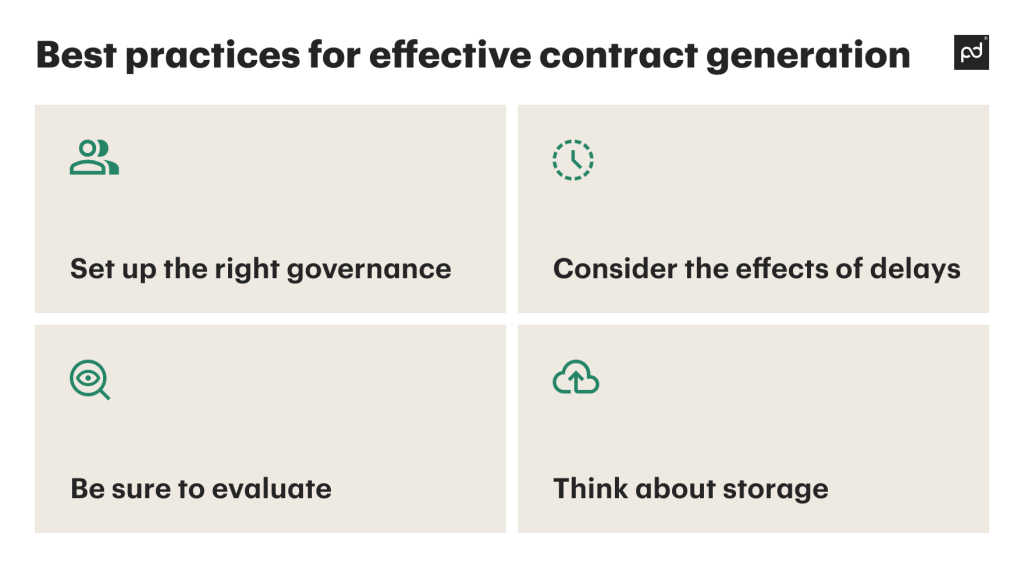 1. Set up the right governance
Without proper oversight, mistakes can creep into your generation process, undermining and perhaps even invalidating the contract you've spent so much time creating.
This is why it's important to have a thorough governance framework that can be applied during every stage of the contract lifecycle.
It's essential that governance is varied and overseers don't all come from the same department.
Different departments will likely have their own areas of interest within your contract.
Let's say you have a contract with a web designer for a website redesign. Your sales department will have specific goals to help them meet certain objectives.
This might include an increase in conversions or a reduction in bounce rates.
Without considering these points, your team might not get the results they're looking for — and contractually, you won't have a leg to stand on.
As well as ensuring that all relevant departments are involved, make certain there's oversight at each stage of the contract.
This might mean assigning individuals to oversee the creation, review, approval, sending, and signing of contracts.
Your company will likely benefit from introducing a contract playbook.
These documents serve as a roadmap to guide members of your team through the entire process of contract creation.
A contract playbook offers an easily accessible resource for employees, allowing them to educate themselves on the contract lifecycle and ultimately will help them negotiate better contracts.
2. Consider the effects of delays
If a contract commits a party to a certain action, it should be performed on time.
Delays can have a variety of unwanted effects.
They might slow your progress toward achieving business goals. You may also need to spend additional funds to make up for these.
For example, imagine you're a manufacturing company.
You need to create a contract with a supplier, and your production team has a strong interest in delivery dates for components.
Overlooking this might mean delays in your overall processes.
To avoid these issues, you should consider the effect of delays within your contract.
Emphasize the damage these might cause, and consider whether penalties (financial or otherwise) should be built in to safeguard against these.
3. Be sure to evaluate
Once a contract is complete, organizations frequently move on to the next task instead of debriefing.
This is unfortunate, as a lot can be learned from the generation process.
What worked? What didn't? Most crucially, how could things be improved next time?
Instead of skipping this stage, take some time to have an evaluation meeting.
Again, it's important to involve different voices.
Various teams from across the business can give their perspective on the contract process.
They can air grievances and suggest alternative approaches for future contracts.
Evaluation ensures that each contract is more effective than the last.
4. Think about storage
Once a contract is completed and signed, it's easy to think the process is over. However, it's important to first ensure that your contract is stored safely and securely.
Remember, you may need access to it again later, so it shouldn't be stashed in a cabinet and forgotten.
Luckily, you no longer have to rely on physical space for storing contracts. Instead, you can use a contract repository.
A repository stores contracts in the cloud. These are then linked to spreadsheets. You can search through a document, find the contract you need, and select it easily.
This option is both more convenient and secure than traditional methods.
With a repository, you can control access to contracts, too, which ensures that only the right people can view these sensitive documents.
Benefits of contract generation software
Contracts serve many different purposes and come in a variety of forms.
A lot of the problems people experience when creating them are, however, common.
Whether it's the length of time taken, the manpower used, errors in drafting, or problems adhering to legal requirements, generation software can help.
You'll want to ensure that you don't overlook certain important factors when choosing your software, as both parties need to feel reassured that the contract meets their needs, provides clarity, and gives adequate protection.
Luckily, the best contract management software can provide you with the following benefits.
Cut costs
As the expression goes, 'time is money'.
Laborious manual activity results in teams wasting precious hours and resources.
Not only will employees have to create new contracts, but your teams will also need to work on the renewal of existing agreements.
If you're handling things manually, this all amounts to higher than necessary operational costs.
The more mundane aspects of contract creation can also take a considerable amount of time from skilled staff who could be contributing more value-added activity to your business.
Luckily, specialist software can handle the various aspects of contract generation for you, meaning your employees are freed up to work on other tasks.
You can thus cut operational costs and focus on organizational growth.
Time saved
This is arguably the biggest benefit of contraction generation software.
Earlier, we listed all the factors that need to be included in a contract.
Putting these steps into action can take a huge amount of time.
At the end of this process, you may have to make revisions too, adding to the time spent.
Manual management of version control and ensuring that everyone's input and amendments are in sync can be challenging and hugely time-consuming — and this is just one aspect of contract activity.
Don't be surprised to see jaded and demotivated commercial teams during contract creation.
If they had been freed from handling this work, your teams could have been doing other, more valuable tasks.
They might have been growing your customer base, forging new business relationships, or completing projects.
With contract generation software, there's a solution at hand. You can create a document in minutes.
You might even find that you can get a contract signed and ready quicker than you'd be able to create a first draft manually.
Everything you need in one place
There are many different factors involved in contract generation.
Aside from creating a contract, you also need to share drafts and receive approvals.
Even if you use a template, there's no guarantee a document will be up to date.
You might need to copy information from other sources. Once a document is out there, you must ensure you have the most recent draft stored and kept safe.
This all combines to make the process more troublesome than it needs to be, as you're constantly switching between sources and documents.
Contract generation software puts all these elements in one convenient place, automating key processes and ensuring everyone is working from the latest version.
This means you can focus on delivering the best possible contract.
Close deals more quickly
Generating contracts manually can mean it takes a long time to close a deal, but customers don't like having to wait.
To compensate for this issue, lots of businesses resort to hiring more staff. Automated contract generation does away with these difficulties.
You'll be able to close deals more quickly, meaning you can take on more customers. You also save money as you can get by with a smaller workforce.
Ultimately, automated contract generation can help make your business more profitable.
Less risk
It's important that contracts are legally binding.
This means they should contain all the necessary provisions to comply with legislation. If your contracts don't align with the law, your organization might find itself in trouble.
Luckily, contract generation software comes complete with contract templates.
These are formatted to be legally correct, minimizing the risk of compliance issues.
Manual activity, on the other hand, increases risk.
Comparatively, automation removes most opportunities for human error and makes the whole process easier.
Reduce errors
The errors referenced above can have a devastating effect on your business, but a mistake doesn't have to be a compliance issue to be damaging. Incorrect or unclear provisions can threaten relationships and cost you money.
Mistakes also make you look unprofessional.
At best, they negatively impact your bottom line in the short term; at worst, they give your customers or business partners less confidence in you as a company and strangle your long-term growth.
Ultimately, parties need to be reassured that a contract provides them with the necessary protections before signing.
If used properly, contract generation software helps avoid errors, so you can keep everyone happy, ensure compliance, and keep your business running smoothly.
Find the right contract generation solution with PandaDoc
There's no denying the importance of contracts.
They're necessary for regulating practically every aspect of business relationships.
They set out clear agreements between parties and provide a legal basis for your activities.
As we discussed, however, the process of manual contract generation takes time. This can stifle growth, preventing staff from working on other projects.
What's more, there's huge scope for error, and any mistakes can damage business relationships or even land you in legal trouble.
Happily, there's a solution. Pandadoc's contract management software can handle all the tricky aspects of contract generation for you.
This includes customizing, negotiating, and even eSigning complex contracts.
You also choose from hundreds of customizable contract templates and share detailed offers with your clients in as little as two minutes.
Are you looking for a solution to your contract-related issues? Then why not try a 14-day free PandaDoc trial today?
Disclaimer
PandDoc is not a law firm, or a substitute for an attorney or law firm. This page is not intended to and does not provide legal advice. Should you have legal questions on the validity of e-signatures or digital signatures and the enforceability thereof, please consult with an attorney or law firm. Use of PandaDocs services are governed by our Terms of Use and Privacy Policy.