Fax machines were once the superheroes of the office.
They'd swoop in to save the day whenever you had to send out essential documents quickly and securely.
But, as tech advances, these once-mighty machines have become obsolete.
As a professional, sending sensitive information to customers or clients is essential.
Faxing is still widely considered the industry standard for sending documents.
Yet, the demand for fax machines has reduced with the advancement of digital communication and cloud-based file sharing.
Many people now deem them outdated and inconvenient, and are looking for modern alternatives.
In this article, we'll discuss several fax alternatives that offer faster, more reliable, and more secure document transmission.
What are online faxing services?
Online faxing services (also known as eFax services) are digital platforms that allow you to send and receive faxes using the internet.
They make it more convenient and cost-effective to transfer documents.
These services enable you to send documents without using courier services, FTP, or email.
People and companies looking to forward sensitive information to government agencies, stakeholders, or clients can use online faxing services to expedite the process.
6 fax machine alternatives to improve your workflow
We've evaluated the available fax machine alternative based on user-friendliness, affordability, and other factors.
Here are some modern fax machine alternatives.
1. PandaDoc Online Fax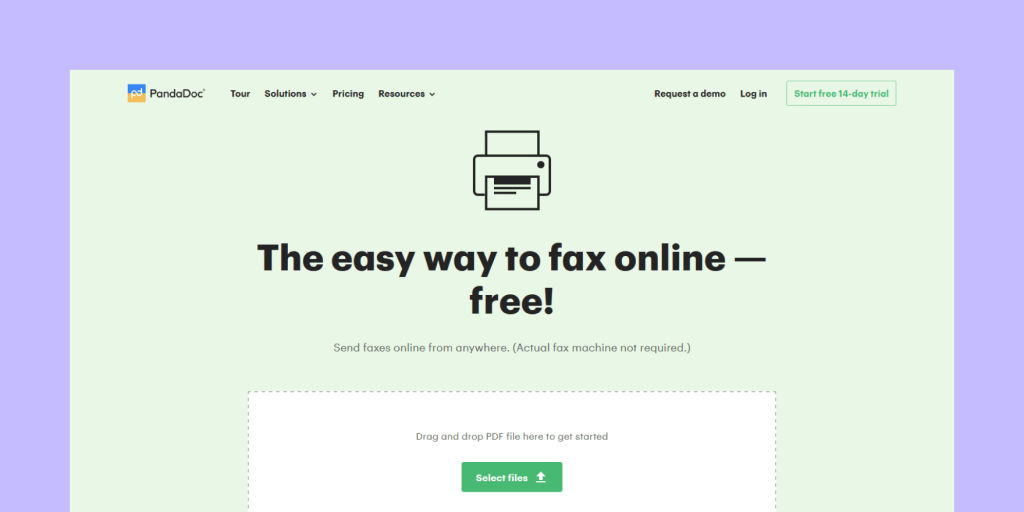 PandaDoc Online Fax is a digital solution that allows individuals and businesses to send documents for free without registering for a fax number.
This service has an intuitive interface that anyone can use.
To send documents using PandaDoc Online Fax, you need a PandaDoc account in order to access the solution.
You also get 20 pages for free, or you can get the premium plan to access up to 200 pages.
2. eFax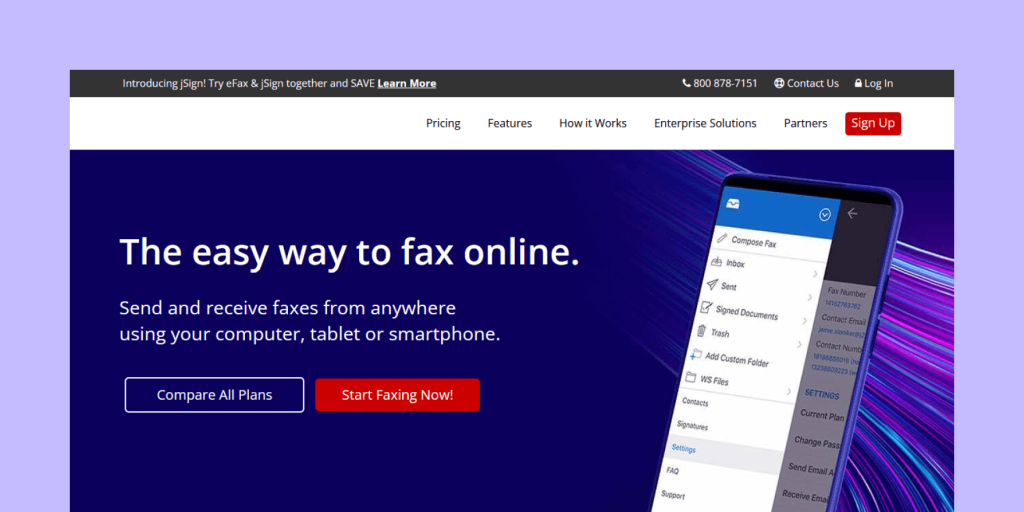 This cloud-based online faxing service allows you to send and receive files on your computer or mobile device.
With eFax, you eliminate the need for a physical machine.
To use eFax, you must sign up for an account and choose a local, international, or toll-free number — or you can port your existing number to eFax.
Once you have a fax number, you can start sending and receiving documents.
eFax offers a range of features that allow you to send and receive important documents from multiple email accounts.
Additionally, the service provides customer support as well as a knowledge base and community forum for self-help.
eFax costs vary depending on the number of pages you send and receive and the features you need.
3. HelloFax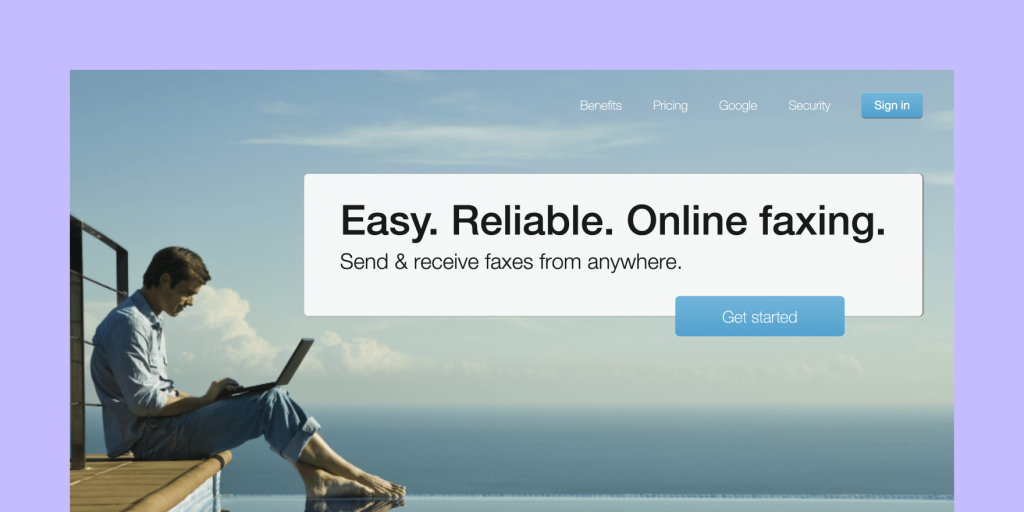 The integration of HelloFax with popular cloud storage services simplifies storing and accessing your fax documents online.
To use HelloFax, you must create an account and upload the document you want to send.
You can upload a file from your computer or import it from supported cloud storage services.
Then, you need to enter the fax number of the recipient and click send. Afterward, HelloFax sends the document to the recipient.
When someone sends you a fax, HelloFax will receive it and convert it into a digital document that you can access online.
4. FaxZero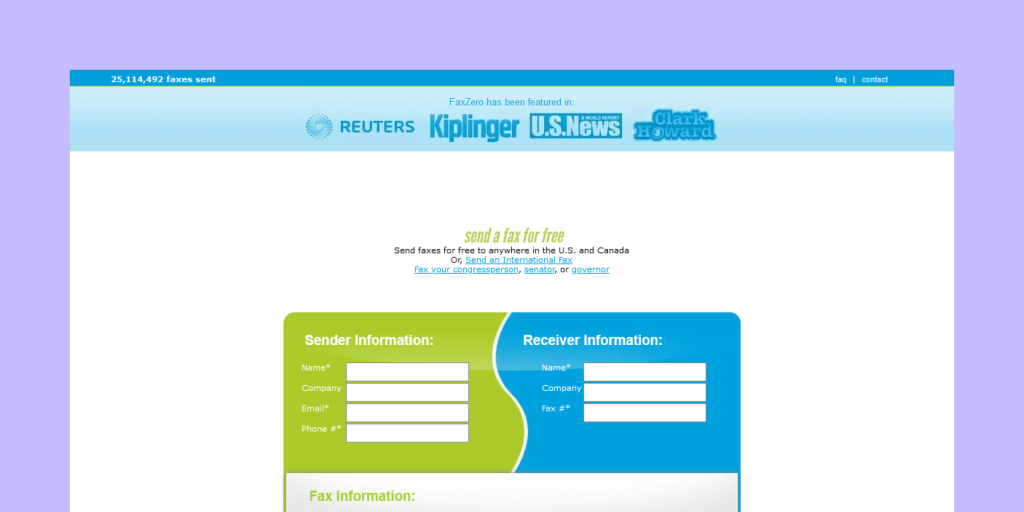 FaxZero is an online service that allows you to send documents for free.
It's a straightforward service that requires no registration or sign-up.
You can send up to five faxes daily, with a maximum of three pages per fax. And guess what? There's no charge for this service.
However, there are some limitations that you should be aware of.
Firstly, FaxZero places its branding on the cover page, which makes the document look less professional.
Secondly, the free service does not include a confirmation of delivery.
You won't know for sure when FaxZero successfully sends your file. But you can upgrade to a paid plan for these additional features.
Ultimately, this service can be a good option if you only need to send a few documents daily.
5. RingCentral Fax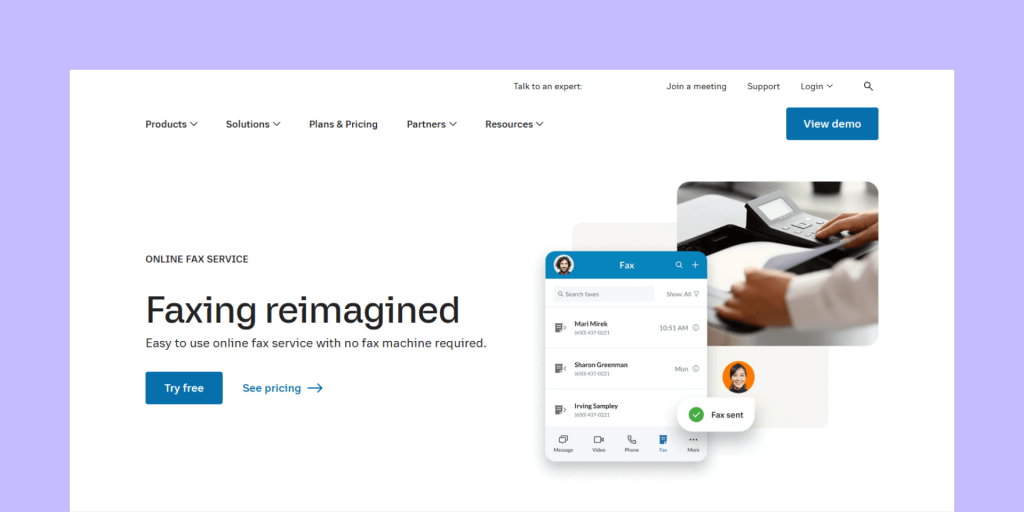 RingCentral Fax has a user-friendly interface that enables you to access your faxes from anywhere.
It integrates with Google Drive, Dropbox, and Box, to easily store and organize your faxes.
This faxing service also offers a range of features designed to make faxing more efficient and secure.
You can set up automatic retries for failed faxes and receive notifications when a fax has been successfully sent or received.
Regarding pricing, RingCentral Fax offers a range of plans to suit different needs and budgets.
There's also a free trial available, which allows you to test out the service before committing to a paid plan.
6. MyFax
With MyFax, you can send files from your computer or mobile device using your email or a web interface.
Incoming files are delivered as PDF attachments so you can view and store them digitally.
Additionally, you can schedule faxes to be sent later and receive real-time notifications when they are sent or received.
There's also the ability to send files to multiple recipients.
MyFax offers several subscription plans based on the number of pages you plan to send and receive.
Additional fees include features like a dedicated number and international faxing.
Four reasons to consider fax machine alternatives
Before choosing any fax machine alternative, here are some factors to consider:
1. Security
Always consider the available security and encryption features when choosing an alternative to fax.
Traditional machines lack modern security protocols, which leaves your transmitted documents at risk of alteration or interception by unauthorized individuals.
On the other hand, modern alternatives offer higher levels of security.
These solutions use advanced encryption techniques to protect your documents during transmission.
They ensure that your sensitive information remains confidential.
2. Cost
The cost of using physical faxing devices is high because it includes not only the initial purchase of the machine but also expenses on paper, ink, and maintenance.
Any digital alternative to fax machines is more cost-effective, as it does not require maintaining or repairing the physical equipment.
In many cases, it offers free or low-cost options, which you can use from any device with an internet connection.
3. Environmental impact
Fax machines can harm the environment because they require paper and ink, which contribute to deforestation and pollution.
The production and disposal of these materials also depletes energy and resources, contributing to a larger carbon footprint.
Moreover, fax machines often need maintenance and repair, which generates additional waste.
Alternatives, such as digital communication tools, can help reduce your carbon footprint by minimizing your paper trail.
They also reduce the need for physical storage space and the associated environmental impact.
By choosing environmentally friendly options, you can fully embrace digital transformation.
4. Convenience
Convenience is a significant advantage of using digital fax alternatives.
Imagine being able to easily send and receive documents from anywhere in the world, anytime.
A traditional fax machine cannot give you this because it requires physical access to the device and may only be available during certain hours of the day.
For example, with online file-sharing services, you can quickly send documents without printing or scanning anything.
Also, they make it easier to collaborate with others, those not in your physical location.
In addition, many digital alternatives offer features that make it easy to find and access important documents from an online repository when needed.
Conclusion
There are instances where you will need to send or receive documents for final approval.
Rather than dealing with the bulkiness of a fax machine, consider one of the alternative options highlighted above.
Each option has its benefits and limitations, which you must consider when choosing the one that best suits your needs and budget.
Ultimately, switching to an alternative method will depend on your unique circumstances and preferences.
If you want to send documents containing sensitive information without worrying about slow delivery speed and/or possibly being intercepted, then you need a digital faxing service like PandaDoc Online Fax.
This solution uses secure protocols to safeguard your data in transit. And most importantly, it is affordable.
Disclaimer
PandDoc is not a law firm, or a substitute for an attorney or law firm. This page is not intended to and does not provide legal advice. Should you have legal questions on the validity of e-signatures or digital signatures and the enforceability thereof, please consult with an attorney or law firm. Use of PandaDocs services are governed by our Terms of Use and Privacy Policy.