People and businesses have quickly transitioned from sending faxes using paper to automating the process using numbers linked to online faxes.
Since digital faxing solutions allow users to communicate online, they're slowly replacing conventional faxing techniques.
For those who want to send faxes online but need help understanding the fundamentals of how it works, this article will discuss local and international number formats.
We'll also discuss how to use digital fax.
Online fax number formats
The format of a fax number varies by country and region, so it's crucial to know the difference when choosing one.
Here is what a fax number looks like:
1. International fax number format
To send faxes out of any country to another, you should always include this format: [+ or 011] [country code]-[area code or city code]-[local number].
A fax number example for international correspondence to a US number looks something like this: +1-907-555-1234.
From these digits, you can deduce that the recipient is in Alaska, USA.
2. Format for national fax numbers
If you're sending faxes within the same country, you don't need to include the country code.
For instance, with documents traveling inside the US, how to dial a fax number correctly simply requires typing only the area code and local number, i.e., 907-555-1234 for Alaska, though some carriers require a "1" in front: 1-907-555-1234. (But not a +1.)
3. Local format for sending faxes
When forwarding faxes within the same area code, you can add their numbers without the country and area codes.
A sample fax number for local transmission is 555-1234.
Analysis of fax numbers example
As shown earlier, fax numbers have three components: country codes, area codes, and local numbers.
But how long is a fax number in the US?
The typical US fax number is 11 digits long. Let's use the number mentioned earlier [+1-907-555-1234] to analyze the main parts of a fax number.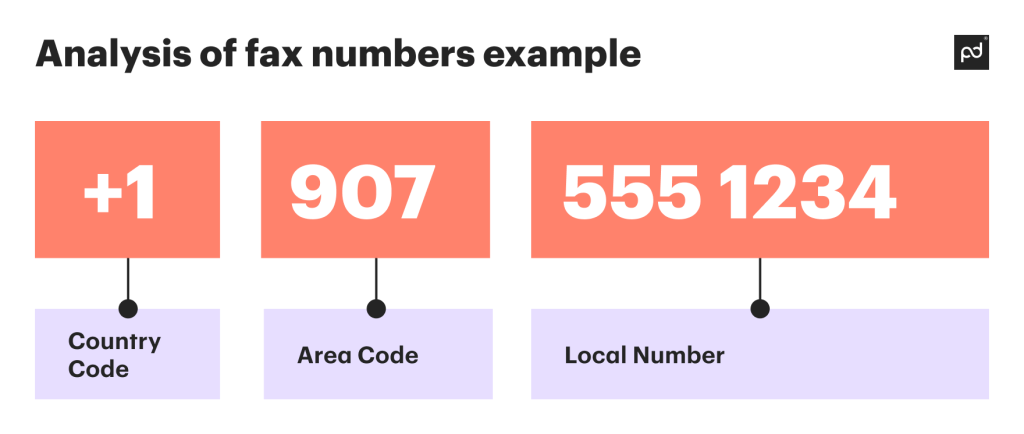 Country Code
Every country has a unique dialing code, which always begins with the plus (+) sign followed by the number, indicating the recipient's location.
Going by this sample, the dialing code will start with +1 to show that the recipient is in the USA.
Area Code
Area codes are unique to every state.
For example, 907 indicates that the fax machine is in Alaska.
If you don't know the area code for your business, you can find it in an online directory or from your network provider.
Local Number
The local number is the third component of a fax number.
The numbers within a locality or district frequently consist of seven digits. From our previous example, 555-1234 is your local fax number.
How to create a fax number
As mentioned earlier, your network service provider can help you get your unique digits during activation.
Here is how to create an online number for your faxes.
Contact your provider.
Get your assigned number for the dialing codes of your country, state, and local municipality or section of the city. As we outlined above when explaining how many numbers are in a fax number, this process should be easy to complete and make perfect sense.
Complete the registration by providing identification details like your name, SSN, and email.
Verify and link your email address.
Four reasons to use an online fax service
Here are some reasons to use an online fax service.
They promote an eco-friendly environment
Companies are trying to minimize their carbon footprint, as part of the collective dedication to solve issues surrounding global warming and climate change.
However, traditional fax machines use paper, which is detrimental to the environment.
Unlike physical devices, online fax services have provided a more ecologically beneficial option since they eliminate the need for running through reams of paper.
They complement remote work
Moving a faxing device can be tedious when traveling to different locations.
But with digital services, users can communicate and share files from anywhere.
You don't need to go to your home or office environment in order to send or receive faxes since they are always accessible on the go.
They boost productivity
You can automate many tedious tasks required for simple fax machines, such as scanning documents, thereby increasing productivity.
Also, online fax solutions provide users with cloud storage services and project management tools to help them efficiently track their materials.
How to use digital fax
Using digital fax is easy if you have the right tools.
All you need to do is to use an online service, such as PandaDoc Online Fax, to communicate seamlessly. And the best part?
You don't need to carry paper or have ink on standby.
Here are the fundamentals of sending digital faxes through the PandaDoc Online Fax solution:
Sign up on the PandaDoc website.
Get your unique number.
Start sending correspondence to recipients in the US and Canada.
PandaDoc Online Fax gives you 20 free faxing pages once you sign up for a Free eSign account.
You also get 200 free pages during the trial phase while deciding if a paid option is better for your business needs.
And either tier comes with email notifications to confirm the delivery status of all faxes.
Conclusion
An online fax number is a convenient option for sending faxes anywhere in the world.
Depending on your location, you should consider getting a local or international fax number.
Online fax services have changed workplace culture in several industries by eliminating the need for paper.
Businesses, NGOs, and individual users can now send files and folders at the click of a button.
Frequently asked questions
To create a fax number online, do the following:

Contact a service provider.

A number will be assigned according to your country, state, and district.

Provide your name and other personal information.

Link and verify your email.

Receive your official fax number.

Fax numbers might look different depending on the location you're sending them to. A fax number sample is +1-907-555-1234 for the US and +44-20-1224-3456 for the UK. A fax number has three components that specify both the recipient and the sender's country, state, and local district.

A virtual fax number is an electronic number that is not directly associated with any particular fax machine. Instead, it is a number that one can link to an online provider used for communicating on the internet using devices like PCs, smartphones, and tablets. With a virtual fax number, you need reliable internet to send and receive documents, even when you're away from the office.

You can generate your fax number from a digital fax provider like PandaDoc Online Fax. But first, sign up on the PandaDoc website to use the web application. After creating your account, you can start sending up to 20 documents to recipients in the US and Canada. In addition, you will get access to 200 pages when you sign up for the free trial.

Fax numbers are usually 11 or 12 digits long, depending on the owner's global location. International numbers typically have at least 11 digits (+1-907-555-1234), while local numbers are usually 7 to 10 digits because they exclude the country code.
Disclaimer
PandDoc is not a law firm, or a substitute for an attorney or law firm. This page is not intended to and does not provide legal advice. Should you have legal questions on the validity of e-signatures or digital signatures and the enforceability thereof, please consult with an attorney or law firm. Use of PandaDocs services are governed by our Terms of Use and Privacy Policy.