When we created PandaDoc, we did it to streamline the proposal creation process as well as the finalization of a deal. And it's been working great thus far. In fact, nearly 60 percent of PandaDoc users reported that their proposals have been accepted within a single day of sending them!
In your typical deal, however, you can expect a sales agent to encounter some speed bumps. Clients often open proposals and quickly skip over them because there is too much information to digest. As a result, the clients and your sales team will inevitably end up ping-ponging a proposal back-and-forth and making adjustments as needed.
By the time they reach the payment stage the deal has already become a time-consuming multi-step process. Because of this, we decided to take inventory of what keeps a client from moving forward in a deal and what hinders the fluidity of a sale. Below are seven elements of our proposal software that were inspired by client needs and built for ease of use on the back-end:
1. Content navigation
A table of contents feature was developed so that clients could easily navigate through information within a proposal. With clickable tabs alongside a proposal there's no need to scroll through all of the pages of a document to get to the area that you're most interested in reviewing.
Clients can quickly jump from the introduction to pricing or signing, if desired, and the sales team can also review proposals more quickly this way as well.
2. Content library
Building proposals from scratch every time you need one is not very efficient. Nor is editing existing proposals. Sales teams needed a content library from which to pull images, videos, pricing tables, and blocks of text to build proposals quickly. The faster they can build the proposal, the less time clients spend waiting.
3. Multimedia
PandaDoc allows you to embed videos, images, infographics, and other visually engaging sales collateral to make your proposals pop and stand out from the rest.
4. Inbox
The Inbox feature makes completing and approving documents simple by spelling out what actions a user needs to take to complete a document. This helps sales agents manage their workflow by automatically taking the proposal to the next step, whether it be for approval or further information requested.
5. Tokens
Sales reps no longer have to waste time entering names and addresses into contracts. Tokens automatically fill those relevant fields using saved contact information. Sales agents can even retrieve tokens from their CRM, eliminating duplicate data entry.
6. Analytics
Sales reps need to know what slows down and what speeds up the sales process so they can make adjustments in order to close more deals faster and make more clients happy. Document analytics provide insight on how long it took a client to read each section of a document. This is amazing stuff!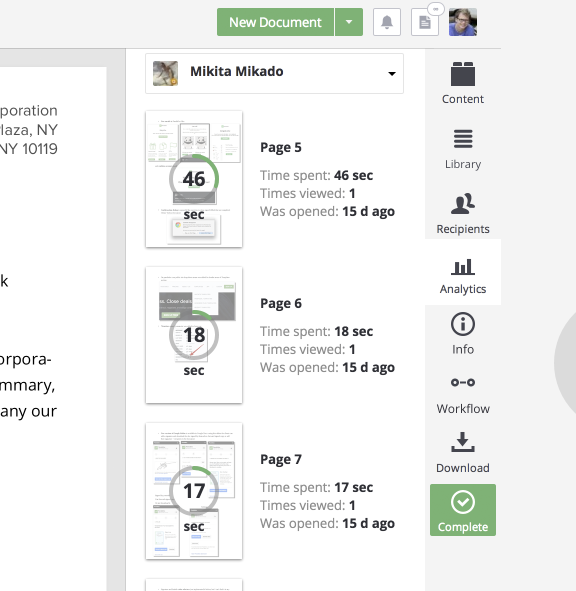 7. PayPal and Stripe integration
A new feature we're excited to be working on is integrating our proposal software with PayPal and Stripe. Sales teams will soon be able to collect payments on proposals and contracts directly within the document.
This turns what used to be a multiple-step process into a one-step deal. All of these elements serve the same mission: to put an end to the major pain points impeding a sales deal and to help you close more deals faster.
What are some things that slow down your sales process? How has PandaDoc's proposal software features helped you?