The story of PandaDoc is one of innovation, the relentless pursuit of efficiency, and the magic that happens when technology meets tenacity.
Conceived in the minds of Mikita Mikado and Sergey Barysiuk, PandaDoc was born out of a simple yet profound desire – to help innovative organizations scale and win by eliminating workflow inefficiencies and bureaucracy.
Over the years, PandaDoc has transformed from a fledgling startup into a formidable force in the world of document creation.
However, we all know the story doesn't end there. The latest iteration of PandaDoc, specifically the user interface, is here and a game-changer.
This isn't just a facelift; it's a complete overhaul designed with one goal in mind – software built just for you based on your real feedback. Read on to discover the story behind our latest update and what makes the new PandaDoc experience unlike any other.
A new vision coming to life
The significant changes in the world over the last few years have led everyone at PandaDoc on a transformative journey.
We've witnessed our customers utilizing PandaDoc in various innovative ways to simplify their lives. From increasing efficiency and scaling operations to maintaining control and creating/signing crucial documents, PandaDoc has been there every step of the way. We are constantly surprised to learn how our customers have found value in our platform.
To better understand our customer's needs, we held conversations, conducted research, and experimented with new ideas. And what we gained was that the current economic climate can be distracting, often diverting focus away from goals and priorities.
Therefore, we are more dedicated than ever to tailoring PandaDoc to your needs, allowing you to relegate mundane tasks to the background and concentrate on the core aspects of your business. In doing so, we aim to help you reduce costs, eliminate errors, save time, and stand out from the competition.
Ultimately, we'll continue to grow and adapt to the evolving needs of our customers – just as we've always done since our inception in 2011.
What the future holds
Keeping these customer conversations at our core, we are developing an innovative way for you to interact with PandaDoc. Our goal is to conform to your unique requirements and enhance the adaptability of our product with four key concepts:
Apps: Customize your PandaDoc customer experience with building blocks like Notary, Automations, Forms, and Rooms.
Data flow: Create a super smooth integration between apps, empowering users to tap into a whole new level of productivity.
Onboarding: Enhance the onboarding experience to cater to individual use cases and user needs.
Look and feel: Ensure that PandaDoc's user interface (UI) fully supports the transition to our new product vision.
The path that gets us there
The New Look and Feel update is the first step in the ongoing evolution of our product. We are dedicated to unifying your experience, making it easier to understand and simpler to use.
By actively listening to your first-hand feedback, we've created a sleek new design that seamlessly integrates with our multi-product platform. This means you'll enjoy a consistent and unified user experience across all pages and apps.

With this new design, we hope to provide a sense of unity and a smooth experience for every PandaDoc user.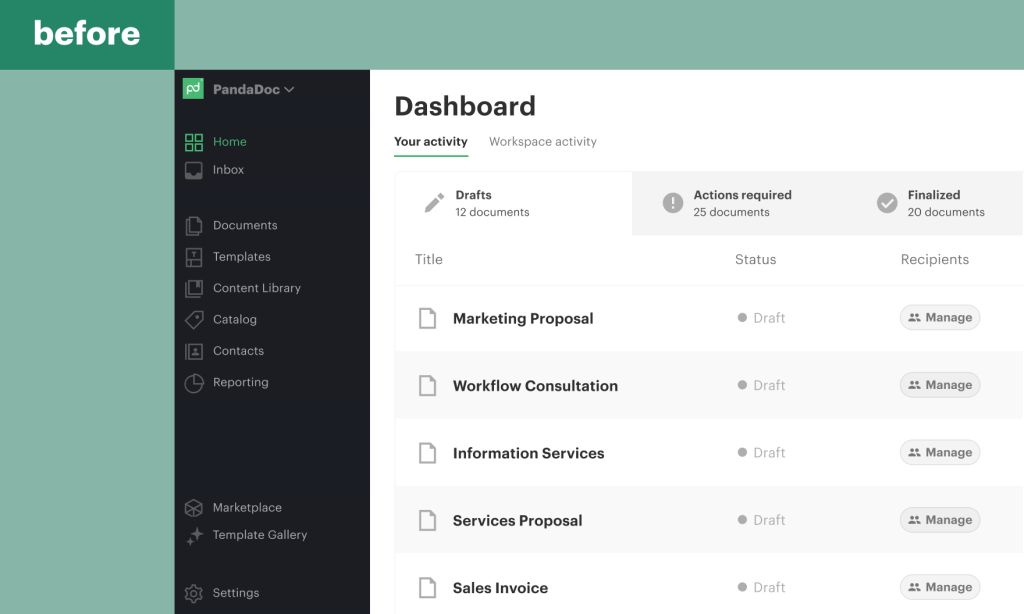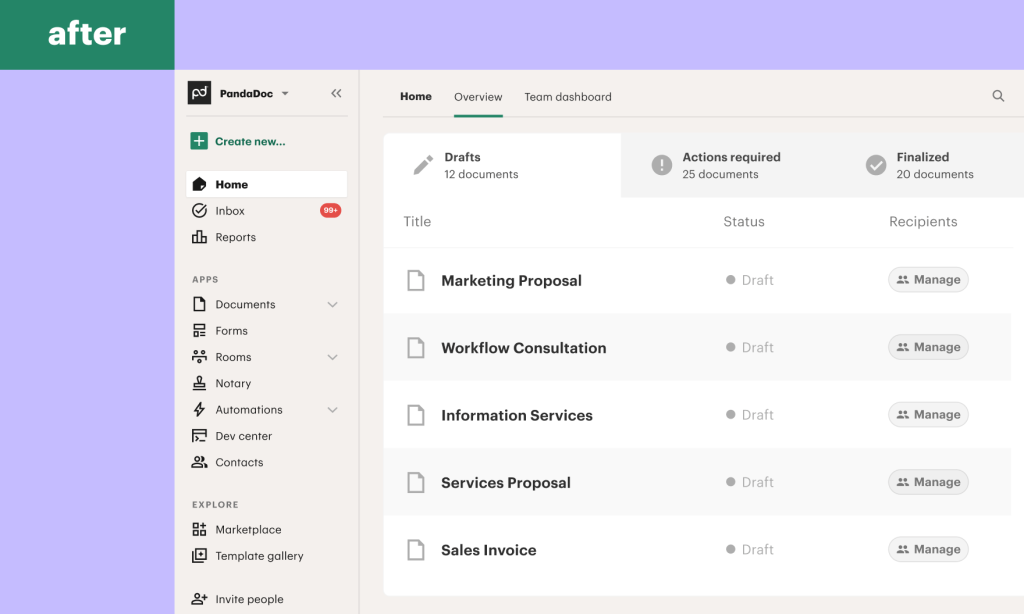 Reimagine the way you work with PandaDoc
We are thrilled to introduce our refreshed and enhanced interface releasing next month, September 2023.
What can you expect?
Improved speed and responsiveness of the user interface
Consistent and unified design across all apps for a seamless experience
Simplified and reorganized main navigation to easily find the apps you need
Streamlined menu items to focus on what matters to you, eliminating distractions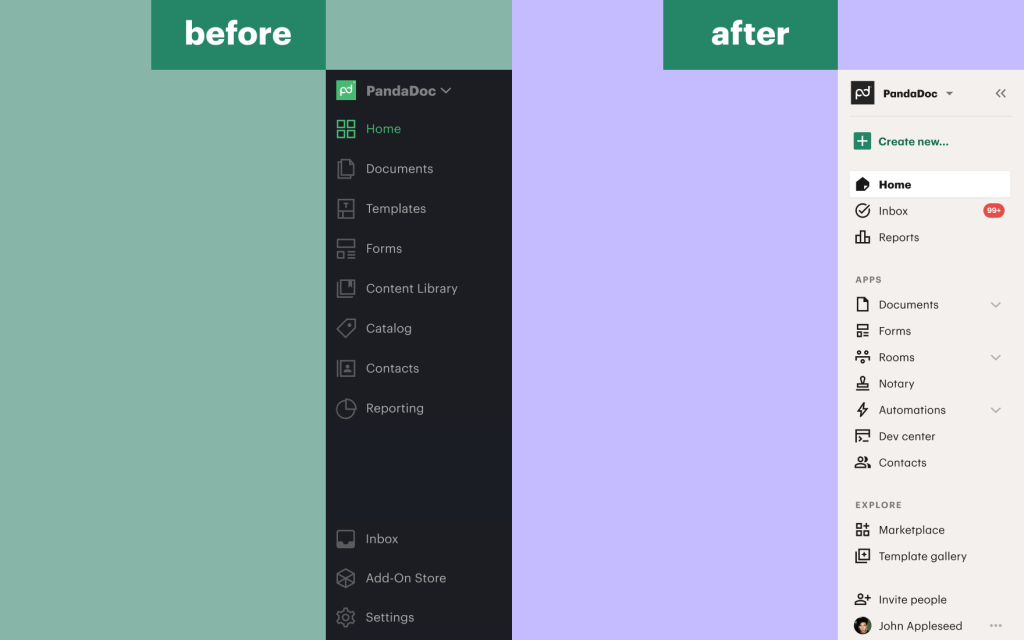 Quicker navigation between application pages with the new topbar menu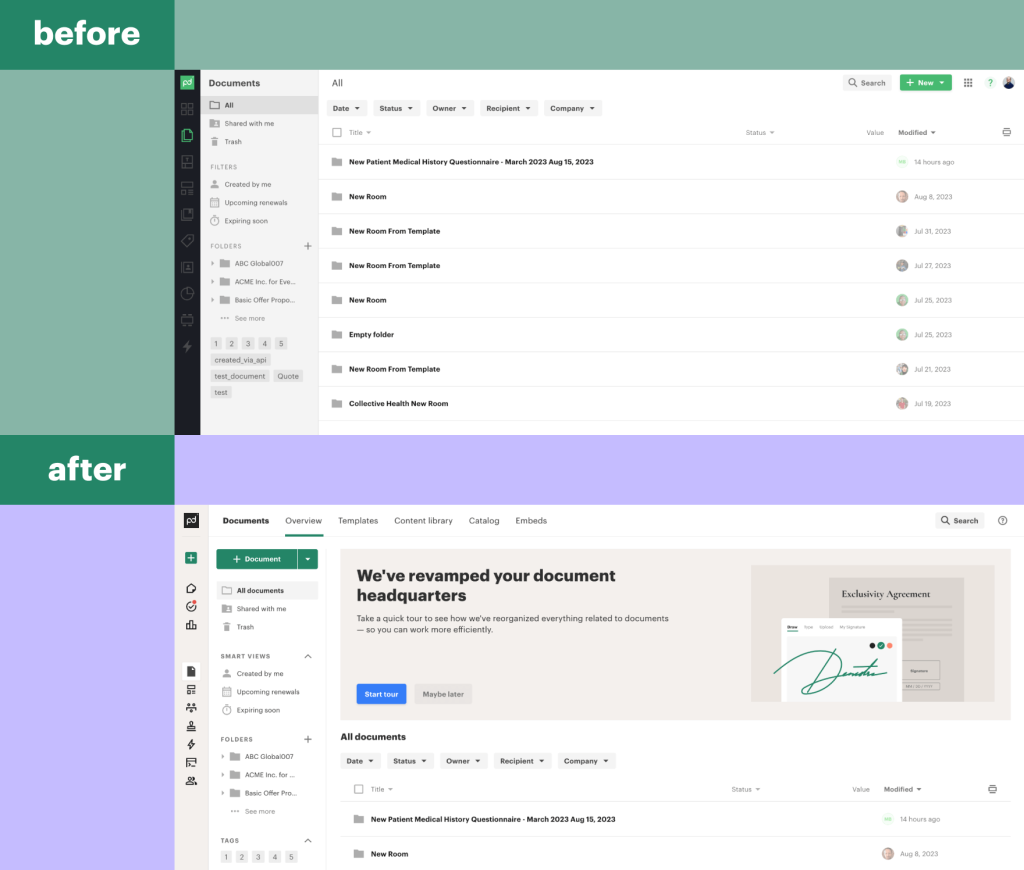 Discover our powerful add-ons in the redesigned Marketplace, with future integrations in the works
Boost productivity with shortcuts such as Cmd+/ or Ctrl+/ to show or hide the sidebar, and Cmd+K / Ctrl+K to open jump to dialog
And this is just the beginning! We will continue enhancing PandaDoc with more features and improvements, empowering you to succeed.
What's next
The rollout has begun, and we are gathering feedback to ensure the new look and feel addresses your needs. We are committed to evolving alongside you as we prepare for the future.
In the next month, we are excited to introduce our new and improved navigation. This enhancement will be easily accessible through an opt-in/opt-out option in your user settings, ensuring a seamless transition for all our users.
We value your input and await your observations as they play a vital role in shaping our future enhancements. Stay tuned for more updates, and get ready to experience a more intuitive and user-friendly PandaDoc!