Faxing is still a common practice within modern enterprises and small businesses.
Combined with email, fax services provide a fast, secure medium for sharing sensitive files.
Some online services are great for one-time use, while others are strictly designed for high-volume faxing.
Getting the best online fax service for small businesses increases the efficiency of internal and external communication
In this article, we'll discuss some online business fax services you should consider.
Continue reading to learn more about each product's benefits, features, and potential downsides.
1. PandaDoc Online Fax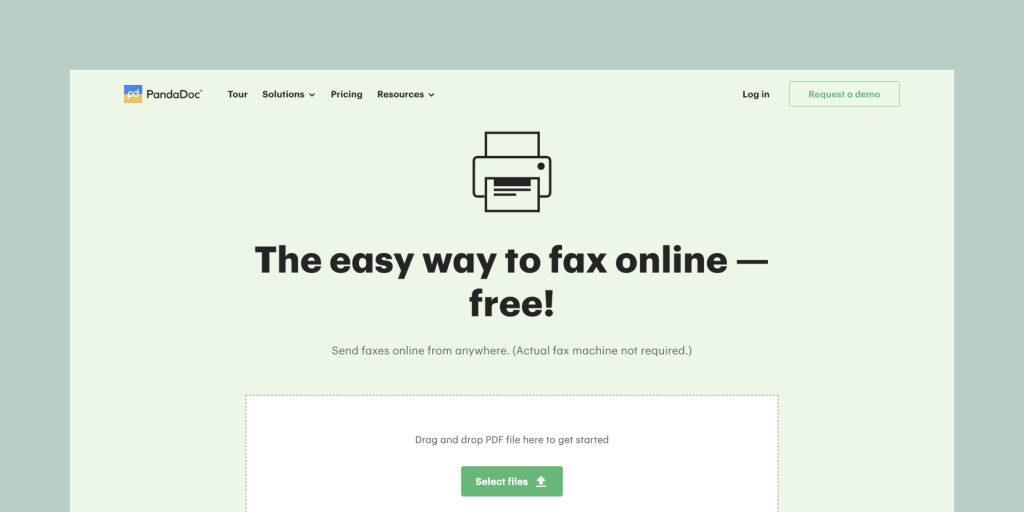 PandaDoc Online Fax is an excellent faxing solution that makes it easy for individuals and companies to transfer information quickly.
You don't need a physical device to use PandaDoc Online Fax; only a web browser and an internet connection and you're good to go.
PandaDoc Online Fax has an intuitive interface that generates email notifications to track the success of each transmission.
If you don't already have one, you simply create a PandaDoc account to get a number and start sending faxes.
With PandaDoc Online Fax, you can transmit information securely from anywhere in the world.
The free eSign account lets you send up to 20 pages.
The only caveat is that sending is restricted to recipients in the US and Canada only.
2. RingCentral Fax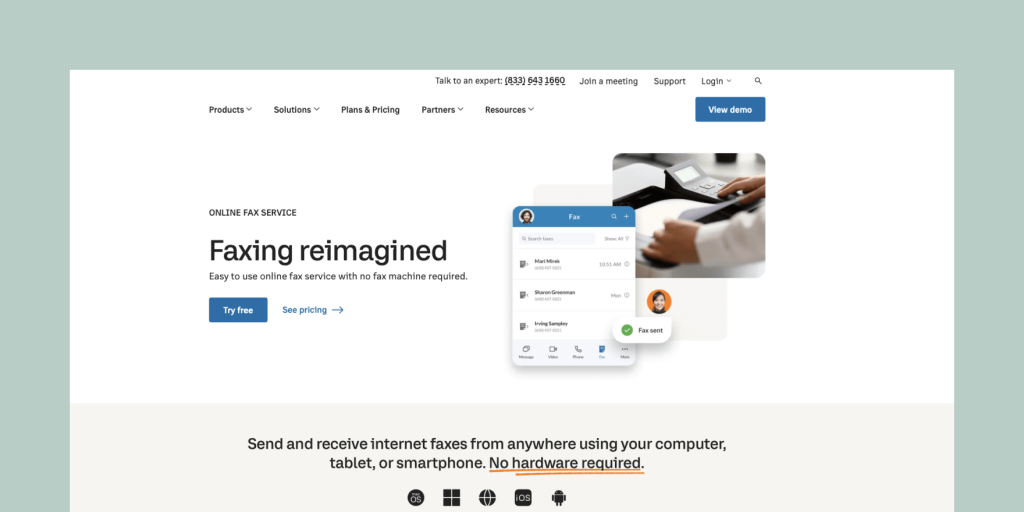 Businesses that want to simplify the process of online faxing would love RingCentral Fax because it has a simple interface.
RingCentral Fax schedules and facilitates the transfer of large attachments.
The good news is you can get a free online business fax number once you decide on which pricing option to choose with the company.
Although RingCentral is pricey, it can automate faxing for your organization.
Its communication tools and cloud storage capability make it perfect for paperless faxing.
3. eFax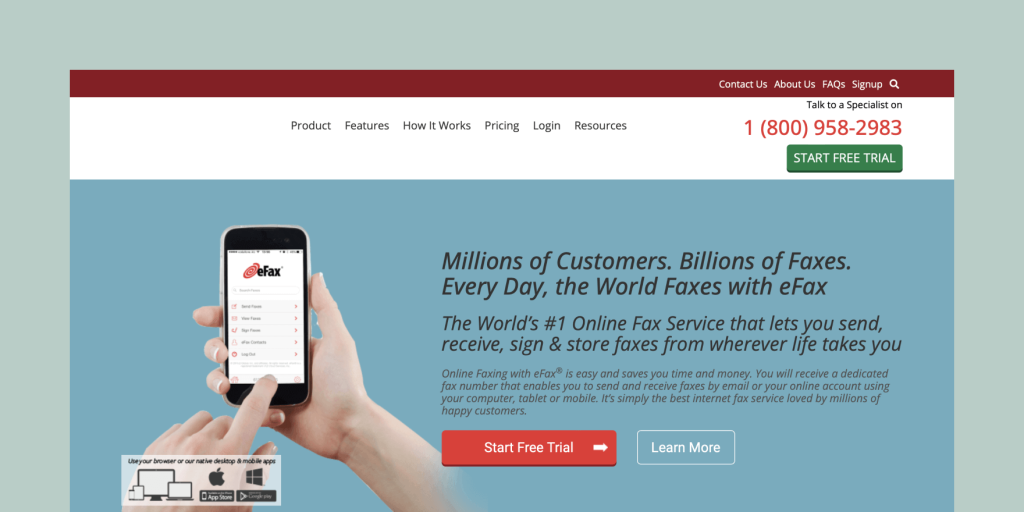 eFax is a popular name in the online faxing world.
This service lets you tag and search faxes, with support for up to five email addresses tied to one account.
The mobile app has an easy-to-use design and an electronic signature feature, and it secures your documents through SSL encryption. You can also send files using your computer or tablet.
Another reason people opt for eFax is its unlimited cloud storage.
You can fetch files from Google Drive, Dropbox, or iCloud. Unfortunately, it does come at a price — eFax could cost you up to $400 annually.
4. SRFax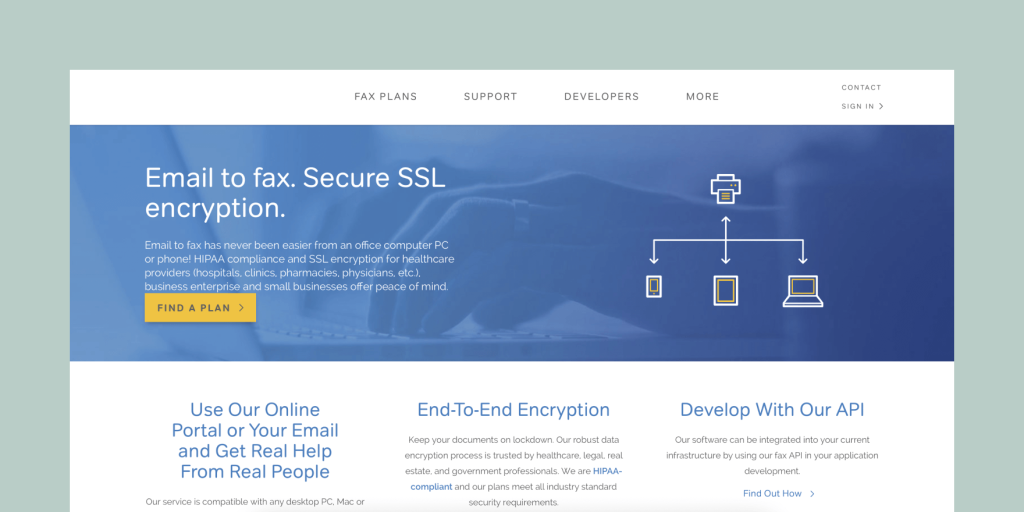 SRFax is better for those requiring HIPAA compliance when sending sensitive medical faxes.
This online fax service for business supports many file formats and responds seamlessly on smartphone and computer devices.
Its web-based interface is clean, but it lacks the digital signature feature. Apart from that, SRFax doesn't have a dedicated mobile app like many other providers.
Its cheapest plan allows you to send up to 200 pages. You get a free 30-day trial, after which you have to pay for further usage.
5. Metrofax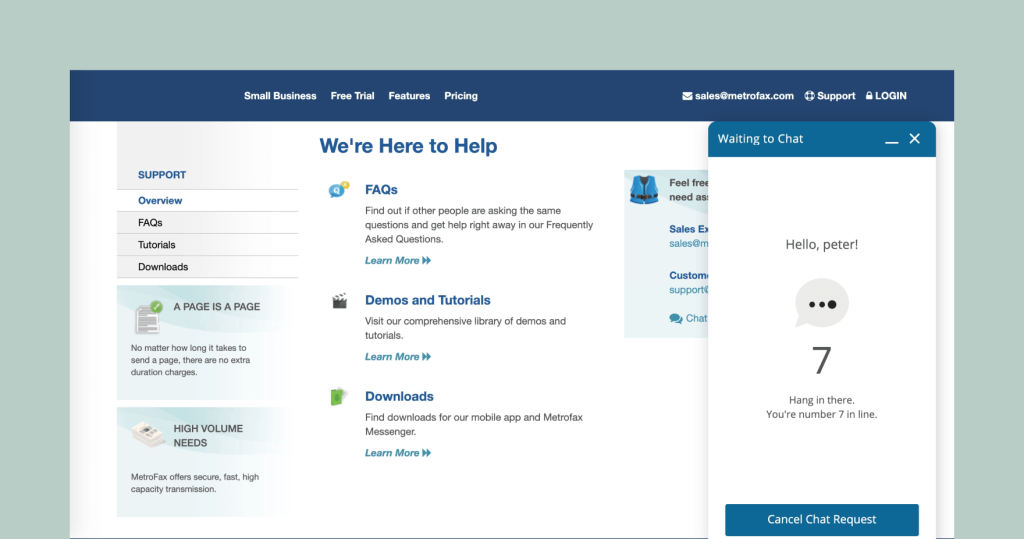 Metrofax offers smooth online faxing to small business owners and individuals.
A Metrofax account comes with a dedicated toll-free number, instant confirmations, and no long-distance charges.
You can send to multiple recipients simultaneously from your Android or iOS devices.
While the web interface is outdated, it integrates seamlessly with your cloud account.
There are no hidden fees or set-up costs when you choose Metrofax.
You can download the app or access the online platform via your web browser.
6. iFax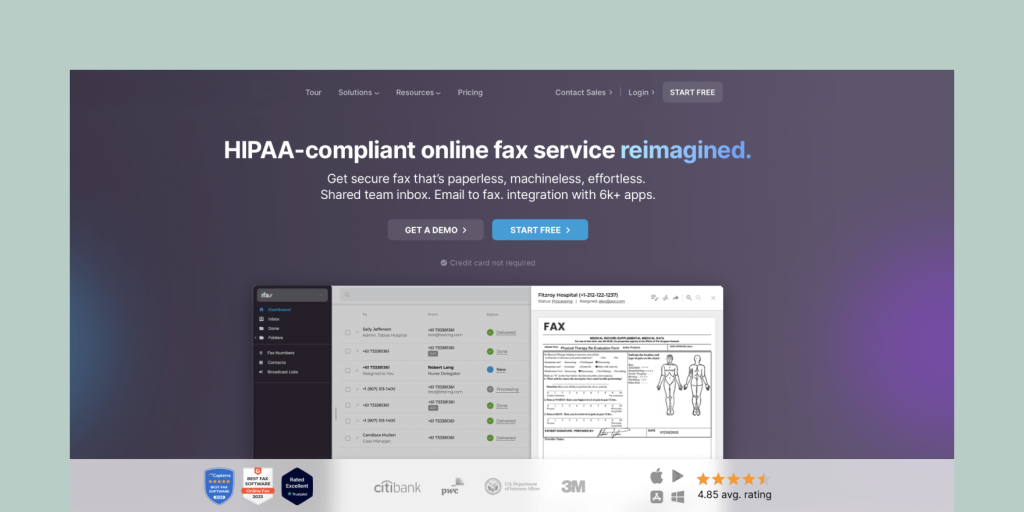 iFax is a solid choice for business enterprises that require automation and top security features for online faxing. It's a user-friendly service that works excellently on both mobile and desktop.
Unique features on iFax include customizable cover pages, notifications, digital signatures, and Optical Character Recognition (OCR).
iFax's API is fully compliant with HIPAA and GLBA, allowing you to send files without compromising privacy.
The free version lets you send five pages in a month and doesn't have many features.
You can opt for the Professional plan to send 1,000 pages per month.
7. FaxZero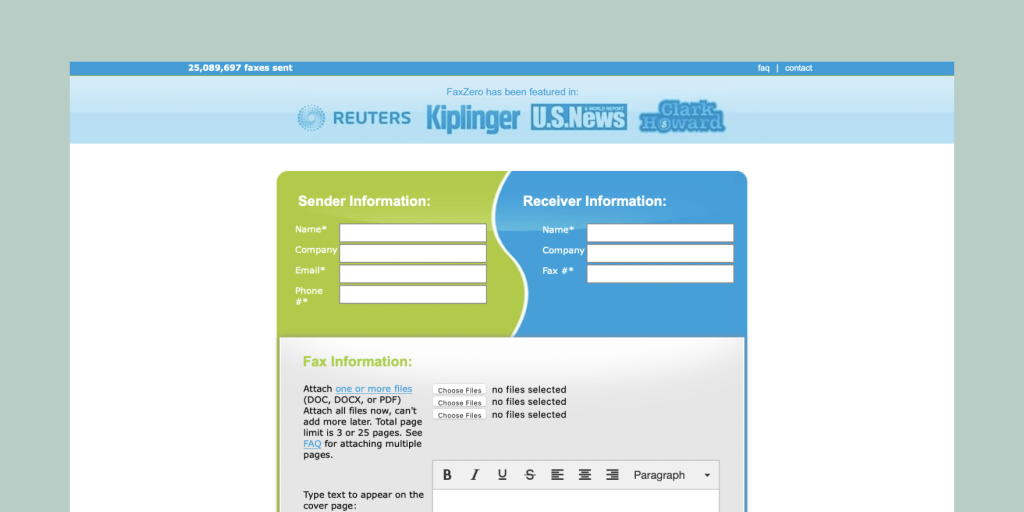 As the name implies, FaxZero takes care of your faxing needs for a minimum cost, which allows users to send up to five pages daily for free.
If you want to send more pages per day, you'll have to become a paying customer.
Delivery is faster with paid plans.
However, FaxZero cannot receive faxes.
It is ideal for NGOs and nonprofits who use faxes for activism and public service.
8. HelloFax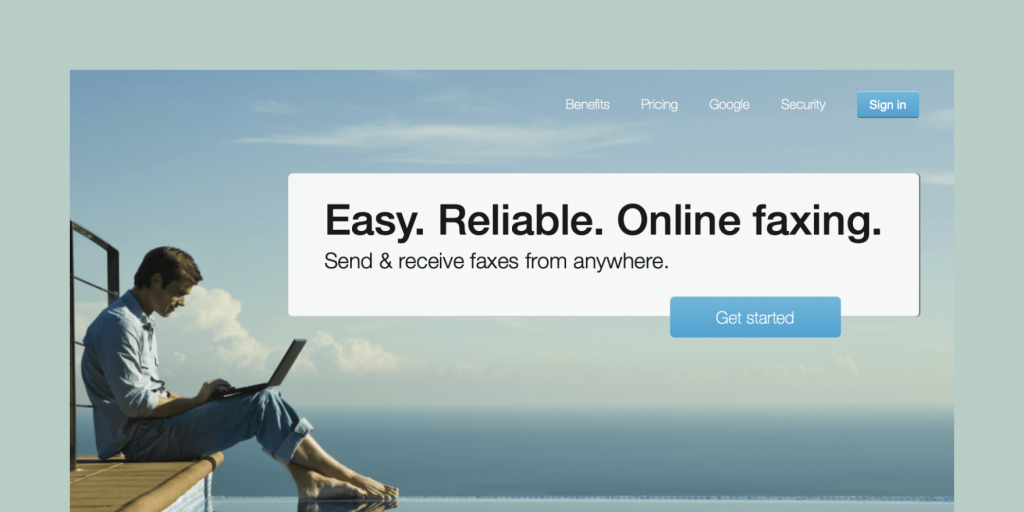 HelloFax is another online faxing service that lets users send files often.
It offers a limited free trial for users and supports popular cloud storage providers.
With HelloFax, online faxing is fast and affordable.
It provides electronic signatures, indexing, and a clean interface.
With a 30-day free trial, you can send up to five pages.
There's no dedicated mobile app for HelloFax, and you need a paid subscription to receive documents.
9. Fax.Plus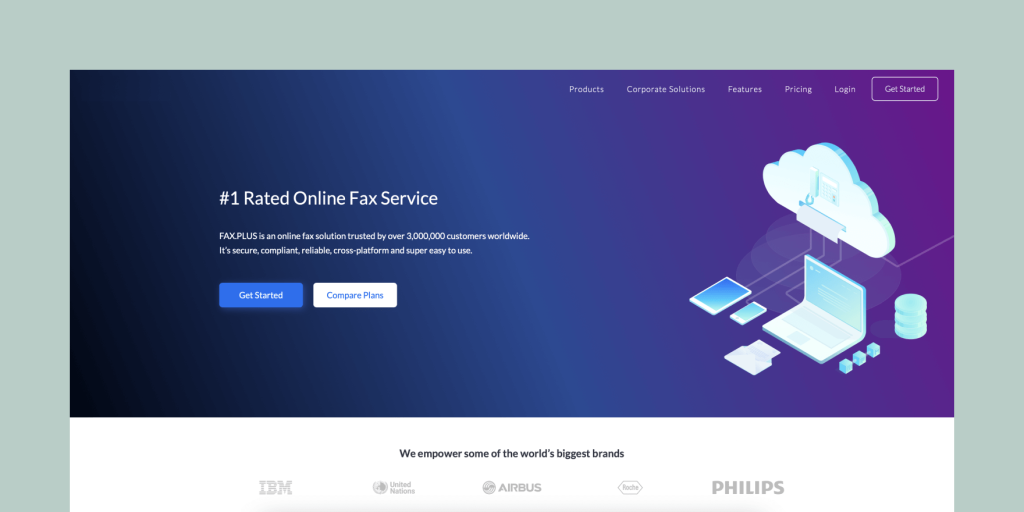 Fax.Plus offers a user-friendly interface and a mobile app that makes online faxing fast and convenient.
For a budget-friendly service, Fax.Plus offers exciting features and benefits on all plans.
You can send files to multiple recipients simultaneously on the free plan and access unlimited cloud storage.
The much higher Enterprise plan grants abilities for up to 3,000 pages, unlimited team members, and integration with Zapier.
This flexible online fax service for very small businesses also offers advanced security features on its paid plans.
Plus, you'll be able to minimize costs no matter how many people need to fax.
10. MyFax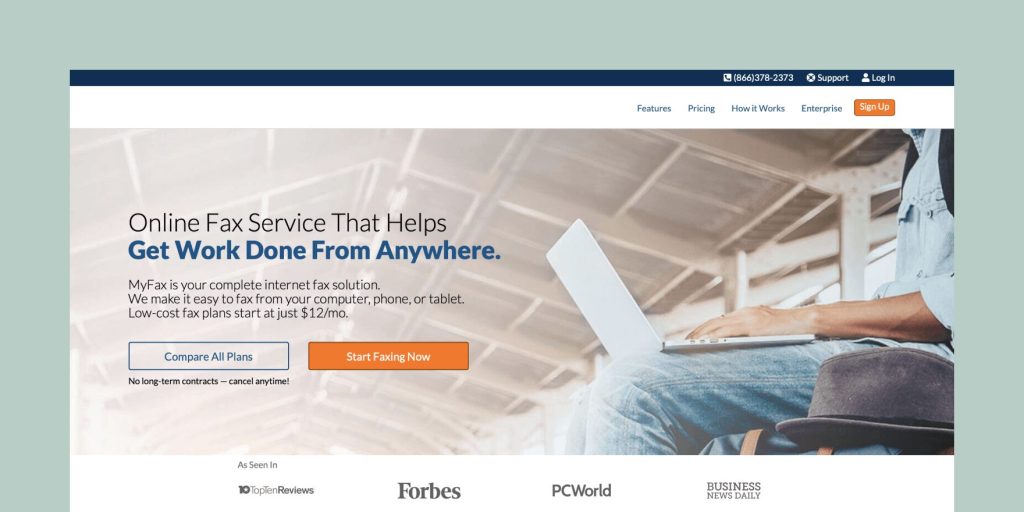 MyFax uses a fax-by-email option that's easy to set up, making it perfect for personal use.
When you sign up for the Home Office plan, you can send up to 100 pages each month.
However, there's no option for digital signatures if you want to sign your files.
MyFax also needs to improve when it comes to document security.
You should restrict the service to personal projects instead of faxing sensitive information.
11. Biscom 123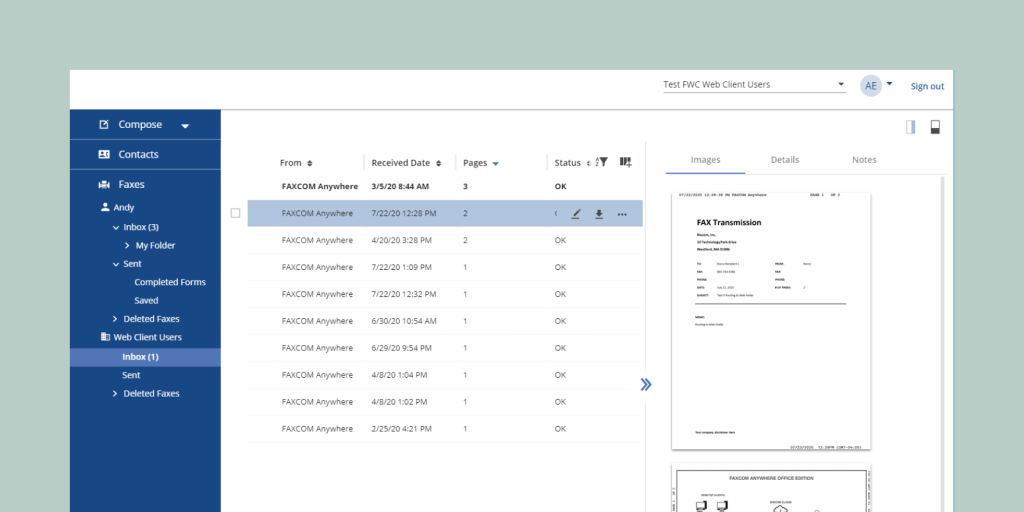 Biscom 123 is an easy-to-use faxing solution for your email-to-fax business needs.
It's perfect for companies who want to save on costs or don't require high-volume faxing.
You can use Biscom 123 to send a file directly from your email app.
Although you cannot customize the cover page, you'll receive a confirmation email when the fax has been delivered.
Biscom 123 integrates seamlessly with Gmail, but you cannot send faxes from the web interface.
You can use this service free for 30 days — all you need to do is attach files you want to fax directly to the email.
Conclusion
You'll find many alternatives for online fax for business right now.
But choosing the best option requires factoring in your needs, operating costs, and the service offering's unique features.
Your preferred fax service should also let you send messages anywhere and on any device. Some services offer automation, while others integrate well with other apps.
PandaDoc Online Fax is a free faxing solution for business owners who want to fax securely from their mobile and desktop devices.
You can use this tool to send multiple pages of documents anywhere worldwide.
Disclaimer
PandDoc is not a law firm, or a substitute for an attorney or law firm. This page is not intended to and does not provide legal advice. Should you have legal questions on the validity of e-signatures or digital signatures and the enforceability thereof, please consult with an attorney or law firm. Use of PandaDocs services are governed by our Terms of Use and Privacy Policy.