The construction industry can be a complex sector.
Customers first need to find companies they can trust.
Then those companies often have to compete with others to win the business.
The next step is to provide the customer with a quote, which requires construction businesses to walk a tightrope between covering their costs and making a profit.
Estimating the total cost of a project is challenging.
This is where construction estimating software comes into play.
It allows a company to look at all potential costs and then provide a reasonable and competitive quote. Let's look at the best construction estimating software available today.
Steps involved in construction estimating
To appreciate why construction estimating software is so valuable in today's construction industry, it helps to understand the different steps involved in estimating costs and other factors.
1. Plan
As with anything, it helps to have a plan before you start looking at things in more detail.
This is especially relevant when dealing with projects involving multiple factors and where you need some idea of what materials (and how much of each material) you may need to complete the project successfully.
As with other industries, many aspects have moved to digital processes from manual ones.
Construction estimating software allows you to view plans in 3D, giving you a better idea of the potential needs of the project.
This allows any team carrying out the estimating process to have a better idea of the costs that may be incurred.
2. Construction takeoff
The next step is to determine what materials you'll need for the project and the quantity of each.
This entails measuring each space in the project and calculating how much of each material is needed.
For example, you might work out how many bricks you would need for a small two-bedroom house.
This can be one of the most significant advantages of construction estimating software.
Where previously, everything had to be measured and calculated manually, all steps are now digitized, including any required calculations.
Of course, construction itself is often fluid, and needs can change, but having an efficient change management process can help avoid costly over (or under) calculations.
What is estimating software or cost estimating software?
Cost-estimating software for construction is a digital version of processes previously carried out manually.
As with other digital processes, estimation software can reduce the likelihood of human error and can make whatever project you are involved in more efficient and cost-effective.
Cost estimation software can help you calculate the different factors and needs involved in your project and can give you a more accurate view of the whats and whens so you avoid underestimating costs or having wastage that leads to extra costs.
What is construction cost estimating software?
Construction projects can involve multiple factors, including workforce and materials, so it can be tough to have an accurate idea of what is needed and how long different components of the project might take.
Previously, all estimating was carried out manually, requiring a long, drawn-out process, complicated calculations (and rechecking those calculations several times), and using 2D plans.
With construction cost estimating software, you digitize every step and gain a more accurate overview of what it will take to complete the project in a defined timeline.
That can include all the hours of labor (and associated costs) as well as the types and quantities of materials the project requires.
Always remember that any potential client is likely asking for quotes from more than one company.
You want your estimated costs to be as close to final costs as possible to remain competitive but still have a reasonable profit margin.
The best construction cost estimating software streamlines the estimating process, allowing you to submit timely and competitive quotes, keep a close eye on all your costs, and highlight areas where costs may exceed your estimations.
Benefits of construction estimating and project management software
It makes sense that digitizing a formerly manual process will speed things up and reduce the chances of costly human errors, but what are the most obvious overall benefits of construction estimating software?
Speed
Depending on the size of your business, you may be bidding on multiple projects at once.
Construction estimating software means that you can provide clients with quotes more quickly than if done manually.
Efficiency
Digital estimating means you process quotes more quickly, making your whole operation more efficient.
Using estimating software streamlines the process so you can focus on other areas of the business.
Accuracy
You already know the dangers of human error in calculations. A misplaced number (or digital point) can have a costly effect in the long run.
Using estimating software increases the accuracy of your estimates and allows you to keep track of all associated costs, from subcontractors to equipment hire to the cost of materials.
Project management
In effect, good construction estimating software also works as project management software.
It means that every team involved in the project is singing from the same hymn sheet.
Communications are improved, task tracking becomes more straightforward, and material procurement becomes more efficient and cost-effective.
Consistency
With a digital estimating process, your workflows become more consistent.
While no two projects will be identical, you have points of reference from previous jobs that can help you remain consistent.
Professionalism
Everyone has heard horror stories about 'cowboy builders'.
Using an efficient construction estimating software solution means you appear more professional and can instill confidence in potential clients.
8 of the best construction estimating software tools
So, you can see the benefits of moving away from outdated manual estimating and streamlining your estimating processes.
Construction estimating software will bring many benefits to your business and potentially help improve your revenue streams and profitability.
However, when you look at the options available, it would be understandable if you were confused.
How do you choose the solution that best suits you and meets all your needs?
We look at eight of the top construction estimating software solutions currently available.
1. PandaDoc: More than just estimates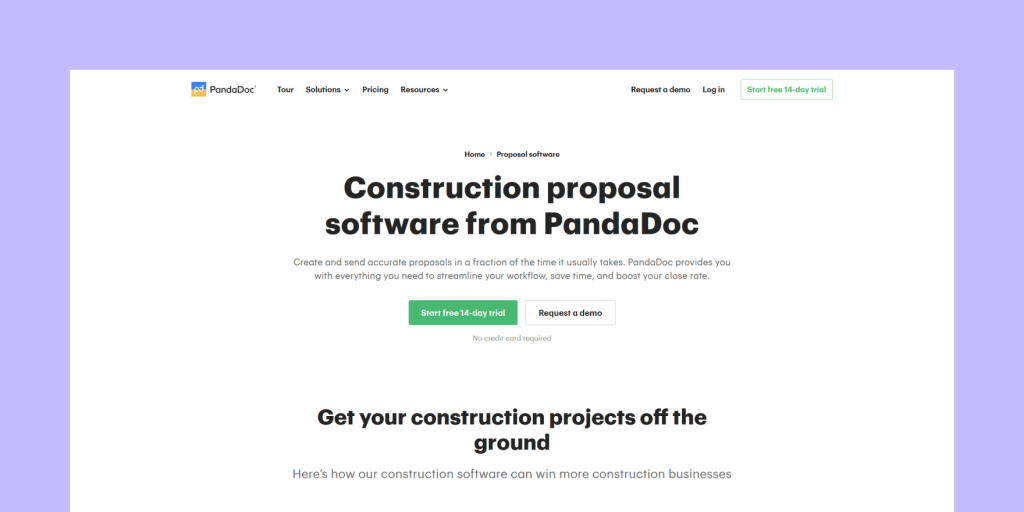 The beauty of PandaDoc's construction proposal software is that it offers you a complete suite of tools that goes beyond simply estimating your costs.
Not only can you look at – and estimate – all the potential costs involved in a project, but you can also create proposals using PandaDoc's range of templates.
One of the standout features that PandaDoc offers you is the ability to e-sign documents and proposals, meaning that you further streamline workflows and cut down on time that would be wasted on either snail mail or in-person meetings.
You can also easily add images or videos to your proposals, allowing potential clients to see your previous projects.
PandaDoc's construction proposal software means that every quote you supply will be accurate and sent promptly.
You can also ensure that every quote meets state or federal regulations and include things like a service level agreement (SLA) or relevant terms and conditions (T&Cs) so potential clients can make a fully-informed decision.
2. STACK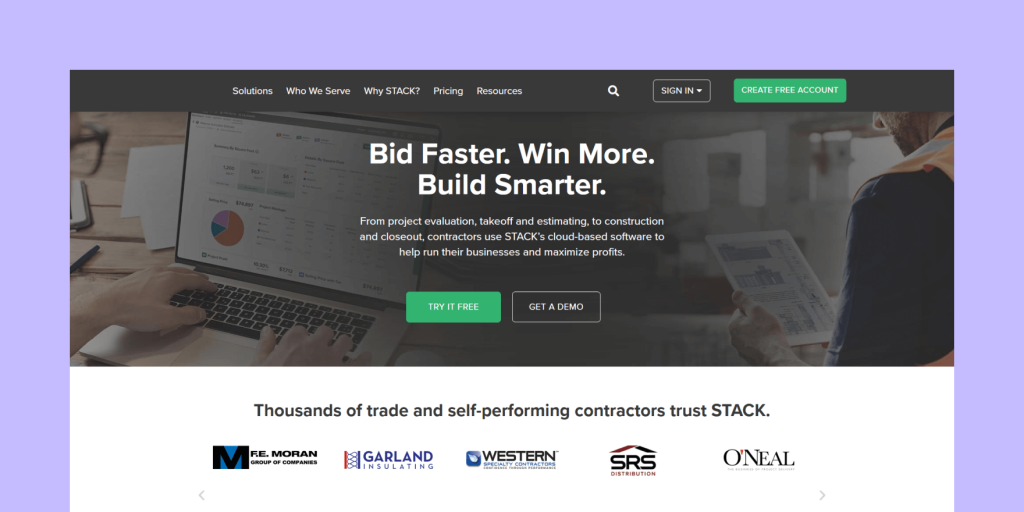 STACK is an efficient solution for estimating costs, particularly the takeoff stage.
It offers users both flexibility and customization options as well as a high degree of automation that lets you turn your original estimate into a polished-looking quote.
The seamless integration between estimating and takeoff processes will appeal to many organizations, and the cloud-based nature of the software means you can access it from anywhere.
However, STACK can be more expensive than other solutions, and customer support can be poorer than its competitors.
3. Sage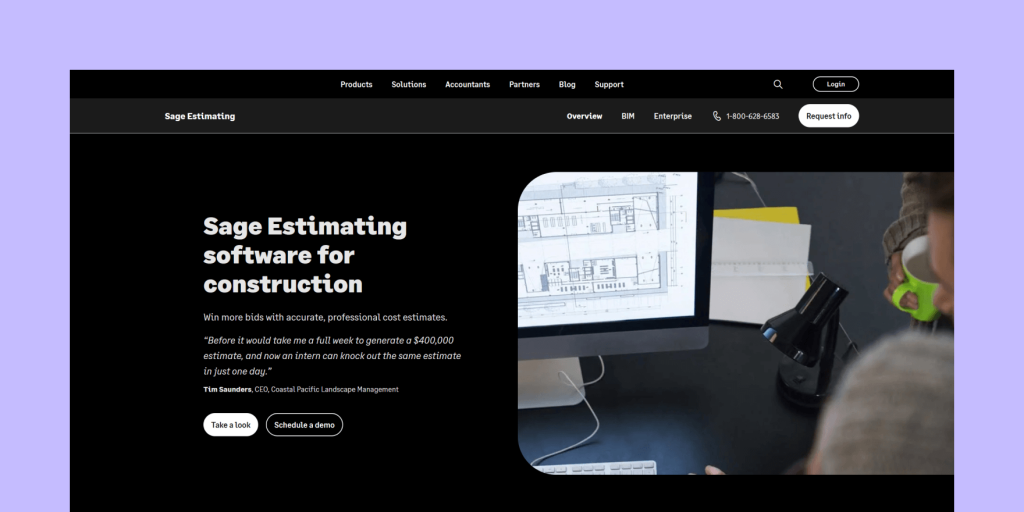 While Sage Estimating is suitable for any size of business, it is mainly aimed at larger enterprises.
The most significant advantage of using Sage is that it integrates with other relevant tools you may already be using, such as eTakeoff and PlanSwift.
Due to its extensive set of features, Sage can be especially useful when estimating costs on commercial projects.
However, a major drawback of Sage is that it is not cloud-based, meaning you need to have it installed on a Windows machine in situ.
Another factor that may put potential users off is its modular pricing model, so you could find that any final software solution is prohibitively expensive.
4. Clear Estimates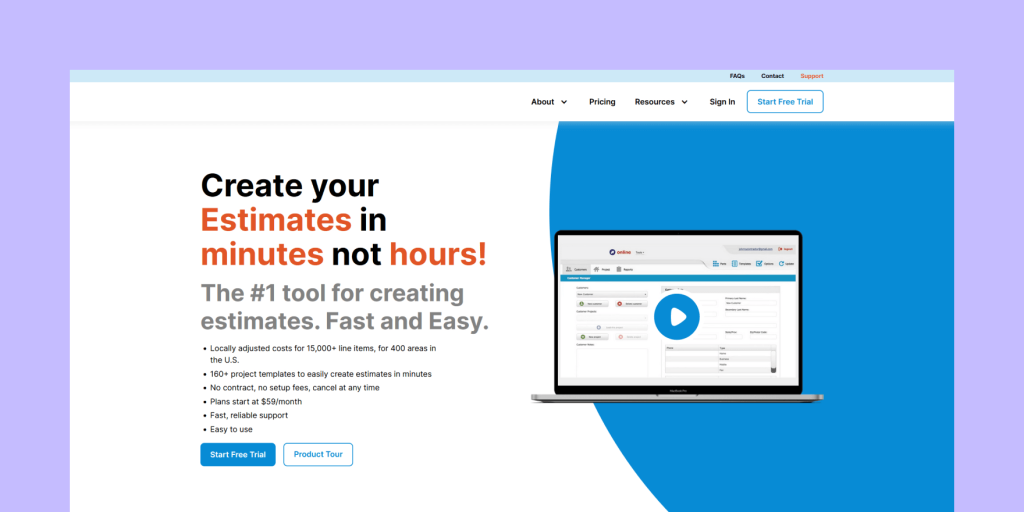 Where Sage is better suited to larger contractors, Clear Estimates may be a more appropriate construction estimation software choice for smaller companies.
As it was designed by people who work in the industry, it has a good user interface (UI) that helps provide a smooth experience.
It is also accessible from any device that connects to the internet, making it a great onsite tool.
Clear Estimates perhaps falls short with its lack of third-party integrations compared to other solutions. It could also use some improvements to areas of its functionality.
However, its affordable pricing structure makes it attractive to smaller businesses.
5. Procore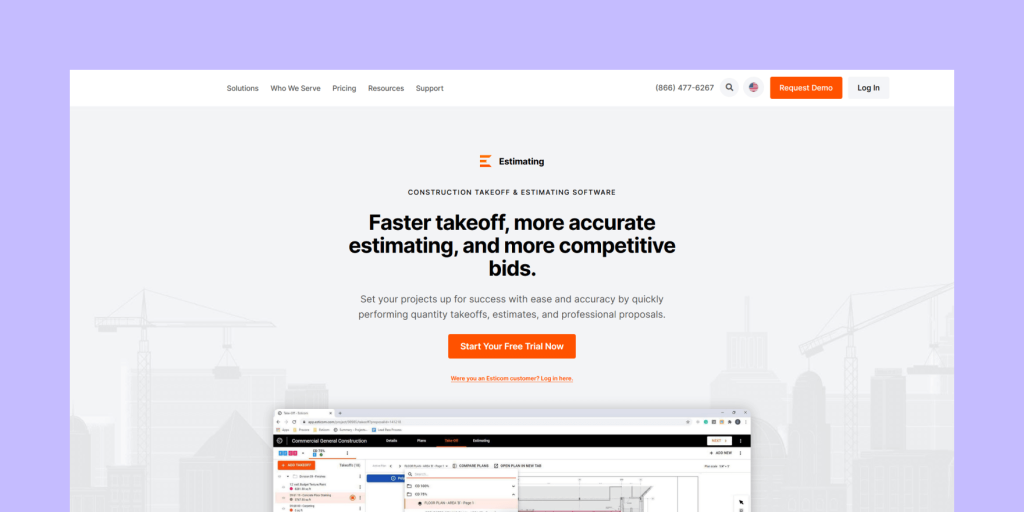 If you're already using Procore's project management software, then their recently released (or acquired) construction estimating solutions may be an ideal choice.
One of the bonuses of choosing Procore is that their customer support and training provision is excellent.
By integrating with your existing Procore solutions, you have access to a great cloud-based solution that can cover every aspect of your construction project.
However, if you are not already a Procore user, you may find that other products are better suited to your budget.
For larger companies with complex projects, it may be worth looking at the Procore family.
6. Expert Estimation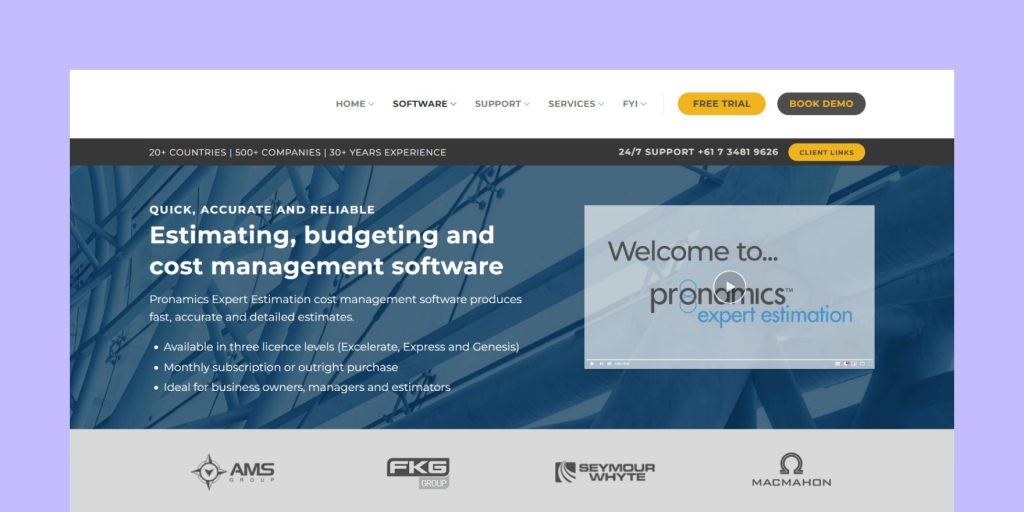 Although not primarily aimed at the construction industry, Expert Estimation does offer an accurate estimating solution for a wide range of projects.
It offers flexibility and customization across three license levels and also offers exceptional customer support via phone, email, or chat.
Their most recent version – Genesis – can help you analyze the use and costs relevant to subcontractors.
The software allows you to duplicate and incorporate previous projects, saving a lot of time.
However, there can be issues with scheduling direct costs, and you may have to adjust final estimates in Excel.
7. HeavyBid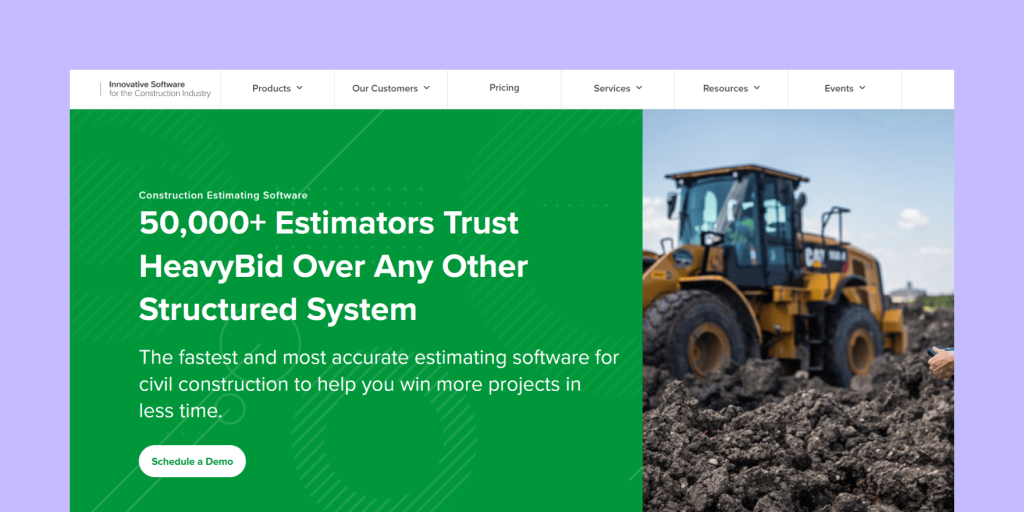 While designed specifically for the construction sector, HeavyBid is also used in other areas where accurate estimates are a prerequisite.
It can help you automate repetitive tasks, and you can build a library based on historical quotes and other resources.
It allows you to break down more complex projects into easily manageable and trackable tasks.
Training and support are very good, and HeavyBid offers advanced calculations and checks so that you know your final quote is as accurate as possible.
However, this solution has a steep learning curve, and new users may not find it as intuitive as they would like.
8. Buildertrend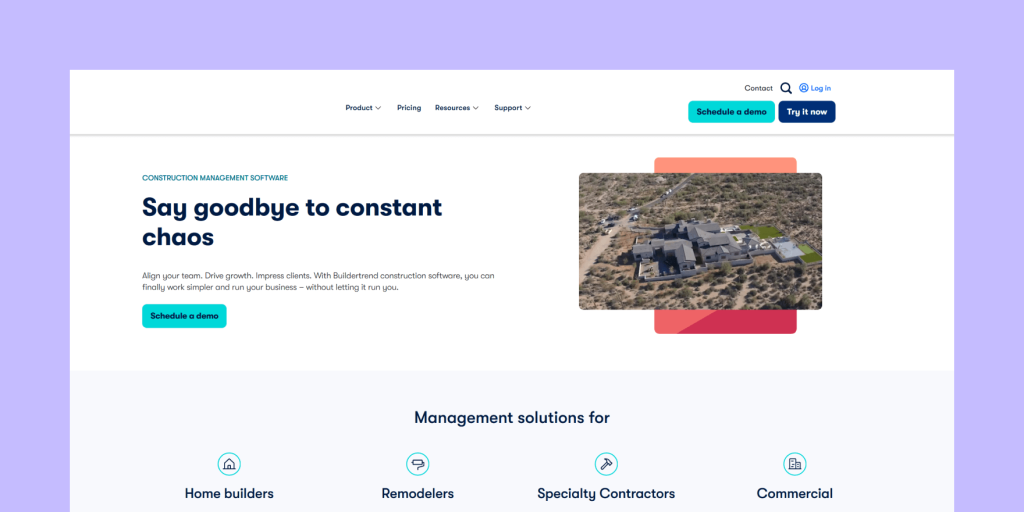 Buildertrend is one of the most popular solutions and has been around for more than 15 years.
It's designed to be used by any business working in the construction industry and offers fantastic customer support to its users.
It also provides a full product suite covering every step, from planning to project management.
While it offers monthly plans – and a free trial – some integrations, such as Quickbooks, could do with improvement as they lack functionality.
Surprisingly, it also lacks some estimating-specific features you'll find with other solutions.
How we assessed the construction estimation tools
Of course, different businesses working in the construction sector will have different needs.
A company operating in commercial construction will see things slightly differently from a remodeling company.
When looking at the various solutions listed above, we took those factors into account to give a broader view.
We also considered significant aspects such as cost. Small businesses will have a more restrictive budget than large construction companies.
You also need to think about features such as integration with third-party solutions so you have the best estimating software that meets all your needs.
Estimate project bid prices efficiently with construction estimating software
There are multiple layers to costing a construction project.
From materials such as bricks, concrete, and tiles to workforce and subcontractors to fixtures and fittings (if relevant).
If you have worked in the construction industry, you know that manually costing and estimating a project can be time-consuming and inefficient.
By switching to construction estimating software, you initiate a snowball effect that will improve efficiency and productivity and increase your ability to provide professional level quotes.
You can deal with inquiries more quickly, which can help increase your business and possibly lead to future expansion.
Disclaimer
PandDoc is not a law firm, or a substitute for an attorney or law firm. This page is not intended to and does not provide legal advice. Should you have legal questions on the validity of e-signatures or digital signatures and the enforceability thereof, please consult with an attorney or law firm. Use of PandaDocs services are governed by our Terms of Use and Privacy Policy.