Contracts are an essential part of any business and help define relationships, establish responsibilities, and mitigate risks.
Businesses of all sizes rely on contracts (from employment contracts to vendor agreements) to operate effectively.
As your business grows, however, the volume and complexity of your contracts also grows, as well as the number of stakeholders involved in each deal.
Contract managers help manage and navigate this complexity, streamline contract lifecycle management, and protect the interests of the business.
In this article, we'll explore what contract managers do, what skills they need to have, when it makes sense to hire a contract manager, and what tools they can use to facilitate contract management (hint: a contract management solution like what we offer at PandaDoc makes everything ten times easier).
Key takeaways
Contract managers are responsible for drafting and negotiating contracts, overseeing the company's contractual obligations, staying on top of due dates, amending contracts, and more.
Businesses that might need to hire full-time contract managers include agencies, law firms, consultancy companies, and software providers.
Contract management platforms like PandaDoc can help contract managers work more efficiently by enabling them to create drafts in minutes, collaborate with others in real-time, and store contracts securely in a single location.
What is a contract manager — and what are their main responsibilities?
A contract manager is a person responsible for the drafting, negotiation, signing, execution, and management of a company's contracts.
They work to protect the interests of the business, ensure that all parties are fulfilling their obligations, and to eliminate the risk of costly legal disputes.
Essentially, they help make sure that the business is protected and operates smoothly.
This role often lies at the intersection of multiple business units — for example, legal, operations, and sales — and therefore requires constant communication and collaboration with other teams and departments.
What are the main responsibilities of contract managers?
Contract managers oversee and manage the entire contract lifecycle, from negotiation to termination. Here are some of the key responsibilities of contract managers:
Negotiation: Participate in the contract negotiation process, along with legal, procurement, and sales teams
Drafts: Draft contracts and contract templates that are consistent with company policies and regulatory guidelines
Contract validity: Make sure contracts are valid and legally binding
Amendments: Amend existing contracts in line with changes in requirements and needs
Monitoring: Monitor the execution and application of signed contracts to ensure that all parties respect their contractual obligations
Optimization: Optimize contract management processes and identify opportunities to fully utilize resources
Management and storage: Manage and store all contracts and contract-related documents in a secure database or document repository
Due dates: Keep track of contract due dates and renew, extend, or terminate them accordingly
What skills do contract managers need to have?
If you're looking to hire a contract manager, you need to know what skills to look for.
Of course, these will depend on the exact needs of your business, but there are some key skills that all contract managers need to have, such as: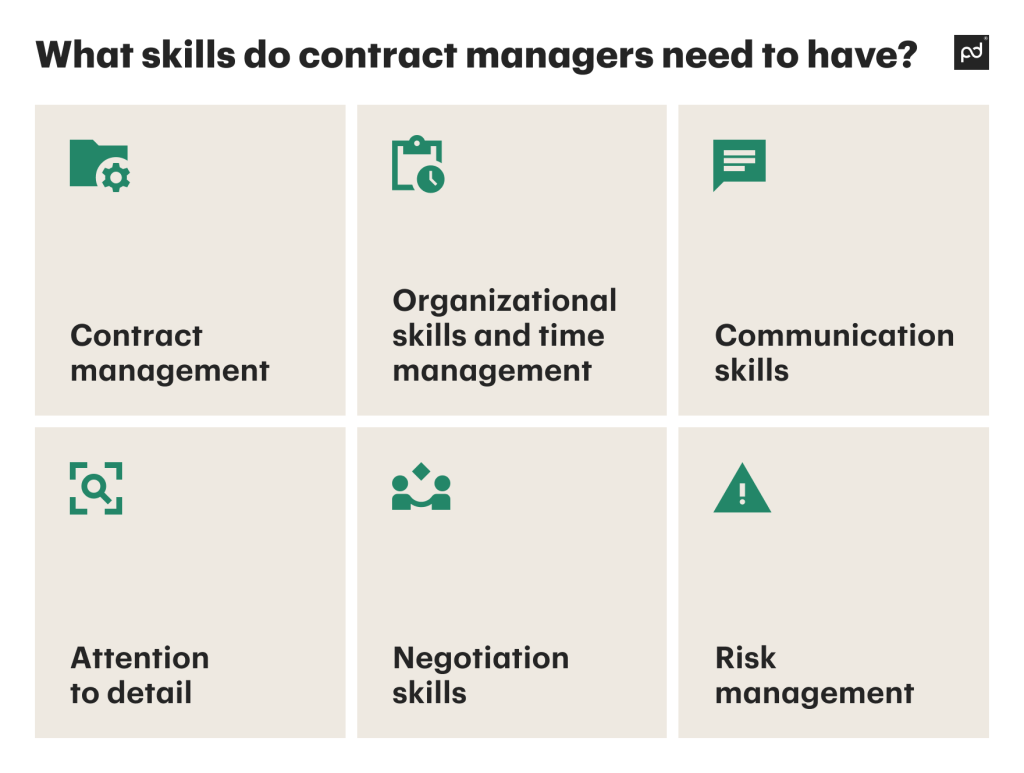 1. Contract management
Obviously, contract managers need to be deeply familiar with the best practices of contract management.
Having a legal background may be necessary for some roles but is not always a must.
People with a background in procurement, operations, accounting, or financial management might also make for strong contract managers.
Proficiency with contract management software like PandaDoc is a plus.
There are many platforms on the market, so a person's familiarity with a specific tool will depend on their previous experience, but a general willingness to learn is essential.
2. Organizational skills and time management
Contract managers need to work on multiple projects and contracts at the same time, sometimes under tight deadlines and in a high-pressure environment.
This means it's essential for them to manage their time and workload effectively and keep tabs on all their tasks and due dates.
3. Communication skills
Contract managers often collaborate with clients, coworkers, and key stakeholders, which means they need to be excellent communicators.
They need to communicate with people in different roles and from different backgrounds, which means they need to be able to simplify complex concepts and get their point across efficiently, regardless of the person's experience with contracts.
Look for professionals who can express themselves clearly and concisely and who know how to use different styles and modes of communication depending on the situation.
4. Attention to detail
While they also need to be big-picture thinkers when analyzing trends and processes, contract managers need to have strong attention to detail to be able to spot the tiniest errors and correct them.
Diligent and methodical contract managers will help make sure the company's interests are well-protected and won't fail to miss unfavorable conditions in contracts and renegotiate them.
5. Negotiation skills
Although contract managers are usually not the main negotiators (sales teams and account managers are), they still need to have a keen eye for negotiation opportunities and make sure your company is able to get the best out of each business relationship.
For this, they need to know how to negotiate contracts efficiently and make sure the company's interests are protected without slowing down the negotiation process.
6. Risk management
One of the main responsibilities of contract managers is to protect the interests of the company and make sure its contracts don't invite exposure to unnecessary regulatory or business risks.
Invalid contracts, contract breaches, unenforceable terms, costly disputes, and business relationships turning sour can all be prevented by a skilled contract manager.
Additionally, contract managers need to be well aware of best practices in data security to ensure there's no risk of security breaches.
One of the most effective ways to manage data security is to use a dedicated contract management platform that allows for granular user permissions control.
What's the average salary of a contract manager?
In the US, contract managers earn on average approx. $130,000 per year but salaries might range from $115,000 to $150,000, based on the person's experience, skills, education (including certifications), location, and more.
Why is contract management important?
Contract management is essential for the smooth running of any organization for a few reasons:
Legal protection: Well-managed contracts minimize legal risks and protect all parties from disputes.
Budget control: Effective contract management helps companies manage their budgets, financial obligations, and projected revenue.
Relationship management: Contracts bring clarity into business relationships and promote trust and cooperation between partners.
Performance management: Is your business performing as projected? Monitoring your contracts helps ensure you're able to meet your obligations and perform on par with your clients' and partners' expectations.
PandaDoc can help you streamline all these aspects of contract management by enabling your team to be more agile during the negotiation, execution, and termination of each contract.
Find out the details in the next section.
How can a dedicated contract management platform help contract managers be more efficient?
One of the best ways for contract managers to streamline their work is to use a dedicated platform like PandaDoc to apply the best practices of contract management.
With it, you can reduce the time you spend on each document, eliminating bottlenecks along the way and collaborating efficiently with all sides.
Using a contract management platform like PandaDoc enables you to:
Work better, faster
Having a dedicated platform streamlines all stages of the contract lifecycle process, from drafting contracts and collecting signatures to renegotiating and terminating agreements.
Want some numbers?
Our platform has enabled our clients to reduce the time they need to draft a contract by 50% and improve their close rate by 36%.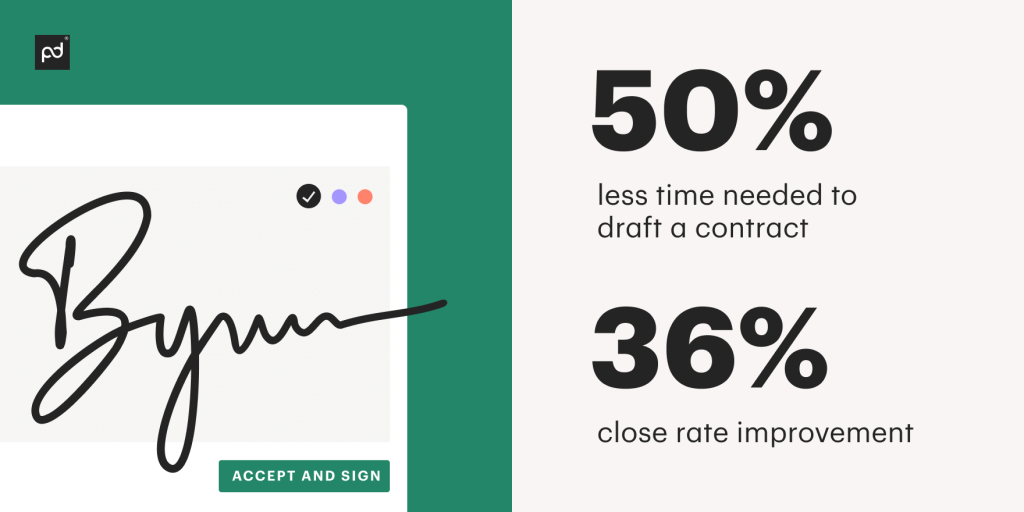 Pretty impressive, right?
Create consistent contracts across the organization
With PandaDoc, you can create customized, on-brand templates for all your use case scenarios. This helps make sure each contract you send out is:
Consistent with company policies
Legally airtight
Professional looking
Concentrate on the big picture and analyze trends
Having all details taken care of enables you to look at the big picture and make sure all your contracts — with clients, employees, and contractors — serve your business in the best possible way.
PandaDoc also enables you to collect key contract data, analyze trends, identify areas of improvement, and present data to key stakeholders to make sure everyone is on the same page and has visibility into your processes.
Store all contracts in a single location
Having a single source of truth is key for a few reasons. It helps you make sure that:
You can easily find contracts when you need them
Your business is able to fulfill all of its contractual obligations
All partnerships are efficiently managed
Your contractors are providing you with the products and services you're paying for
PandaDoc's document repository enables you to:
Store all new contracts in one place
Import existing documents in bulk
Locate documents faster
Get real-time status updates
Collaborate better with clients and team members
No matter how many eyeballs you need on a given contract, PandaDoc makes real-time collaboration a breeze, be it with clients or other members of your team.
You can send a link to any document on the platform to others and have everyone add their comments to resolve issues faster.
You can also set approval workflows and use version tracking to move faster in complex negotiations.
Stay on top of due dates
Contract managers need to rigorously keep track of contract timelines and make sure they're aware of each contract's:
Effective date, or the date at which the contract becomes legally binding
Expiration and/or renewal date, or the date before which both sides need to decide whether they'll renew the contract or terminate it
You can use our renewal notification feature to keep track of all important deadlines and make sure you're prepared to negotiate renewals well in advance.
Do you need to hire a contract manager?
So, how do you decide whether you need to hire a contract manager?
Some businesses will likely require a contract manager sooner than others. This decision depends on two main factors:
The size of the company
The products or services they're offering
Essentially, it boils down to the volume and complexity of the contracts your organization needs to manage. Let's look at each factor.
The size of your business: At what size does it make sense to hire a contract manager?
Past a certain size, it might make sense to hire a contract manager, regardless of the type of product or service you provide, simply because the number of contracts you need to manage will grow as your business grows.
While the average Fortune 1000 company has up to 40,000 active contracts (and legal teams that are probably larger than many small and mid-sized US companies), you certainly don't need to wait until you have thousands of contracts to hire a contract manager.
There's no one-size-fits-all rule here, but once a company has a significant number of contracts that become difficult to manage with the resources it currently has (staff and tools), a dedicated contract manager can help ensure that everything is organized and managed effectively.
The type of your business: Which businesses need contract managers?
Businesses positioned to create and manage a lot of contracts will gain value from hiring a dedicated contract manager.
B2B companies in particular might need to have a contract manager on board due to the complexity and volume of contracts they often have to manage.
Some of the businesses that might benefit from having a contract manager on the team include:
Agencies: Advertising, design, and marketing agencies with large teams and who work on multiple big projects at once need to make sure that all their contracts are efficiently managed.
Consulting companies: IT and business consulting companies' work entails a large volume of complex contracts to manage.
Enterprise software providers: To function efficiently and to scale, enterprise software companies are required to sign countless contracts with clients, service providers, partners, and others.
Financial service providers: Insurers, investment banking firms, tax firms, and other financial institutions might have hundreds or thousands of contracts to manage and oversee.
Law firms: Contracts that clearly outline their responsibilities and obligations and those of their clients are essential for law firms, which often work on sensitive cases.
Construction companies: Construction companies' responsibilities are tightly related to regulatory requirements, which means they need to ensure all their contracts are compliant and protect the business in the most efficient way possible.
What if you decide you don't need to hire a contract manager?
Sometimes, it might very well make sense to not hire a contract manager, or at least not yet.
In those cases, a contract management platform like PandaDoc would still be a sound investment, as the tools provided will enable you to:
Create and manage a wide library of customized and professional-looking templates
Make sure that all contracts are aligned with your company's policies
Manage complex negotiations with the help of real-time collaboration
Store contracts in a single location and locate documents in a few clicks
Conclusion
It goes without saying that all businesses need to be able to manage their contracts efficiently.
However, the best way to achieve this will depend on their goals, needs, size, and activity.
Some organizations will need to hire a dedicated contract manager — or a team of contract managers — early on in their growth, if they're dealing with contracts that are particularly complex or that come with a high level of risk (think medical device companies, insurance companies, and law firms, for example).
For others, different people will oversee different aspects of contracts and work as a team without needing to create a separate contract manager role.
Either way, if you have to deal with more than a couple of active contracts at a time, a dedicated contract management system like PandaDoc can make your life easier by enabling you to create contracts in minutes, negotiate and sign deals faster, store all documents securely, and even collect payments within your contracts.
Start a free 14-day trial to see for yourself how much easier contract management can be!
Frequently asked questions
A contract manager is responsible for creating, managing, negotiating, and overseeing contracts, protecting the company's interests, and making sure that it can meet its contractual obligations. Contract managers also assess the risks associated with contracts and work to reduce them.

A project manager is responsible for overseeing projects and making sure teams can complete them successfully, while a contract manager is responsible for managing contracts and making sure that those contracts serve the company's interests. Project managers and contract managers might sometimes work together but their roles are distinctly different.

If you're interested in a career in contract management, you need to obtain a degree in law, business administration, or a related field and gain relevant work experience in a company's legal or procurement department.

Relevant certifications such as the US National Contract Management Association (NCMA)'s Certified Professional Contract Manager is one that can help you stand out.
Disclaimer
PandDoc is not a law firm, or a substitute for an attorney or law firm. This page is not intended to and does not provide legal advice. Should you have legal questions on the validity of e-signatures or digital signatures and the enforceability thereof, please consult with an attorney or law firm. Use of PandaDocs services are governed by our Terms of Use and Privacy Policy.