Any new business that's expecting to handle sensitive or confidential information needs to know the best ways to keep that data safe.
That's where data rooms for startups come in.
But before we can get into the ways in which you can use these data rooms to your advantage, we've got to establish some basics.
What's a data room in the first place, why do startups need it, and what kinds of advantages come with using one?
We'll cover all of these questions and more, before considering how you can best use a data room in your startup.
What is a data room?
A data room, or deal room, is a virtual space in which confidential information is handled and managed.
This means that a virtual data room (VDR room) is ideally suited for business professionals who need to share sensitive information that no one but the intended recipients can have access to.
The number of documents you share in a data room is limited only by your needs. In some cases, you might find that just one document is all you have to send.
Other times, you might share hundreds of documents in one go. In either situation, the documents are kept fully secure.
Likewise, data rooms can be set up to include any number of individuals or groups.
This makes them highly useful to both small businesses and international corporations alike.
We'll cover the top reasons why you'd want to set up a data room shortly.
What is the purpose of a data room for startups?
Like any other business, a startup will generally find itself needing to store confidential documents and/or sensitive information sooner rather than later.
For example, you might have legal documents that need to be kept away from anyone who doesn't strictly need to see them.
At the same time, those documents will have to have secure ways of reaching their intended audience, including high-level executives and legal professionals.
You could share these types of legal documents in a data room.
Startups in particular are often in search of avenues for growth, including partnerships and investment opportunities.
With a virtual data room, your startup gets to easily share documents containing sensitive details on your company with prospective partners or investors.
This helps build up a trusting relationship in either case.
Partners will know they can count on your company to protect their information as you protect your own, while investors will have access to the information they need to make informed decisions about whether they want to put money towards furthering your company's goals.
What are the benefits of having a data room?
Now that we've covered the fact that data rooms are virtual spaces to store and share confidential information, it's time to look at the top reasons why it's worth having one.
Of course, we're aware that startups have limited funds and resources.
They can't afford to spend those on non-essential items most of the time.
That's why we've outlined the benefits that make data rooms indispensable to every startup, even the ones with the tightest budgets.
The best data rooms for startups will give you access to all of the following advantages, and then some: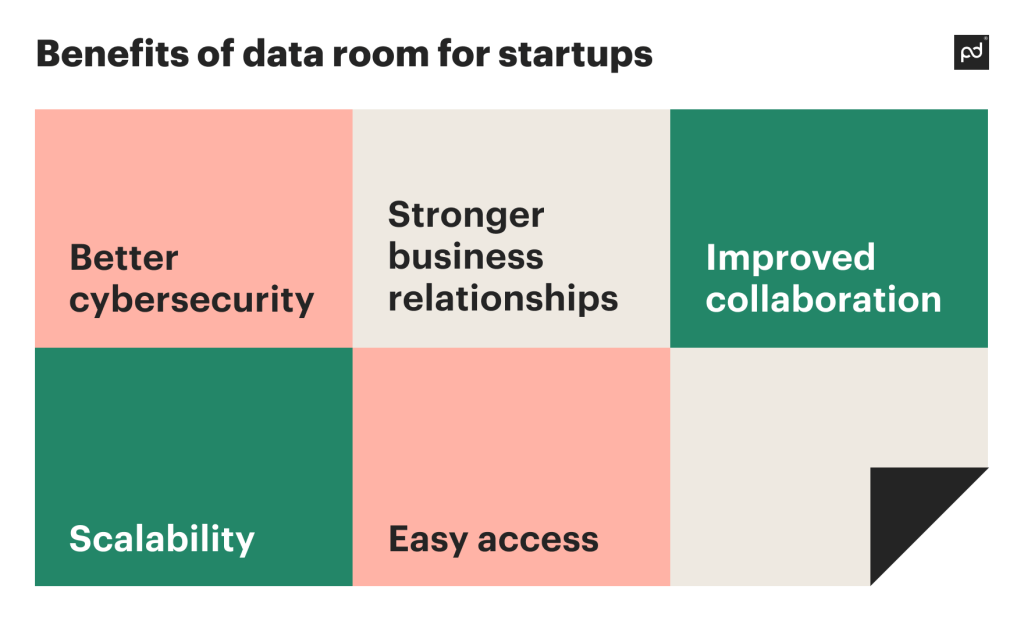 1. Better cybersecurity
Keeping data safe should always be a key goal for any business in today's digital environment, including startups.
This is thanks to an ever-increasing threat from cybercriminals, scammers, and other malicious individuals who want to gain access to your company's private information.
If they do, they can wreak havoc on your internal affairs and your reputation alike.
When it comes to online data security, it's not exactly possible to install CCTV for proper protection.
That's why you've got to look towards the appropriate safety measures that do exist to safeguard your sensitive data.
Data rooms count as one of those measures.
2. Stronger business relationships
Startups don't have the benefit of long-standing relationships with business partners, since they're completely new.
This can make it challenging to establish those strong, lasting bonds with other companies and partners.
That is unless you're able to prove right from the start that your company is one that can be trusted completely.
We've mentioned that data rooms keep information safe.
When you use them, you're sending a signal to your partners that you're a business that values safety, privacy, and data security.
That, in turn, allows for them to rely on you straight away.
In short, data rooms help you showcase your professionalism and trustworthiness, which contributes to forging excellent business bonds.
3. Improved collaboration
Building upon the previous point, data rooms for startups can also serve as virtual collaboration spaces.
These rooms are built to be fully secure.
Anyone sharing data or work here knows that it's going to be kept fully confidential, which makes it easier to get directly to work and set worries about security aside.
Being able to share confidential documents quickly without having to think about how you're going to look out for their safety leads to better collaborations.
That's because team members can easily share ideas and work on problems together, securely.
Data rooms are also spaces in which multiple people can collaborate on the same document at a given time.
This creates opportunities for easier, better teamwork.
4. Scalability
Startups are almost always going to have to put thought towards scaling the company.
That's because, as new businesses, they're uniquely positioned to carve out a niche for themselves and grow organically as a result.
That growth isn't always gradual.
Sometimes, a sudden change of circumstances can create unexpected opportunities, which startups can seize upon to secure their own growth.
In those cases, being able to scale your business model quickly and effectively is absolutely vital.
Data rooms are ideally suited for this.
Whether it's two people or twenty that need to access secure documents, data rooms can handle it all.
They're scalable by nature, meaning you don't have to change your approach to handling sensitive information as your company grows.
Plus, a growing company is likely to generate more sensitive data the faster it scales up.
That means you'll need to rely on reliable security solutions more than ever, which in turn means data rooms only increase in value as your company gets bigger.
5. Easy access
In order for a virtual security solution to be useful, it's got to be very safe, yet still easily accessible.
After all, locking documents you'll need to use regularly behind complicated passwords and time-consuming security measures isn't helpful, especially not if anyone might need to reach those documents quickly.
Thankfully, data rooms maintain simple accessibility.
They're built for sharing documents, not for acting as a vault that no one is allowed to have access to.
This means they're ideal for companies that want to have their documents stored safely, but always within reach of those who genuinely need them.
At the same time, the rooms themselves are also easy to access.
While they're locked away safely from any malicious intruders, they're not built to be hard to get into as long as you have the correct key to access them.
In other words, data rooms are easy to get to for the right people, and next to impossible to reach for unwanted third parties.
Stages of data in a data room
As you're navigating new relationships with prospective investors, you're going to go through the two main stages of data in a data room.
Startups in particular need to know what these stages look like, so they can enter their first investor relationship fully prepared and armed with all the knowledge they need.
Stage 1
You can think of this as the "getting to know you" stage.
Any investor that's interacting with your company for the first time needs to know what they're in for.
As a startup, that's every investor, since your brand-new business hasn't had the chance to build powerful relationships with investors yet.
In Stage 1, investors will be using the data you provide them to get a good sense of what your company is like.
They'll want to know about things like your products, your niche and how you fit into your target market, which financial models you use, and what your beliefs as a company are.
This information lets them get a quick, surface-level sense of whether the two of your interests will align.
If the data you supply in Stage 1 suggests a fundamental incompatibility, investors can help both parties cut their losses by not investing in your business.
On the other hand, if they see that you're the right investment for them, they'll move on to Stage 2, which is described below.
Stage 2
This is the more detailed stage.
Also called the "detailed due diligence data" step, Stage 2 of information in data rooms for startups is far more in-depth than that in the previous stage.
Investors will ask for it once they've put a term sheet together using the information they got in the last stage.
The information you'll be supplying them includes your detailed security plans, staff information, financial details, and more.
Essentially, any data that helps investors understand your company in a deeper way than the information shared in Stage 1 fits in here.
It should all be information you'd only share with a business or partner that's likely to form a lasting working relationship with your startup.
What shouldn't be included in a data room?
Of course, like all tech solutions, data rooms aren't a panacea.
You can't use them for just anything, because they're purpose-built, and using them outside their intended purposes isn't going to benefit you at all.
The main item you shouldn't include is passwords.
It's no surprise that everyone wants to keep their passwords safe, but that doesn't mean you should store them in any secure location.
Just because data rooms protect information from prying eyes doesn't mean they should act as your personal password protection software.
After all, data rooms are built to share information.
And passwords are the last things you should be sharing with anyone, even your most trusted business partners.
Other information that others don't need to be privy to also doesn't belong in a data room.
For example, your company's secrets and proprietary information is probably best kept to yourself, along with other information that you wouldn't benefit from sharing with your business partners.
How to use a data room when fundraising
Fundraising relies on making tactical use of the investors at your disposal to ensure you're left with the appropriate funds for your ends.
Of course, it also relies on correctly using a lot of sensitive information.
From the amount you need to raise, to your investors' details, and well beyond, there's a lot of data involved in gathering funds for your projects.
All of this information is best housed and shared in a data room.
Data rooms can also be great virtual spaces to discuss and negotiate with investors.
You can explain confidential details about their investment in these secure rooms, as well as share documents that the general public can't have access to.
Plus, you can use data rooms to organize and filter through your confidential fundraising documents.
This helps you ensure you're always able to locate the precise documents you need, allowing you to present yourself as professionally as possible to your prospective investors and making the best impression you can.
Use PandaDoc's VDR room and conveniently define data access levels
As you're looking into data rooms for startups, you'll want to ensure that you find the best VDR solutions.
Those will let you store, organize, and share your data with ease. It's got to be user-friendly, feature-rich, accessible, and fully secure.
That's exactly what you get with PandaDoc's VDR room.
With fully customizable data access levels, you get full control over who sees what, and when. This ensures you get maximum flexibility and ease of adjustment.
Thanks to its ease of use, PandaDoc's solution is an ideal choice for startups and small businesses that don't have the time or resources to sink into learning how to use a complicated or confusing data room.
Instead, you can get set up and start sharing data securely right away.
Disclaimer
PandDoc is not a law firm, or a substitute for an attorney or law firm. This page is not intended to and does not provide legal advice. Should you have legal questions on the validity of e-signatures or digital signatures and the enforceability thereof, please consult with an attorney or law firm. Use of PandaDocs services are governed by our Terms of Use and Privacy Policy.