Sales technology offers teams in every sector the opportunity to generate revenue and close out more deals, but it can be daunting to a business still finding its legs.
Luckily for you, sales leaders have never been so fortunate with the choice of solutions available to them.
For instance, many organizations are now turning to data rooms — secure, online repositories that allow businesses to store, share, and manage their confidential information with external parties.
Intralinks Data Rooms is one example, but is it right for you?
That's what we'll consider here, before exploring 10 choices on the Intralinks competitors list; exploring key features to look for, and how to choose the right data room provider for your organization's specific needs.
What is Intralinks Data Room?
Intralinks is a provider of secure content collaboration solutions for businesses, offering a virtual data room (VDR room) platform that enables secure sharing and collaboration of critical business information among teams and external parties.
Built with security and legal compliance in mind, Intralinks is designed to facilitate the exchange of sensitive documents and data throughout the entire deal lifecycle.
Intralinks Data Room offers a range of collaboration tools, including document sharing, commenting, and version control, as well as Q&A and messaging capabilities that allow teams to communicate in real time.
Throughout this process, security features ensure that sensitive information remains safe from intruders, with reporting and auditing capabilities for end-of-quarter overviews.
The platform also includes analytics that enables businesses to gain valuable insights into user activity, document usage, and other key metrics.
Data room technology such as Intralinks has become an essential tool for businesses looking to securely and efficiently collaborate.
The applications are endless, from simple communications to complex financial transactions, such as mergers and acquisitions, IPOs, restructuring, and fundraising.
How much does Intralinks cost?
Intralinks is a technology built for many potential use cases and customers, from small and midsize businesses (SMBs) to enterprise level.
As you might expect, this means that pricing for their Virtual Data Room software largely depends on what you'll be using it for.
Factors that affect Intralinks pricing include:
Number of users
Level of security required
Features and functionality needed
Duration of the contract
That said, community feedback seems to suggest a starting price plan of approximately $25 per user, which places their service toward the high end of the data room market.
To get a more accurate idea of the cost of Intralinks for your particular use case, you'd need to contact the company directly and speak with a sales representative.
The limitations of Intralinks
As popular virtual data room software, Intralinks is widely regarded as a reliable platform with a decent set of features.
However, there are some constraints on its functionality that sales leaders should be aware of.
Firstly, Intralinks may not be the most intuitive or user-friendly platform, especially for less tech-savvy users.
For instance, some customers find their user interface to be confusing, with one review describing it as offering "poor and convoluted UX".
Other users found that their customer support was slow to deal with bugs, causing more pain points in the already stressful due diligence process.
So, while Intralinks does offer a range of resources and support options, remember that only you will understand what your company needs.
Why look for Intralinks alternatives?
If you're just getting started with data room tech, it's possible that you find Intralinks' pricing plan to be on the high end of the spectrum, at least compared to competitor services.
Or, perhaps you're looking for a solution that better aligns with your unique business needs and preferences, or one that offers more advanced or specialized features?
If so, then keep reading, as we'll be exploring 10 alternatives on our Intralinks competitors list.
We'll aim to cover the core features that each service offers, as well as their benefits, limitations, and pricing options.
Top 10 Intralinks competitors
1. PandaDoc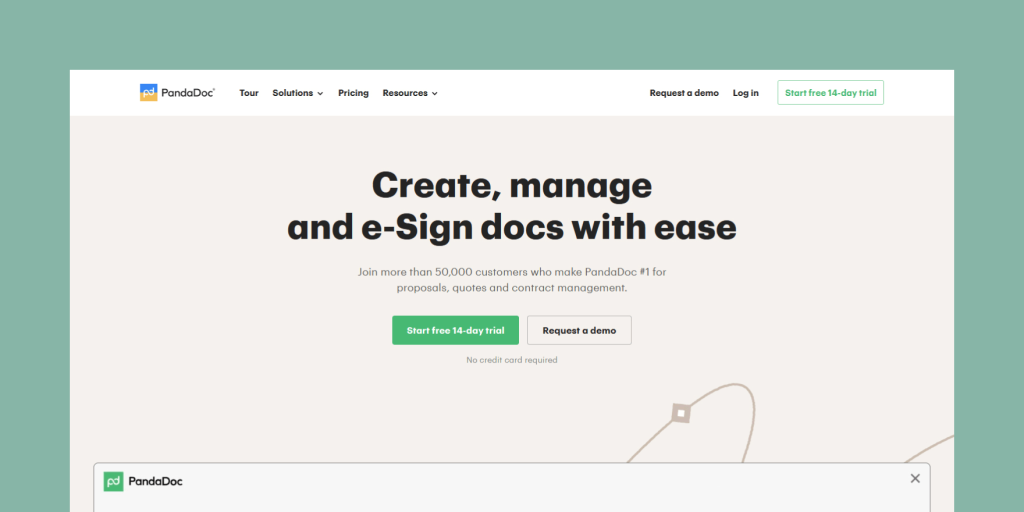 Obviously, we're biased towards our own solution, but PandaDoc offers the features you'd expect from a high-end data room: Secure document storage, user and permission management, and advanced search and filtering capabilities.
We also offer several specialist features that set our solution apart from other virtual data room providers.
For example, the ability to create and send electronic signatures, track document activity, and easily automate workflows, all within an intuitive user interface.
As for PandaDoc's application to sales management teams, look no further than this glowing review from CallHarbor Sales & Marketing Director, Bailey Terrel, on trustradius.com:
"I would definitely recommend using PandaDoc to my colleagues. It truly shines in the sales environment and makes it easy to send customized, accurate, and quick quoting. Your sales team will look like a pro because they will have the ability to turn around professional and visually pleasing quotes in no time."

CallHarbor Sales & Marketing Director, Bailey Terrel
Plus, if you end up loving us, we have a variety of price plans that are perfect for growing SMBs with scaling sales teams.
Get started with a 14-day free trial now!
2. SourceScrub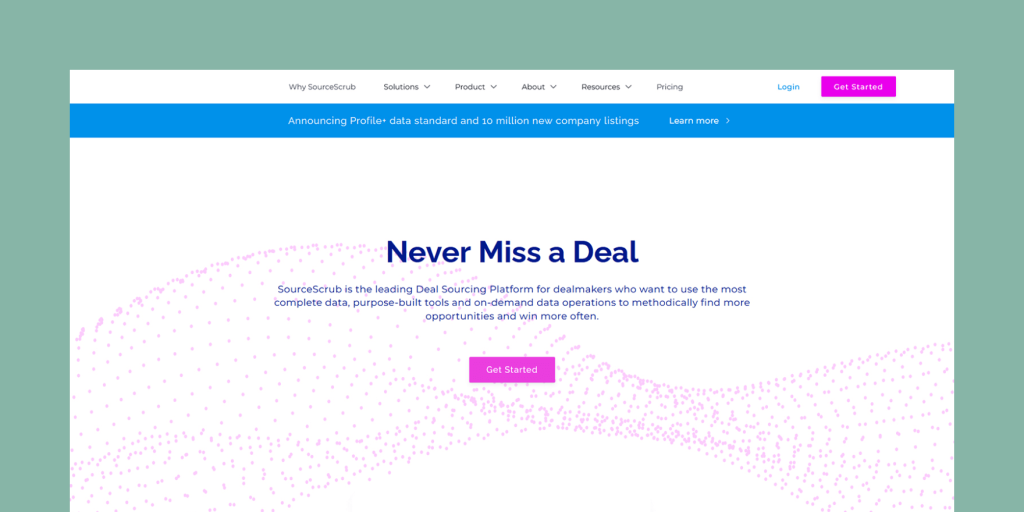 SourceScrub is a data intelligence platform that offers a unique data room solution.
Unlike other virtual data room providers, SourceScrub's solution is designed specifically for M&A and private equity deals, offering a range of specialized features such as intuitive deal tracking, document management, and collaboration tools.
Pricing for SourceScrub's data room solution is based on a per-month model, with different tiers such as "Essentials", "Plus", and "Pro", depending on the specific needs of your organization.
With its unique features and flexible pricing options, SourceScrub's data room solution is an option worth considering for businesses looking for a specialized experience.
However, if ease of use is an important factor for your team, note that several online reviews complain of limited search functionality and an outdated UI.
This could make the onboarding process a little trickier if your team has no prior experience with data room solutions.
3. Datasite Diligence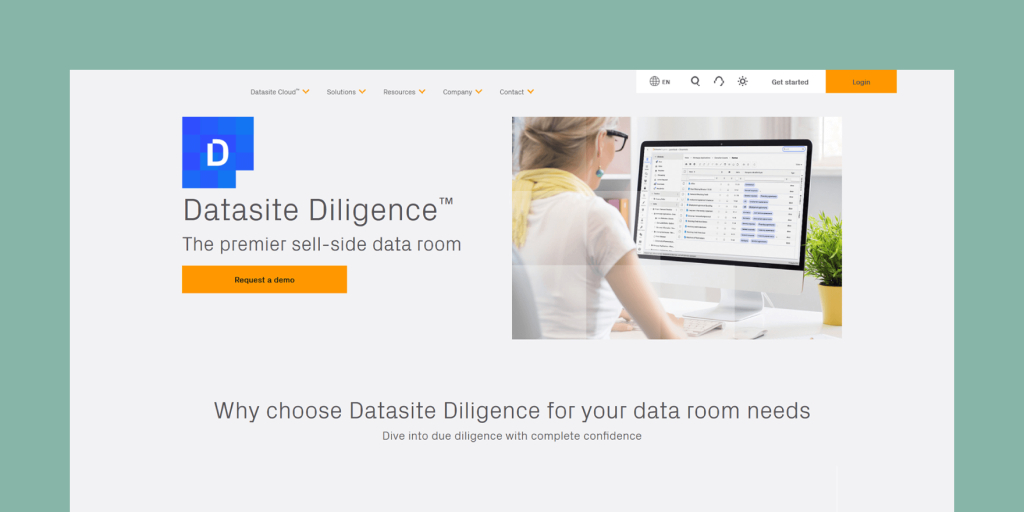 Datasite Diligence is a virtual data room solution designed for businesses involved in high-stakes transactions such as mergers and acquisitions, restructuring, fundraising, and more.
With a range of features, Datasite Diligence offers users the ability to easily and securely share sensitive information with stakeholders across the globe.
Some of the unique benefits of Datasite Diligence include its advanced search and filtering capabilities, as well as customizable branding options.
With these features, Datasite Diligence is a strong competitor to Intralinks and a worthy consideration.
However, cost-savvy companies may be put off by its relatively high pricing structure as a premium product.
4. Devensoft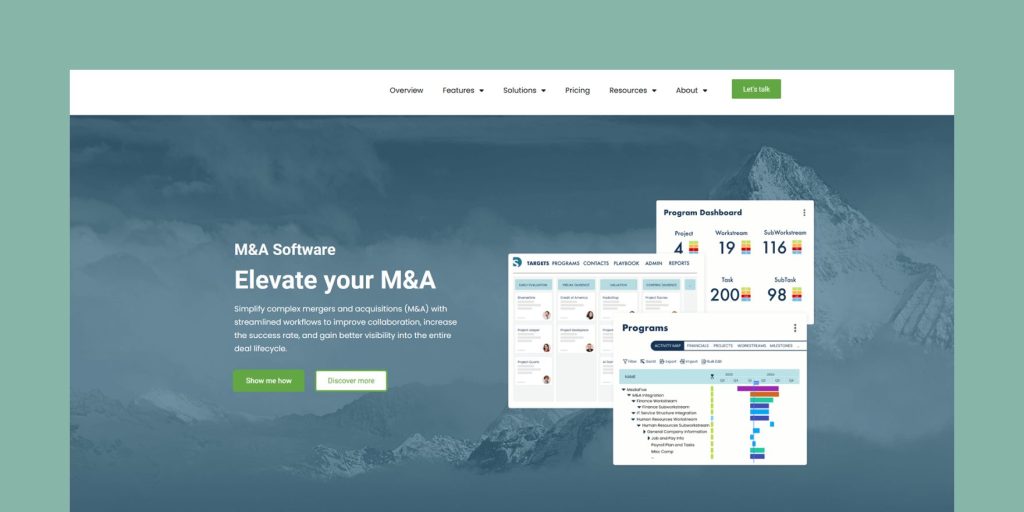 The Devensoft virtual data room solution provides businesses with a secure and easy-to-use platform for managing sensitive information during high-stakes transactions.
With advanced security features, Devensoft enables users to efficiently manage documents, track activity, and collaborate with stakeholders.
Devensoft also offers features like real-time notifications and a drag-and-drop interface for uploading documents.
Sadly, some users found that the interface was quite complex to use for newcomers to the software. Although, they did also mention the benefit of responsive customer support.
5. Kiteworks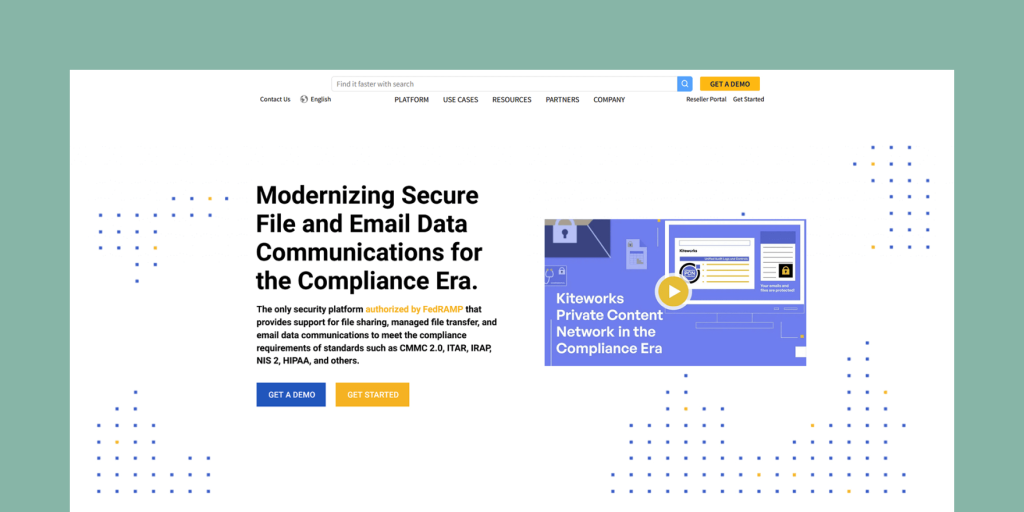 Kiteworks Data Rooms offers secure document management, collaboration, and sharing features.
It's designed to help businesses in various industries manage sensitive information securely and efficiently during high-stakes transactions.
One of the unique benefits of Kiteworks is its user-friendly interface, which makes it easy for users to navigate and access features such as document preview and version control.
The solution also offers advanced security features, including multi-factor authentication and data encryption.
Kiteworks might be a great solution for office-based teams, however, several users complained of a poor mobile app interface and lack of functionality.
So, if file sharing on the go is a must, then you may prefer to choose another service.
6. Zoho WorkDrive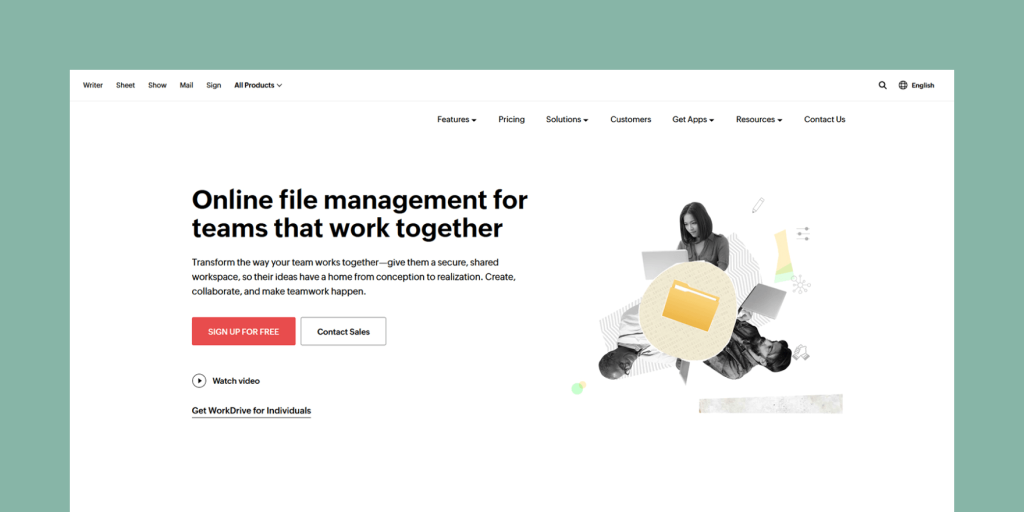 Zoho WorkDrive is a cloud-based content collaboration platform that offers a secure and efficient way for teams to share and manage their files, and work together in real time.
A standout benefit of Zoho WorkDrive is its affordability, with pricing plans starting at $2.50 per user, per month.
Plus, Zoho offers other services for HR, accounting, website building, and more, making their Data Room solution, Workdrive, a familiar sight for sore eyes.
The only real downside of Zoho WorkDrive is its lack of zero-knowledge encryption, which techradar.com acknowledges may be a problem for teams handling sensitive data.
If security isn't your concern, then you can consider WorkDrive a cost-effective data room solution to Intralinks or PandaDoc.
7. Box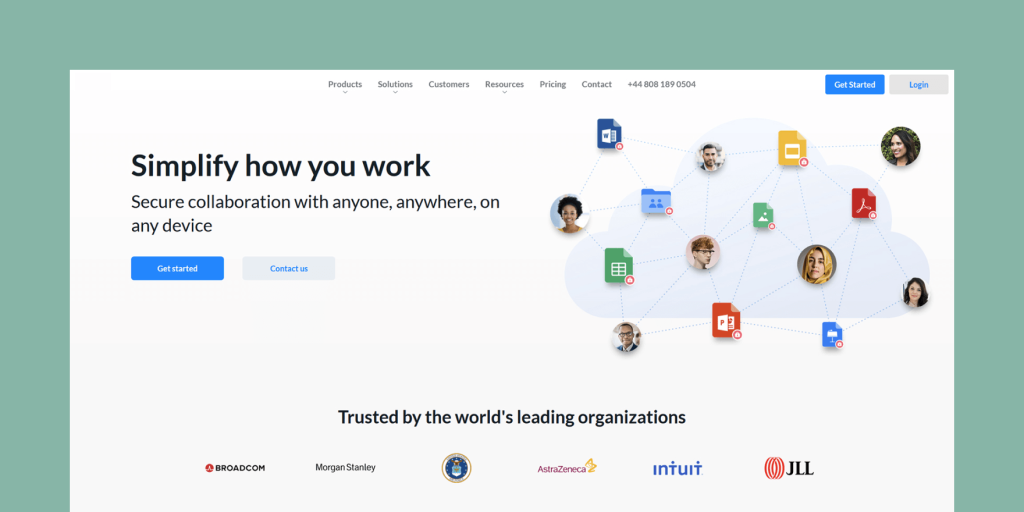 Box is a cloud-based content management platform that offers standard features for a data room service, with advanced security features like granular access controls and activity tracking.
And, if workflow automation is hot on your list of priorities, Box also integrates with apps like Microsoft Office and Google Docs.
Pricing options for Box's virtual data room solution start at $5 per user, per month for the Starter plan, with other pricing plans available.
However, larger companies may find Box doesn't suit their needs, with several reviews complaining of insufficient back-end reporting and a lack of advanced features.
8. Dropbox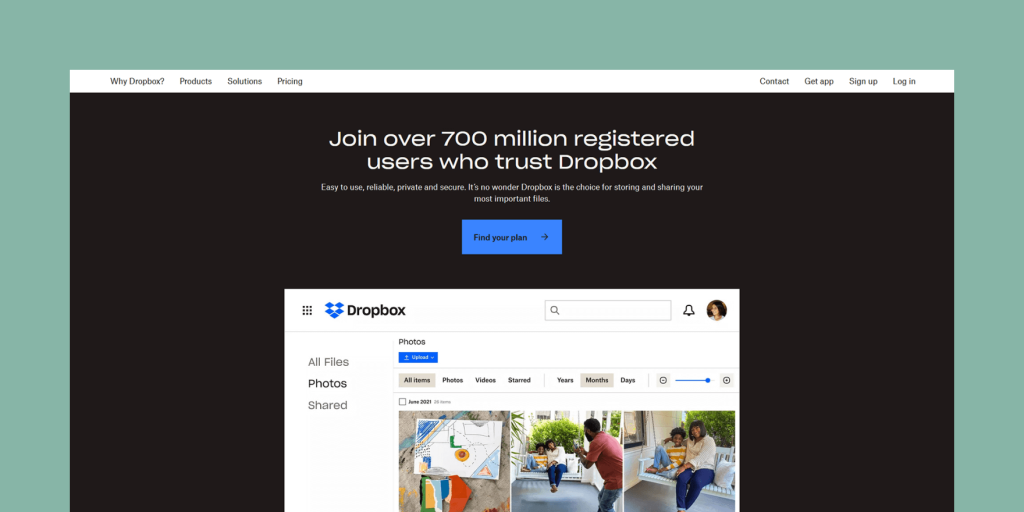 The Dropbox cloud storage and file-sharing platform also offers a secure data room solution.
Founded in 2007, the service has long touted its integration with tools such as Microsoft Office and Google Workspace.
Customers also enjoy its easy-to-use interface and high standard of security, with features like two-factor authentication, encryption, and Dropbox remote wipe.
However, unlike standard VDRs, Dropbox doesn't offer any customization options to create a branded virtual space.
It also lacks document management tools for sorting your files, while most data rooms offer an automatic indexing feature.
Dropbox also offers no standalone feature for making transactions, and lacks the reporting tools for creating financial audits (or even just general overviews).
9. Sharepoint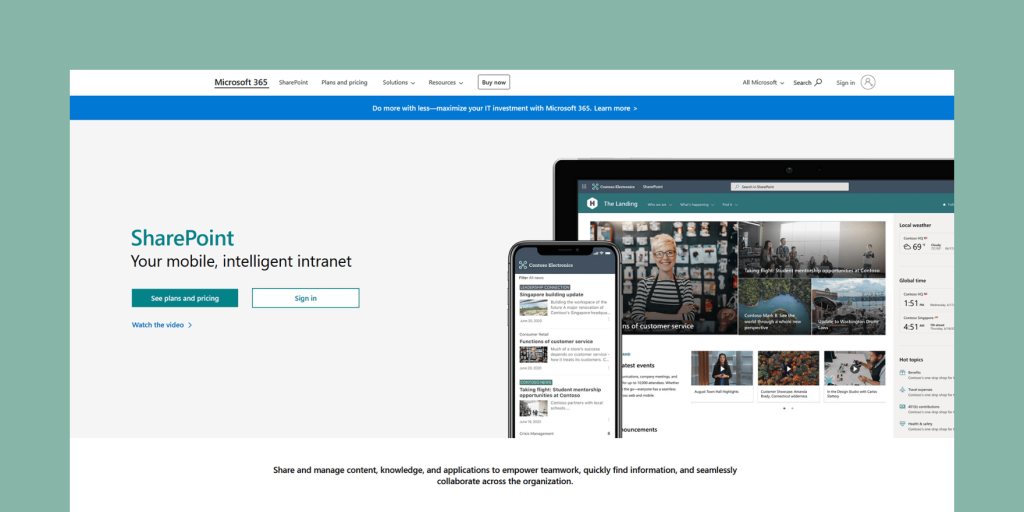 SharePoint is a web-based platform developed by Microsoft that provides content and document management capabilities for organizations.
Its data room solution allows users to securely store, share, and access documents and files from anywhere — notably, Microsoft Office 365.
Pricing for SharePoint varies depending on the specific features you need, with options for both cloud-based and on-premises deployments.
Beyond your daily workflow, Sharepoint data rooms seem to fall flat in terms of features.
Like Dropbox, it doesn't support transactions or audit trails.
And, to go a step further, it also lacks offline file access as well as electronic signature support.
If you're intending to use your data room for business management, you may prefer to choose a more feature-rich option.
10. Firmex Virtual Data Room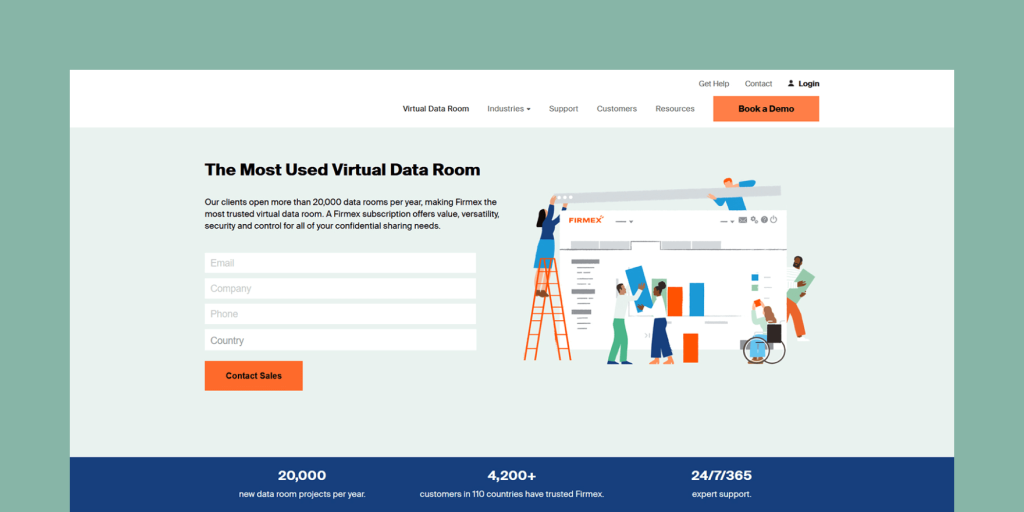 Firmex Virtual Data Room is a secure document-sharing platform designed for businesses to store and share confidential files.
Security-minded teams will enjoy its advanced features such as user access controls, document watermarking, and full-text search capabilities.
What it gains in security, Firmex loses out in functionality.
One user complained about how they couldn't edit Microsoft Office documents inside the data room without needing to re-upload them.
This illustrates the point that third-party app integrations can greatly enhance the user experience for your team.
How did we assess the Intralinks competitors?
You may well be asking yourself, "Why should I take your word for it that these are the best Intralinks competitors?".
It's a fair question.
To compile our list we studied the features and functionality of each Intralinks alternative, as well as their price points. Then, we dug deep into user reviews and third-party review sites.
That way, we were able to lean on both quantitative and qualitative data to come up with what we think are the best software options for your business to choose from.
Make collaboration smoother and more efficient
To conclude, virtual data rooms are a powerful tool for businesses looking to level up their data management and secure file-sharing capabilities.
Sales teams can particularly benefit from this shared space, as you'll be able to build a unique sales flow to guide a client through your promotional materials.
While many data room solutions offer collaboration features, we think that PandaDoc's solution stands out from the rest.
The user-friendly interface that you know and love will allow you to request data from buyers and share any content you need, effortlessly.
Plus, our security features will make certain that you never stray from legal regulations, and ensure that the right people always see the right things.
Get started with a 15-minute demo to see how PandaDoc can work for you!
Disclaimer
PandDoc is not a law firm, or a substitute for an attorney or law firm. This page is not intended to and does not provide legal advice. Should you have legal questions on the validity of e-signatures or digital signatures and the enforceability thereof, please consult with an attorney or law firm. Use of PandaDocs services are governed by our Terms of Use and Privacy Policy.