Where's your business data?
More specifically, if asked, could you give the location of a specific document?
In our experience, the answer to the second question often begins with, "Erm…"
Having a secure online platform to share and store content — especially sensitive documents and information — is a business essential.
A virtual data room (also known as a VDR room), is the perfect place for your organization's data.
Let's take a closer look at the best virtual data rooms on the market today.
What is a virtual or online data room?
Often used in business transactions like mergers and acquisitions and legal proceedings (such as due diligence), a virtual data room provides access to your business's documents through a secure platform.
An online data room is a cloud solution you can access remotely from anywhere with an internet connection.
It acts as leverage in any projects that require secure document storage, sharing, and management.
You'll typically find features such as data encryption, document access controls, and reporting tools in a VDR.
Virtual data rooms are also ideal for sales professionals who need to produce accurate forecasts using the latest data.
Online data rooms can drive your sales team's efficiencies forward by minimizing the time it takes to prepare and close deals — helping to forge and maintain happy working relationships with your clients.
By staying organized and on top of current deals, you can reduce churn and speed up your organization's entire sales cycle.
What are the benefits of using data room software?
Here are just a few of the principal benefits of using VDR software:
Secure storage: Because data room software provides a secure and centralized location to store sensitive documents, your business's data is protected from unauthorized access, theft, or loss.
Easy access and collaboration: Accessing a data room from anywhere, at any time, on any device, makes it easy to collaborate on projects and complete transactions.
Enhanced control: Control who has access to the data room with authorized permissions, such as the documents they can view, and how they can interact with them. This provides a high level of security and control.
Reduced costs: By eliminating the need for physical document storage, printing, and courier services, your business can reduce the costs associated with document management.
Faster transactions: Complete transactions faster with real-time document access and review—reducing the need for physical meetings or delays due to document retrieval.
Things to consider when choosing the best virtual data room
The best data rooms come equipped with a range of features that are valuable to your business, so tracking down the right data room provider is key.
Choosing the right VDR provider adds a layer of security to your confidential business documents and can positively impact collaboration on your projects.
Things to consider when you're picking your VDR provider include:
Quick access to the room through a unique link
Guided signing document experience
Notifications about any changes made in the VDR
Working on multi-document deals involving any number of participants
High-level security to protect confidential information from unauthorized access
Collaboration features for team members to work together efficiently
A cloud-based, secure, affordable, and easy-to-use solution
Out of the box integrations with third-party providers and apps.
Top 10 virtual data room providers
Let's now explore the market-leading data room providers, together with their features and support options to identify the best VDR providers for your business's data needs:
1. PandaDoc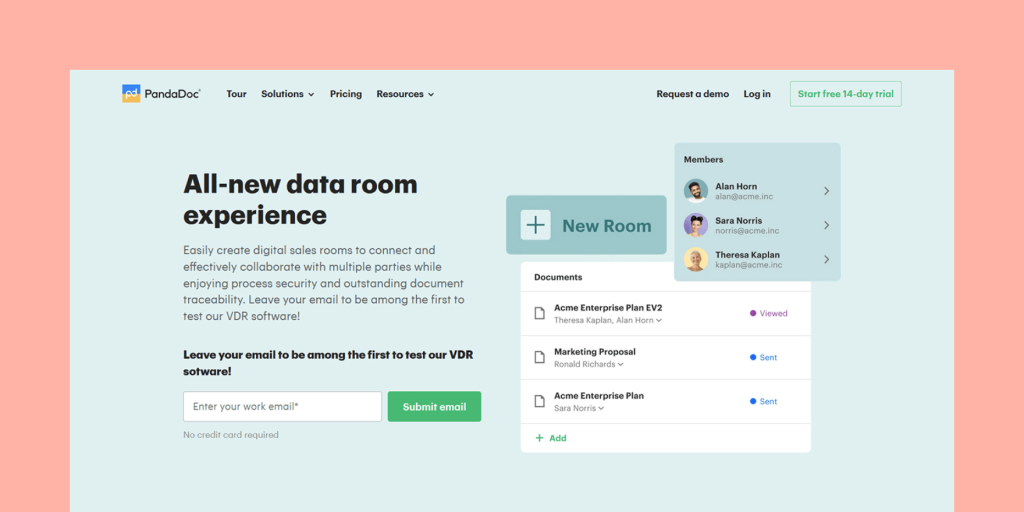 PandaDoc makes it easy to share your business virtual data room with team members via direct link or email.
Choose from varied document customization options to ensure your information is only seen by authorized members.
An intuitive and guided signing experience guarantees that no-one skips important document signatures, and you'll be informed with any document changes in your virtual data room immediately.
PandaDoc's VDR platform delivers a new method of collaboration on complex multi-document deals with any number of participants.
Top features
Alerts/notifications
Archiving & retention
Collaboration tools
Compliance tracking
Customizable templates
Document classification
Document generation
Drag & drop editor
Electronic signature
File conversion
Search/filter
Third-party integrations—Slack, Salesforce, Zoom, Google Workspace, Canva, Pipedrive, Zoho, Google Docs, and many more
Version control
Workflow management.
Support
A full suite of support is available, including:
Email/help desk
FAQs/forum
Knowledge base
Phone support
24/7 (live rep)
Chat
Thanks to PandaDoc, you can:
Share documents with relevant recipients with a few clicks
Easily provide prospect content
Conveniently define data access levels
Minimize processing delays and editing conflicts.
With PandaDoc, you can use VDR as sales rooms to share documents, collaborate with buyers, and automate your sales cycle from end-to-end.
This means that you can start selling even before the first call!
Use the intuitive sales workflows to guide a client through your promotional materials, request data from prospects, and collect and store data related to the same business transaction in a single space.
PandaDoc empowers you to share data in any format, including video, presentation, sheets, or docs, so you can share the precise content you need for the best impression.
Set up and manage visibility permissions for each document to ensure the right people see the right things.
2. iDeals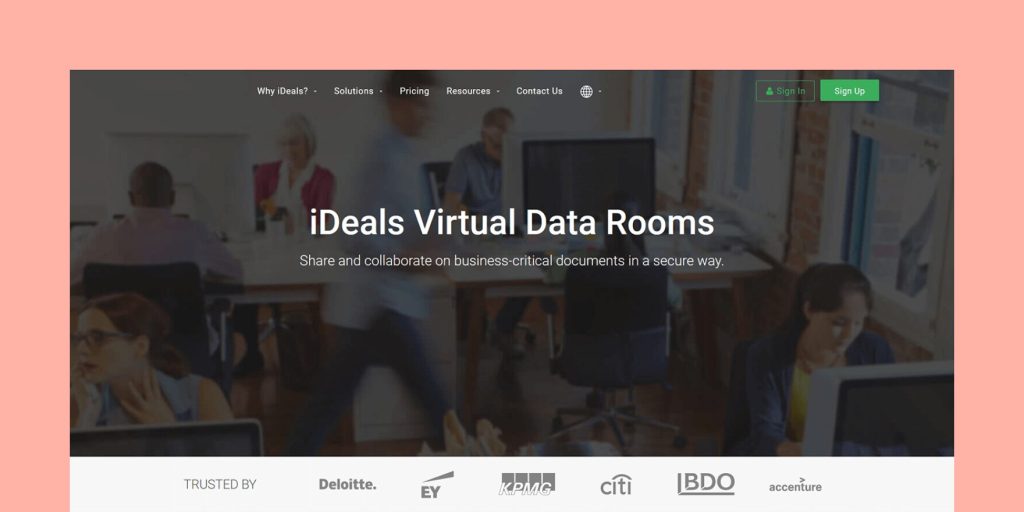 iDeals allow you to upload business files in 25+ different formats, making it simple to get the information into your virtual data room without extra preparation and fuss.
Compared to PandaDoc, the standard workflows integrated with iDeals don't offer as much flexibility for project management purposes.
Optical character recognition and full text search features track down the information you want using multiple search filters.
iDeals enables the upload, deletion, merging, moving, viewing, downloading, restoring, and renaming of your files and folders easily, plus you can merge the content of several files into a single PDF file.
Top features
Audit trails
Built-in redaction
Customizable dynamic watermarks
Custom terms of access / NDA
Custom branding
Drag-and-drop file upload
Notes and comments
Optical character recognition
Scheduled reports via email
Screenshot prevention
Standard Q&A management process
Standard workflows
Two-factor authentication
Two hardware-encrypted USB drives with data room archive
Support
24/7 multilingual support via email, chat, and phone. Extended premier support is available on the Business plan.
3. Datasite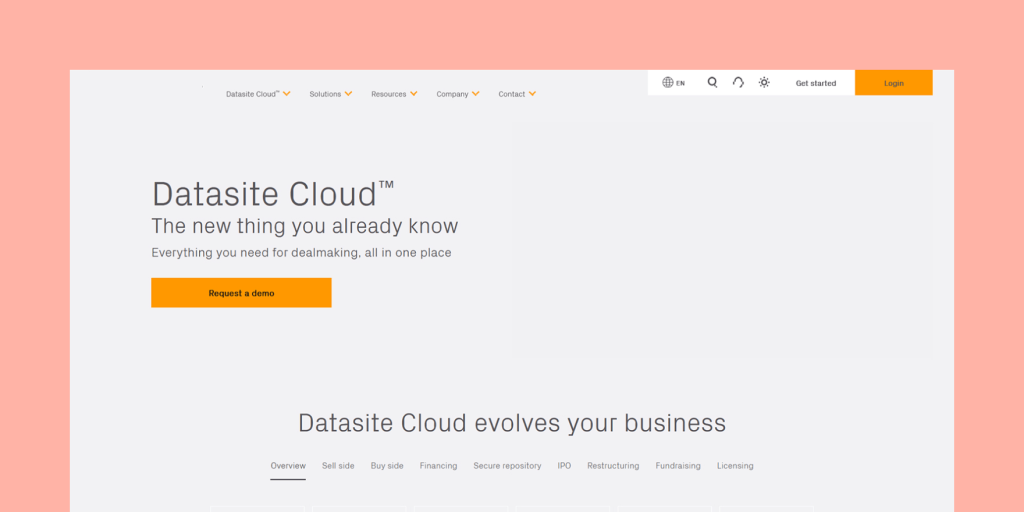 Datasite is a secure web-based app that operates on Mac or Windows systems.
There's also a Datasite mobile app that you can use to manage your data on an iOS or Android device.
However, the complex interface in contrast to PandaDoc's user-friendly platform might pose a problem for some less technical users.
One key feature of Datasite's solution is AI redaction, allowing you to easily and confidently manage your redactions by finding instances of specific words across the virtual data room.
Top features
AI redaction
Analytics
Content categorization
Customizable watermarking
Data encryption at transit and at rest
Email file upload
Granular permissions management
Integrated Q&A
Multilingual search
Two-factor and multi-factor authentication
Support
Phone support landlines are available for the United States, Canada, Latin America, EMEA, and APAC countries.
Live 24/7/365 chat support is available, together with demo videos, live training classes, and customer forums.
4. Digify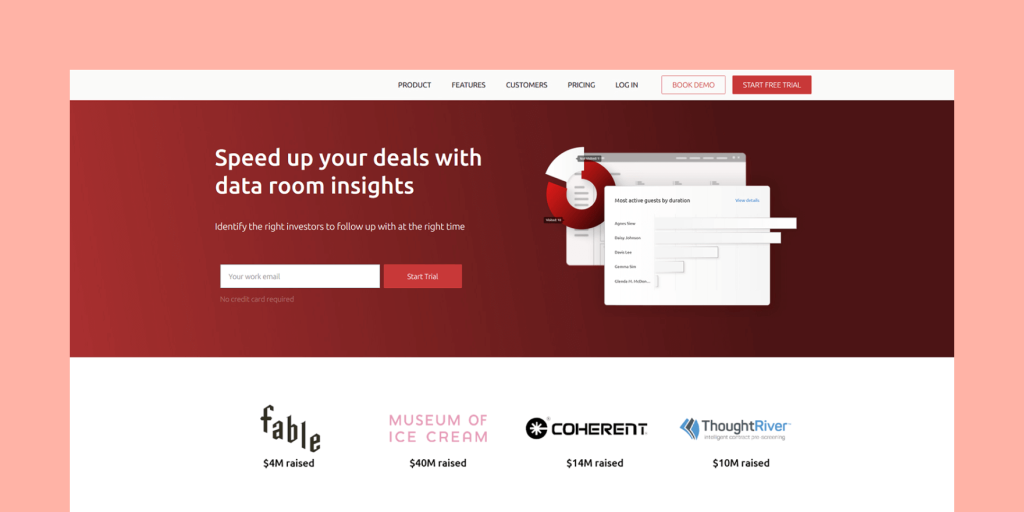 Digify is cloud-based software that provides oversight, protection, and tracking of your business documents.
You get some third-party integrations but not the full suite with some virtual data room solutions — for instance, PandaDoc offers 30+ business application integrations.
This all-in-one solution integrates document access control, advanced encryption, print and download permissions, and customizable watermarks to give you and your team control over your sensitive data.
Top features
Brand colors and logos
Data room groups
Folder-level granular permissions
One-click NDA/terms of access
Real-time notifications
Team-wide file statistics
Third party integrations—Dropbox, Box, Google Drive
Unlimited data rooms with one account
Support
Email and chat support is available on the Pro plan
With the Team plan you get additional phone support
5. DealRoom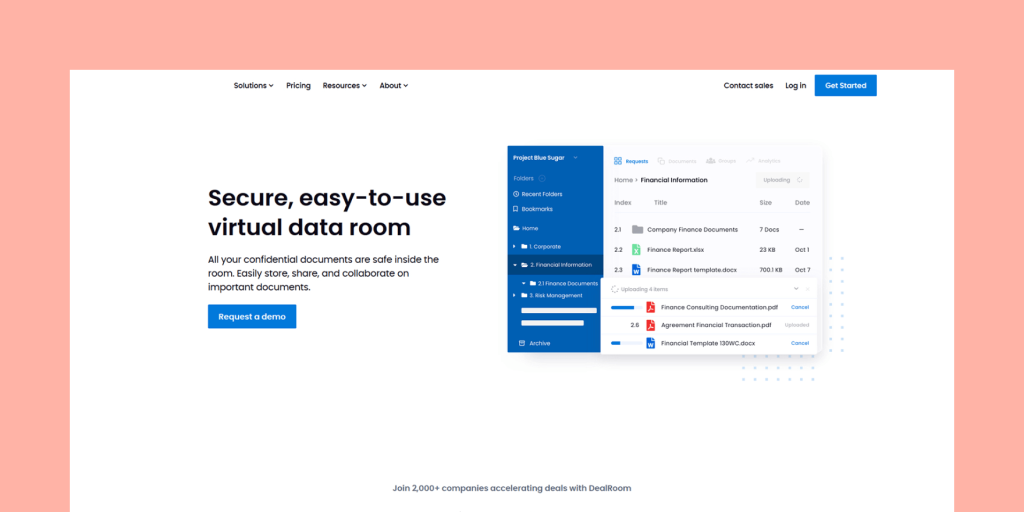 DealRoom provides a solution for businesses of all sizes to securely store and share sensitive information with interested parties.
All your business data is encrypted with 256-bit AES encryption to stop hackers from accessing your documents.
Cloud backups keep your data safe in the event of system failures or network crashes.
Top features
Access permissions
Alerts/notifications
Audit log
Built-in Excel and document viewer
Dynamic or fixed watermarks
File expiration tool
Full text search
One-click NDAs
Multi-factor authentication
Recovery capability
Reporting and analytics
Screen Shield
SSL security
Third party integrations—Google Drive, Box, Gmail, Outlook
Support
24/7 support via email, helpdesk, phone support, and chat.
6. FirmRoom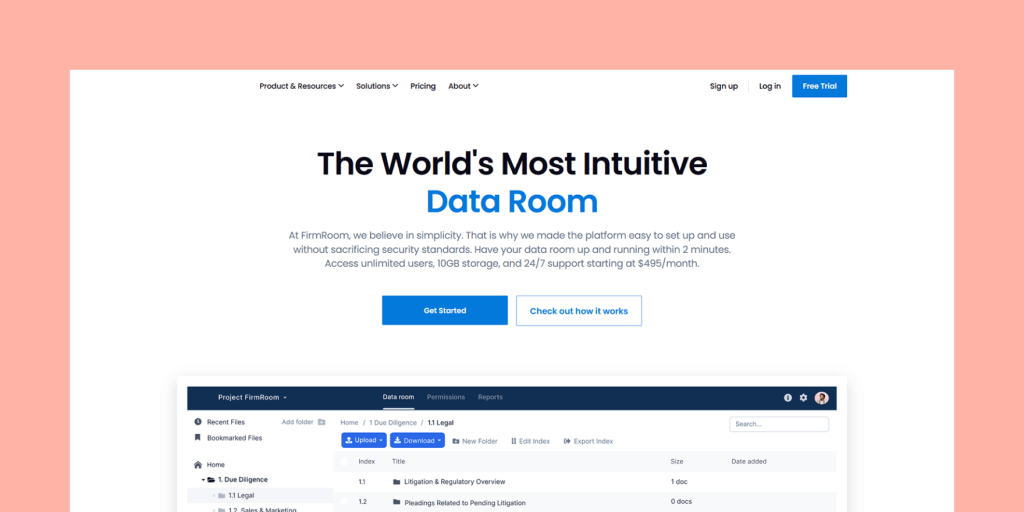 FirmRoom is designed for M&A professionals, providing a virtual data room solution built for public company security standards. Housed on Amazon Web Services data centers, FirmRoom protects your data on some of the most secure cloud infrastructure.
Top features
API access
Built-in viewer
Built-in smart redaction
Detailed activity analytics
Diligence analytics
Document heatmaps
Drag-and-drop document collection
Full text search
Market segments
Single sign-on
Slack and Microsoft Office integrations
Two-factor authentication
Unlimited users
Support
24/7 support is available via live chat, phone, chat, and email, together with a dedicated success manager.
7. ShareVault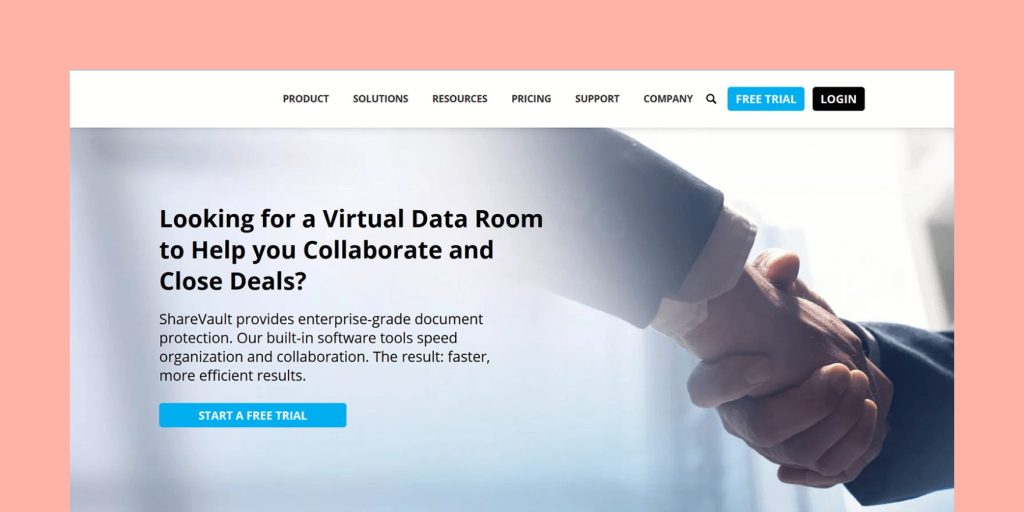 ShareVault virtual data rooms provide numerous features that enable advanced document control and analysis, not to mention a high level of document protection and monitoring.
Top features
Audit trail
APIs
Bulk file uploads
Dynamic watermarking
External integration connectors
Full text search
Granular user permissions
Hierarchical tags
Inter-file hyperlinking
Remote shredding
SSL security
Support
24/7/365 support as standard via chat, phone, and email.
8. DocSend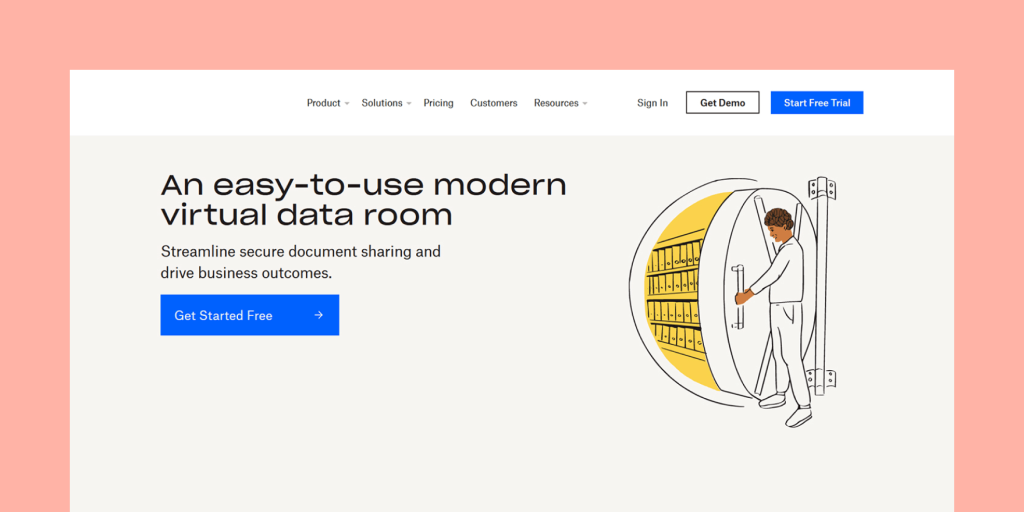 DocSend by Dropbox works on a link-based system to simplify the configuration of security settings for each user.
Receive notifications whenever a file is accessed and analyze the performance of your content on a page-by-page basis.
You can also create contemporary virtual deal rooms.
Top features
Document analytics
Dynamic watermarking
Granular permissions
Interface permissions
Two-factor authentication
Video analytics
Support
DocSend users receive email and phone support seven days a week.
9. SecureDocs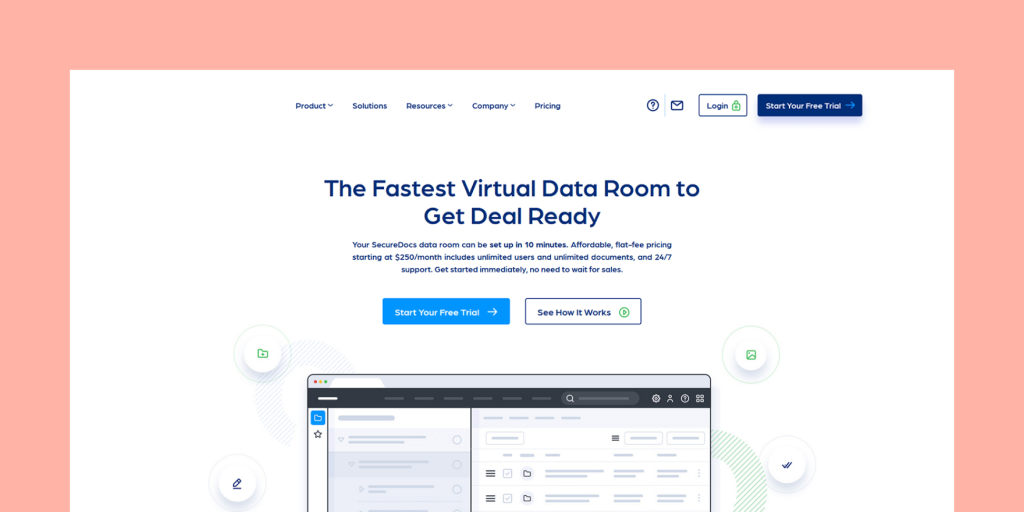 SecureDocs is built on a user-friendly platform that delivers valuable insights into your virtual data room activities.
Setup with SecureDocs is quick and simple without any complex training requirements, so you can quickly start storing and sharing your confidential data.
Top features
Audit log report
AWS data centers
Bulk user invites
Customizable NDA
Customizable dashboards and permissions
Dynamic watermarking
New document notifications
One-click archiving
Permission-based user roles
Two-factor authentication
Q&A
Support
Unlimited support and training is available on all paid plans.
10. BlackBerry Workspaces (formerly WatchDox)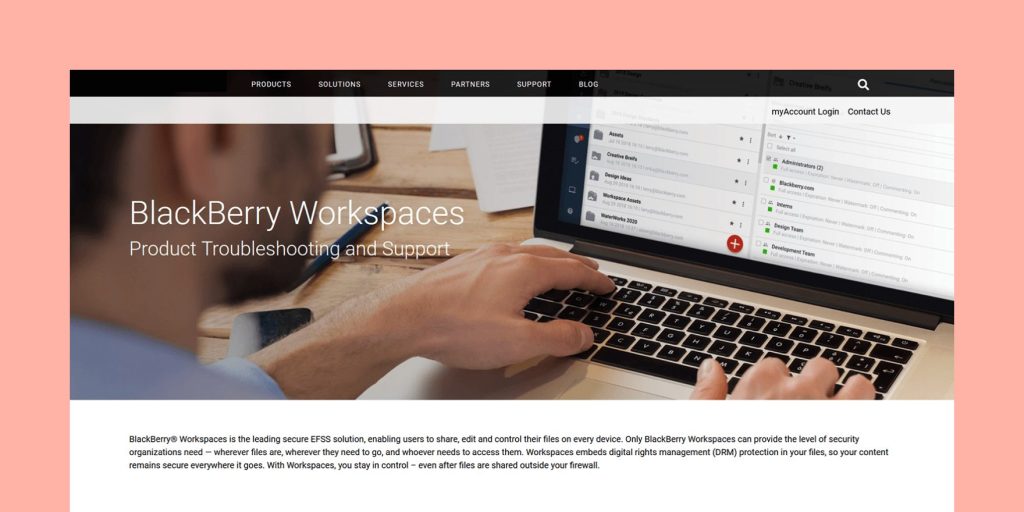 This file-sharing tool helps businesses in all industries to report and track documents, protect data from external threats, restrict access to authorized users, and provides ransomware recovery tools.
You can choose from three editions of this solution — Send, Collaborate, and Secure Plus.
Integrations with Microsoft Outlook and Office Online allow you to access your apps and collaborate across them all.
20GB of file storage, bulk uploads, and drag-and-drop file capabilities make it simple to upload your documents.
Top features
Alerts/notifications
Audit trail
Collaboration tools
Drag & drop
Electronic signature
Extended cross-platform support
Search/filter
Secure HTML5 browser
Workflow management
Support
Training is provided via webinars, documentation, and live online. Assistance is available 24/7/365 for BlackBerry, Android, and iOS users.
How we got our data
But why should you take our word for it that those are the best virtual data rooms out there?

Well, we did extensive research to draw together our list, in order to give you the best information possible. We checked out all the following when doing due diligence on VDR options:
Provider websites
Third-party review sites
User reviews
By perusing all those data sources, we could assess the options based on quantitative factors, such as price, and number of features, as well as qualitative aspects, like prevailing opinions on customer support and usability.
Unlock a new way of working on multi-document deals
After reading this, which are the best virtual data rooms?
Before you make a decision on your virtual data room provider, ensure you do your own due diligence and evaluate your team's feature requirements, integrations, and user experience.
By doing so, you will be able to assess each VDR provider objectively, making it easier to find the ideal solution.
Before finalizing your decision, don't hesitate to compare multiple options by trying their demos.
Most of the virtual data rooms we've covered in this article offer a free trial so you can test them to see what you think.
Create your virtual data rooms with a solution like PandaDoc and you'll not only gain complete control of your business's information, but you can also explore a variety of additional document services like eSigning products, contract management tools, and document automation.
Creating your VDR with PandaDoc is as simple as:
Uploading a set of documents
Defining access permissions for each document/user
Tracking the progress through notifications and system-wide alerts.
Disclaimer
PandDoc is not a law firm, or a substitute for an attorney or law firm. This page is not intended to and does not provide legal advice. Should you have legal questions on the validity of e-signatures or digital signatures and the enforceability thereof, please consult with an attorney or law firm. Use of PandaDocs services are governed by our Terms of Use and Privacy Policy.