The legal industry is constantly evolving.
One thing that remains constant is the need to keep accurate and compliant legal documents.
From intake forms that gather client information to employment contracts, pleadings and case management in general, almost every piece of work that lawyers do requires the use of new documents.
Unfortunately, drafting such documents is a time-consuming process.
While a letter may take only a few minutes to compose, creating detailed legal agreements and contracts from scratch can take several hours.
Luckily, there are document automation solutions aimed to streamline the process of creating documents while saving time and effort.
We have gathered 5 best legal document automation platforms available on the market — each with a set of unique features.
Let's take a closer look at what we found.
What is legal document automation software?
Document automation software is a tool that legal firms use to generate documents automatically.
Rather than creating legal documents from scratch, businesses produce templates in document automation software and reuse them in further work.
The process is pretty straightforward.
A firm uploads an existing contract to the system, which turns it into an editable document template with pre-fillable fields.
Another option is to leverage document automation software with a template library of legal documents — these can range from NDAs to employment offer letters.
They are pre-designed and can be customized by a company to tailor to their needs — it genuinely speeds up the process of creating a legal document.
There are numerous benefits that present themselves when law firms choose the right document automation software. Here are a just a few:
It enhances document accuracy
Document automation software automatically fills in client information and helps law firms avoid errors.
It empowers law firms
Anyone in a company — based on permission settings — can leverage a library of templates.
The less you spend time editing a document, the faster you send it out.
Since documents are centralized in one space, it is easier to collaborate and review papers even if your team members are in different locations.
It facilitates up-to-date document generation
Instead of relying on outdated or inaccurate templates found in the Internet, automation software provides access to current, regularly updated templates.
This ensures document accuracy from the start.
It serves as a knowledge repository
A comprehensive document management system is essential for law firms.
It's also difficult to maintain one if documents are on paper or different docs live on siloed computers. (Imagine if an employee leaves a law practice without saved documents in a centralized location).
Also, document automation software helps to make onboarding to the law firm smooth.
When you collaborate on a contract with a team, you want to be aware of all changes that happen to your document.
And whether your practice area regularly deals with complex documents or a more straightforward specialty, everyone benefits when contracts are finalized in less time.
Keeping track of version history helps with that — a party can easily restore a necessary version and get a document in its original state.
The redlining feature, which highlights changed text with a special color, helps identify who made the changes, and where, to a text.
Most document automation software available on the market has similar features yet different implementations.
We have composed a list of best solutions for legal document management that a law practice would benefit from regarding ease of use, functionality, and UI.
When collecting data, we leveraged source material such as comparison articles, user review websites, and product websites.
To describe pros and cons, we relied heavily on honest user feedback from G2 and Capterra.
1. PandaDoc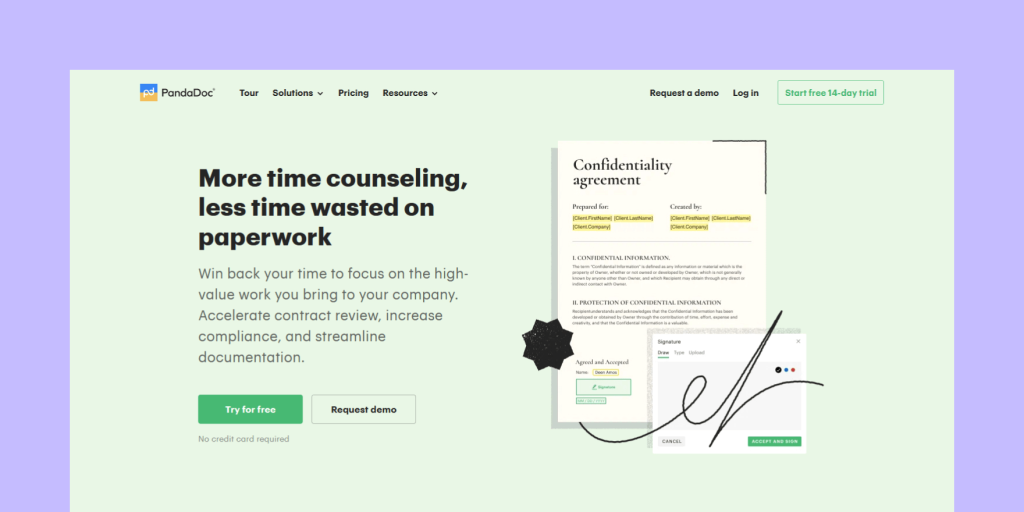 Price: $29 per user/month for Essentials; $59/month for Business; Enterprise plans available.
G2 rating: 4.7
Free trial: yes, 14 days + free version
First on the list is PandaDoc's document automation software. Here are the reasons why.
PandaDoc has a library of professionally designed and customizable templates to assist the document creation process.
They come with smart fields that populate customer data from a CRM or customer service software into a document.
You can customize a template with branding capabilities, like adding a logo or changing the color palette.
Besides using pre-made templates for legal document management, law firms can also upload docs of their own and turn them into templates or create copies inside a built-in editor.
The software's drag-drop functionality makes the process smooth and fast. PandaDoc's content library stores clauses & terms that you can add to a copy with just a few clicks.
When it comes to approval, PandaDoc's document management software works efficiently here.
It puts each approval into one automated workflow, which facilitates the process of completing a document.
You can assign team roles and use built-in commenting with your team members or stakeholders to speed up the process.
With a contract negotiations feature, you can suggest and discuss edits in a document with key stakeholders.
You can also track suggestions that have been added to your document under Version history or Resolved comments/suggestions.
Integrations are another strong "yes" for PandaDoc.
So far, PandaDoc includes 30 business tools you can connect within its automation system, such as CRM systems, payment tools, video conferencing tools, and more.
Another huge plus here is that each category has multiple tools. For example, you can offer clients to choose between Stripe, PayPal or Square when it comes to payments integration.
PandaDoc prioritizes privacy and security, and is SOC 2 Type II certified and HIPAA, FERPA, and GDPR compliant.
When speaking about cons, some users have expressed limited customization options with certain aspects — for example, formatting.
Others desire having a wider variety of integration options — which is a valid concern, but also something that PandaDoc is always increasing in number.
(To keep it transparent here, PandaDoc offers more integrations than other tools on this list.)
2. Gavel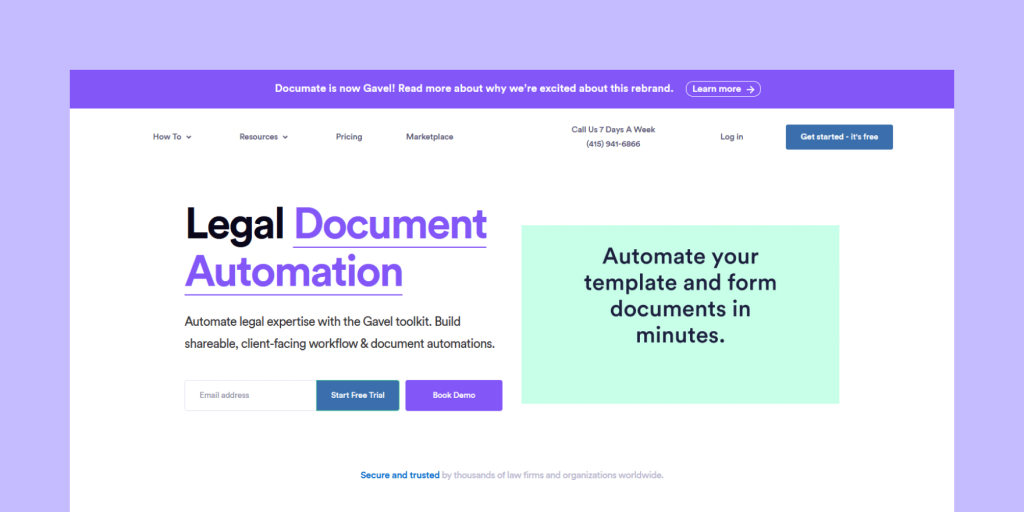 Price: $83/month for Lite; $165/month for Standard; $290/month for Team. Enterprise plans available.
G2 rating: 5
Free trial: Yes. 7 days on all tiers
Gavel, formerly Documate, markets to the legal industry only. It functions as a web-based portal and Microsoft Word add-in.
Like in most document management software, legal firms can create templates for any documents in Gavel and then clone, edit and re-use them.
Guided Interview is an interesting feature Gavel has. It uses the client's answers to automatically generate documents, for both transactions and litigation.
A user sends out the web-based interview to a client, and after questions are answered, information will be added up to a document.
Like PandaDoc, Gavel offers custom branding options to customize a domain and apply styling to legal documents.
Law firms can create client profiles in Gavel and handover access to customers themselves.
It is a handy feature where customers can store data, and may elevate the client experience.
Gavel positions itself like a developer too. They can build custom features and offer consultancy services for those companies who need advanced settings.
Gavel also comes with integration options like Word, Stripe, Zapier, Google Sheets, DocuSign and HelloSign.
Law firms can utilize Stripe integration to accept ePayments, and DocuSign or HelloSign to enable electronic signature features.
What it lacks, however, is a broader selection of integrations. Seeing CRMs in the list would make a huge difference.
Another feature absent here is ready-made templates.
It is good to have the ability to create a template from scratch; however, also having pre-designed templates from the start would save more time and effort, and is a strong addition to any law practice management software.
3. HotDocs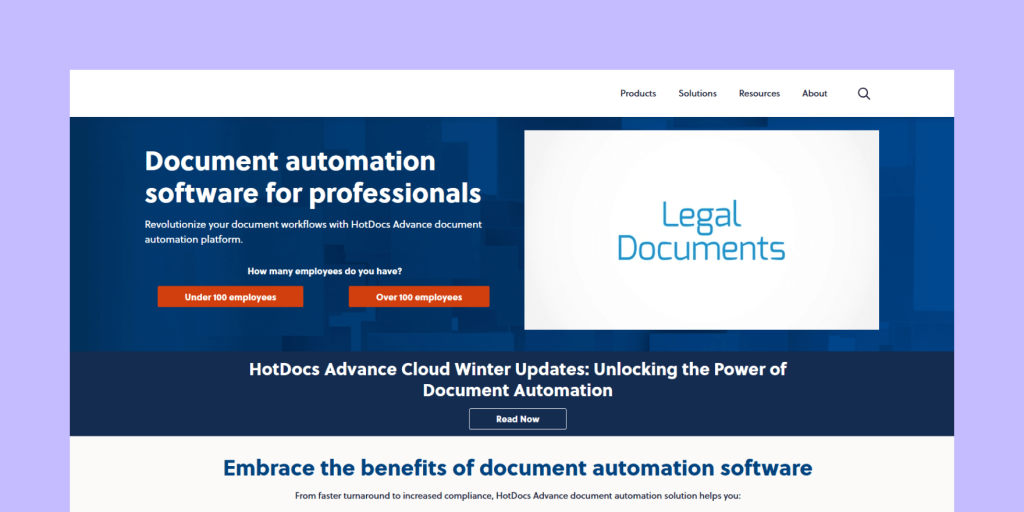 Price: $33.33/month
G2 rating: 4.4
Free trial: No
HotDocs is a well-known solution in the legal industry — they've been on the market since 1993.
They offer document automation software for many business sectors, the legal industry being one of them.
HotDocs is a strong "yes" when it comes to the variety of integrations with business systems — BPMs, CRMs, ECMs, document management, risk management are all on the list.
In general, HotDocs has a similar workflow to Gavel with respect to how their document assembly software functions.
Once a law firm uploads a document to the system, it is converted to a template. The interviewing process helps to enter the data of a client and put it in the document.
The tricky side of HotDocs is that it requires a developer or someone with coding experience to actually create templates.
However, HotDocs has found an optimal solution to this issue.
They have trainees who guide customers through every detail of template creation — and, according to G2 reviews, this process works.
All templates are customizable.
For example, there are a bunch of conditional text areas, meaning that users can select which text will be added under certain conditions.
Although HotDocs is a cloud-based solution for practice management software, it has offline access as well, and legal professionals can use templates without accessing the Internet.
UI is what catches the eye when using HotDocs; unfortunately, we don't mean that in a complimentary way.
Here you won't find any lightweight or efficient, minimalistic pages like those that PandaDoc and Gavel offer.
On the contrary, pages are overwhelmed with text and an outdated corporate style, which may make it difficult for some to navigate between pages — especially when the goal here is legal document automation.
4. Rally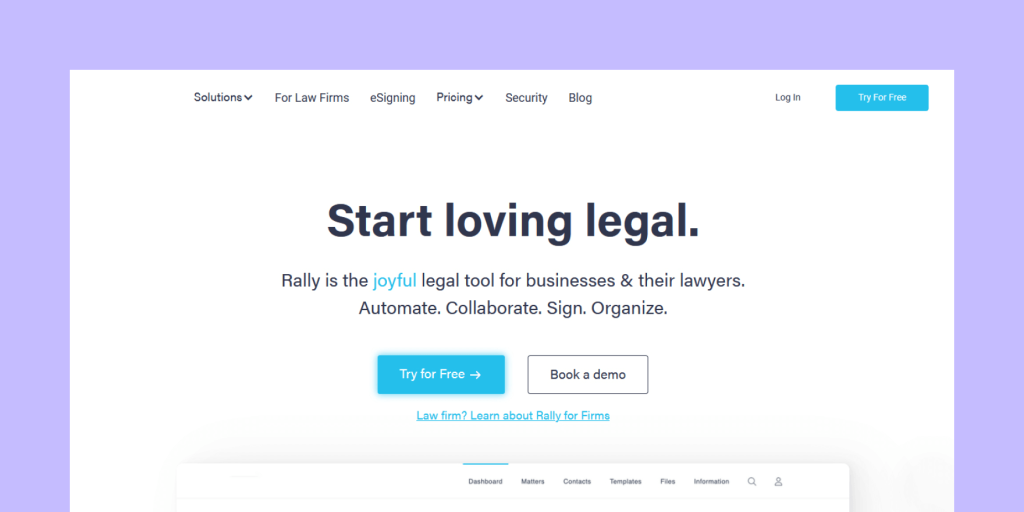 Price: $99/month for Lite; $399/month for Essential; $999/month for Premium.
G2 rating: 4.1
Free trial: Yes
Rally positions itself as a legal tool for business and their lawyers.
They emphasize the ease of usage and, accordingly, their UI looks user-friendly and clear.
Rally is one part document automation, one part contract management. It integrates various functionalities essential for those two components to sync, and therefore stands out in the market.
The essential thing Rally does is they connect law firms with clients. It has a client portal that is accessible to clients to log in and sign documents.
Apart from e-signatures, the portal facilitates online payments, document storage, and custom branding.
In terms of data, Rally behaves like all other document automation tools. You can keep documents, templates, and messages in one place.
They also have a templates library as part of their document management system; this makes drafting documents easier for any law practice.
You can issue an NDA, employer contract, DAO contributor agreement, GDPR compliance agreement and more.
And it's easy to edit these documents — because of integration with CRMs, you can easily pull out stats from there.
Rally cares about security and employs multiple layers from Amazon's data centers to a suite of prevention, detection, and response tools.
They are also CCPA and PIPEDA compliant.
Rally also serves as an e-commerce platform. They offer law firms the possibility to create a store where clients can choose and pay for legal services.
When it comes to ranking as a comprehensive document management software, Rally does offer quite a bit of bang for the buck — but there are a few bucks involved.
It is significantly more expensive than other software solutions. For $399, you get document creation functionality similar to what Gavel charges for less than half the price.
Since Rally is used in various departments — and for all types of documents, not only legal — it can be a good choice for the entire company.
Conversely, if you need a solution for a law department only, looking into other alternatives might be a good idea.
5. Lawyaw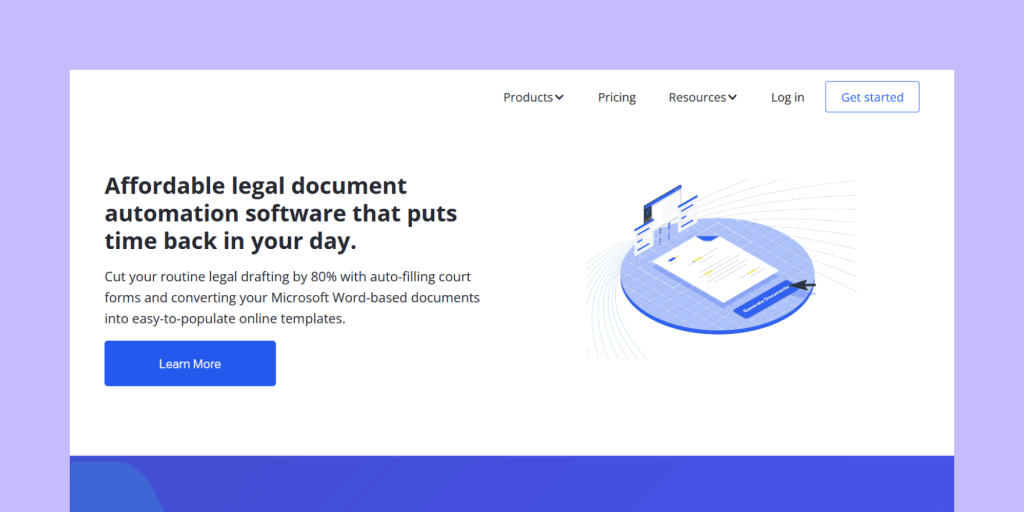 Price: $70/month per a user for Cloud-Based Court Forms; $110/month per a user for Intelligent Document Automation; $150/hour for Template Services.
G2 rating: 4.5
Free trial: Yes
Lawyaw promotes itself as a product that reduces time spent on routine legal drafting by using its auto-filling court form.
Another feature it provides: converting Microsoft Word documents into online templates.
In 2021, Lawyaw was acquired by Clio, a legal software for clients, cases, and billing.
These tools complement each other and work well as a unified law practice management software.
Lawyaw's main task is to cut the time law firms spend on filling out court forms.
With Lawyaw, you can search and select thousands of official state court and immigration forms, save them as needed, and auto-populate the docs with client information.
Like PandaDoc, Lawyaw has a growing library of jurisdiction-specific templates you can use.
The company offers template-building services for those who lack the ability or time required for drafting documents of their own from scratch.
Lawyaw includes form libraries for all 50 states.
They started with California Judicial Council forms and simply kept adding more templates from there.
Today, anyone can access thousands of forms, from those at the state level to federal USCIS documents.
Like other tools on this list, Lawyaw comes with an e-signature feature.
Its built-in federally compliant tool helps to prepare documents with client information and send it out with just a few clicks.
The embedded audit tool assists with case management, notifying clients and lawyers about the remaining steps in the process.
Lawyaw is used for court forms only; as a document management software, having more variety would be a major improvement if they intend to broaden their user base.
Its document assembly tools work well paired with Clio.
Would Lawyaw be as attractive an option without Clio? Most likely no — there are other tools, like PandaDoc, that support both forms and other legal documents.
Accelerate contract review and negotiation with PandaDoc
There are many more solutions on the market than just the 5 document automation software that we included on this list.
Our approach was to select tools that gained the interest of users, are able to streamline document generation, and have the modern functionality necessary to help law firms execute legal services in less time.
Yes, we're somewhat biased, but our best choice is undoubtedly PandaDoc.
A combination of third-party integrations, document templates, and a modern built-in editor with smart fields optimize the workflows for any legal practice.
The document management system helps streamline negotiations thanks to collaboration tools and tracking features that ensure all changes are saved.
Sign up to PandaDoc today or schedule a quick demo to see how our document automation software can improve processes for your legal team!
Disclaimer
PandDoc is not a law firm, or a substitute for an attorney or law firm. This page is not intended to and does not provide legal advice. Should you have legal questions on the validity of e-signatures or digital signatures and the enforceability thereof, please consult with an attorney or law firm. Use of PandaDocs services are governed by our Terms of Use and Privacy Policy.