If you're a healthcare provider or in the medical field, you're likely familiar with HIPAA regulations.
This law sets standards for safeguarding any medium for sharing sensitive patient information, including fax machines.
That's why HIPAA-compliant online fax services have become more popular among healthcare providers and other medical professionals.
These services offer the comfort of faxing from your computer or mobile device and also ensure that all data is protected per HIPAA regulations.
Let's explore the importance of HIPAA compliant online fax services.
What is HIPAA compliance?
HIPAA (Health Insurance Portability and Accountability Act) is a US law that was passed in 1996.
HIPAA compliance refers to the observance of the rules and regulations set forth by this law to protect the privacy and security of patient's protected health information (PHI).
These compliance regulations apply to healthcare providers and health plans, as well as other organizations.
The act establishes national standards for the privacy, security, and confidentiality of PHI, including electronic PHI (ePHI).
HIPAA compliance involves several measures, including:
Creating policies and procedures to protect PHI.
Training employees on how to handle and secure medical records.
Using safe communication methods, such as encrypted email and secure file-sharing platforms.
Keeping private files in secure locations.
Conducting regular risk assessments to identify potential security threats.
Reporting data breaches to the appropriate authorities.
HIPAA compliance protects patient privacy and avoids costly penalties and legal action for noncompliance.
Importance of HIPAA compliance for faxing solutions
Here are some benefits of HIPAA compliance for faxing solutions:
1. Protection of patient information
HIPAA mandates healthcare organizations to implement appropriate administrative, physical, and technical measures to ensure the confidentiality, integrity, and availability of patient data.
For example, organizations must use secure modes for sending and receiving faxed information.
This includes using encrypted fax transmissions or secure fax servers to prevent unauthorized access to sensitive information.
Also, medical offices must limit patient information access to only those who need to know that info.
HIPAA also requires medical institutions to have policies and procedures in place to respond to security incidents and breaches of patient information.
2. Legal compliance
The U.S. Department of Health and Human Services (HHS) enforces these regulations and can impose effective penalties on those who fail to comply.
Any organization found in noncompliance with HIPAA regulations could face fines, penalties, or legal action.
This could damage the organization's reputation or even land people a stretch of prison time.
Moreover, HIPAA compliance requires regular assessments, audits, and updated policies and procedures as needed.
Organizations must ensure that their faxing solutions comply with the latest regulations and are regularly reviewed for any possible violations.
3. Risk mitigation
Some risks associated with faxing solutions in healthcare include the following:
Unauthorized access to data, both in transit and at rest.
Data loss due to human error or software/hardware malfunction.
Confidential information leaks, like the case of Medibank.
To mitigate these risks, healthcare personnel must implement appropriate security measures for online fax HIPAA-compliant solutions.
Some common security protocols include encryption, access controls, audit trails, disaster recovery, and backup plans.
By implementing suitable security measures, organizations can reduce the risk of security incidents and protect patient information from unauthorized access.
4. Improved efficiency
Faxing from traditional devices involves manually printing out documents, feeding them into a fax machine, and waiting for the confirmation of a successful transmission.
This process is time-consuming and can lead to errors and delays.
With HIPAA-compliant faxing solutions, organizations can automate and optimize the entire process, reducing the time and cost involved in the faxing process.
Six best HIPAA-compliant online fax solutions
Let's go through some of the best HIPAA-compliant digital fax services.
1. Concord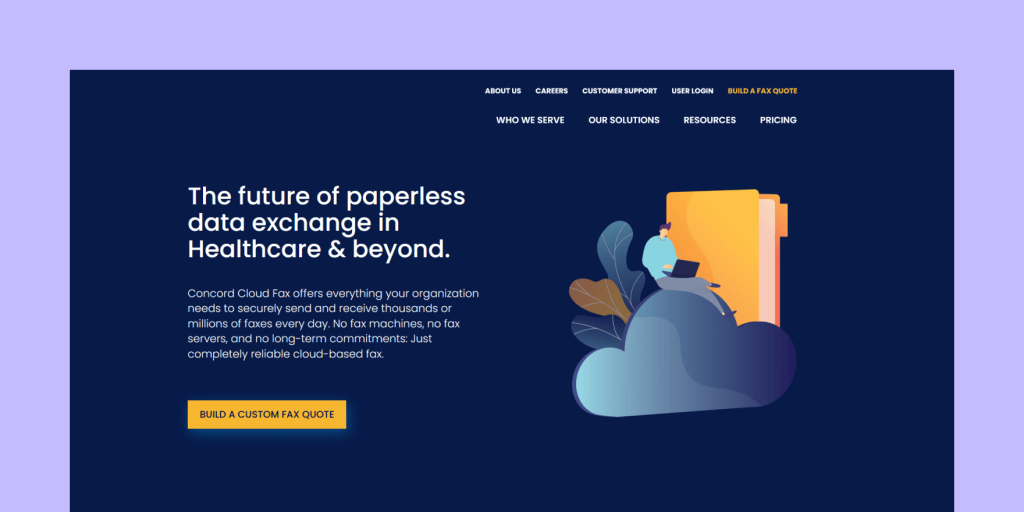 Concord's fax solution is HIPAA-compliant, PCI-certified, and SOC 2 audited. It has a high uptime and reliability rate.
Concord also places data security first with AES 256-bit encryption, complex password requirements, and access and audit controls.
It also provides a policy for image retention which can be used to delete images at predetermined intervals.
2. Nextiva vFax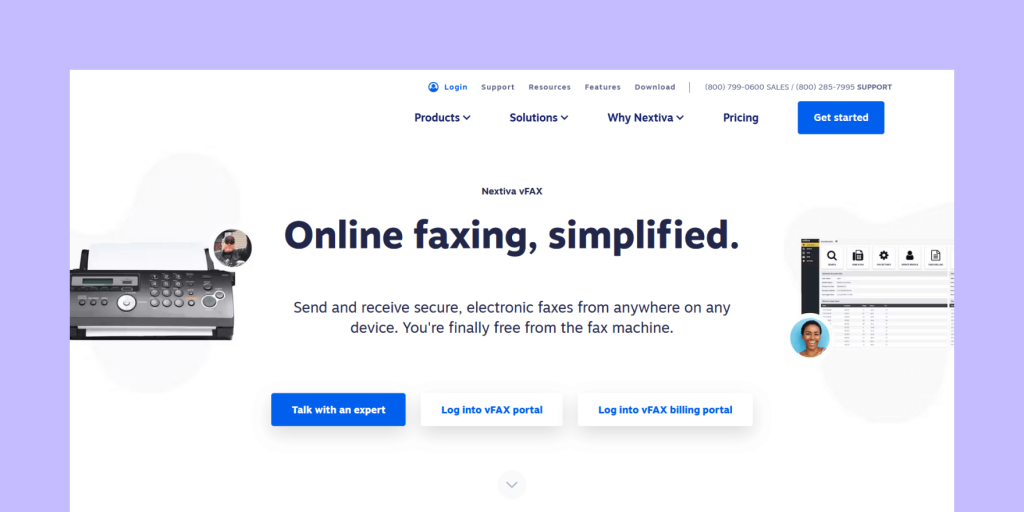 With Nextiva vFax, you can send and receive e-faxes from any device, anywhere.
For small business owners, this is a simple and easy-to-use service for sharing and receiving documents.
All your faxes are organized in one place to make them easily accessible.
You can also use fax scheduling and SMS alerts to improve delivery and productivity.
3. FAXAGE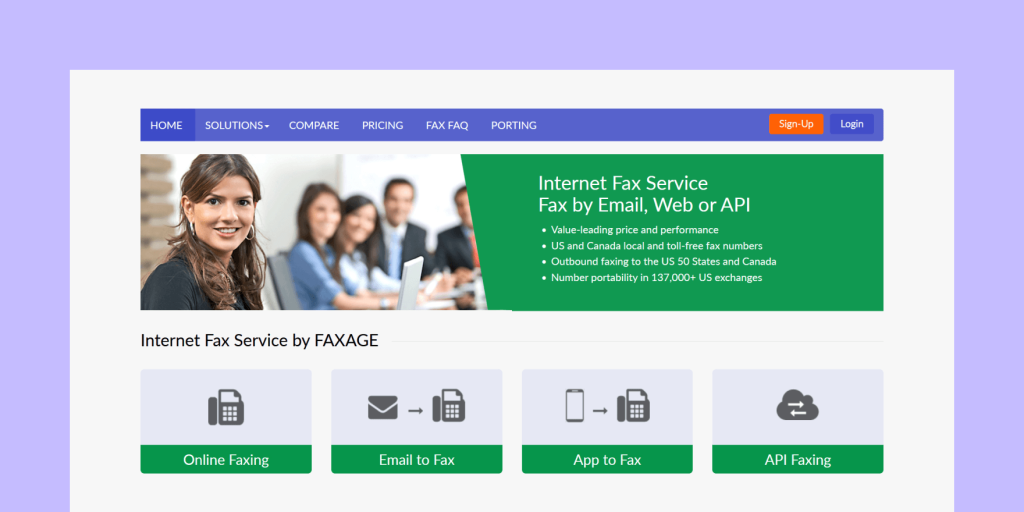 FAXAGE is a cloud-based fax solution provider that provides affordable services to home users and SMBs.
This solution provider offers service plans that include unlimited fax storage and user accounts that adhere to HIPAA regulations.
You enjoy using security features like web encryption and a secure app for iOS and Android.
4. iFax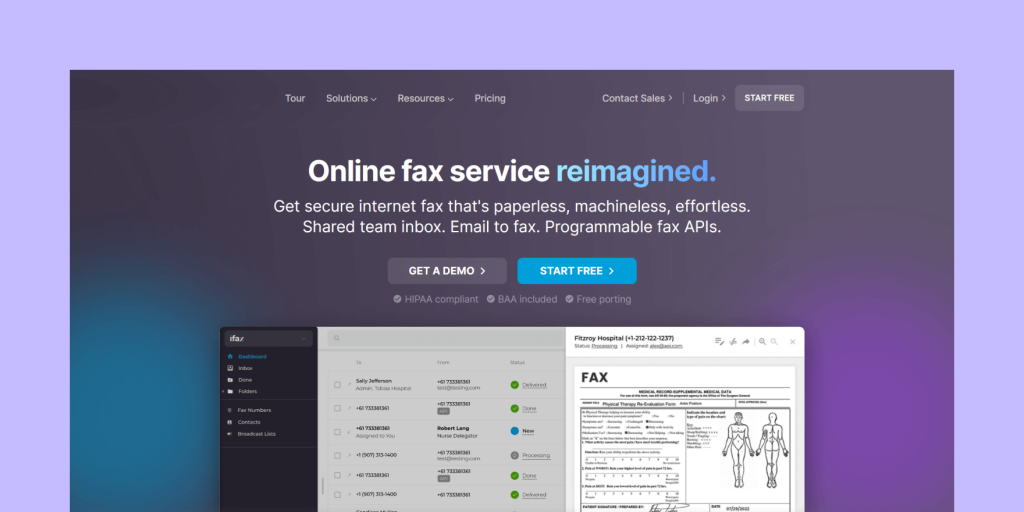 iFax is a great online fax service because it's reliable, affordable, and simple to use.
You don't need a fax machine because it works with your mobile device.
Healthcare professionals benefit from iFax because it is safe and suitable for sending sensitive information like passports and health records.
You can also track your sent documents and get notifications via email.
5. InterFax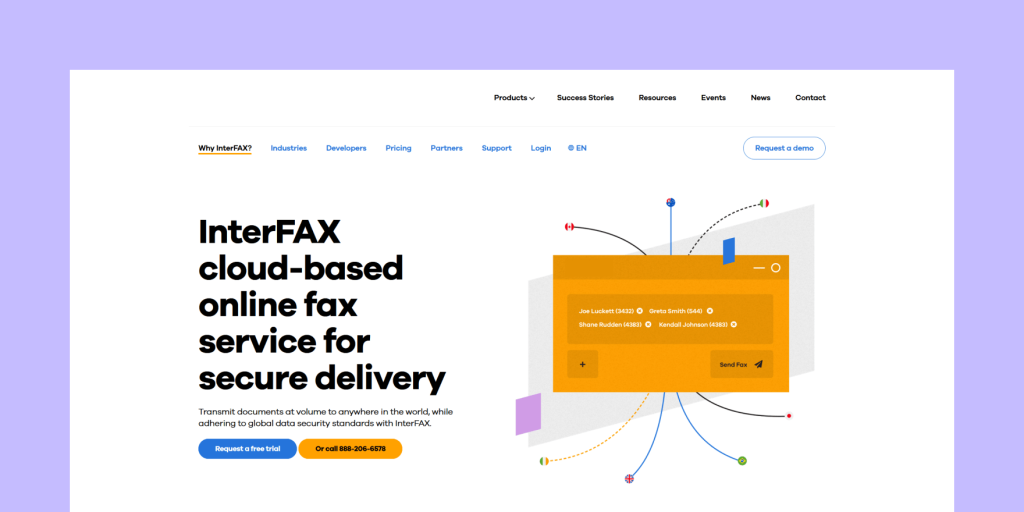 InterFAX is a cloud-based fax service that offers strong security and is compliant with healthcare regulations.
It has a control panel accessible on any device, making it easy for healthcare organizations to integrate it with their existing systems.
However, it can only be accessed through a web browser and is incompatible with other platforms.
6. WestFax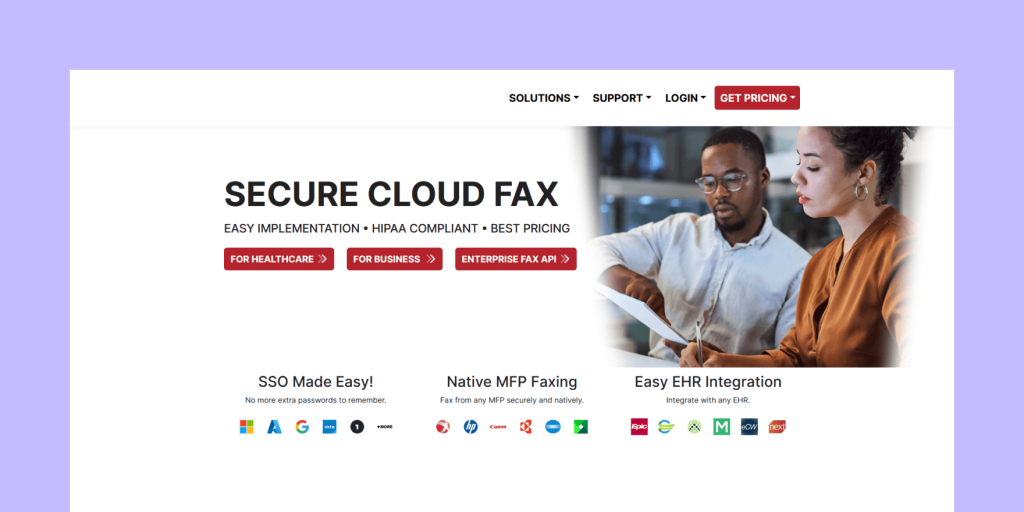 For financial, healthcare, and government agencies, WestFax provides a secure fax service that complies with HIPAA regulations.
It can be easily integrated into existing systems and operates in the cloud. With robust encryption and security measures, WestFax guarantees full HIPAA compliance.
They offer free trials on a variety of plans.
Conclusion
The best HIPAA compliant online fax service should provide end-to-end encryption, secure storage, and reliable transmission of documents.
Ultimately, choosing the right solution will depend on each healthcare organization's specific needs and preferences.
By doing so, you can confidently send and receive confidential medical information without risking a breach of patient privacy.
Frequently asked questions
Yes, a fax solution should be HIPAA-compliant if it is used to send patient data and other health records. This will help ensure that any confidential information sent via this channel complies with, and is protected by, industry regulations.

Here are the steps involved in sending a HIPAA-compliant fax:

Choose a fax service provider that is HIPAA-compliant and has the necessary security features in place.
Establish policies and procedures for handling faxes.
Sign a Business Associate Agreement (BAA) with your fax service provider to ensure that they are also HIPAA-compliant and will protect the privacy and security of your patients' information.
Upload your documents.
Add the recipient's fax number.
Send the fax.
Wait for confirmation.

If a faxing solution is not HIPAA compliant, it can put the confidentiality, integrity, and security of a patient's protected health information (PHI) at risk, violating the HIPAA Privacy and Security Rules.
Disclaimer
PandDoc is not a law firm, or a substitute for an attorney or law firm. This page is not intended to and does not provide legal advice. Should you have legal questions on the validity of e-signatures or digital signatures and the enforceability thereof, please consult with an attorney or law firm. Use of PandaDocs services are governed by our Terms of Use and Privacy Policy.